Greece itinerary: From Athens to Thessaloniki in 10 days
Athens – Delphi – Meteora (Kalambaka) – Thessaloniki
We spent a week in Athens and didn't get bored but three clear days is probably enough to see all of the major sights. Bus is the only form of public transport that heads to ancient Delphi, but make sure you know the schedule as there aren't that many each day. Overnighting in Delphi gave us the opportunity to visit the site as soon as it opened – this was brilliant and we had the place almost to ourselves for the first hour or so. Travelling on to Kalambaka, the main town for visiting Meteora, involved two changes of bus – one in Lamia and the other in Trikala. There are plenty of tours  you can join to see the astonishing monasteries of Meteora but it is also pretty easy to visit them independently and that is what we decided to do. We had a fantastic time hiking from one monastery to the next before taking a train to Greece's second city, Thessaloniki, a likeable city that had enough to occupy our time for a day or so.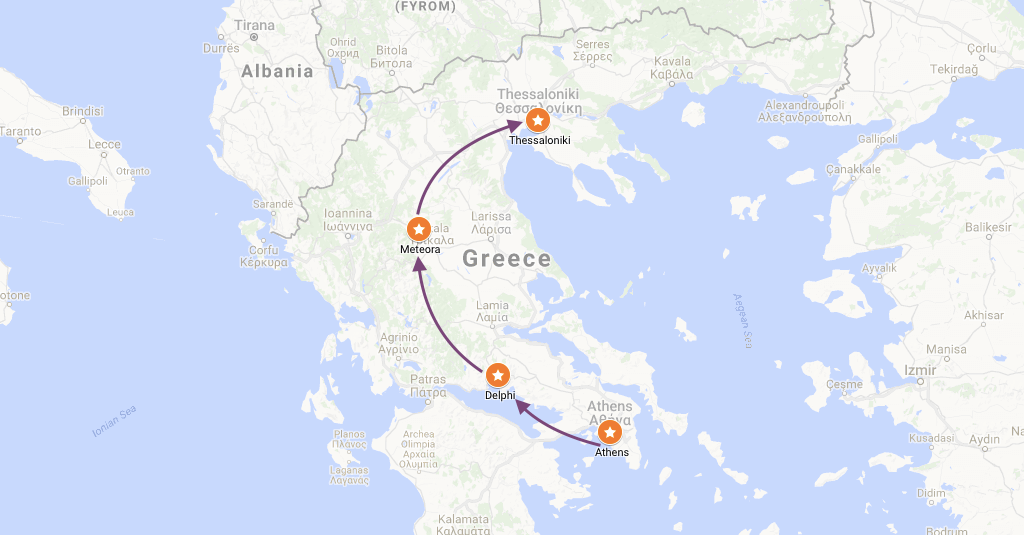 Number of countries: 1
Number of UNESCO sites: 3
Best time to travel: Although you could undertake this journey year-round, we think Spring and Autumn are the optimum times – it can get bitterly cold in winter and stifling hot in the summer months. March is a great month for travellers watching their budget – see our travel tips below!
Recommended duration: 10 days
Best places to slow the itinerary down:  If you have more time, we recommend an extra day in Athens to soak up the cafe culture, seek out more street art or visit some more museums.
Mode of transport: Mostly bus plus train
Street art in Athens
Cafe culture in Athens
Having Delphi almost all to ourselves by staying overnight and visiting first thing in the morning
Hiking from one monastery to the next independently at Meteora
OPTIONS FOR EXTENDING THE ITINERARY
From Thessaloniki, there are direct buses to Sofia (Bulgaria) Tirana (Albania) and Skopje (Macedonia)
You can also travel overland to Istanbul in Turkey via Edirne
If you're doing our suggested itinerary in reverse and ending in Athens, then there is the entire Greek archipelago to explore
Also, don't forget to look at budget airlines like Wizz and Ryanair for interesting multi-country combinations. We flew from Malta to Greece with Ryanair for 20 Euros each
Acropolis has free entry on the first Sunday of every month
Save on entrance fees and avoid the crowds: Between November and March, most of the government-run historical and archaeological sites offer reduced entrance fees.
Save on transport costs: Buy train tickets 48 hours in advance and get a discount of 15%
ATHENS ACCOMMODATION OPTIONS BY AREA
In Delphi, we stayed at the Hotel Orfeas which is in the town and very convenient for visiting the archaeological site. It's one of the cheapest places to stay in Delphi and was a good choice. As a base for visiting Meteora, we chose the Aeolic Star Hotel in Kalabaka. Again, it was one of the most budget-friendly places we found with a good location for exploring the area.
You would expect Thessaloníki to have a good range of accommodation for all budgets, but because we booked at the last minute, we struggled to find something that encompassed our main criteria (a good location and clean private rooms). In the end, we stayed at the Pella, which is a two-star hotel and not a bad place for the price. Thessaloníki has some good-looking hostel options which have private rooms as well as dormitories. For example, Stay Hybrid Hostel and Center Travelers.
You may also like to read some of our blog posts featuring the region…
OTHER TRAVEL PLANNING RESOURCES
Dave's Travel Pages is packed full of articles to plan a to Greece. These should get you started:
Two Days in Athens – What to See and Do in 48 Hours in Athens
We had difficulty obtaining accurate online information for bus travel in Greece but for train schedules, this site is reasonably user-friendly.
Depending on our itinerary and destination, sometimes/often we find our accommodation as we go, particularly in smaller places. In big cities, for slightly longer stays, during peak season or just when we're being a bit more organised, we tend to make a reservation in advance using Booking.com. For our stay in Athens, we found a great apartment on HomeAway that was ideal for a week-long stay.
There are several options for guidebooks to this part of the world but we've always used Lonely Planet and it's hard to change a habit of a lifetime!
Greece travel guide | Pocket guide to Athens |  Greek phrasebook and if you're continuing on into the Balkans, Lonely Planet's Eastern Europe guide is invaluable.
And if you need a few more reasons to follow this itinerary…
Panathenaic Stadium, Athens
Sanctuary of Athena Pronea, Delphi
Did you find this post useful? Pin it to your travel planning board for later…