Street Art in Pristina… and the Newborn Monument
Searching for Street Art in Kosovo's capital
For quite some time, if you Googled 'street art in Pristina', a post we first published around two years ago about things to do in Pristina came up as one of the first entries. The article includes a single photo of street art (because that's all we found) and makes very little mention of it. (Edit: that post has recently been updated and now includes a few more things to do in the Kosovan capital).
That alone should tell you something about the street art scene in Pristina but if you need a clue: street art isn't exactly flourishing in Kosovo!
The piece of street art featured in our post is of a smiling yellow cat. But not just any cat. This is Monsieur Chat, or M. Chat for short, a famous graffiti cat who first appeared on a wall in Orleans, France back in 1977.  If you look hard enough, Monsieur Chat can be found in several cities around the world including Paris, New York, Sarajevo and in countries as far and wide as Senegal, Vietnam and Brazil! The artist managed to remain anonymous for thirty years, but was finally caught in his cat-painting act in 2007, and revealed to the world as Swiss-man Thoma Vuille.
Monsieur Chat aside, you could argue that Pristina does have one very renowned piece of street art – the Newborn Monument. Unveiled in early 2008 on the day Kosovo declared its independence (17 February 2008), the monument represents a new beginning for Kosovo after its separation from Serbia. More on the Newborn later in the article.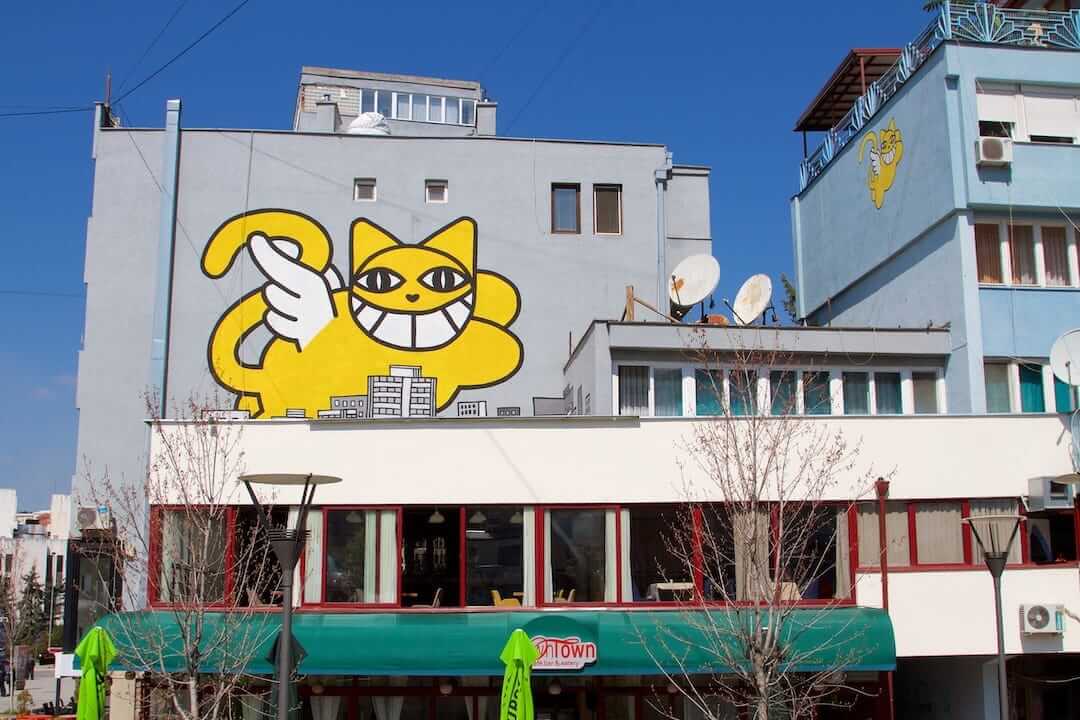 Just as Pristina isn't a conventional capital, the street art deviates from the mainstream. Once I'd got past the notion that I was looking for murals on walls, I noticed more public art that could be categorised as street art. For example, 'Heroines' which is just across the road from the Newborn Monument. This large sculpture is formed out of military medals and is a memorial to the sacrifice and contribution of women throughout the Kosovo conflict.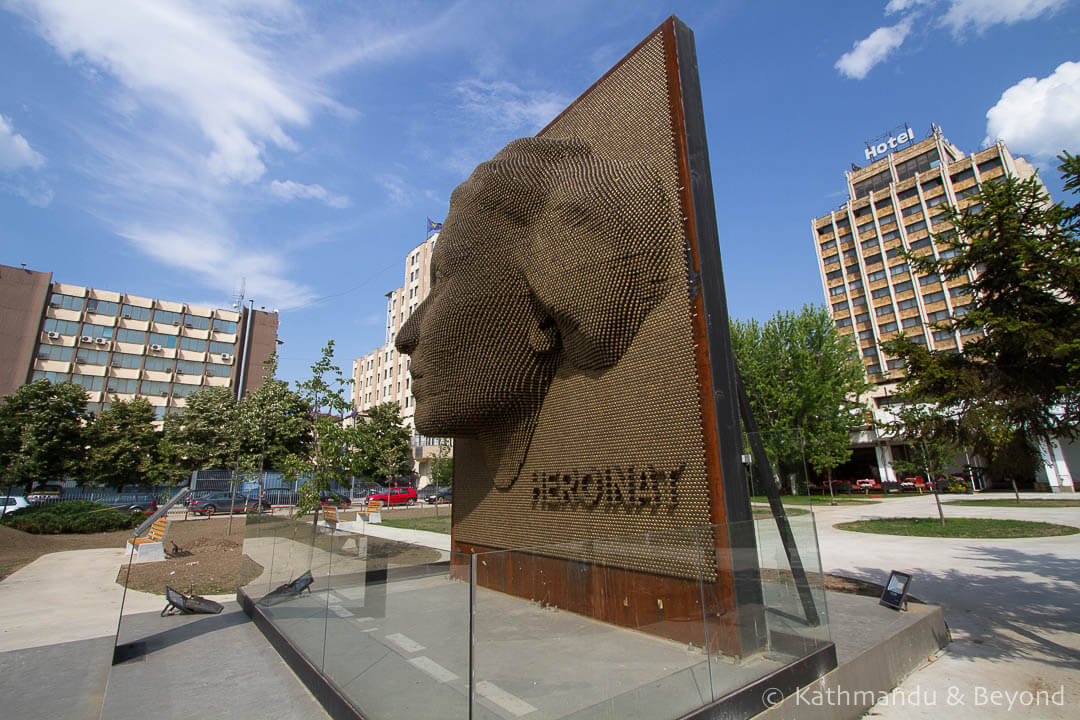 We found more artwork close to the centre of town, next to a spomenik which Mark keenly photographed. In the shadow of the monument is a bronze (or maybe another kind of metal) sculpture which has been painted with flags of countries like the UK, USA and Germany as well as Kosovo. Brits and Americans are popular in Kosovo because of the part our governments played in the 1999 conflict. Almost everyone we spoke to sung the praises of Tony Blair and Bill Clinton and told us how wonderful England is!


In the adjacent open space is what appears to be a more temporary exhibition of artwork displayed in free-standing glass screens. It seemed to be a collaboration between a handful of art galleries but there wasn't any real information about it.



Other Street Art in Pristina
And this is the extent of the other street art we came across during our rambles around Pristina…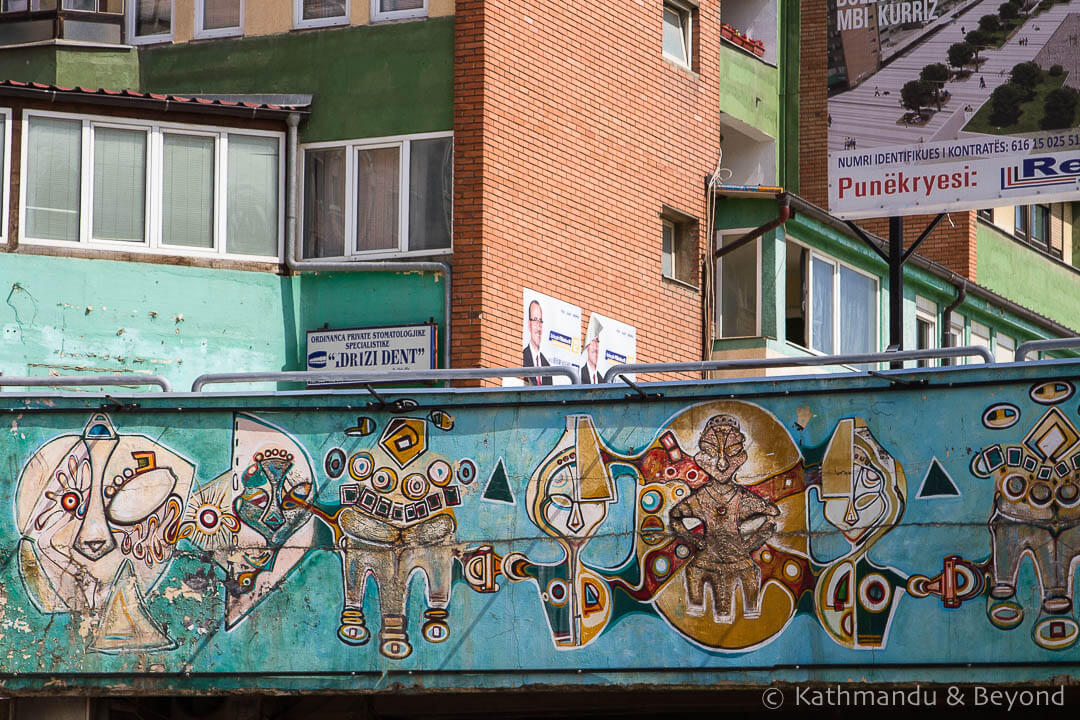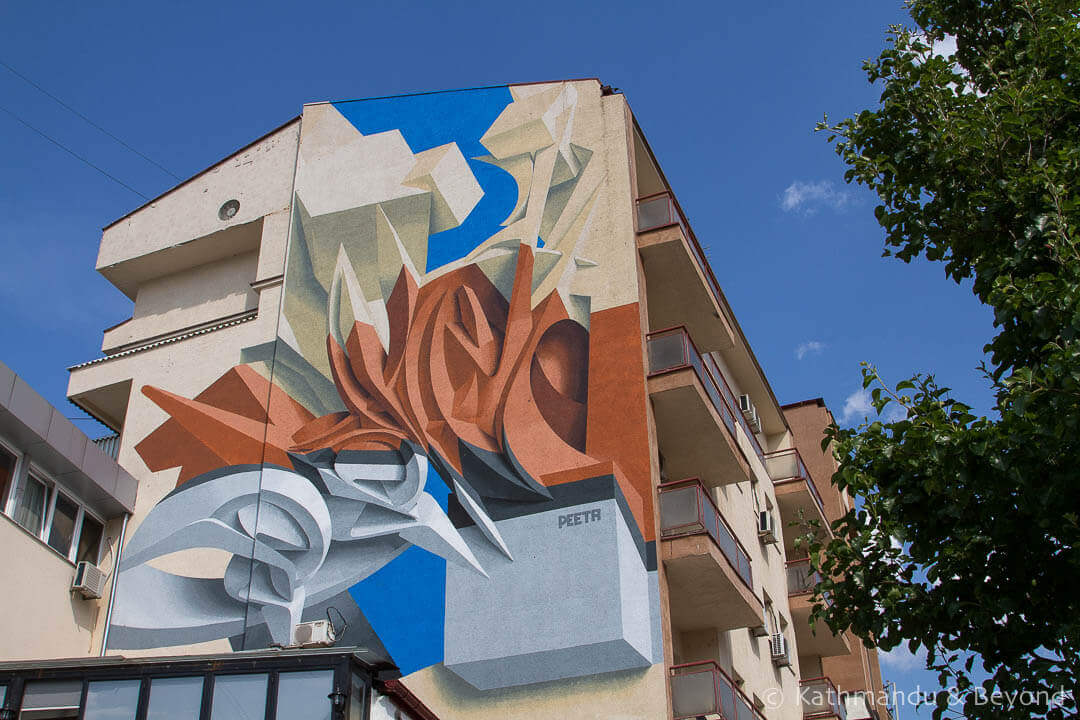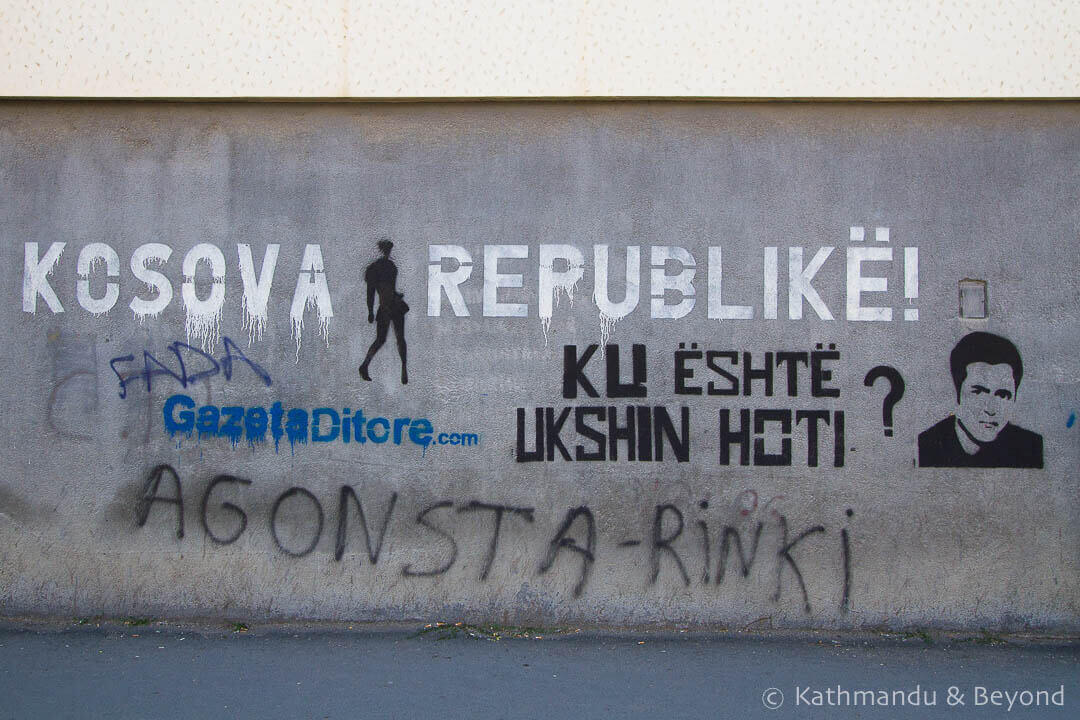 The changing face of Pristina's Newborn Monument
Back to Pristina's most-photographed monument, the Newborn. The original Newborn Monument was painted yellow but over the years it became covered in scribbles and graffiti.
The Newborn Monument original version February 2008 to February 2013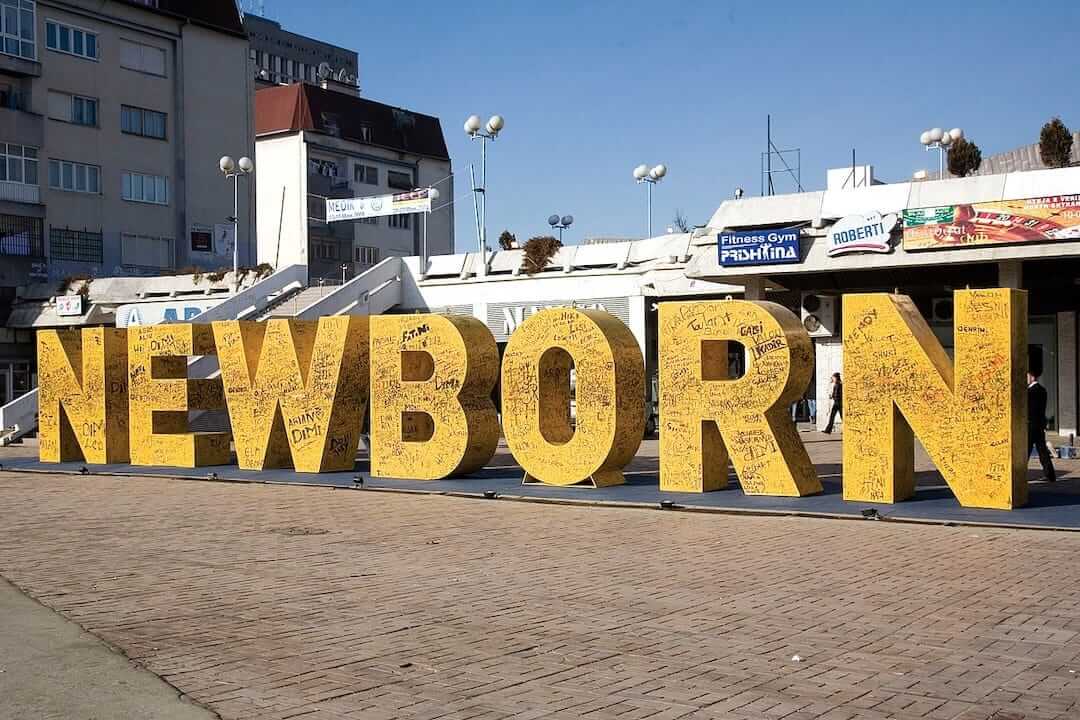 Image source: Wikimedia Commons: Karrota (own work), License CC-BY-SA 3.0
However, every February since 2013, on Independence Day, the Newborn has revealed a new look. In 2013, the Newborn was painted with the flags of each country that recognises Kosovo as an independent state (111 out of 193 members of the United Nations).
The Newborn Monument February 2013 repainting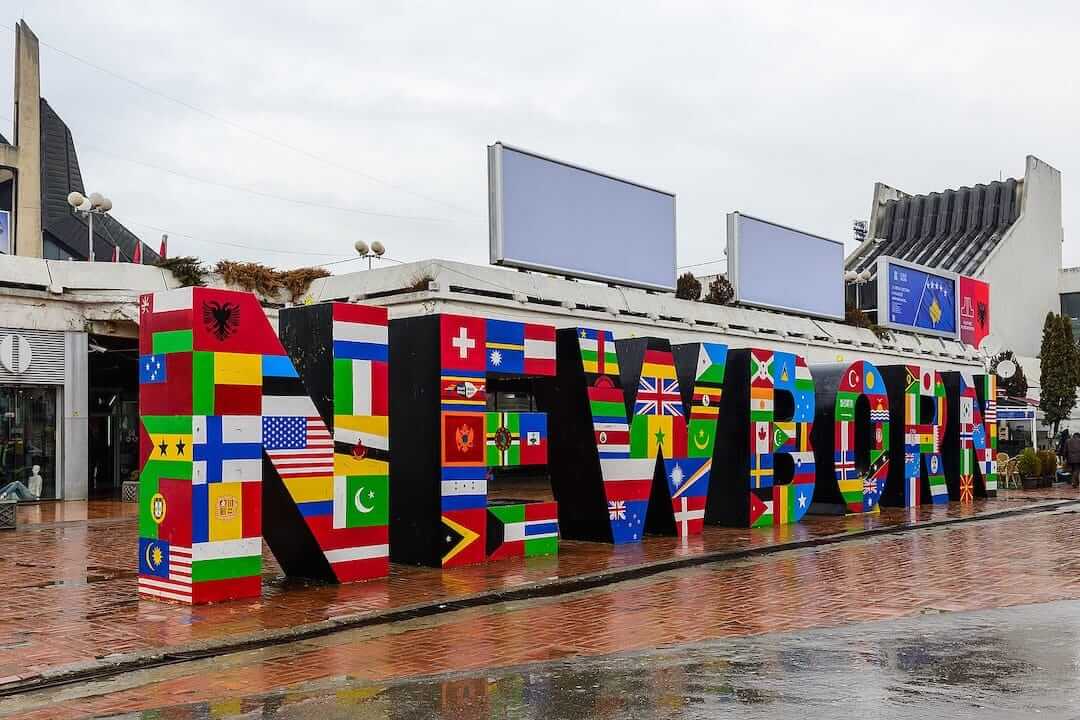 Image source: Wikimedia Commons: Arild Vågen (own work), License CC-BY-SA 3.0
In 2014, the design represented the colours of NATO and Kosovo Liberation Army uniforms. I can only imagine that the pink hearts were an added creative touch and are not part of the actual uniform design.
The Newborn Monument February 2014 repainting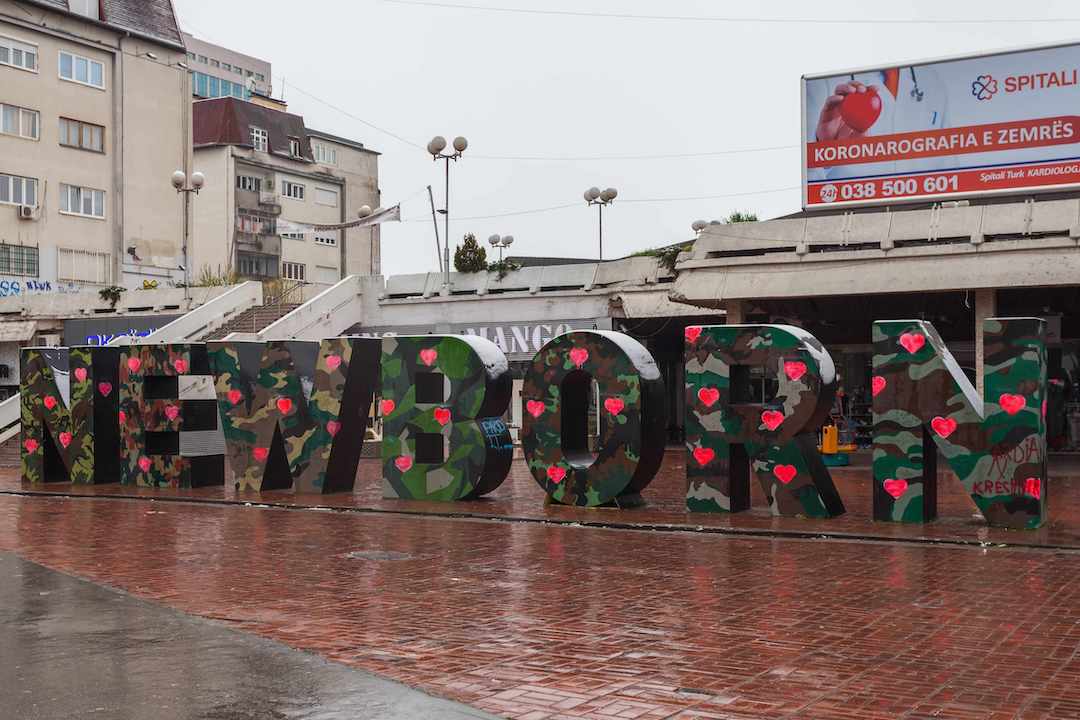 Image source: Wikimedia Commons: Diego Delso, delso.photo, License CC-BY-SA
In 2015, the monument acknowledged the vast number of Kosovans who have emigrated to other countries within Europe, in search of a better life. With the exception of the letter 'E', which was left black to represent the word 'Emigration', the local people were invited to decorate the letters. I have also read that 'E' represents Kosovo's exclusion from Europe. 
The Newborn Monument February 2015 repainting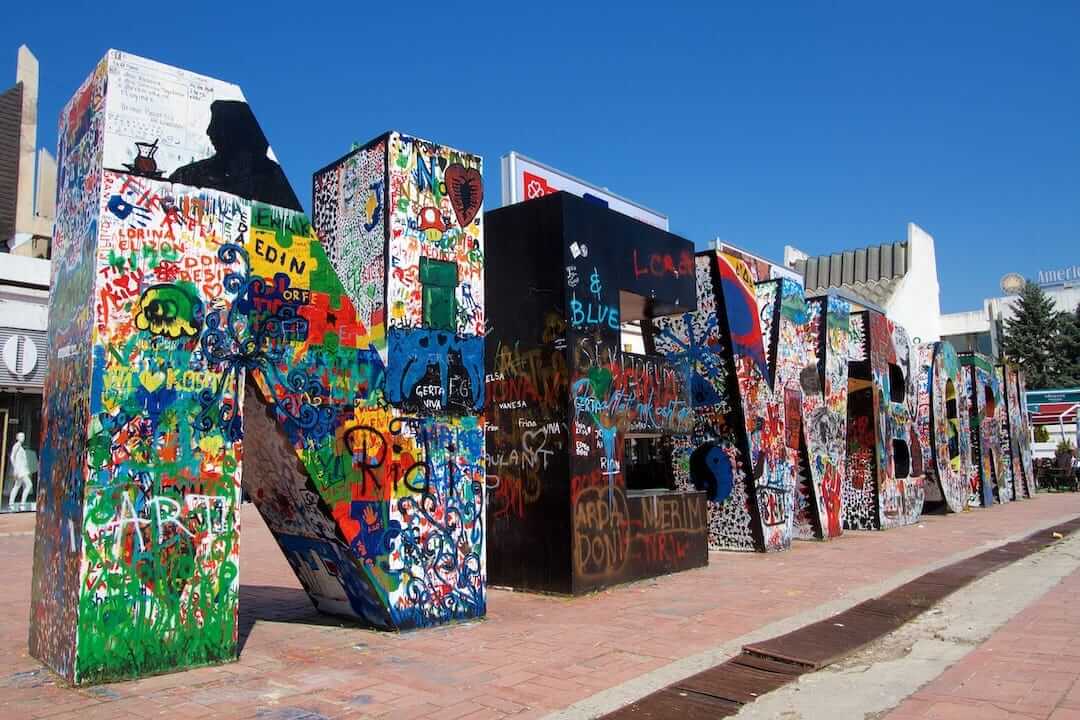 This is how the New Born looked on our first visit to Kosovo in Spring 2015.
In 2016, the design was one of a blue sky with barbed wire across it to highlight the fact that citizens of Kosovo are unable to travel to EU countries without a visa.
The Newborn Monument February 2016 repainting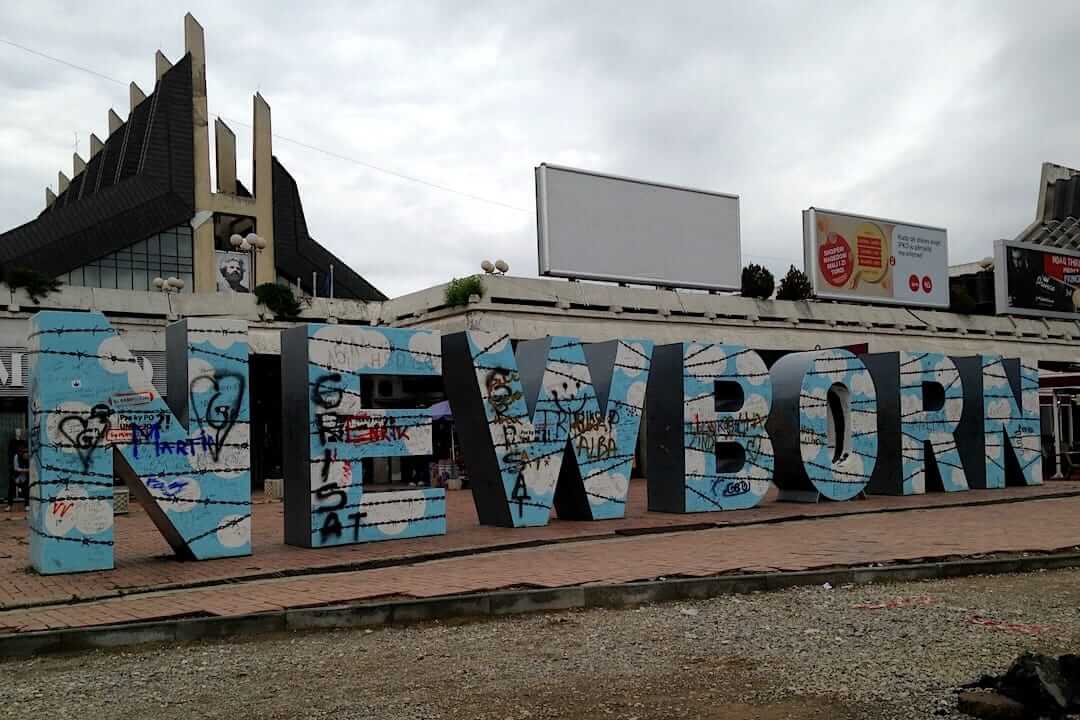 Image source: Wikimedia Commons: Bdx (Own work), License CC-BY-SA 4.0
On our most recent visit to Pristina in June 2017, the Newborn Monument had yet another political message for the world. As we approached, I was excited to see the current design but I could see that two of the letters had fallen over. Or so I thought, but soon discovered this is part of the design – the letters N and W have been laid flat on the ground to incorporate the words 'No Walls' into the design.
The Newborn Monument February 2017 repainting
I've read a couple of interpretations: Some say it is a comment on President Trump's wall-building notions and others say it to do with the wall that divides Serbian north Mitrovica from Kosovo's south Mitrovica being pulled down in February of 2017. Whichever, it's safe to say there's a statement on how walls and barriers divide nations and communities in there somewhere!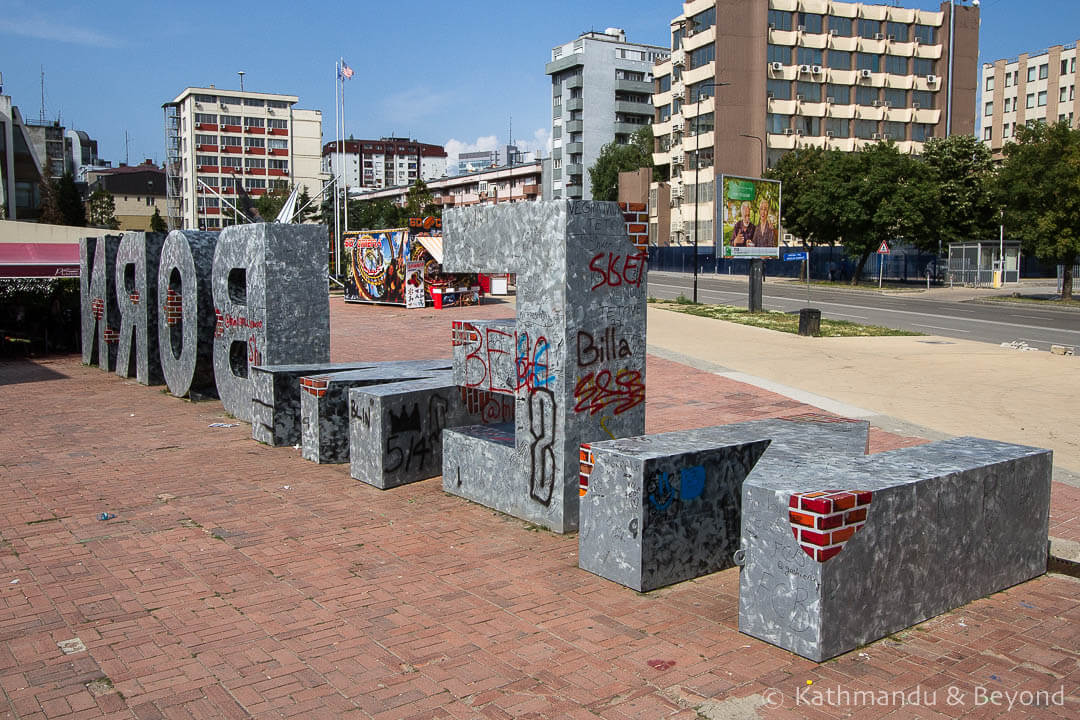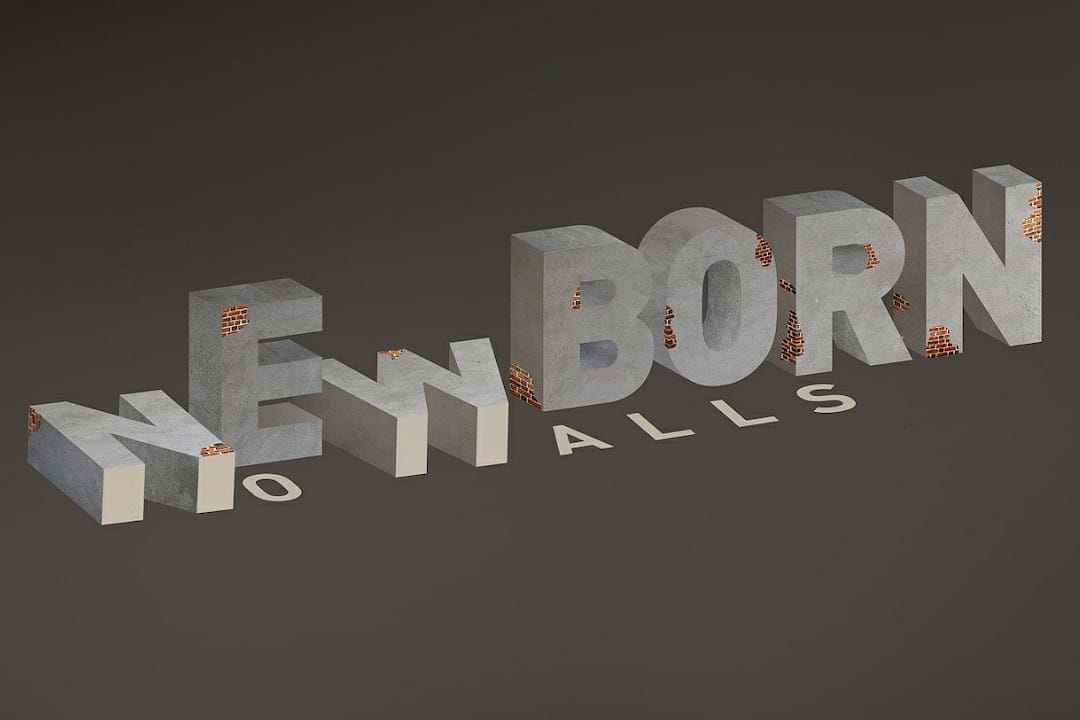 The Newborn Monument February 2018 repainting
What does the Newborn Monument look like in 2018? In February 2018 Kosovo celebrated ten years of independence and the Newborn repainting celebrated that.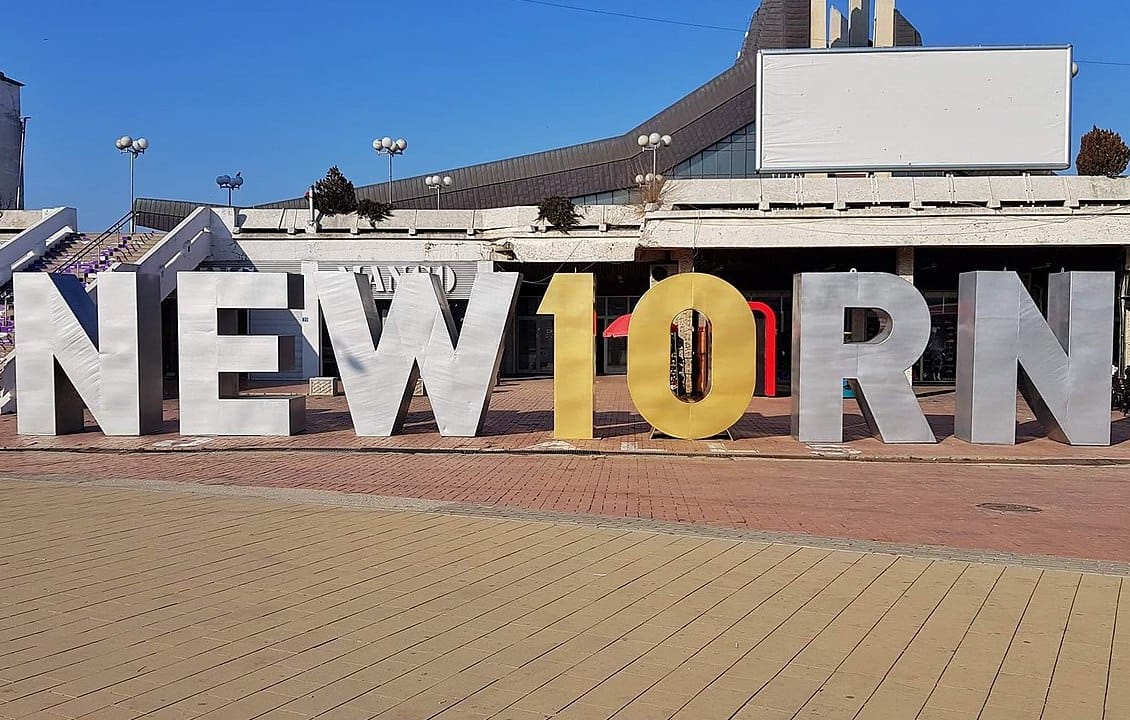 The Newborn Monument February 2019 repainting
So what did the Newborn Monument look like in 2019? In February 2019, Newborn received its annual makeover. This year the theme is environmental with a Save the Planet message – each letter represents an eco reminder:
N – nature
E – energy
W – water
B – bio/
O – oxygen
R – recycle
N – nature
In 2019, the front and back of the Newborn were different. The front was a playful doodle, while the back spelt out the message more clearly.
The Newborn Monument February 2020 repainting
In February 2020 on Kosovo's twelfth anniversary of independence, a new makeover for the Newborn Monument was revealed. In 2020 the design of the Newborn Monument is dedicate to victims of sexual violence during war. The words on the side of the N say "Dedicated to all the victims of sexual abuse during conflicts around the world #BEMYVOICE". On the monument, woven between flowers and butterflies are the testimonies of victims of sexual violence during conflict.
As in previous years, related words form an acronym of NEWBORN…
NEVER
ENDING
WARS
BRING
OPPRESSION
RAPE &
NEGLECT
The Newborn Monument February 2021 repainting
On 17 February 2021, on Kosovo's anniversary of independence, the Newborn Monument had a new look. The latest design honours the Kosovo Liberation Army (KLA) and features the handprints of Kosovans in army uniform colours.
On a poinantly chosen day – both election day and Valentine's Day – Pristina's residents were invited to leave their mark on NEWBORN 13.
The Newborn has become a symbol of Kosovo's declaration of independence and this years theme, marking Kosovo's thirteenth birthday, is Praise Peace Together.
Edit: Originally posted: October 2017 Last updated: March 2021
And so it turns out that street art in Pristina does exist, just in a more unconventional form! Which cities have surprised you when it comes to street art? Leave a comment below and we'll put it on our list!
---
---
DID YOU ENJOY THIS POST? SAVE IT TO YOUR STREET ART BOARD ON PINTEREST…



---
---
Footnote: It's not our intention to offend any of our Serbian friends and readers by referring to Kosovo as a country. However, as the UK is one of 111 (out of 193) members of the UN who recognise the state as an independent country, we follow suit.
---