A mini-guide of things to do in Pristina, capital of Europe's newest nation
Where is Pristina, Kosovo?
Before we get into the details of what to do in Pristina, let's put it on the map! Tucked away in the Balkans region of Europe and once part of Yugoslavia, is Europe's newest country: Kosovo. It's capital Pristina, or Prishtina, as it is also spelt, is, therefore, Europe's youngest. In February 2008, Kosovo declared itself an independent country, a status that is not recognised by Serbia, Russia, China, and enough other countries to prevent it from becoming a member of the UN.
In case you're wondering whether we include Kosovo on our list of countries we've visited, the answer is yes. If it's good enough for 114 UN members, it's good enough for us.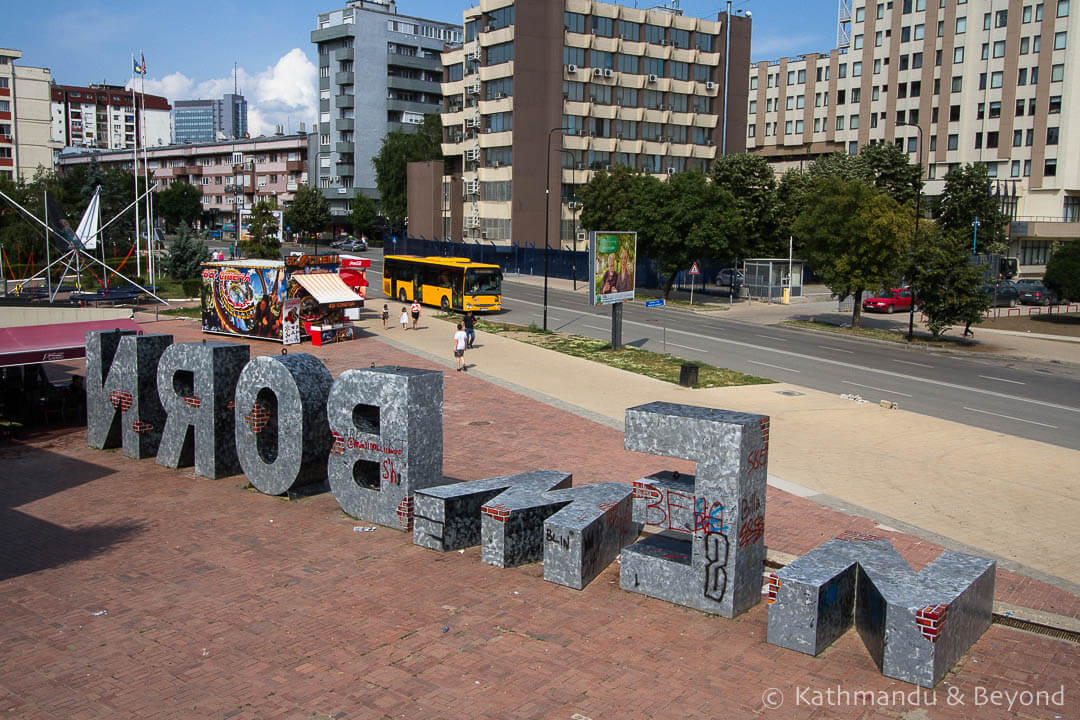 Newborn Monument
A simplified history lesson…
Like many other countries in Europe, Kosovo has a long history and one that is certainly too complicated to put into a concise little paragraph here. Kosovo first became part of Serbia in the 12th century and has been fought over many times, with control of this tiny nation changing hands over the millennia.  In 1918, Kosovo formed part of the Kingdom of Serbia, and subsequently became part of the Socialist Federal Republic of Yugoslavia soon after it was formed in 1945.
Kosovo's autonomous status was recognised in 1974 when it enjoyed a period of self-government. However, towards the end of the 1980s, things started to go belly up in the Balkans, and Slobodan Milosevic (the Yugoslav President) withdrew Kosovo's autonomous status which started a period of civil and ethnic unrest that led to the Kosovo War, a conflict which lasted from February 1998 until June 1999. The fighting came to a head when NATO launched air strikes against Belgrade. The years both before and after Kosovo's declaration of independence on the 17th of February 2008 haven't exactly been plain sailing but these days Kosovo is as safe a country as most to travel in.
For more detail, the BCC has an easy-to-understand timeline of history in Kosovo.
How to Spend a Day in Pristina
Pristina isn't the prettiest city in the Balkans and when it comes to what to do in Pristina, Kosovo's capital is not a patch on Belgrade or Sarajevo when it comes to sights, but it has an amiable feel that lends itself to a day or so of relaxed-paced sightseeing. Many visitors accuse Pristina of being boring but, if you dig a bit deeper you'll find plenty of things to do in Pristina.
Pristina is a small city suited to exploration on foot and we would suggest starting with a walking tour of the city's mosques, churches and streets named after American presidents (Bill and George Jr.) and beatified nuns (Teresa – Mother not May!). Our walking tour will guide you around the key places, and when you've exhausted Pristina's central sights, you could opt to soak up the atmosphere of the city's growing cafe culture or jump on a bus (or take a taxi) to the intriguing Serbian Orthodox monastery in nearby Gracanica. If you've got a bit more time, you could consider day trips to further afield towns such as Mitrovica, Prizren or Peja.
Map of Pristina

Map of Pristina – click to see in Google maps
Self-Guided Walking Tour of Pristina (3 to 4 hours duration)
Kosovo's main drag, Agim Ramadani Street, is as good a place as any to start a walking tour of Pristina. Heading north on Agim Ramadani, the first notable building you come across is the National Theatre of Kosovo. The structure itself is unremarkable but it represents an important symbol of artistic and national ambition to this young nation.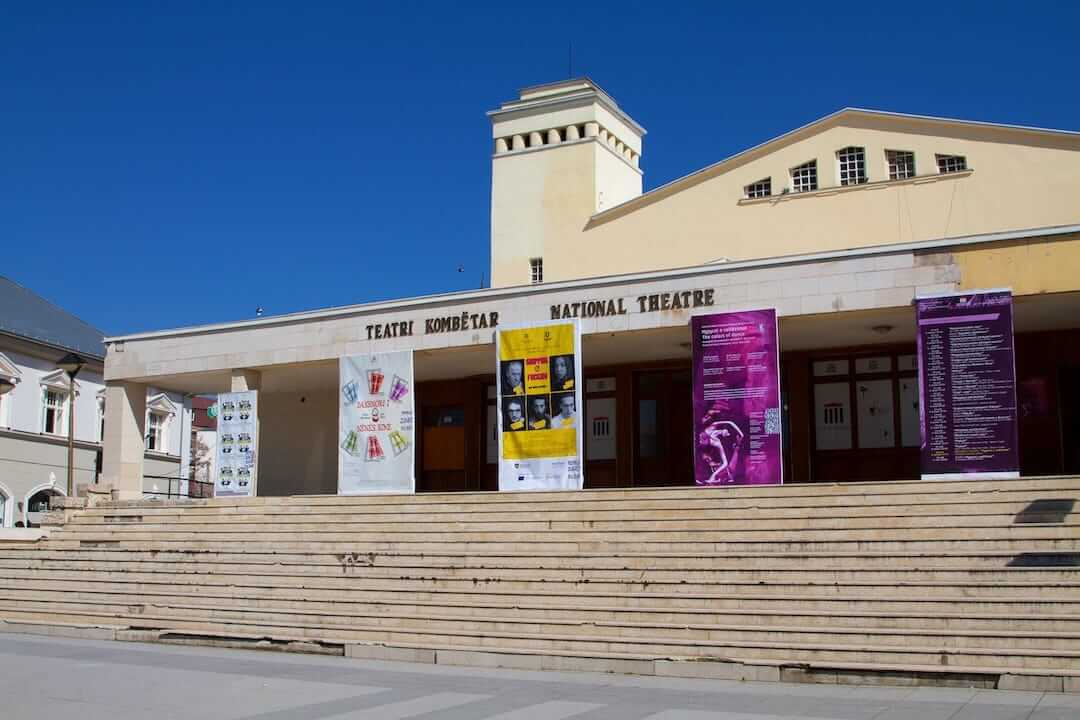 National Theatre
Continuing north, the next point of interest is Ibrahim Rugosa Square, where you can snap a photo of the large Skanderbeg monument before crossing the busy intersection and heading into Pristina's Old Town.


Skanderbeg monument (right) and Sultan Mehmet Fatih Mosque (right)
Dating back to the 15th century, Carshi Mosque (also known as Bazaar Mosque) is the oldest building in Pristina. Opposite the mosque is the Kosovo Museum, housed in an Austro-Hungarian building. We confess that we haven't yet visited (it was closed for renovation when we first were in Pristina and, erm, we didn't quite get around to it on our next!).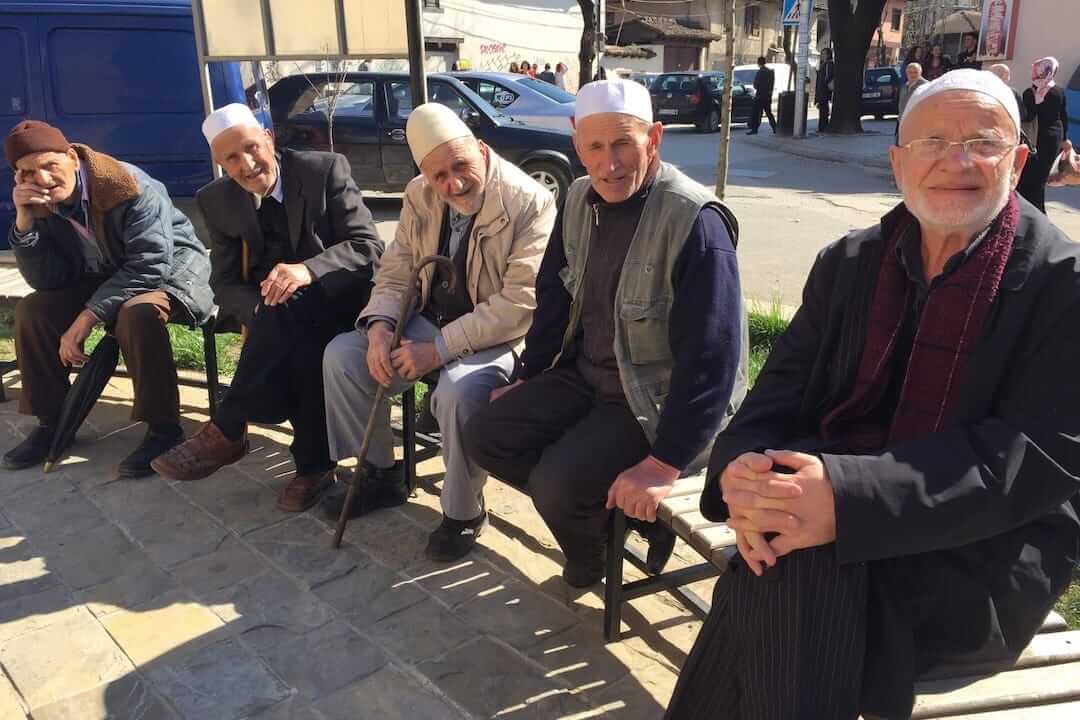 Kosovan men outside the Sultan Mehmet Fatih Mosque in Pristina
Next, walk via Jashar Pasha's Mosque to nearby Sultan Mehmet Fatih Mosque and continue downhill in a westerly direction past the clock tower to the bazaar. This historic marketplace was the heart of Old Pristina for many centuries but sadly much of it was destroyed in the mid-20th century during a period of heavy modernisation which was coupled with the slogan 'Destroy the old, build the new'. Despite this, the bazaar is still interesting and it's a good place to people watch and interact with the convivial locals.
Head out of the Old Town, and backtrack through the town centre. The Newborn monument on Luan Haradinaj Street should be your next destination. Without a doubt the city's most popular attraction, the Newborn was unveiled on the day Kosovo declared its independence (17 February 2008) when it was decorated with the flags of the 99 nations which recognised its declaration. Since 2013, the monument has been repainted annually – often with street art style flair and always with a message.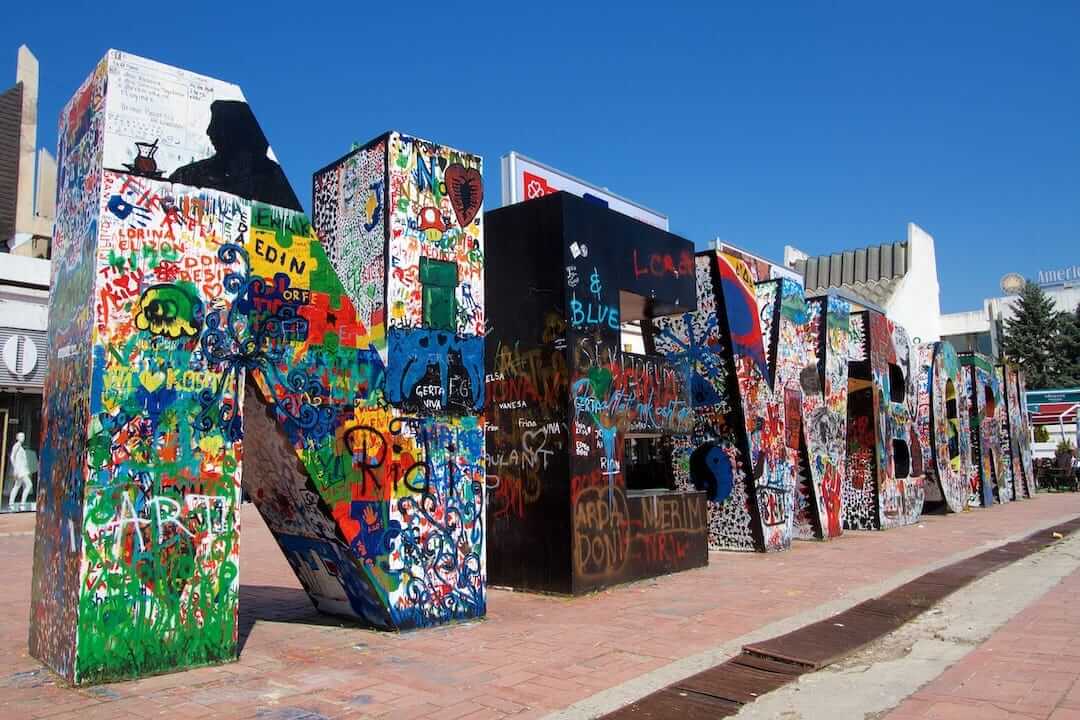 Newborn Monument
Behind the monument is the gargantuan Youth Centre Building, which is worth a look if you are interested in Socialist-era architecture.
The Palace of Youth and Sports
From the Newborn monument, head up Garibaldi Street and cross over Mother Teresa Boulevard and feast your eyes on the National Library of Kosovo. This wacky building has to be seen to be believed and has been listed as one of the thirty ugliest buildings in the world (along with the Slovak Radio Station in Bratislava) by The Telegraph newspaper. This is probably the second most popular thing to see in Pristina after the Newborn.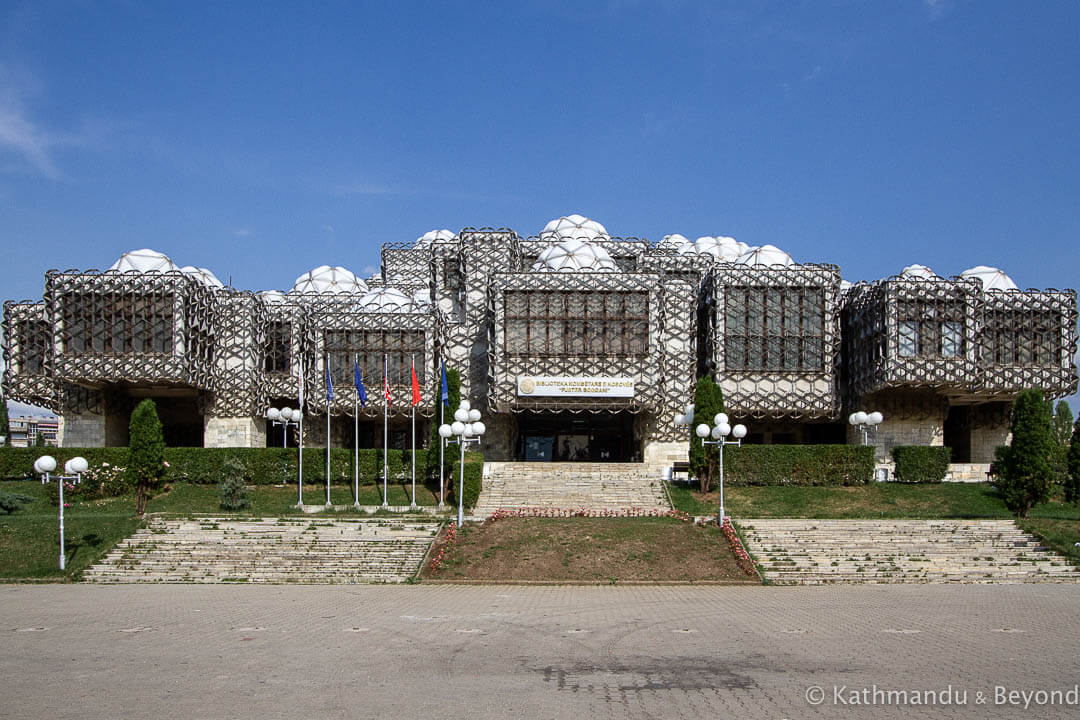 National Library of Kosovo
It is worth going inside the building, which design-wise is quite conventional. It's also worth wandering over to the unfinished Serbian Orthodox cathedral which is in the same grounds as the library. Construction of the Christ the Saviour Cathedral (to give it its official title) was abandoned at the outbreak of the Kosovo War in 1998 and only the shell remains. You can go inside but there isn't a great deal to see. The church is a poignant reminder of the religious and ethnic tension that is still commonplace in the region today.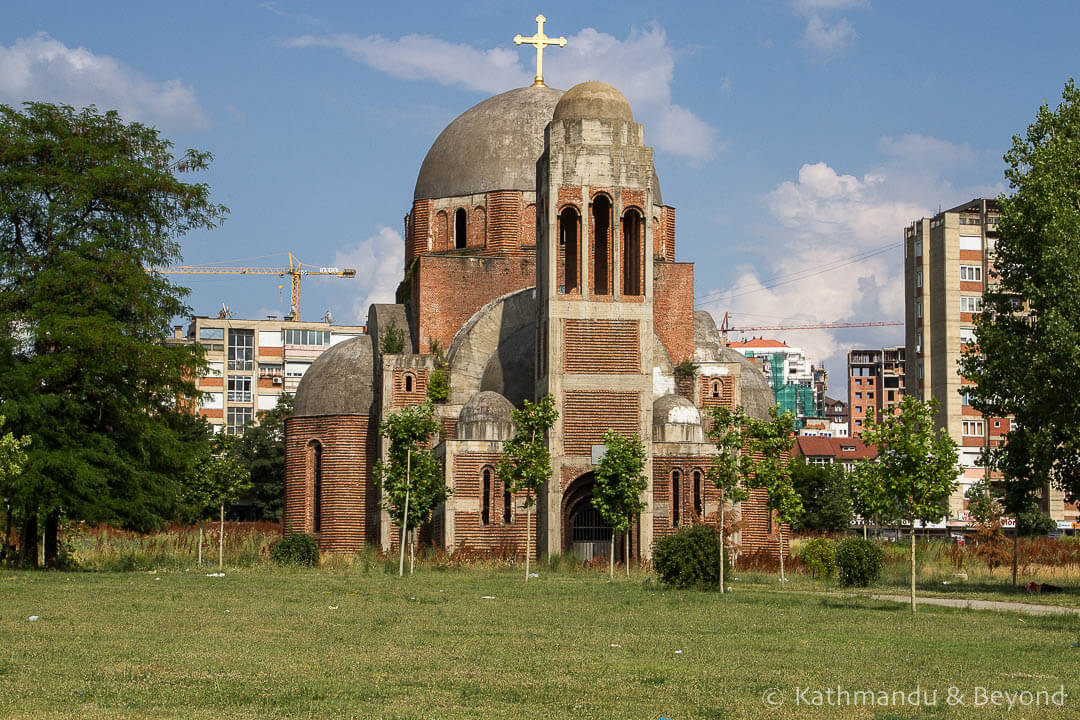 Christ the Saviour Cathedral
Over the road from the library (on Mother Teresa Boulevard funnily enough), is the Cathedral of Blessed Mother Teresa. It's an impressive building but not yet finished. It is sometimes possible to climb the bell tower, although this wasn't an option when we visited.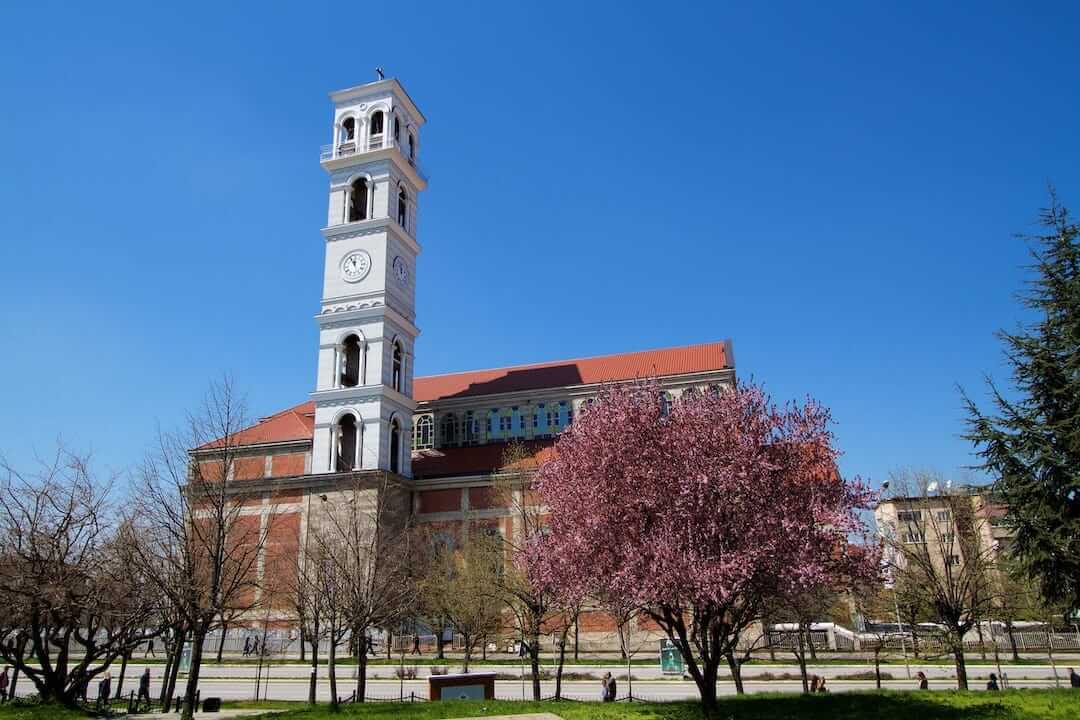 Cathedral of Blessed Mother Teresa
From here, getting back to the city centre on foot is simple. Alternatively, it is a little over 2 kilometres to the bus station, should you decide to head out of the city and explore further afield.
Other things to do in Pristina
Street Art in Pristina
Although we'd advise keen street art hunters not to get too excited about Pristina's street art scene, there are a few murals scattered around. There's also an increasing amount of other public art – sculptures, etc.  If you're interested in street art, we've got it covered here:  Street Art in Pristina… and the Newborn Monument.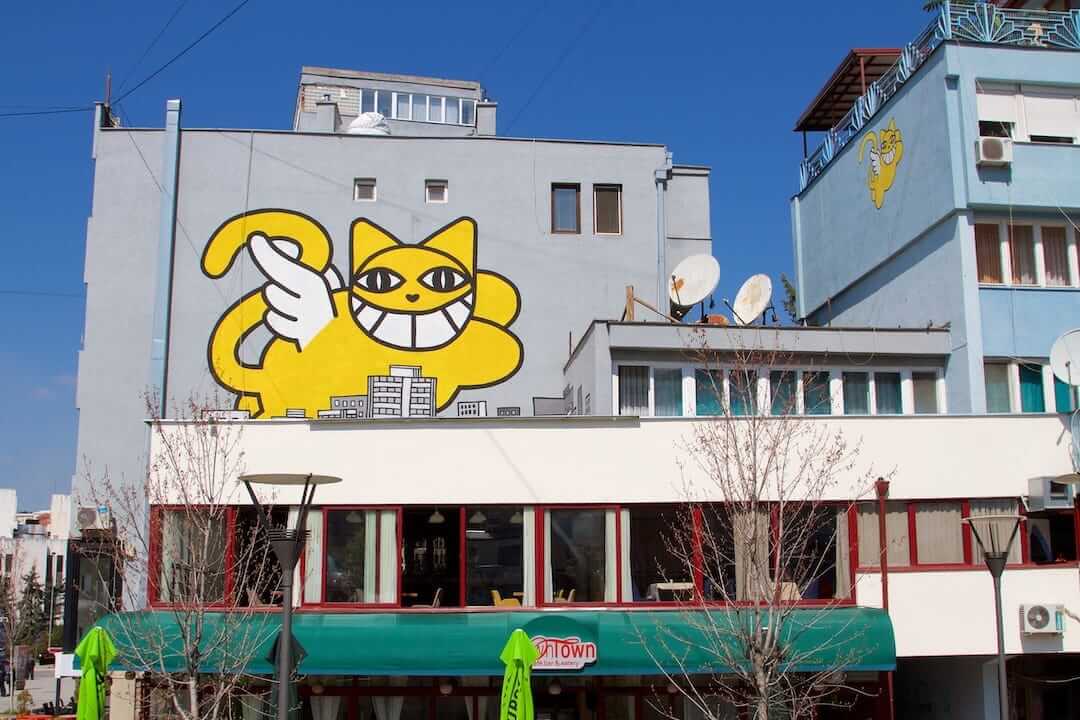 M. Chat street art
Spomeniks in Pristina
You may (or may not) know that seeking out spomeniks – Tito-era built World War II-related monuments and memorials – has become quite a side interest for us over the past two or three years. We visited two spomeniks in Pristina…
Monument to Brotherhood and Unity
Located in the centre of a large square between the new and old towns, the Monument to Brotherhood and Unity is a 20 metre tall white concrete monolith. Commemorating fallen Partisan soldiers from the region, the design is modest compared to a lot of spomeniks we've seen, but our suggested walking tour passes close by so it's worth stopping. There was also some public art on display in the square during our last visit.


Monument to Brotherhood and Unity
We've collated a post featuring some of the most striking spomeniks in the Balkans, and you can read a lot more detail about this and other spomeniks across former Yugoslavia on Spomenik Database. 
The Partisan Martyrs Cemetery (Monument to Serbian and Albanian Fallen Fighters)
Although it's a fairly easy walk, getting to this monument in Pristina's suburbs requires a little bit more effort than the more centrally-located sights. This memorial is dedicated to soldiers and civilians from the Pristina region who lost their lives during WWII (known as the National Liberation War in the Balkans) and the cemetery is also the resting place for victims of more recent conflicts.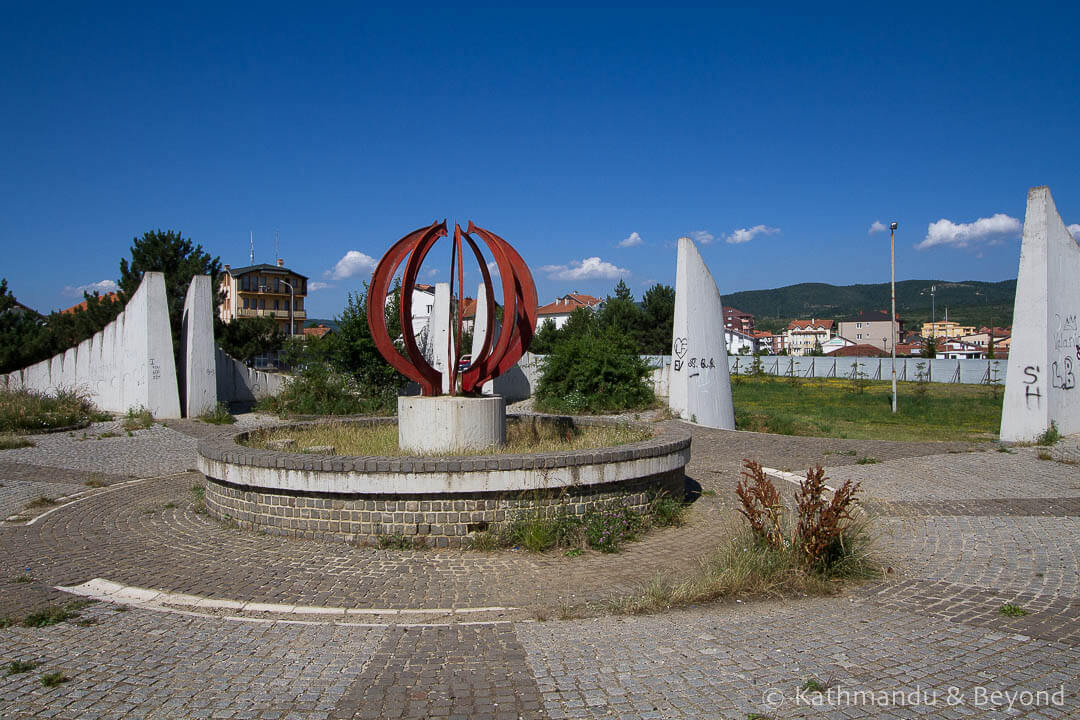 Partisan Martyrs Cemetery (also known as the Monument to Serbian and Albanian Fallen Fighters)
Read more on Spomenik Database. 
Day Trips from Pristina
Gracanica Monastery
The town of Gracanica, 10km east of Pristina, contains an important and controversial* Serbian Orthodox monastery with UNESCO World Heritage status. The interior of the church is impressive and the surrounding grounds are peaceful and relaxing. There is no entrance fee.
* After the Kosovo War (1998–99), Bishop of Raška and Prizren Artemije Radosavljević transferred his official seat to this monastery from Prizren and since then the monastery has become not only the most important spiritual but also the national and political center of the Serb community in Kosovo.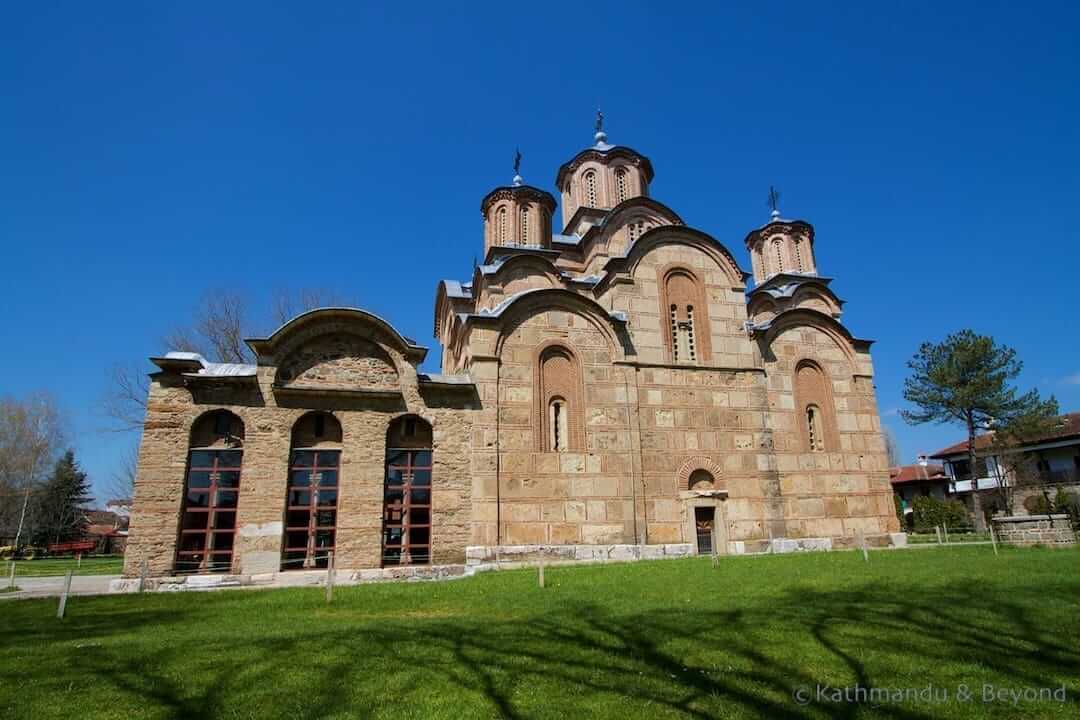 Gracanica Monastery
There's not much else in this small town but with your back to the monastery, if you take a right and walk up the road for approximately five minutes you will come across the Missing monument which is covered with photos of Serbs missing as a result of the conflict.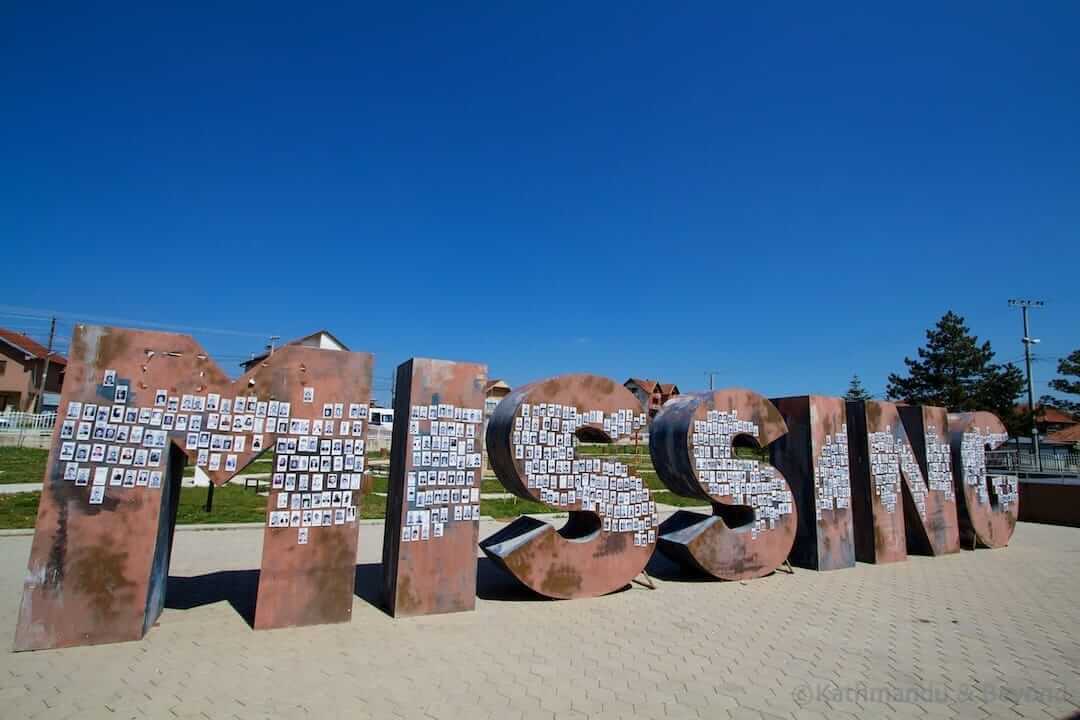 Missing monument, Gracanica
How to get to Gracanica from Pristina
Gracanica is easy to reach. The simplest way is to take a taxi from Pristina, ask the driver to wait whilst you look around the monastery (45 minutes is ample time), and then take you back again. Bank on about €15-20 for the return journey. Alternatively, any Gillian-bound bus from the bus station will drop you off outside the monastery. Buses (€0.50 one way) run every 30 minutes or so and the journey takes around 15 minutes.
Bill Clinton Boulevard
To save yourself the two-kilometre or so walk to the bus station, you should be able to flag down any bus travelling on the main highway, south-east of the National Library of Kosovo.  There's also an unofficial bus stop on the roundabout near the University for Business and Technology, but it's more straightforward to head to the terminal and pick up the bus there*. It also means you get the opportunity to head down Bill Clinton Boulevard (check out the statue) and stroll through some urban housing estates which are quite interesting in their design.
* Arriving back into Pristina, alighting at the roundabout and walking back into the city centre is much easier.
Because Gracanica is a predominantly Serb town in the heart of Kosovo, there are rumours that the bus drivers won't let you board the bus if you tell them where you are heading. Lonely Planet says 'be discreet' but how discreet can you be? In a hushed tone; 'I wanna go to Gracanica Monastery, nudge, nudge, wink, wink, but keep it to yourself mate' kind of way? We told the bus conductor where we were going and he didn't have a problem with it – these days, people probably realise that visiting tourists don't have a hidden political agenda.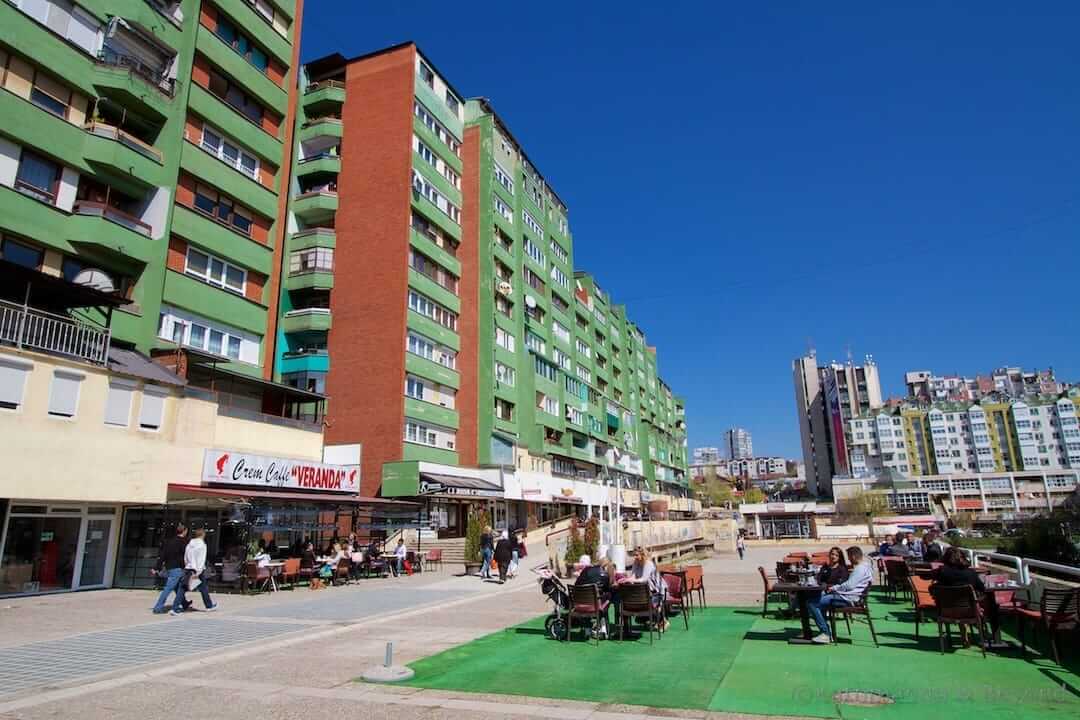 Apartment buildings in Pristina
Mitrovica
Mitrovica is one of the world's few truly divided cities and it's an easy day trip to make from Pristina. Whilst there aren't many conventional sights, we found it interesting, especially experiencing the distinct differences between the largely Kosovan-Albanian side and the Serbian part (known as North Mitrovica) across the bridge. We wrote more about our visit to Mitrovica in these blog posts: The Divided City of Mitrovica in Kosovo and Street art in Mitrovica.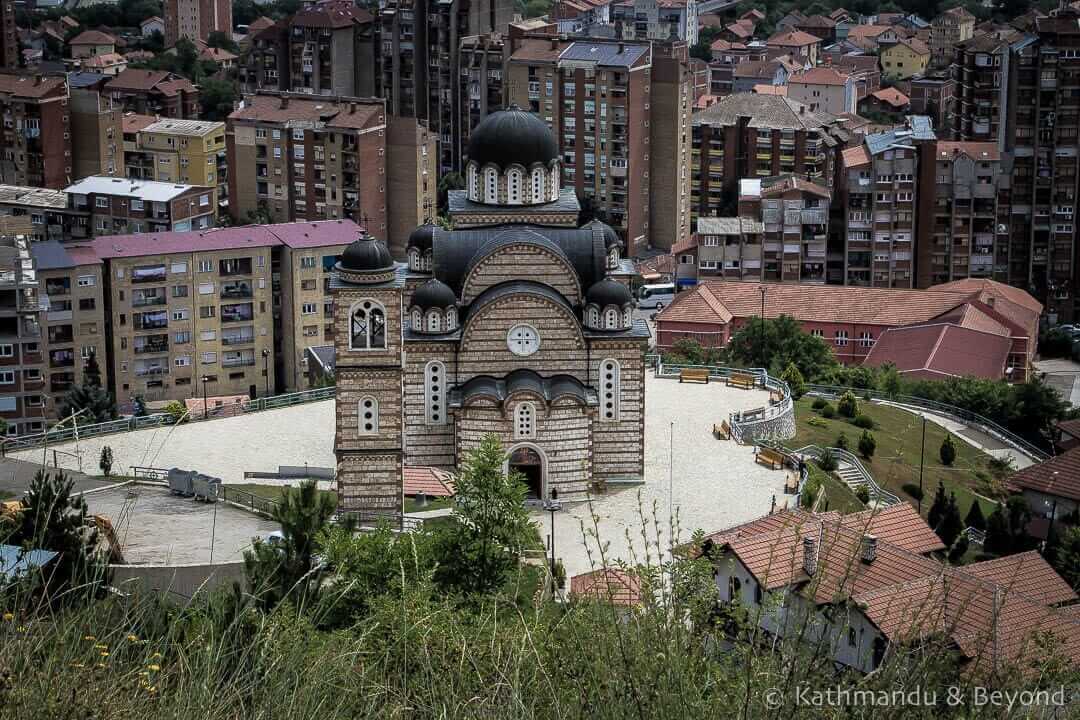 Saint Demetrius (Dimitri) Orthodox Church in North Mitrovica
How to get to Mitrovica from Pristina
There should be buses from the main bus station but in case your visit coincides with a public holiday (like ours did), you can take a minivan from the road adjacent to the bus station. Although there are only 40 kilometres between Pristina and Mitrovica, the journey can take up to 1½ hours. The fare should be around €1.50 one way (that was for the minivan, the bus should be a little less).
It's also possible to visit Prizren and Peja as day trips from Pristina, although we're not big fans of spending more time travelling to a destination than seeing it so would urge you to spend at least a night in each town as part of your Kosovo itinerary.
Where to Stay in Pristina 
Pristina isn't exactly overflowing with exciting budget accommodation. We've stayed in the following places; one a private apartment and the other a hostel.
During our first visit to Pristina, we stayed at the Hostel Han in a private twin room with shared bathroom and simple breakfast and paid €30 per night. These days, we tend to avoid hostels and stay in apartments in Europe but Hostel Han was a good place to stay and we would recommend it. On the plus side, the staff were friendly and there was plenty of information available (bus schedules, where to eat, etc). The kitchen was well-equipped and the living room was a relaxing space in which to meet fellow travellers. We had no problem getting a shower when we wanted to as the hostel was less than half full during our stay but, had it been busier, there may have been a problem as the number of cubicles was limited. The location was very central (just off Agim Ramadani Street) but you did have to walk up several flights of stairs to reach the entrance as there wasn't a lift. As (reasonably) early risers, the biggest annoyance for us was that breakfast wasn't available until 9am. My advice to fellow early risers would be to forgo the breakfast if you want to get going and grab something from a cafe or bakery – the provided breakfast wasn't up to much anyway (muesli and milk and dry toast) – and you can make coffee and tea in the hostel at any time of the day.
On our more recent visit to Pristina, we stayed at White Apartments. Not as centrally located as Han Hostel (although more convenient for the bus station), this studio apartment cost us €25 per night. The phrase 'compact and bijou' was coined for this place – it's one of the smallest apartments we've ever stayed in. One bonus was that it had a decent kitchen with a full oven – the downside was that you could barely open the oven door when the sofa bed was set up! Another disadvantage was that the apartment wasn't air-conditioned (a necessity in the height of summer) and the busy main road meant it was too noisy to sleep with the windows open. We usually agree that it's worth compromising on a small apartment in order to benefit from our own bathroom and kitchen but this titchy apartment would be better suited to a single traveller. 
How to get to Pristina
Kosovo's relative isolation means Pristina is not the most straightforward of destinations to reach for a short break. Pristina is best reached overland by bus (Kosovo doesn't have a train line) as part of a longer Balkans trip. The most convenient international bus connection is to/from Skopje in Macedonia.
Routes to and from Pristina are further limited by the fact that Kosovo's independence is not recognised by Serbia. You can only enter Kosovo from Serbia if you plan to travel back to Serbia. If you want to travel to Serbia from Kosovo it is necessary to exit Kosovo and enter Serbia from another country (such as Macedonia).
One option is to enter Kosovo from Albania as we did on one occasion,  and which is outlined in our suggested Balkans Itinerary: 'Podgorica to Corfu Town the Long Way' which includes the journey from Tirana to Prizren in Kosovo and then continues to Skopje.
Another suggestion would be to travel from Kolasin in Montenegro to Peja in Kosovo and continue to Pristina from there.
There is an increasing number of routes on low-cost carriers flying into Pristina. From London, Wizz Air flies from Luton as well as Budapest and cities in Germany and France. easyJet has direct flights from Geneva, Basel and Berlin.
Edit: Originally posted: 13 February 2016 Last updated: 04 November 2018
---
---
Planning to visit Kosovo? Bookmark our guide on what to do in Pristina…