To begin with, I wasn't sure how to categorise this former naval communication (原日本海軍鳳山無線電信所), and later disciplinary, headquarters located in Kaohsiung's Fongshan district, when we visited it in January 2018. It was definitely abandoned, with some buildings being in a far worse state than others but, there were elements about the complex that was quite unusual for an abandoned location and they threw me somewhat.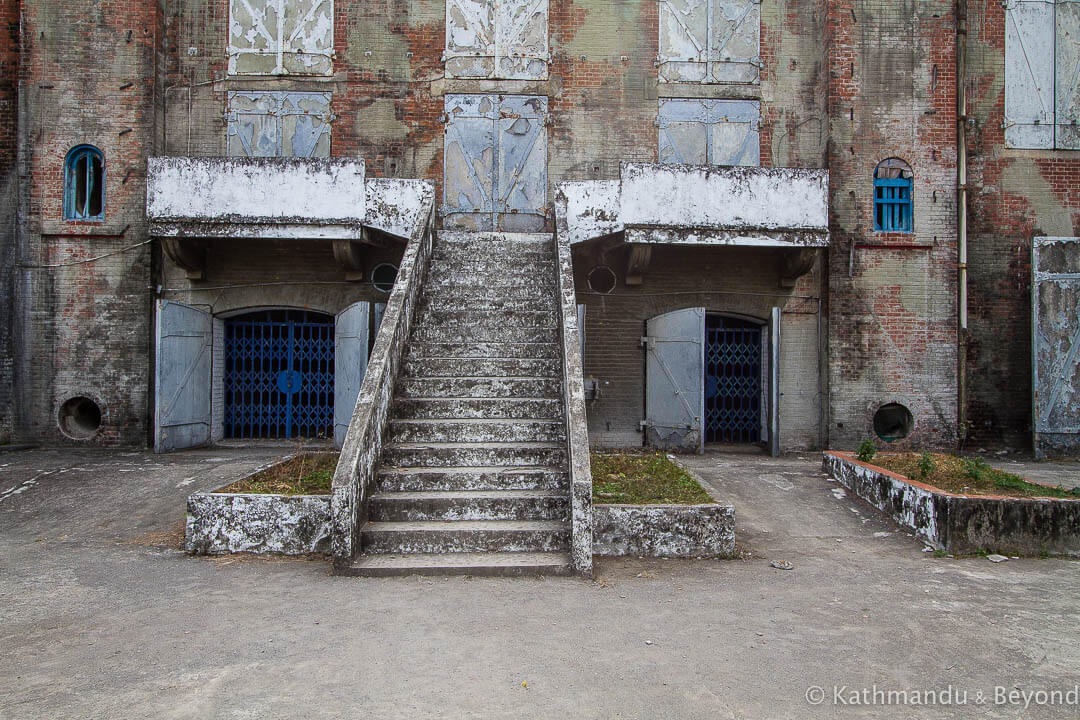 For starters, as we approached the main entrance we were greeted by a very polite, elderly couple who welcomed us in and asked us to sign the visitor's book. Looking at the previous signings, we were the first people to enter for at least a week yet, clearly, it was this couple's job to monitor who goes in and out and they proceeded to give us a map and an information leaflet (in English) all about the place.
Secondly, the lawn was well manicured and most of the perimeter wall was adorned with street art. Not the sort you normally see in forsaken buildings but decent stuff that had obviously been sanctioned (*). We were also told we could go anywhere within the grounds that wasn't locked. The toilet block, which was clean and well maintained, was also pointed out to us in case we needed to use it!
(*) Well, I thought it was decent art but Kirsty wasn't that impressed! Read more in her post dedicated to street art in Kaohsiung.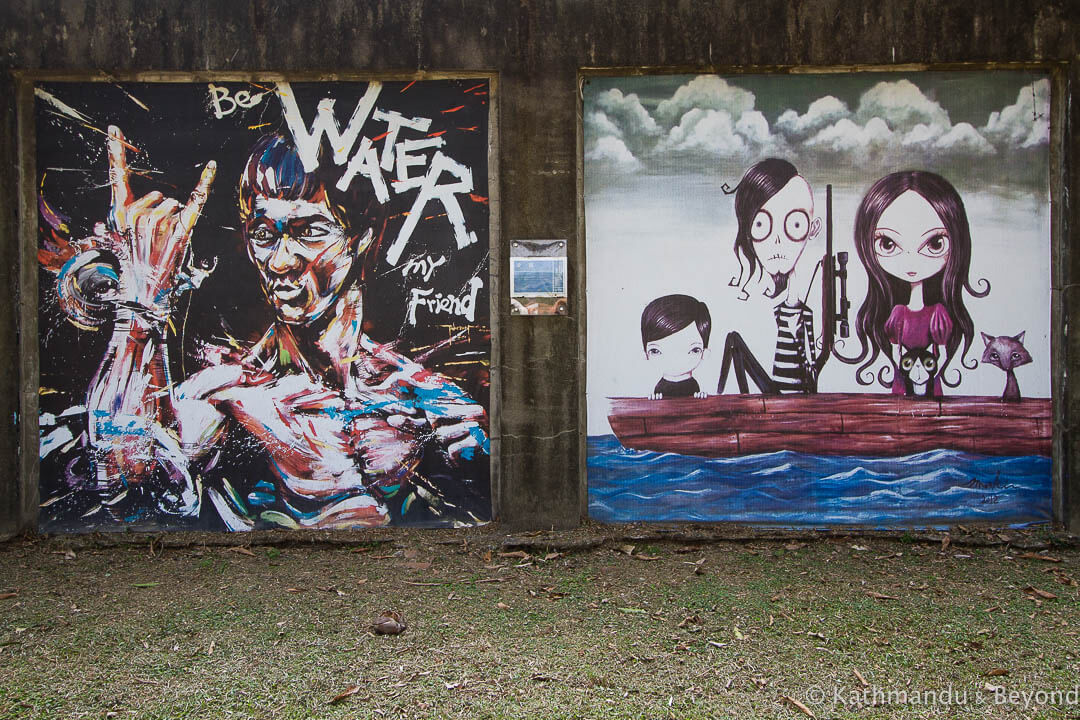 You don't expect any of the above when you are looking to enter an abandoned location. There was no need to get creative with our urbexing skills and work out how best to get inside. Neither were there any dogs or other undesirables to keep an eye out for.
Not that we were complaining. Hardly any of the buildings were locked, we had the place entirely to ourselves and we had free rein to go wherever we wanted in the knowledge that we wouldn't come across anyone or anything unpleasant. Plus, most importantly, we wouldn't get in the shit for being there in the first place!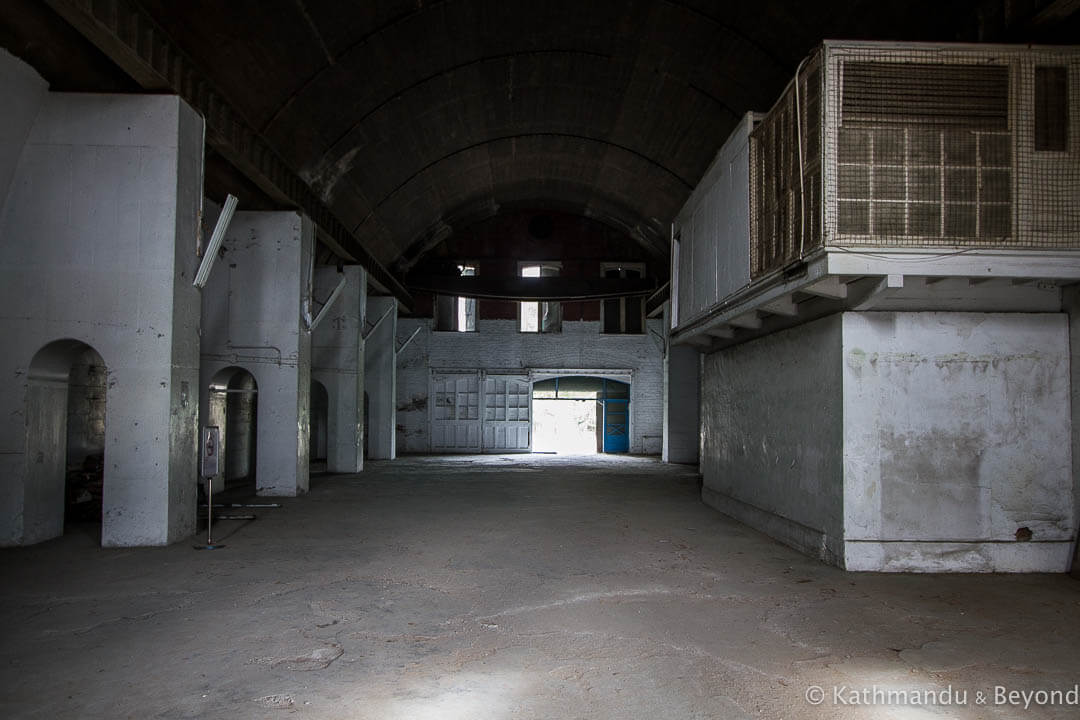 Main blockhouse


The information leaflet we were given by the elderly couple (which I have to confess I read a few days later) threw light on why this abandoned complex was seemingly freely accessible to the public.
Kaohsiung is a port city and, as the name would suggest, the complex was established as a communications centre by the Japanese Navy during the period when Taiwan was under their occupation (1895 to 1945). 
It was the first of three radio stations built by the Japanese Imperial Navy on the island and was constructed between 1917 and 1919. Built in conjunction with Funabashi Communication Centre near Tokyo, it was initially used for civilian conveyance but later, at the outbreak of the Second Sino-Japanese War between Imperial Japan and the Republic of China (1937 to 1945) it was used for military purposes and was responsible for maintaining wireless transmissions in the south-west Pacific.
After the collapse of the Japanese Empire (1945), Taiwan was handed over to the Republic of China (ROC) under the rule of the Kuomintang, and the base was converted into a boarding house for Chinese Navy personnel but the lodgings were merely a smokescreen for the base's real purpose, which was as an interrogation and disciplinary centre for servicemen accused of political disobedience. It was officially renamed the Navy Discipline Centre in 1962 and then Mingde Discipline Centre in 1976 and its function as a place to restrain disobedient military personnel continued until the beginning of the 21st century (2001) when it was briefly turned into a navy training base before eventually being decommissioned.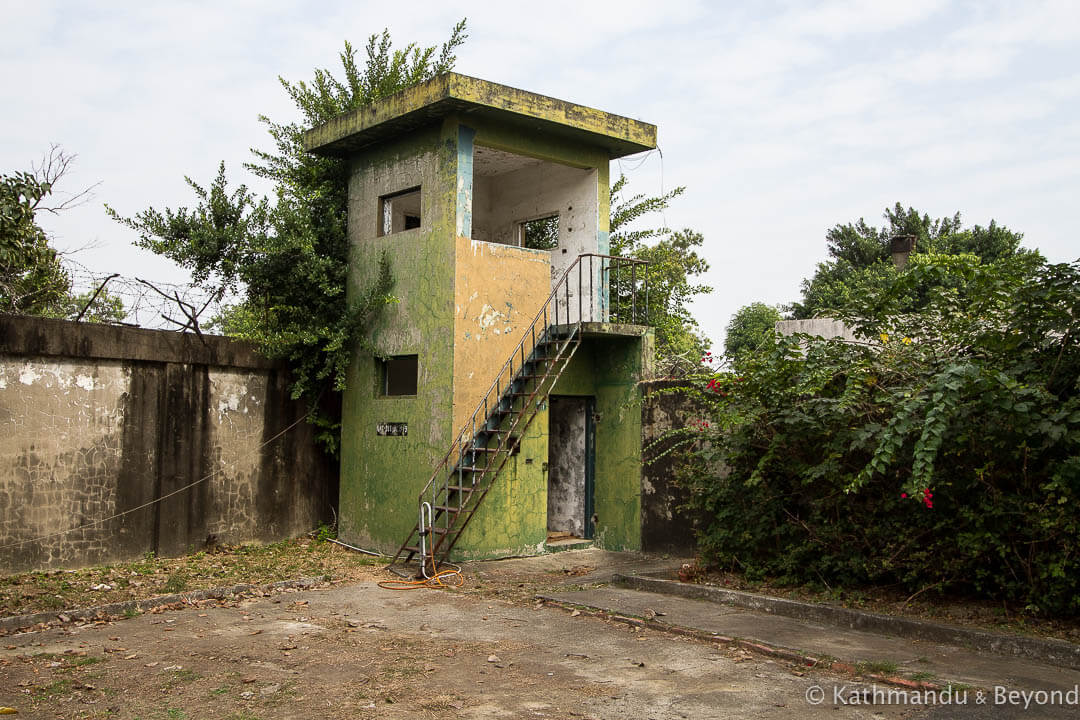 Guard House 
What's interesting, is that the base was given historical heritage status in 1994, i.e., while it was presumably still used as a disciplinary centre. Eventually, because of its cultural and historical importance, the former Japanese Navy Communication Centre in Fongshan was elevated to the status of National Monument and was opened to the public in February 2011 as a 'place for sightseeing and recreation'.
The information leaflet goes into quite a bit of detail about each building. If you visit, you will be given your own copy so I won't repeat it all here but there are a couple of structures worthy of note. Behind the main blockhouse, there's a putrid green building that was used as a confinement room complete with padded cells. There is also a lone guard tower in the same vicinity and the large building to your right as you walk in used to be the centre's main hospital. 
Hospital building
Hospital building
Confinement room
Confinement room
Is the former Japanese Navy Fongshan Communication Centre in Fongshan worth visiting?
I would say yes but don't go expecting a full-on abandoned building experience. Instead, visit the centre for its historical value and treat the fact that a number of its buildings are in a poor state of disrepair as a bonus. You definitely need the free information pamphlet (or this blog post!) in order to enhance your visit.
How to reach the former Japanese Navy Fongshan Communication Centre in Fongshan
The easiest way to get there is by metro. Take the Orange line to Fongshan Junior High School (鳳山國中站 – stop 14) from where it's a 10-minute walk. The GPS coordinates are 22.630427, 120.373937.
Also, keep in mind this is an abandoned building with opening hours, which are 9am-5pm Tuesday to Sunday. There is no entrance fee.
---
---
PIN THIS POST…



---