Soviet bus stops and abandoned places in Northern Abkhazia
We were travelling by marshrutka (fixed route minivan) between Sukhumi, the capital of the breakaway republic of Abkhazia, and the Black Sea resort town of Gagra. Just before the junction for Pitsunda, another of Abkhazia's top vacation spots, we drove into the nondescript blink-and-you'll-miss-it town of Bzypta (also spelt Bzyb). Fortunately, we weren't blinking on this occasion and as we drove into the town's southern end we noticed a bizarrely-shaped bus stop on the right-hand side of the road. Within seconds of passing it, we caught a glimpse of a neglected statue and although it was in very poor shape indeed, we were pretty certain it was of the former Russian revolutionary, Vladimir Lenin.
If I was asked to give advice to other travellers, one of my suggestions would be this. When you are travelling on a point-to-point road that has plenty of public transport running along it, stay off your phone and look out the window because you never know what you might spot.
Next up, and this is where the frequent public transport comes into play, don't hesitate in asking to be let off there and then if you do see something that takes your fancy. Naturally, this only works in destinations where drivers stop on demand. That's the UK's National Express coaches out the window then, but there are surprisingly many places in the world where you can alight public transport when it is convenient for you and the Caucasus is one such region.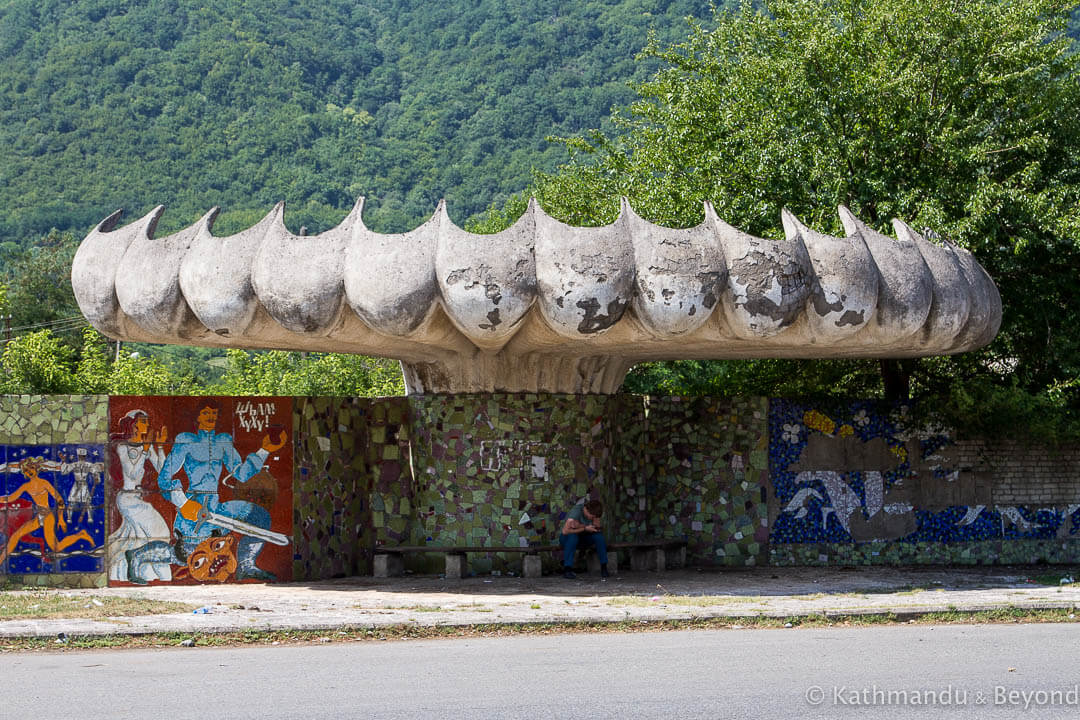 Bus stop "Hippodrome" in Bzypta
The bus stop looked so wonderfully weird that we just had to take a closer look and, for reasons we can't even fathom ourselves, we like finding, and photographing, statues of Lenin!
A split decision between the two of us followed by a couple of shouts of "stop" to the driver of our marshrutka, which was reverberated by the rest of the passengers on board as he didn't hear us first time around, and there we were, standing on the side of the road with all our kit, in a town we had no clue about, getting ready for the short walk of a couple of hundred metres or so back in the direction from which we had just come.
Soviet bus stops in Abkhazia
We headed to the bus stop first. A solitary teenager was sitting there, playing on his phone. He clearly wasn't waiting for transport, he could have flagged ours down if he was, but rather he was just shielding himself from the summer heat. He ignored us completely the entire time we were photographing the structure and didn't even look up when we got closer to study the Soviet-era mosaics on either side of him.
The bus shelter was rather neglected but then that's not unusual in Abkhazia. The breakup of the Soviet Union, followed by a vicious war with neighbouring Georgia (1992-93) resulted in economic hardship throughout this disputed territory and this adversity is still very much in evidence today.
Called Bus Stop "Hippodrome", this flamboyant and rather Gaudi-esque piece of art was one of the last of a series of nine bus shelters erected along this stretch of the Black Sea Riviera in the 1960s and '70s. These so-called 'shell pavilions', or panel element bus stops, were designed and commissioned by George Chakhava, an architect best known for being part of the team that designed the Jenga-style Ministry of Highway Construction building (now the Bank of Georgia headquarters) in the Georgian capital, Tbilisi. As well as being a prominent architect in the Georgian SSR (he was also responsible for the magical Cafe "Fantasia" in Batumi, for example), Chakhava was also the country's Deputy Minister for Road Construction between 1967 and 1987. It was this position that allowed him to collaborate with a collective of artists (Zurab Kapanadze, Zurab Lezhava and Nodar Malazonia) and realise his vision for a coastline dotted with ambitious mosaic-decorated bus shelters.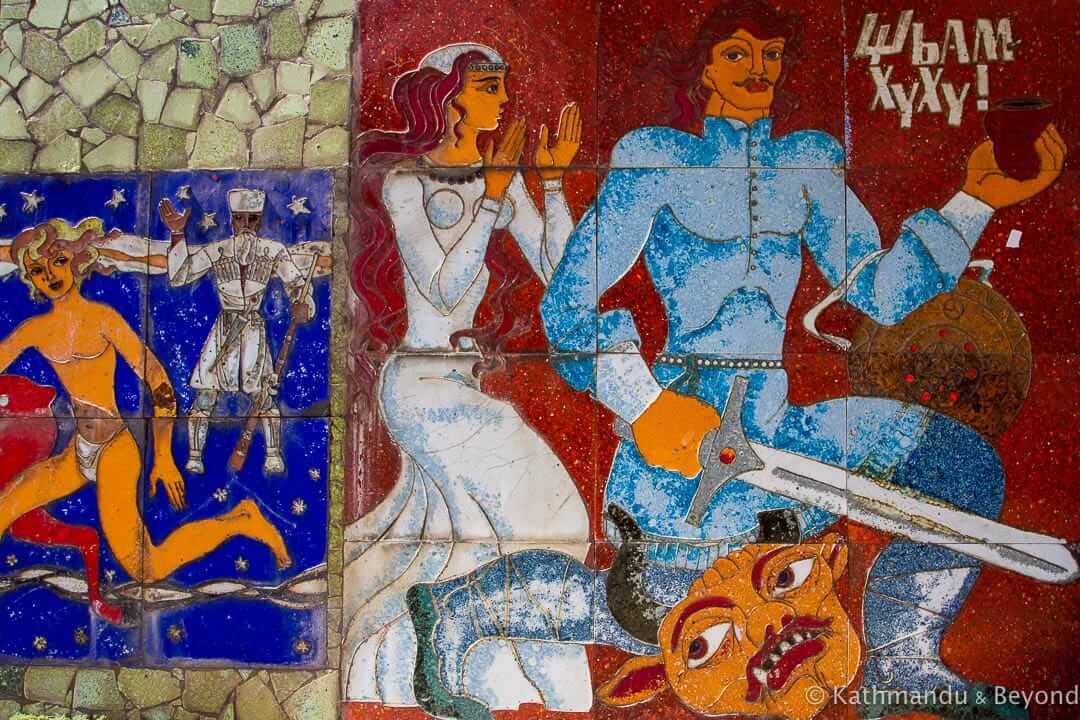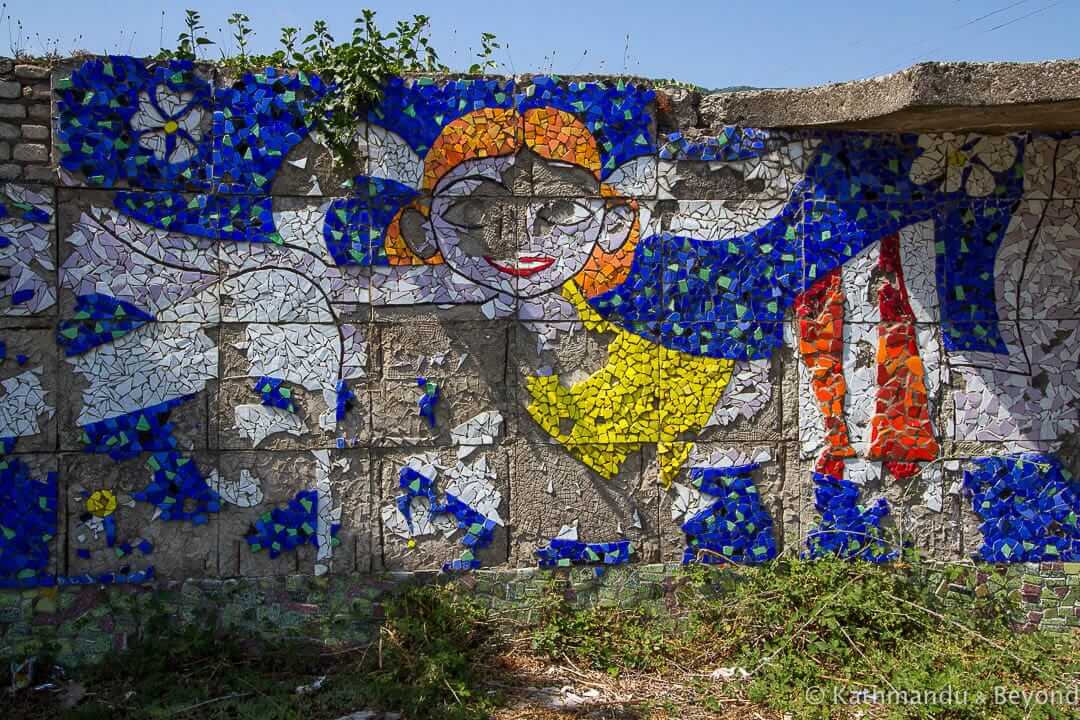 Closeup of the tiled and mosaic artwork that adorns bus stop "Hippodrome". As apparent, some sections are in better condition than others.
The other eight stops are just as eye-catching as "Hippodrome" and involved a lot of time and effort to create. What's more, the nine shelters cost a lot to money to produce. During the 1950s, going into the 1960s, Abkhazia's coast, the "Pearl of the Black Sea", was one of the most prestigious resorts in the USSR and, hence, a firm favourite with the Soviet elite. This, in turn, meant that the budget for producing this series of bus stops was almost endless which turned out to be fortunate for Chakhava and his team of artists as the complicated, and often intricate, design attached to each of them was expensive to create.  
"Hippodrome" in Bzypta was our first glimpse of these fantastical structures but during our ten days spent travelling around Abkhazia, we did manage to see six of the total nine. We were properly able to admire and photograph "Fragment of a Dolphin" in Gagra and "Shell" in Novy Afon. We also saw "Fragment of a Fish", "Cockerel" and "Extraterrestrial Dish", all of which are on the road to Pitsunda, but only from the grubby window of a travelling marshrutka and so we didn't manage to take any photos of them. I know our mantra is "stop the bus" but the plan was to rent a couple of bikes when we arrived in Pitsunda and cycle back to see them but a) we couldn't find any bikes to rent and b) Pitsunda was a mesmerising place which took up more of our time than we were anticipating.
Bus stop "Shell" in Novy Afon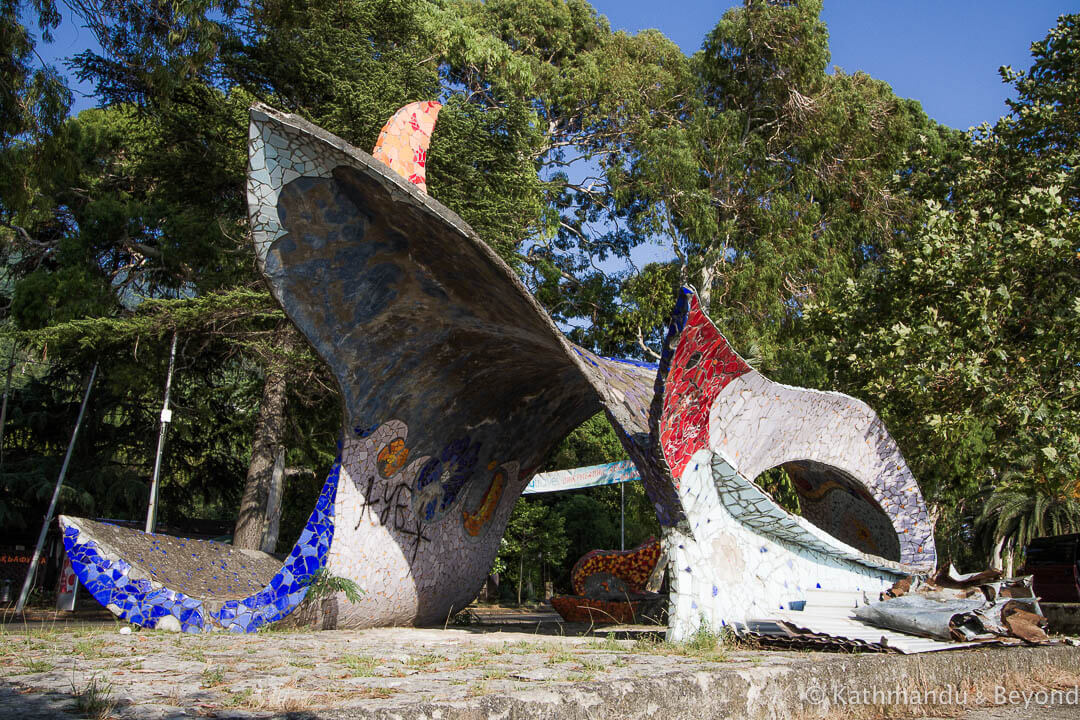 Bus stop "Fragment of a Dolphin" in Gagra
The three we missed completely were "Wave", on the outskirts of Gagra, "Variation on the Theme of Sea Inhabitants" and the creepy-looking "Octopus", both somewhere near Pitsunda.
In 2015, around 600 local residents, mostly from Pitsunda but also from Gagra, petitioned the Abkhazian government to place the bus stops on a cultural heritage list in order to protect them from further damage and ultimately restore them. To date, nothing has come of the request but it is interesting to note that those in charge of the lobby gave two reasons why the shelters should be preserved.
Firstly, they argued that the stops are one of Abkhazia's most recognisable landmarks and are popular with (mainly Russian) tourists. Tourism is vital for the Abkhazian economy so this is a valid point but the second reason involved the fact that many of those who had signed the petition did so because they remember the bus stops with fondness and continue to see them as an integral part of the landscape. Given there was likely some negative backlash when the shelters were initially created, you have to wonder how many of these residents originally couldn't stand the lavish designs but grew used to them, and liked them even, as time progressed? It is also reasonable to assume that some of the petitioners, particularly the older ones, had an affection for the bus stops because they associated them with a time before the war when their small part of the Black Sea coast was a more appealing place to be?
Contradictory information; Other resources online say that the bus stops were all designed by Zurab Tsereteli, Georgia's most famous Soviet artist/sculptor and current President of the Russian Academy of Arts. My source is a specialist book titled Art for Architecture Georgia: Soviet Modernist Mosaics from 1960 to 1990 by Nino Palavandishvili and Lena Prents. 
Statue of Lenin and an abandoned school in Bzypta
Don't worry, I haven't got half as much commentary about the nearby statue. Battered and bruised, it most certainly was Lenin and, as a reward for our impromptu decision to jump off the marshrutka, we were also presented with an abandoned school to explore for half an hour or so, as the statue was situated within the grounds.
The school was more or less an empty shell but we had a poke around and found the former sports hall and the kitchens plus it inspired us to look for more abandoned places in the vicinity. The weight of our packs was now becoming a little tiresome but, after finishing at the school, we continued along the main road in the direction of Gagra and eventually spotted Bzypta's train station.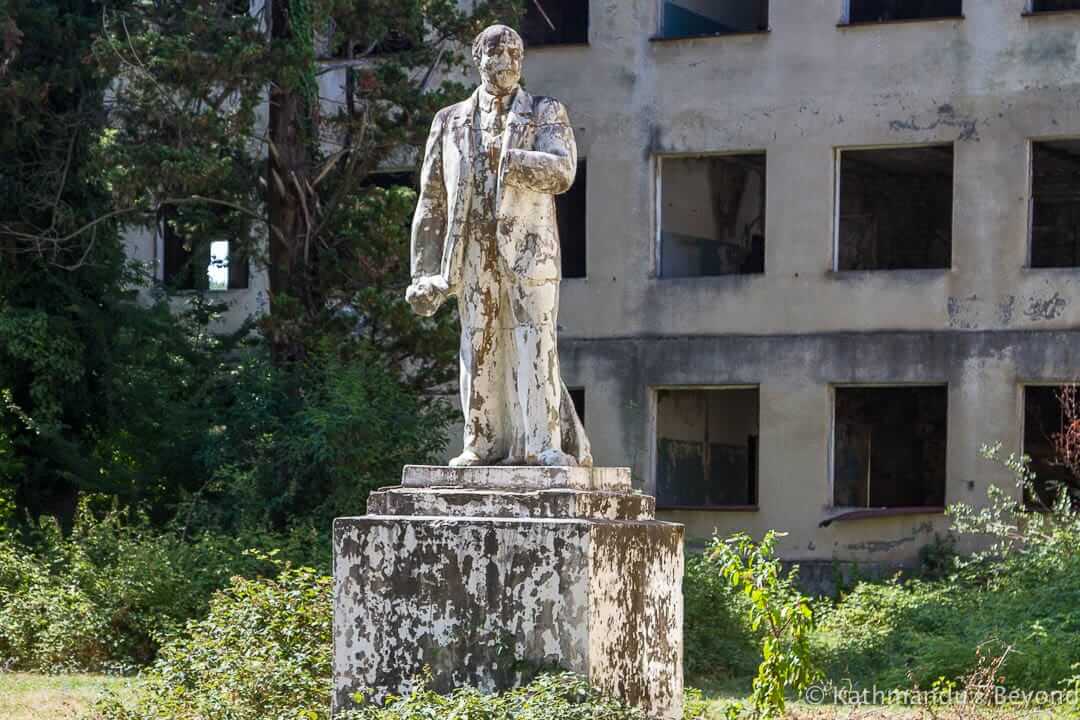 Statue of Lenin in the grounds of an abandoned school in Bzypta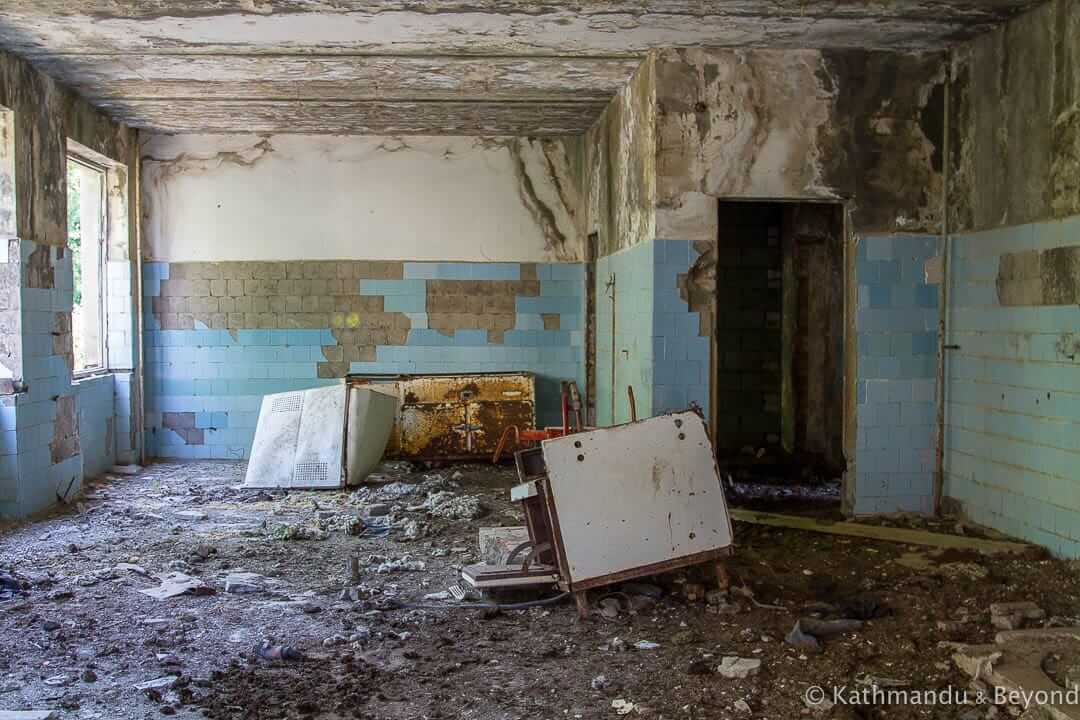 Abandoned school in Bzypta
Abandoned railway station in Bzypta
Railway stations in Abkhazia have two things in common. Firstly, all of the station buildings are abandoned even though trains do pass through and even stop at them to pick up/drop off passengers. We've witnessed this at both Sukhumi and Gagra. The stations in both these places were in a terrible state of neglect yet there were several passengers ladened with luggage waiting on the platform for the reasonably regular service to Sochi in Russia, and beyond.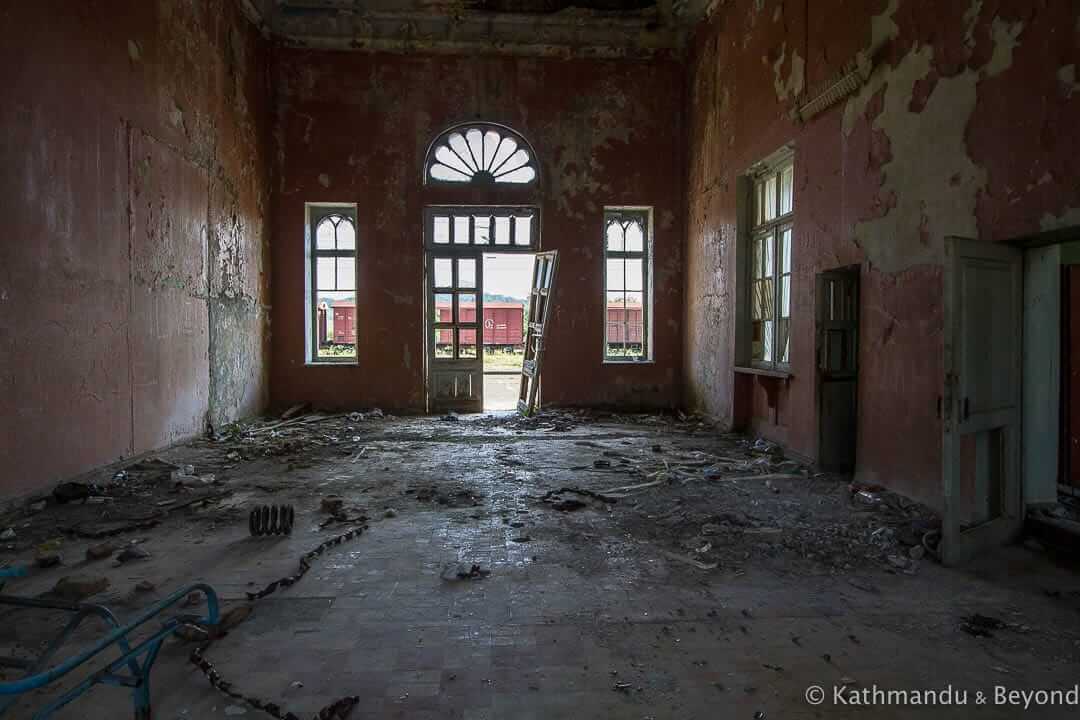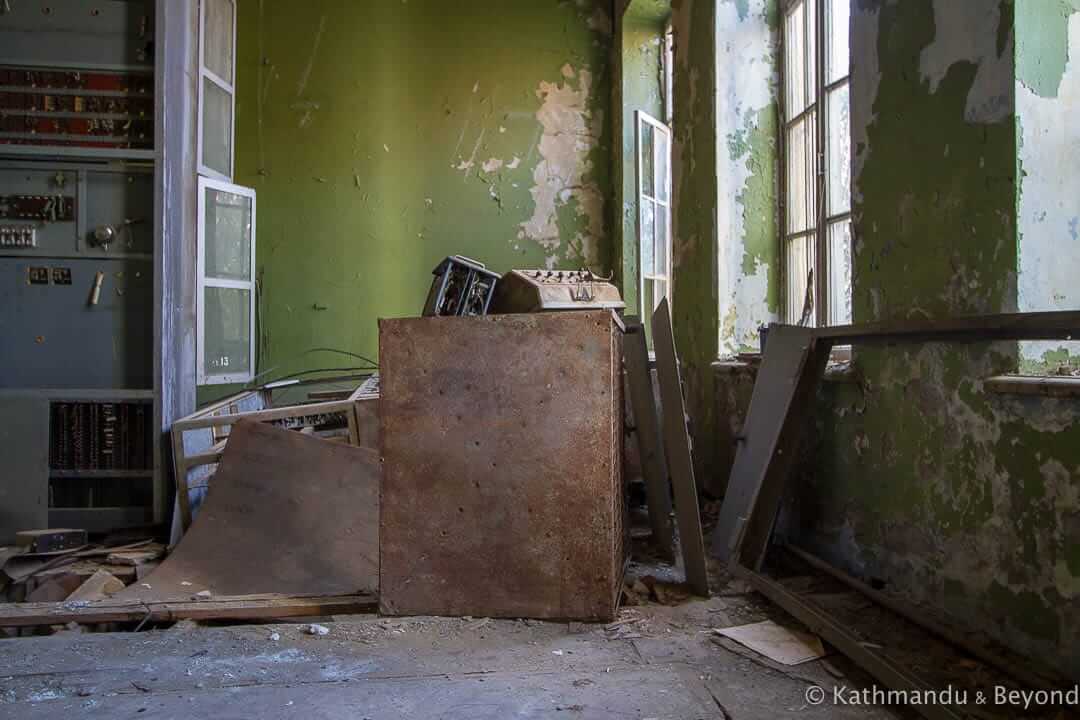 Interior of an abandoned railway station in Bzypta
The other thing that railway stations have in common is that they were all built between the 1940s and 1960s when the predominant architectural style in the USSR was Socialist Classicism, or more commonly Stalinist Empire style. We've seen many examples of this genre of architecture in all its original glory in other parts of the former Soviet Union: the Latvian Academy of Sciences in Riga and the bright-orange Chernihiv Railway Station in Ukraine for example, and it's a real pity that none of the architecture from that era in Abkhazia is in decent condition as the republic seems to have an abundance of it. Of course, I know why it is neglected and in such poor shape. You've only got to spend a couple of hours in this de facto state to realise it has far from recovered from the war with Georgia, but I couldn't help thinking, as we travelled around, that Abkhazia's architecture would have looked amazing in its day.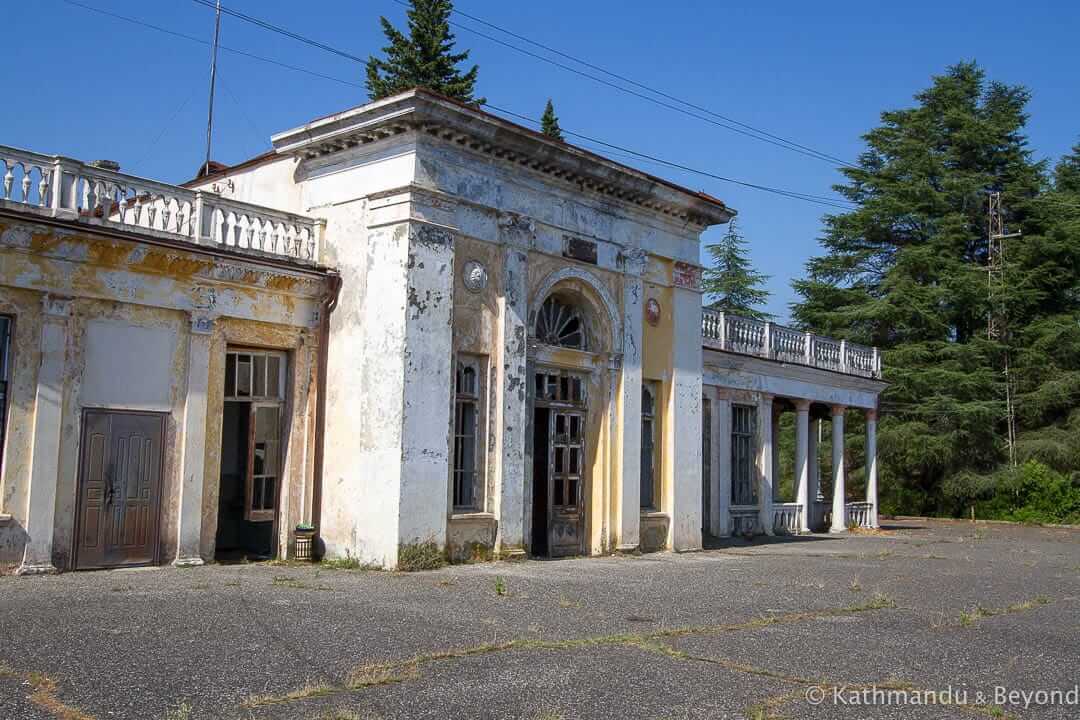 Abandoned railway station in Bzypta
On the flip side, I know we are alone in appreciating the appeal of neglect and decay and although there was some life at Byzpta station in the form of a couple of railway workers, we were left to our own devices to chalk up yet another abandoned location.
Heading to Gagra far later than expected, it didn't take us long to flag down a passing marshrutka and within the hour we were sitting on the promenade wall, drinking a bottle of cold beer and pondering what we might find next in this fascinating destination.
How to get to Bzypta in Abkhazia
The GPS location for Bus Stop "Hippodrome" is 43.231580, 40.376370 but, in all honesty, as long as you are paying attention when nearing the southern entrance of Bzypta, you won't miss this gaudy structure. It stands out like a sore thumb. Neither will you fail to see the statue of Lenin, which is up a little on the same side of the street. The train station is further along the road to Gagra and located down a track on the left-hand side of the road. The GPS is 43.22588, 40.35255
---
---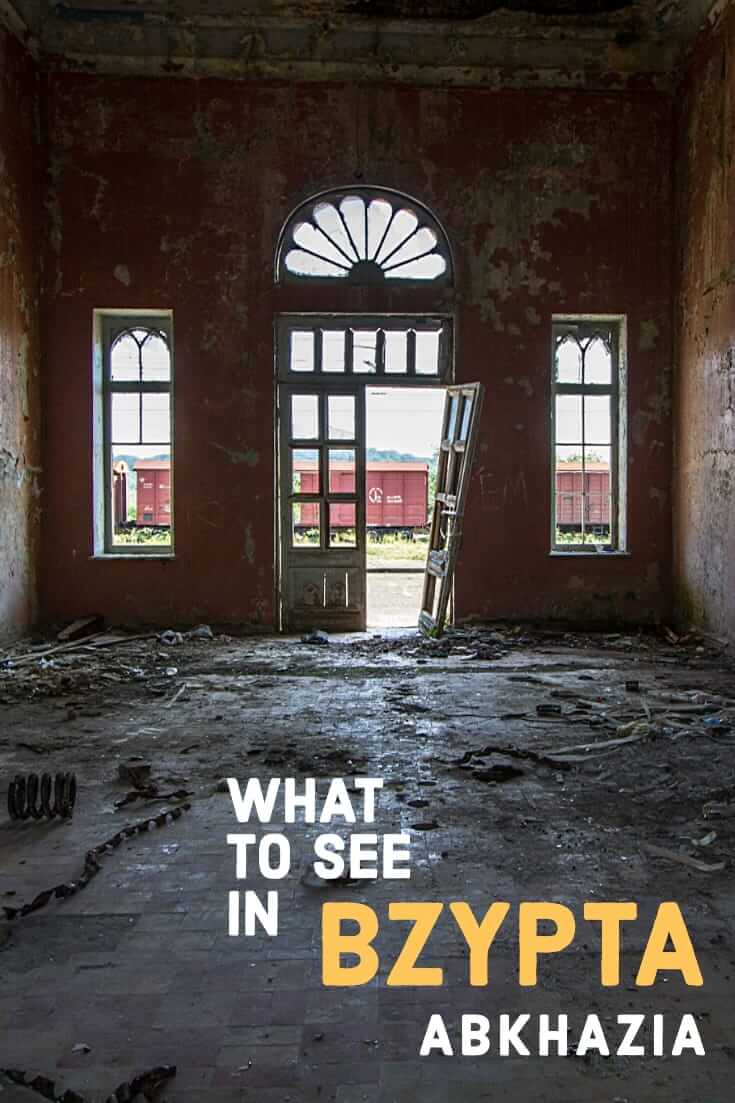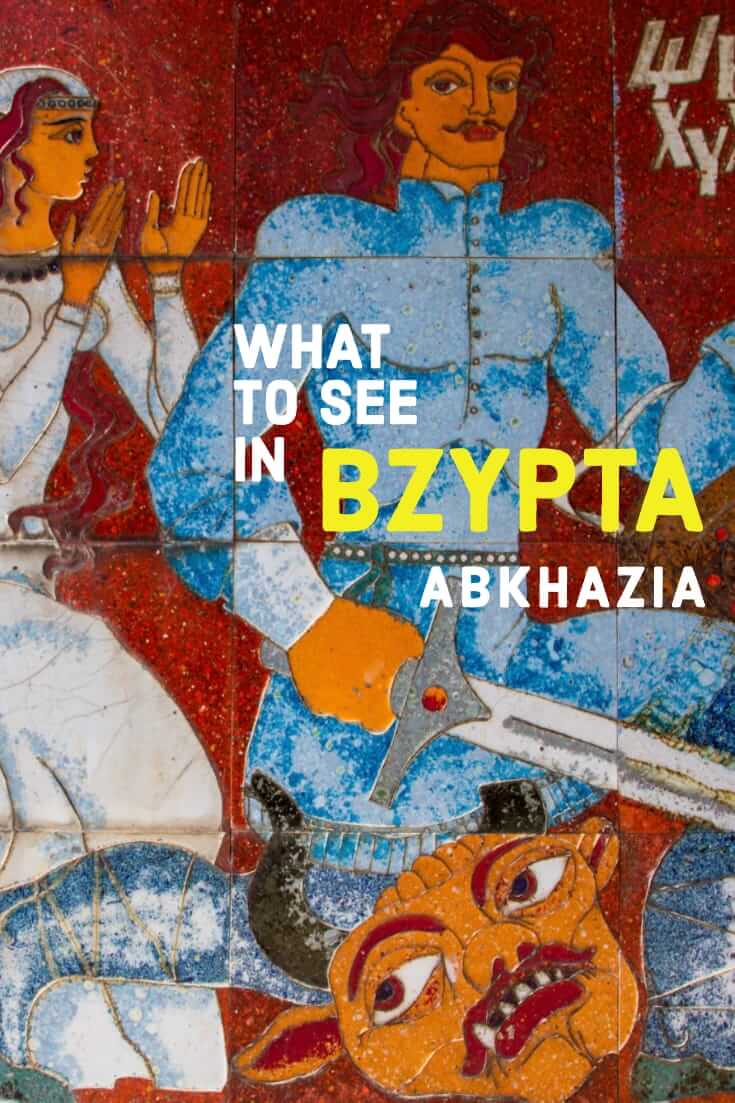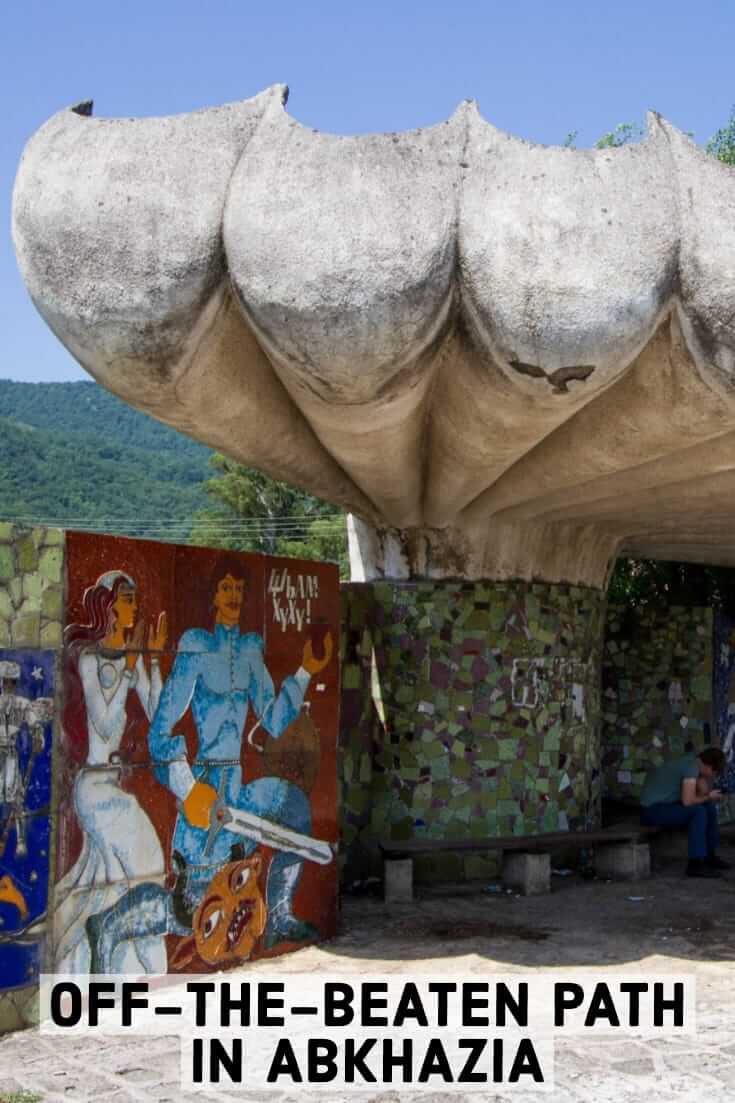 ---
---