I almost had my first urbexing injury while wandering around Viivikonna, a quasi-abandoned former mining town up in the far northeast of Estonia. We had been driving around what is left of the settlement when we spotted a distinctive red-coloured house that had the potential for a spot of urban exploration. We parked the car and entered with caution, as we always do. The usual array of rubble, decaying furniture and other abandoned household items presented themselves but when I looked off the main corridor into one of the other rooms I spotted an old briefcase, open and displaying its contents, perched on a window ledge. I was drawn to it.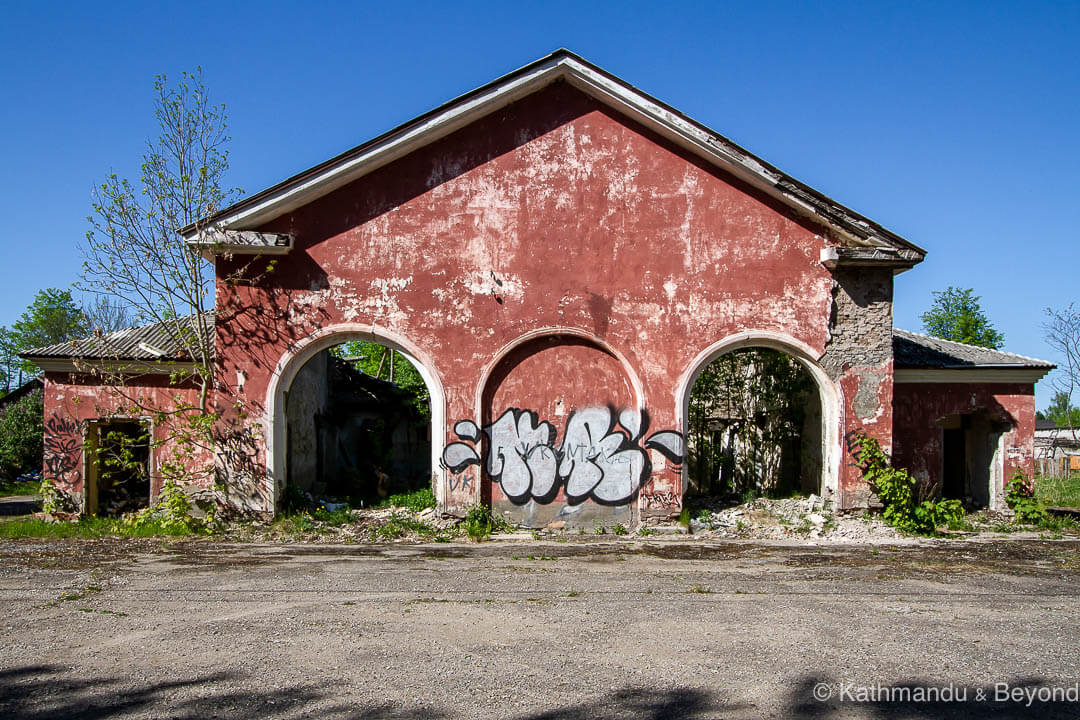 Normally, I keep my eyes firmly directed at the floor, making sure that the ground beneath me is safe enough to walk on but, on this occasion, and I'm not overly proud of myself here, I walked forward but my gaze was focused on the battered briefcase rather than the floor because inside the briefcase was a number of sticker-type photos, including those of a few topless women!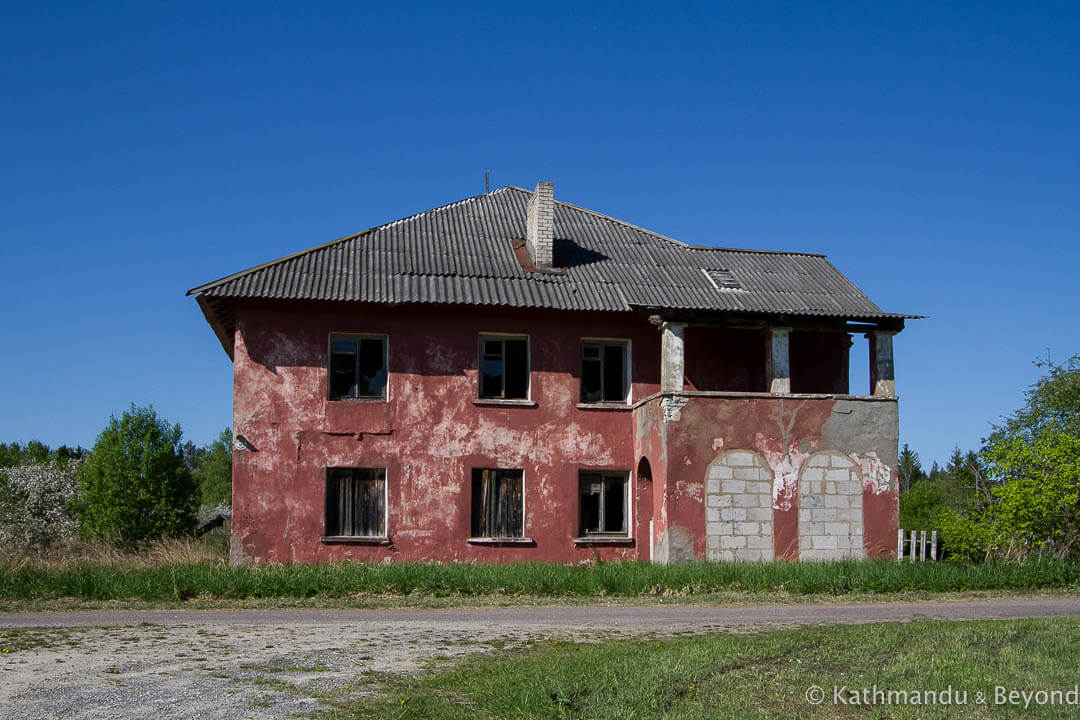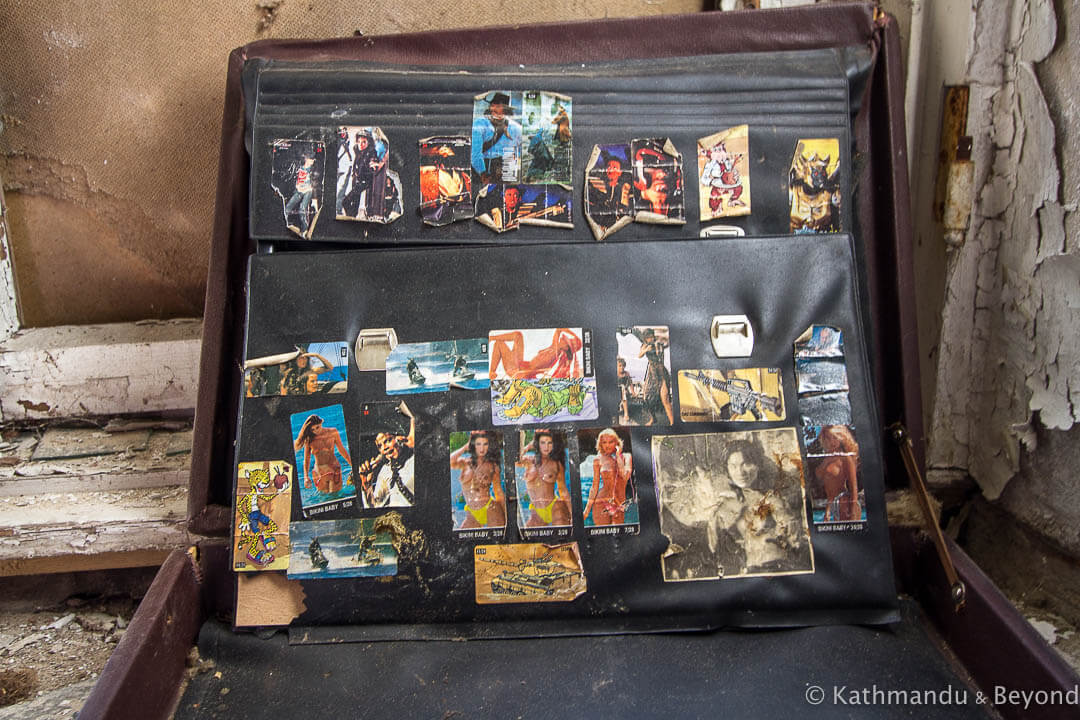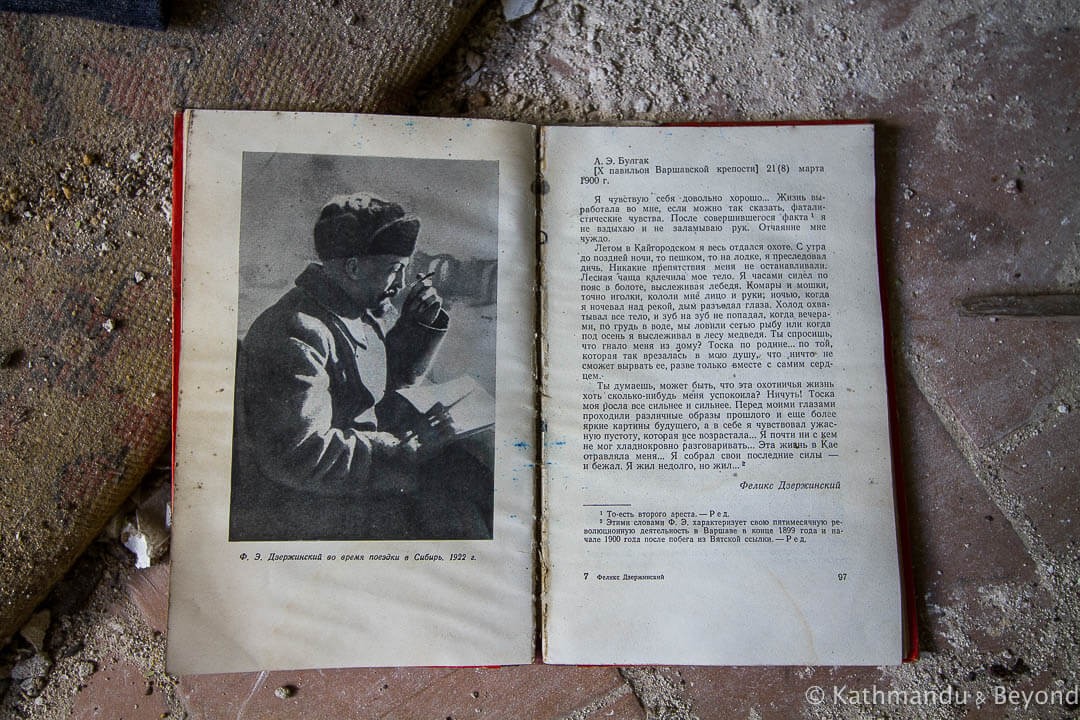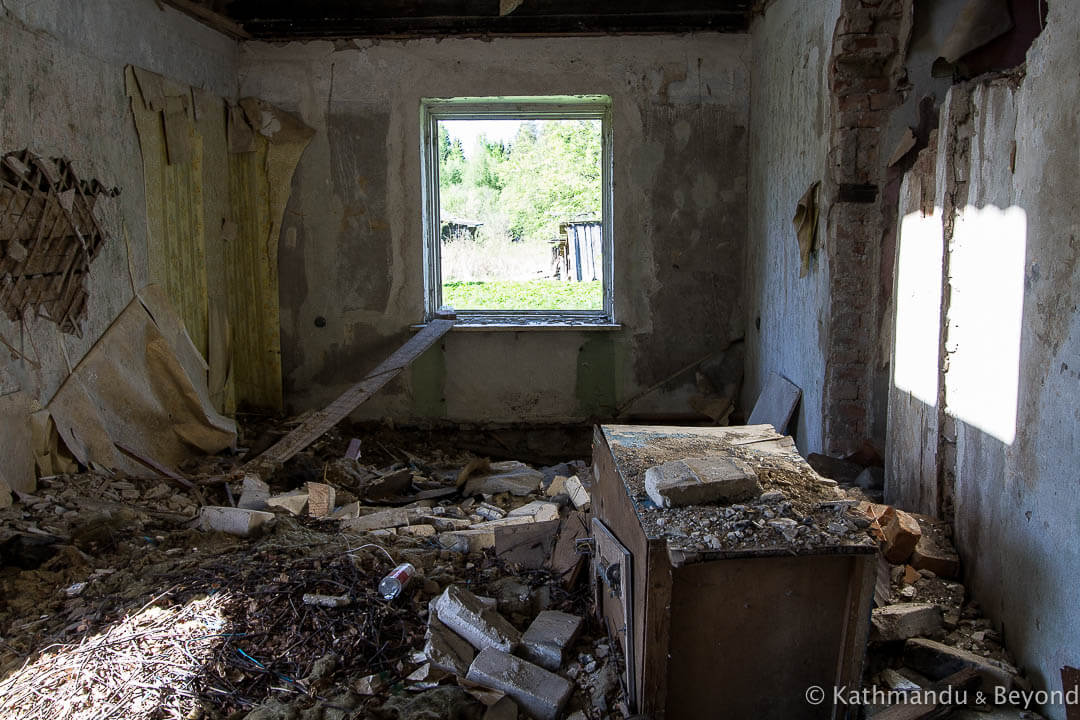 And then it happened… as I lifted my left foot off the ground to put it in front of my right one, I noticed there was a rather large chunk of wood attached to the bottom of the shoe. I didn't feel anything but I still turned and signal to Kirsty that she should take a look at my foot!  As a general rule, we try not to talk very much when we enter an abandoned building, preferring to converse with each other using a combination of sign language and exaggerated gestures until we know the place is devoid of any company. It's a good habit but it does become rather comical at times. In this instance, if this had happened anywhere else I would have normally freaked out and shouted that I "have a bloody plank of wood attached to my foot!" but we had only just entered the building and were on lockdown code-silence, so instead I hopped up and down on my right foot while simultaneously pointing at my left one and frantically signaling to Kirsty that the situation "wasn't good!". 
Luckily for me, even though the nail had gone right the way through the sole of my boot, it hadn't pierced the skin and after a quick inspection back at the car (and a bit of a lecture from Kirsty after admitting the reason why I hadn't been looking at the ground), we resumed our exploration of the house and the rest of Viivikonna.
At this point, I should really explain the story behind Viivikonna and how it ended up in the sorry state it is in today.
The settlement of Viivikonna (it's bigger than a village but can't really be called a town) has a curious, but not too unfamiliar story attached to it. Viivikonna is 34km east of Estonia's third largest city, Narva, and came to prominence in the 1930s when an oil shale mine was established there (*).
(*) Oil shale is a not particularly environmentally-friendly fine-grained sedimentary rock that burns easily and was used to fuel thermal power plants during the time of the Estonian Soviet Socialist Republic (SSR). It is still used today but is not as popular as it once was, and Estonia remains one of largest producers/processors of oil shale in Europe.
Viivikonna was constructed by World War II German POWs, and by 1955 it was fully industrialised with a few thousand people living and working there. But over time, the mine became obsolete and eventually closed (*). Subsequently, the majority of the population moved away in search of new prospects and a better life.
(*) One source states that the mine closed in 1974, while another says this happened at some point in the early 1990s, after the collapse of the Soviet Union.
Buildings were abandoned by owners and occupants and eventually Viivikonna's population dwindled to just ninety-nine inhabitants. This figure is based on a 2011 census but I suspect that today, it is even less.
It's quite remarkable that anyone still lives there at all. Apparently, electricity and running water were cut off in the early 2000s and, during our visit in May 2018, we certainly felt like we were wandering around a ghost town rather than somewhere that was still populated (albeit rather sparsely).
Yet, we definitely saw signs of life – vegetable patches that had clearly been recently attended, the odd parked car that was still in use (as opposed to overgrown and neglected), a bus stop that was maintained and even a couple of houses that were occupied (including one that was in a very good condition – see photo below). We also heard dogs and, last but not least, we saw a couple of elderly people who were presumably part of the ailing community that still call this eerie settlement home.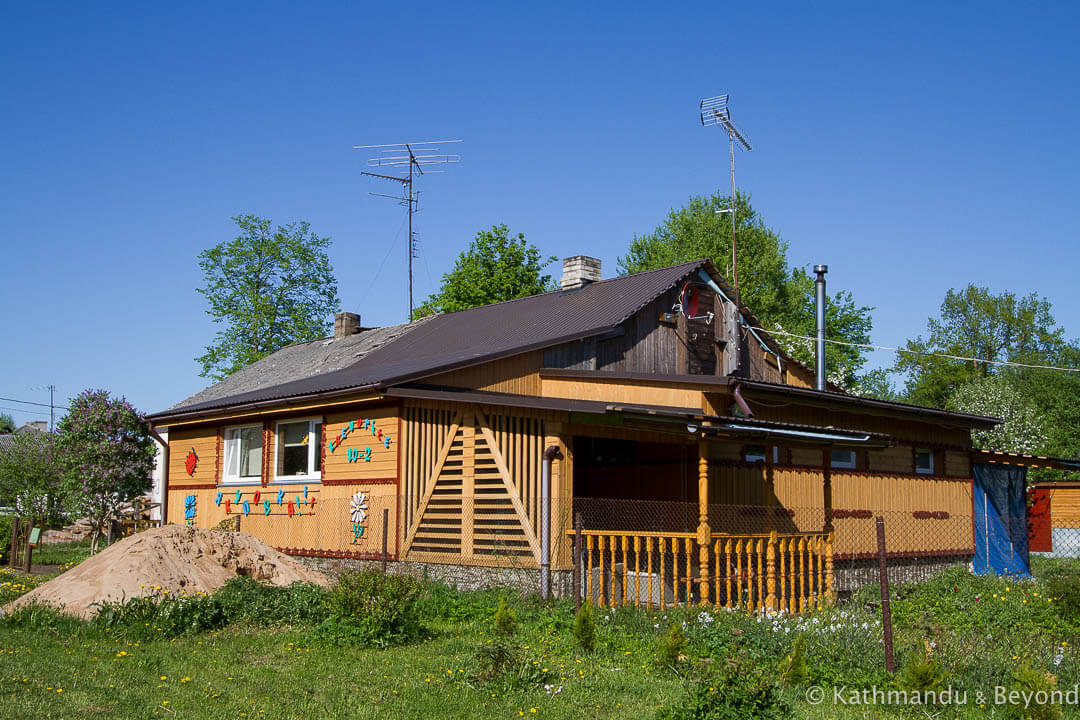 Returning momentarily to the briefcase full of saucy photos… Once I'd regrouped and stopped worrying about the dirty great big nail that had very nearly gone straight through to the sole of my foot, I came to the conclusion that the scene was staged and, when I found a book nearby that was open on a page featuring Lenin (*), it confirmed my thoughts. 
(*) I'll refrain from making any jokes about 'Vlad(imir Lenin) the Impaler' and the skewering of my foot!
It's nothing like the prop-positioning you see at Chernobyl but I later found out that Viivikonna is one of the most famous 'ghost towns' in Estonia and there are tour companies offering excursions out of Tallinn that include it in their itinerary. I suspect that one of the guides couldn't resist creating a tempting photo shoot at some point in the past – I just hope that nobody else (nearly) gave themselves a good old dose of tetanus because they were ogling photos of topless women and trod on a rusty nail rather than looking where they were going!
Is Viivikonna worth visiting?
I think the answer is yes but I'm not 100% sure on this. To quantify this statement, there are lots of abandoned buildings in Viivikonna and currently, you have unrestricted access to most of them.  What's more, there is evidence of Stalinist Empire style architecture, albeit crumbling, on many of the buildings, and this will be of interest to some. But, on the flip side, Viivikonna isn't completely abandoned: people still call it home, and we tend to struggle a bit with the concept of tourism voyeurism and whether it is appropriate to visit such places or not. We touched on the subject in our blog post about Tskaltubo in Georgia, where we visited a number of former Soviet-era sanatoriums that are now inhabited by Internally Displaced Persons (IDPs) from the 1992/1993 Georgia-Abkhazia conflict. As a result, and in order to keep a low profile, we didn't spend that long in the occupied part of Viivikonna. Instead, we spent the majority of our time there exploring the ruins on the outskirts of the settlement (which you pass on the way in) – factories, apartment buildings and the like that were completely devoid of life and, in our opinion, more interesting places to ferret around as they weren't so overgrown and therefore more accessible.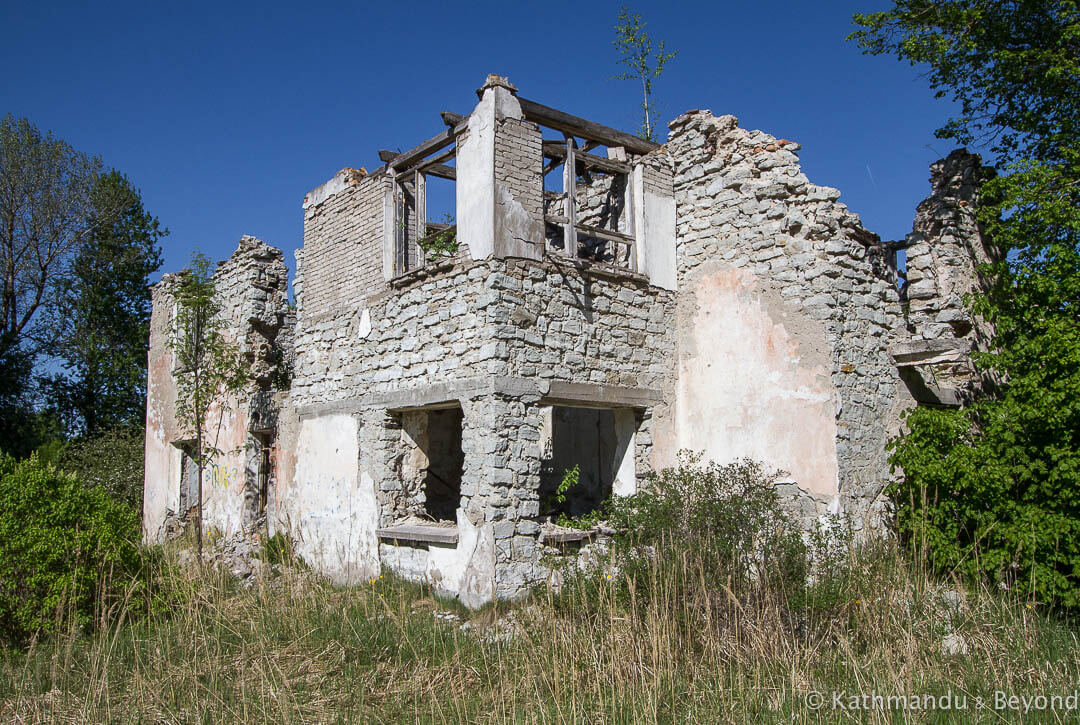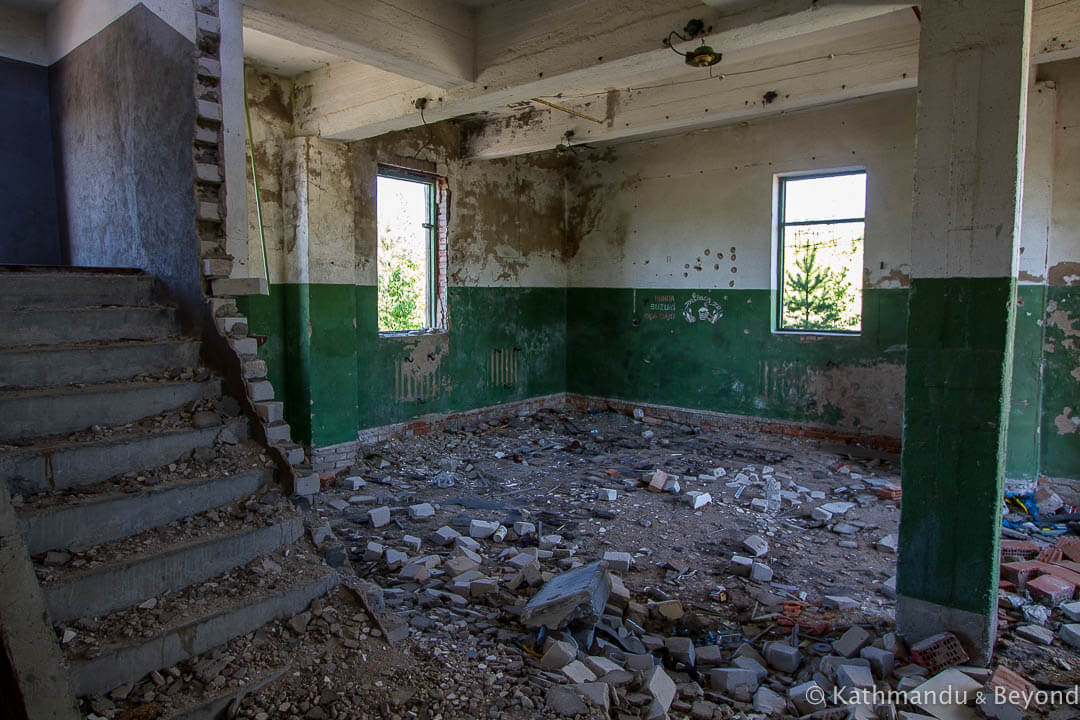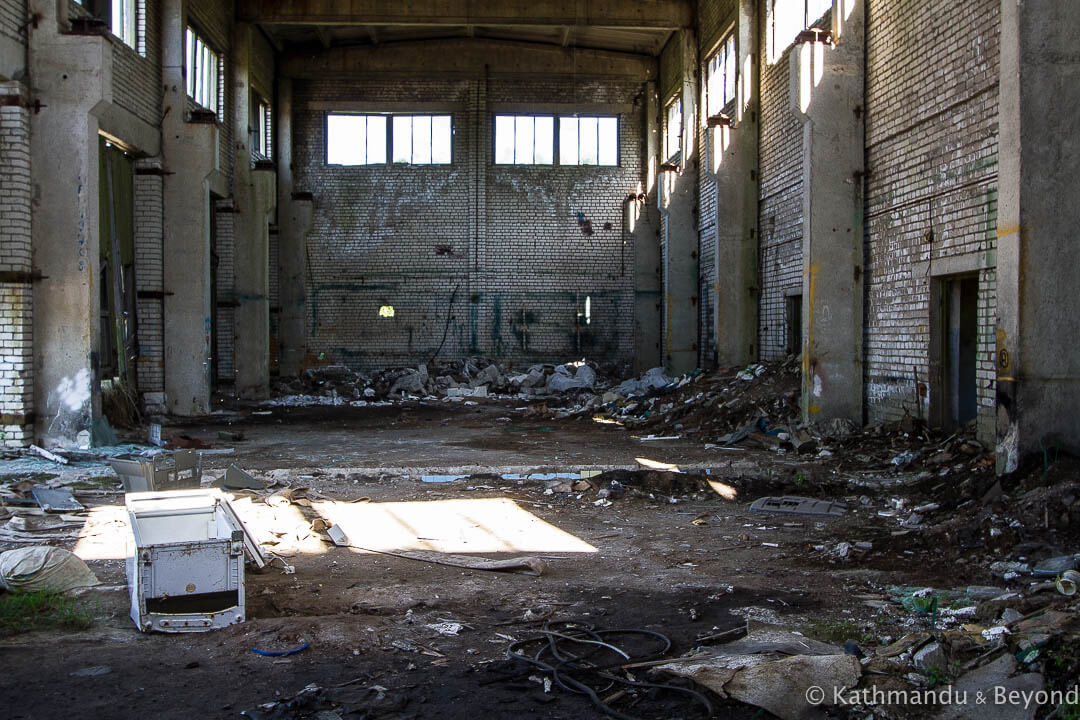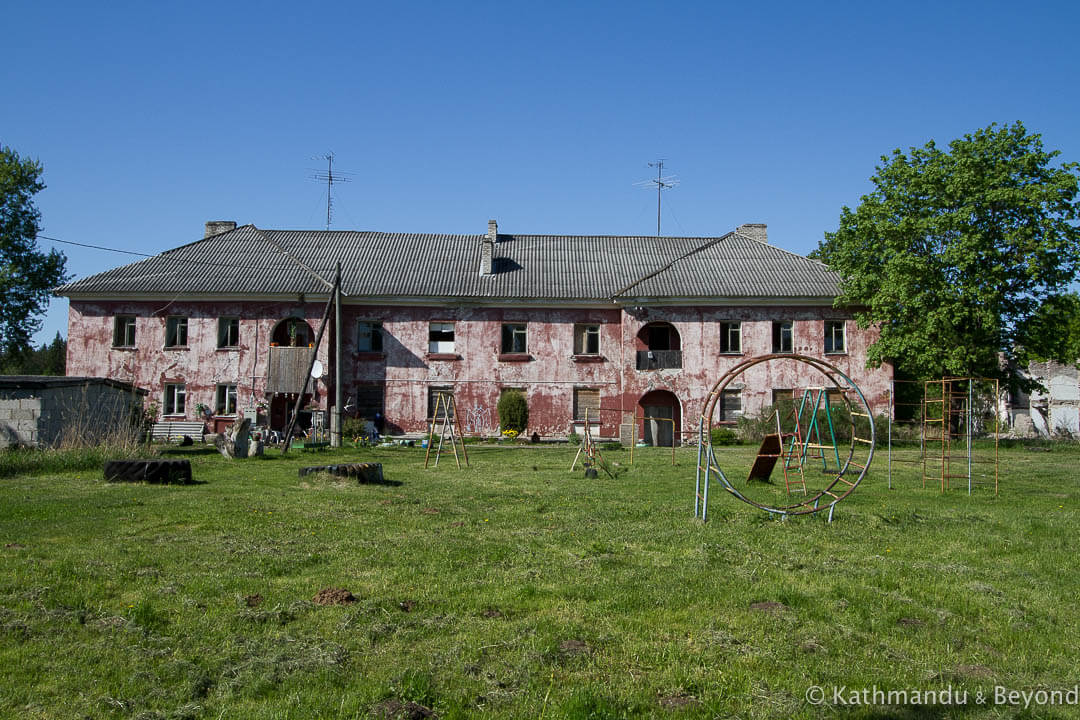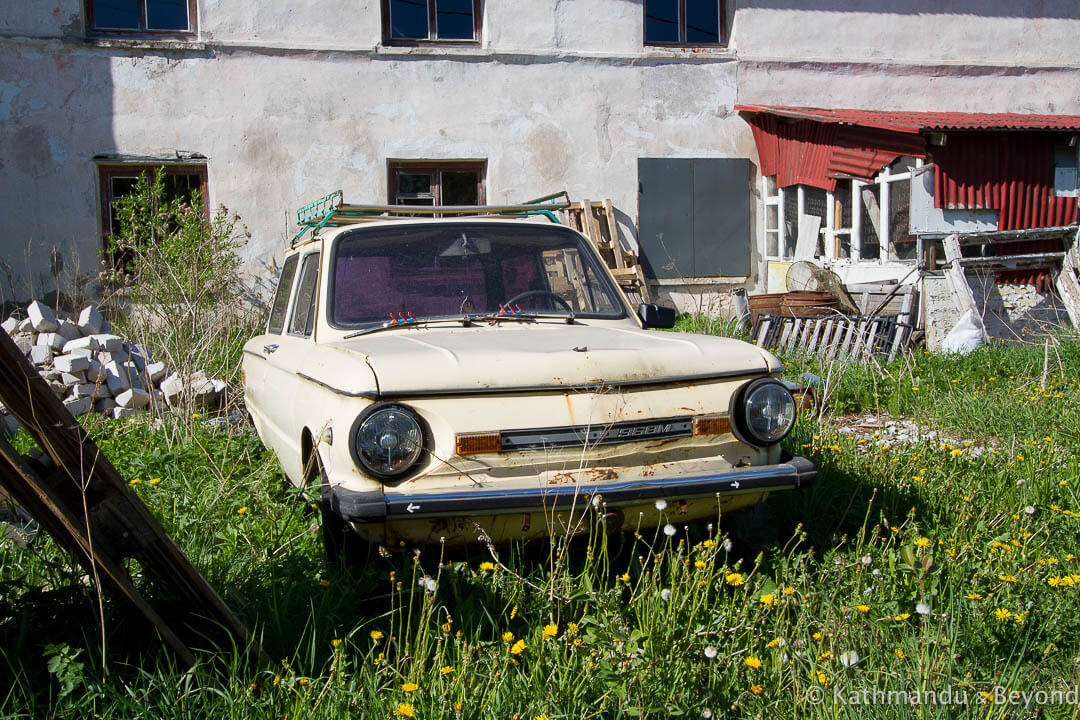 Where to stay in Viivikonna
There is nowhere to stay in Viivikonna. The best option is to sleep in Narva, where there are plenty of accommodation options. We stayed at the Hostel Sparta, a decent place with an excellent kitchen and well-kept shared bathrooms. Parking was available.
It is also possible to overnight in Sillamäe, which is only 11km north of Viivikonna. There will be less choice than in Narva, but there are certainly places to stay.
How to get to Viivikonna
The easiest way to reach Viivikonna is with your own transport. We had a rental car and found the place easily enough. Another option is to take a taxi from Sillamäe; one reader reported that the cost of a return taxi from Sillamäe with a 2-hour wait was 16 Euro (December 2021).
As far we could find out, there are no public buses between Narva and Viivikonna. You can take a bus from Narva to Sillamäe. The bus departs from Narva bus station (next to the train station) and takes approximately 35 minutes. The frequency varies between every 30 minutes and hourly.
Onward buses between Sillamäe and Viivikonna are a bit more sketchy but, given that the bus stop in Viivikonna looks to be in use, buses must be coming from somewhere and Sillamäe is the obvious place. According to Estonia's transport website, bus #33 runs between Sillamäe and Viivikonna four times a day and takes 15 minutes to cover the 8km. However, sometimes when you look at the site, it shows a connection via the nearby village of Sirgala (a 4km detour from the Sillamäe-Viivikonna road), which increases the travel time to around four hours!
We've tried to get a definitive answer on this but unfortunately were not able to. You can check the schedules here.  Note the timings are different on weekends. 
Our best advice is to check at the bus station in Sillamäe, but be prepared to consider a taxi for this part of the journey if there isn't any public transport available. A taxi should cost around €10-12 one way but you might be able to negotiate a return fare that includes waiting time (1½ -2 hours is enough time to explore what there is to see).
Another option is to take an organised tour. We don't have firsthand experience of (or any affiliation with) this company, but Traveller Tours & Day Trips have a tour entitled Narva and the Eastern Bloc that includes a visit to Viivikonna (and some of the other interesting places we visited while we were exploring this part of Estonia, including Sillamäe and Narva Castle) that departs from Tallinn and costs €65 per person.
The GPS coordinates for Viivikonna are 59.338004, 27.685194
---
---
ARE YOU INTERESTED IN ABANDONED PLACES? WHY NOT PIN THIS POST FOR LATER?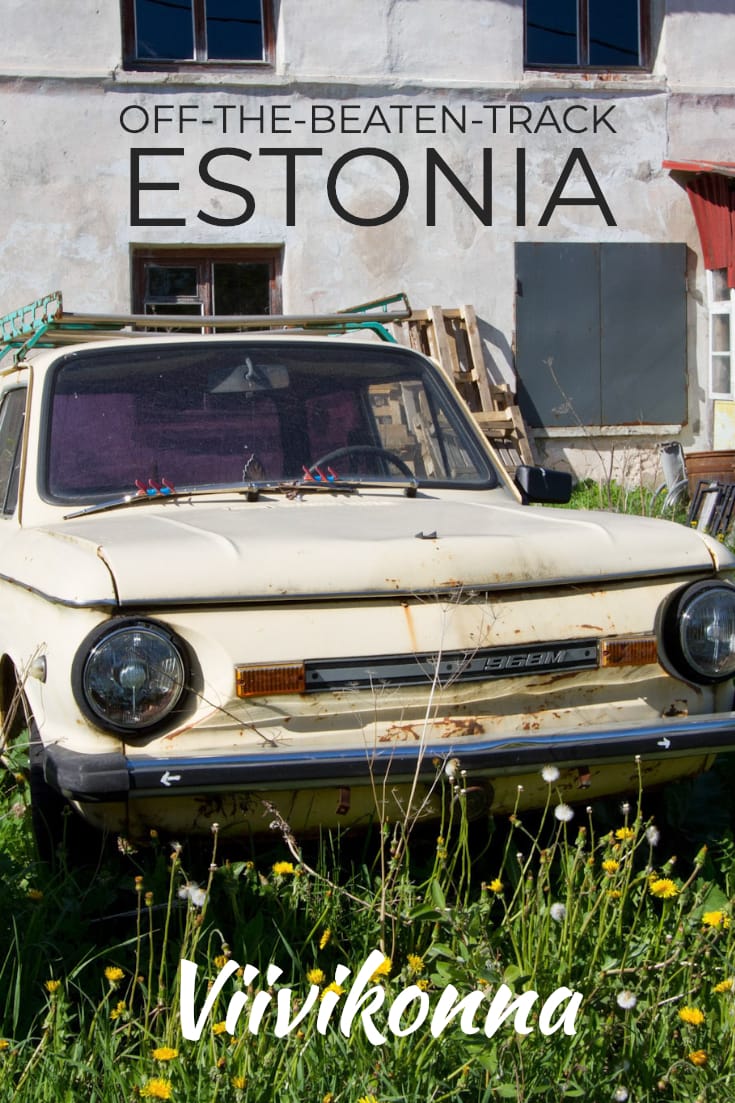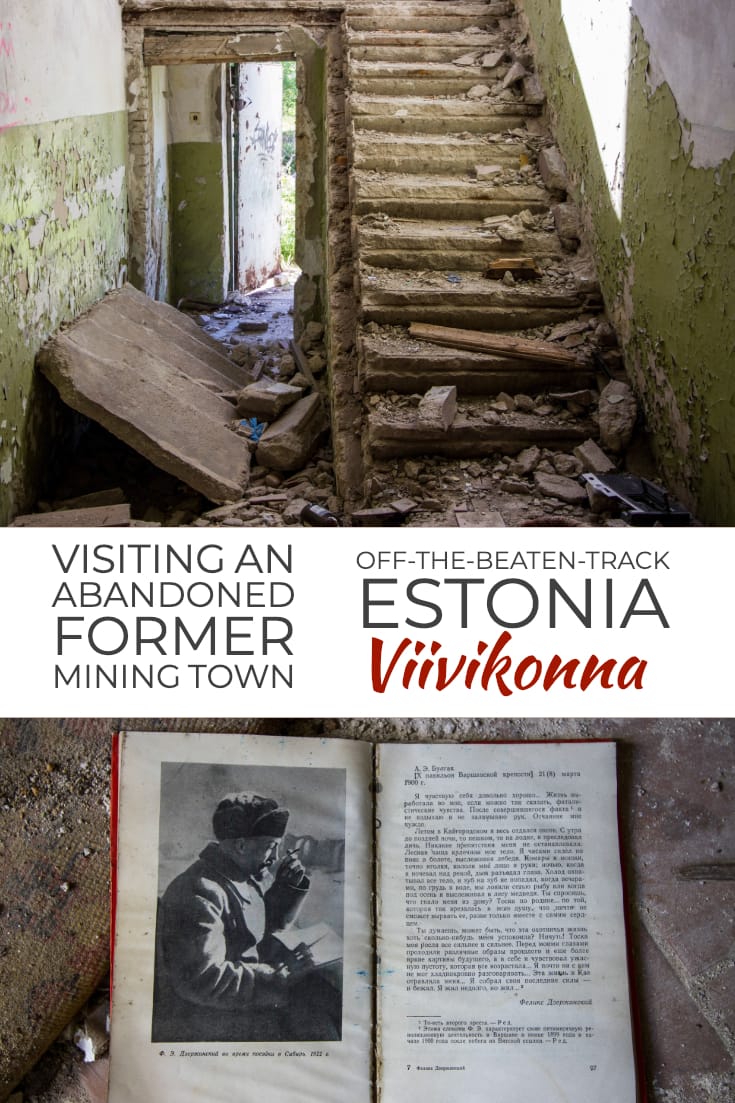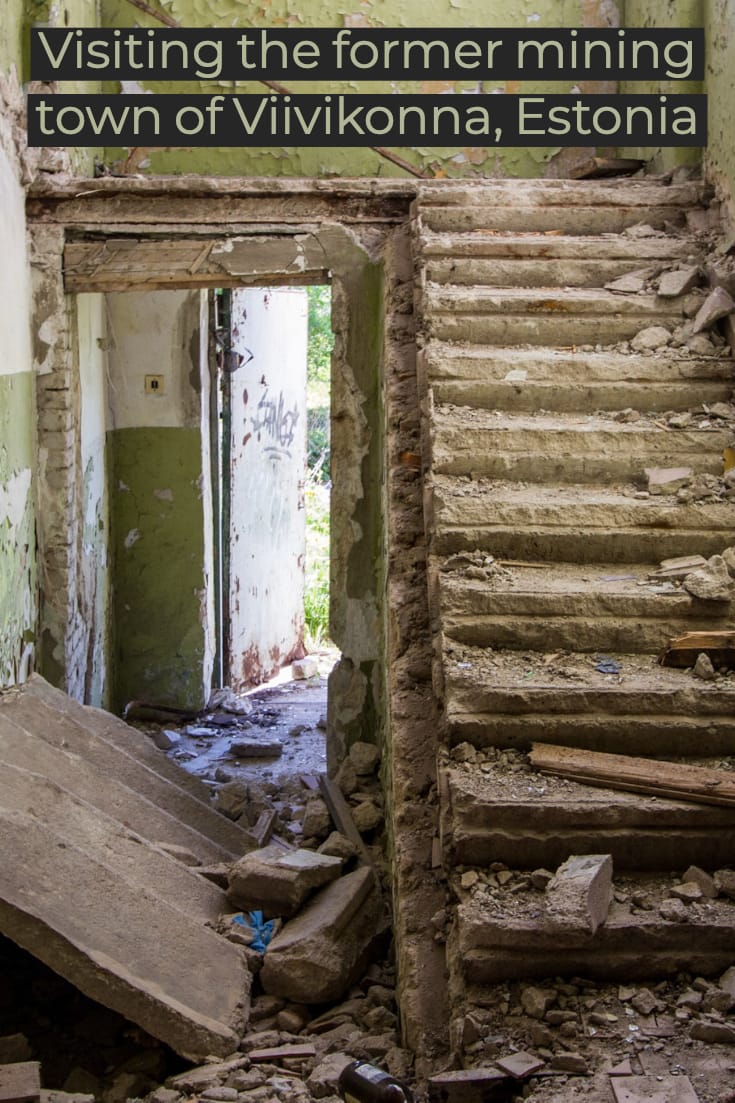 ---
---