A guide to planning an alternative Mekong Delta itinerary from Ho Chi Minh City, Vietnam
Plenty of tourists visit the Mekong Delta. In fact, along with the infamous (and now very touristic) tunnels at Cu Chi, it is the most popular day trip out of Ho Chi Minh City (Saigon). But day-trip is the operative word and very few visitors explore the region in depth.
This is great news for anyone wanting to get off the beaten track in Vietnam because the Mekong Delta has lots going for it.
For starters, the Mekong Delta is easily accessible on public transport from Saigon and, once there, getting from one destination to the next is relatively straightforward. What's more, the cities and towns are largely hassle-free and the people are genuine and friendly, which isn't always the case in well-trodden tourist destinations such as Hue, Hanoi and Nha Trang. Admittedly, the towns and cities in the Mekong Delta aren't teeming with things to see but there is certainly enough for a half-day visit in each of the places listed below plus, if you enjoy markets, both land-based and floating ones, then you will be in your element in this part of the country.
But don't fret about not having that much to do. Although development has been rapid in the Delta in recent years, mainly due to the construction of numerous bridges across the Mekong River and its tributaries, the region is still one of Vietnam's most peaceful, and there is ample opportunity for taking it easy and slowing the pace down, which you kind of have to do by default anyway because it gets uncomfortably hot this far south!
And if you're still not convinced, there's always something happening on the river to keep your interest. So, find yourself a bit of shaded wall to sit on and watch quintessential Vietnam unfold before you…
CONTENTS
Our Mekong Delta off-the-beaten-track itinerary
Accommodation: Where to stay in the Mekong Delta
Transport: Travelling by bus around the Mekong Delta
Mekong Delta map
Ben Tre
Tra Vinh
Can Tho
Long Xuyen
Chau Doc
Sa Dec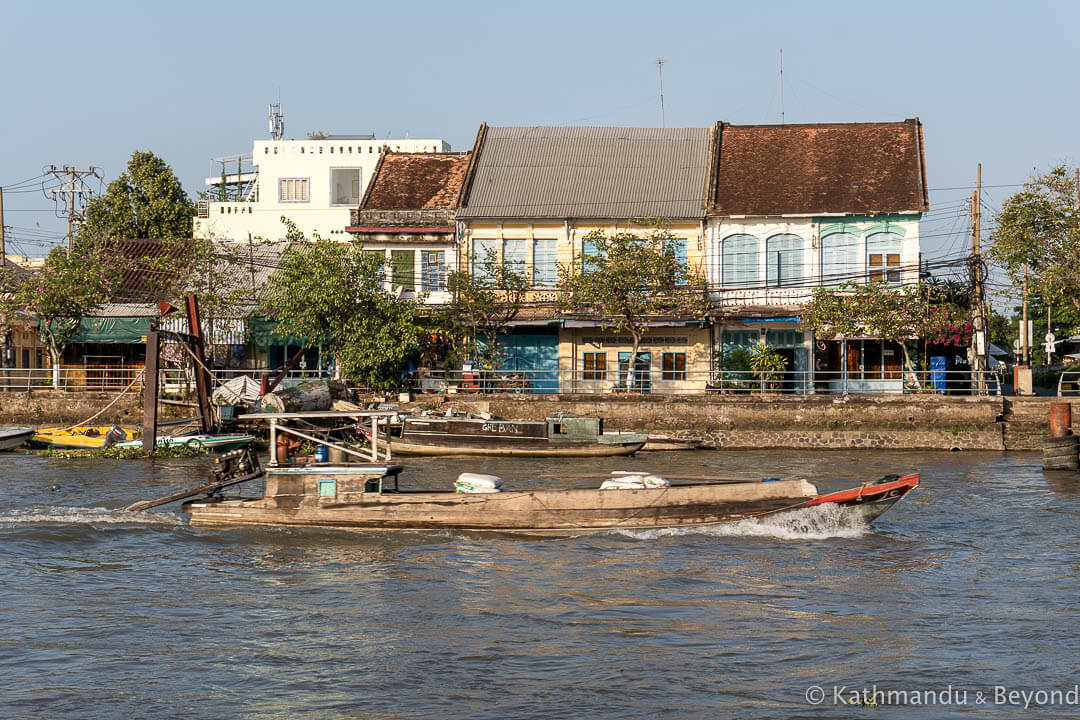 Sa Dec
Our Mekong Delta itinerary
Our route through Vietnam's Mekong Delta was as follows:
Saigon – Ben Tre – Tra Vinh – Can Tho – Long Xuyen – Chau Doc – Sa Dec – Saigon
For reasons I'll explain in a minute, the focus of our Mekong Delta trip was to explore some of its towns and cities. With this in mind, a night in each of the places on the above itinerary is sufficient. As long as you allow yourself half a day to look around, you'll have plenty of time to see the sights, as well as some time left over to sit and have a ca phe sua da (Vietnamese iced coffee), a beer or a sugarcane juice and watch the world go by for a bit. Visiting a floating market will take up the greatest amount of time but, because you have to leave at such a ridiculously early hour to catch the best of the action, you'll be back from the excursion no later than 9am.
That's not to say that you should only spend one night in each of the above. With their riverside setting, bustling markets and (away from Can Tho), a distinct lack of tourists, each of the six places we visited in the Mekong Delta warrant another day of, what we would call, lazy ambling, combined with plenty of ca phe sua da pitstops!
We especially liked, and stayed longer in Tra Vinh and Can Tho and fell completely for the sleepy charms of Sa Dec. Although, annoyingly, this delightful town was the last stop on our Mekong Delta itinerary and we needed to be back in Saigon the following day and so only managed to spend the one night there. Retrospectively, we should have allowed for two nights in Sa Dec.
All in all, we spent nine nights in the Mekong Delta, with a night in each place except for Tra Vinh, where had three nights, and Can Tho where we spent two.
Accommodation: Where to stay in the Mekong Delta
When it comes to places to stay in the Mekong Delta there are three different styles to choose from: a city hotel or guesthouse, a rural homestay, or a water-based vessel (although most cruises don't fall into the budget travel category).
It's possible to experience a homestay in many places in the Mekong Delta and there is no denying that this offers a great opportunity to see rural life in this part of Vietnam. However, as we have previously visited the Delta on several occasions, including on the superb 3 day/2 night Bassac Cruise, which includes a number of the experiences associated with a homestay visit, such as cooking demonstrations, visiting local homes and discovering mango forests etc., we didn't want to repeat them this time around.
It is perfectly feasible to follow our Mekong Delta itinerary and also include a night in a homestay or two but you'll need to do some additional research and also pre-book the rural part of your itinerary in advance, which will include transport to and from the homestay as well as possibly the services of a local guide. If this is something that interests you, our recommendation would be to either make the arrangements in Saigon or before arriving in Vietnam itself.
Another reason why we weren't keen on a local homestay this time round is that we wanted to keep our itinerary completely flexible, which isn't that easy if you have a portion of it pre-booked. Apart from Can Tho, we didn't book any hotels in advance of arriving in a destination. Even in Can Tho, we only booked our hotel on the morning of arrival. Everywhere else we went old school and just rocked up. We were able to obtain a small discount doing it this way, as well.
Where we stayed is listed under that specific section below.
Even taking excursions into the countryside and overnighting in a homestay out of the equation, there are other places in the region that could be included on an itinerary that we didn't bother with. We didn't go to either My Tho or Vinh Long, for example, and heading down into the peninsula part of the Delta didn't appeal because if we'd done so, the journeys would have started getting pretty long. With what we did, apart from getting from Sa Dec back to Saigon, which took about four hours, none of the bus journeys was longer than a couple of hours each.
We also didn't go to Phu Quoc Island, which isn't part of the Mekong Delta but gets lumped with it sometimes because you have to pass through the region if you want to get there without flying.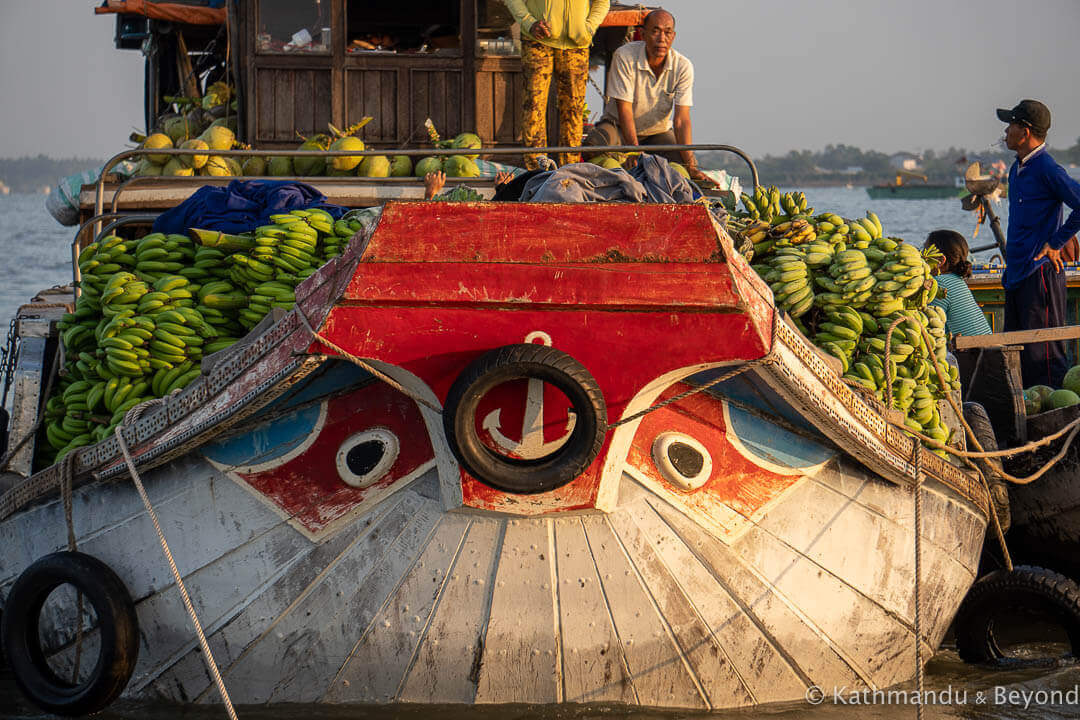 Long Xuyen floating market 
Transport: Travelling by bus around the Mekong Delta
There are two different types of buses running around the Mekong Delta: big air-conditioned sleeper buses and small rickety local buses or minivans.
The big companies like FUTA and Hung Cuong, tend to operate routes between Ho Chi Minh and the main cities in the Mekong Delta, branching off into different directions and making stops along the way. For reasons we never quite fathomed all of the buses these companies operate are sleeper buses even though the longest distance they go is to Chau Doc, 200 kilometres from the capital. Sleeper buses have basic bunk beds in three rows with permanently reclined beds/seats (it's a bit like travelling on a sun lounger!). They are designed for the Vietnamese physique and not always comfortable for anyone taller or wider than the average Asian. There is also a strict shoes-off rule as you board the bus. In terms of figuring out a schedule, these buses are often more convenient, but it can be more expensive to take these buses for short distances because they will often charge a point-to-point fare.
The alternative is local rusty buses with no air-conditioning and not much of a timetable or speedy minivans that you can hail from the side of the road. On both, the ticket-seller may take advantage of you not knowing what the fare should be.
Mekong Delta map
Places to visit in the Mekong Delta (in the order we visited them)
Ben Tre
Situated on the banks of the Ham Luong River, a branch of the Mekong River, Ben Tre is a pleasant place in which to begin exploring the Mekong Delta. Apart from the bus station and the location of where the intercity bus from Saigon drops you off (see below), Ben Tre is a walkable city and the handful of sights can easily be seen in a couple of hours.
Most places of interest are located either on the road running parallel with the waterfront, or the few streets behind it. The busy central market, which will be a blueprint for every other market you're likely to see in the Mekong Delta, is a good place to start. It is located by the dominating bridge that crosses the Ham Luong River. Walking along the promenade in a westerly direction, there are a few more sights worth checking out before heading inland. The first of these is the city's museum, which is housed in a wonderful French colonial-era building. The building itself is in fine condition, architecturally, but the museum appears to be permanently closed to the public.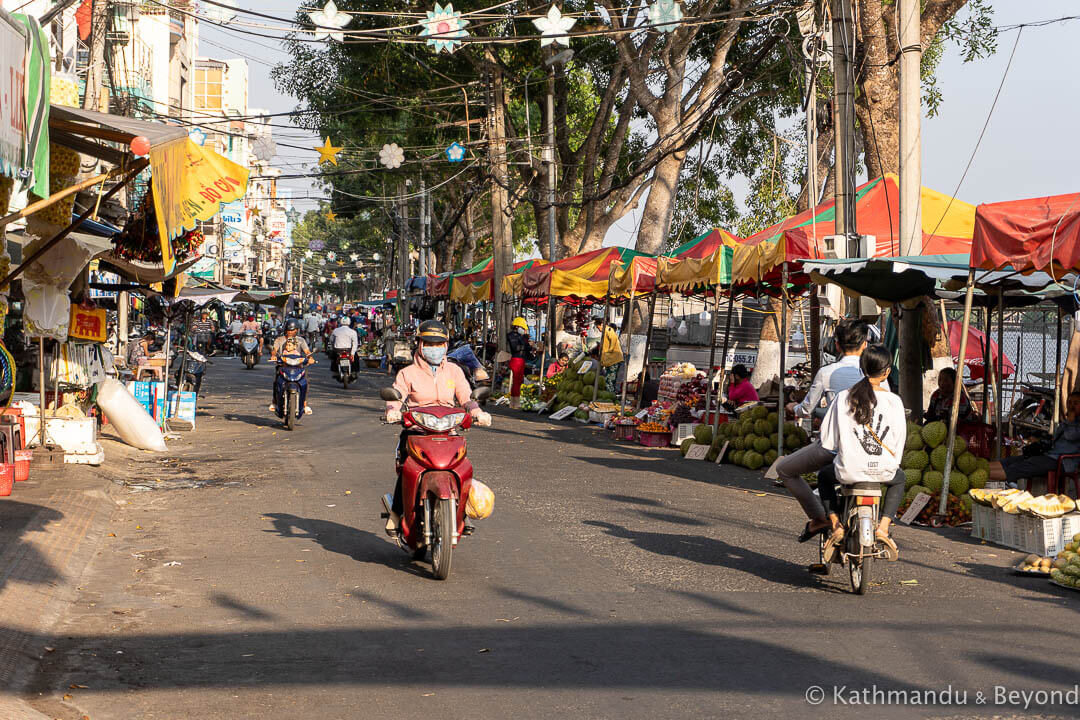 Ben Tre riverfront 
Next up is Ben Tre Church, which has an element of Art Deco about it and, I would hazard a guess, dates back to the 1930s. Nearby is another Art Deco structure in the form of a nautical-themed sign, which presumably once had something to do with the river port authorities?
The final thing to catch our eye on the waterfront was the first of three Vietnam War-related monuments that are situated in Ben Tre. I won't go into too many details here because we have a more expansive post that goes into the significance of all three of them. This one, which is called Victory Monument, is an acknowledgement of the Viet Cong's successful battles with U.S. Navy boats during the Vietnam war.
Heading away from the river, there is a cluster of sights just north of the market. The most striking of these is Dinh An Hoi, a temple/community centre rolled into one, that dates back to the middle of the 19th century. The exterior of the building is very ornate and you are free to have a look inside. The parking lot in front of the building is where the town's taxis hang out should you need to get one. Next door to Dinh An Hoi is the Vien Minh Pagoda and, if you are keen on Vietnamese modernist architecture, it is worth continuing one block east to take a look at the building belonging to VietinBank.
The other two monuments associated with the Vietnam War are directly north of the bank. The first one is near the city's artificial lake and is a memorial to a student activist named Tran Van On, who came from a village near Ben Tre. The second one, which is far more impressive, is a monument to a revolutionary movement known as Dong Khoi. Again, more details about both of them can be found in the separate post mentioned above (*).
(*) The same goes for any further Vietnam War-related monuments mentioned later on in this post.
More photos of Ben Tre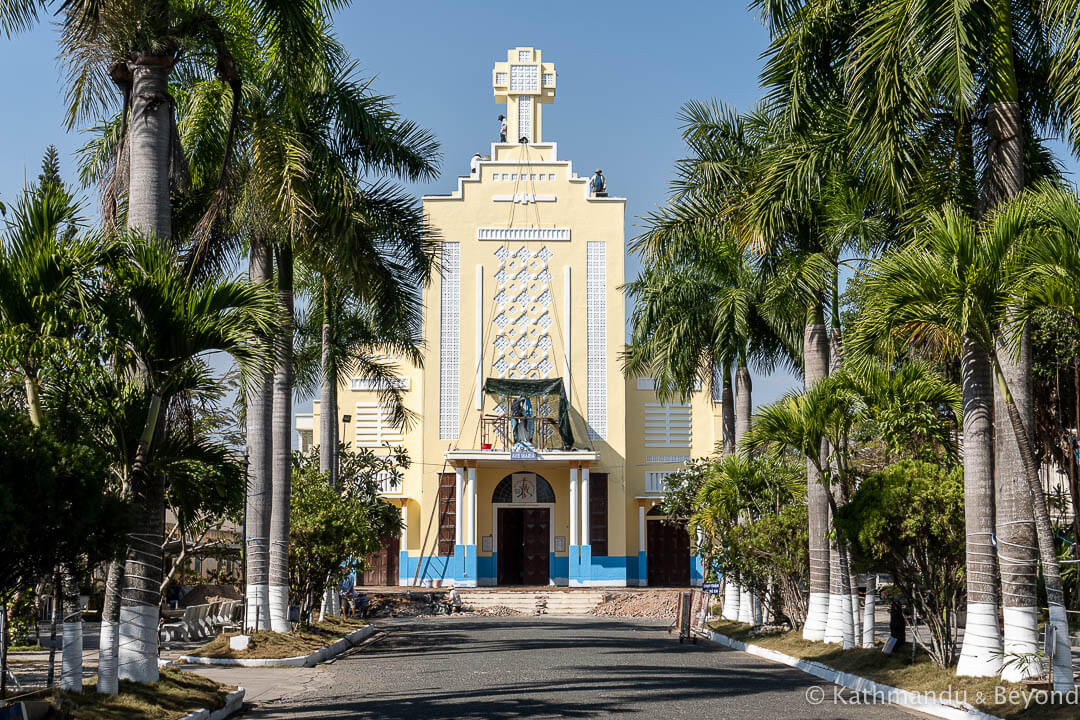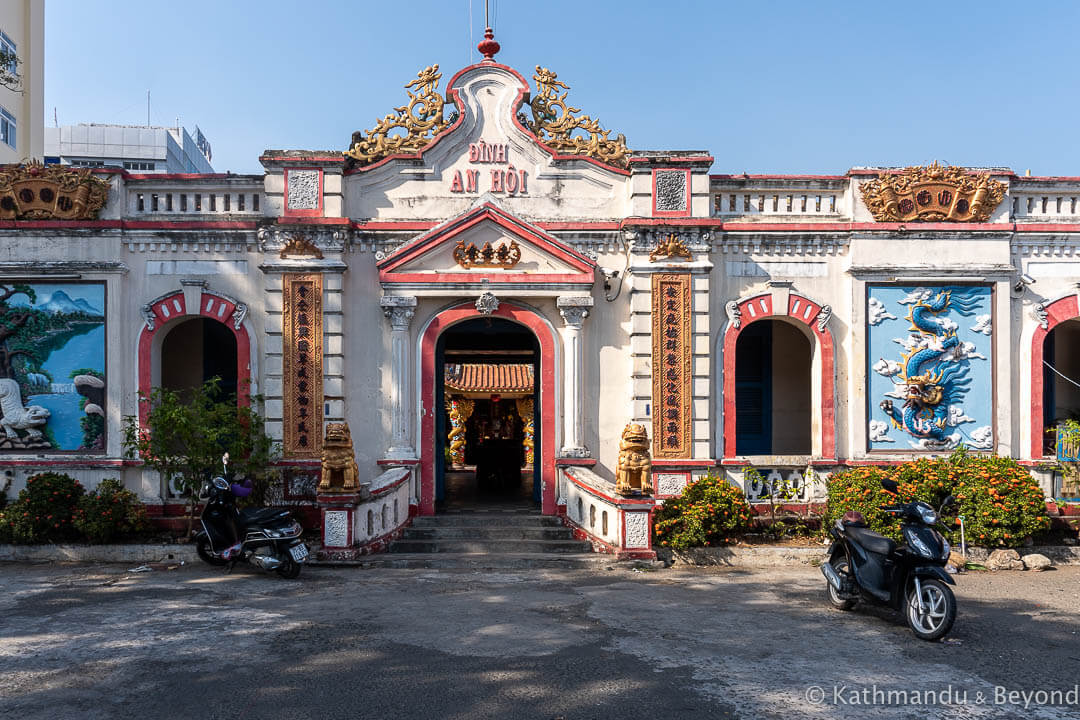 Ben Tre Church (left) and Dinh An Hoi (right)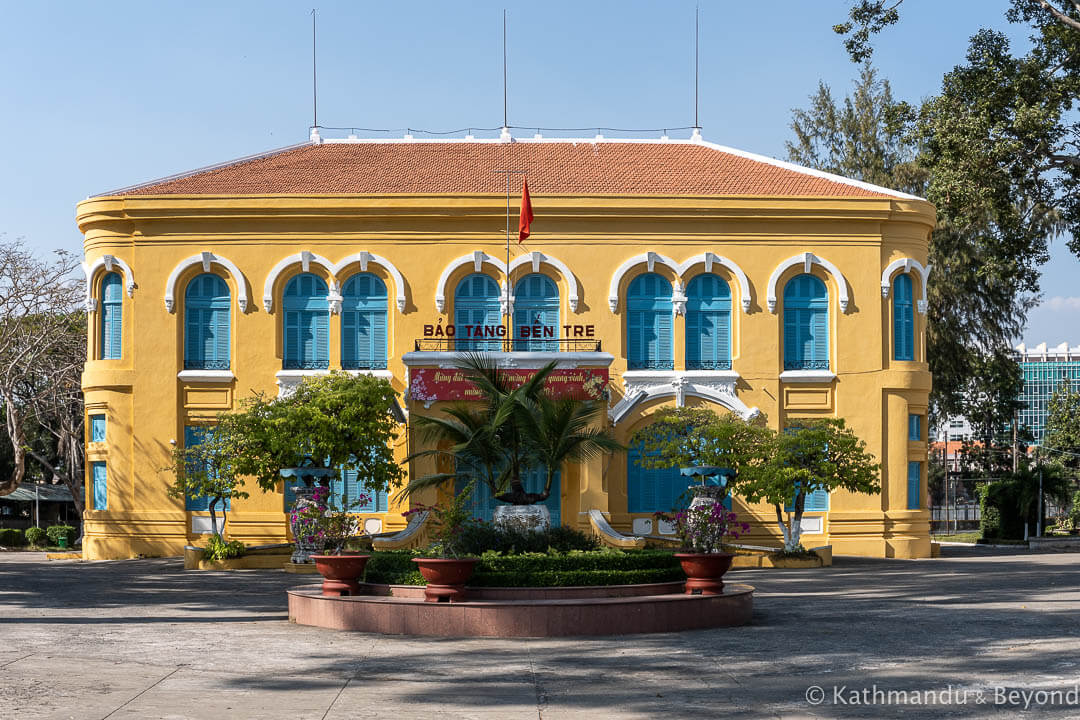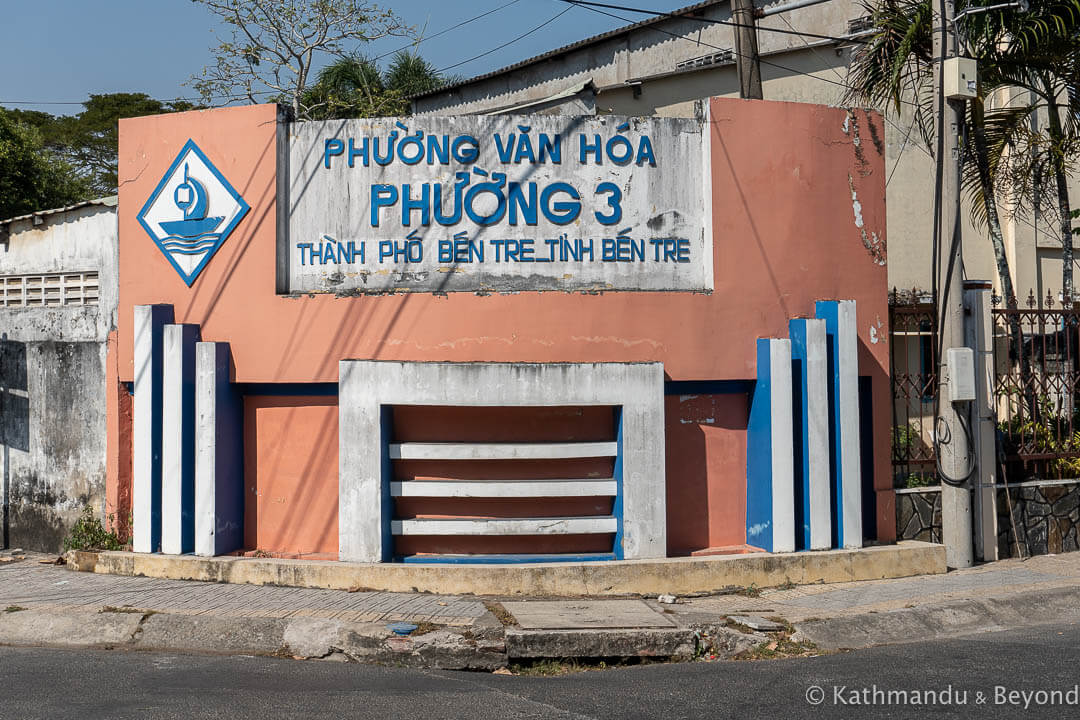 Ben Tre Museum (left) and port authorities structure (right)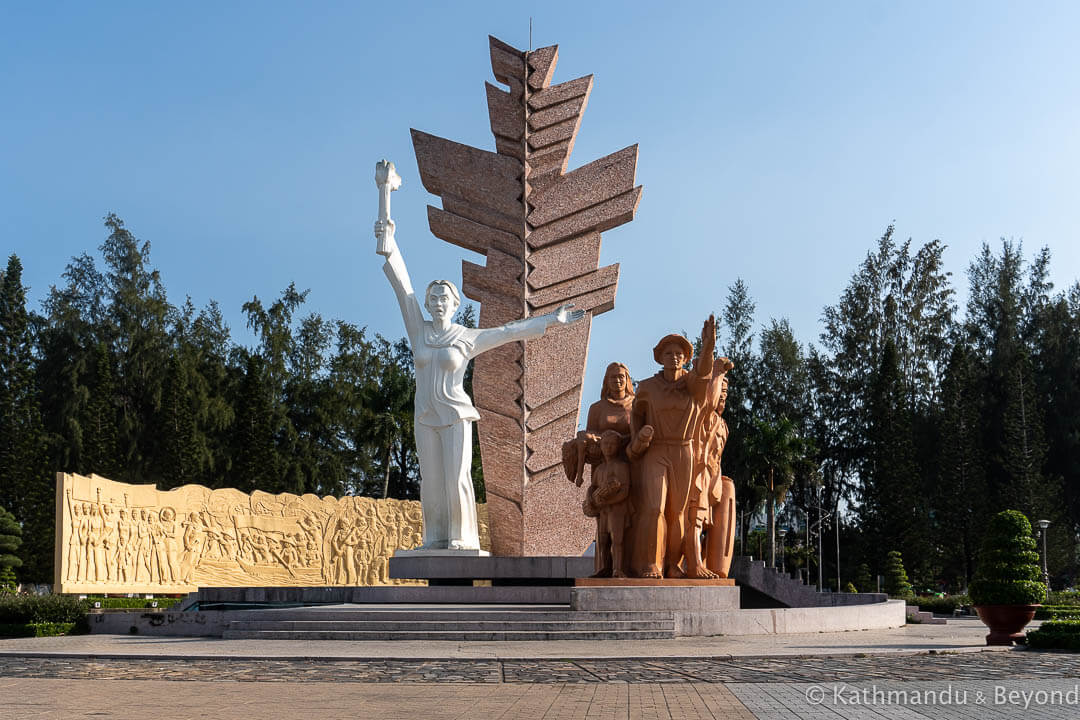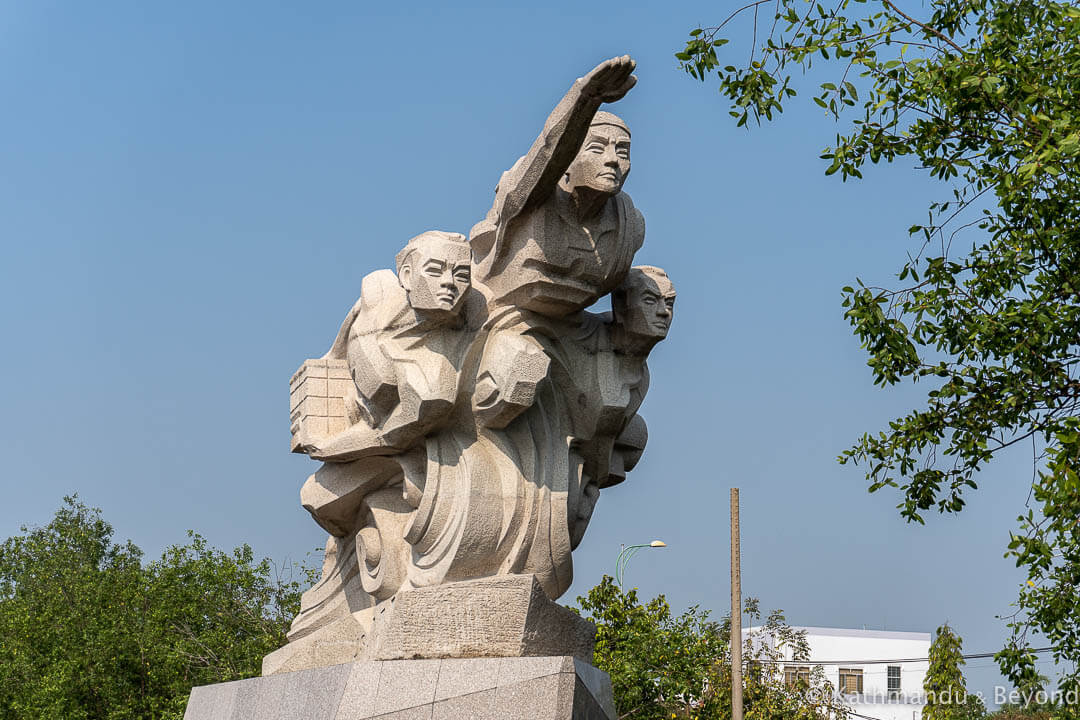 Dong Khoi Monument (left) and Victory Monument (right)
Where to stay in Ben Tre
We stayed at the Ham Luong Hotel, a white-tiled three-star property with absolutely zero atmosphere. But the air-conditioning worked well, the room was a good size and breakfast was included and that's all you really need for one night so I would recommend it. The only downer is that is a bit away from the central market. If you want to be more central, the Hung Vuong Hotel would be a good choice but it is more expensive.
Ben Tre is a popular place for homestays and you will have the broadest choice of accommodation if opting for a homestay (which will also be cheaper than any of the hotels in town).
How to get from Saigon to Ben Tre
Buses for Ben Tre depart at least hourly from Saigon's well organised Mien Tay Bus Station. The journey time is only 2 hours but you have to also factor in getting to Mien Tay Bus Station from downtown Saigon (District 1). The distance is only 9kms but, because of the traffic, you should allow an hour to undertake the journey. Local buses and taxis are other options but the best way to get to the bus station, in our opinion, is to book your bus ticket at the bus company's downtown office. By doing this, you are entitled to a complimentary transfer to the station and it also means that if you miss your connection, it is down to the bus company to put you on the next available bus.
We travelled on FUTA Bus Lines, which has a downtown office 500 metres from Bo Vien Street (*).
(*) Bo Vien Street is located in District 1. It is a party street in the heart of the backpacker district and hence a prominent landmark in the city.
When we arrived in Ben Tre, we were dropped off at FUTA's private bus station, which is about 4kms from the centre of town. We got to the centre by walking a short distance back to the roundabout and catching a local bus from there. The local bus dropped us by the market.
How to get from Ben Tre to Tra Vinh
Ben Tre's bus station is on the same road as the FUTA one. From the depot, there are scheduled buses to Tra Vinh but they are not that frequent. We (wrongly) assumed there would be plenty of buses as the distance between the two places is not that far (48kms). But we rocked up without knowing any times and had to wait a couple of hours for a bus to depart which, from memory, was around 12.30. On reflection, it might have made more sense to check with FUTA when we arrived in Ben Tre from Saigon and booked tickets with them. At least that way we would have had a set departure time. The journey was little over an hour once the bus actually got going.
Tra Vinh
Scruffy on the outskirts, Tra Vinh comes into its own once you arrive in its centre. Just back from the central market, which still has a (faded) photograph of Ho Chi Minh on its exterior, the streets become wide and leafy and when you're done with sightseeing for the day, the shaded cafes that line these boulevards are ideal places to chill for an hour or so.
The city also has a strong connection with Khmer culture and this, combined with the cafe scene and the handful of things to see and do was the reason we ended up spending three nights in Tra Vinh.
As always, the central market, which extends onto the waterfront promenade, is the focal point of the city and where most of the action is during the day. It also doubles as a night market in the evening with food stalls setting up from about 5pm onwards.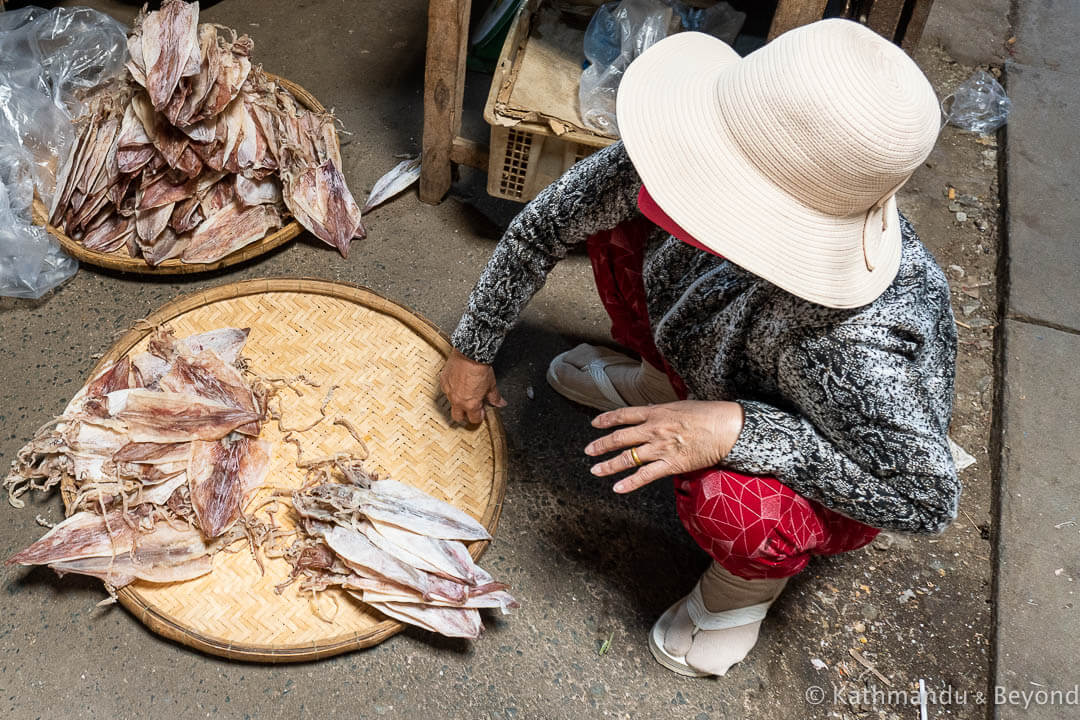 Tra Vinh central market 
A few hundred metres north of the market you'll find the 16th century Ong Met Pagoda and, next door to that is Tra Vinh Church but that's more or less it when it comes to sights in the city centre.
Everything else we saw was on the outskirts of town and involved a combination of walking and hopping on local buses. Firstly, we walked 2kms to see the Monument to the Fatherland, which we'd spotted from the bus when entering the city the day before. From this point, we jumped on a local bus to the impressive Monument to the People of Victory. Any bus travelling alone this route will get you to the monument as it's a straight road as far as the roundabout on which it is located.
Not far away is Wat Som Rong Ek and you can walk through the grounds of this temple and then along the road a short distance to reach Ang Pagoda and Ba Om Pond. The pond is a favourite spot for locals to come for a picnic and a stroll, whereas the pagoda is a revered Cambodian-style temple that is an important place of pilgrimage for Khmers on both sides of the border.
If you head to the main road or retrace your steps to the roundabout, it is easy to flag down a passing bus that will take you back towards Tra Vinh. As you will see from the transport section below, public transport doesn't go into the centre of the city so you will need to get off the bus before it crosses the river and walk back from there towards the market (approximately 1.5kms). A good landmark to look out for is the eye-catching Holy of the Holy Spirit Cao Dai Church, which is marked on the enclosed map.
We missed out on visiting Hang (Cave) Pagoda. By this point, we'd had enough of temples and, besides, it was a further 6km south of the town and the heat and humidity were starting to get to us!
More photos of Ben Tre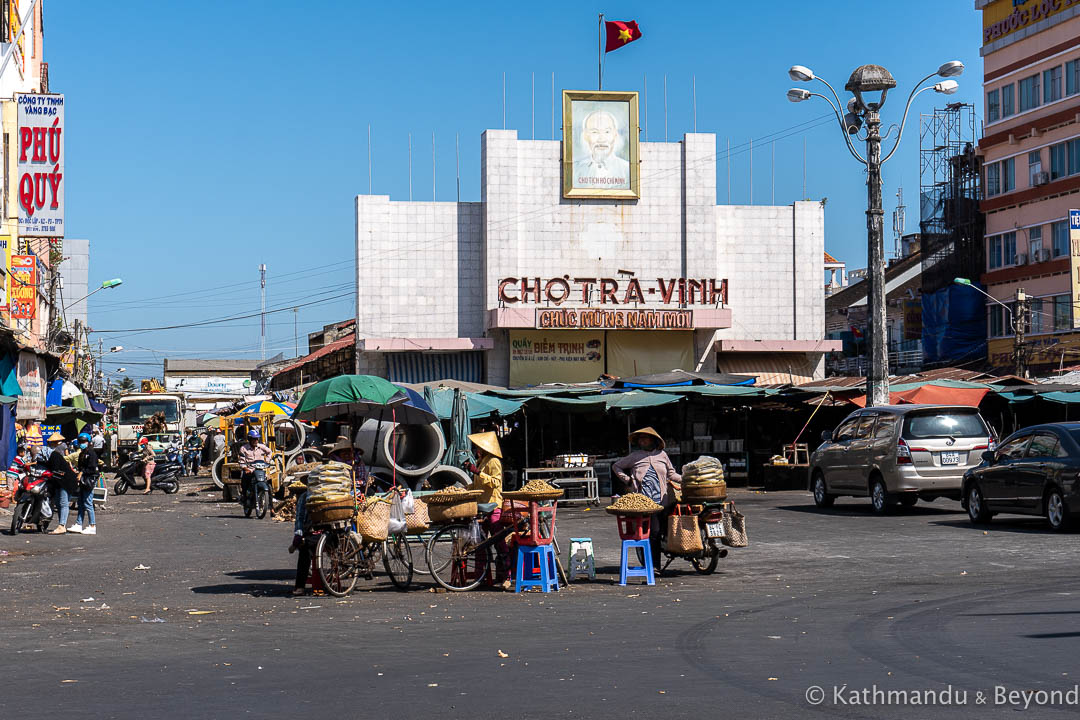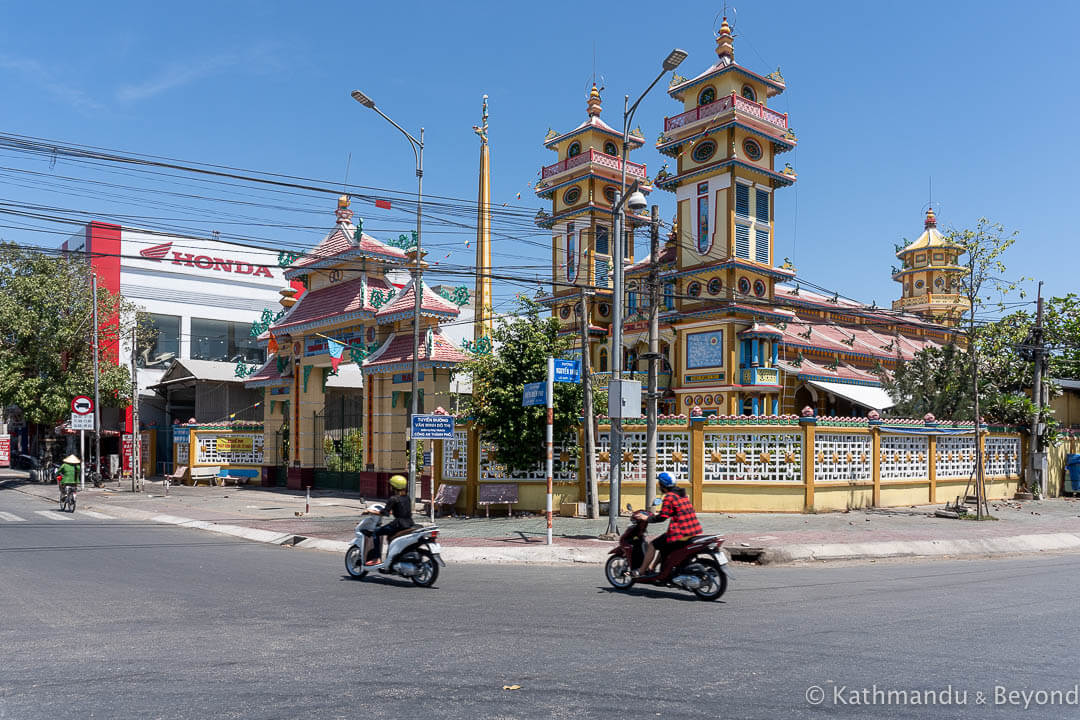 Tra Vinh central market (left) and the Holy of the Holy Spirit Cao Dai Church (right)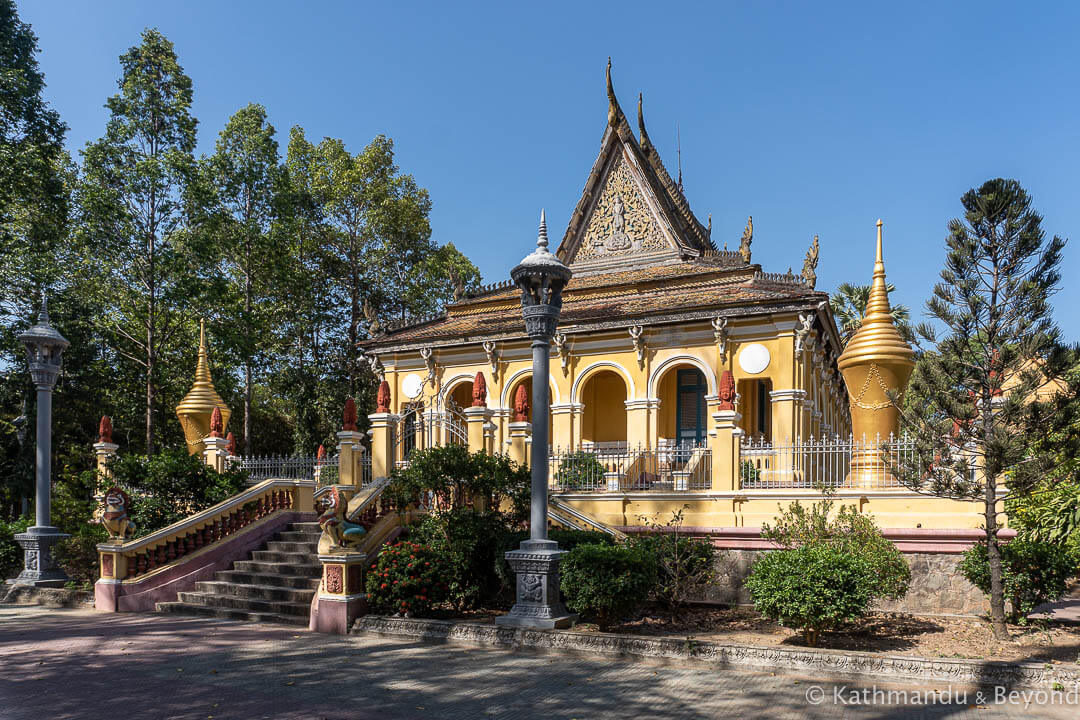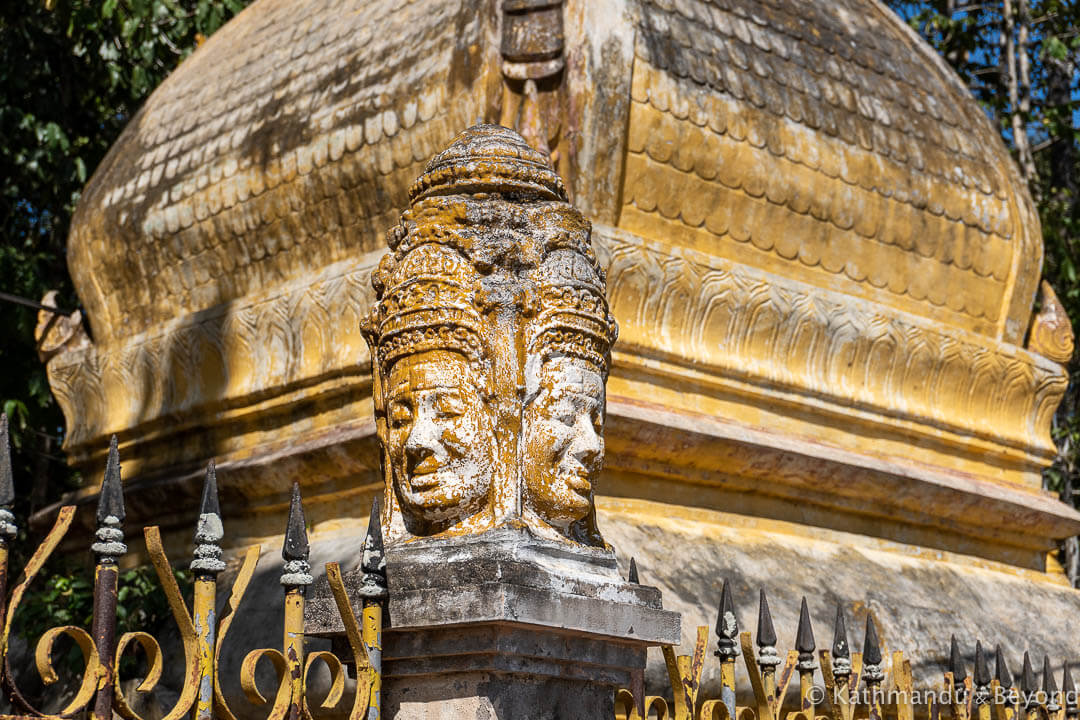 An Pagoda (left) and Wat Som Rong Ek (right)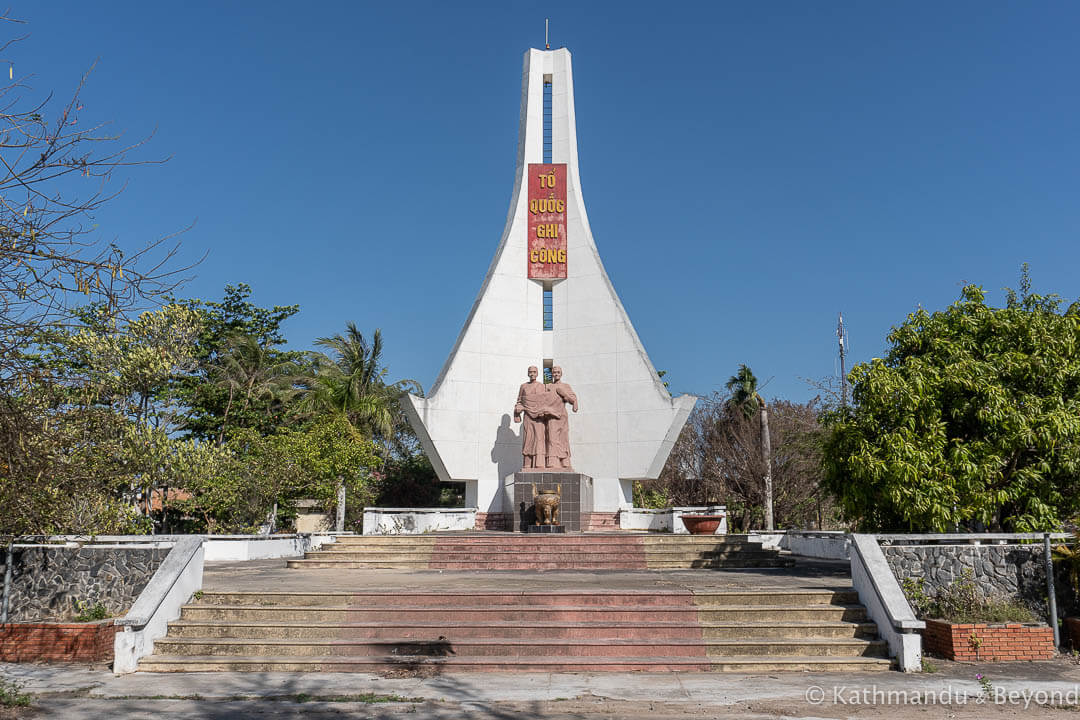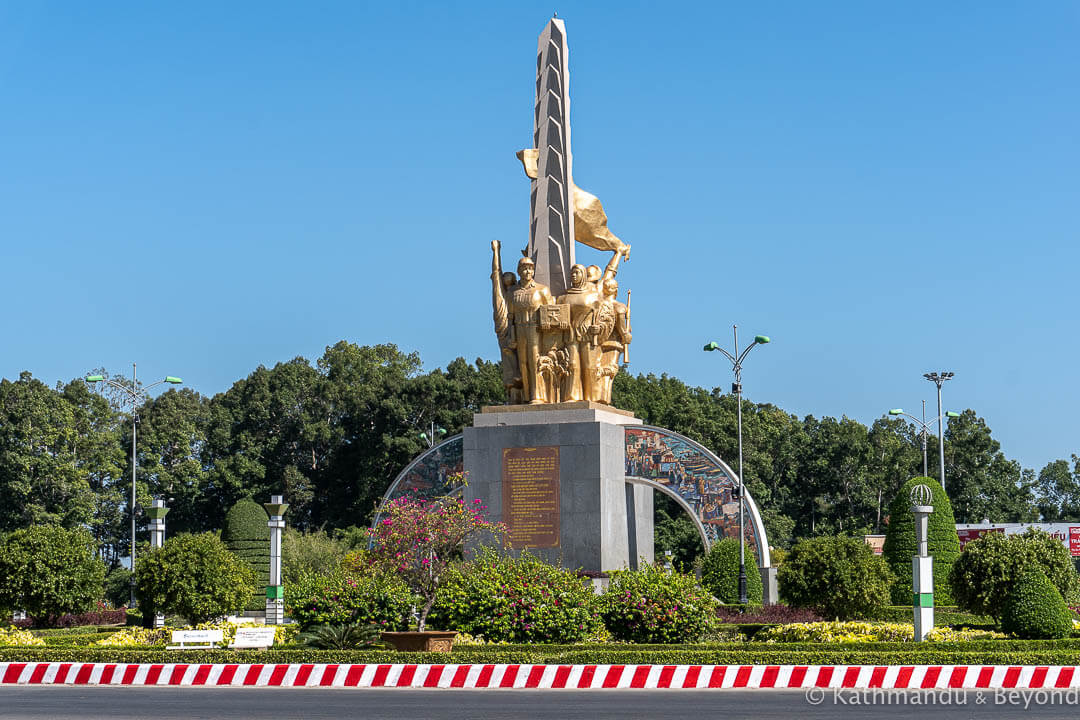 Monument to the Fatherland (left) and Monument to the People of Victory (right)
Where to stay in Tra Vinh
We stayed at the Palace Hotel, which was located on one of the leafy boulevards mentioned above. The room was covered floor to ceiling in white tiles and was rather sterile but it was clean and quiet and a bargain at US$10 a night. We upgraded to a triple to get a room with a window. The hotel is opposite the relatively new Vincom shopping mall.
How to get from Tra Vinh to Can Tho
The bus station in Tra Vinh is inconveniently located 6kms south of the town but there is no need to use it if heading to Can Tho as buses and minivans pick up passengers at a bus stop outside the Co.opmart shopping centre. The journey time to Can Tho is in the region of 2½ hours and public transport departs at least hourly during the morning time. As with most provincial cities and town in Vietnam, services are less frequent from the early afternoon onwards.
Can Tho
Can Tho is the largest city in the Mekong Delta and initially the size was a bit of a shock for us after having just spent time in sleepy Tra Vinh and Ben Tre. But once you are downtown and within striking distance of the Can Tho River, the place becomes a lot more manageable and can easily be explored on foot.
Can Tho's biggest draw is its proximity to two floating markets, Cai Rang and Phong Dien. Visiting the markets is most people's reason for coming to Can Tho but the city is not without other charms and the area immediately to the east of the river, in particular, is a pleasant place to explore. The riverside promenade is welcoming and great for a stroll around sunset. During daylight hours, the central market is bustling and a good location to observe daily life.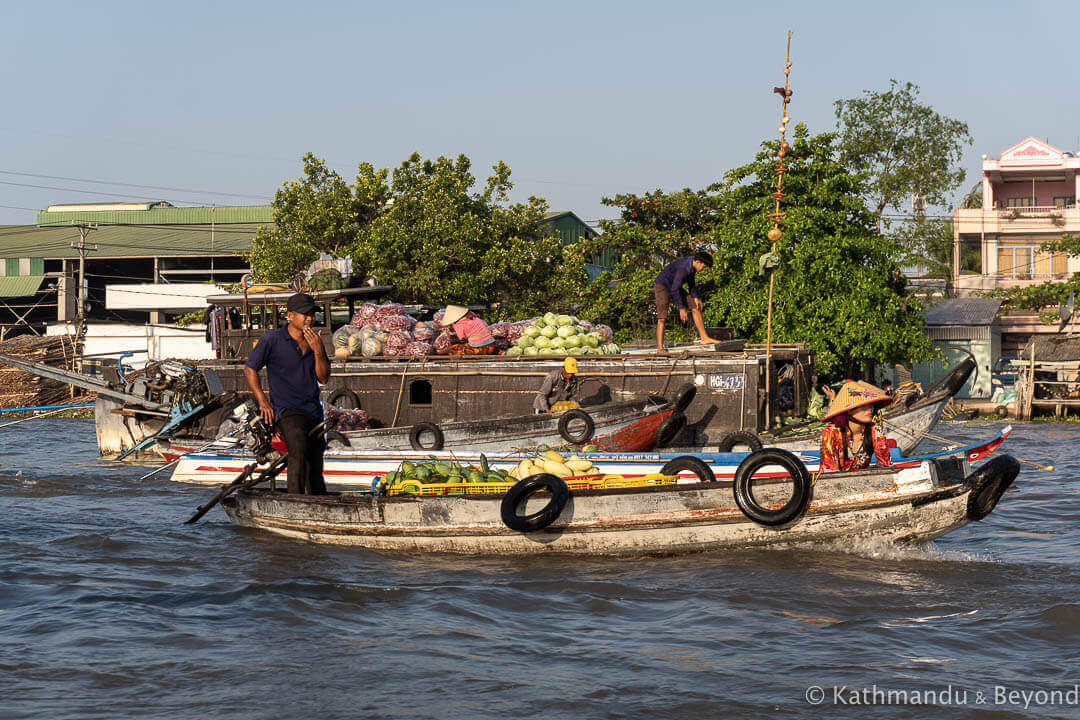 Cai Rang floating market, Can Tho
Can Tho is also a decent place if you want a break from eating local food. There are plenty of tourist-friendly restaurants, including one or two inside the old colonial-era market building near the river and even a couple of, what I would call, proper bars as opposed to Vietnamese-style ones where you sit on plastic chairs made for children, eat God knows what and drink beer by the crateful – although, the latter part of this experience is something I've managed to adapt to!
If you haven't pre-arranged a boat to take you to the markets then you will get a bit of hassle in Can Tho from the boat women (they all seem to be women) who hang around Ninh Kieu Wharf but it's low-key and friendly enough, and most of the prices they have written in a little book, anyway.
While on the subject of hiring a boat, I really don't think there is any need to sort one out in advance. We had a chat with one of the ladies the afternoon before we wanted to go on the river but didn't commit to using her and just turned up in the early hours of the following morning, settled on a price and were on our way within 15 minutes of arriving. We paid VND300,000 (US$13) for a three-hour trip that took us to Cai Rang market and back as well as briefly down one of the canals that lead off the river. For that money, you don't get an English-speaking boat person.
There were two reasons why we didn't include a visit to Phong Dien market in our tour. Firstly, one market at a time is enough for me (plus, we have already been to Phong Dien on a previous visit to the Delta). And the other reason is that going to both markets by boat turns the whole excursion into a much longer trip. Cai Rang is 6kms from the jetty at Can Tho whereas Phong Dien is 20kms and six hours is the normal amount of time required to see both. Being in a small wooden boat that long isn't fun, especially when the sun comes up and the river becomes active with much larger boats causing nervy waves all the time.
Regardless of your preferences, it's easy to arrange a boat trip that will include both markets if that's what you want to do.
Cai Rang floating market takes place every day. It starts at 4am and goes on until around 10am. We got down to the pier at the ungodly hour of 5am and were in amongst the vendors at the market by 6am. This was slightly too early to get decent photographs (because of the light) but we asked our boat lady to go through the market again after we'd been up and down a local canal, to which she obliged and we managed to get some better shots the second time around. Personally, I don't think departing Can Tho an hour later would make much difference to the busyness of the market and light would be a whole lot better for photography. Plus, you get an extra hour in bed!
More photos of Can Tho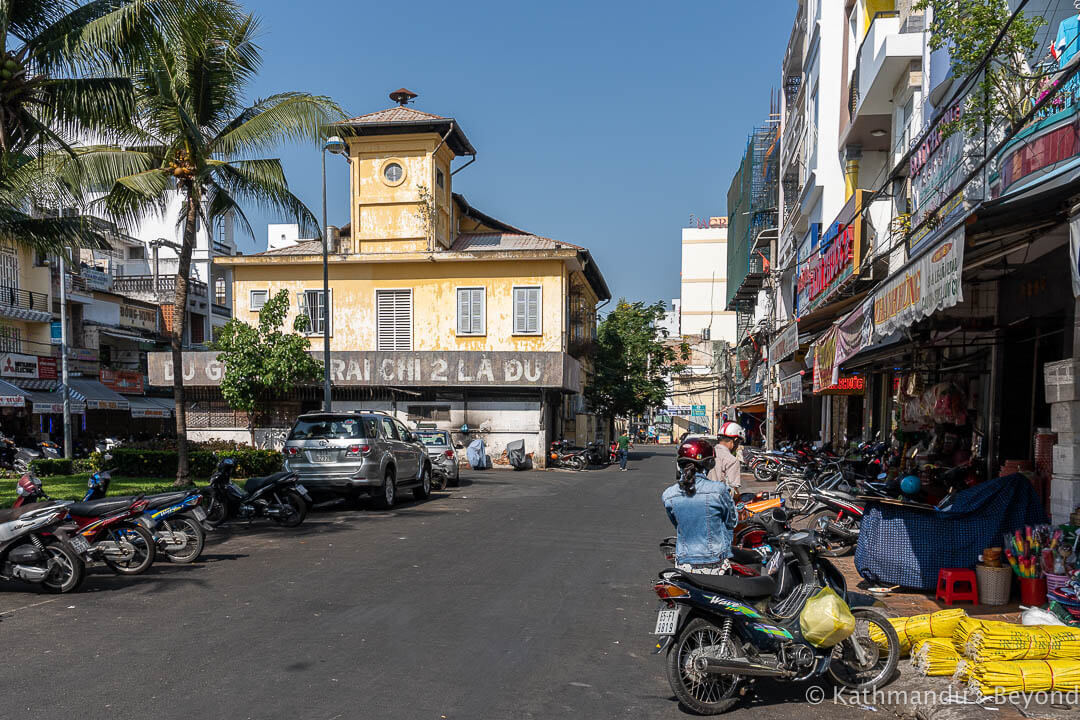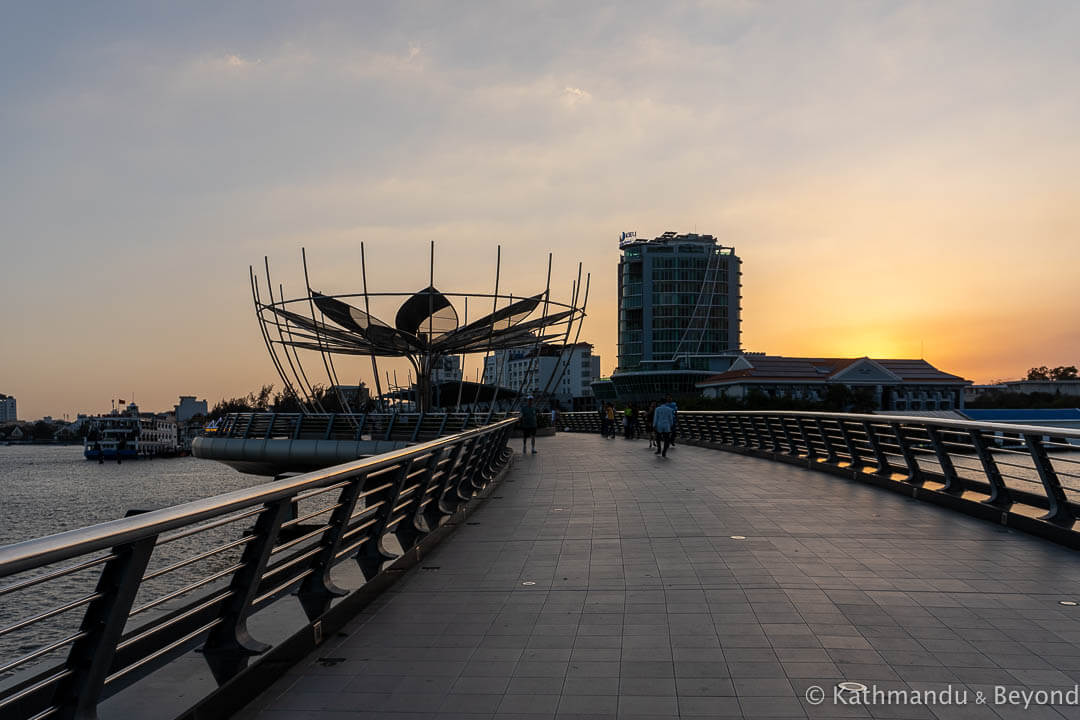 Can Tho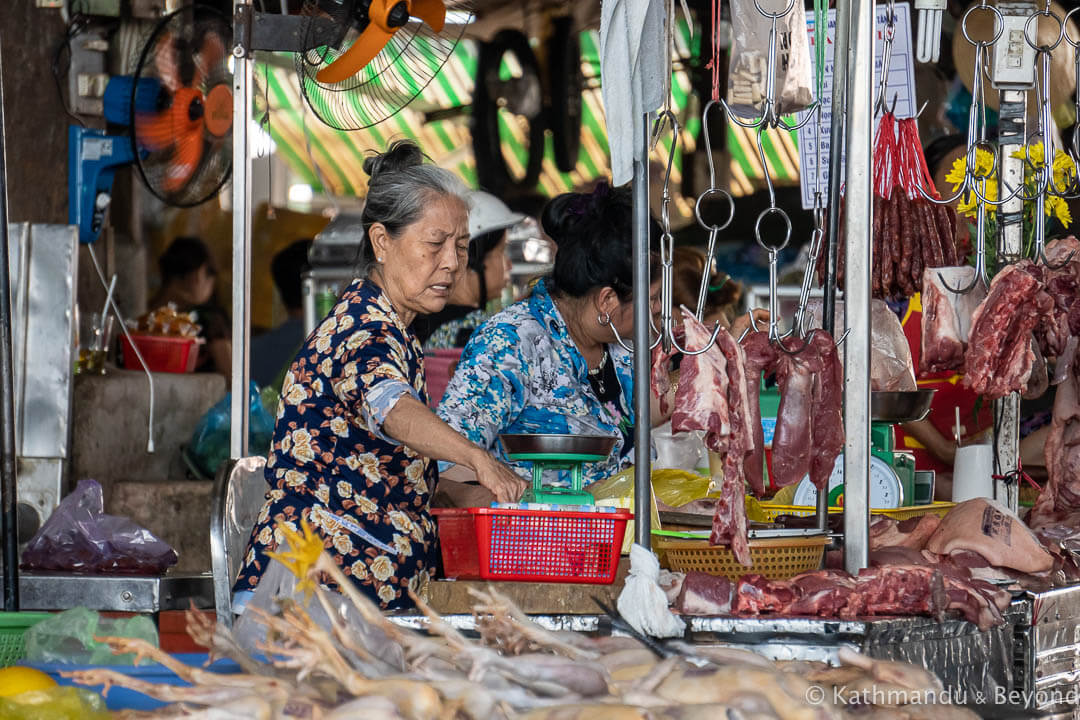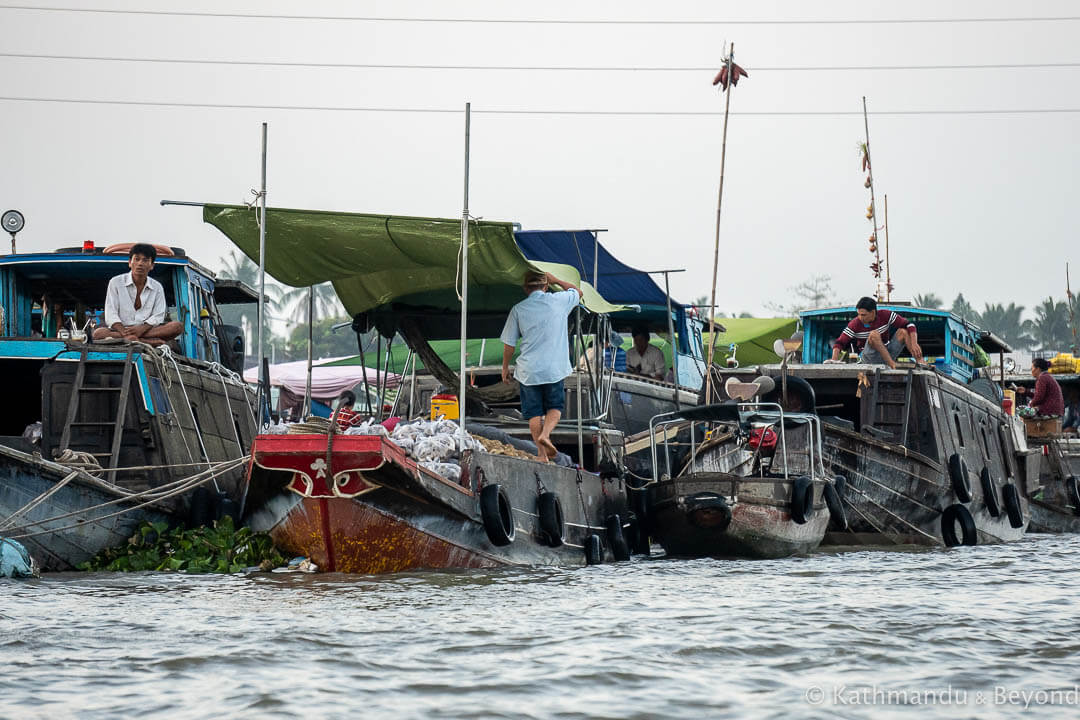 Can Tho central market (left) and Cai Rang floating market (right)
Where to stay in Can Tho
We spent the night in the Kim Lan Hotel, which was located about 500 metres back from the river. Although we wouldn't concur with Lonely Planet's "chic rooms with contemporary furnishings and artworks on the wall" description, it was a decent hotel and we would recommend staying there.
How to get from Can Tho to Long Xuyen
Can Tho's bus station is a large, well-organised affair 4.5km southwest of the city centre. There are two options for getting to Long Xuyen. You can either take one of the local, and more rickety, point-to-point buses or a, more expensive, long-distance bus that is heading in the direction of Chau Doc. Either way, you won't have to wait more than an hour (unless they are full) and the journey time is approximately 1½ hours.
To the best of our knowledge, there was no city bus running between the bus station and the centre of the city. We took a metered taxi both ways. Grab, the South East Asian equivalent of Uber, is also an option in Can Tho.
Long Xuyen
Another reason why we did not go to two floating markets in Can Tho was that we wanted to check out the one in Long Xuyen. Lonely Planet doesn't rate the city, saying that it has little to detain travellers but we would disagree. The floating market, which isn't mentioned in LP's Vietnam guidebook, was smaller than the one at Cai Rang but it was busy nonetheless and, as a bonus, we were the only two tourists out on the water. This was reflected in the fact that nobody touted for our business when we made ourselves visible at the local jetty and when we did find (read, wake up) a boatman, the price he quoted was non-negotiable at VND200,000 (US$8.50) for a trip lasting one hour. Initially, we didn't think this would be enough time but because the floating market is only 2kms from the jetty, it turned out to be adequate.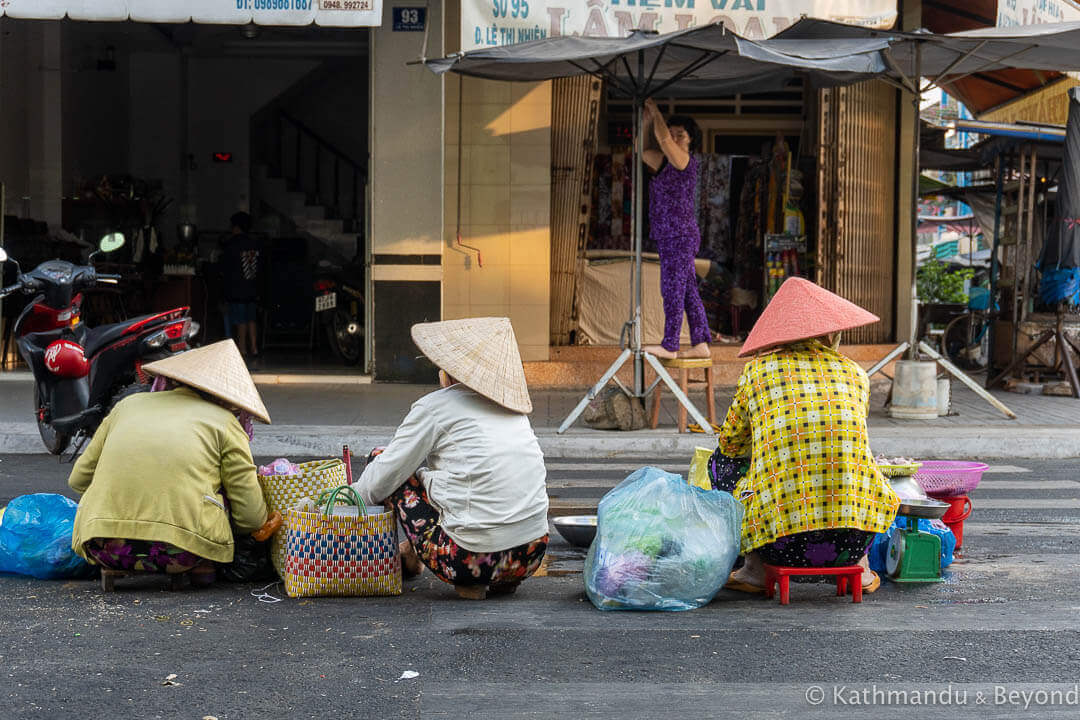 Long Xuyen
Away from the floating market, we also found other things to keep up occupied in Long Xuyen. As usual, the central market was busy and, in this instance, particularly friendly as well but it was the actual market building that grabbed our attention because it was a fine example of Vietnamese Modernist architecture. We lucked out when we stumbled across the city's magnificent cathedral as well as the State Bank of Vietnam building, both of which fall into the same category.
More photos of Long Xuyen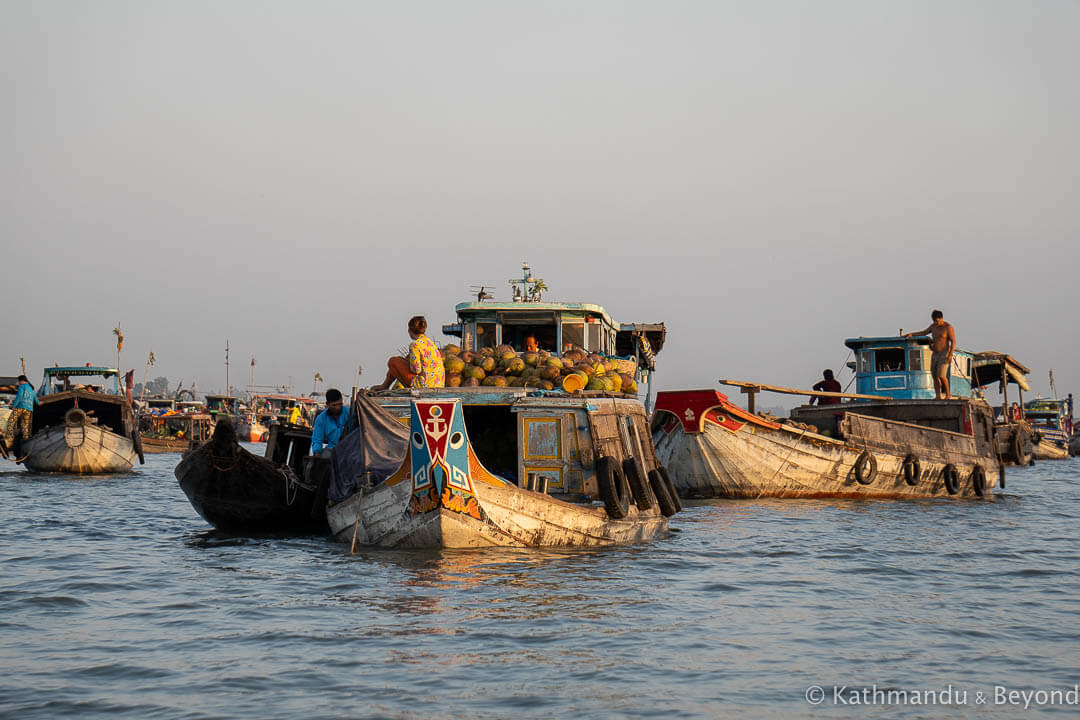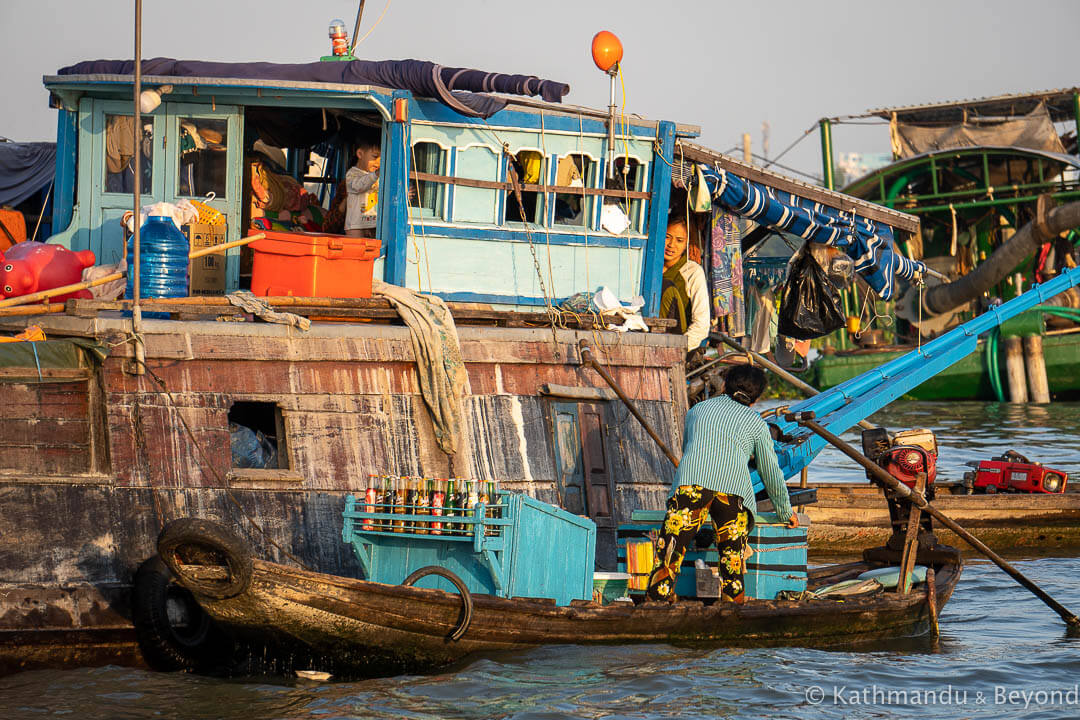 Long Xuyen floating market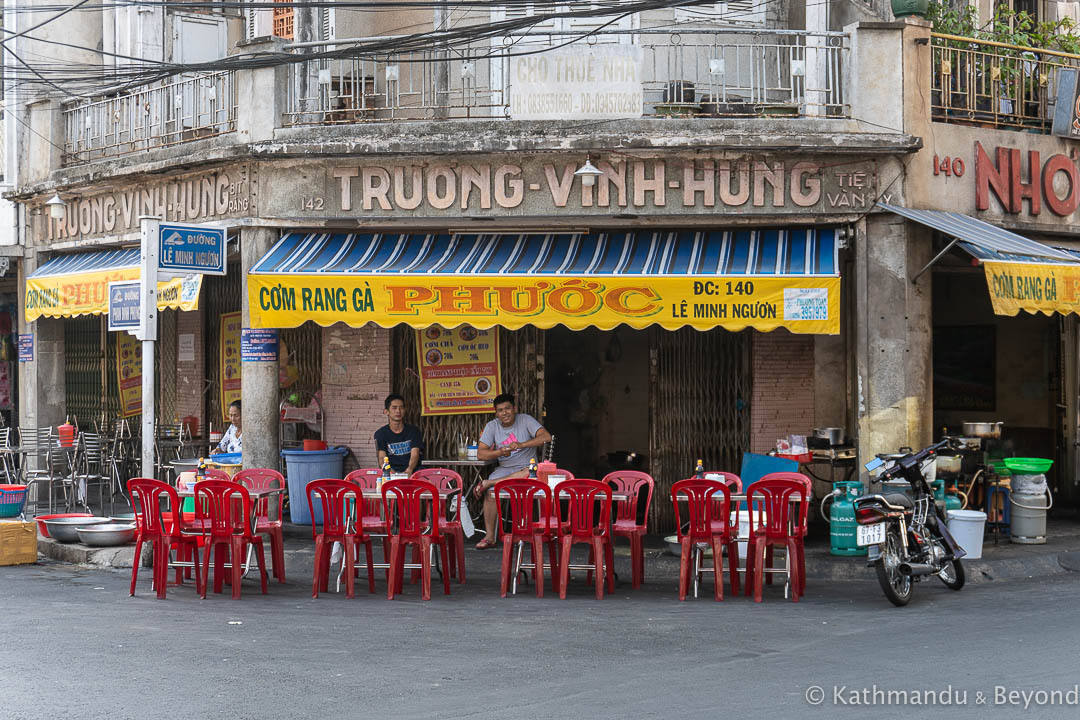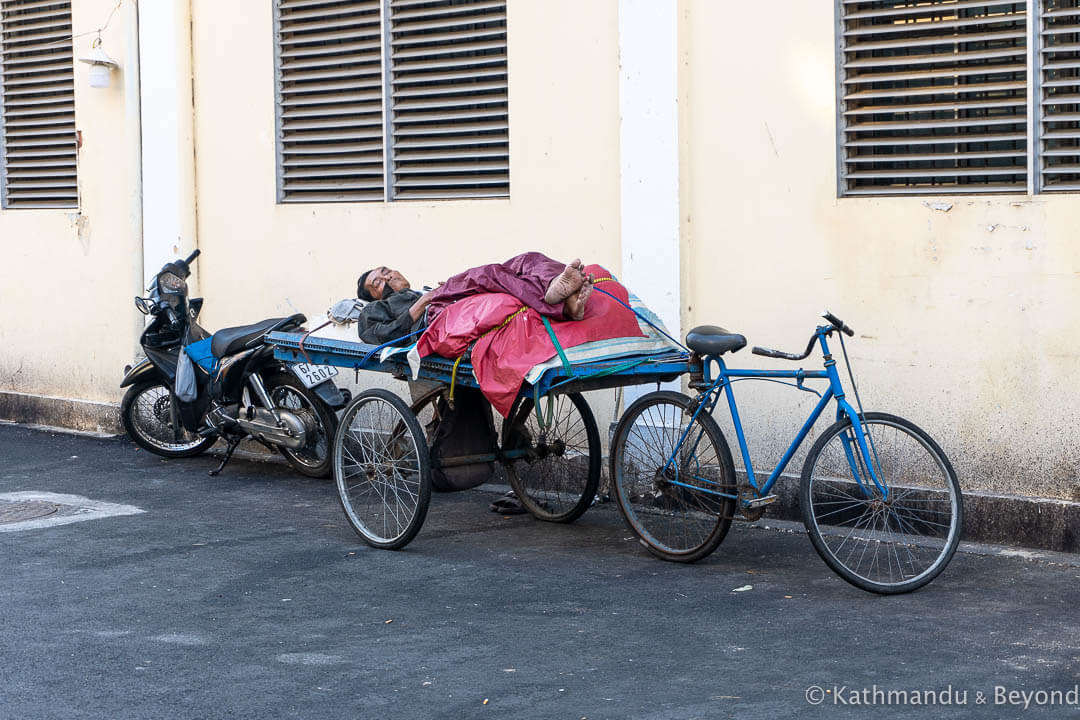 Long Xuyen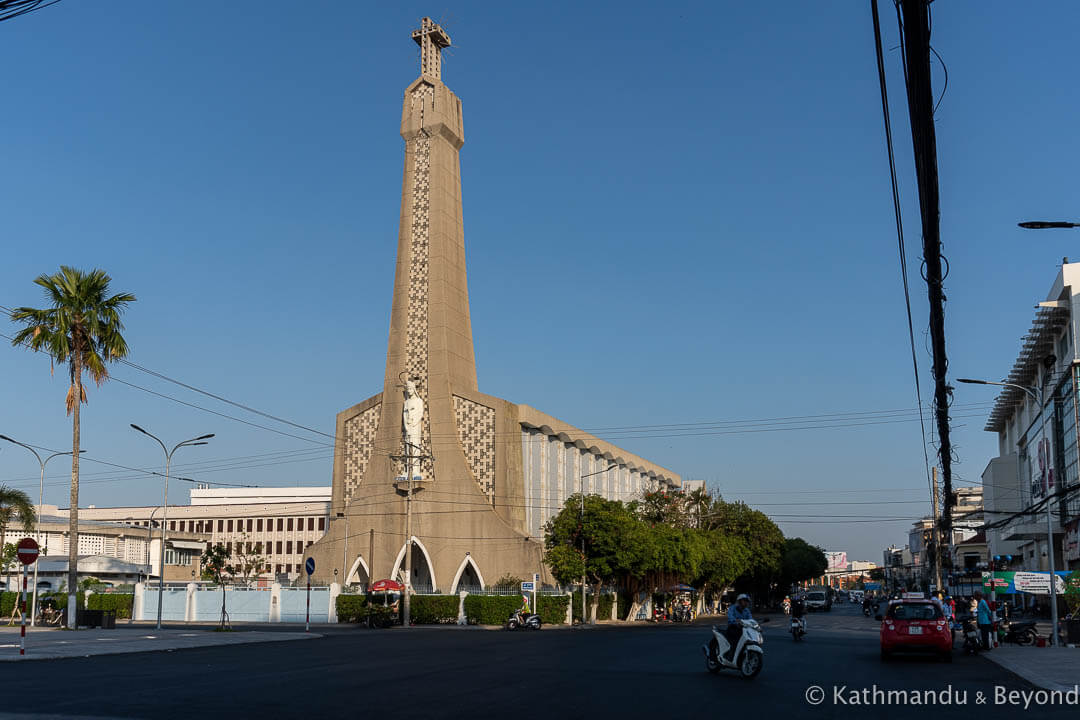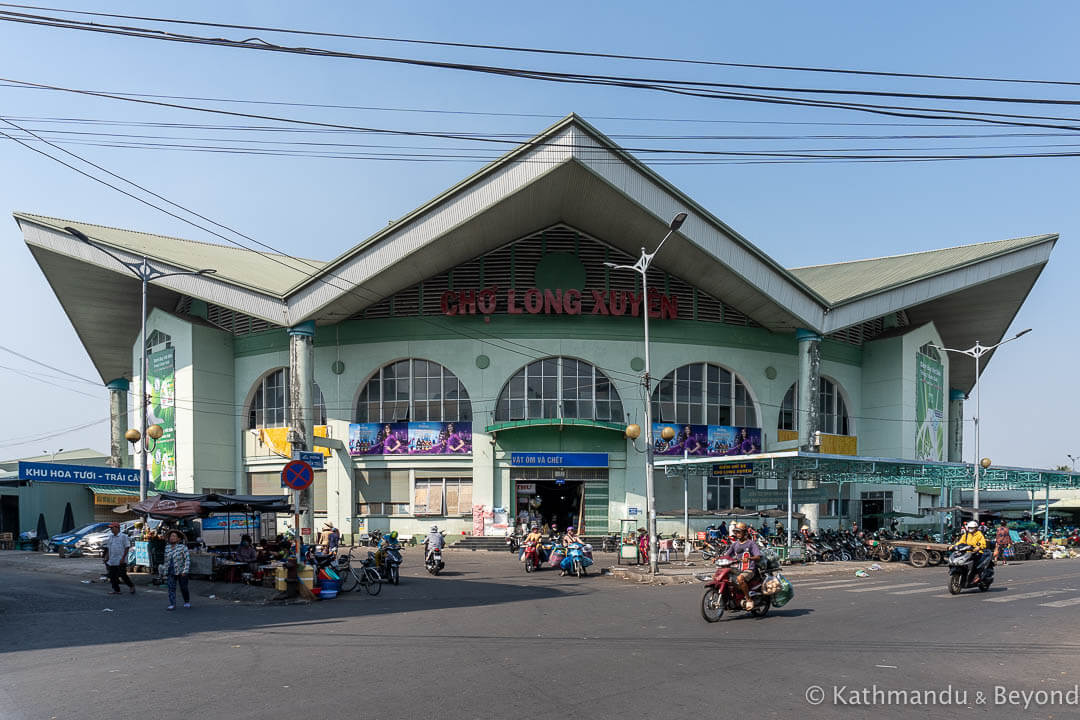 Long Xuyen Cathedral (left) and Long Xuyen central market (right)
Where to stay in Long Xuyen
I'm not even going to say where we stayed in Long Xuyen. What we thought was a brand-new hotel with modern rooms turned out to be a noisy hellhole that was part karaoke den and part brothel. We moved out mid-evening to a hotel across the street, which was neither a brothel or a karaoke joint but was just as terrible because of the constant sound of trucks and bus passing by all night en route to the An Hoa ferry terminal which takes vehicles across the river to the main highway heading to Saigon.
The road on which both hotels were located was called Ly Thai To. There were many hotels on this street and I suspect that they are all of a similar kind so my suggestion would be to avoid that road like the plague. Instead, splash out and spend the night at the well-located, and more upmarket Dong Xuyen Hotel.
How to get from Long Xuyen to Chau Doc
We were dropped on the main road linking Can Tho with Chau Doc when we arrived in Long Xuyen and so we assumed that if we went back to the same road when we wanted to leave, we would be able to pick up transport passing through. Our assumption was correct and it didn't take us very long to flag down a passing minivan to take us to Chau Doc. The journey time between the two destinations was 1½ hours.
Chau Doc
Chai Doc is a far nicer place than I imagined it to be. It is effectively a border town and expectations of such places are never high (Poi Pet on the Cambodian/Thai border springs to mind!) but Chau Doc doesn't have any of the negative trappings normally associated with a frontier settlement.
Most travellers are in Chau Doc because they are overlanding between Vietnam and Cambodia. The popular speedboat services, of which there are a handful of operators, leave regularly from Chau Doc for Phnom Penh but they all depart in the early morning, making it necessary to overnight in the city. Hence, most tourists only spend the minimum amount of time in Chau Doc but, with its pleasant riverside setting and low-key vibe, I would say the place is a worthy of a night or two in its own right. As a bonus, there are also a couple of cafes catering to travellers in Chau Doc, which will be appreciated if you've spent any amount of time exploring the region.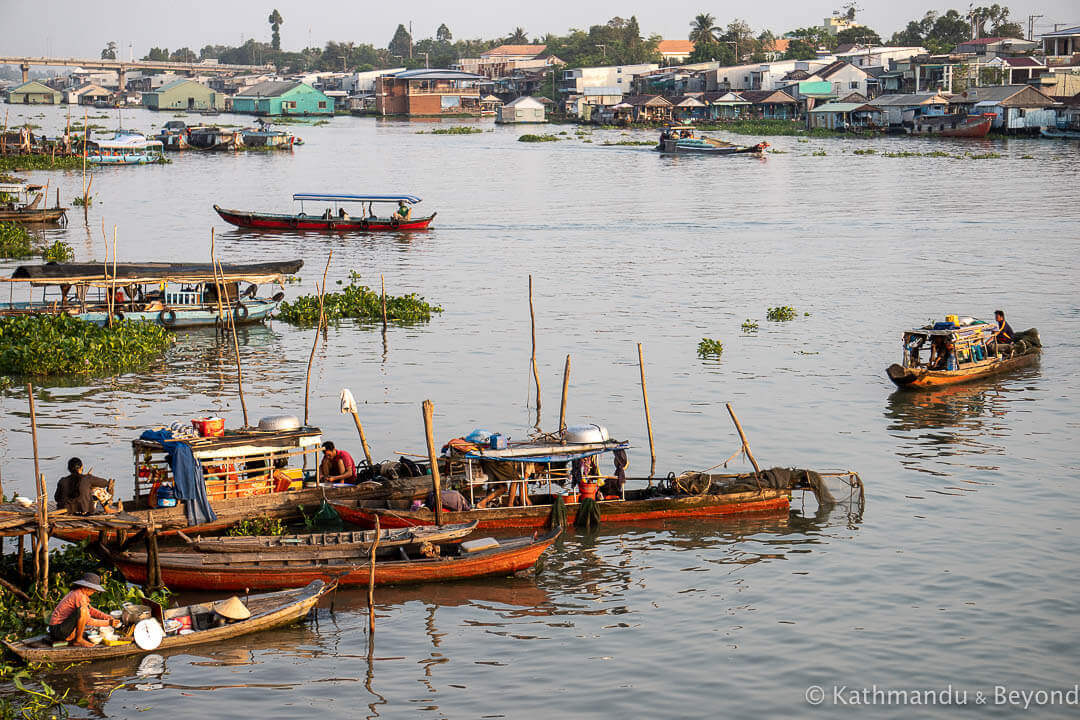 Chau Doc
The view of the confluence of the Chau Doc and Bassac rivers, on which the town is situated, is best viewed from the oddly named 30 Thang 4 Park. From the park, there is a sweeping vista of life on the river. Boat ladies hang out in the park and will offer to take you out onto the water for a small amount of money. It is also possible to go and take a closer look at the floating houses that can be seen close to the opposite shore. In the park's northwest corner is a makeshift cafe that sells drinks, including beer although, annoyingly, all the chairs face the road and the place closes around sunset. If you are prepared to splash out a little, a much better option for sundowners is the delightful Victoria Hotel, which is situated just beyond the other end of the park. The property has a fantastic terrace and drinks aren't too overpriced considering the surroundings.
Away from the park, the central market is a good place for a saunter. At its entrance is the bright yellow-painted Chau Phu Temple, which dates from the mid-1920s, and within the confines of the market itself another temple which is dedicated to an ancient Chinese general named Guan Yu, lionised in the 1994 84-episode Chinese television series, Romance of the Three Kingdoms.
We didn't do too much else in Chau Doc, preferring instead to sit in the park and look out at the river, but there is a mosque (Chau Giang Mosque), which you can go and visit by taking the public ferry across the river. It is also possible to visit Sam Mountain, the base of which is approximately 8kms from the town. The peak is dotted with numerous pagodas and temples and is a popular place for both Buddhist pilgrims and picnickers alike. The best way to get there is to either take a xe-om (motorbike taxi) or hire a pushbike and cycle there via the back route which, according to Lonely Planet, will take you via some pleasant rice paddy scenery.
More photos of Chau Doc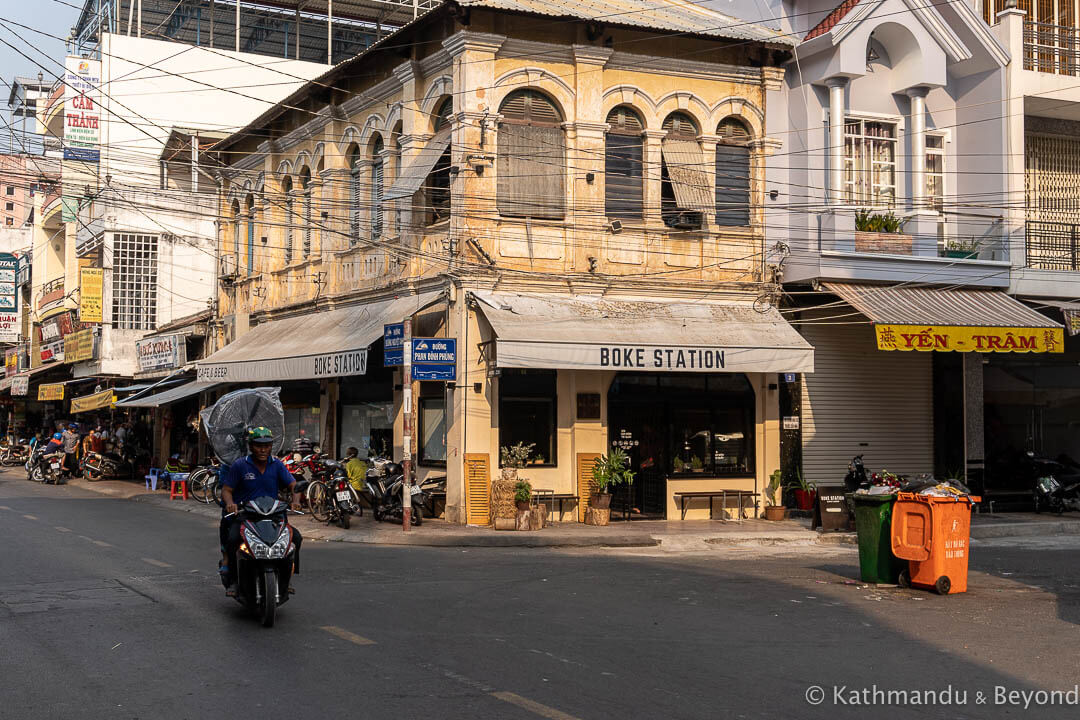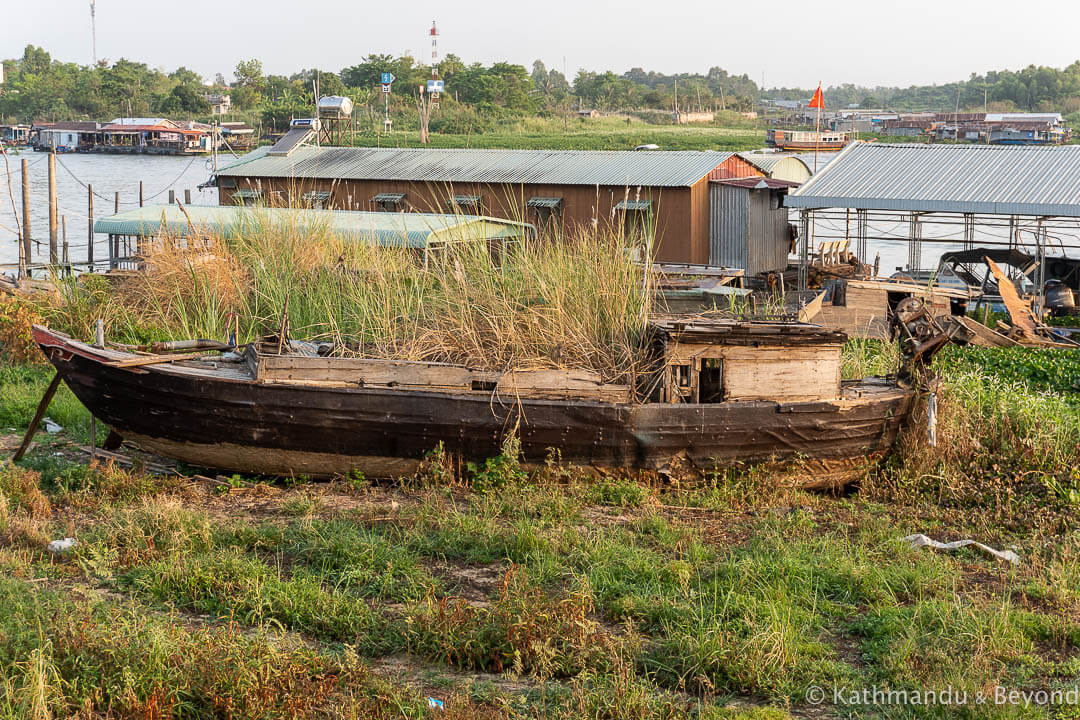 Chau Doc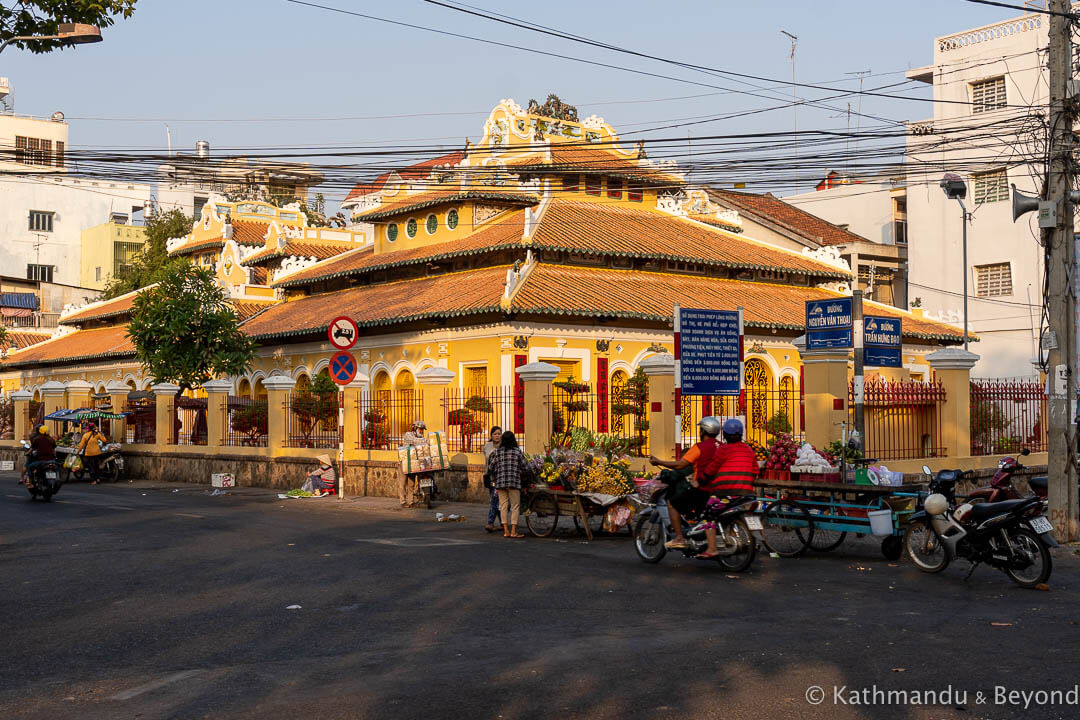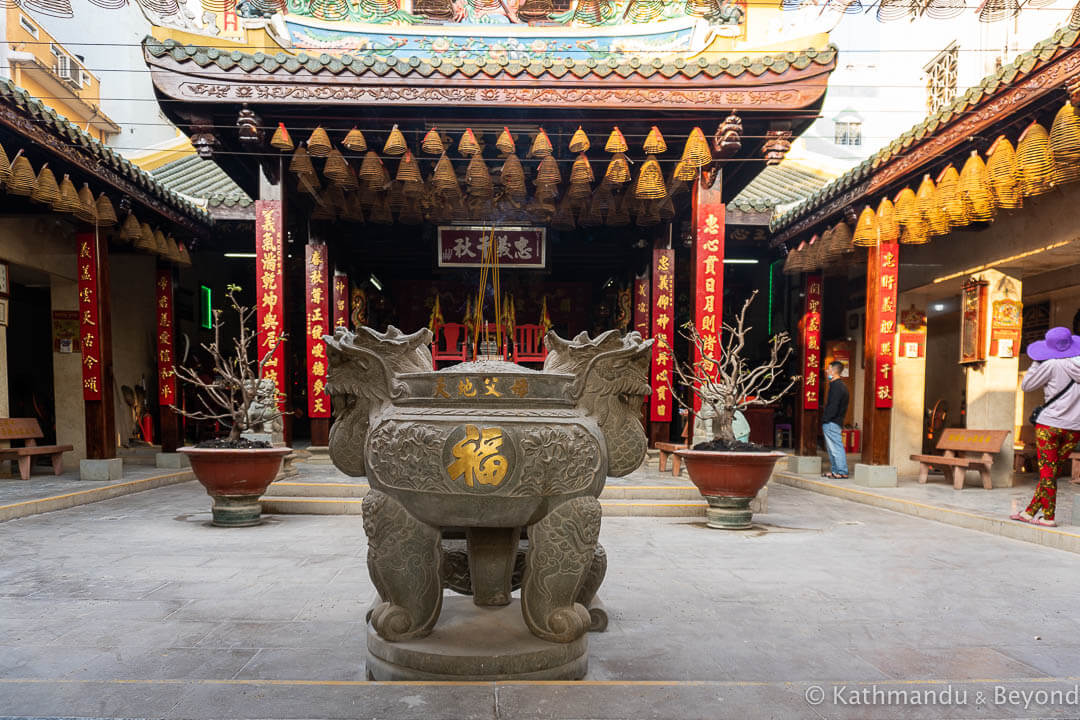 Chau Phu Temple (left) and Guan Yu Temple (right)
Where to stay in Chau Doc
We decided on the Dong Bao Hotel, which was a good choice. The property had nice owners and our room, which was out the back and away from the noise of the road out front, was quiet and well kept. The Dong Bao Hotel was a couple of hundred metres from the river and convenient for catching the bus to Sa Dec.
How to get from Chau Doc to Sa Dec
There are a couple of bus companies operating between Chau Doc to Sa Dec. One is called Hung Cuong and they are centrally located on the ground floor of the hotel of the same name. FUTA also ply this route and their office is a couple of doors down. All buses depart from a parking area just across the road so there is no need for a transfer to an out-of-town bus depot. We picked Hung Cuong and the only negative was, that despite reassurances to the contrary from the staff in the office, the bus dropped us off about 4kms northwest of the centre of Sa Dec. We were dumped at the foot of a flyover and there wasn't a taxi or a xe-om anywhere to be seen. The only option was to walk. We have an inkling that if we'd chosen FUTA, they would have dropped us at Sa Dec's central bus station.
If you take the humidity and the fact that we were carrying our backpacks out of the equation, it was actually quite a nice walk because the road followed the course of the Mekong River. What's more, one of Sa Dec's claim to fame is that it is renowned for its nurseries and particularly for its roses. The initial kilometre or so of the walk into town passed by several of these nurseries, which distracted us from the task in hand.
The travelling time between Chau Doc and Sa Dec is about 3 hours.
Sa Dec
Sa Dec was the town we enjoyed the most on our Mekong Delta itinerary. It reminded us of Savannakhet in Laos inasmuch that both are rather drowsy places, have plenty of French colonial-era architecture that could do with a heavy dose of TLC, and each one has a delightful river setting.
Besides flowers, Sa Dec also has an association with the French writer, Marguerite Duras and her 1984 semi-autobiographical novel (and subsequent film), The Lover. Set in French-Indochina in the late 1920s, the book follows the story of a 15-year old nameless girl (Duras) and her romance with a 27-year-old son of a wealthy Chinese-Vietnamese family, named Huynh Thuy Le. They met in Sa Dec and the Le family mansion, officially Huynh Thuy Le Old House, is now a museum that can be visited for a modest entrance fee.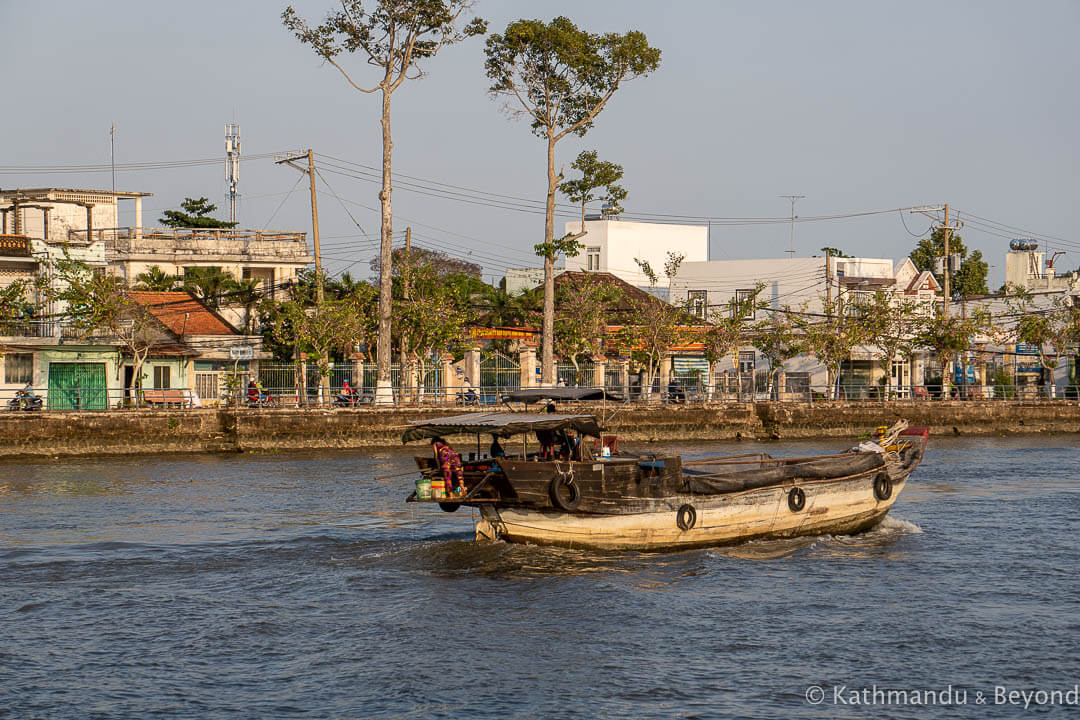 Sa Dec 
Other architecture in Sa Dec that is worth searching out include a line of shophouses on the non-city side of the bridge as well as Tan Qui Parish Church and the town's lavish Cao Dai temple. Both of these are on the same side of the river as the shophouses, although you'll get a better photo of the Cao Dai temple from the other side of the water. Inland, it is worth looking inside the Kien An Cung Pagoda and, opposite the temple, there is a war memorial with lots of detail on it commemorating something that happened during the First Indochina War (1946-1954), although I'm not sure what exactly. But the most enjoyable thing to do in Sa Dec is to have a poke around the central market and then stroll along the waterfront promenade to see some of the other Sino-French style mansions that line the inner side of it and also take in what's happening on the river on the other side of it.
More photos of Sa Dec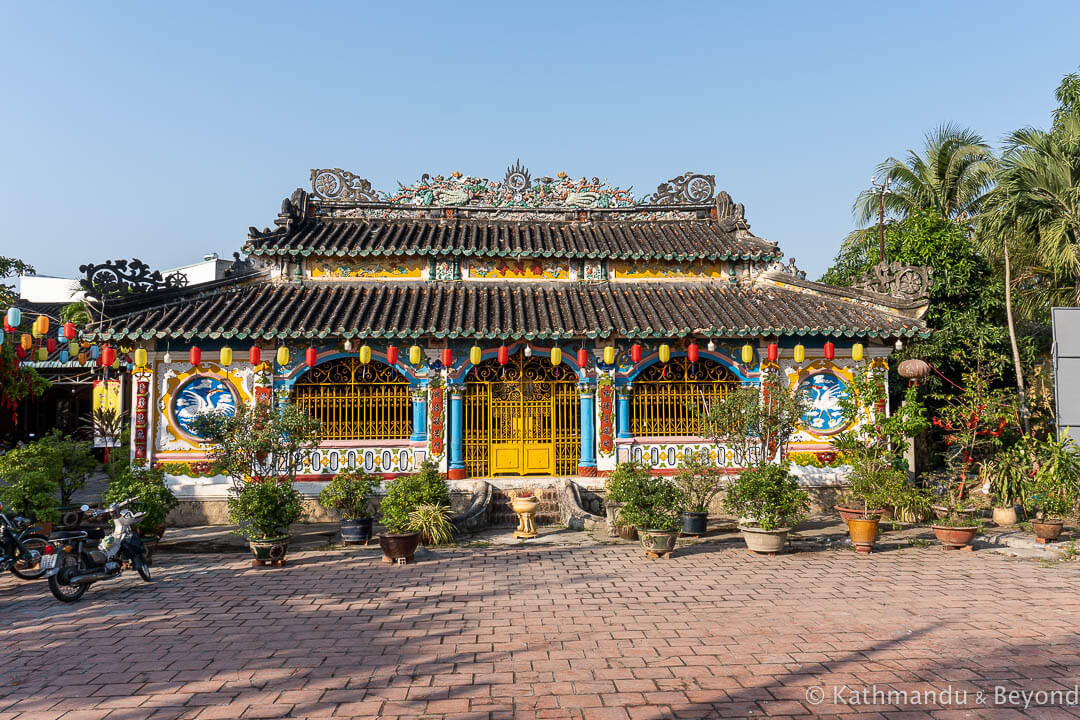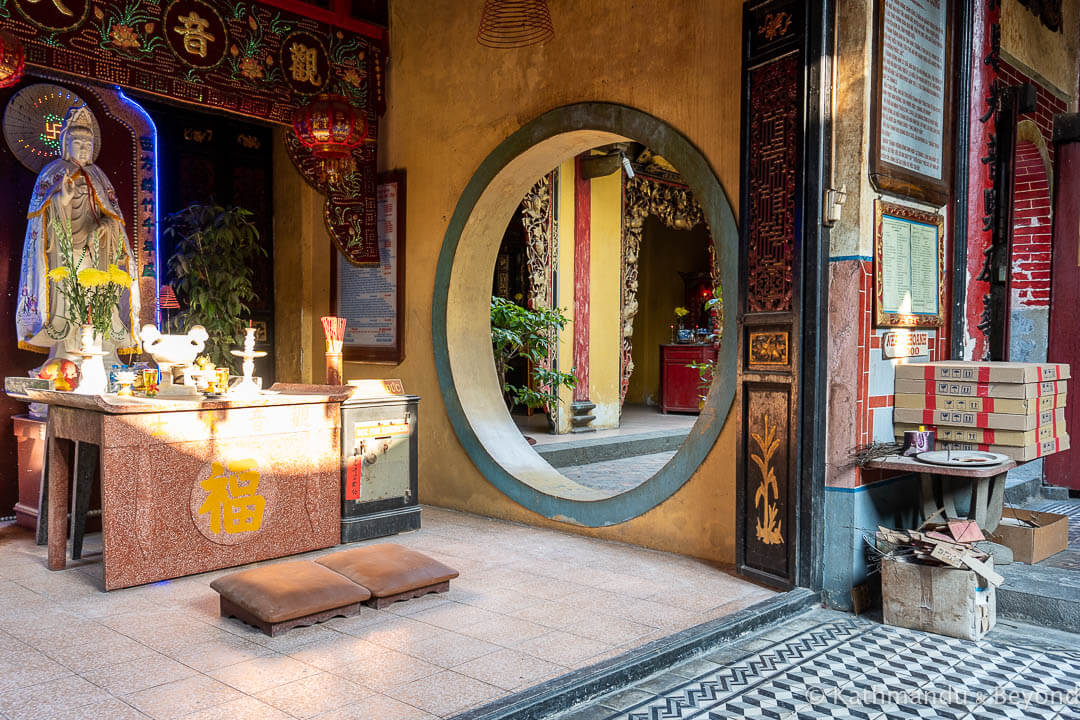 Chua Kuen An Cung Pagoda (left) and Kien An Cung Pagoda (right)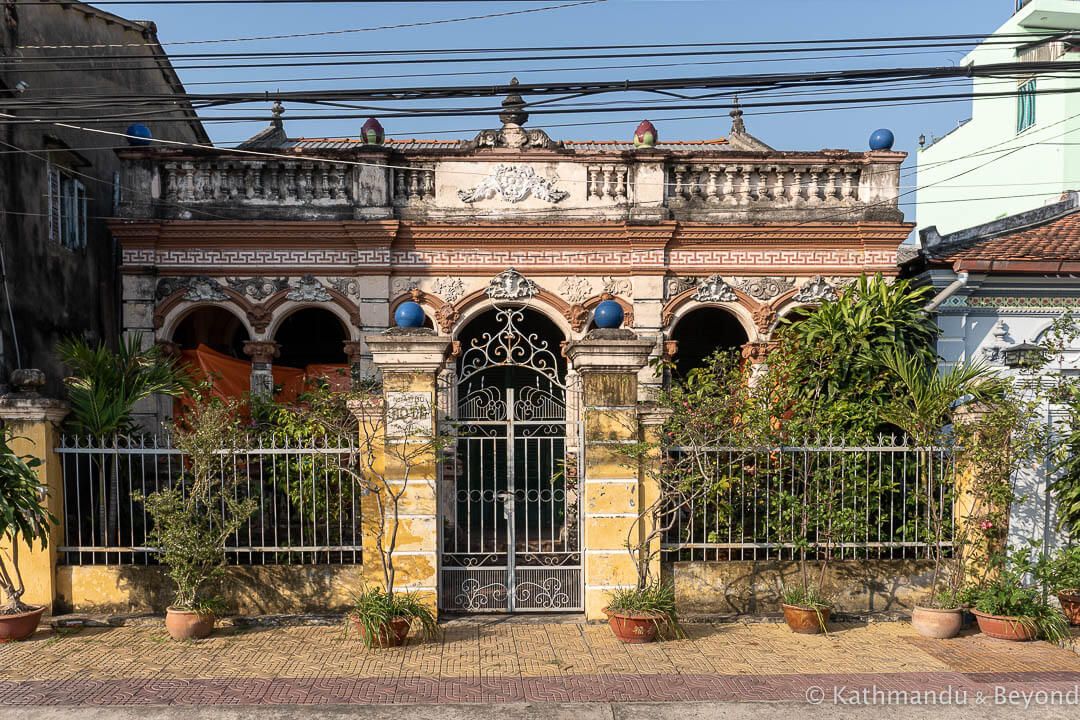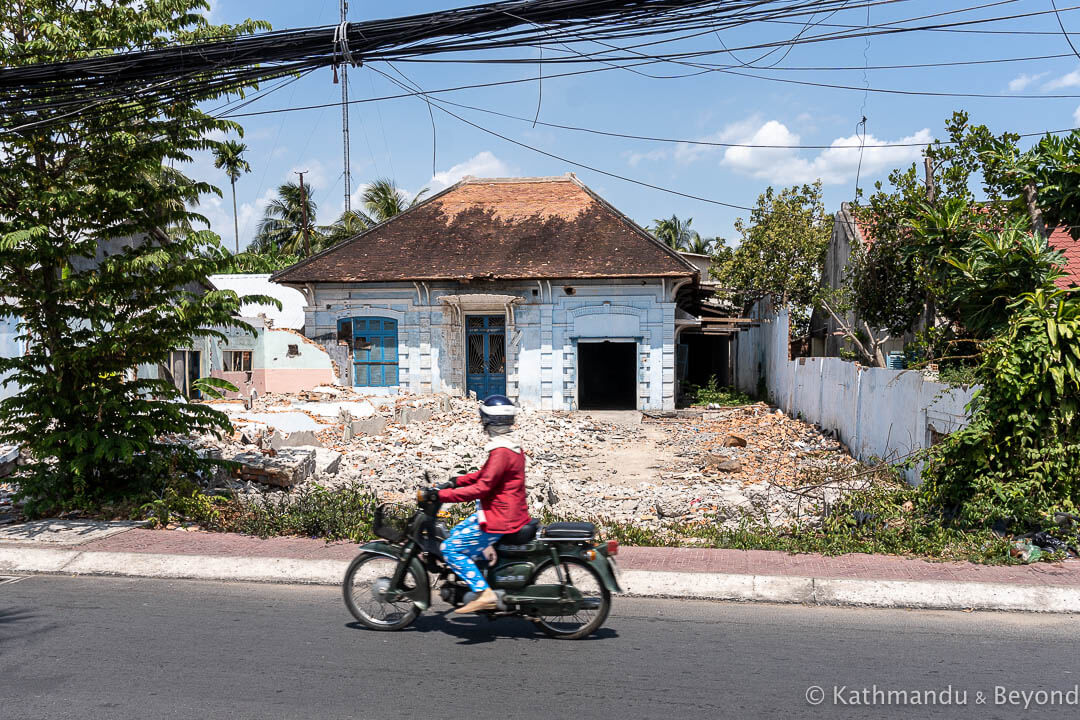 Sa Dec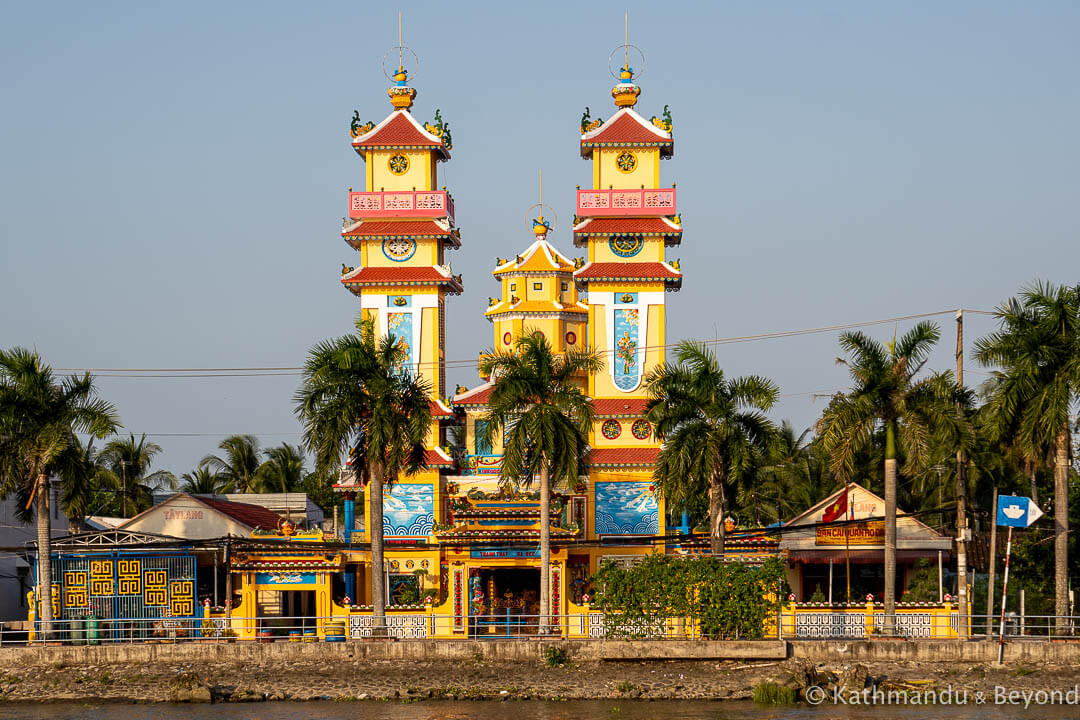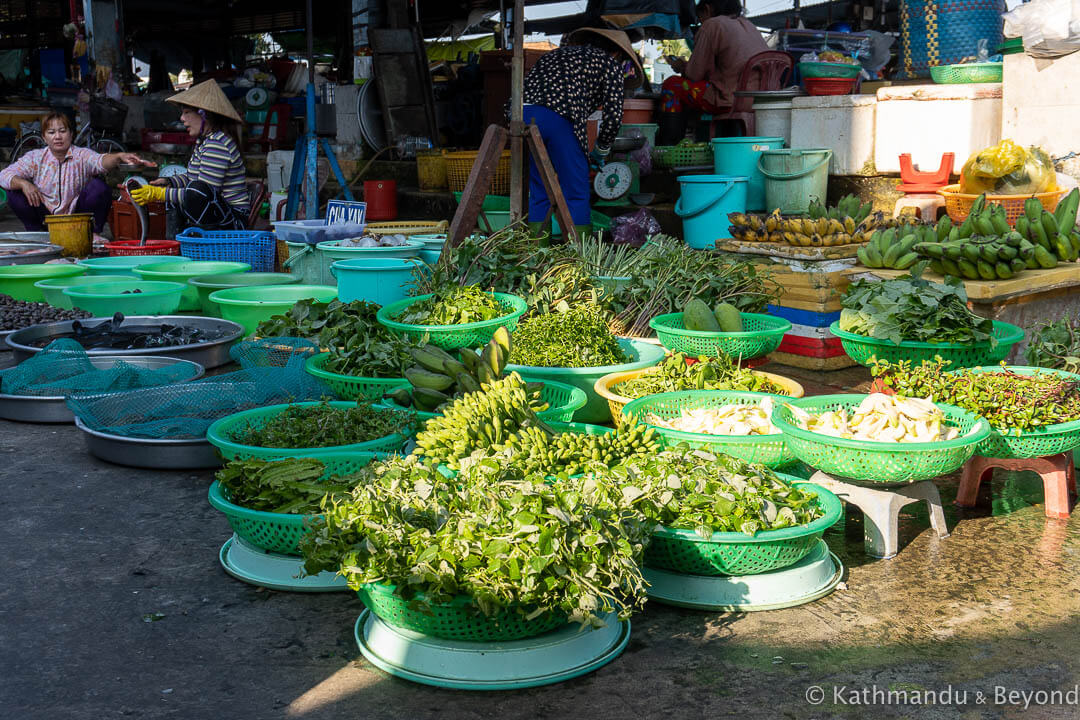 Sa Dec Cao Dai Temple (left) and Sa Dec central market (right)
Where to stay in Sa Dec
We headed for the Thao Ngan Hotel, which was just a few blocks back from the central market. It was a good choice and the owners were very nice, with the daughter speaking excellent English. We had a big room with a private bathroom for about US$10.
How to get from Sa Dec to Saigon
Buses for Saigon leave hourly. Sa Dec's bus station is about 800 metres south of the Thao Ngan Hotel, although we didn't need to go there under our own stream as the hotel booked our bus tickets for us and this included a free shuttle service. We travelled on FUTA again and the journey time was in the region of 4 hours, including half an hour break at a service station somewhere along the way.
We arrived back into Saigon's Mien Tay Bus Station once more. Bus companies in Vietnam do not operate free shuttles between the bus station and their downtown offices but local bus numbers 14 and 39 will get you back to District 1.
---
---
If you found our Mekong Delta off-the-beaten-track itinerary helpful, please share it…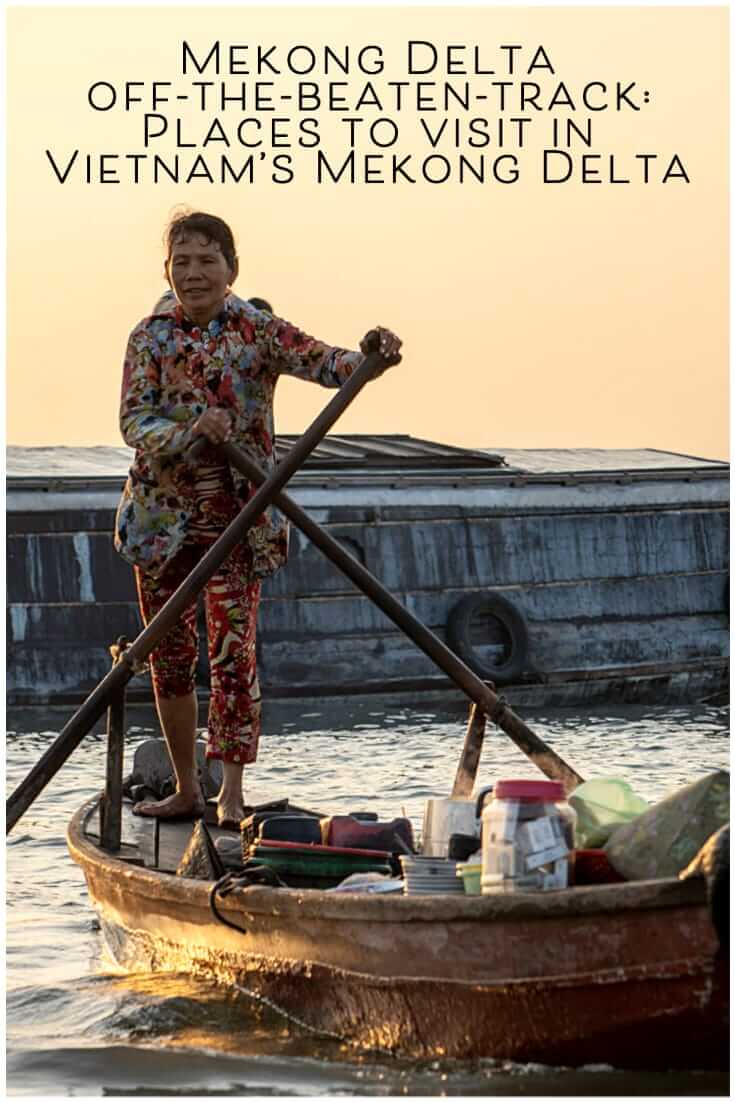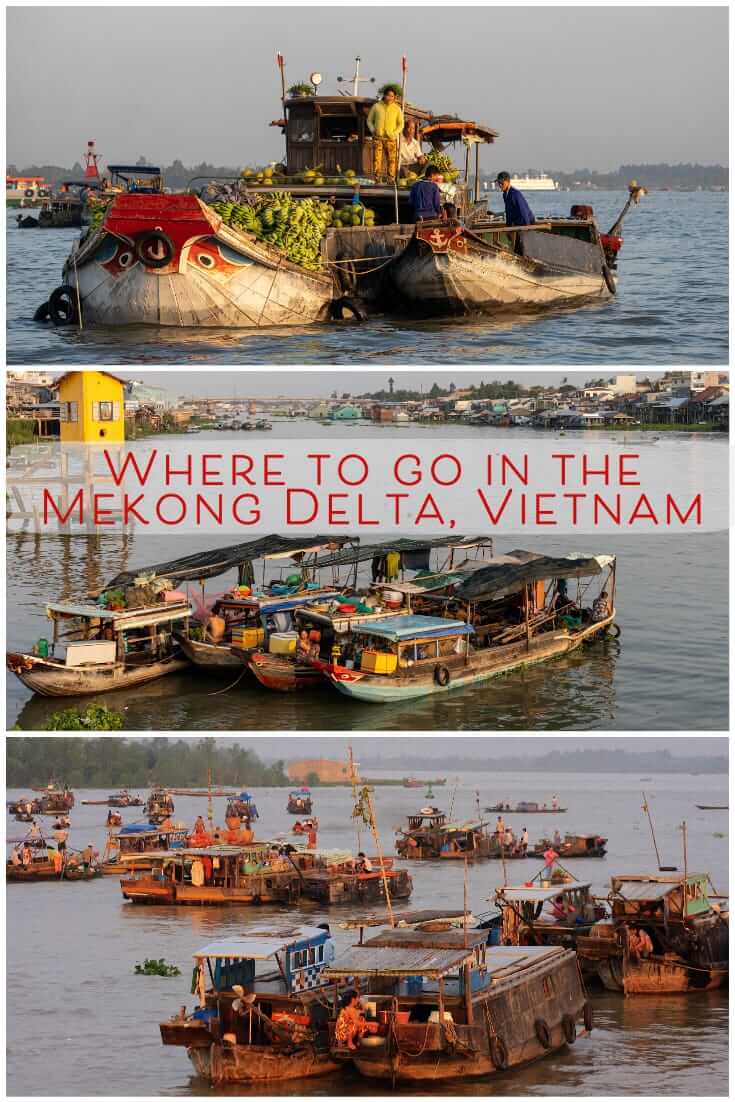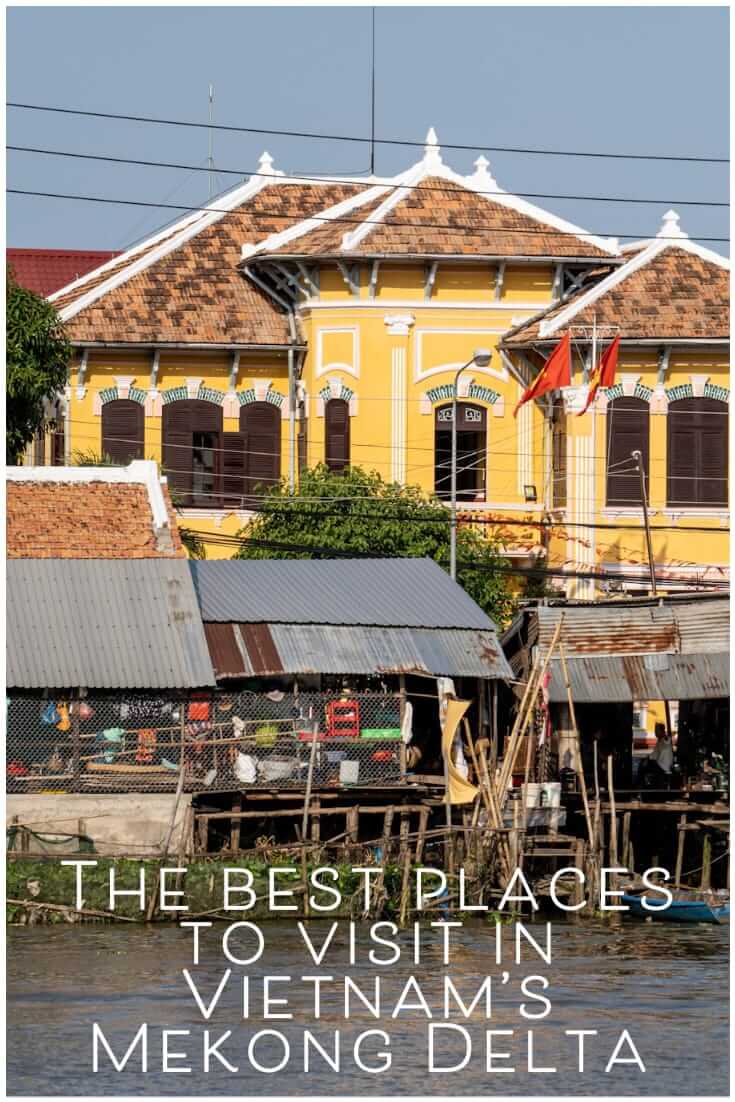 ---
---