Arguably the most beautiful spot in all Guatemala, Semuc Champey is one tough place to reach but once you finally get there, it is equally as tough to tear yourself away. Semuc Champey is, in fact, a natural limestone bridge, 300 metres in length. Underneath this natural bridge runs the Cahabón River and atop it there is a series of gorgeous turquoise pools that are perfect for swimming and splashing around in.
The nearest town to Semuc Champey is Lanquín, a scruffy place with basic amenities, a few hostels and hordes of travellers. You see, even though Semuc Champey is a pain in the neck to get to, it is widely popular with travellers and is developing a bit of a reputation for its party scene. Don't get me wrong, it's no Koh Phangan or Vang Vieng, although it reminded me a bit of the latter because of the outstanding scenery and water-based activities.
Don't let the above put you off visiting though (*). There are loads of great hikes in the surrounding jungle and slipping and sliding your way from one chilly pool to the next is a great way to spend half a day. It is also the ideal place to break the Tikal to Antigua journey (it is roughly halfway between the two) but, if you do go, don't try and get there on public buses. Kirsty and I took public buses everywhere in Guatemala except for the journey to and from Semuc Champey. Both journeys are long and travelling by public bus will involve several changes along the way. Shuttle vans run by hostels and agencies ply both routes (Tikal to Semuc Champey and Antigua to Semuc Champey) and are quicker and more comfortable than the buses and furthermore the price variation between the two options is not huge.
(*) We stayed at El Retiro Hostal in Lanquín. There is a party here most nights but it is restricted to the restaurant/bar area which is located well away from the accommodation blocks. Admittedly our room was about as far away from the restaurant as you could get, but we did not hear anything even though the party apparently went on until the wee hours of the following morning.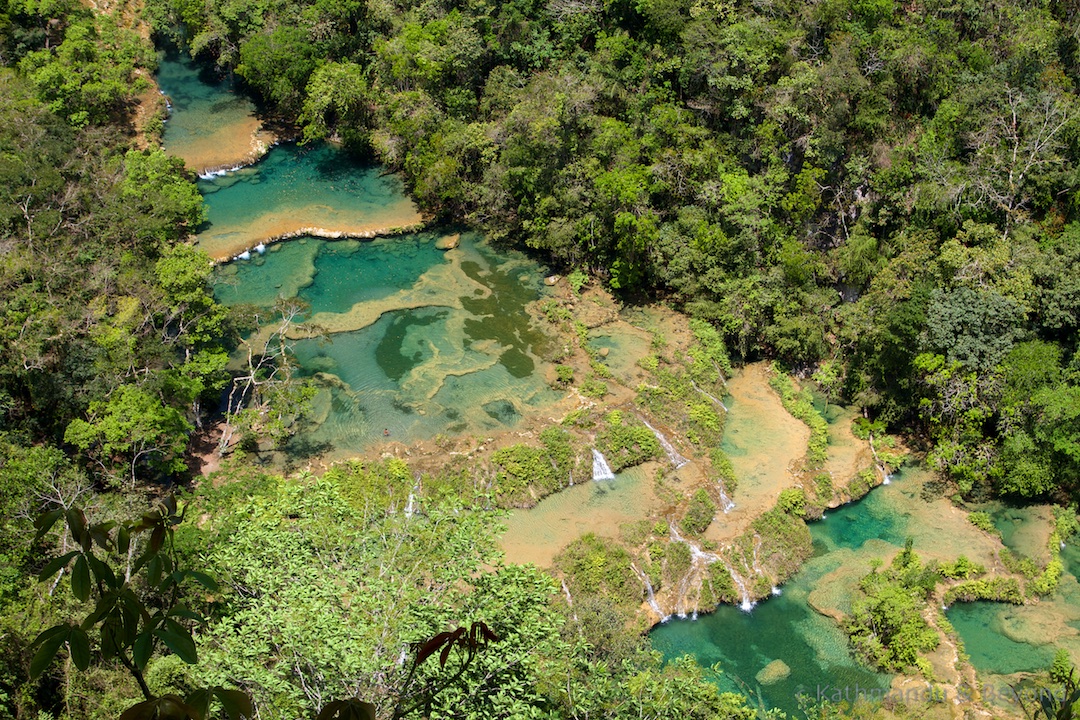 The view looking down on Semuc Champey
For more images of Guatemala go here.
---