One of those backpacker stories that will endure for a long, long time …
I enjoyed compiling my Postcards from the Past: Asia post, a collection of postcards and their contents from my first big trip to Asia back in 1992. I also enjoyed the comments attached to the blog from some of our readers. One, in particular, a comment about Ko Phi Phi in southern Thailand, and how it was unrecognisable back then compared to what it looks like now, sparked another blast from the past that I had almost forgotten about.
Back in 1992, hopping from one Thai island to the next was very different from what it is now. If you are so inclined, these days you can have every step of the way arranged for you – there are ferries, speedboats and catamarans linking even the remotest of islands. Combination transport, including the sea passage and a road transfer, is also commonplace, particularly if travelling between the east and the west coast, and when you arrive, you are invariably assured that there will be somewhere comfortable to stay and a plethora of restaurants and bars in which to eat and drink.
But back in the early '90s, however, a little more independent planning was required and the accommodation and entertainment options were certainly more limited. I had met two English lads, Jon and Andy, in the resort town of Hua Hin and we had decided to island-hop together through the south of Thailand. From Hua Hin, we took a train to Chumphon, from where we took an overnight fishing boat to Ko Tao. Apparently, the fishing boat is still an option even though a regular ferry as well as private express boats now also undertake the journey. I wonder how many people take the fishing boat option these days? I know I wouldn't. The water was as rough as hell and I don't have sea-legs but back then it was the only option and after an overnight journey, during which we slept on deck, we arrived on remote Ko Tao.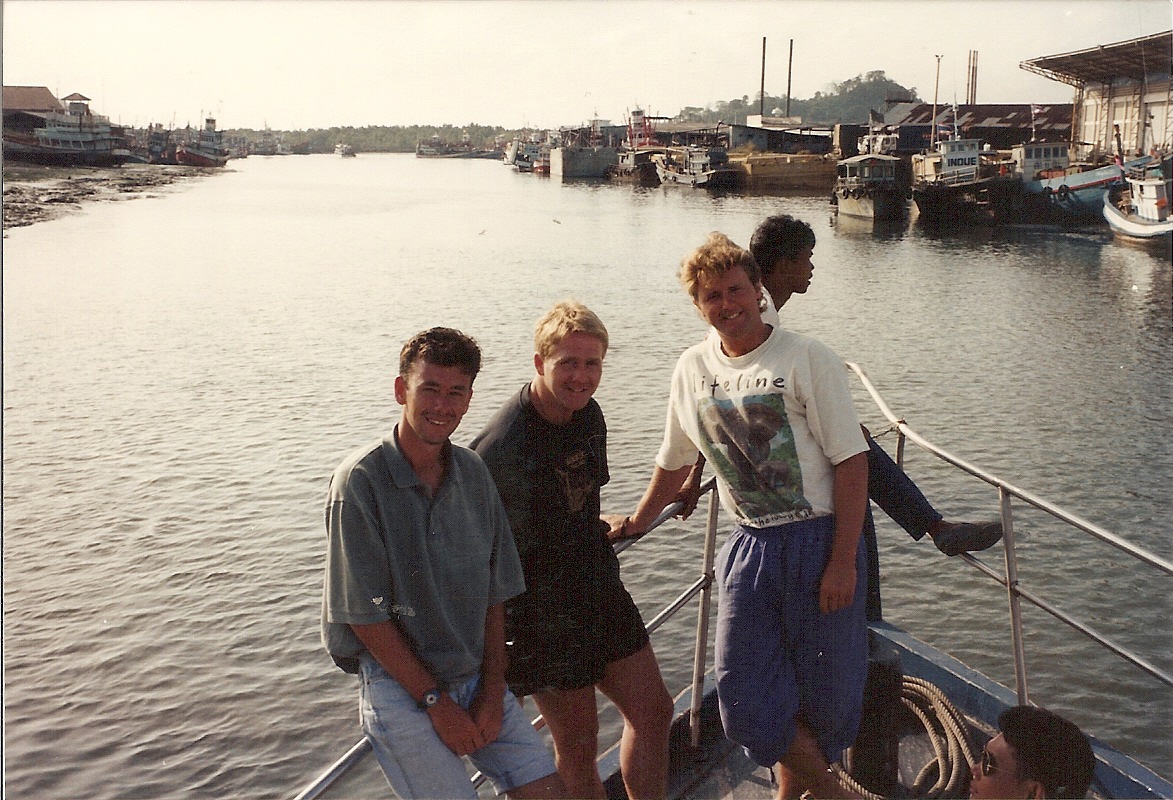 Me, Jon (centre) and Andy departing Chumphon for Ko Tao
From Ko Tao we took a small local ferry to Ko Pha-Ngan, followed by a long-tail boat for the short distance from there to Ko Samui. A larger local ferry took us back to Surat Thani on the mainland. We then had to take a rattly old bus from one side of southern Thailand to the other. I don't think we had chickens onboard à la Central America-style but it was that type of bus and took ages, about eight hours from memory, to reach Phuket. Phuket was a veritable metropolis compared to where we had just come from so, after a short stay, we took another long-tail boat to the island of Ko Phi Phi.
Apart from Phuket, where both nights I slept on the beach with a multitude of mosquitos (*), I really enjoyed the trip. It was easy-living and we did plenty of sunbathing, some snorkelling and attended one of the earlier Full-Moon parties on Ko Pha-Ngan, a relaxed affair that would be unrecognisable compared to today's commercial offerings.
(*) Andy was from Cornwall in the depths of south-west England and had never travelled much before undertaking this trip. He was somewhat green behind the ears but Jon, on the other hand, had been in the British Army and served in the First Gulf War (1990-1991). He was worldly-wise and enjoyed his ladies of the night. He promptly led Andy astray (but not me I hasten to add – my budget wouldn't allow it!) and after leaving Bangkok, there hadn't been many opportunities for them to indulge in their new hobby (well, new for Andy anyway) until we arrived in Phuket. To be fair to both of them, they said I could stay in the room and go to sleep in my bed, I had after all paid my third of the room rate, but I politely declined! On both evenings, or rather early mornings, one of them would come and find me on the beach and inform me it was all clear, should I wish to come back – they were true gents!
We went our separate ways upon arrival in Malaysia. By this point, they were both running out of money (no kidding!) and so left for Australia, where they hoped to pick up some work and replenish their financial supplies.
But the place I loved the most on that particular trip was Ko Phi Phi. The island was simply stunning and back then, it was the most tropical place I had ever laid eyes upon. The island was reasonably popular with visitors even in the '90s but this was pre-Alex Garland's The Beach and also prior to the devastating 2004 tsunami which destroyed much of the island.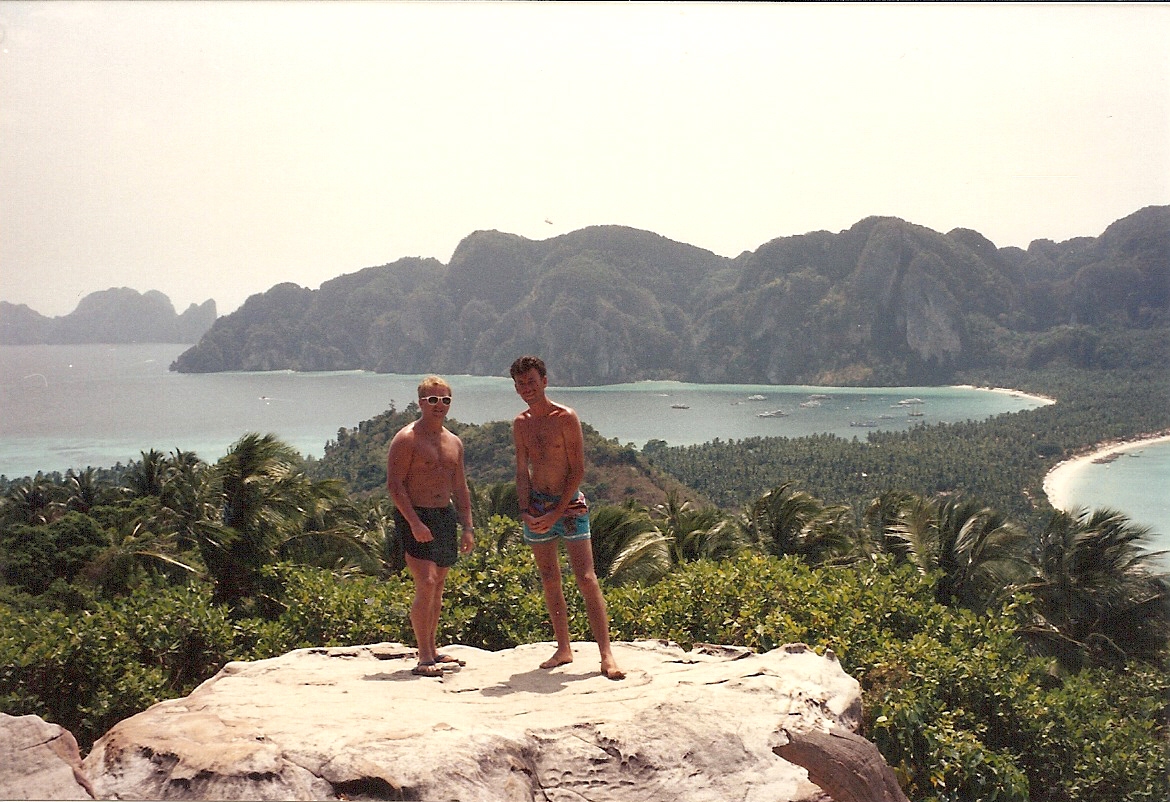 Jon and I at the top of Ko Phi Phi viewpoint
Plenty has been written about the environmental impact of both events but in 1992, Ko Phi Phi was a little piece of heaven in the Andaman Sea and we settled in big style. As mentioned earlier, Ko Phi Phi had certainly been discovered by the early '90s but many of the visitors were day trippers from either Phuket or Krabi and in the early mornings and late afternoons, before the majority of visitors had arrived or after they had left, the long, half-moon shaped Ao Lo Dalam Beach would be relatively deserted. 
In fact, most of the action, such as it was back then, centred around Ao Lo Dalam. We stayed in prefab huts just back from the beach, for which we paid BHT50 per hut, per night. That's about £1.00 or US$1.25 and because they were so cheap, Jon, Andy and I splashed out and had a hut each – no sleeping on the beach for me this time, although it wasn't that sort of place anyway. They were back on a dry run!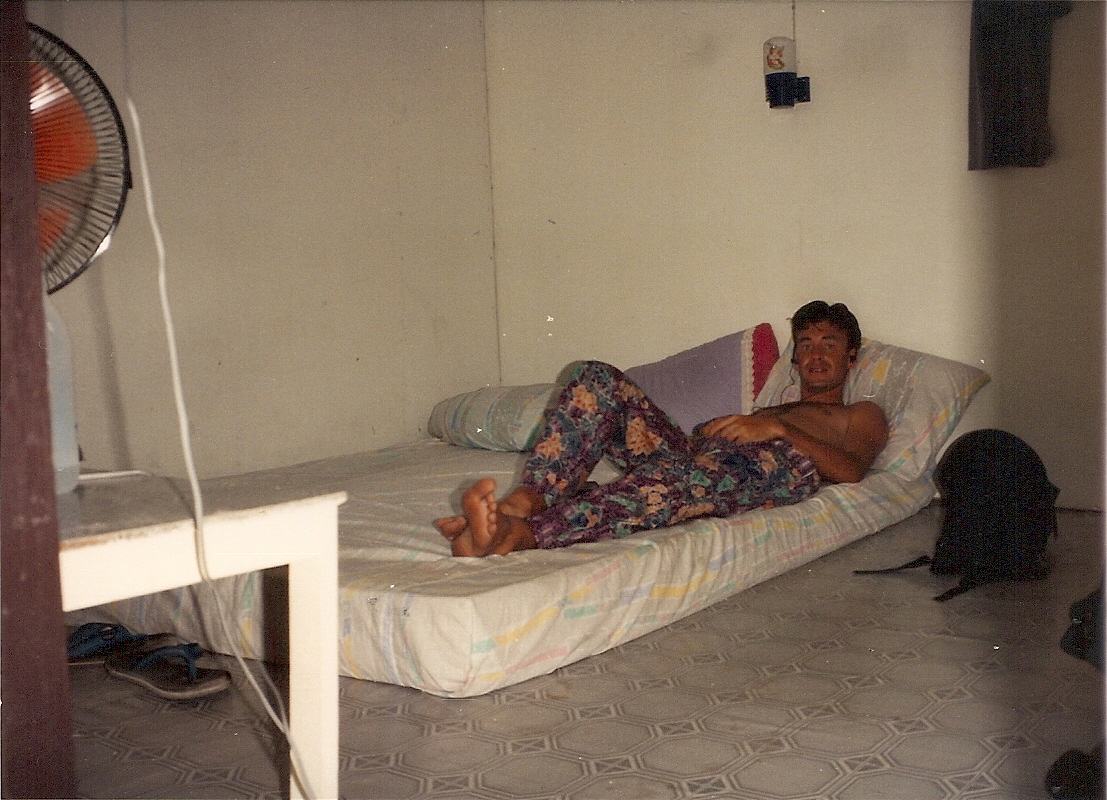 Relaxing in my BHT50 a night prefab hut on Ko Phi Phi – nice trousers!
There were a few shacks and basic wooden restaurants serving the usual Thai fare as well as traveller's favourites such as banana pancakes and pizza. These places also served cold beer and Thai whisky with mixers but there was only one bar on the entire beach that had entertainment and went on a bit late into the night.
I can't, for the life of me, remember the name of the bar but the entertainment was in the form of two musicians, a singer and a guitar player, who would belt out well-known classics, typical of the time. It was a fun place in a low key kinda of way. Our group, there were five of us by now as we had been joined by two Norwegian girls called Anita and Susanna, would sit around on the beach, drinking Sangsom Thai whisky and coke (the cheapest drink going but boy oh boy, did it give you a headache the next day!), chatting and listening to the live music.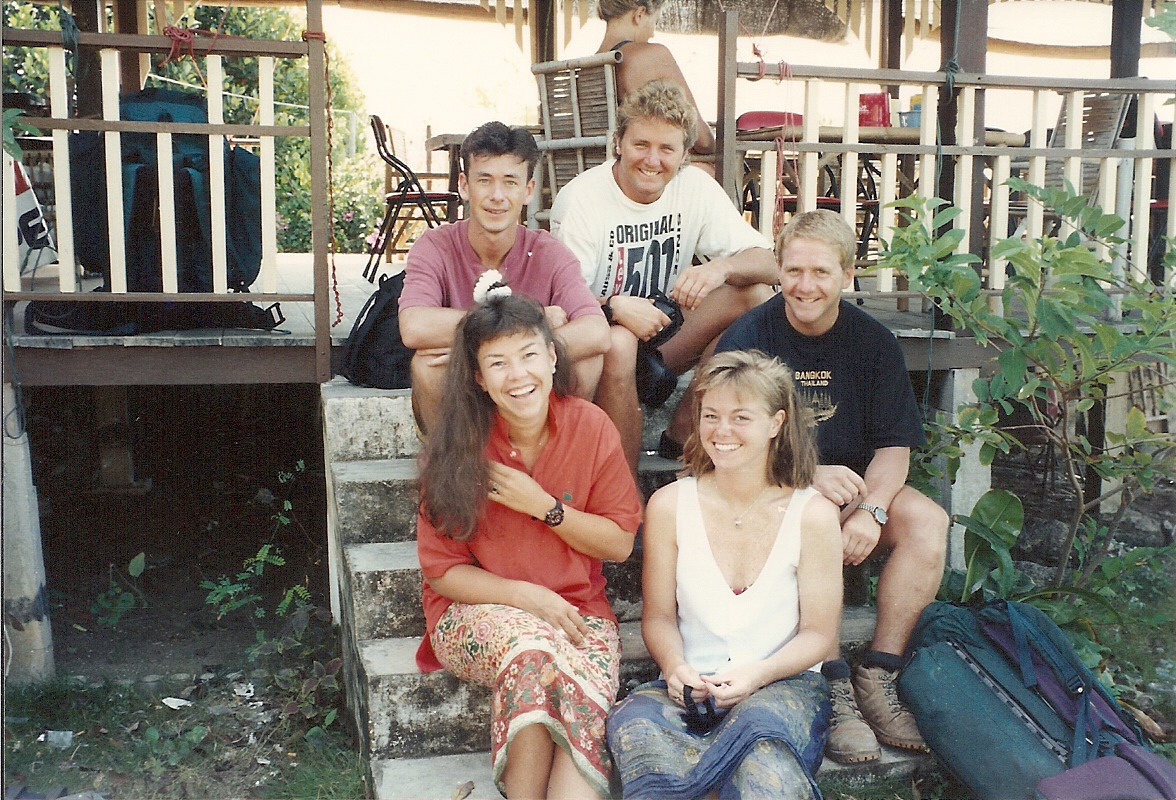 Clockwise – me, Andy, Jon, Susanna and Anita. We stayed together until we reached George Town, Penang
The two musicians were also English and they weren't half bad. They did a decent rendition of (I Can't Get No) Satisfaction by the Rolling Stones and after finishing it one night they piped up that they had heard a rumour that Mick Jagger was staying on a luxury yacht just off the coast of the island and if he fancied joining them up on stage anytime in the near future, he was more than welcome. The comment met with a few laughs and nobody gave it any more thought.
I assume you can guess what's coming next?
You're right, the very next night, this very fancy tender rocks up on the beach and Mick Jagger and his small entourage disembark and walk up the sand to the bar and order some drinks. While everyone else had eyes on Jagger, I watched the musicians with interest. They were nudging each other and frantically whispering like it was going out of fashion – 'You ask him', 'No, you ask him', 'No, you ask him'… This went on a bit and after the lads had finished one of their songs, the singer gingerly asked over the microphone if 'Mr Jagger' would like to perform a song with them.   
He said no, got pissed off, returned to his boat and was never seen again.
Only kidding! Apparently, a member of Mick Jagger's party had been in the bar the previous night and had presumably mentioned it to him. Jagger obviously fancied a drink land-side and probably knew he would be asked to get up and perform. He sang three songs: Satisfaction, Jumpin' Jack Flash and American Pie by Don Mclean. He also strutted around a bit, Jagger-style, signed a few autographs and hung around for a couple more drinks which I think he got on the house :-).
I was impressed. I'm not a big fan of the Rolling Stones but he came across as a genuine person. I also liked the very tall blonde he was with! I can only assume it was Jerry Hall, but I'm a discreet kinda guy and don't want to get him into any trouble!
This was pre-Internet and smartphones and you have to wonder if both these inventions have helped kill off impromptu happenings such as this one. Nobody had a camera or was recording the event and Mick Jagger certainly wasn't getting on stage with these two lads as a publicity stunt – there was only about fifty shabby backpackers and a bunch of Thais there at best!
It was a memorable night, one that, no doubt, the two musicians talked about thereafter for a very long time!
On the star-studded experience front, I've never topped it since although apparently Mick Jagger was in Bhutan at the same time as Kirsty and I (December 2004) and I once said alright? and got an acknowledgement from Shane MacGowan, lead singer of the brilliant Irish Punk band, The Pogues, in a pub in Guildford!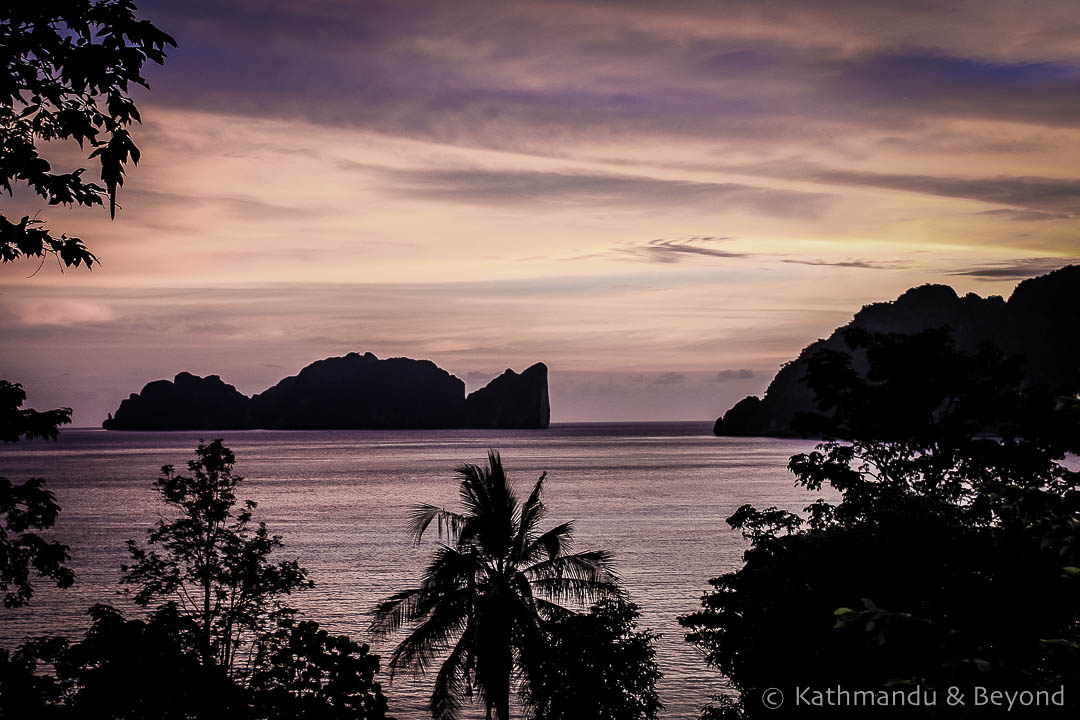 Phi Phi sunset, taken in 2008
---
---
---