This post is part two of a mini-series and features postcards I sent from my first backpacking adventures #backintheday. The first part included cards I sent from my first trip to Europe way back in 1988! This second part features my first independent travels to Asia, a few years later in 1992.
I was twenty-five years old and travelled on my own to begin with and then was joined by my girlfriend at the time, Sam, for the remainder of the journey. That trip began in early February 1992, ended in early November of the same year and lasted nine months in total.
You can read part one here: Postcards from the Past: Europe
I generally wrote letters to my parents and sent postcards to my sister, Helen, who was at boarding school back in the UK. She used to go back to the family home most weekends and so would pass on any postcards she had received. My sister joined me in Asia for about six weeks in the summer of 1992 so I sent the postcards to my parents instead during this period.
Join me in a nostalgic look at some of my postcards from the past…
Bangkok, Thailand 9th February 1992 (postcard to my sister)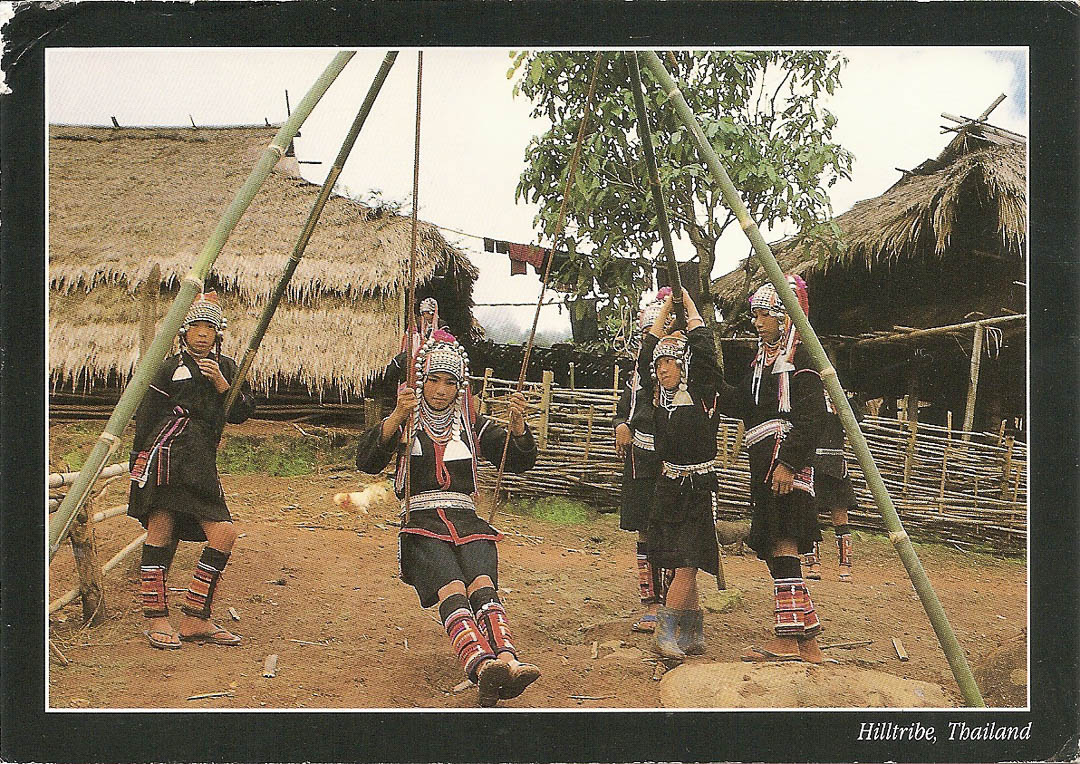 Dear Hel, Arrived in Bangkok OK. The flight over wasn't too bad. Thought I'd worked it out getting to the hostel. Only paid BHT5 on the train into town (£1 = BHT45) but then got lost trying to walk it and paid BHT65 for a tuk-tuk – bit of a downer. Write soon, on the train to Hua Hin now. Love, Mark
Mark: I'm curious as to why I chose a postcard with Chiang Mai on the front rather than one with a photo of Bangkok?
Hua Hin, Thailand 11th February 1992 (postcard to my sister)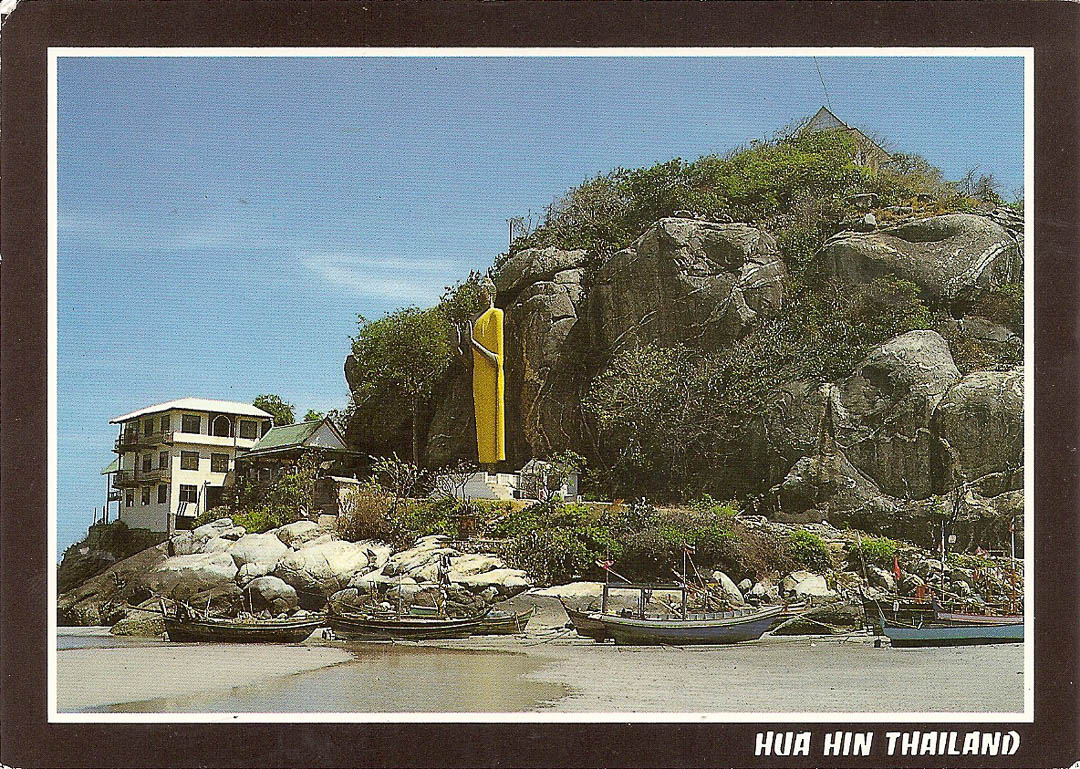 Dear Hel, Guess what? I'm bloody red and sunburnt – typical Brit abroad. Can't leave this place until my shoulders calm down, can't lift my rucksack. Probably going island hopping with 2 British blokes I met, if not I'll go straight to Phuket. Bought some groovy flower power pants – right hippy. Write soon. Love, Mark
Mark: I still remember the pain from the sunburn as if it is was yesterday. It took a while to recover and I wasn't exaggerating when I said I couldn't lift my pack – the agony!
Koh Tao, Thailand 16th February 1992 (postcard to my sister)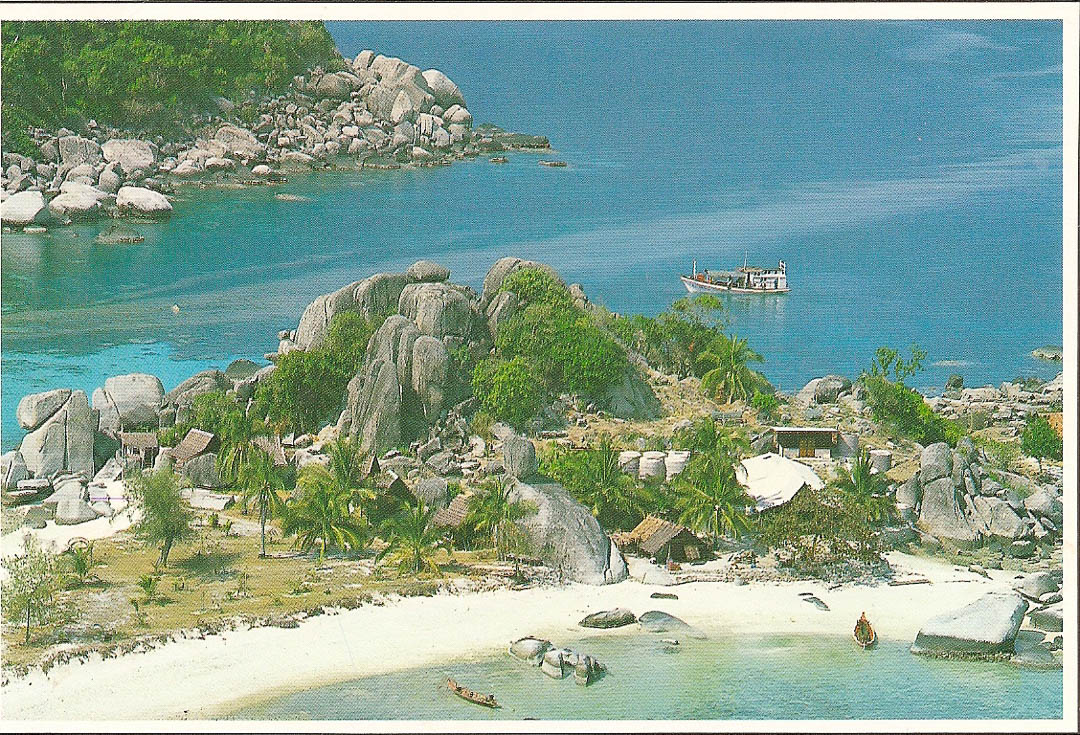 On a small island called Koh Tao at present which is on the east side of Thailand. It's sort of half way between Hua Hin and Phuket. From here we got to Koh Phangan and from there to Koh Samui. It was an overnight on a fishing boat to Koh Tao which was rough and then a mini ferry between the others. Very little on Koh Tao – only 21km x 3km – bit boring actually. Anyway, I'll write from Koh Phangan. Say hello to all. Love, Mark
Mark: I don't think the photo is of Koh Tao. On the back of the card it says Nang Yuan island, Suratthani, which is a small island close to Koh Tao.
Back then Koh Tao wasn't the diving mecca it is now. Basic beach huts cost £1 ($1.50) a night, there was limited electricity and the island was crawling with hippies and goths.
Koh Phangan, Thailand 17th February 1992 (postcard to my sister)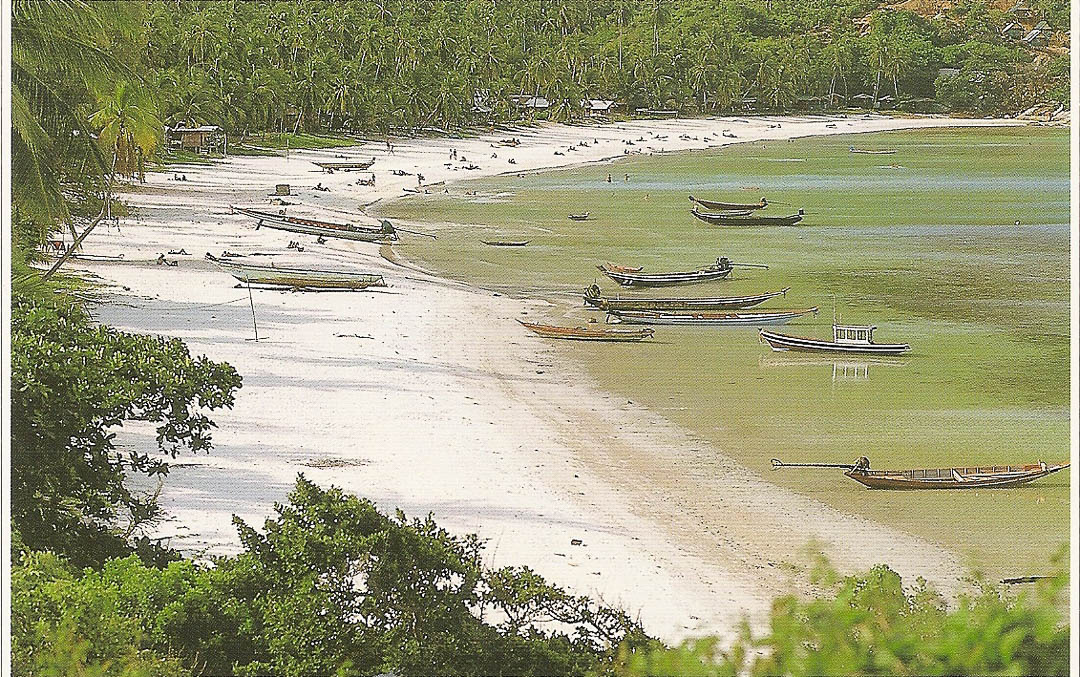 Hi, this place is nice – could stay here for quite a while. We are staying at least a week because there is a huge party in Haad Rin at the end of it. It's a full moon party so everywhere is crowded and we had trouble getting a room. This place is quite big and next to Koh Samui, where we go next. Everybody is getting around by ferry boats which are used as taxis. Will write soon. Love, Mark
Mark: Although it wasn't one of the early Full Moon Parties (the first one was in 1985 and attracted 20-30 revellers), I remember the one I went to as being a relaxed affair without much organisation, etc.
Koh Samui, Thailand 20th February 1992 (postcard to my sister)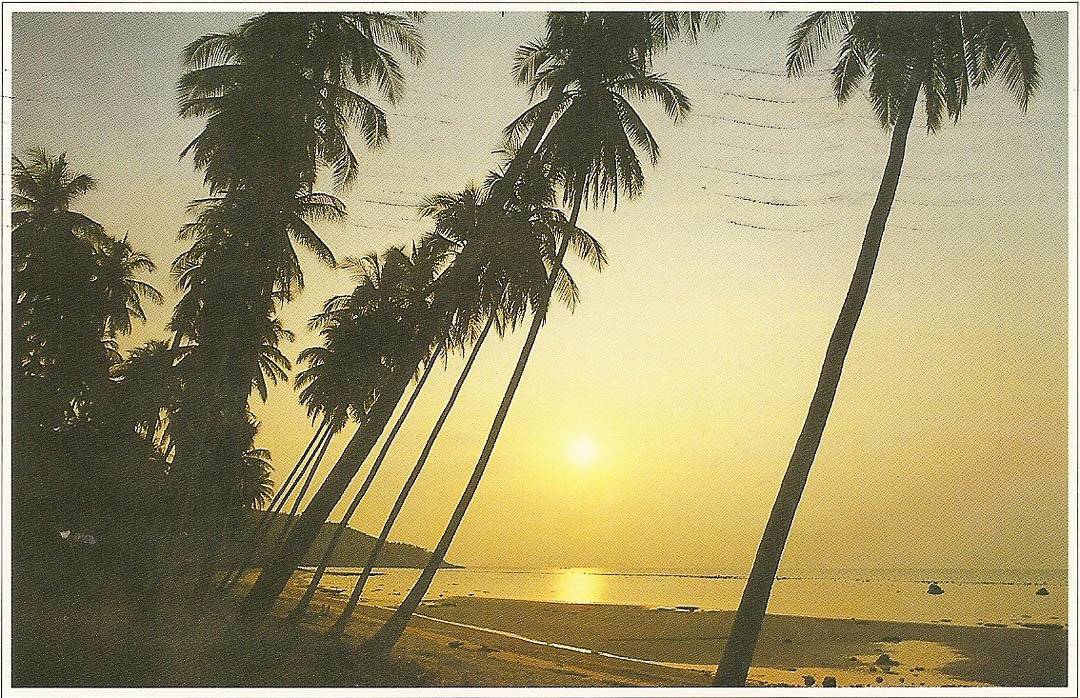 Dear Hel, arrived in Samui today. We are actually staying in the town rather than on the beach as we are a bit fed up with beaches. Go back on the beach when we get to Phuket. Went to a brilliant Full Moon party on the last island – we left at 7 in the morning and it was still going – most unusual party I've ever been too. Love, Mark
Phuket, Thailand 23rd February 1992 (postcard to my maternal nan)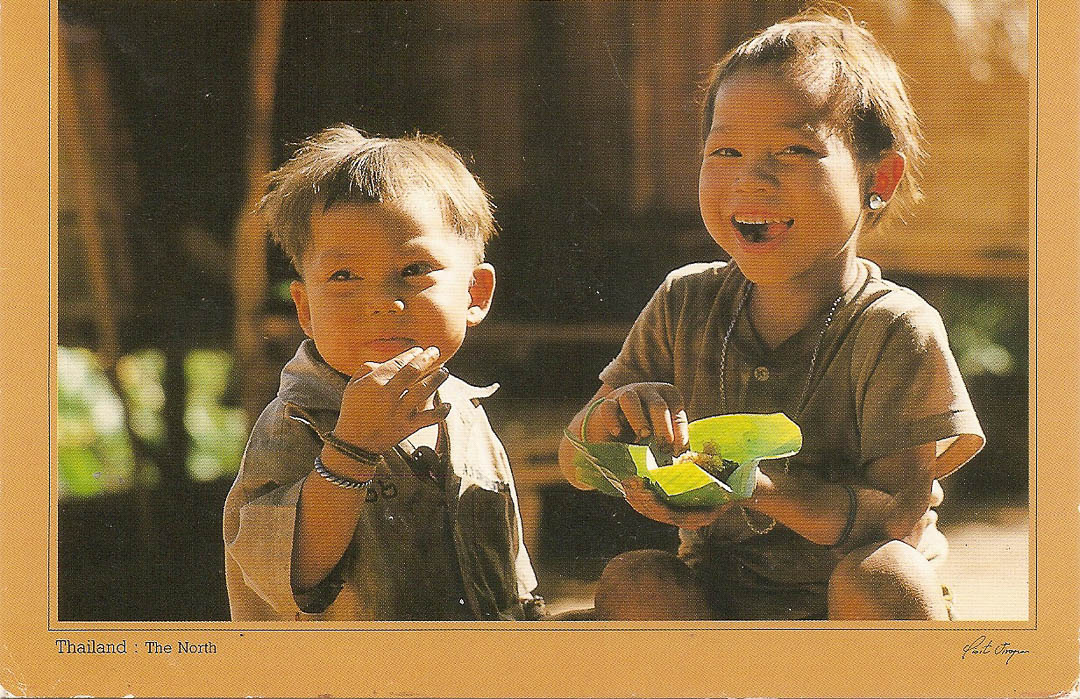 Dear Nan, Having a great time and meeting lots of nice people, some I have to pay for! Going to Malaysia soon, which should be good as I've never been there before. Lots of love, Mark
Mark: Strange choice of card yet again. I wonder if my nan every got my 'have to pay for' joke?
Phuket, Thailand 23rd February 1992 (postcard to my sister)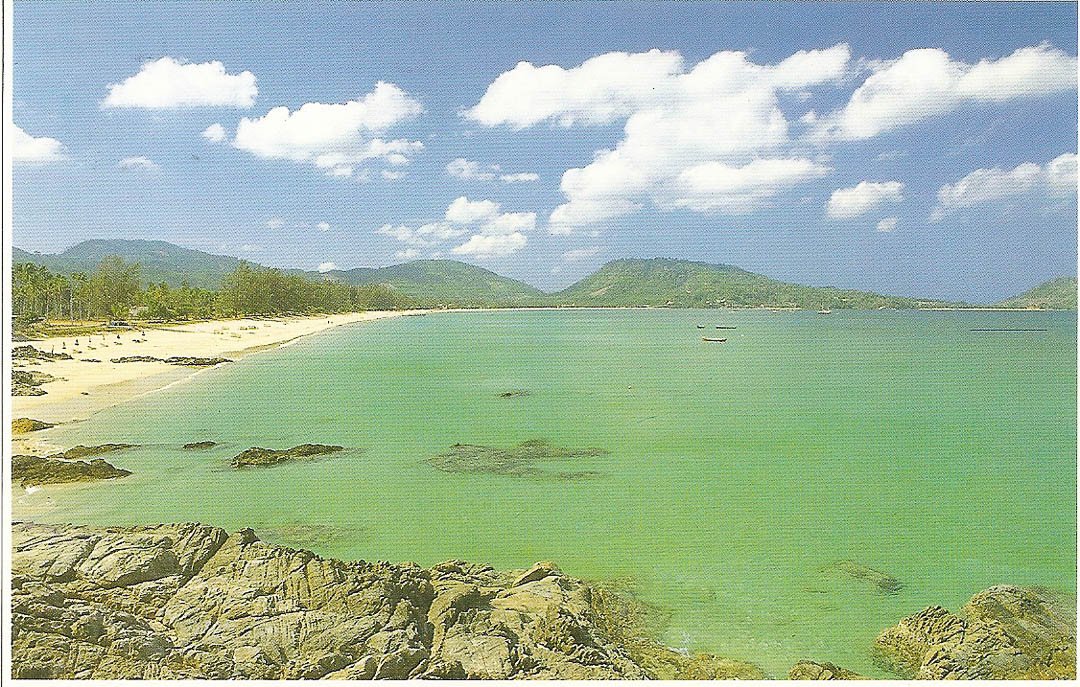 Dear Hel, Now left Koh Samui.We caught a night boat at 9pm which got us into Surat Thani at 3am. We then caught a local bus at 5.30am and got into Phuket at 1pm. The bus journey was brilliant – crammed with monks, locals, animals, the lot and only £1.50. Not very keen on Phuket. There are two main beaches – Karon and Patong. Patong is nice and expensive, Karon is crap and not so expensive. Guess where we are? Leaving soon. Give my love to all. Mark
Mark: This is an interesting photo of Patong Beach. It looks very undeveloped compared to what it looks like nowadays.
Penang, Malaysia 2nd March 1992 (postcard to my sister)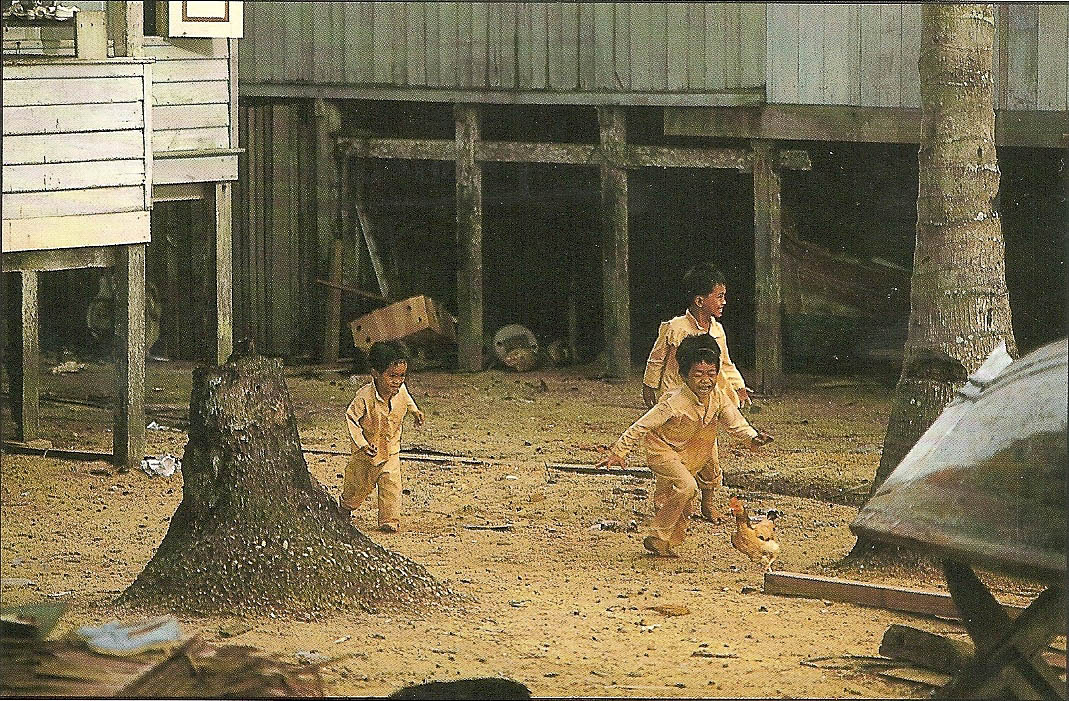 Dear Hel, Left Thailand now and in Malaysia. In Penang, which is an island on the west coast (I've just noticed this picture is from the east coast. It's not Penang – shouldn't bloody well sell it in Penang then should they!). I'm on my way again now as everyone else have gone to Singapore. Went to see 'Hook' last night at the flicks, with Robin Williams as Peter Pan – there was me, the 2 Norwegian girls and 500 Malaysian kids – jolly good though! Write soon. Lots of love, Mark
Penang, Malaysia 8th April 1992 (postcard to my maternal nan)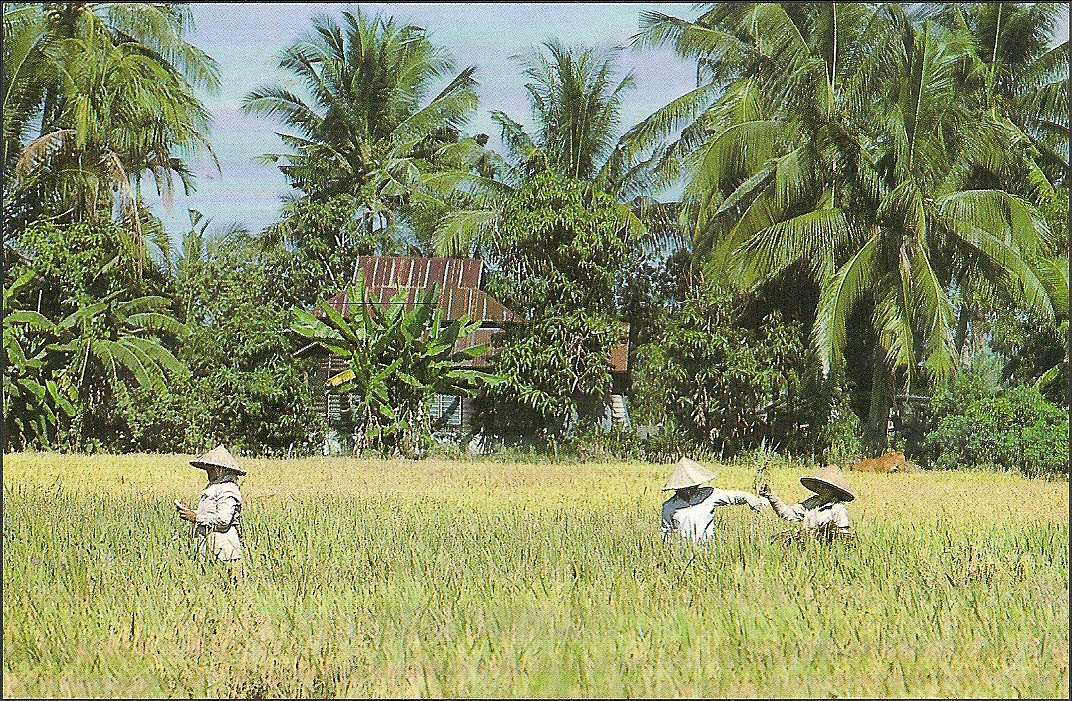 Dear Nan, back in Penang again now, where we have got our tickets to go to Sumatra (Indonesia) for a 2 month trip. Been to Penang already, so just recovering before heading to Indonesia. Sam has been doing lots of shopping and I bought an 'Aristocats' t-shirt today. Expensive though, £4, but it's a nice t-shirt. Had some hard journeys lately but I'm sure you've heard about them but Indonesia will be worse. Getting to the 'I miss a roast dinner stage' now as been away over 2 months! Write soon. Love, Mark
Penang, Malaysia 8th April 1992 (postcard to my paternal nan and grandad)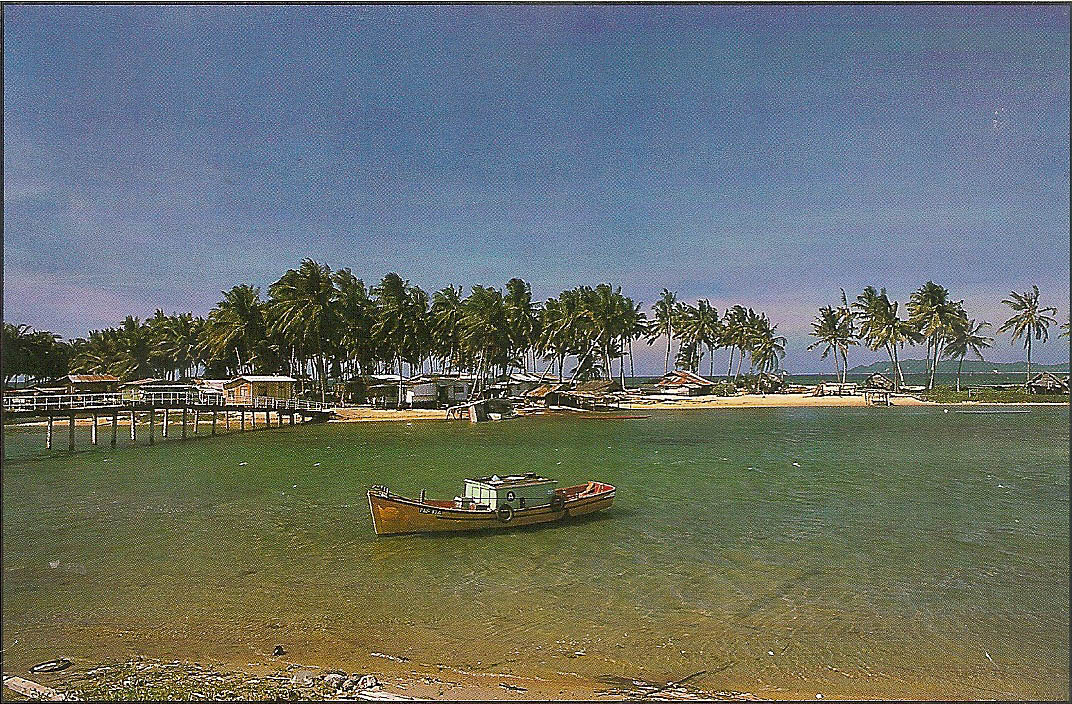 Dear Nan and Grandad, Hope you are keeping OK. Been travelling quite a lot lately so a bit tired. Been all down the west coast of Malaysia to Singapore and then after a week on Tioman Island (where they filmed South Pacific) we caught the jungle railway up through the centre of Malaysia. It took 3 days (stopping each night) and cost £6 each. Went 3rd class all the way (no other class anyway) and were in the cargo wagon on the last day. Brilliant scenery – dense jungle etc and great experience although I don't think I'd repeat it! Say hello to all. Write soon. Love, Mark
Mark: I would like to repeat the journey on the Jungle Railway. In fact Kirsty and I debated it earlier this year (2016) as we were in Singapore and had time to kill before heading to our next destination.
Sibolga, Indonesia 20th April 1992 (postcard to my sister)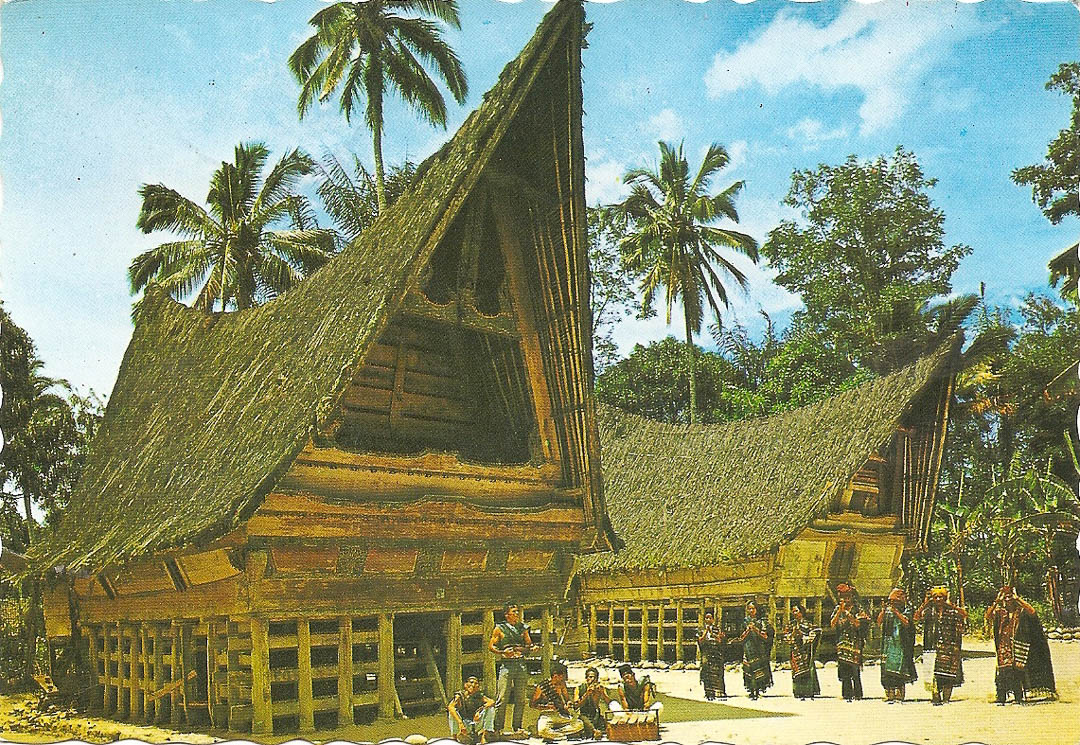 Hello, Feeling very low at the moment. We're in this shithole called Sibolga waiting for the night ferry to Nias, which is Indonesia's 'surfing mecca'. Been up all night with severe shits and vomiting and now this morning I'm feeling completely wrecked. We have done some very hard travelling since being in Indonesia and you need to see an Indonesian bus and driver to believe it. Not leaving Nias for a long time. You never know, I may even learn to surf. Write soon (or come home in a wooden box – only joking). Love, Mark
Mark: Sibolga certainly didn't look like the photo on the front of the card!
Nias Island, Indonesia 24th April 1992 (postcard to my sister)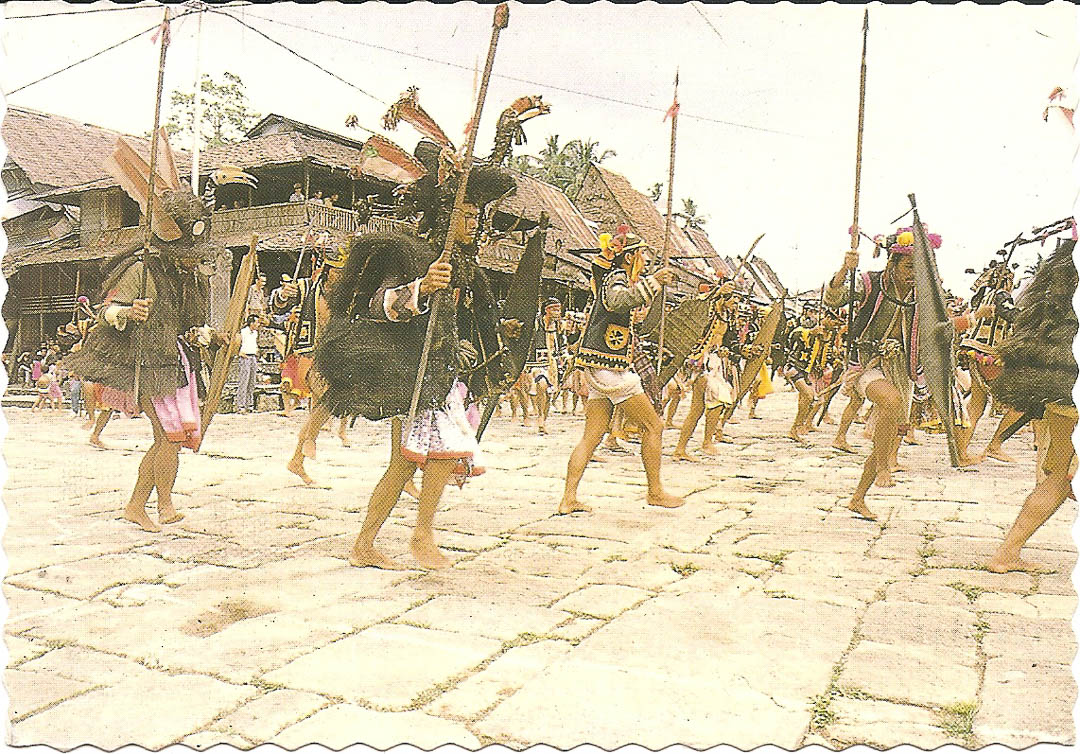 Dear Hel, we are on Nias island at the present and leaving tomorrow, heading out of Sumatra and into Java. Nias is full of Aussie surfers. I've had a go and wasn't too successful, so given up. We were going to stay here 3 weeks but now under a week. Written a long letter to day, outlining where to meet you etc – took me ages to change the itinerary I did have, so you better turn up. However if you don't we'll still take the same route. Anyway, write soon, love Mark. P.S. Start easing up on the rice and the Chinese food as it's all you will get out here.
Mark: Nias Island didn't turn out to be a very nice place. The surfing was for experienced surfers only, the interior of the island was the perfect breeding ground for dengue and malaria and the locals were not pleasant people, needling you for every dime they could. That is why I left early.
Borobudur, Indonesia 17th May 1992 (postcard to my sister)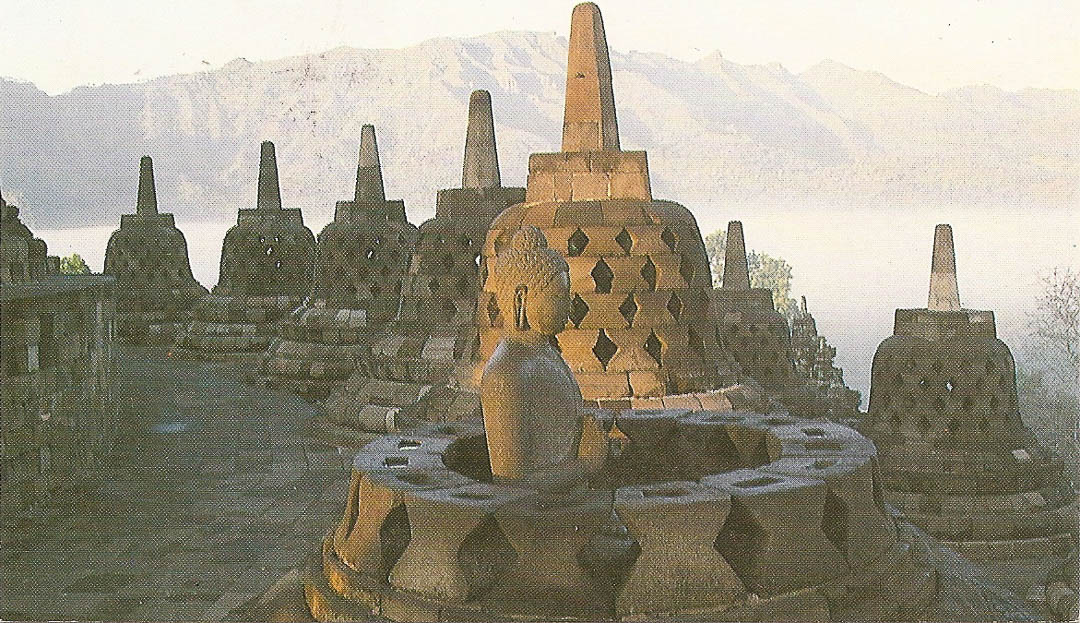 Dear Hel, This is one of the most famous sights in Indonesia. It's pretty impressive and ranks as one of the most famous Buddhist temples in Asia. We are around Yogyakarta and will be here for a week or so as there are few volcanos to climb and other such goodies. We have to leave Java in a few weeks and are not sure what we are doing. It all depends on where I can take you. I'll try and phone either Sun 3rd June or a week later so try and be around. Love, Mark
Mark: Imagine these days making a plan to phone/get in contact with someone a week or two in advance?
The 'where I can take you' comment is because I wanted to head to Cambodia but my parent were not too keen on me taking my young sister there in 1992. I clearly didn't put as much importance on the weather in those days – Cambodia (followed by Vietnam) in May/June – yuk!
Bandar Seri Begawan, Brunei 30th June 1992 (postcard to my parents)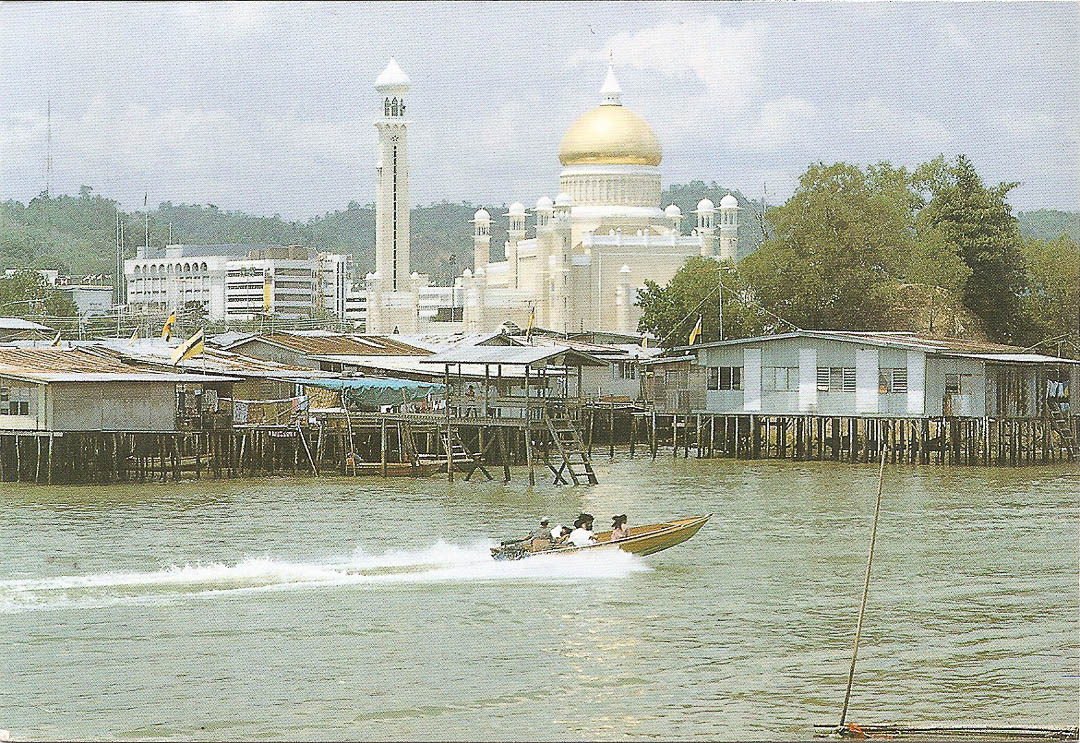 Dear all, thought I better start sending the postcards home now (if Helen's teacher wants her own let me know). Brunei is a great place although a little expensive. The richest man in the world hangs out here – the sultan. You should see his palace to believe it. Dad you should move out here as there is no income tax, but I think it will be a bit hot for you. We fly to the Philippines the day we pick up Helen, but it's only 1 hour away. I think she is going to be a bit knackered. Write soon. Love, Mark
Mark: At the time, my sister was at a boarding school and the mail was laid out on a table for the girls to collect. Apparently my sister's house-mistress used to enjoy reading my postcards before placing them on the collection table.
Kota Kinabalu, Borneo, Malaysia 10th July 1992 (postcard to my maternal nan)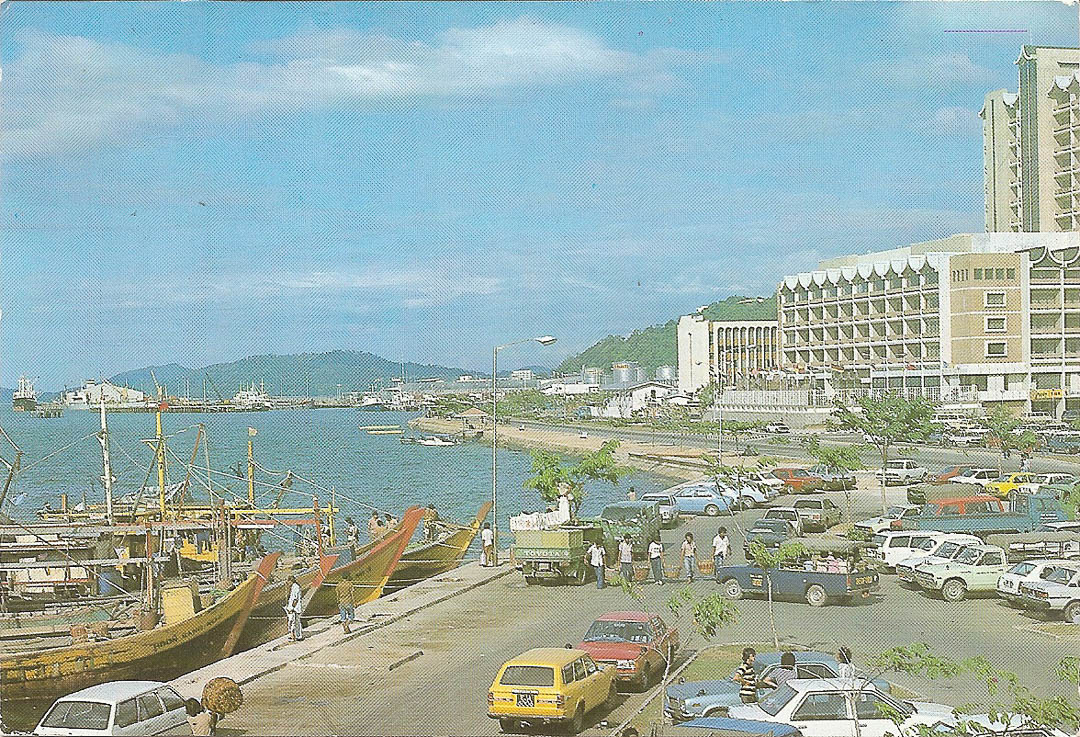 Dear Nan, We are in Kota Kinabalu at the moment, just on our way to pick up Helen from the airport. We are off to the Philippines this afternoon. Helen will be knackered by the time we get there. Having about 3 weeks in the Philippines and then off to Hong Kong and then China when we send Helen back and we go onto Pakistan. No doubt Helen will be sending the postcards as well now. Anyway, write soon. Love, Mark
Mark: Another very dated looking photo.
Manila, Philippines 13th July 1992 (postcard to my parents)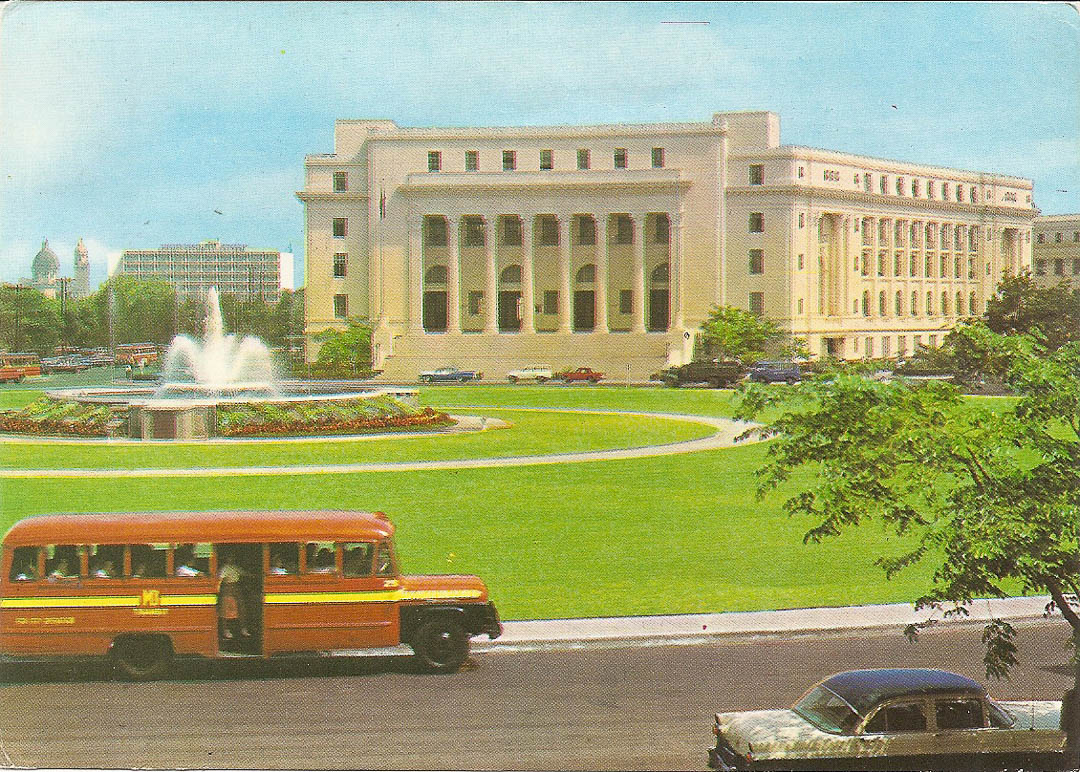 Dear all, well as you are aware we got Helen safely and all the goodies – thanks very much. I'm sending the delivery girl home – ha, ha! Kevin – thanks for your letter. I've written to you separately, it's on its way. The Philippines is nice so far – no hint of danger but it hasn't stopped raining so we've been restricted by what we can do. We shot rapids on a stretch of river where they filmed the closing scenes of 'Apocalypse now', the bit where Martin Sheen goes up the river looking for Marlon Brando. Write soon. Love Mark and Helen.
Mark: The reference to goodies was exactly that – deodorant (which was quite hard to find in SE Asia back then), sweets (candy to those across the Pond!), books, letter and that sort of thing. As an aside, the books that arrived included a couple of Lonely Planets that I had requested. I never threw my Lonely Planets away after I'd used them when I was on this trip and when I got back to the UK I had nine of them in my backpack. These days I am totally obsessed with the weight I carry – how people change!
Manila, Philippines 21st July 1992 (postcard to my maternal nan)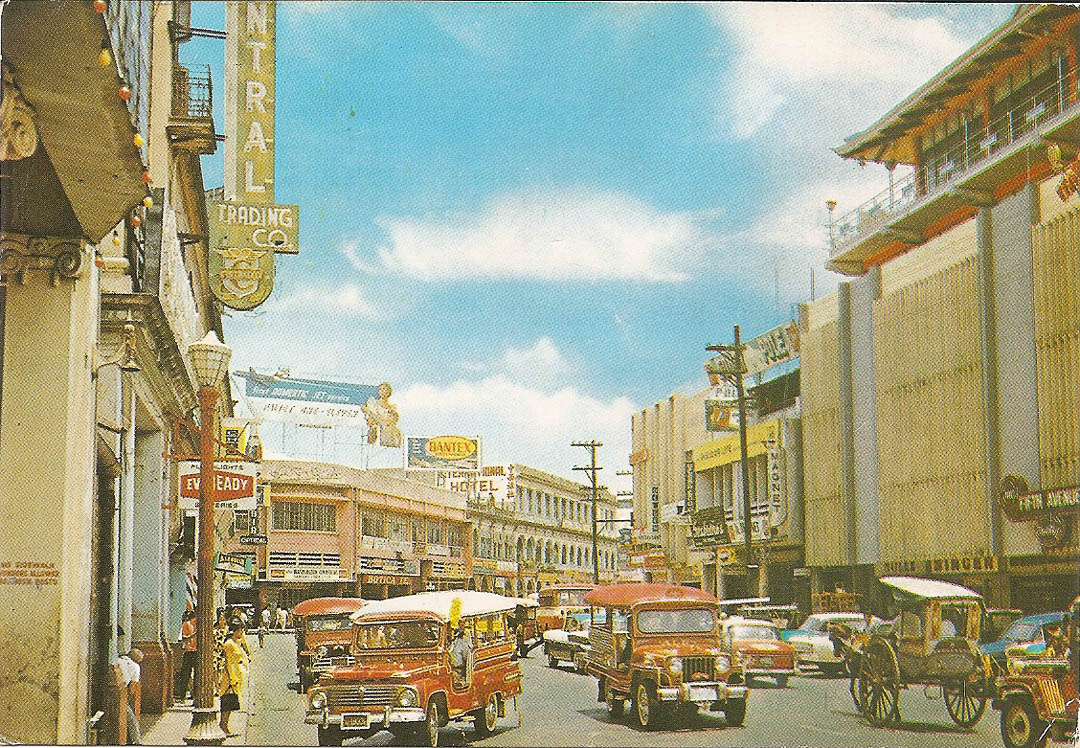 Dear Nan, the jeeps on the front are called Jeepneys and they are unique to Philippines. What they do is find an old WWII jeep, lengthen it and add a couple of benches fit for 6 people on each side. They then ply a certain route, cramming in about 30 people at a time and charge about 3 pence per ride. Helen is covered in spots at the moment, some sort of Asian rash – nothing to worry about. This is why I'm writing her card – lazy sod! Love Mark and Helen.
Mark: There was no way this photo was taken circa 1992 or even 1972 come to think of it! Same goes for the previous photo as well.
Yangzhou, China 2nd August 1992 (postcard to my parents)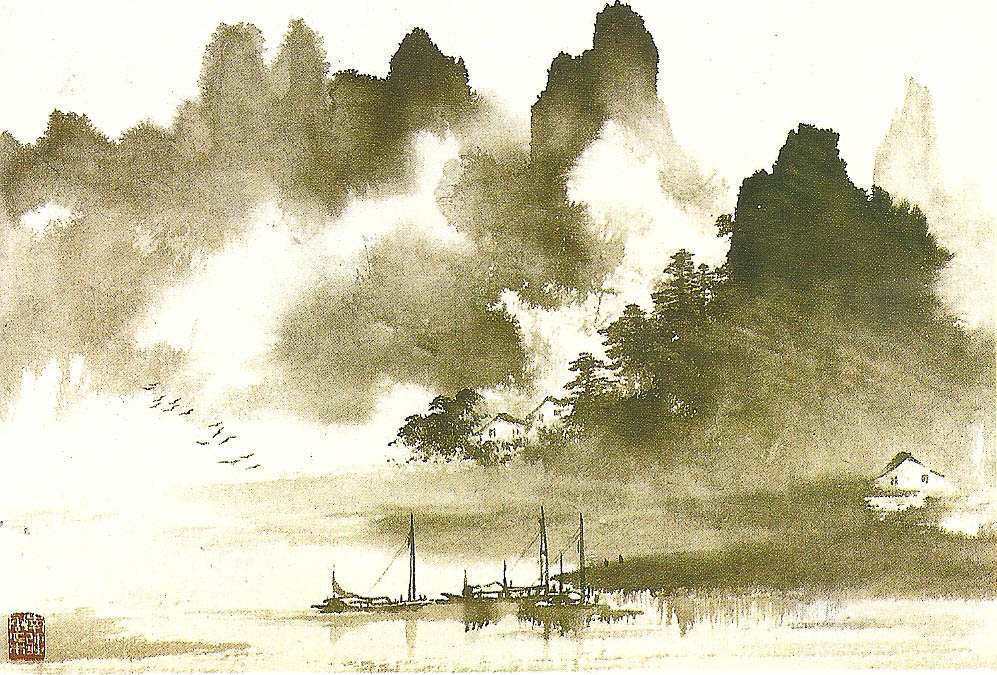 Dear all, we've arrived in the Middle Kingdom. It was a bit daunting to begin with but we are getting used to it now. It's none too pleasant arriving somewhere and finding all the signs in Chinese, no one speaking English and two currencies to deal with. However, we are here now and it's an excellent place. You can hire bikes for 20 pence a day and beer is 15 pence for a big bottle. Write soon. Love, Mark
Mark: A bit daunting is the understatement of the century! China completely overwhelmed all of us in the first couple of days and we struggled like billy-o to carry out simple tasks like buying a train ticket and ordering a meal.
Currency wise, as well as Renminbi, China also had Foreign Exchange Certificates (FECs) at that time. They stopped being used in 1994.
Chengdu, China 20th August 1992 (postcard to my parents)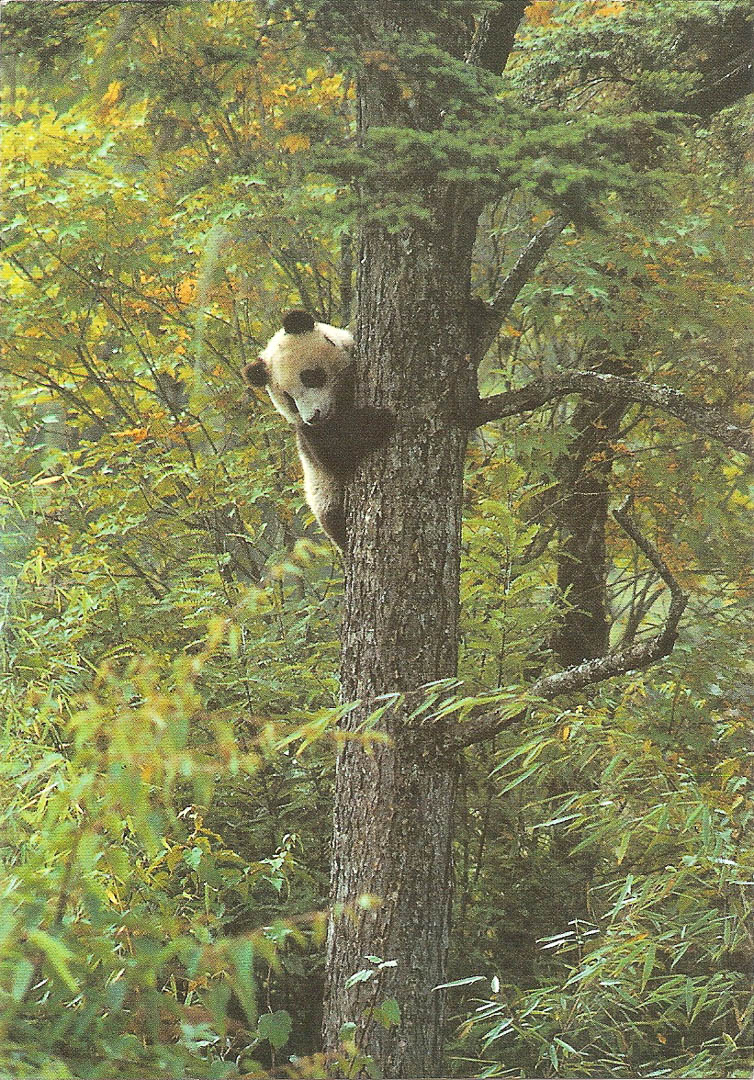 Dear all, (hope Helen got home OK). Our legs are in great pain at the moment. After Hel left we went to climb Emeishan which is one of the 4 Buddhist mountains in China. We didn't make it! Was it due to lack of energy, will power or enthusiasm! No, due to bloody monkeys (more like apes). They were all along the trail and attacking anything in their path – scared the hell out of us. However didn't do too bad, it's 3000 metres high and we got to 1800. We also spent the night in a monastery which was nice – freezing cold. The monks were con merchants though. They charged us a fortune to stay there – I think they belong to the order of 'let's stitch the tourist for all is conkers as we know he can't go anywhere else'. In Leshan now which is home to the largest Buddha in the world. Write soon. Love, Mark
Mark: I still fear and loath monkeys.
Kashgar, China 1st September 1992 (postcard to my paternal nan and grandad)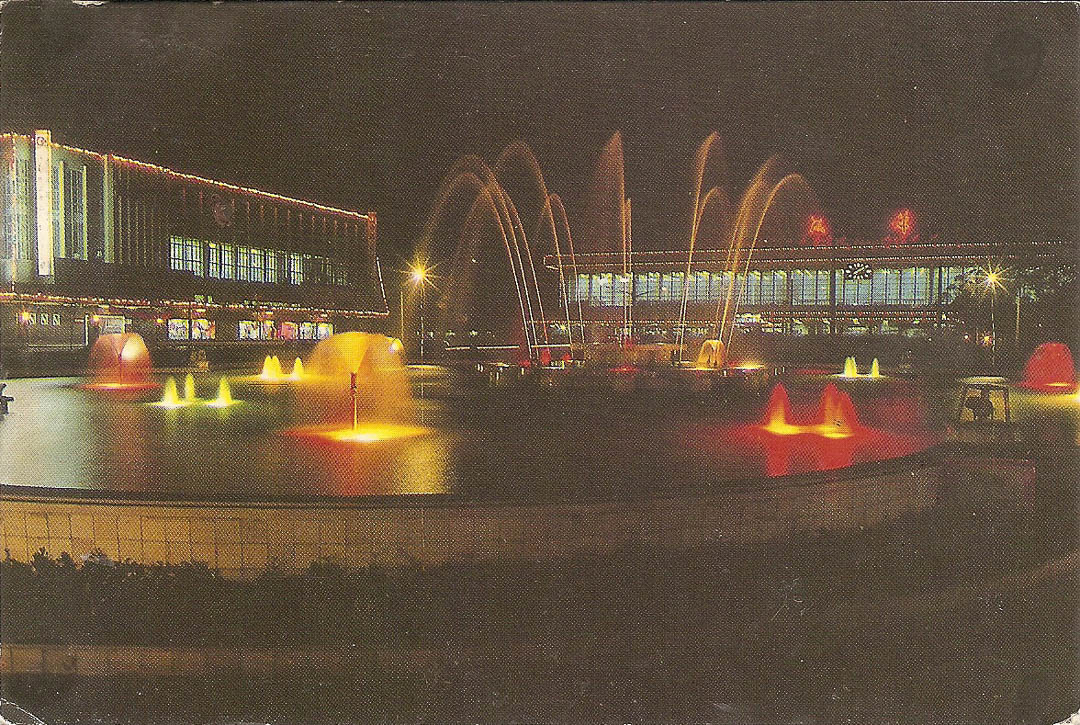 Dear Nan and Grandad, We've travelled from Hong Kong to Kashgar (6380km) and we are tired out. We are going to rest in this oasis for a week before continuing along the Silk route into Pakistan across and through the Karakoram mountain range (should see K2). The last part of our journey to Kashgar was 3 days by bus (see dad's card for full details). Here in Kashgar we stock up on warm cloths (sic)) and boots for the mountains (Chelsea boots are only £3.50 a pair and they are leather). Write soon. Love, Mark
Mark: This has to be the most exciting postcard, picture wise! The caption on the back says Northern Railway Station. Not sure where the photo was taken however, it could have been Chengdu, Turpan, Urumqi or Kashgar.
Kashgar, China 1st September 1992 (postcard to my parents)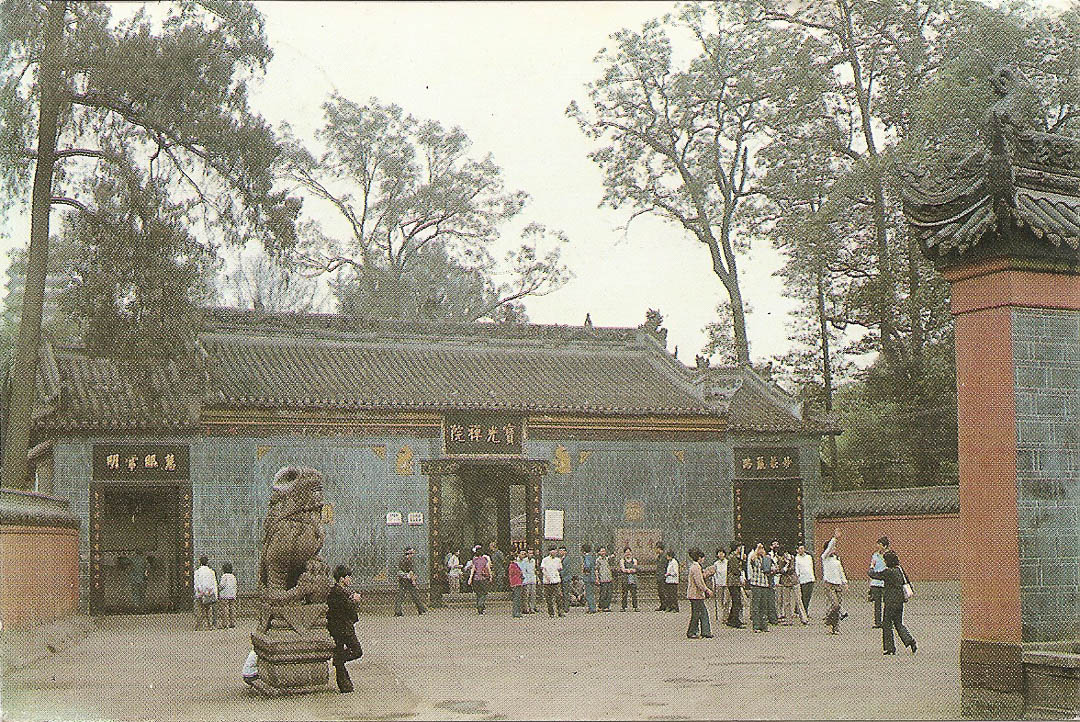 Dear all, Well, we made the 3 day bus journey from Urumqi to Kashgar through 1480km of sand and dust (I wore a face mask for 3 days). Our bus broke down twice, we had 2 punctures and our drive had his I.D card taken away for running blackmarket goods. The locals on the bus were great (more like Turkish/Russians than Chinese) and it is certainly one of the best things we have done – not a dull moment. We are now resting in Kashgar for a week before heading to Pakistan. It was lovely to shower after 3 days – Sam had to prize (sic) her knickers off with a chisel. Write soon. Love, Mark
Mark: The three day bus journey across the Taklamakan Desert to Kashgar still rates as one of the best journeys I have ever done.
Karimabad, Pakistan 25th September 1992 (postcard to my maternal nan)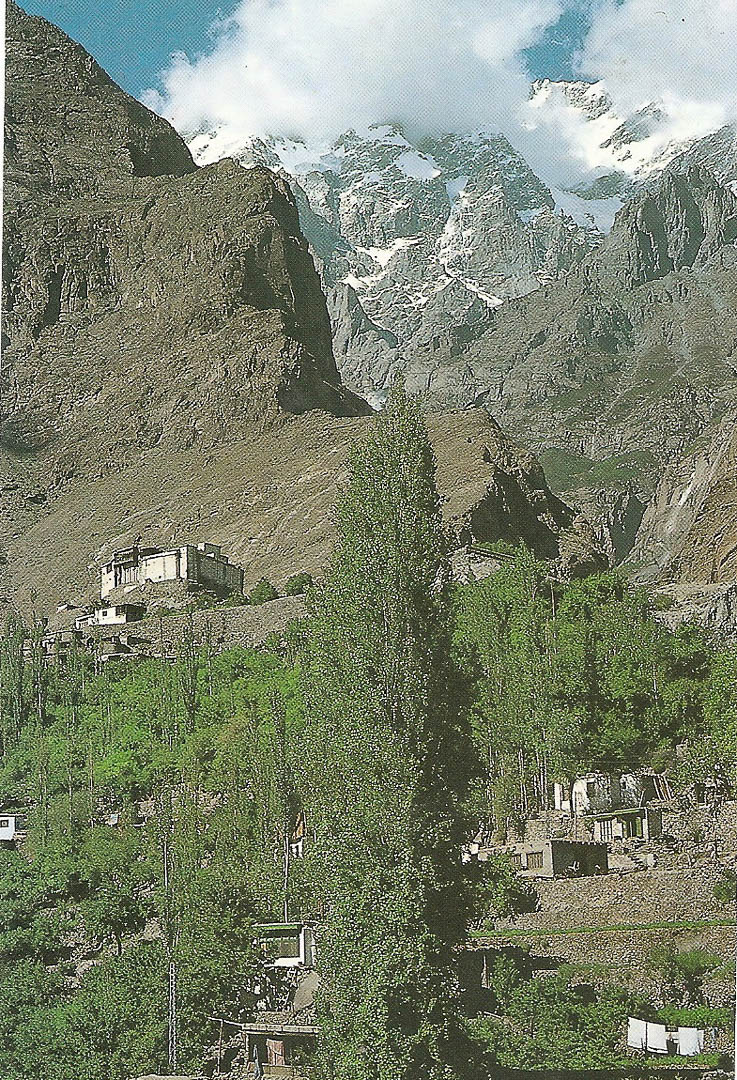 Dear Nan, got caught in the middle of a natural disaster (over 1500 people have died). We came through from China on the day the rain and landslide started. Our bus was halted by a landslide 30km from Pakistan and we had to get a tractor and walk over the border – very wet and very cold. We were stuck in the northern most town for 7 days and once the slides stopped we had to walk out over the landslides. Pretty impressed with the British Embassy as they managed to get a message through that we were OK. Adventure over, now to Afghanistan for a holiday (only joking). Love, Mark
Mark: Another great journey, which I have written about in detail here.
Peshawar, Pakistan 25th September 1992 (postcard to my parents)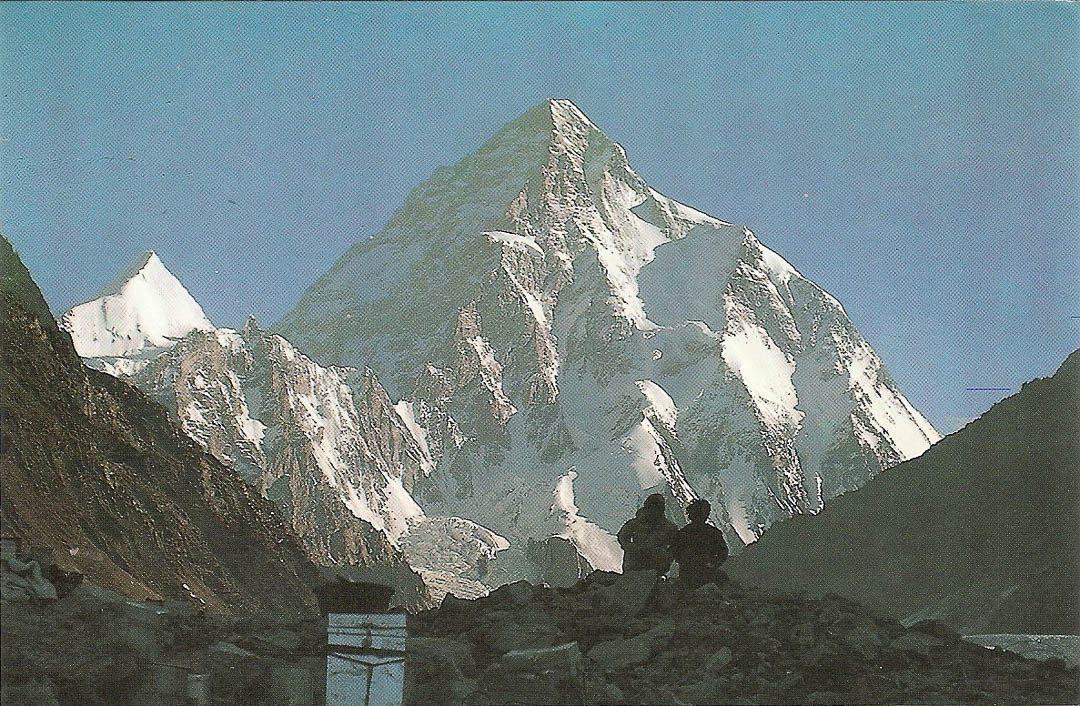 Dear all, See nan's postcard for details of what happened in northern Pakistan. We are now in Peshawar which is where the Khyber Pass originates or terminates depending on which way you are going. We went up for the day, within 1km of Afghanistan. We tried to get a visa to go there for a few days (nowhere near Kabul) but it's not possible. Certainly a place to go on my list though for the future. I would imagine it would be the best country in west Asia. Write soon. Love, Mark
Mark: These last two postcards must be my first documented evidence of my ongoing obsession with getting to Afghanistan.
Phnom Penh, Cambodia 25th October 1992 (postcard to my parents)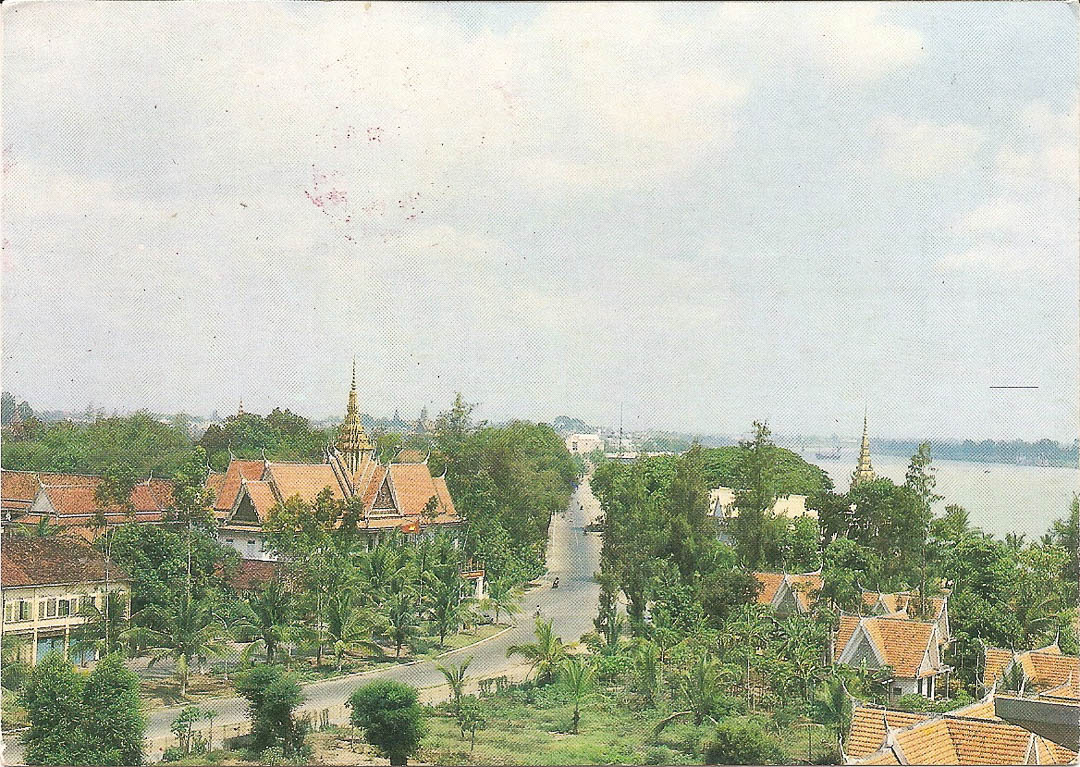 Dear all, Arrived no problem, flight on Cambodian Airways was OK. I've never been to a city like it. The place is crawling with UN troops and in the evening there is a power cut every 10 minutes but no curfew, that has been lifted. We are with a German and a Frenchman (he's handy as lots of Cambodians speak French) and we all go to Angkor Wat together tomorrow. Have been to the prison S21 which is where people were tortured before going to the Killing Fields (as in the film). Pol Pot and the Khmer Rouge terminated 4 million people in 3 years. The torture centre is now a sort of museum. We go to the Killing Fields when we get back from Angkor. Write soon. Love, Mark
Mark: My information about the number of Cambodians that lost their lives under the Khmer Rouge is incorrect. The more accurate figure is approximately 1.7 million over a four year period. I wonder where I got those figures from?
I have written about my time in Cambodia in the early 1990s in more detail here.
Ho Chi Minh City, Vietnam 6th November 1992 (postcard to my parents)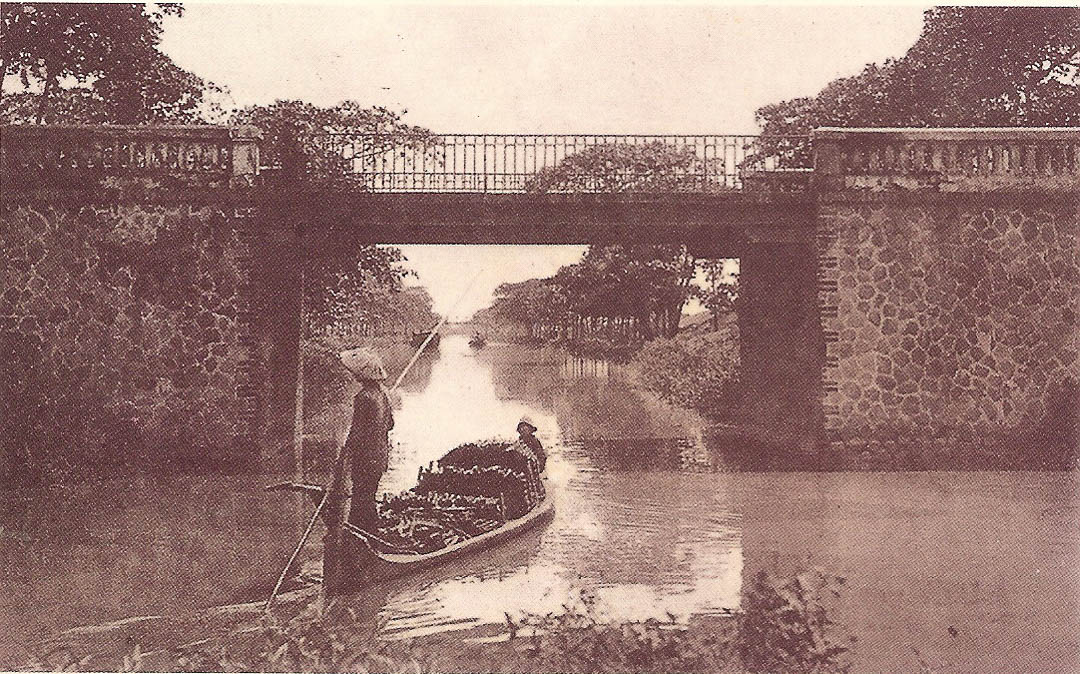 Dear all, well we made it out of Cambodia OK. Vietnam is very different – for a start it hasn't been bombed to the ground and there aren't 22,000 UN troops here. They are catching on to tourism pretty fast. We already have a good collection of 'Good Morning Vietnam' t-shirts. We now have all the necessary papers and permits to travel out of Saigon so will be heading up towards Hanoi in a few days. We may leave Vietnam a week early to give us a bit more time in Laos and Sri Lanka, but not sure yet. Write soon. Love, Mark
Mark: Razed to the ground rather than bombed to the ground would have been a more accurate description.
In Vietnam in the early 1990s you were only allowed to travel to a limited number of places in the country and that number depended on your nationality. With a British passport I was allowed to visit a maximum of eight destinations while I recall Swedes were allowed to visit up to twenty for example. You had to list everywhere you wanted to go, get it approved by some ministry (I can't remember which one) and check in at the local police station upon arrival at each new place.
Ho Chi Minh City, Vietnam 6th November 1992 (postcard to my paternal nan and grandad)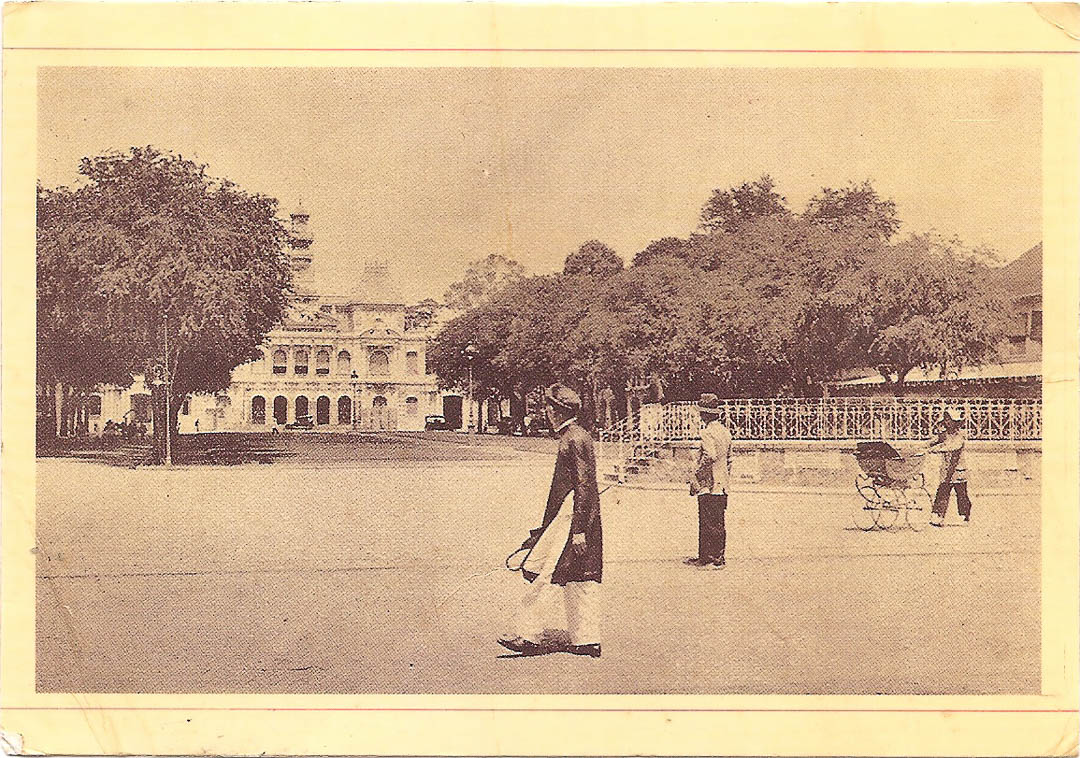 Dear Nan and Grandad, Not sure if Dad told you, but we have been in Cambodia for the past 11 days along with 4 terrorist factions (including the Khmer Rouge) and 22,000 UN troops. We took a train to see the temples of Angkor and the first carriage was free to anyone who wanted to travel in it as it was used to detect mines on the track! As night fell the search lights came out, we picked up a load of troops and machine guns were pointing out into the darkness – it was a fantastic country! Vietnam is a lot safer but equally as interesting. Saigon is a lovely city, very French – very lively. Write soon. See you at Xmas. Love, Mark
If you have enjoyed my postcards from Asia and also 

Postcards from Europe

, let us know in the comments below. I have a LOT more postcards waiting to be scanned next time we are back in the UK and would enjoy creating a part 3 ….