The Dubai street which has been turned into a huge gallery of murals
Our search for street art in Dubai led us to Al Karama district. After being impressed with the street art we saw at City Walk, I was keen to find out what else Dubai had to offer.
Much of Dubai's street art seemed to be spread out and not particularly quick or easy to reach. However, close to Dubai Creek, and not too far from the Al Souq Al Kabeer part of Old Dubai, getting to Al Karama was feasible. One of Dubai's oldest residential and shopping neighbourhoods, Karama (the Al part of the name is often dropped) is a low-rise development which feels almost village-like compared with the nearby shiny condominiums and shopping malls. What we didn't realise before our visit (but quickly learnt once there) is that Karama is also the place to go if you're looking for a fake watch or handbag. There are also quite a few very reasonably-priced local restaurants in Karama if you're there at lunchtime. We ate a delicious banana leaf meal at a Keralan restaurant.
Back to street art. We headed to Karama's Street 18B, where shops and apartments buildings on both sides of the road have been brightened up with colourful artwork. In total there are twenty-four murals on twelve walls. Just like the street art we'd seen at City Walk, the Karama street art was sponsored by a developer; in this instance, Wasl Properties. During one hot month in the summer of 2016, eight artists gave Karama Shopping Complex a makeover. The artists all hail from the Emirates or Malaysia, and many of the murals are collaborations.
As we wandered up and down the street taking photos, the shopkeepers were intent on trying to sell us fake handbags and dodgy watches, but as we kept our eyes fixated on the walls, they soon got the message.
Street art is a growing trend in the United Arab Emirates, largely due to the perseverance of a handful of passionate UAE-based artists. In the case of Karama's Street 18B, it was Newba (Malaysia-born but UAE-based) who is said to be the driving force behind the project. The mix of artists has created a diversity of styles and subject matter from contemporary to classical, graffiti and calligraphy, from wildlife to surrealism.
Al Karama Street Art photo gallery
Most of the murals on Street 18B are collaborations between two or more artists. I've endeavoured to correctly credit each photo but if you think I've made a mistake with any of them, please let me know.

Artists: Pokedos @ItsPokeTwo (above left) and Collaboration by @newba, @katun_, @yumzone_, @abdulrashade, and @itspoketwo (above right)
The names of two prominent previous UAE leaders are hidden within this piece of graffiti below – Zayed and Rashid. In full; Sheik Zayed bin Sultan Al Nahyan of Abu Dhabi and Sheik Rashid bin Saeed Al Maktoum of Dubai. Can you spot them?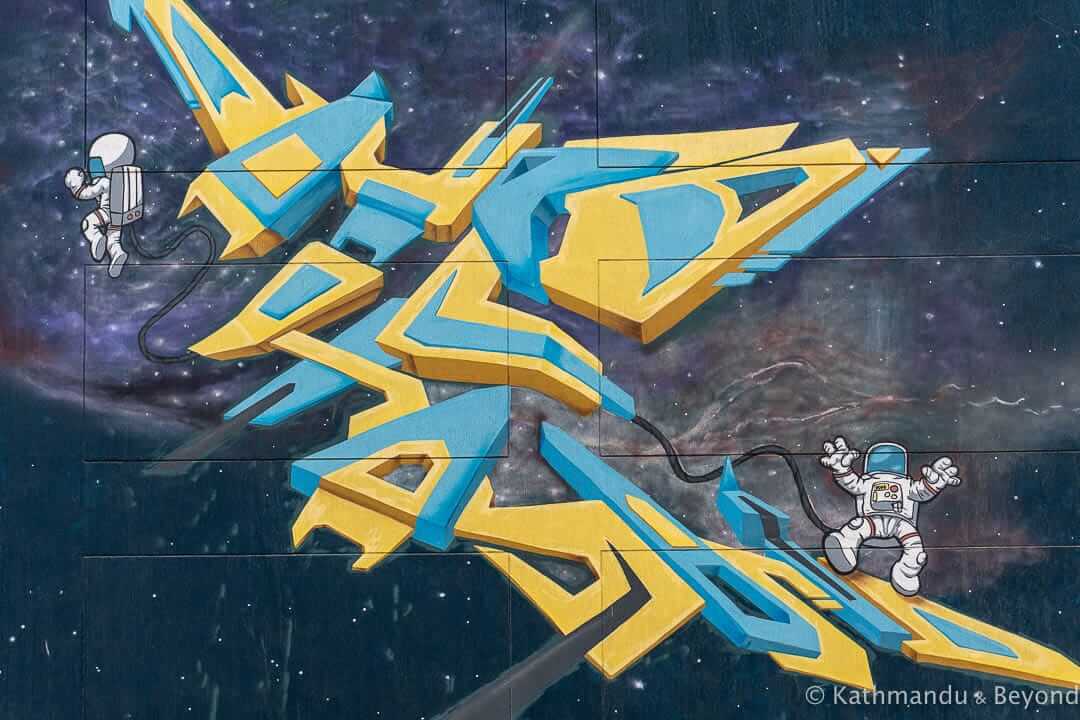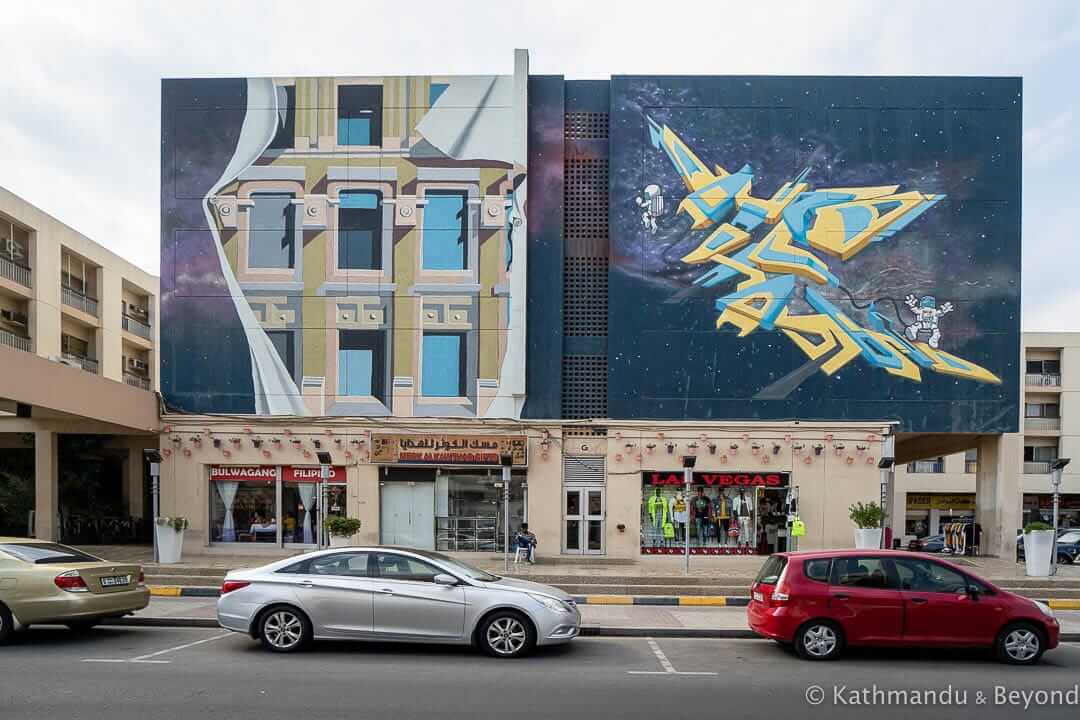 Artists: Pokedos @ItsPokeTwo (above left) and Collaboration by @newba, @katun_, @yumzone_, @abdulrashade, and @itspoketwo (above right)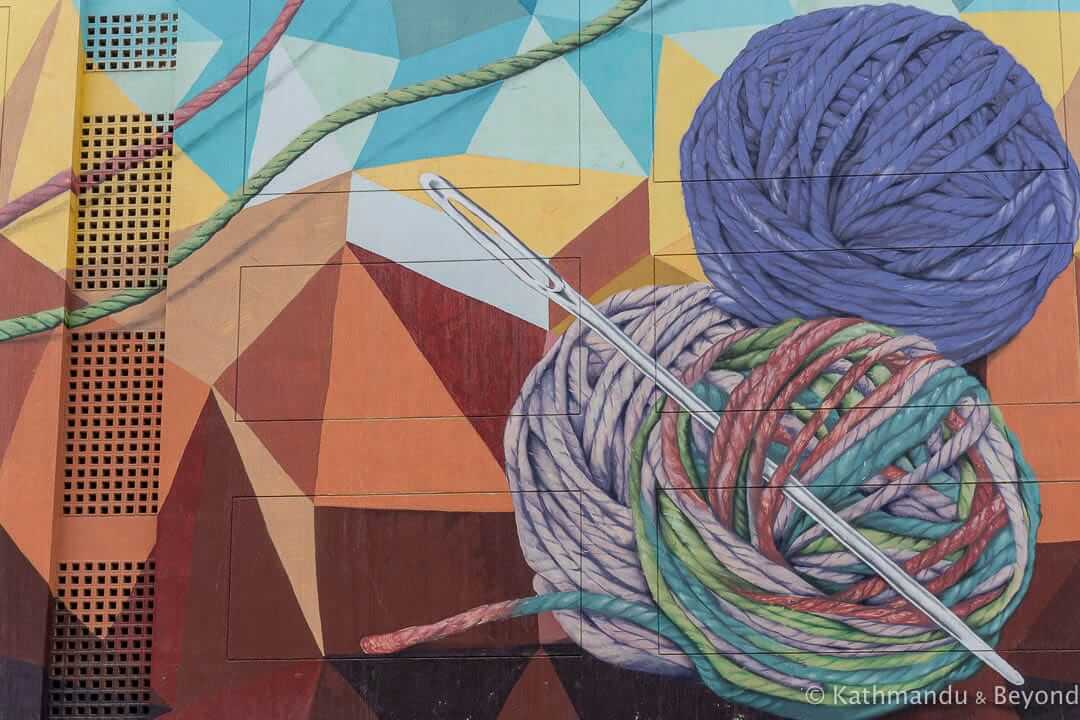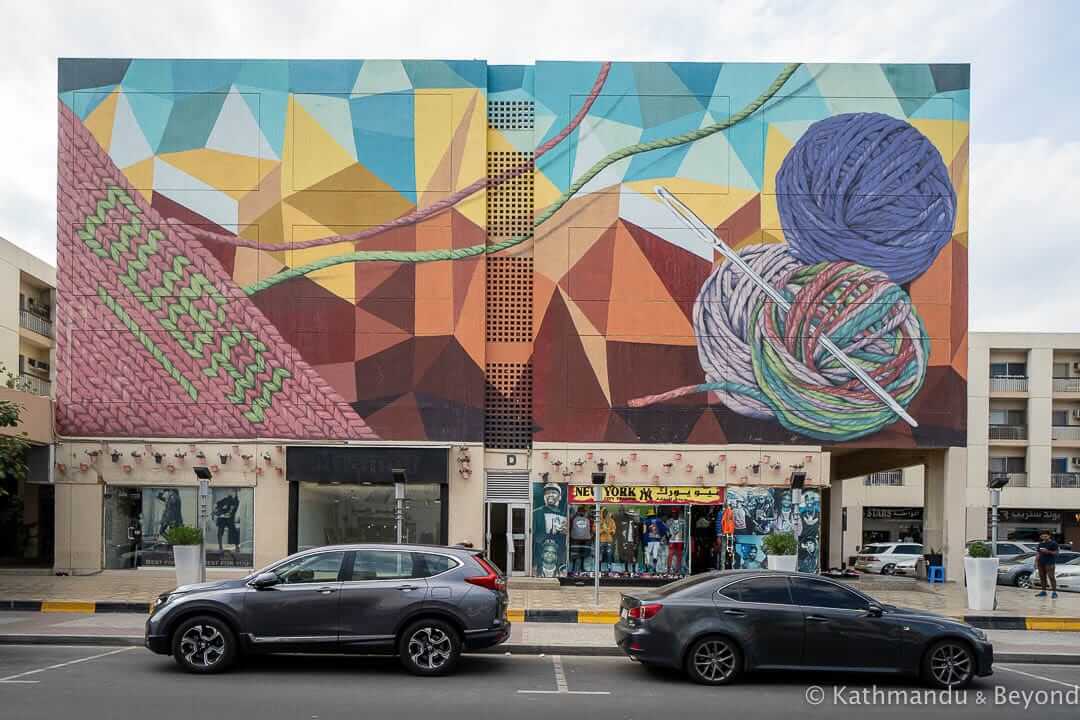 Wool Balls by @abdulrashade (above)

Paddle Pop Parrot' by @katun_ + @yumzone_ (above)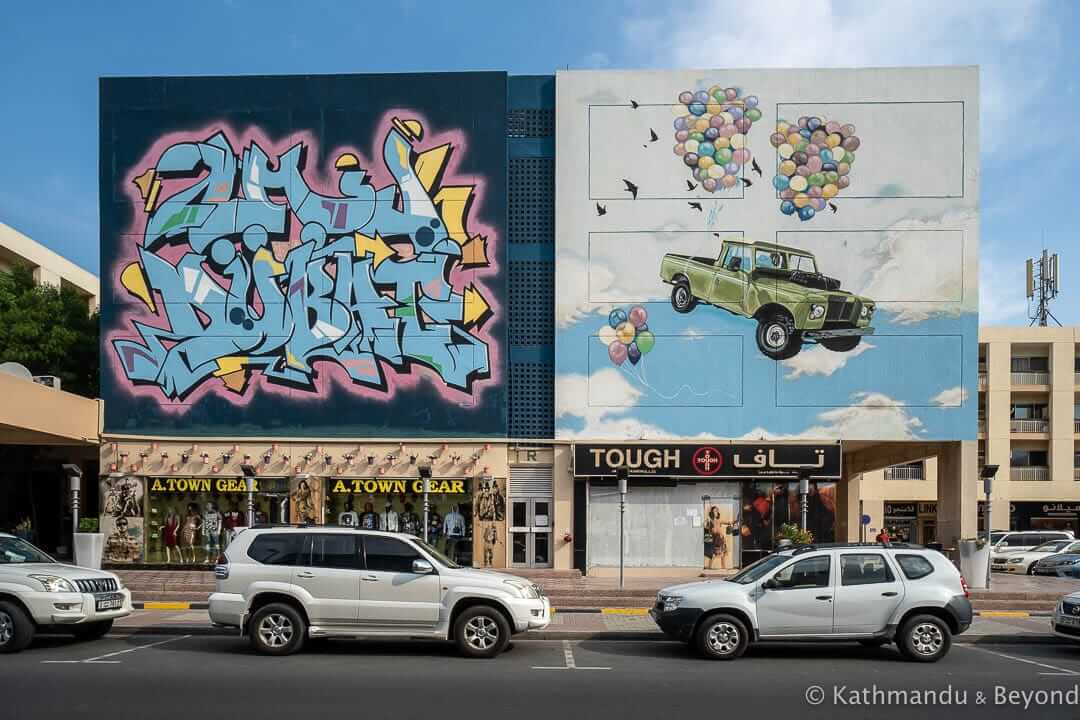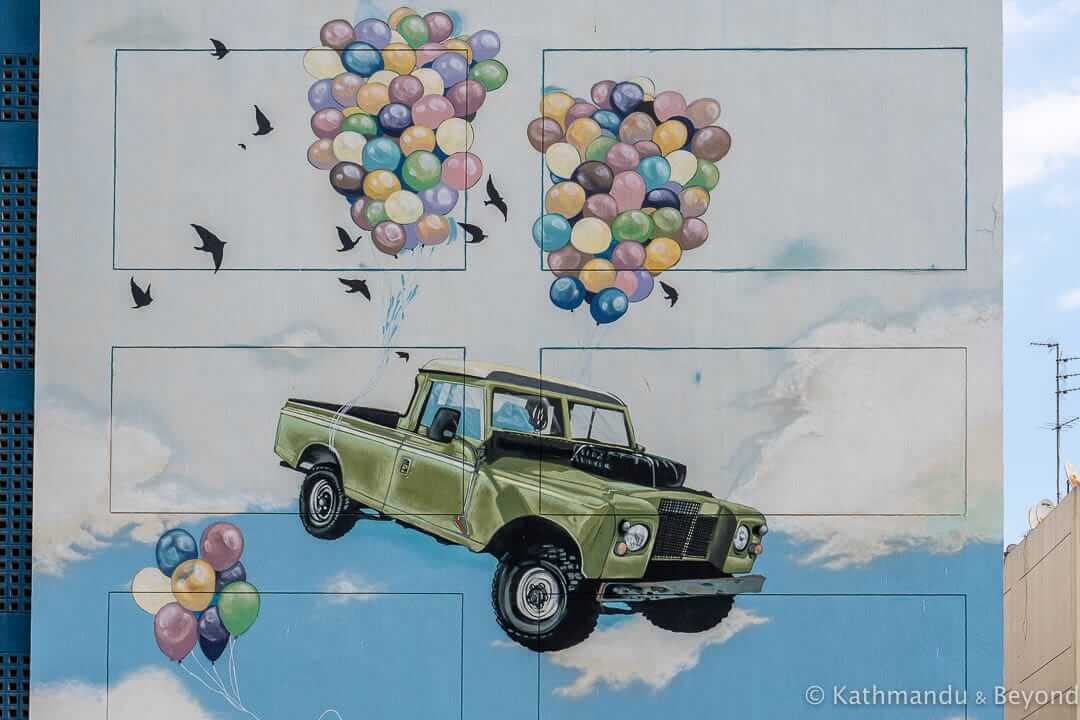 UP by @katun_ and @pakey_one (above right)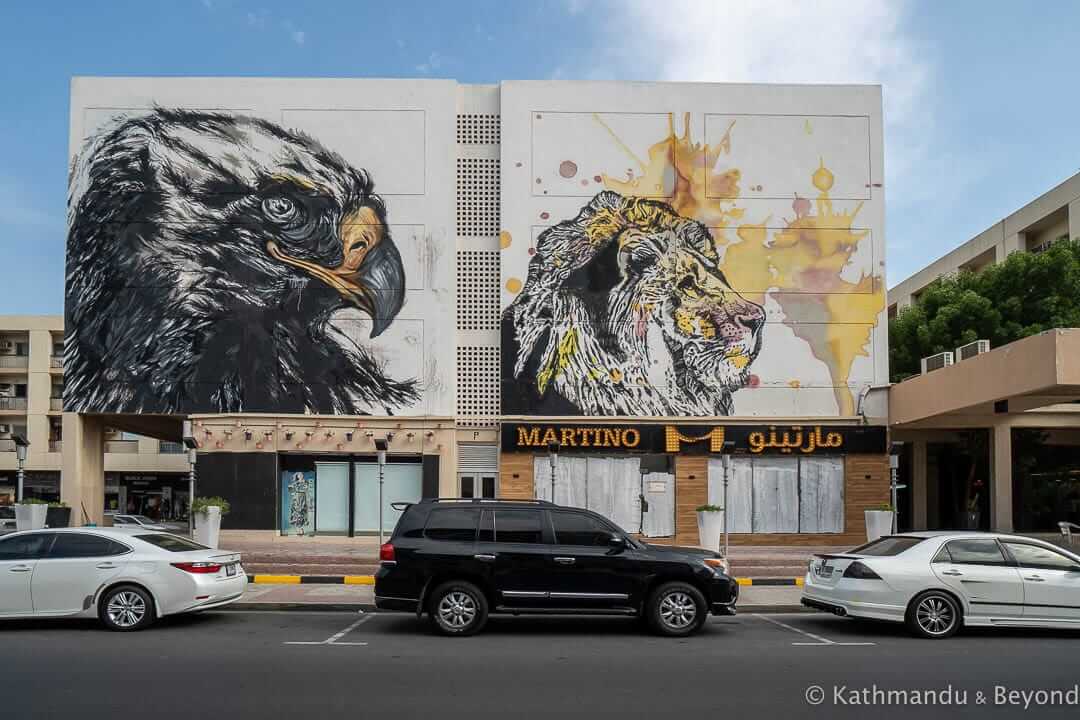 Falcon (above right) and Between The Lines (above left) by @yumzone_ and @katun_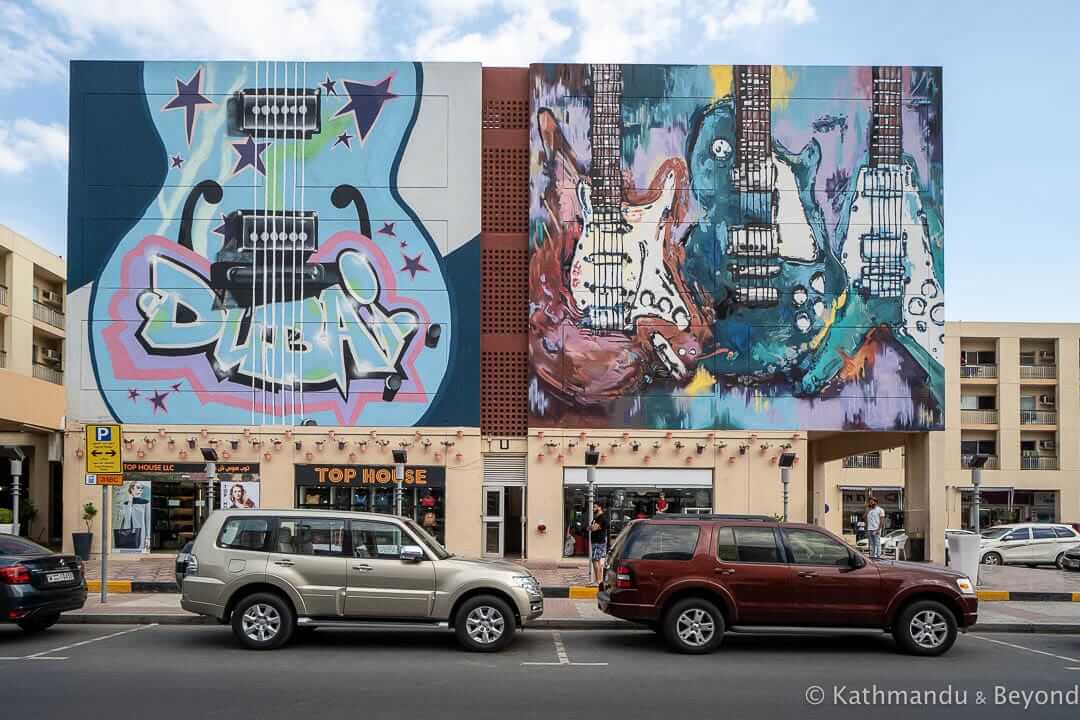 Guitar Hero by either @its.wazer OR @katun_ and @yumzone_ (conflicting information!) (above)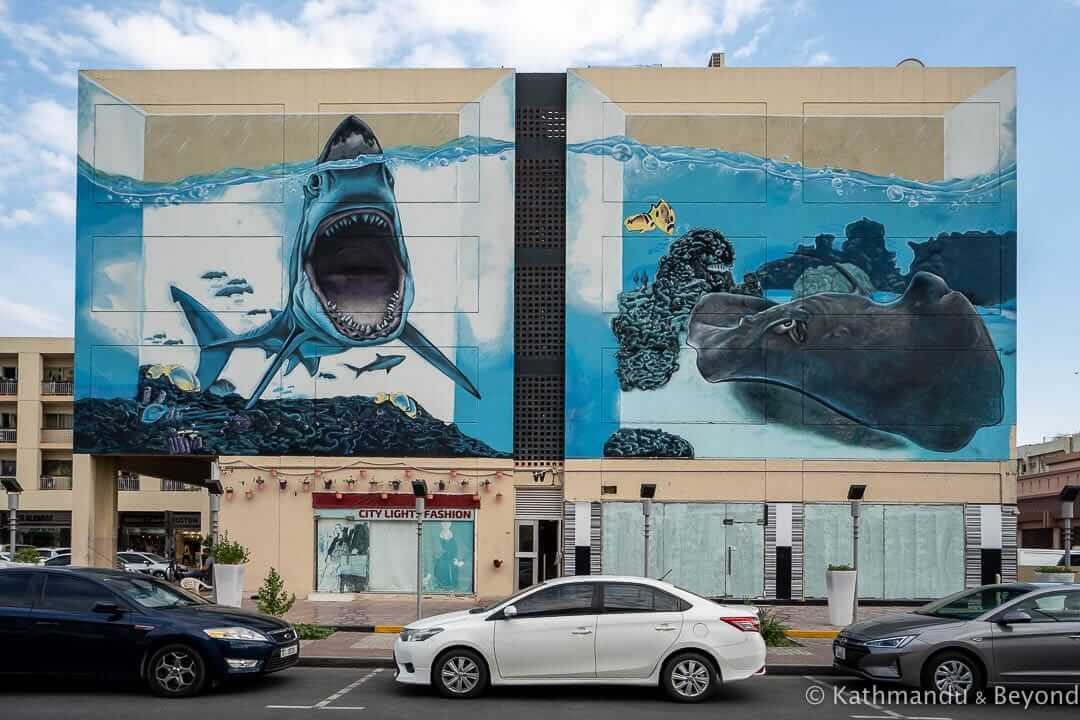 Cartilaginous Gang by @pakey_one (above)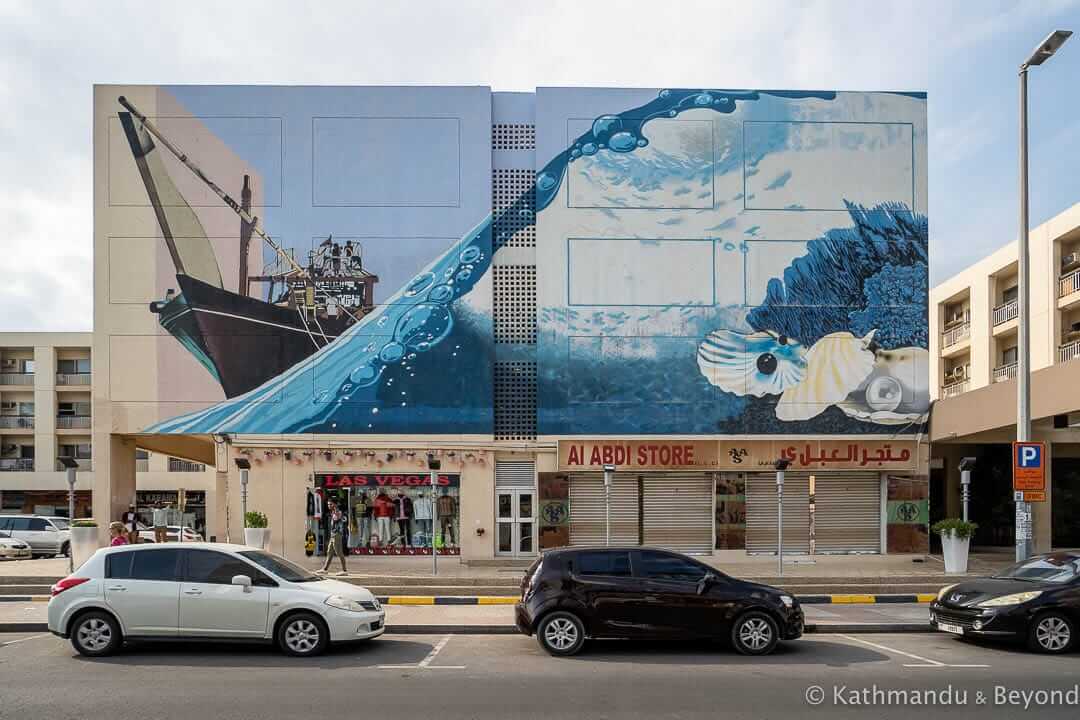 Artist: @medeaprojekt (above)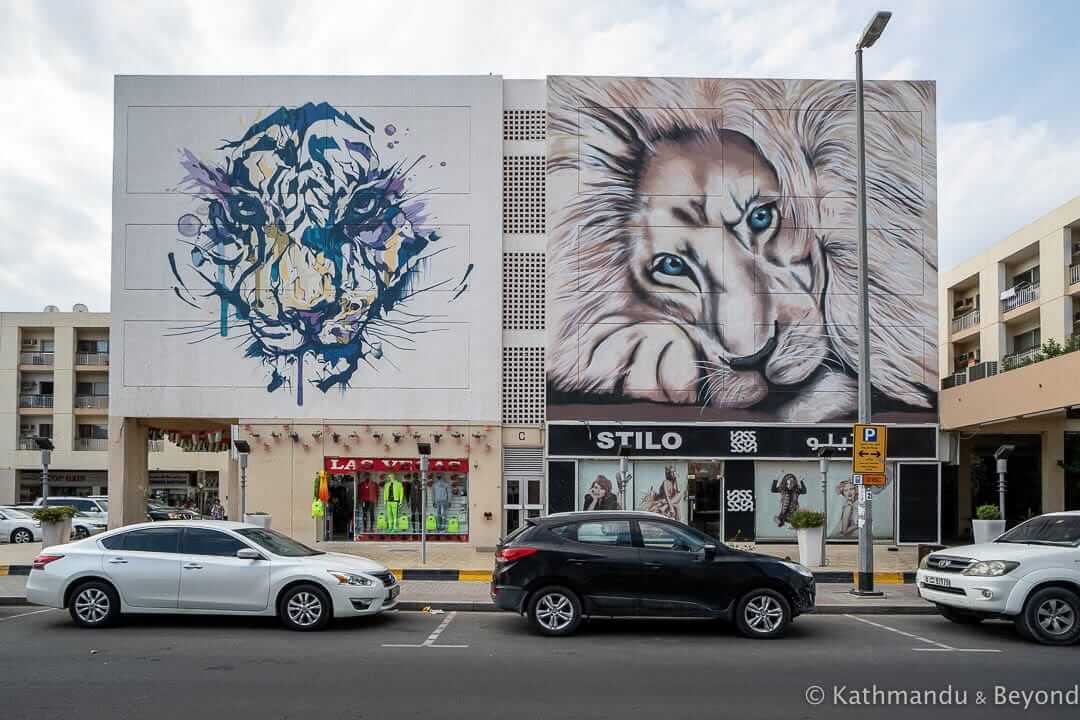 Big Cats by @abdulrashade (above left and below) and @pakey_one (above right)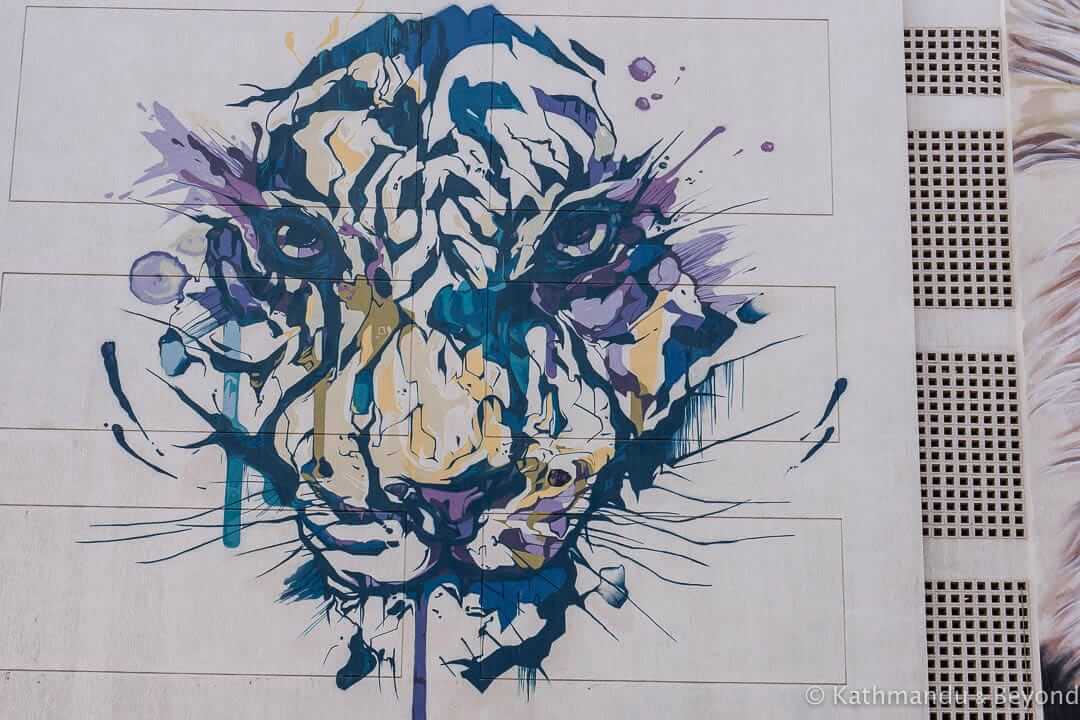 Where to find the Karama street art and how to get to Street 18B, Karama
The murals are impossible to miss once you are on Street 18B in Karama Shopping Complex. The nearest metro station is ADCB on the red line where, from Exit 2, it's about a 15-minute walk. Alternatively, at the southern end of Street 18B is Al Karama Bus Station. Staff at the bus station were very helpful and there is also an electronic departures board in the waiting room. We took bus C03 back to the Meena Bazaar area of Old Dubai.
Other Street Art in Dubai
There are a handful of other areas in Dubai where street art can be found, but they are quite scattered. Consequently, aside from the street art at City Walk, we, unfortunately, didn't have time to check it all out during our short stay in Dubai. This article from Visit Dubai has information on where to find more Dubai street art.
---
---
---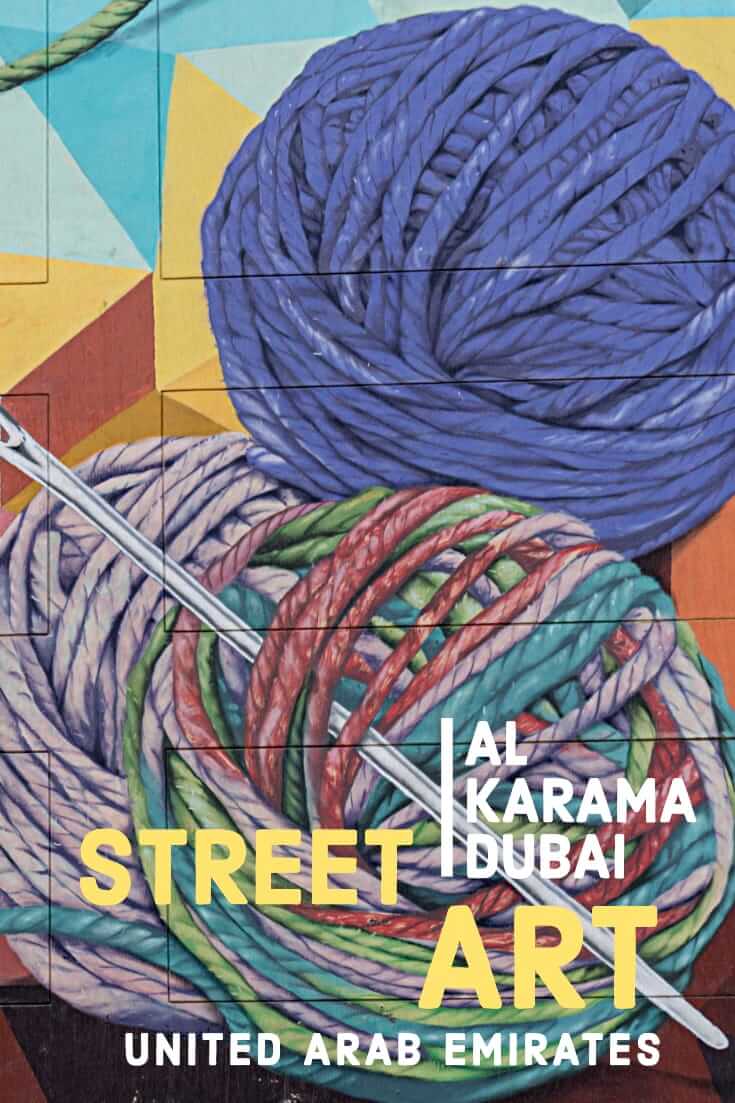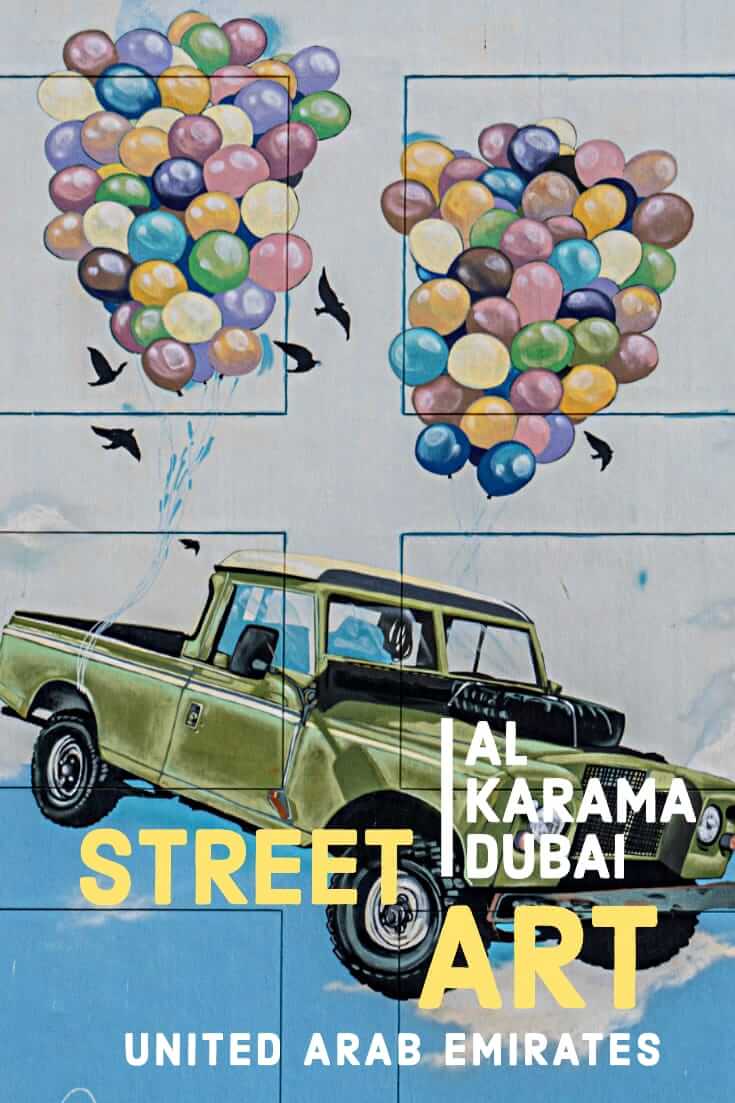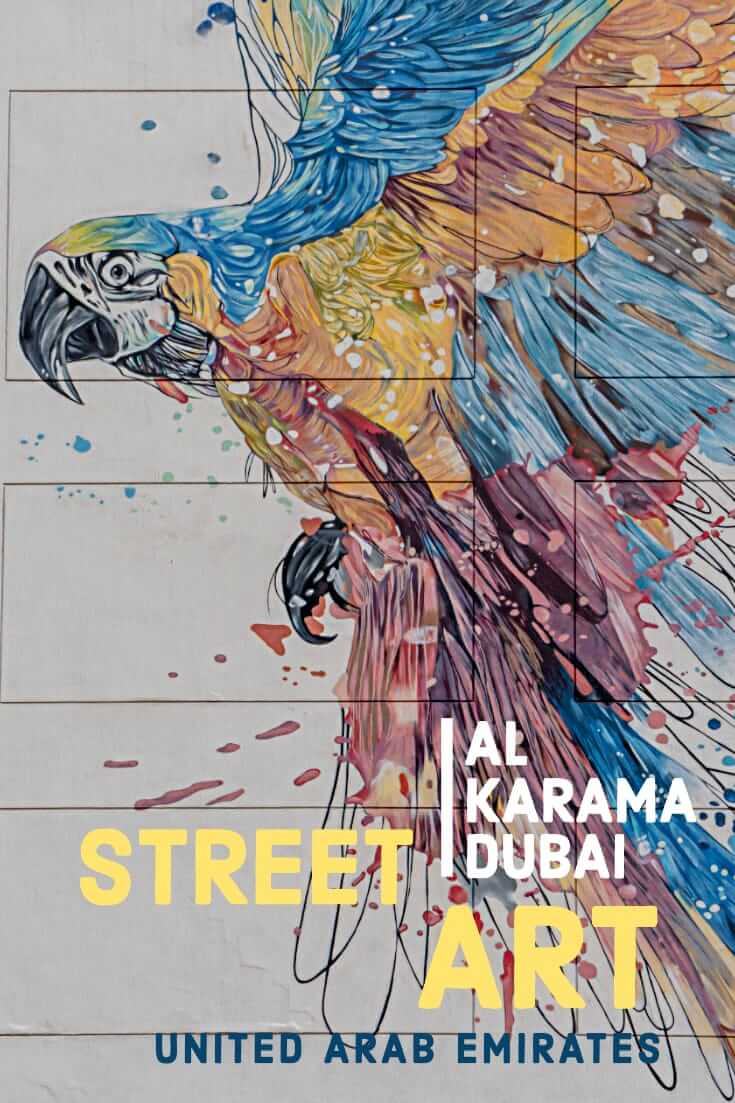 ---