On the hunt for street art in Dubai, United Arab Emirates
It's fair to say that when it came to finding street art in Dubai, my expectations were pretty low. After all, Dubai is best known for its ultra-modern architecture and fancy shopping malls, and the United Arab Emirates has a reputation for strictly enforcing any rules, meaning unsolicited graffiti would be a big no-no (indeed graffiti is illegal). But with a little poking around, it turns out there are a few pockets of street art in Dubai, although not surprisingly all of them commissioned or sanctioned.
One area where we found a good selection of street art is the unassuming City Walk, a low-rise shopping and dining complex which opened in 2013. Described as an 'outdoor lifestyle destination; a creative lifestyle space where you can live, work and play', City Walk feels like an antidote to the high-rise, shiny, air-conditioned American style shopping malls that dwarf it. Wandering around, admiring the City Walk street art, we could have been in a European shopping precinct.
The street art at City Walk was created in 2016 as part of a project called City Walls Street Art Festival and was sponsored by City Walk developer Meraas Holding as part of an initiative to introduce laudable street art to the Emirates. International artists were invited to help turn City Walk into an outdoor gallery, and sixteen from around the world were involved.
City Walk Street Art in Photos
Vandal / I love Dubai by Nick Walker
Considered to be one of the forerunners of the British street art scene, British-born Nick Walker, from Bristol, has been painting walls since the early 1980s (and has been around for much longer than better-known fellow Bristolian Banksy). Walker's famous bowler-hatted character, Vandal, makes his work easily recognisable.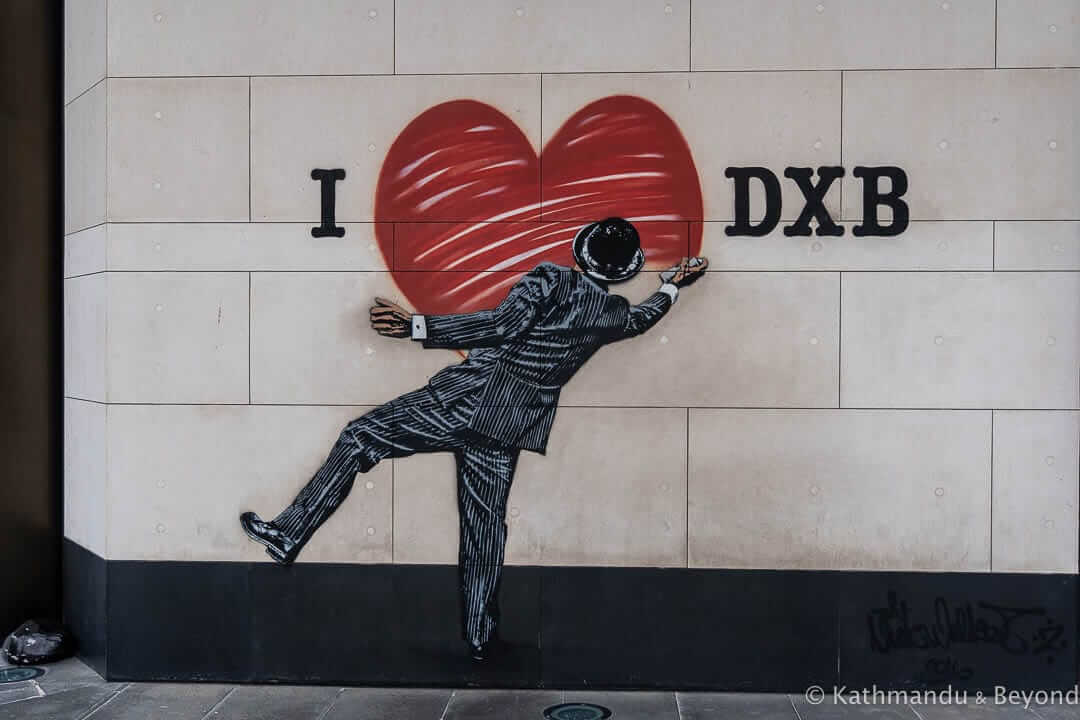 Website: The Art of Nick Walker
Rats in Dubai by Blek le Rat
This tug-o-war between a rat and a group of kids was created by French stencil artist, Blek le Rat.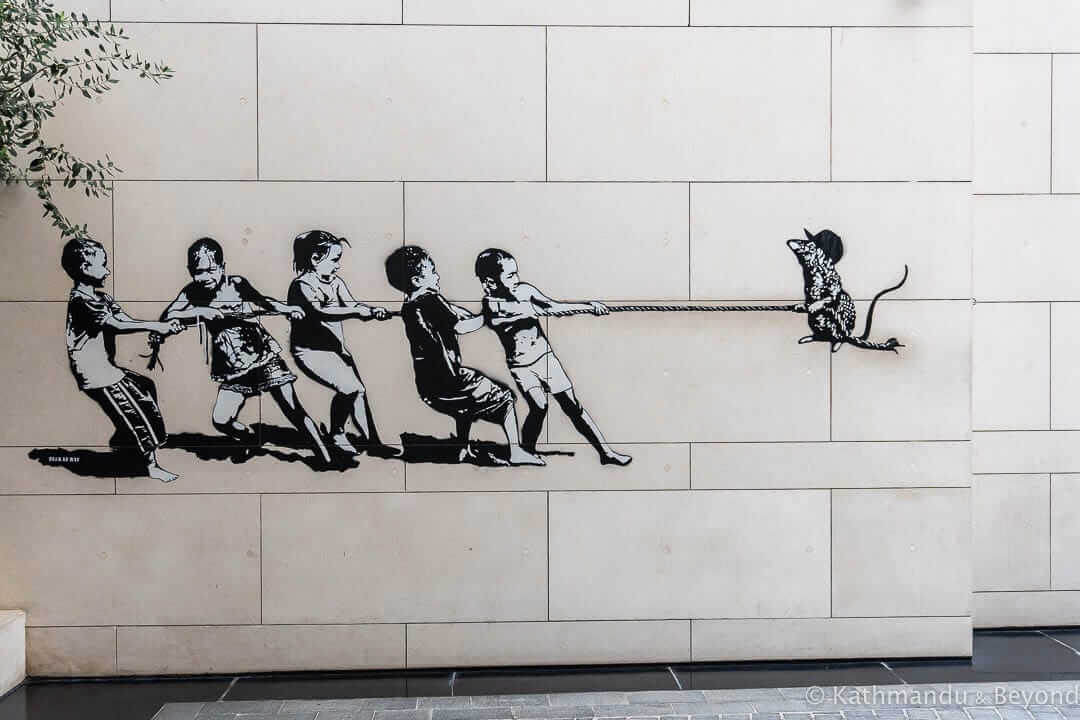 Instagram: Blek le Rat
Girl with the Orange by Etam Cru
Polish street art duo Etam Cru's work is prolific in Europe and we've seen it in a few places including Banja Luka in Bosnia & Herzegovina. This delicate piece is on the side of a building on the perimeter of the pedestrianised complex.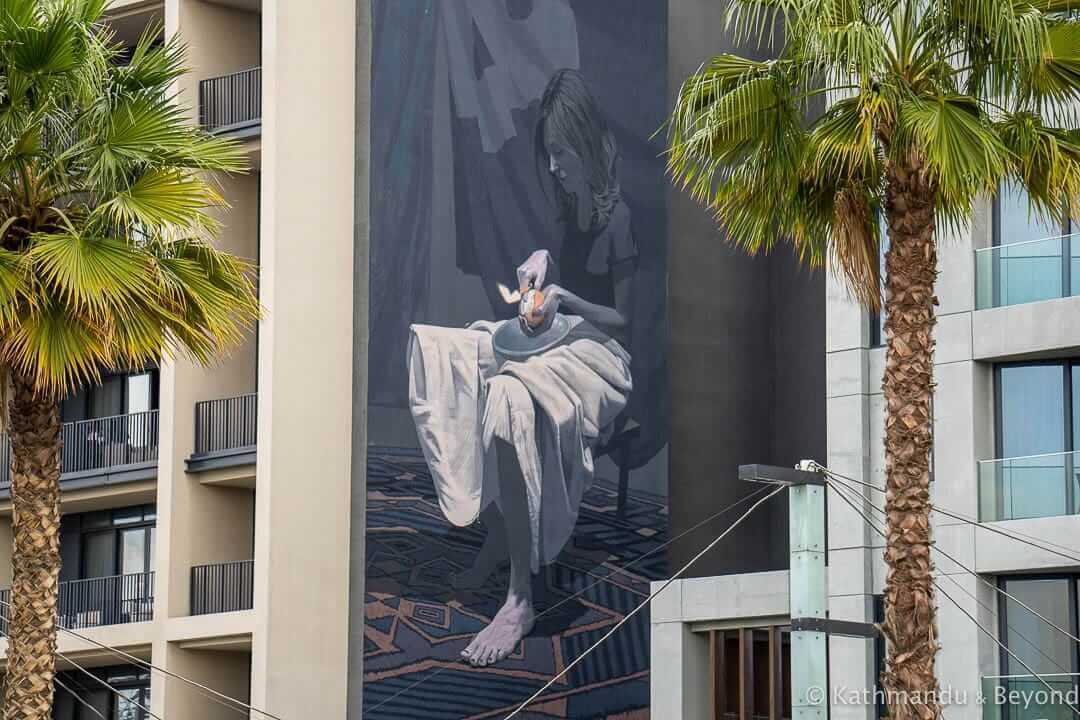 Website: Etam Cru
Not Everything is so Black & White by Eelus
I love the colour, contrast and style of this colourful bit of street art by Eelus (another British artist). It's a little obscured by tables and chairs from the adjoining cafe, but it's still a beautiful piece of art.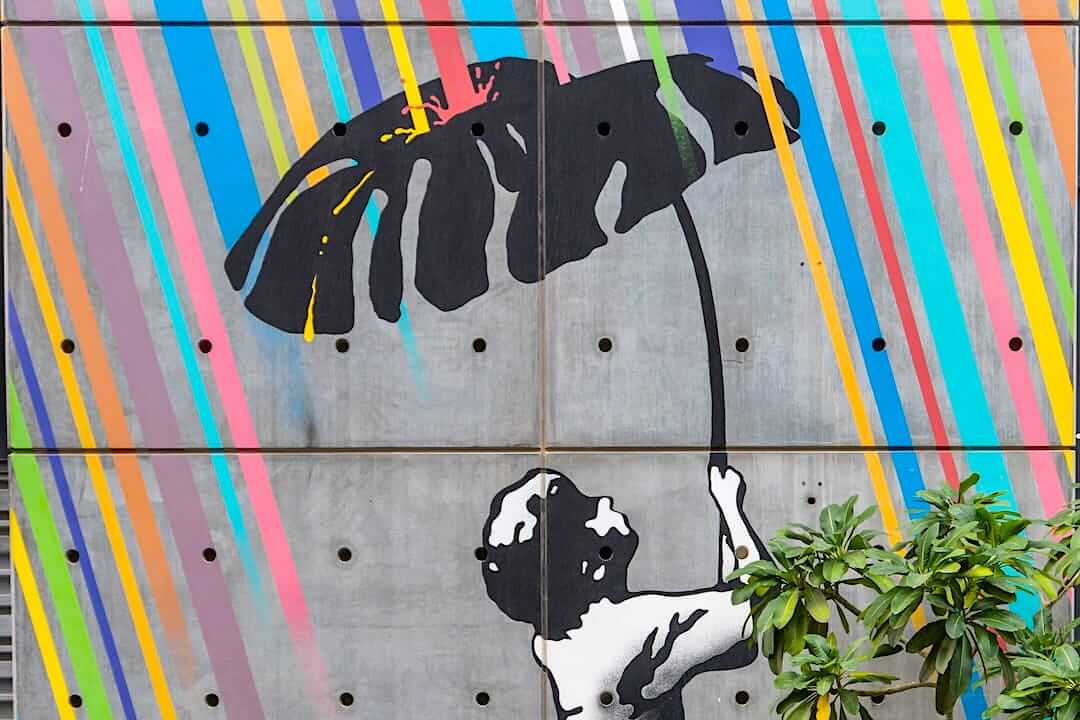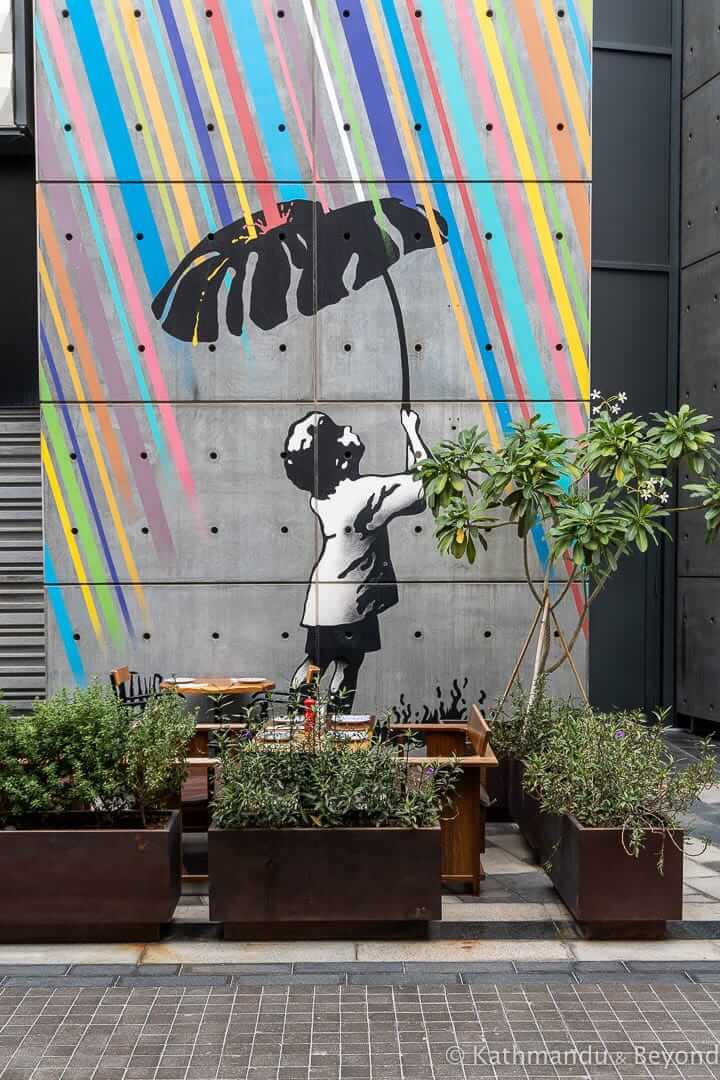 Website: Eelus
Japanese Oiran gal By AIKO
Even if I didn't tell you, you could probably surmise this colourful piece is by a Japanese artist. Also known as Lady Aiko, she was born in Tokyo but now lives in New York.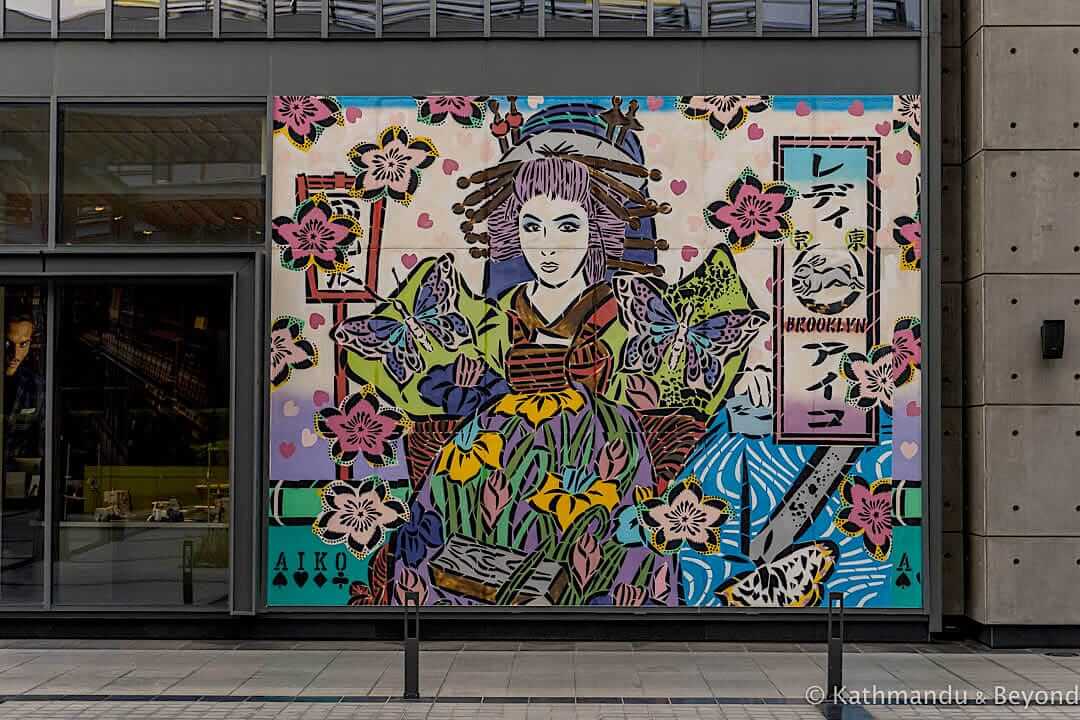 Instagram: Lady Aiko
Shop 'til you Drop and Nothing Lasts Forever by D*FACE
Flying the flag once again for British urban artists are these playful pop art style pieces of spray art by Dean Stockton, better known by his alias D*FACE.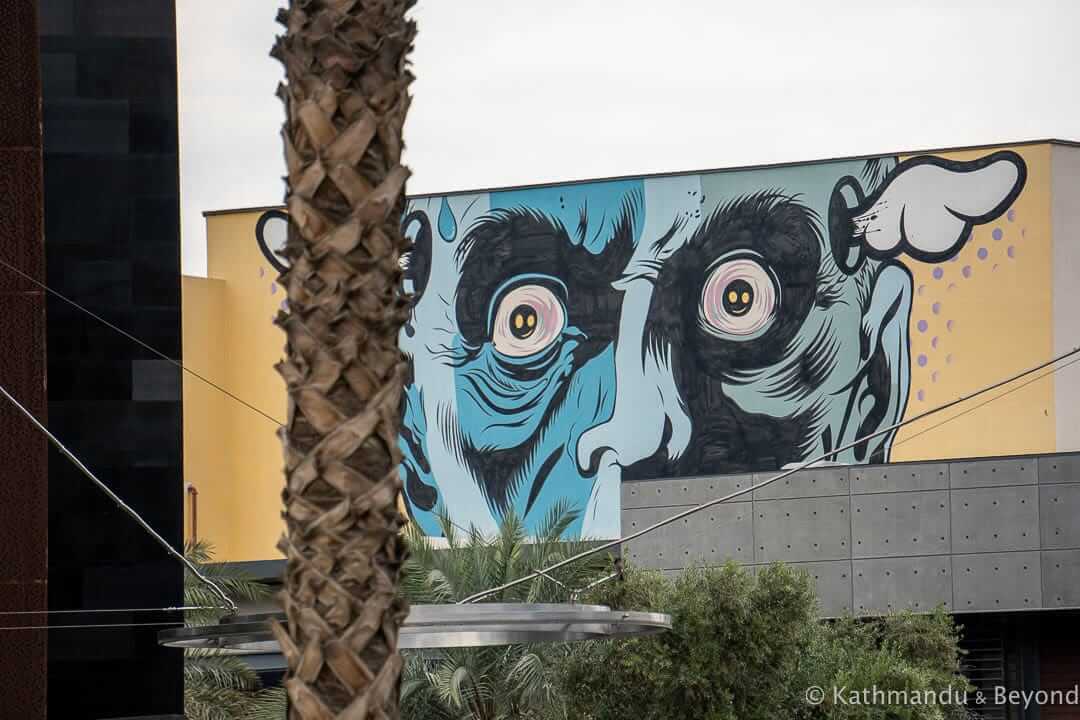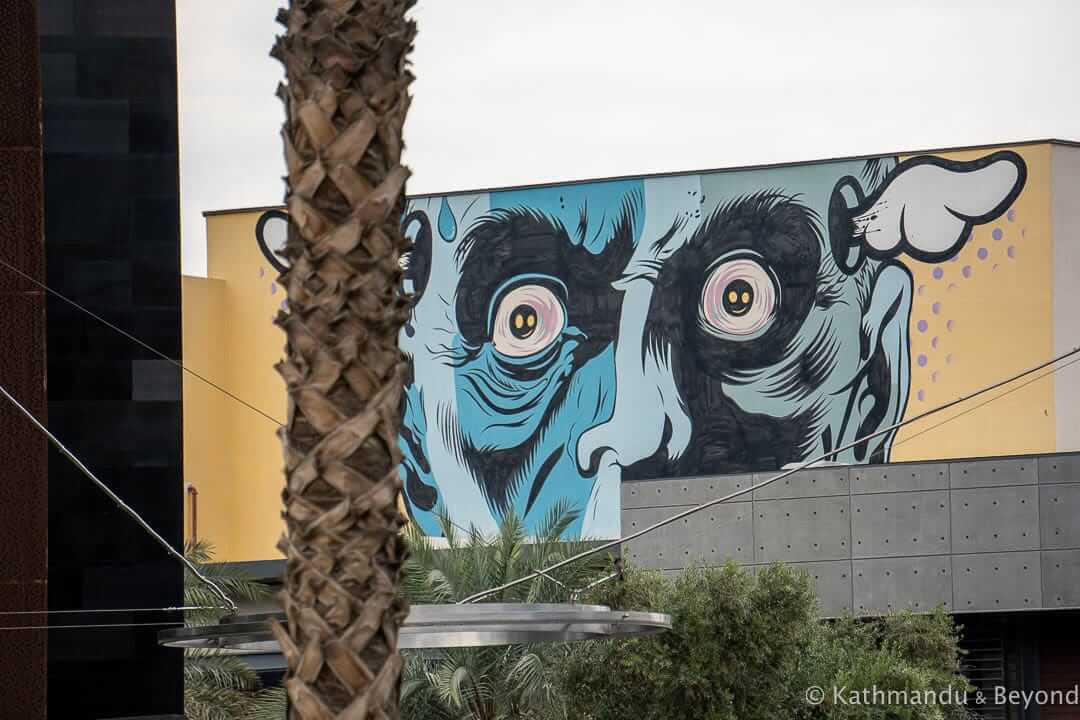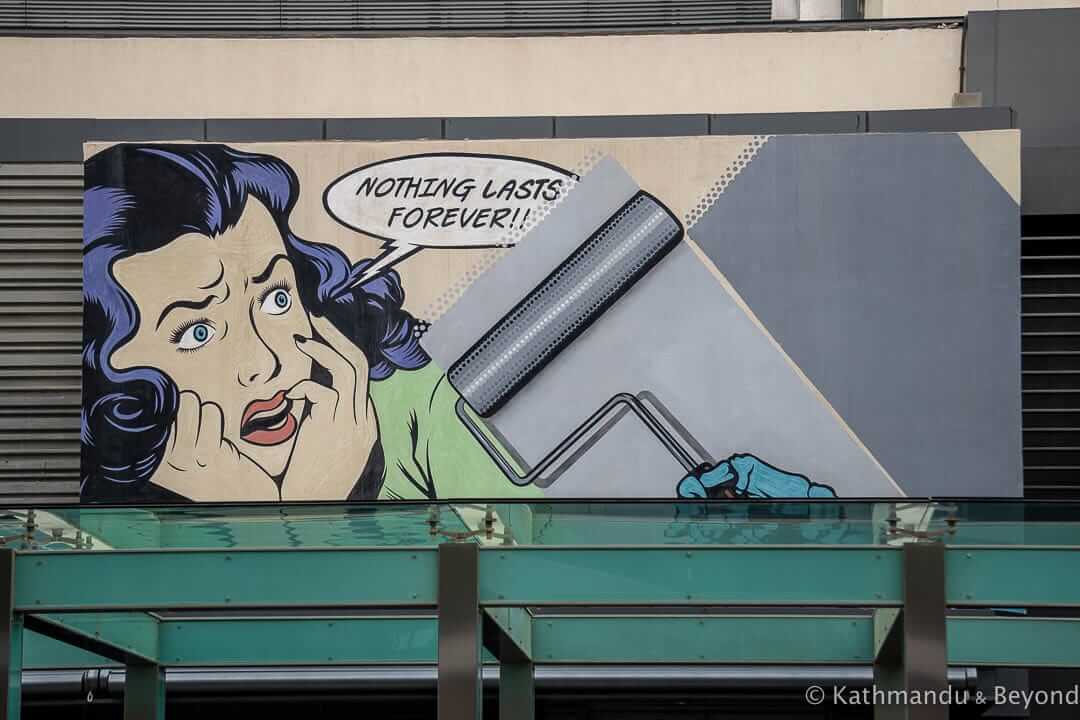 Instagram: D*FACE
Let her be Free by ICY and SOT
Icy and Sot are two Iranian brothers, originally from Tabriz but now living in New York. As refugees themselves, their work often reflects human rights issues or carries a political message. Two facing walls are the canvases for two huge stencils depicting a woman surrounded by hundreds of birds flying away from her face. From a distance, the birds look like a black headscarf. Somehow one of the women looks more content than the other. The piece is based on the duo's famous work (and the title of their book) called 'Let her be free'.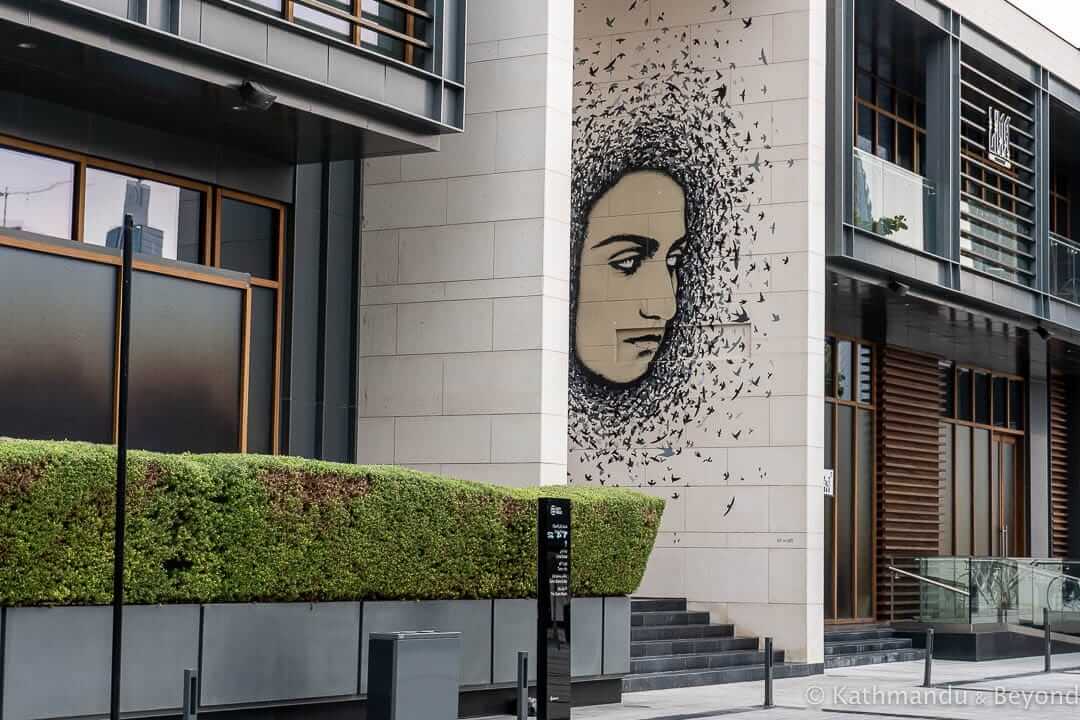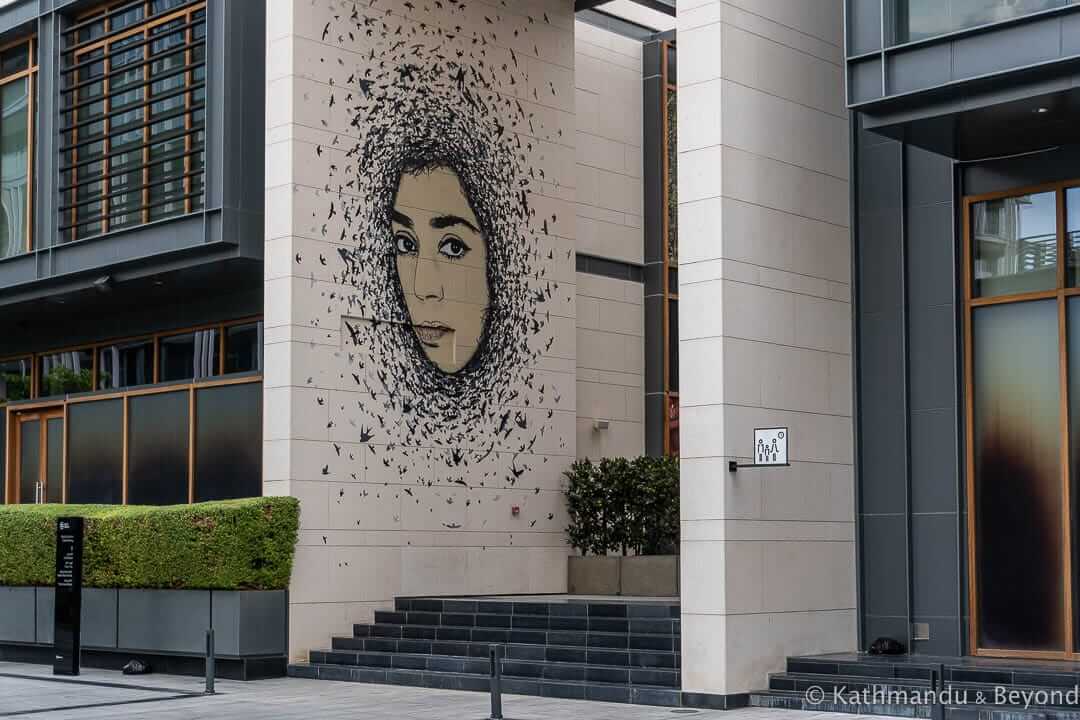 Website: ICY and SOT
Bedouin (Scratching the Surface) by Vhils
Better known as Vhils, Portuguese artist Alexandre Farto's work is distinctive due to his method of chipping pieces from the wall surface, rather than painting on it, to create his art (known as his 'Scratching the Surface' project). Once you know it, you'll recognise his work all over the world. Vhils' Dubai wall-carving is reported to be inspired by Wilfred Thesiger's 1950s photography, in particular, his Bedouin portrait.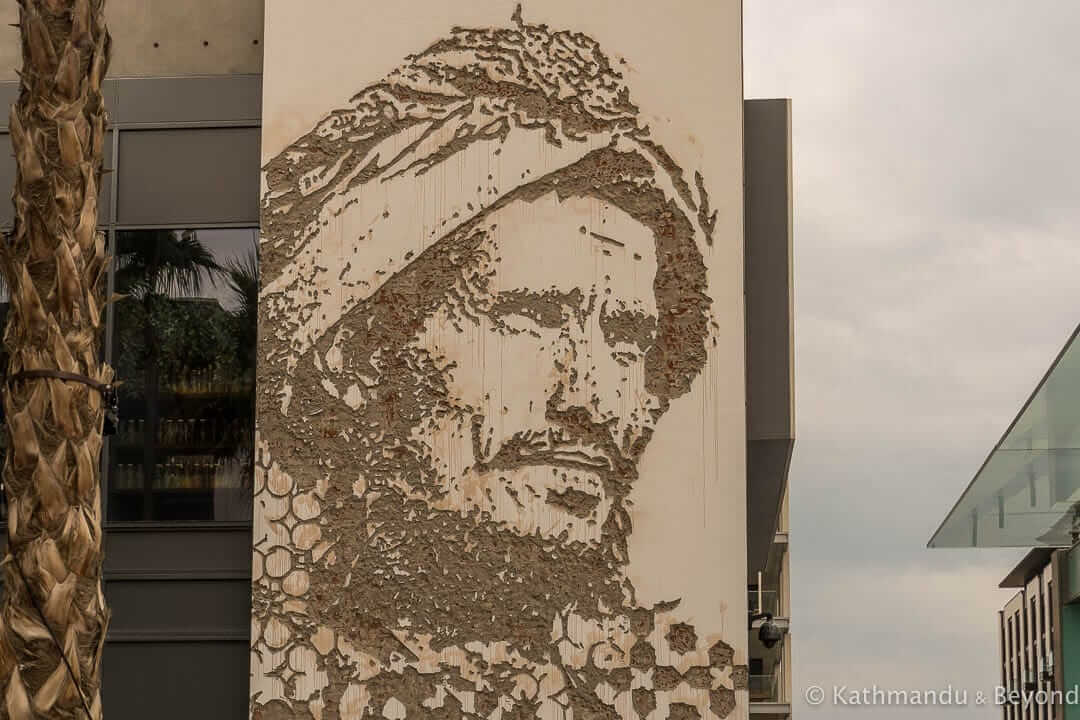 Website: Vhils
The London Police
This playful piece featuring The London Police's signature LADs characters is hard to miss as it's at the entrance to City Walk's pedestrian zone.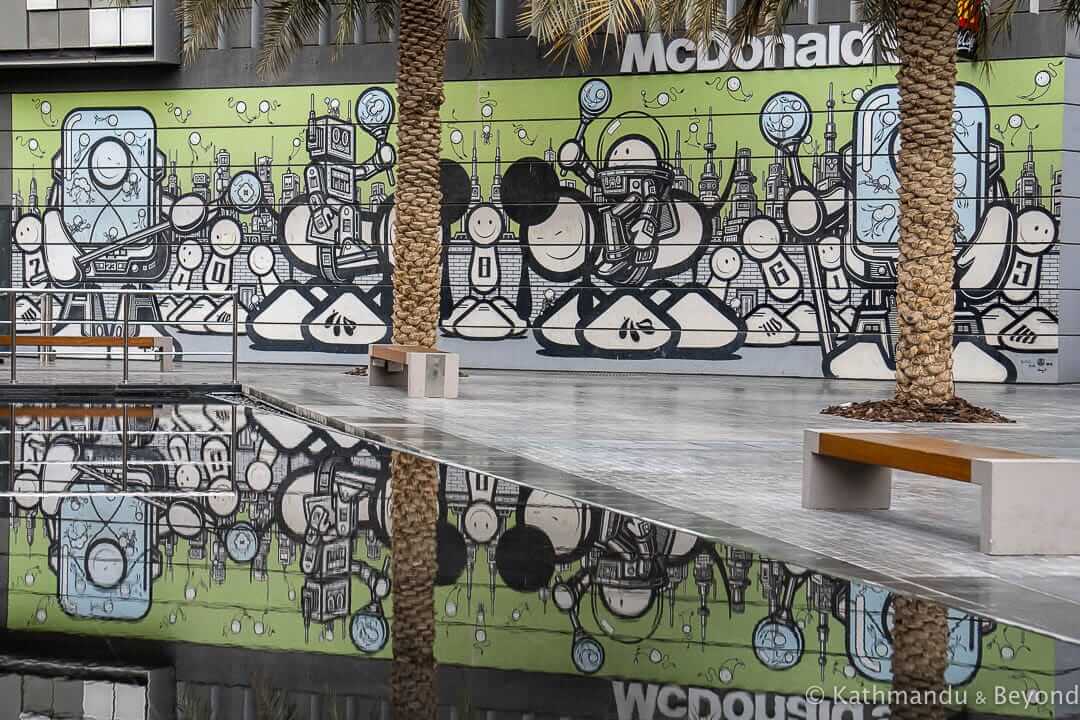 Instagram: The London Police
Nadila by Rone
Australian street artist Rone (real name Tyrone Wright) is known for his stylised images of women's faces as this haunting piece of street art at City Walk reflects. The portrait is a replica of a wall Rone painted in Havana, Cuba of a local woman called Nadila. In the words of the artist, she has now been "transported to Dubai in a cultural exchange, to look upon the ever-growing landscape".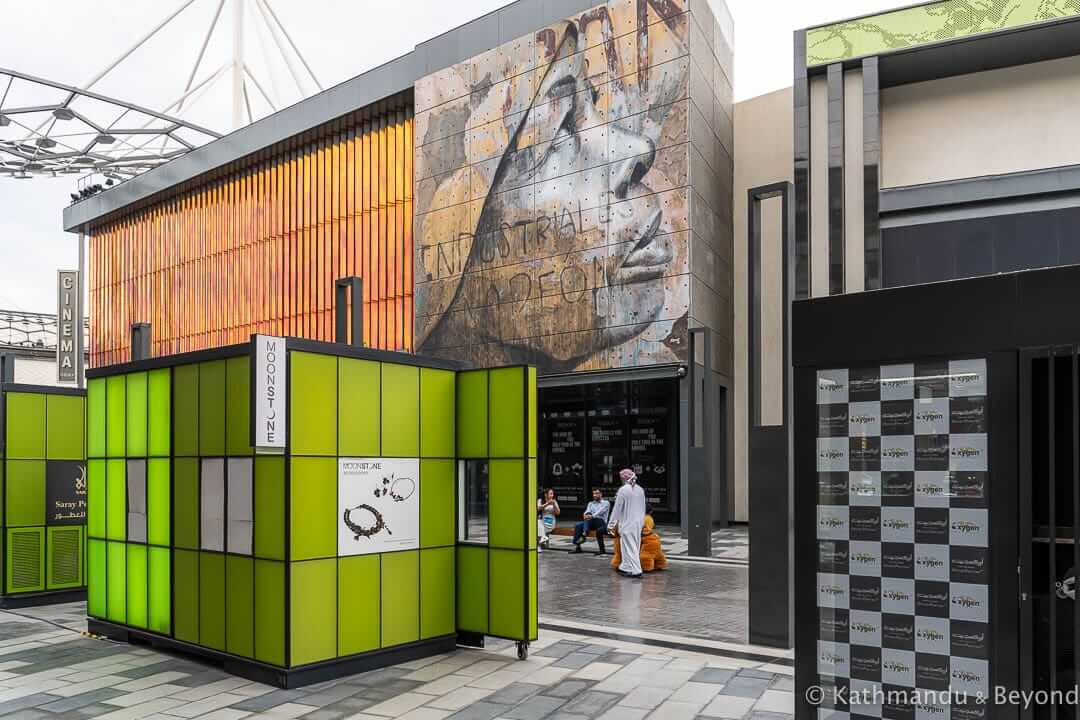 Instagram: Rone
Dubai Lenticular Mural by Beau Stanton
American artist Beau Stanton painted this huge classical style mural in Dubai City Walk. I learnt a new word while writing this post as I had to look up what lenticular means. You can probably surmise the definition from looking at the photo, but basically, it's the effect that is created when 3D vertical images appear to change as you walk past them. In the 16th century, they were called "Turning Pictures".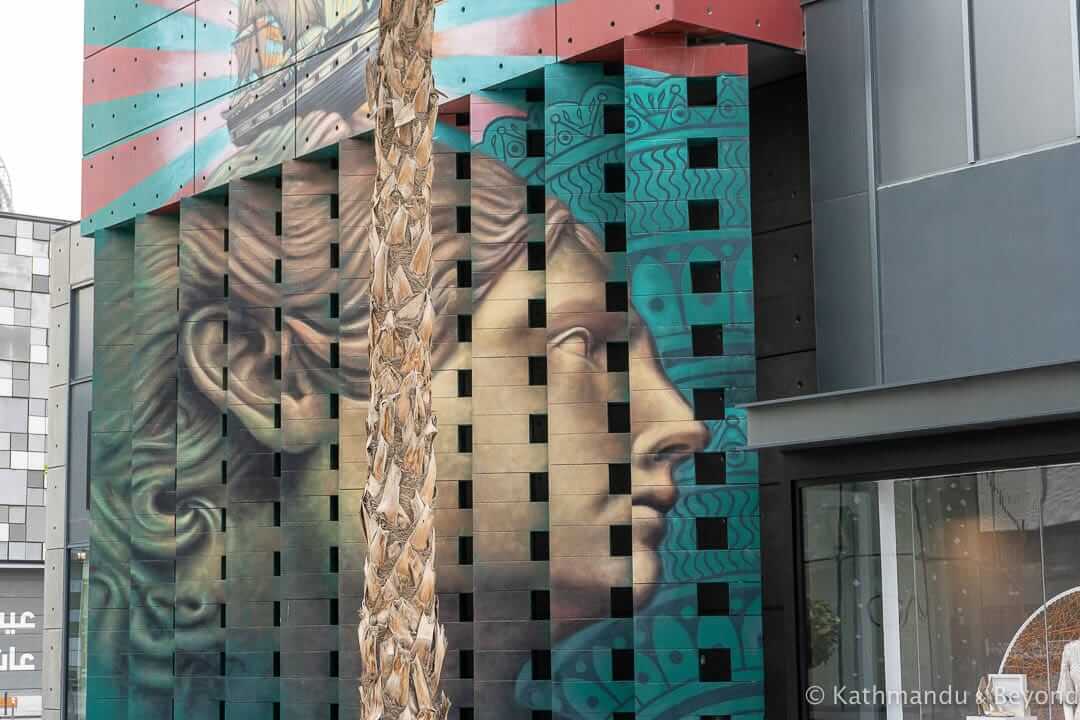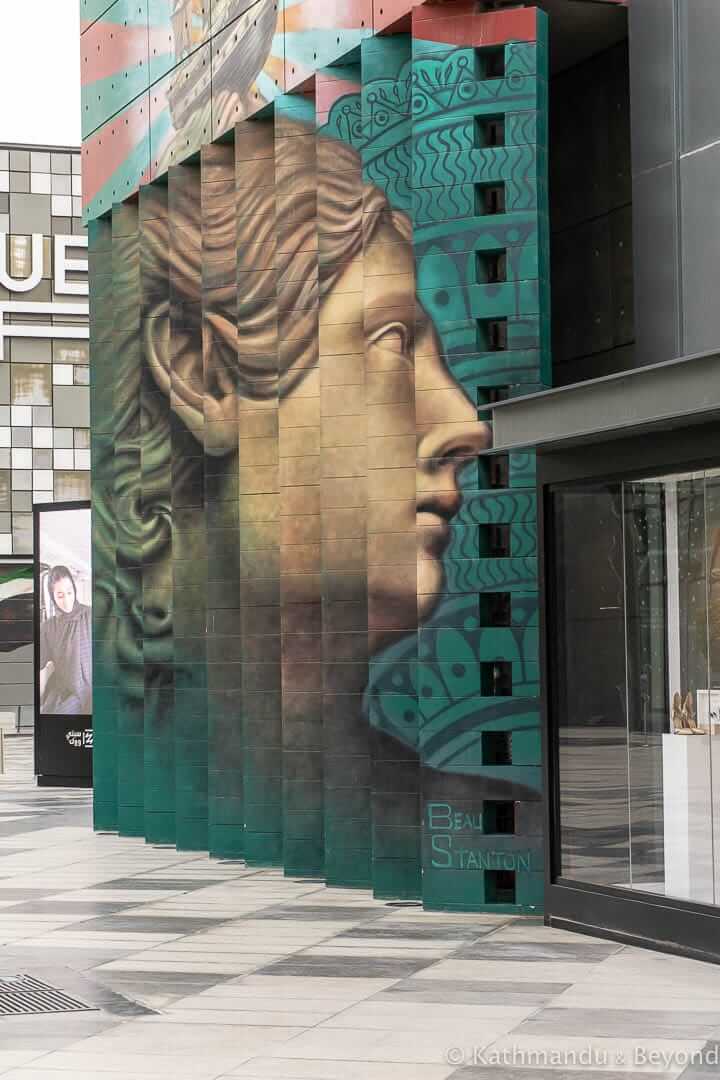 Instagram: Beau Stanton
ROA
Annoyingly, (VERY annoyingly) we missed the work by Belgium street artist ROA. We've seen his unmistakable line drawings of animals all over the world, and had I known that more than one of his famous rodents graced a wall at City Walk, I would have tried hard to find them (I think they were just around the corner, but we walked in the opposite direction. Doh!).
Where to find the City Walk Dubai street art and how to get to there
As with many places in Dubai, getting there by public transport isn't straightforward. We ended up taking the Metro (Red Line) to Burj Khalifa/ Dubai Mall Metro station and walking from there. The walk was about 20 minutes and involved navigating across a busy main road, but we couldn't figure out how to get there by bus. Another option would be to get off the Metro at Business Bay station and take bus #7 from there to City Walk. If you have a phone with data, you can use Google maps or the Wojhati App to plan a route, or work it out in advance here. And of course, taxis are plentiful and easy to hail, and Uber also operates in Dubai.
City Walk is easily found on Google maps, but if you head to this spot 25.207349, 55.262633 (GPS coordinates) and wander around from there, you'll find plenty of fabulous street art.
---
---