Situated on the outskirts of Zagreb, Brestovac Sanatorium is a dilapidated and atmospheric set of ruined buildings that looked particularly enchanting on the lovely autumn day we chose to visit the place.
Many abandoned buildings we explore have stories attached to them and Brestovac Sanatorium is no exception. Take the Old Liu Family Mansion at Minxiong in Taiwan as an example. There are all manner of myths attached to the place that can neither be proved or disproved but the interesting thing with Brestovac Sanatorium is that the main story behind its existence (and ultimate demise) is extremely well documented and, mostly, veering more on the side of factual rather than rumours or hearsay (*).
(*) A search for Brestovac Sanatorium on the Internet brings up a multitude of articles on the subject including this one that includes some interesting early photos of the health resort itself.
Brestovac Sanatorium is situated on the outskirts of Zagreb, high up on Mt. Medvednica and surrounded by forest. It was constructed in the early years of the 20th century and the first set of patients were admitted into its facilities in May 1909.
Brestovac Sanatorium
There was a specific reason why Mt. Medvednica was chosen for the location of the sanatorium. The mountain is Zagreb's green lung and still today, the air is fresh up there and the entire area, now predominantly a nature park, is a pleasant respite from the city below. But, back then it was a deadly disease that set in motion the establishment of the sanatorium on Mt. Medvednica.
At the turn of the 20th century, tuberculosis, or more commonly TB, was still a serious and deadly problem in much of Europe. In many urban areas, including Zagreb, living conditions for the poor were terrible and standards of hygiene almost nonexistent. Unlike today, there was no cure for the disease and, what's more, it was contagious and although the middle and upper classes obviously lived in superior conditions to their working-class counterparts, it was inevitable that some of the better-off would also eventually contract the sickness.
As a result, Brestovac Sanatorium was specifically established to look after those who had become infected with tuberculosis.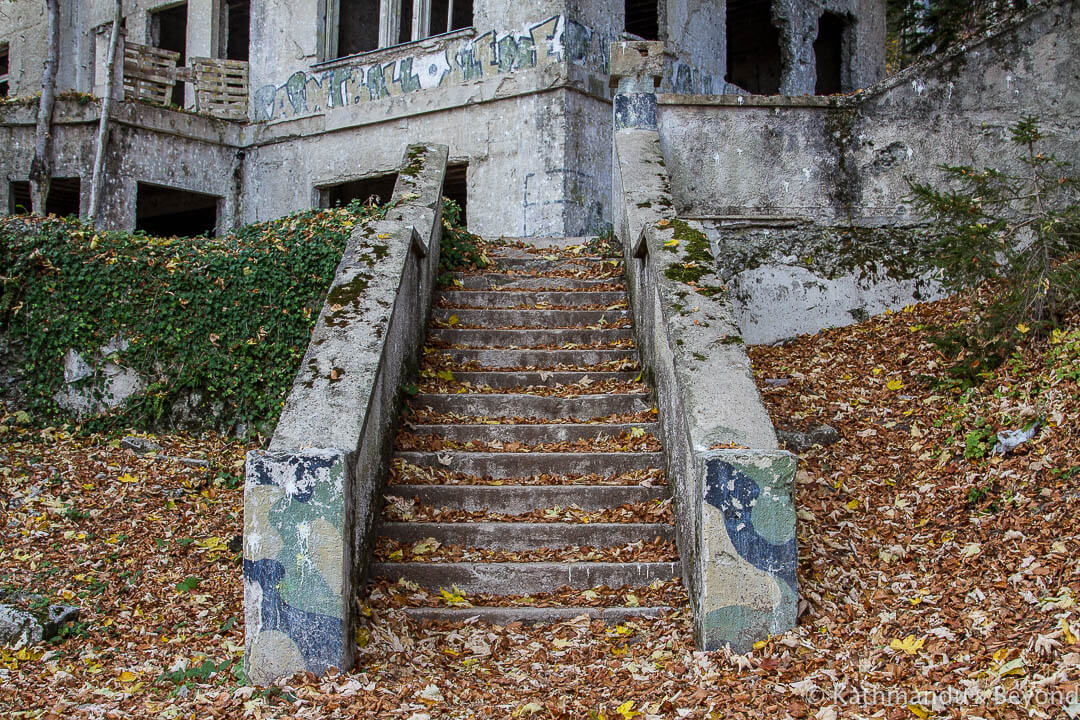 Brestovac Sanatorium
And here's where we get to the interesting part of the story …
The founder and major benefactor behind Brestovac sanatorium was a local Zagrebian called Milivoj Dežman (1873-1940). Dežman was both a writer and a medical doctor and although his profession as a physician played a part in him being a driving force behind the creation of the sanatorium, it wasn't his primary motive.
Dežman was in love with a well-known and popular Croatian actress of the time called Ljerka Šram (1874-1913). They had known each other since childhood but had lost touch over the interim years. While Dežman was away studying, Šram's career, no doubt assisted by her legendary good looks, took off and she became a regular performer on the Zagreb theatrical circuit. It was during one of these performances that Dežman once more clapped eyes on his childhood friend and he instantly fell in love with her. Although Dežman's level of passion was not reciprocated by Šram, for some reason she did promise to wait for Dežman while he completed his medical studies in the Austrian city of Graz. But, she subsequently married another, a fact that Dežman only found out when he saw her name listed as Mrs on a theatre poster at some point thereafter.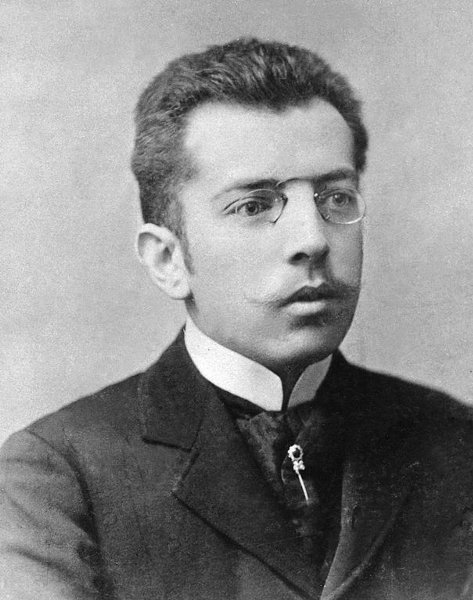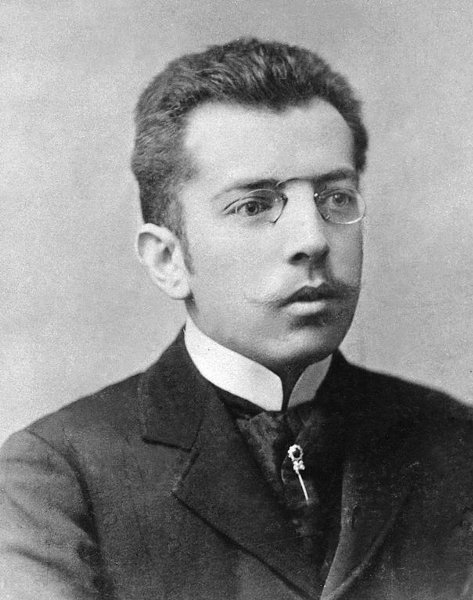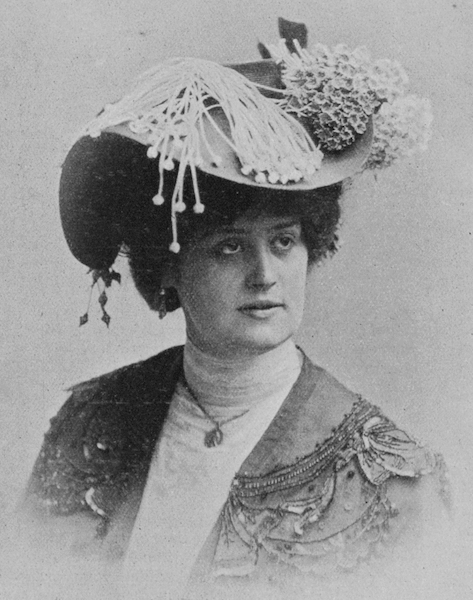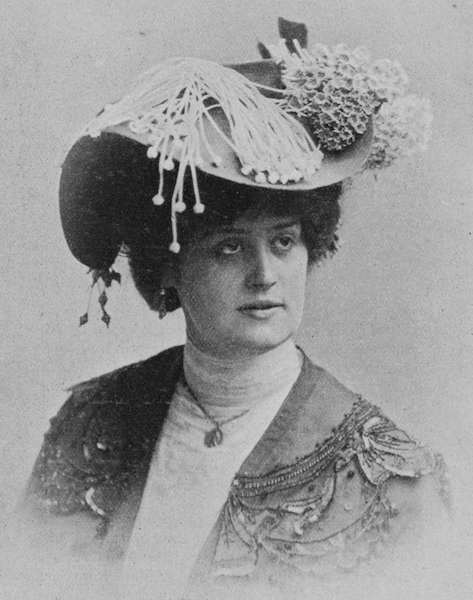 Milivoj Dežman and Ljerka Šram
This didn't deter him though and the now-qualified doctor turned his hand to writing and began penning theatrical plays with the elusive love of his life written in as the leading role. I cannot find out if Šram actually acted in any of the plays that Dežman wrote for her but when Šram's husband fell into debt, deserted her and ultimately did a runner, she moved in with Dežman. I suspect her passion for Dežman was still not equal to his for her and, no doubt, there was a pragmatic (read financial) reason for her moving in with him but you have to assume that they were both happy with the arrangement.
Any enjoyment that either of them got from cohabiting was short-lived however as Šram contracted TB shortly after moving in with Dežman and became seriously ill. Dežman's resolve to having a relationship with Šram even though she had married another man implies that he had a dogged personality and he showed this resolve again after Šram fell sick by using his influence as a doctor to have built, what was then, the first facility in the region specialising in the treatment of patients with breathing issues – Brestovac Sanatorium.
Given that there was no cure for TB at the time, initially the primary function of the sanatorium when it opened in 1909 was to provide a place where those with the deadly disease could rest in a pleasant environment and breath in the freshest of air possible before the inevitable happened. But the facilities became more than just a hospice and, over time, established a good reputation for itself by helping those with other forms of respiratory ailments recover.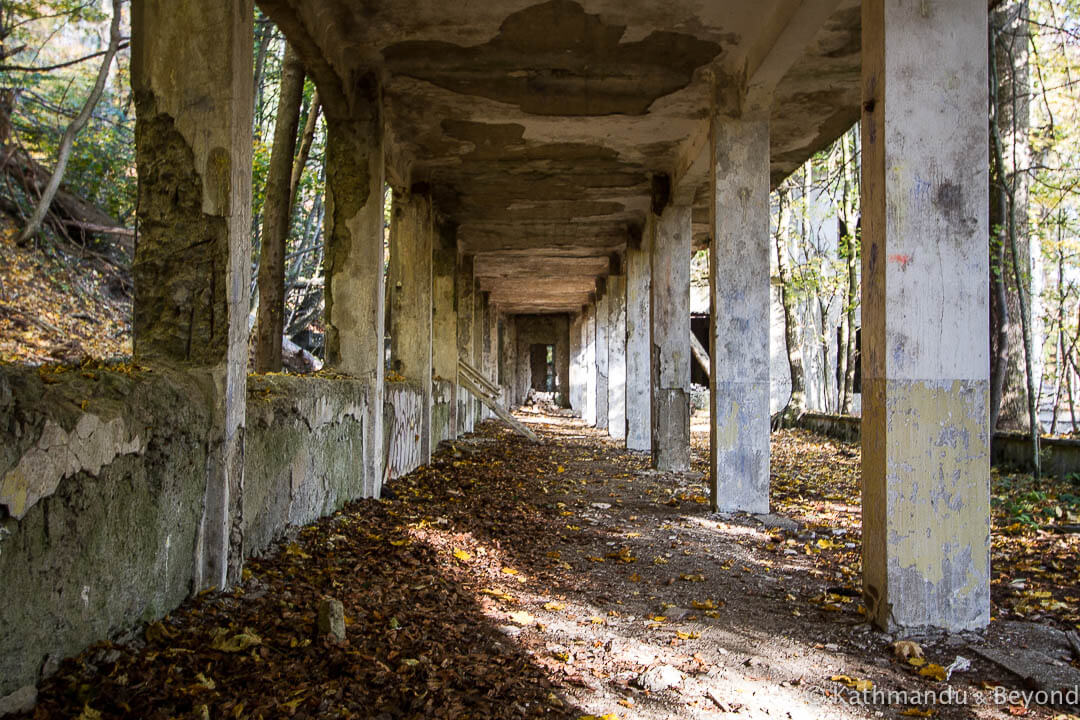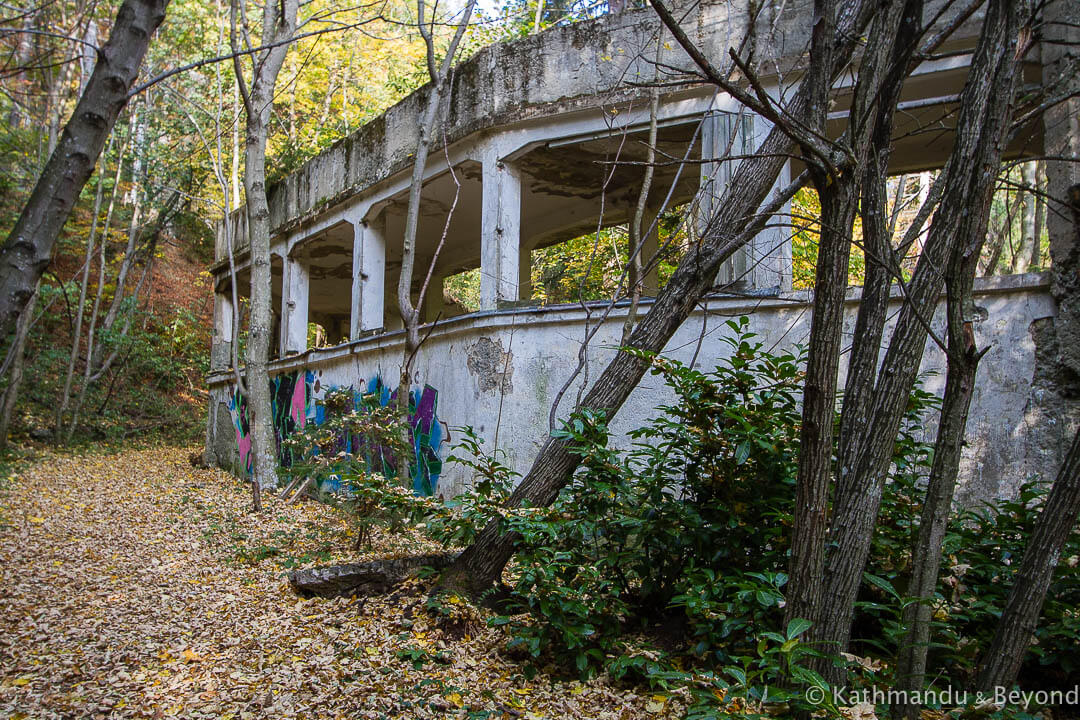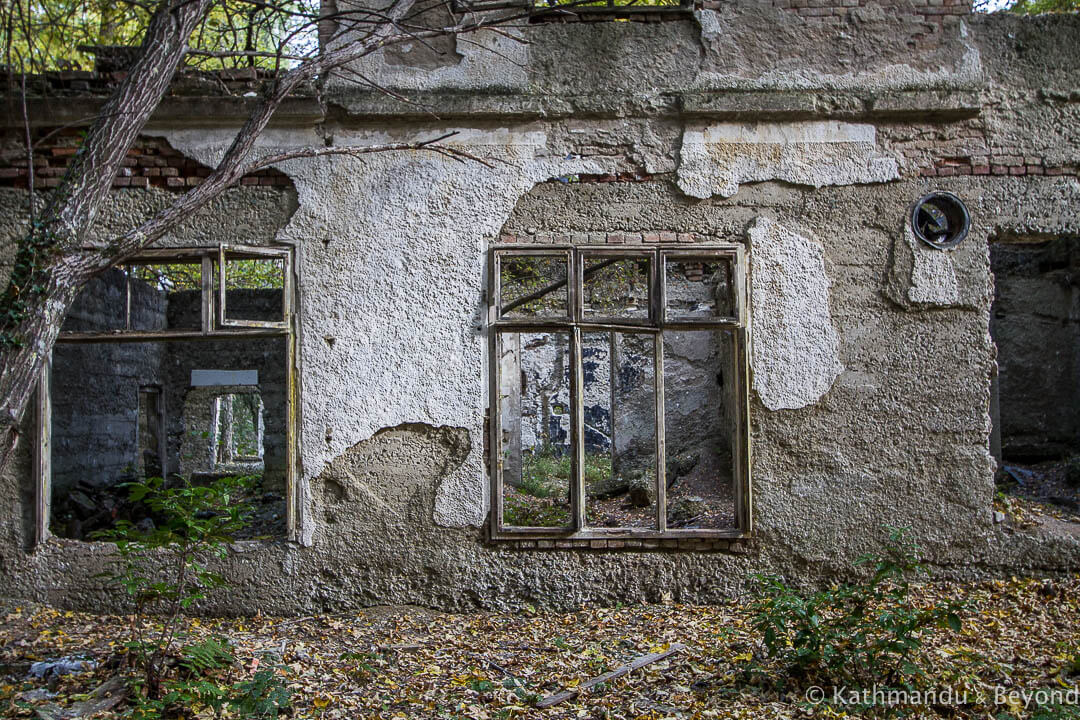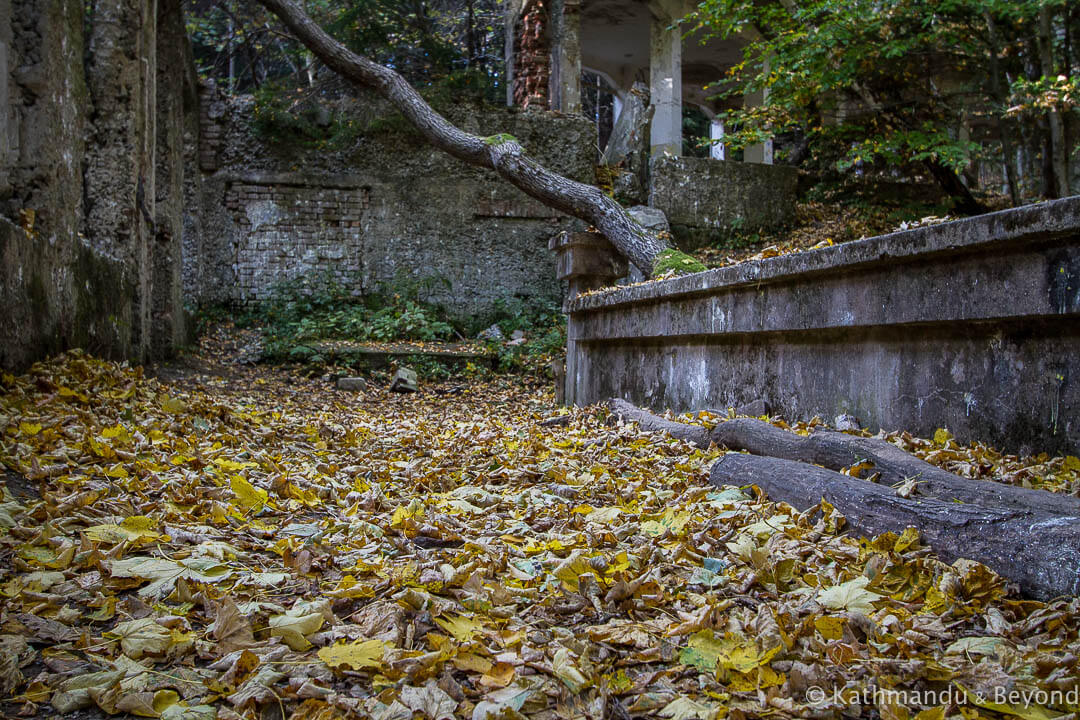 Brestovac Sanatorium
To complete the story of Dežman and Šram, the latter was, not surprisingly, one of the first patients to be admitted to the sanatorium and despite determined care from Dežman personally, she never recovered from the illness and died in November 1913, aged 39.
As for the rest of the sanatorium's history, during WWI and WWII, it was taken over by the military and used as a field hospital but, apart from these two periods, it operated as a health resort for those with TB and other respiratory-related issues until 1968 when it was eventually closed for good. The reason why it stopped functioning was that medical advancements in the treatment of TB  led to the facility becoming out of date and surplus to requirements but, during its heyday, Brestovac Sanatorium was considered one of the best of its kind in this part of Europe.
There are plenty of additional snippets to accompany the historical facts associated with Brestovac Sanatorium. For starters, some sources say that Šram actually died in Dežman's arms. Whether this is true or not is not certain but it does make for a fitting end to this rather tragic love story and I am not going to challenge that this didn't happen.
Then there are the ghost stories that are attached to Ljerka Šram and Brestovac Sanatorium in general.
Soon after her death, a blood-stained apparition of Šram was reported roaming the corridors of the sanatorium and the woodland that surrounds it. Apparently, it was enough to stop the families of in-patients coming to visit. She was also spotted in the catacombs that supposedly run underneath the building and were used as a place of quarantine, and ultimate burial, for those who were beyond help. It was while down in these vaults that she would be joined by other spirits of the dead and soon there was talk among existing patients, visitors and staff alike of a small army of wandering souls being seen all over the sanatorium grounds. Ghoulish stories hit a peak during WWII when Šram's gang of walking dead was reported to have been joined by numerous military casualties who had recently been buried nearby!  Aspiring directors of love-and-horror movies, take note.  There is an incredible blockbuster waiting to emerge from all these stories.
Whatever your opinion on the existence of ghosts and other denizens of the afterlife, my advice is don't visit Brestovac Sanatorium at night!
Brestovac Sanatorium today
After the sanatorium closed in 1968, there were various discussions among Zagreb's city officials about what to do with it next, including the idea of turning it into an old people's home, but nothing ever came to fruition and nowadays the buildings are in such a ruinous state of disrepair that demolition would be the only logical thing to do.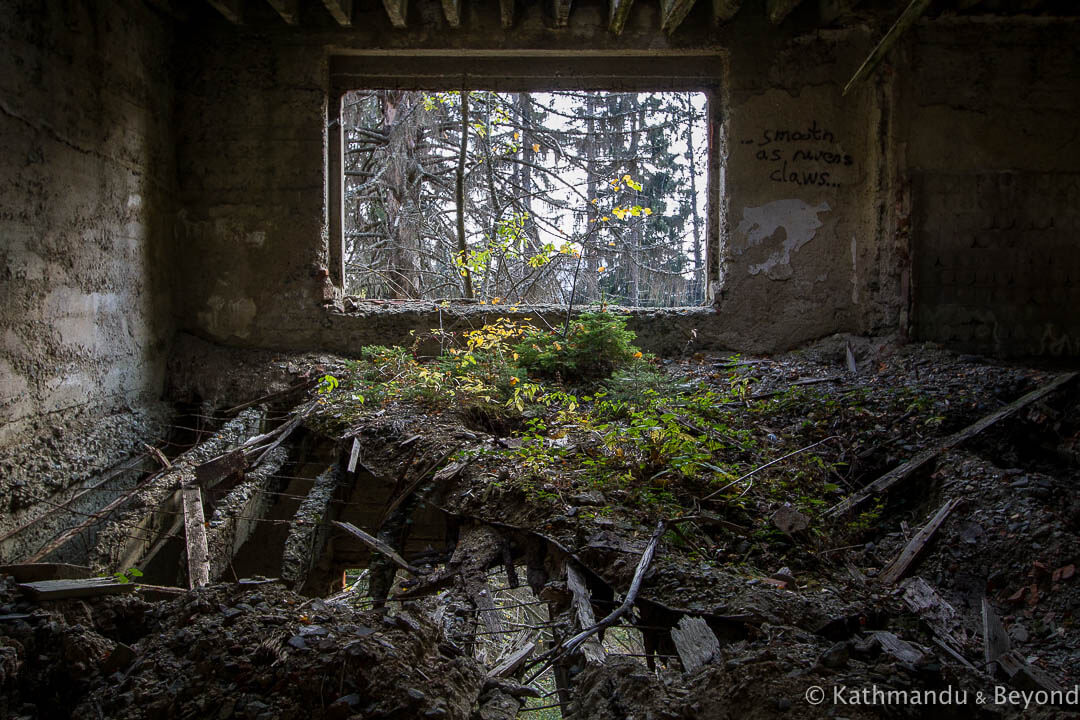 Brestovac Sanatorium
Thankfully so far this hasn't happened and Brestovac Sanatorium has become a totally accessible playground for urban explorers, the curious and paintball enthusiasts alike.
Yep, besides the obvious hazards of entering this dilapidated and, in parts, unsafe set of buildings, you have also got to be on the lookout for paintballers who use the location as a hunting ground as part of their game.
Most things you read about Brestovac Sanatorium advise you to be wary of paintballers if you come and visit but personally I don't see that it would be that big an issue because they will be there as part of an organised group and therefore not that difficult to miss. Hence, I would say it's more a case of unfortunate timing if you are there at the same time as they are rather than a hazard because common sense would tell you that you really shouldn't be going anywhere near the buildings if there are a load of paintballers on the loose in and around them anyway. As I see it, the only options are to wait until they leave or go away and come back another time.
Fortunately, there were no paintballers in the grounds of the sanatorium when we visited. In fact, there was nobody else there at all which surprised me a little given how well known and popular the place is. Not that we were complaining and we spent a wonderful couple of hours exploring every nook and cranny that we could access before eventually driving back down the mountainside towards Zagreb.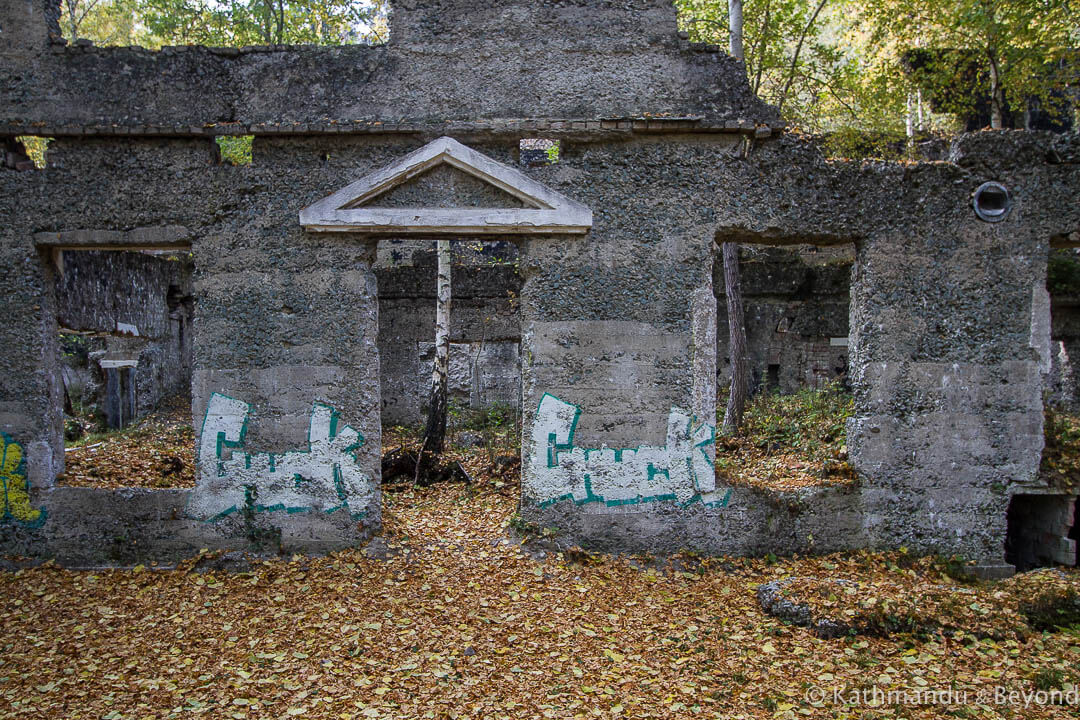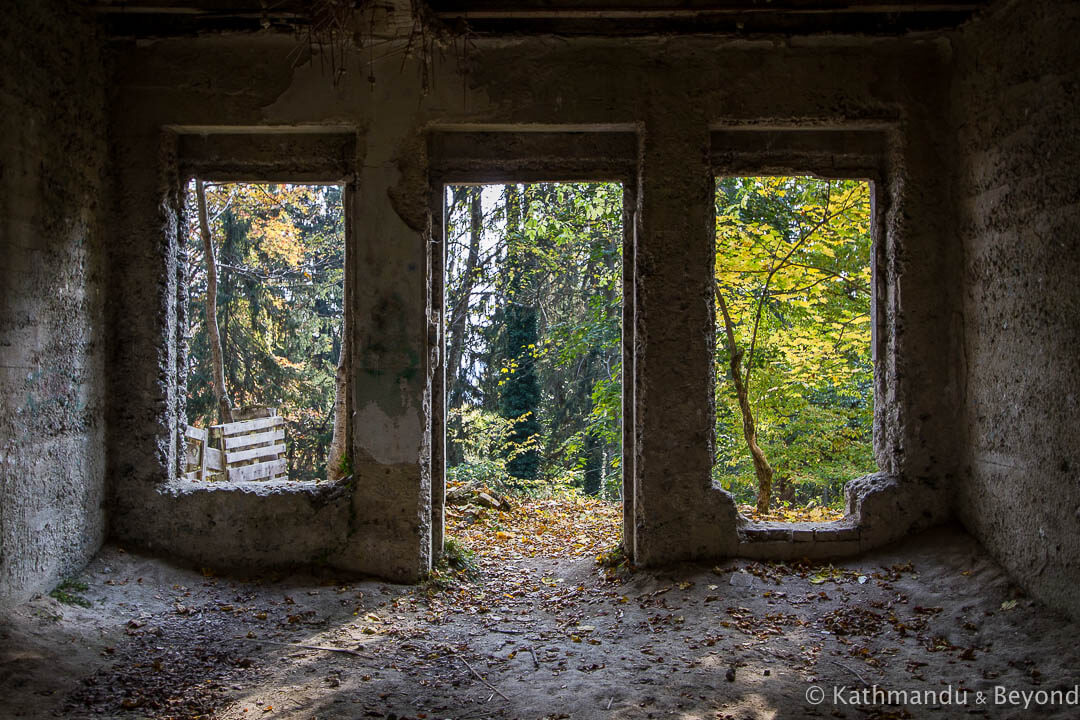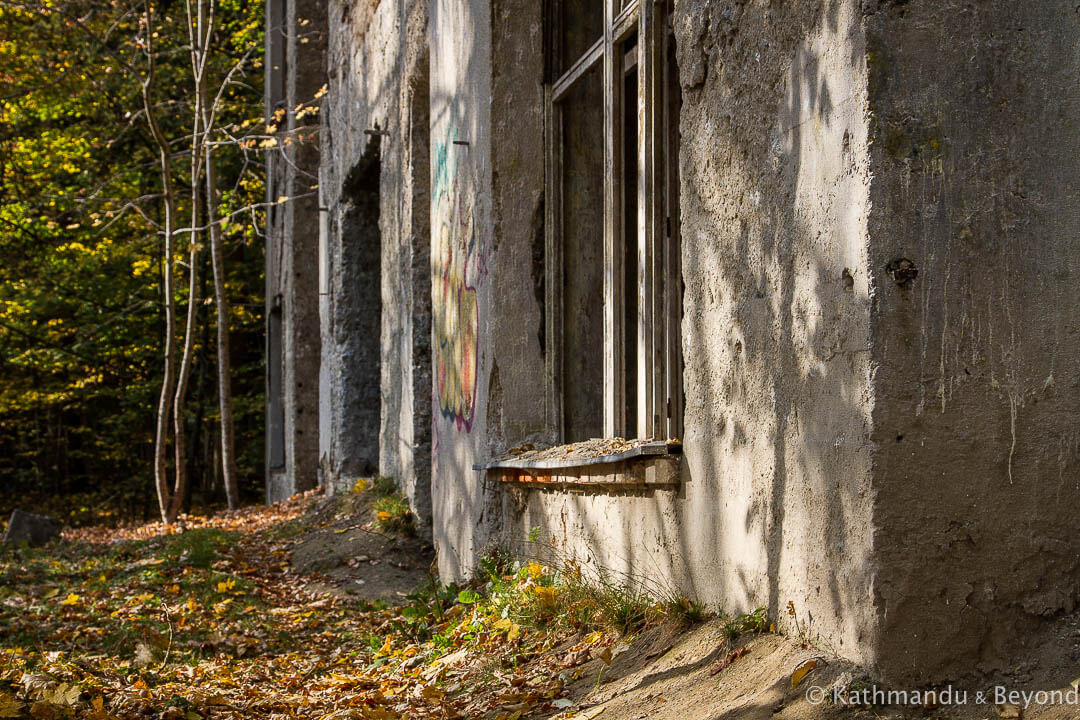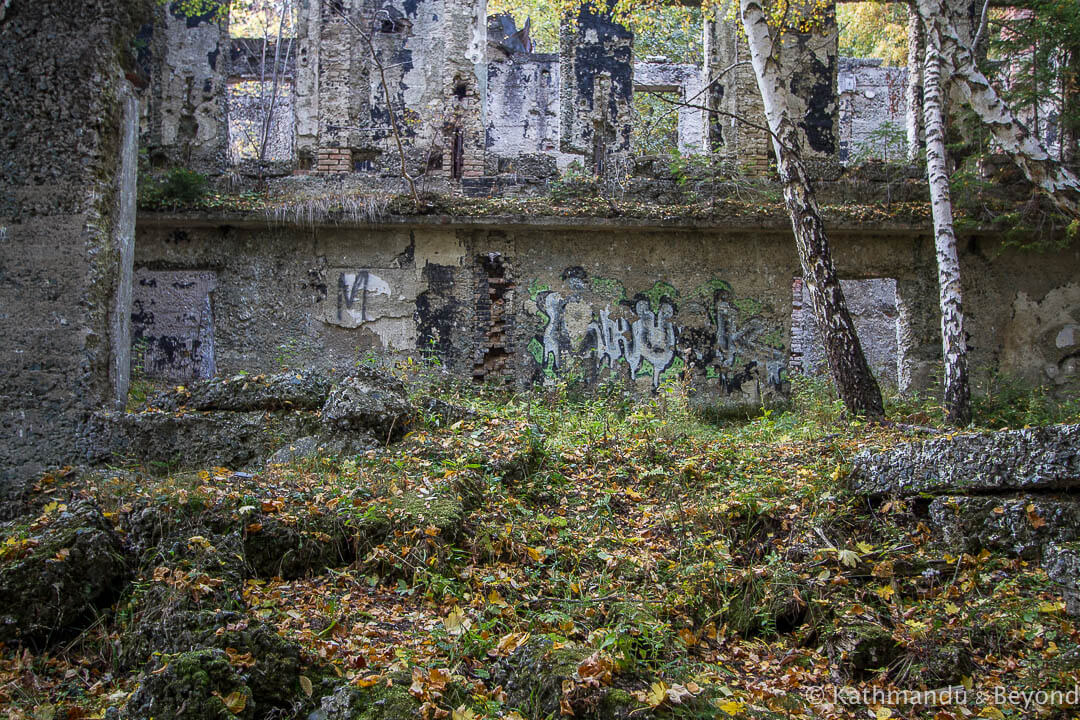 Brestovac Sanatorium
As with all abandoned structures, there are structural issues and other dangers to be wary of. The stairways in the main building, for example, are in very poor shape and there are gaping holes in the floors in many of the rooms on the upper floors. Most of the outlying structures are in even worse shape and are just empty shells. In fact, it makes me wonder to what extent paintballers would be allowed to roam within the buildings as there must be a certain degree of health and safety regulations that the organising companies have to adhere to?
Overall, we really enjoyed exploring Brestovac Sanatorium and especially because, as I mentioned in my opening paragraph, it was a glorious day and the autumn colours complimented the tumbledown structures perfectly.   
Getting to Brestovac Sanatorium from Zagreb
Brestovac Sanatorium is about 20km north of the city and driving there is part of the fun because the last section of the journey takes you up a series of switchbacks which are exhilarating to motor along. More so because the road is one way and you don't have to worry about the risk of oncoming traffic.
Brestovac Sanatorium is located down a short track off the main road. It is free to enter and parking can be made on a small verge nearby. The GPS coordinates are 45.891970, 15.952516.
With your own transport is by far the easiest way to get to Brestovac and Mt. Medvednica, although with a bit of perseverance and some footwork, it is possible to reach them both by public transport.
From Mihaljevac, at the foot of the mountain, you can take bus #140 to the top. The only problem is that Brestovac Sanatorium is not at the top and the bus doesn't make any stops along the hairpin road on the way up.
What you can do, is get off at either Šumarske jaslice or Tomislavov dom stops (the stops at the top for Medvednica Sljeme) and walk back down to Brestovac. Along the road, the distance is approximately two to three kilometres but, with a map and GPS assistance, you may be able to find a short cut. Don't risk getting lost in the woods though! Unfortunately, you'll have to walk back up to catch the bus down the other side of the mountain back to Zagreb. Bus #140 only runs eight times daily so make sure you check the schedules here or download them here.
How you get to Mihaljevac, to pick up the #140, will depend on where you're staying in Zagreb. Use either Google maps or EasyWay to help work out the best route depending on your start point.
For example, from Jelačić Square you can take tram #14 but numbers 8 and 15 will also get you there.
Visit Zagreb's website has more detailed information about visiting Mount Medvednica including more transport options and information about hiking trails.
A final way to visit Brestovac Sanitorium would be to join a tour and there are some Zagreb-based tour companies that offer non-paintball-related excursions to Mt. Medvednica which include Brestovac Sanatorium.
There are other things to see and do on Mt. Medvednica besides Brestovac Sanatorium and it's worth giving over at least half a day if you are going to visit the area. This would allow you to include the medieval fortress of Medvedgrad, for example, as well as Veternica Cave. There are also plenty of well-marked hiking trails and scenic spots to discover.
Finally, there is another abandoned location near the Bliznec entry point in the form of a dilapidated estate called Villa Rebar. It used to belong to the fascist Croatian dictator, Ante Pavelić (1889-1959) and, although there isn't much left, it is still worth visiting if you are in the area and/or enjoy a spot of urbexing. The villa also has an interesting history, which we talk about in our Alternative things to do in Zagreb post. 
---
---
DO YOU ENJOY EXPLORING ABANDONED PLACES? ARE YOU PLANNING A TRIP TO THE BALKANS? PIN THIS POST FOR LATER…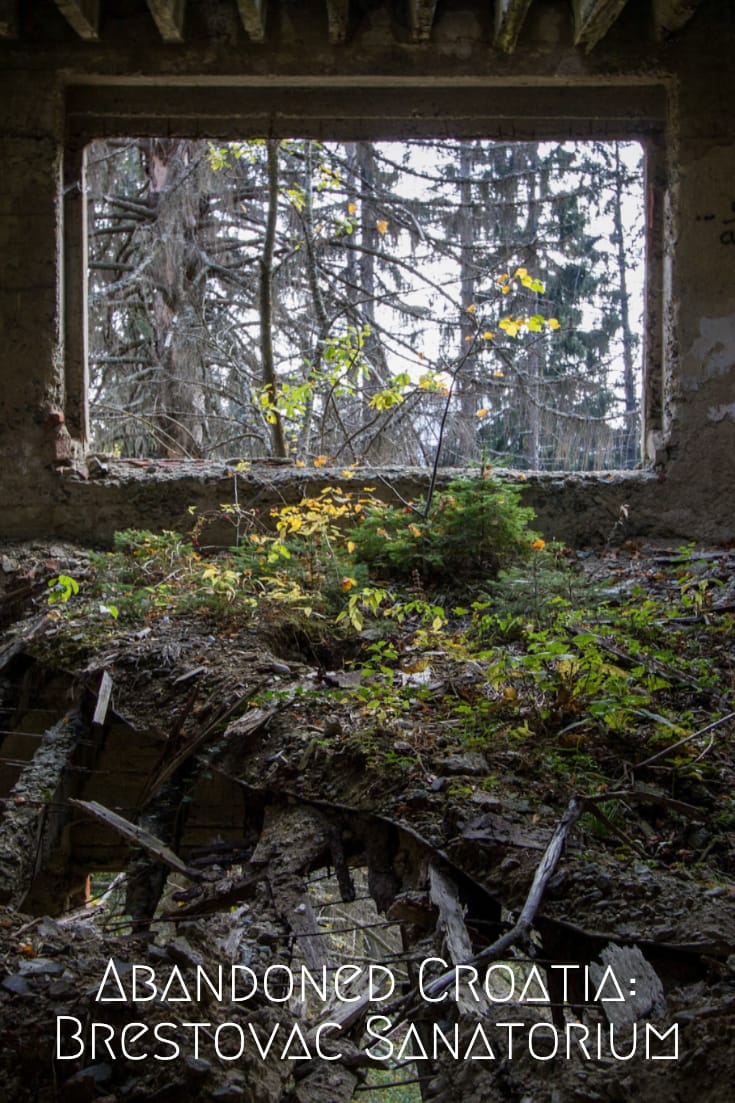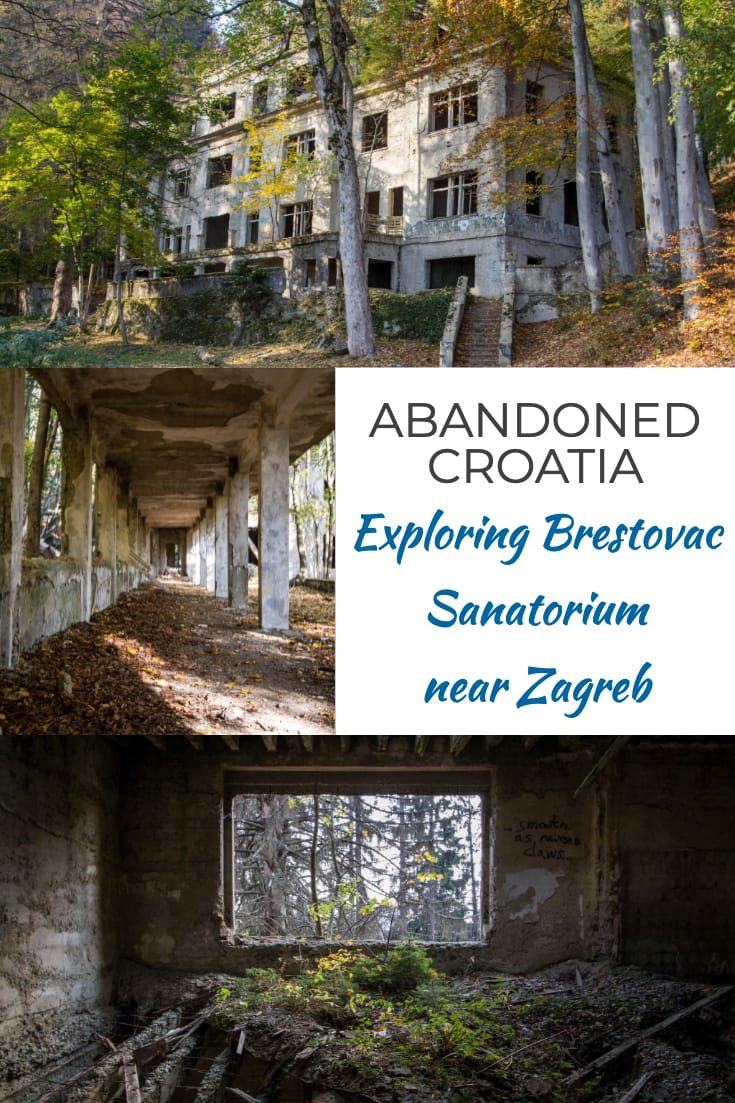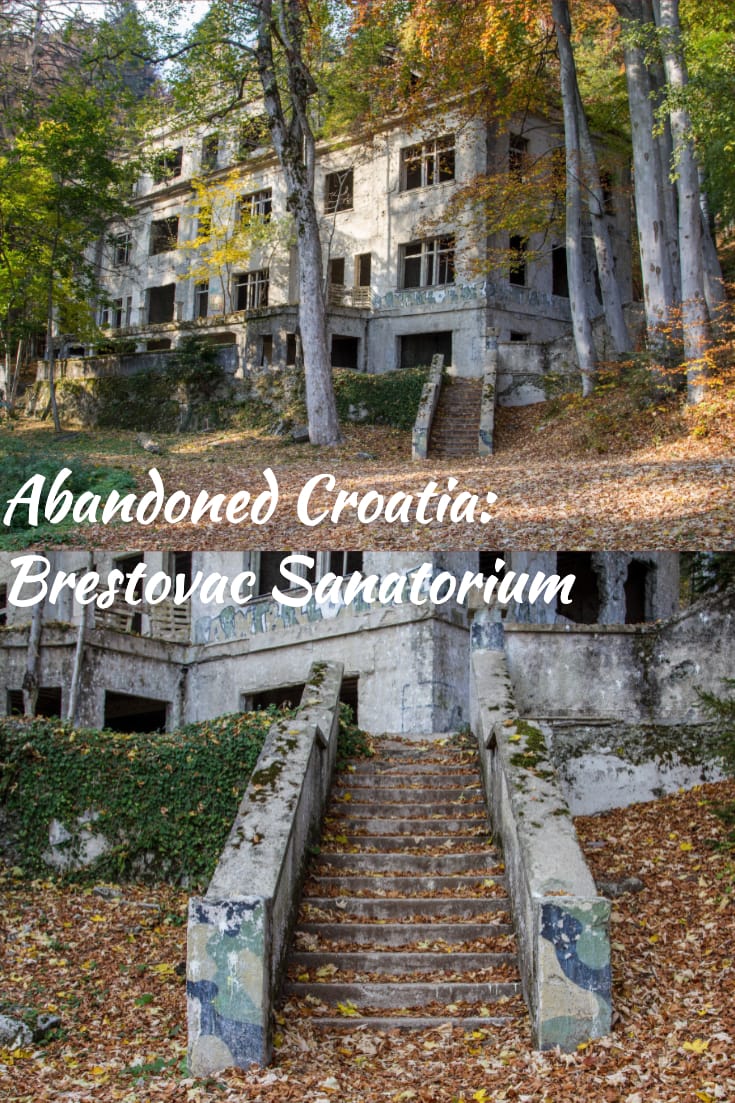 ---
---