The Old Liu Family Mansion (劉家古宅民雄鬼屋), commonly known as Minxiong Ghost House, is one of the most famous haunted locations in Taiwan. It is situated in the countryside near Chiayi, a provisional city in the southwest of the country. Built with three storeys, it would have once been a wonderful place to live but, at some point in the 1950s, the Lui family upped sticks and left the property for good.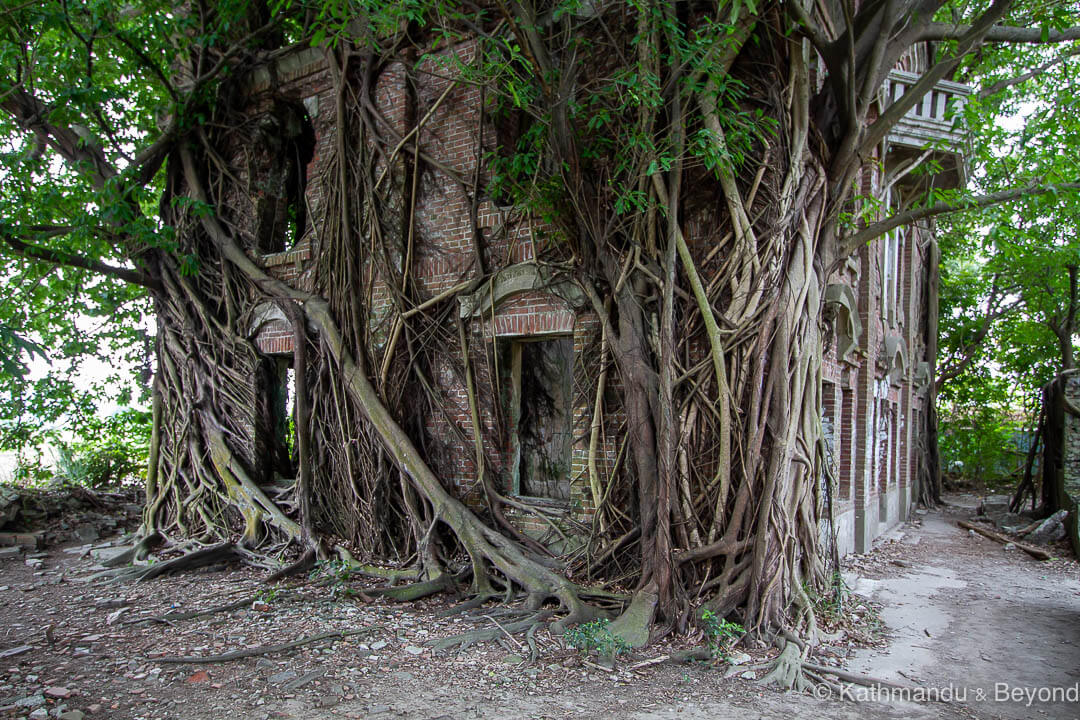 Old Liu Family Mansion, Minxiong
There are various theories as to why they shunned their once-lovely home and most of them are associated with ghosts. The most popular tale involves a maid and her affair with the master of the house, Liu Rong-yu, an affluent merchant and landowner. Shamed by the discovery of the liaison, the maid is said to have committed suicide by throwing herself down the well (*). Her spirit came back to haunt the Lui family on a nightly basis. Eventually, they couldn't take it anymore and deserted their ancestral home, leaving it to the mercy of wandering souls, nature, and the occasional curious (living) visitor.
(*) Some say the wife discovered the affair and made the servant's life such a misery that eventually she'd had enough and that's why she flung herself down the well.
Another popular narrative involves the Imperial Japanese Army. The story goes that some Japanese soldiers were billeted at the mansion during the Second World War. One misty, moonlit night, a solitary soldier on guard saw a moving figure near the perimeter of the grounds and opened fire. Naturally, this woke the rest of the troops and they also started shooting into the night. By the time morning arrived, all the soldiers were dead, having inexplicably massacred each other.
There is also an account about some Taiwanese soldiers, who all got sick and died after spending time in the house. In reality, though, it's most probable that the Liu family simply relocated for reasons known only to themselves (business, schooling etc.) but it is odd, given their reported wealth, that they allowed this once-glorious home to fall into such a state of disrepair.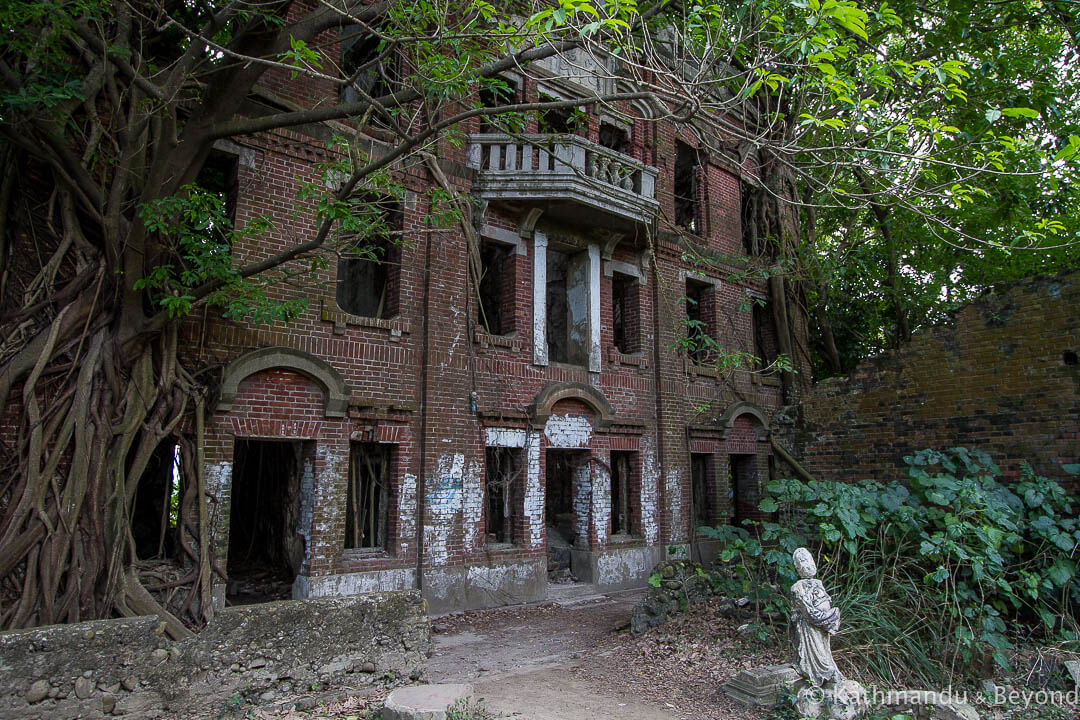 Old Liu Family Mansion, Minxiong


Old Liu Family Mansion, Minxiong
We're not superstitious but evidently, the Taiwanese are. The mansion is quite popular and after we had finished exploring and photographing the area, we sat on a wall and observed a Taiwanese family who turned up shortly after us. They were very nervous and approached the main building with caution. We got speaking to them and they asked us if we had been inside. We had, which drew looks of horror from all of them and there was nothing we could say or do to convince them to do the same!
As for the mansion itself, it was built in 1929 and is classic baroque style. Much of the redbrick structure has been taken over by nature and the atmospheric, twisted vines that have engulfed much of its exterior made us think of Ta Prohm and other Angkorian ruins we have seen in Cambodia.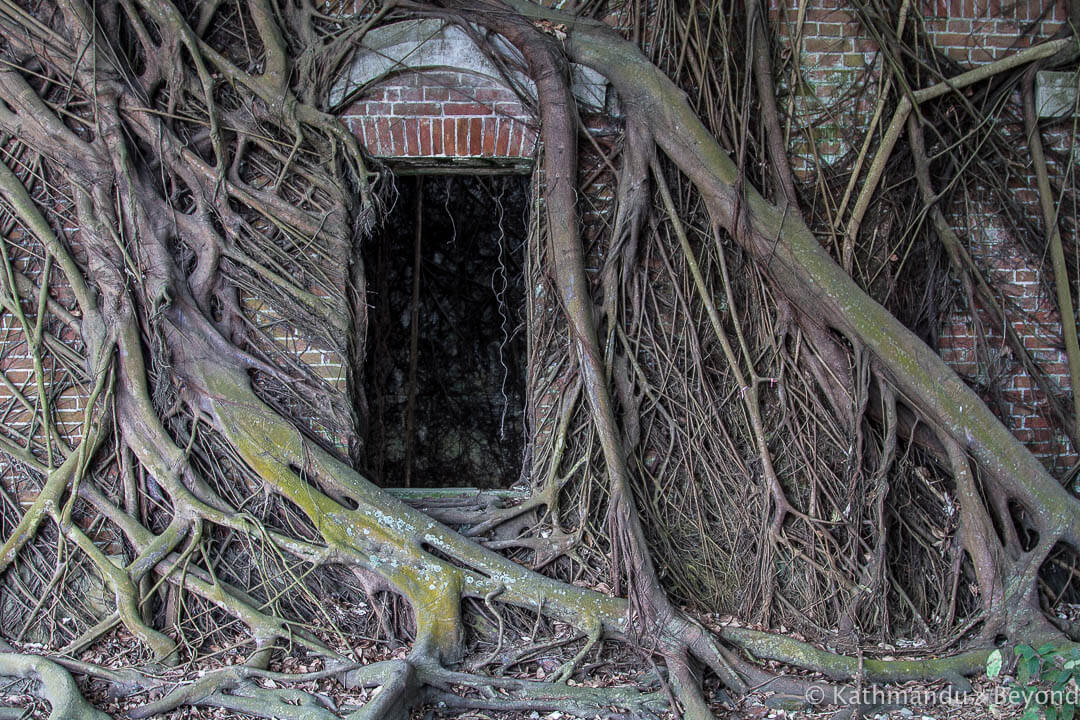 Old Liu Family Mansion, Minxiong


Old Liu Family Mansion, Minxiong
The position of the mansion is also of interest. Apart from to the south, it is surrounded by flat, agricultural land but, if you step back to admire the structure from a distance you won't see anything except a small section of the boundary wall. The property is completely enclosed by a patch of dense forest and it's not until you get really close that you begin to recognise anything that resembles a house.
Although the land is private property, the current owners don't seem to mind people visiting. Indeed, there is an entrance of sorts guarded by a kitschy robot made of tin plus, there's even a ghost-themed cafe next door should you be in need of some spooky refreshment!
And a final word of caution. If you do visit the Old Liu Family Mansion at Minxiong, don't get too close to the well in which the maid met her demise because, according to myth, you will end up being plagued with bad luck and misfortune, or worse, for the rest of your born days … muahaha!


Old Liu Family Mansion, Minxiong
How to get to the Old Liu Family Mansion at Chiayi
The mansion is 8km north of the centre of Chiayi. There is a train station at Minxiong, which is 3.5km north of the mansion but there are no trains going to/from Chiayi so it is of little use. Tourist Information Centres in Taiwan are excellent and reliable with their information and at the one in Chiayi, we were told the only way to reach the mansion if we didn't have our own transport was to hire a taxi or rent a bicycle. We opted for the latter and were directed to a bike shop called Giant Cycling (捷安特 嘉義店) (GPS: 23.4831588,120.4457725), which was about 700m northeast of the railway station.
We paid NT$200 (US$7.00, GBP4.70, €5.50) per bike, which is more than we usually pay for bike rental in Asia but we did get excellent mountains bikes for this price, which made a pleasant change from the crappy old pushbikes we normally have to use. Remember to take your passport as they will keep this as a deposit.
We didn't see anywhere else renting bicycles in Chiayi but there were loads of those free bikes that you see in so many cities these days. If you can figure out how the system works (we never can) then they would be a good option as well.
I also reckon you could rent a scooter in Chiayi. There were quite a few places near the railway station that looked like they rented them out but we didn't look into this as we don't ride scooters unless we really have no other option.
The journey there and back by bicycle was not a pleasant one as most of it was along a busy main highway but at least there were bike lanes so it wasn't dangerous.
The exact coordinates for the mansion are 23.53035, 120.42638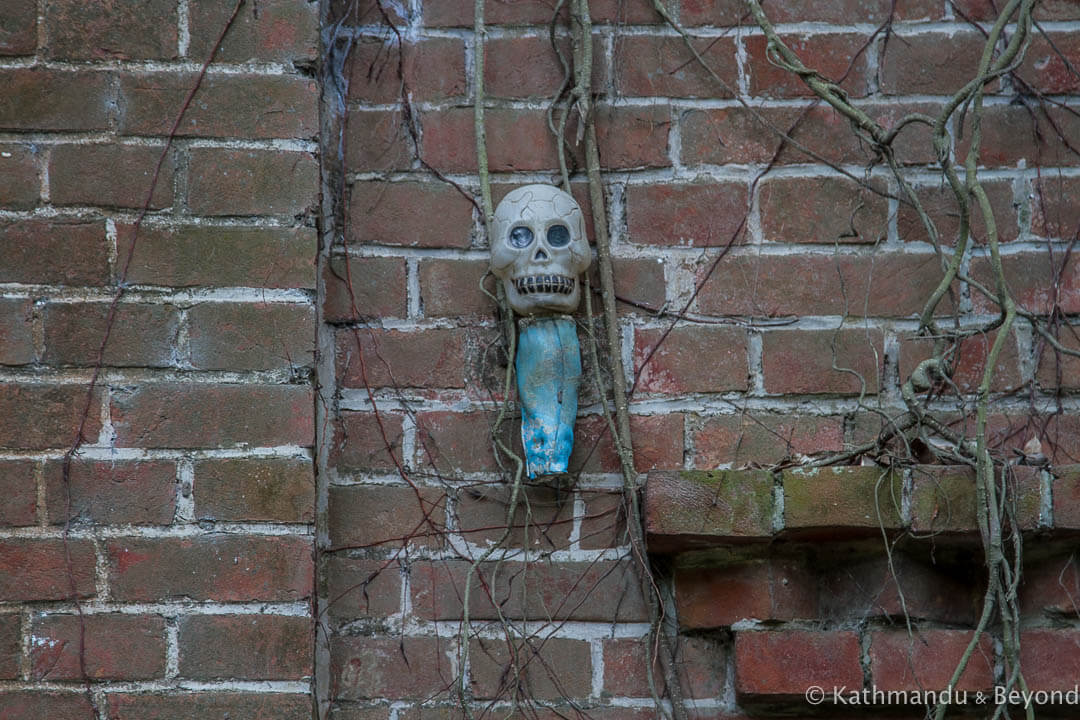 Old Liu Family Mansion, Minxiong
---
HAS THIS POST INSPIRED YOU TO DISCOVER MORE OF TAIWAN'S ABANDONED SIGHTS?
PIN THIS POST…




---
---