Finding street art and graffiti at an abandoned building in southern Thailand
We could have been relaxing on the beach with a book or paddling in the waves, but instead we went looking for abandoned buildings and street art.
Known as Thailand's royal resort, Hua Hin lies about three hours south of Bangkok and is a popular seaside getaway from the capital. Many travellers give Hua Hin a bad rap; mainly because it doesn't tick all the boxes alluded to by the phrase 'ultimate Thai island experience'. It's true you won't find fire jugglers on Hua Hin's beaches nor does the resort have any of those chilled out beanbags-in-the-sand bars that pump out music into the early hours of the morning. But that's OK because we're getting a little old to want that kind of thing all the time. But what Hua Hin does have is a wide beach with fine white sand and water deep enough to swim in without wading miles from the shore. It's a city beach which means prices are lower than on the islands, the food is good and shops and other amenities are readily accessible. Hua Hin is also easy to get to. It serves a purpose and serves it well.
Back to the street art. It's been a couple of years since we last visited Hua Hin and since that time we noticed many quirky little pieces of art and graffiti have appeared, scattered around the town: nothing outstanding, but enough to add some playful colour to walls, lampposts and other available spaces. Then we heard about an abandoned factory just outside the city. After a little research, we learnt an officially-sanctioned street art event took place there in 2014, attracting internal artists. it wasn't clear whether street art had continued to happen there since so we decided to take a look for ourselves. The site was easy to find (more details below) and access isn't restricted making this far from the heart-in-your-mouth style of urbexing usually attached to that pursuit. What's left of the building is rather overgrown and the biggest hazard we encountered was the mosquitoes – we must still be in Europe mode as dousing ourselves in insect repellent didn't occur to us!
Several good pieces of street art from the 2014 event remain in good condition, and there is also more recent graffiti, some of it imaginative enough to be classed as street art. Sadly it looked like some less impressive graffiti now covers more skilful artistry.
Only the shell of the factory stands and street art covers both the internal and external walls. The further into the building you venture, the more overgrown it becomes and some pieces are obscured by long grass and bushes. It looks like we'll have to start carrying machetes and secateurs in future!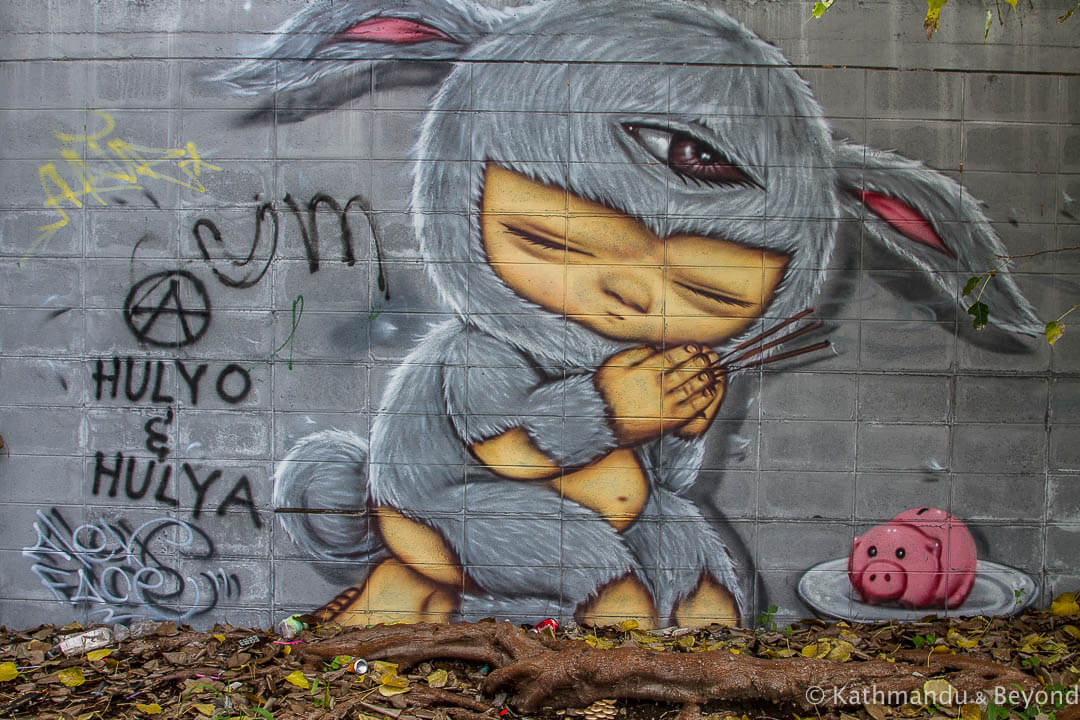 I adore this cute three-eyed bunny, whose name, I since discovered, is Mardi. She is the work of Thai artist Alex Face, my new favourite street artist!
This is another of my favourites…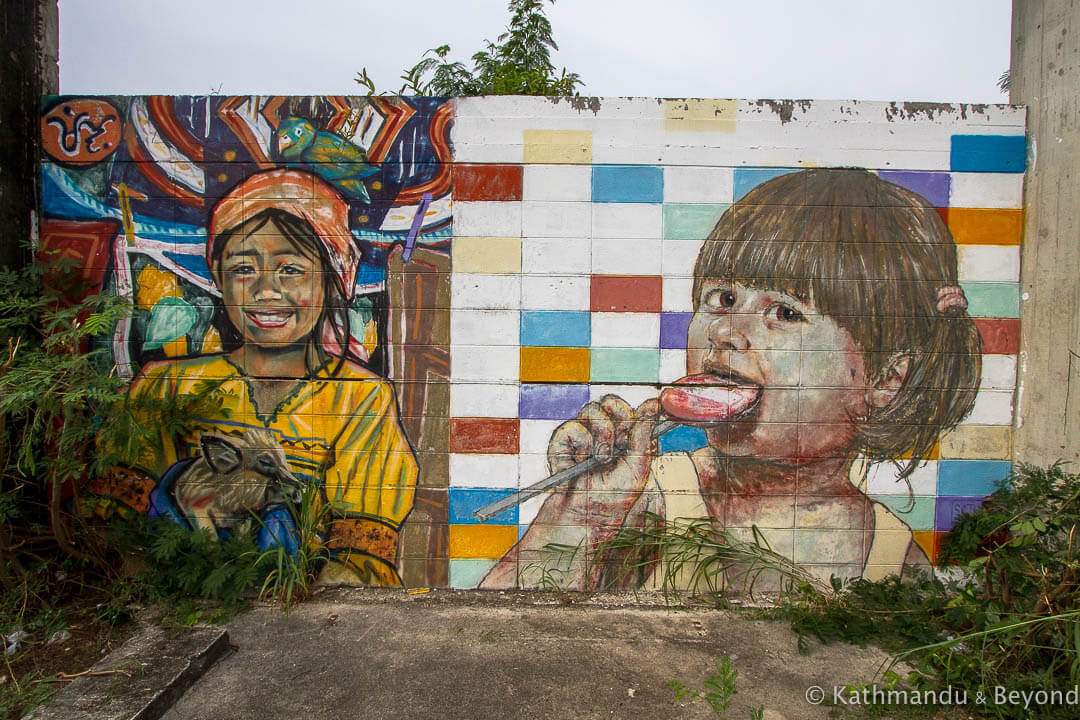 This is what the abandoned factory looks like…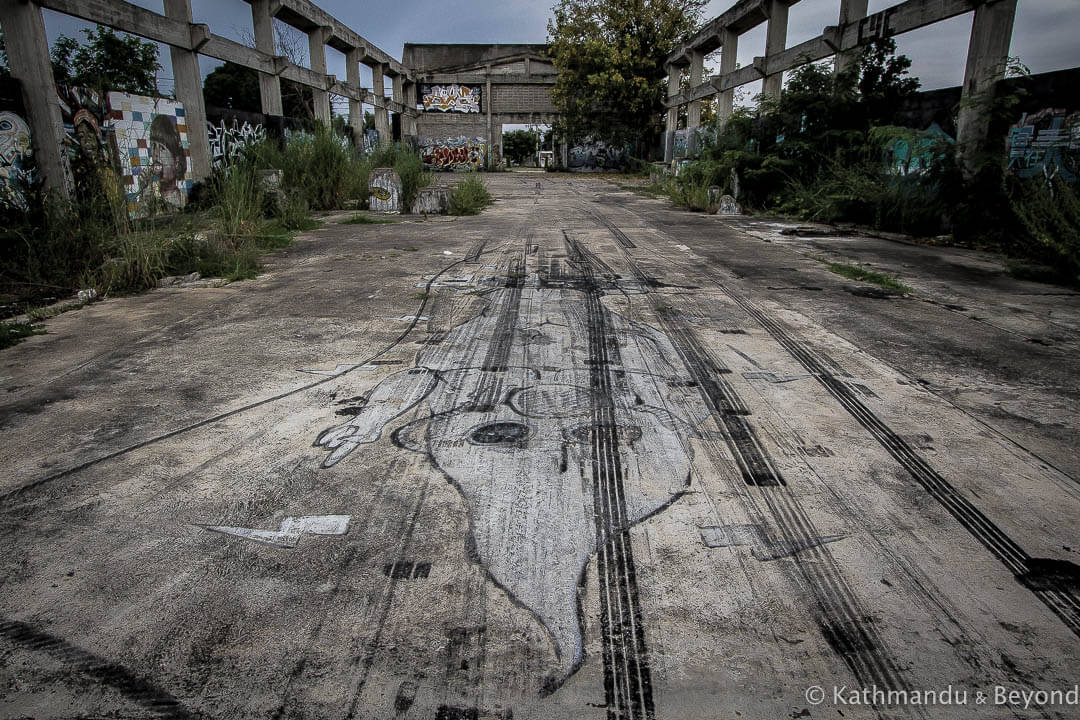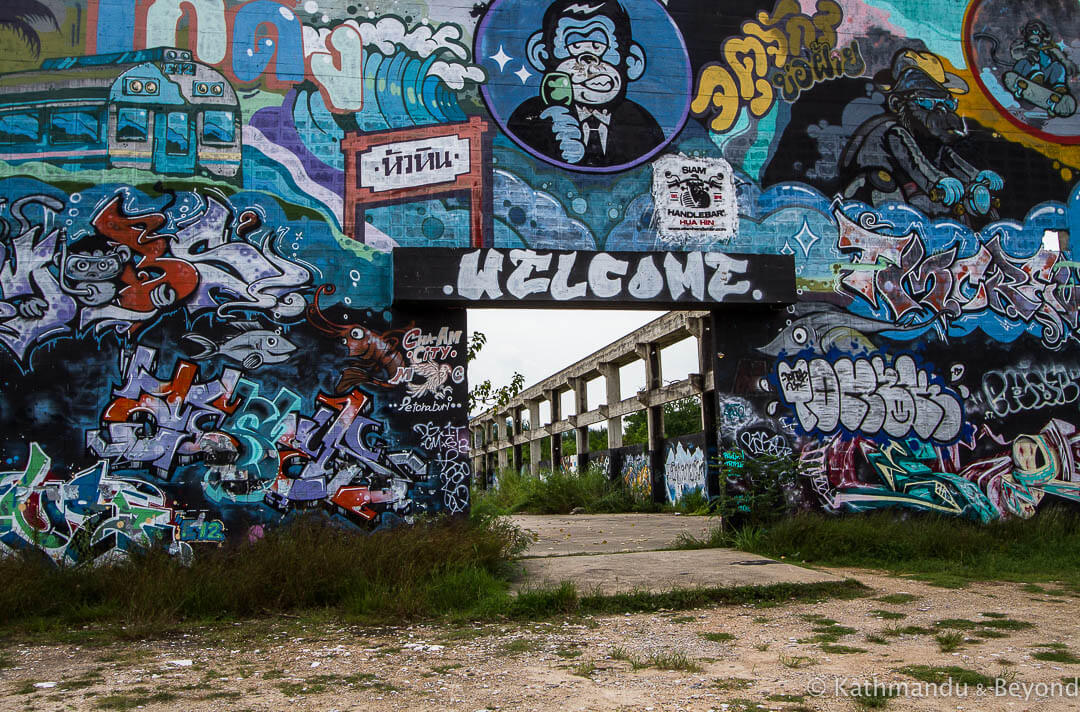 Of course, no building in Thailand, abandoned or not, is complete without a spirit house…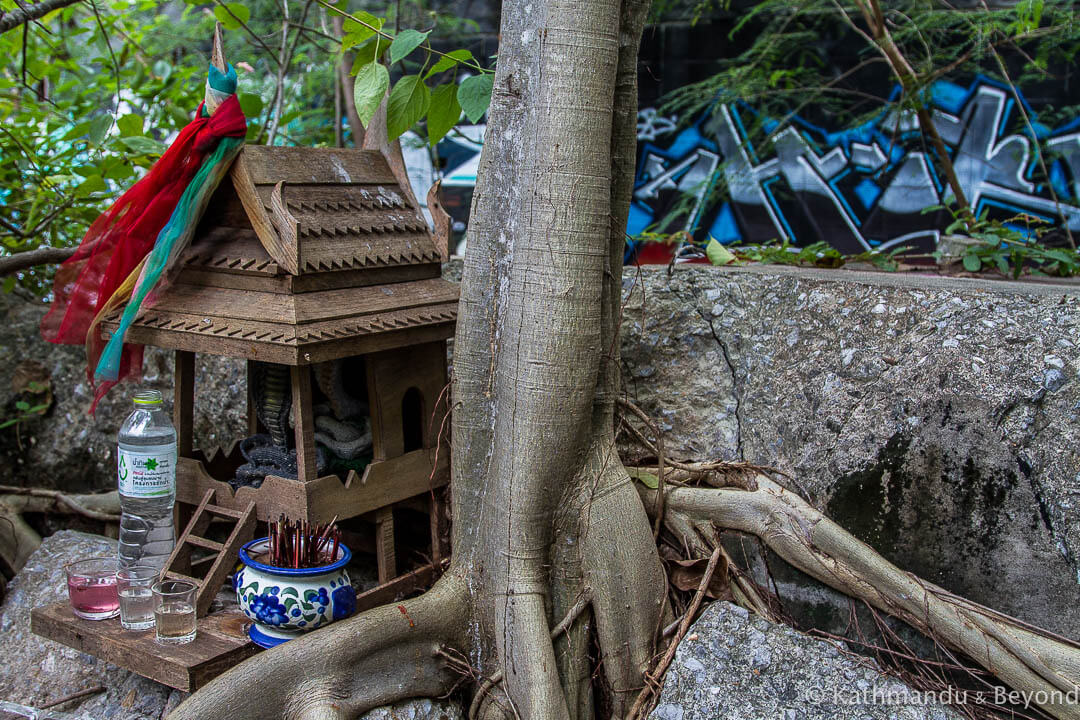 Street art on the exterior of the abandoned factory is quite overgrown…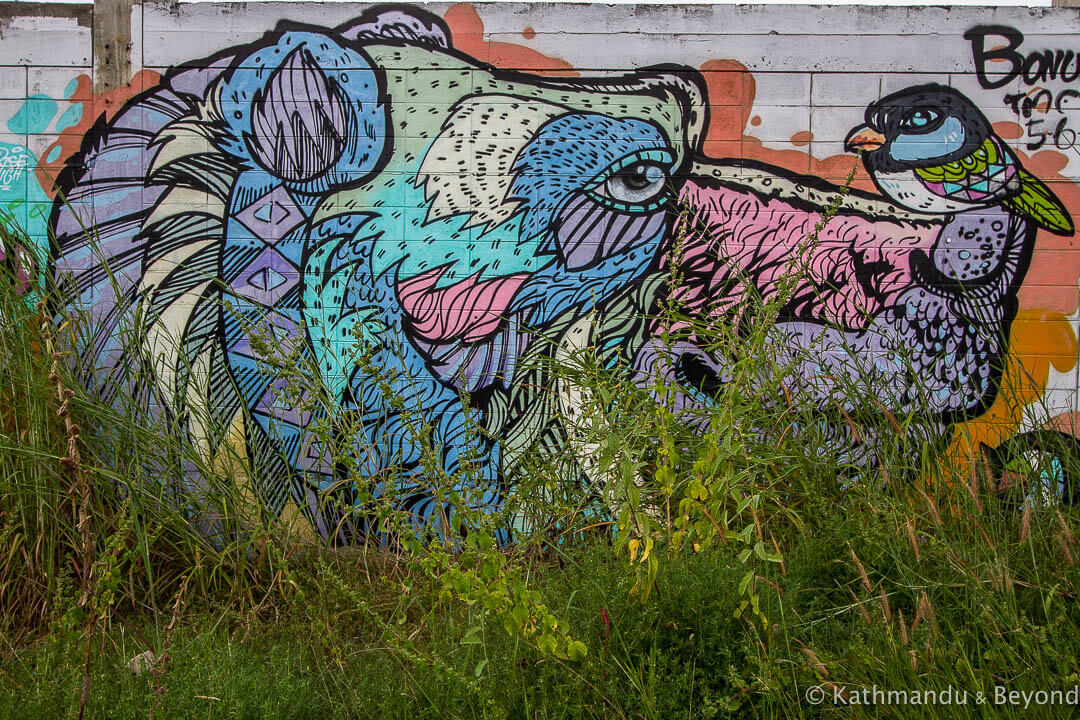 Street art in an abandoned factory in Hua Hin
And the best of the rest of the Hua Hin street art…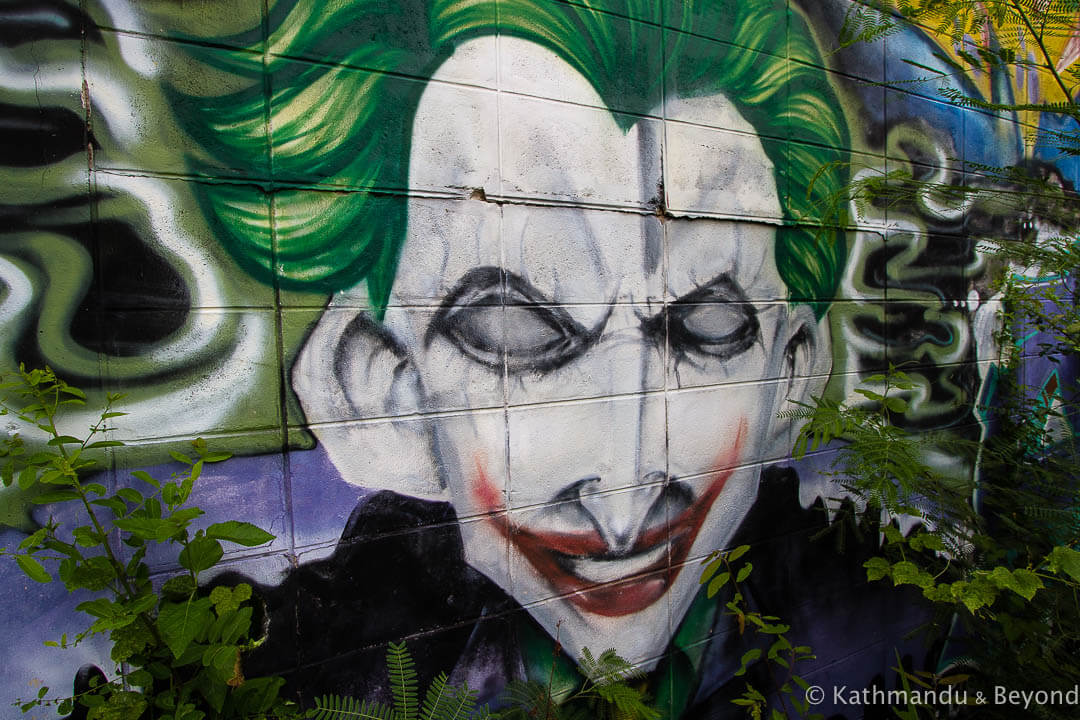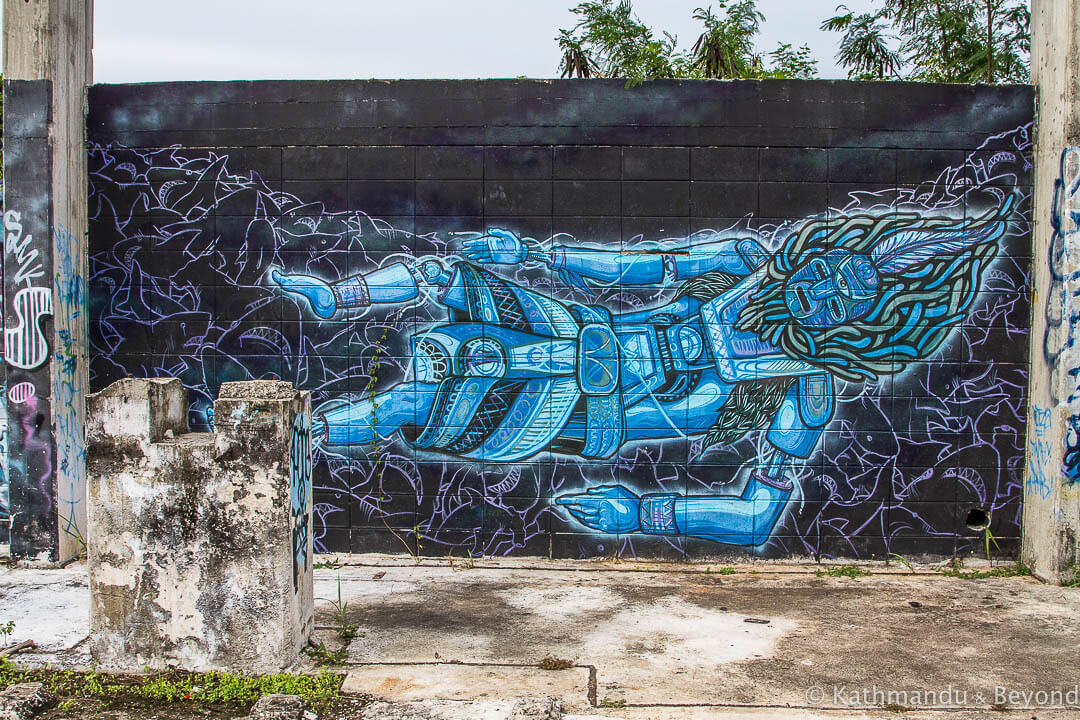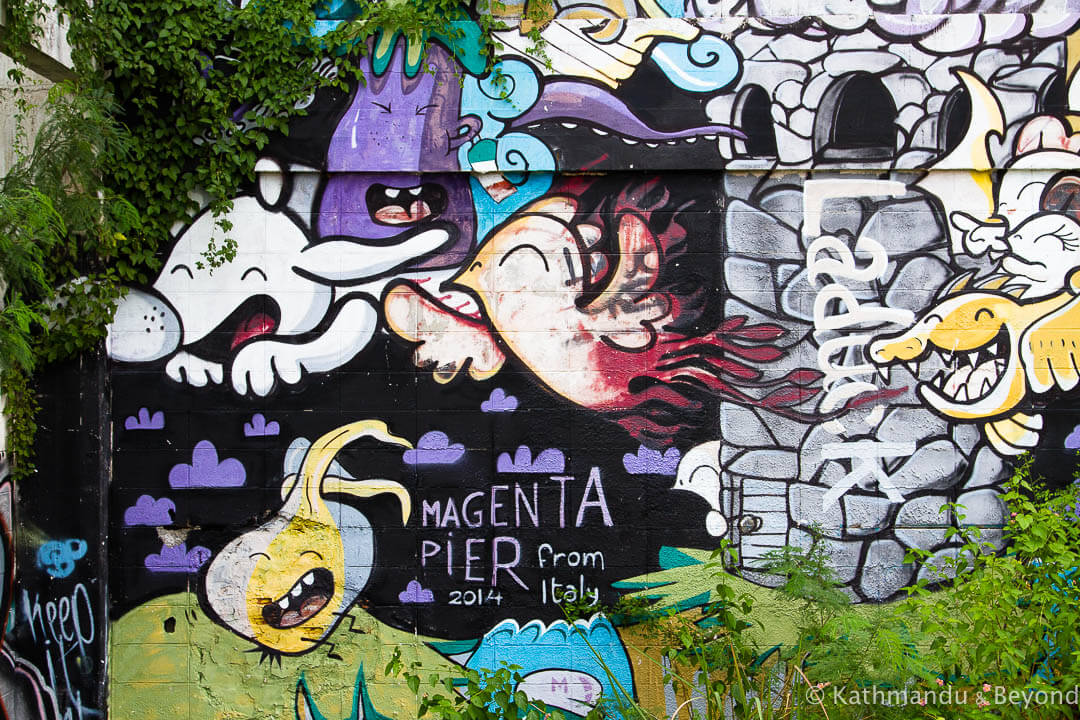 Street art in an abandoned factory in Hua Hin
How to get to Hua Hin's abandoned factory street art
GPS coordinates: 12.632453, 99.948558
The site is approximately 6 kilometres north of Hua Hin, just by the side of the main road to Cha-Am and next door to a biker-themed cafe-bar, Siam Handlebar.
If you're driving from Bangkok or Cha-Am, you'll pass it on your right, opposite the airport.
We took a Phetchaburi-bound local bus from the north-side of Hua Hin town. Rickety orange-red buses start from an unmarked bus stop at these GPS coordinates: 12°34′26.37″N 99°57′18.3″E. The fare was 20 baht (45p/60 cents) per person, which to us seemed high for a local bus (the woman at the tourist board had told us the fare to Cha-am would be 20-30 baht so we assumed we paid the correct ticket price). We couldn't determine if there was a schedule but we had to wait around 20 minutes for the bus to depart.
Returning to Hua Hin, we crossed the road from the abandoned building and stood with a couple of local guys who looked like they were waiting for a bus. Soon, a minivan (the kind that makes the run to Bangkok and other long-distance places) pulled up. Not knowing how long it would be before a local bus showed up we jumped in. The fare cost 30 baht (we assume more comfort, faster speed and air conditioning contributed to the increased fare!)
---
---
DID YOU ENJOY THIS POST? WHY NOT PIN IT TO YOUR STREET ART BOARD?


---
---