04 to 06 May 2013
Last weekend, we escaped a hot and sweaty Yangon and headed for the Myanmar coastal resort of Ngwe Saung on an office holiday! We'd only been at work for two days (it should have been three but our start date of 1st May was a public holiday here!) and the entire office was on a jolly. I was looking forward to it as it was one place that was still on my Burma travels wish list, having not had time to squeeze it in last time we were here. So very early on Saturday morning, our alarm went off and we were picked up shortly thereafter. It was 4.30am! Everyone assembled and at 5 o'clock we departed. After the initial chatter of excitement, it went quiet as one by one most people nodded off. We stopped mid-morning in the Delta town of Pathein to explore the market and visit a nearby workshop that specialised in making traditional paper umbrellas – big ones, not the ones that decorate cocktail glasses!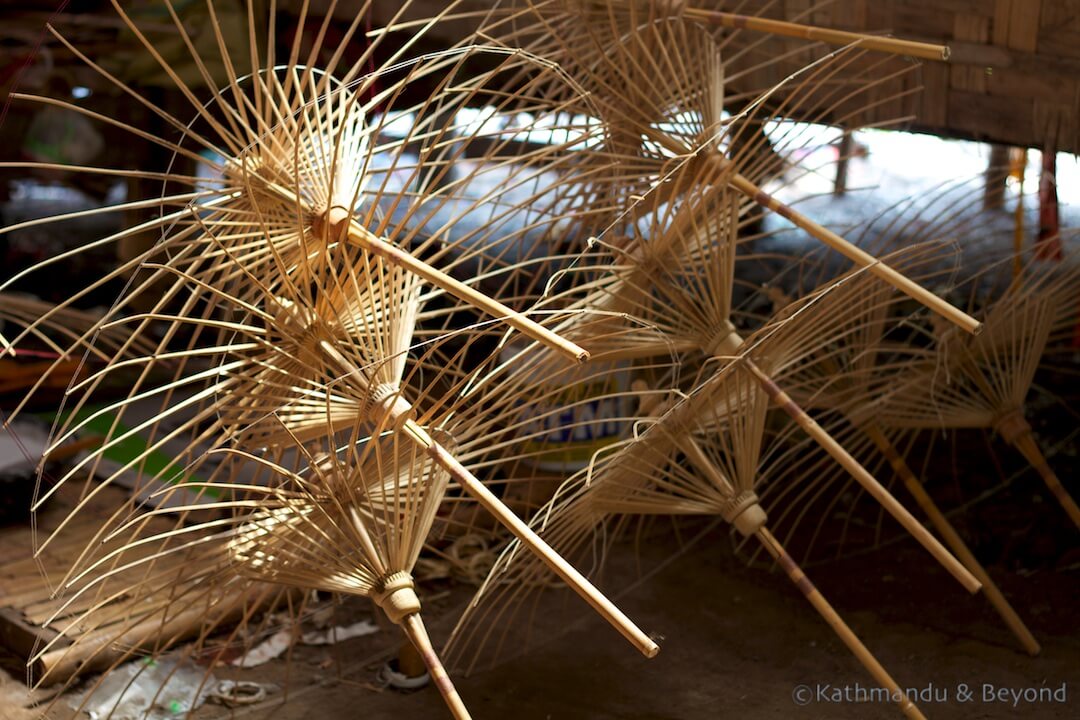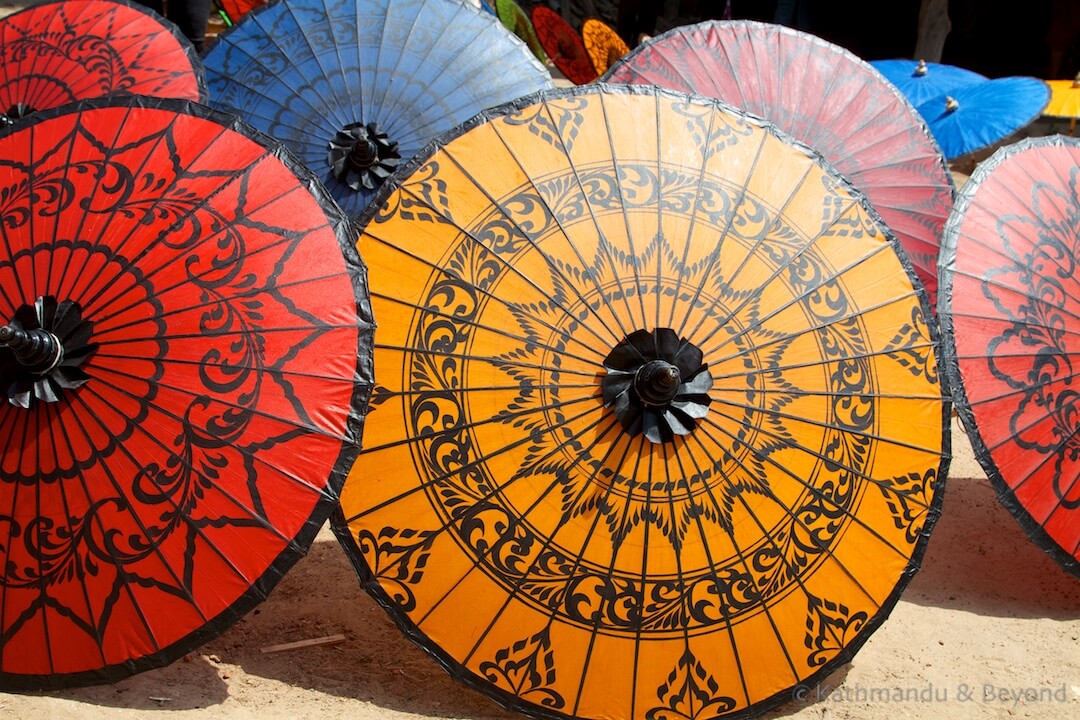 ShweSar Umbrella Workshop in Pathein … before and after
I love wandering around markets, trying to figure out what the local produce is and the one in Pathein didn't disappoint. As with most places in the country, the people were friendly and wanted to interact – smiling (mostly) for the camera and trying to sell their wares. I just didn't need any dried fish that day!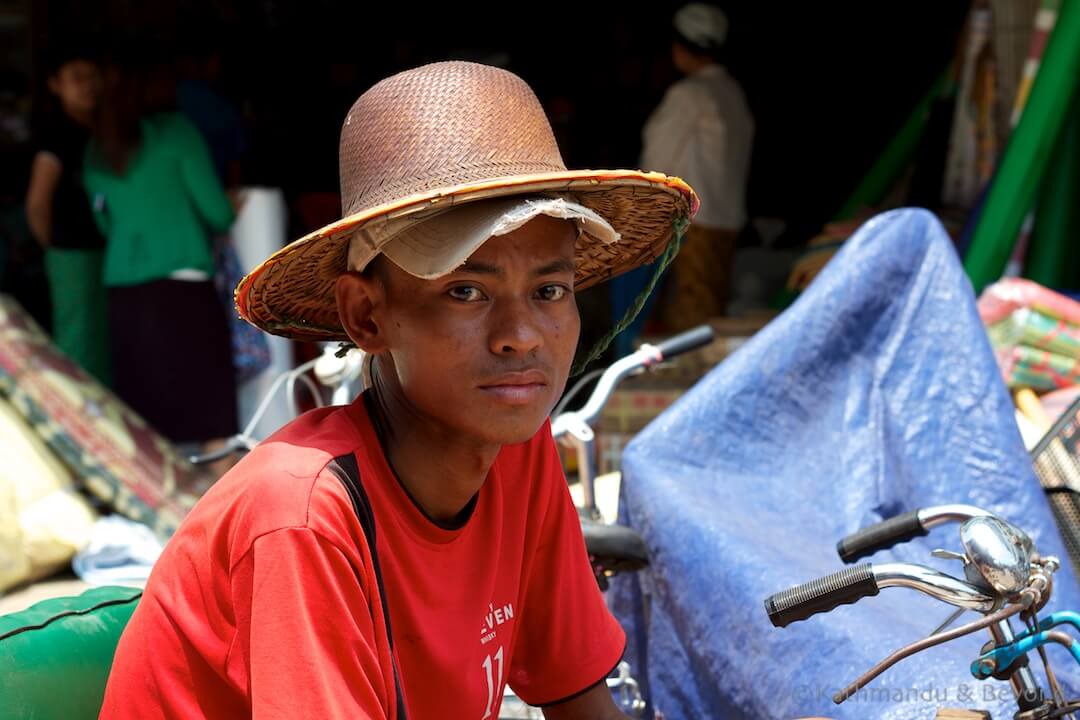 Pathein Market
We arrived at the coast in time for lunch at a local restaurant – tasty food with plenty of new colleagues to help decipher the menu. It was a fun weekend with games on the beach, lots of food, hotel inspections (yes, it's been a while!) and plenty of time to frolic in the waves.
With the exception of a few, no-one from the office had seen the sea before so there was lots of excitement and a little trepidation. The beach was wide, almost deserted and very long. It was also clean, arguably much cleaner than many Thai beaches are these days. The sea was bath-water warm with decent breaking waves so whilst the men attempted body-surfing, most of the girls jumped about in the shallows. The current was quite strong and most Asians can't swim so I felt a bit like I was on lifeguard duty!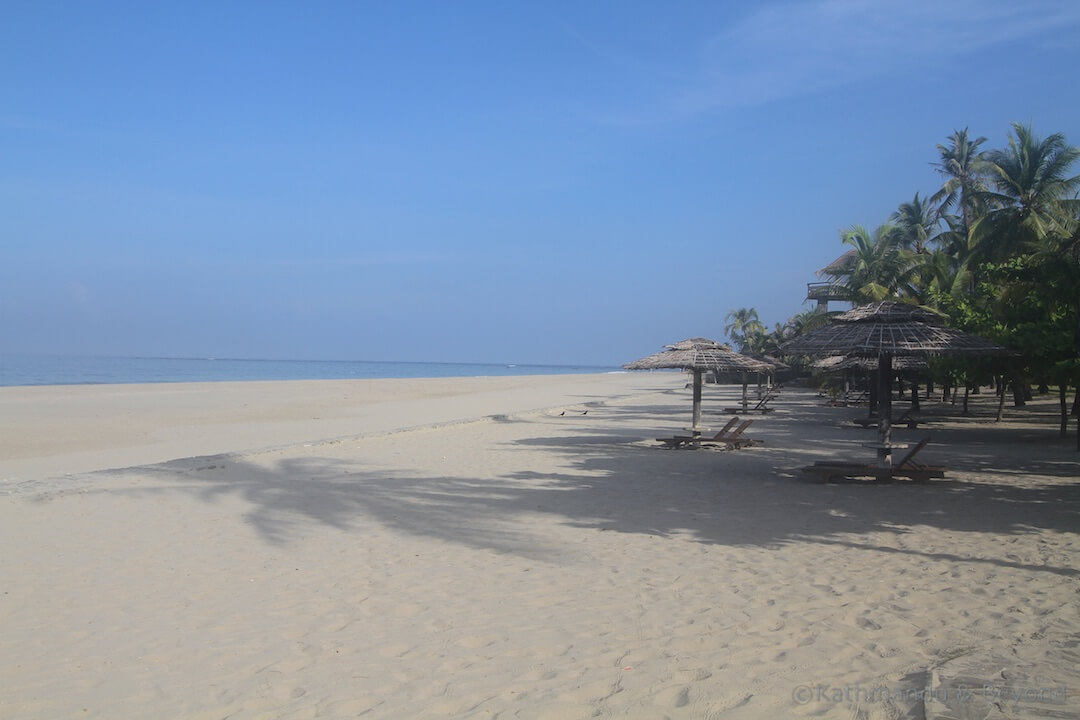 Ngwe Saung Beach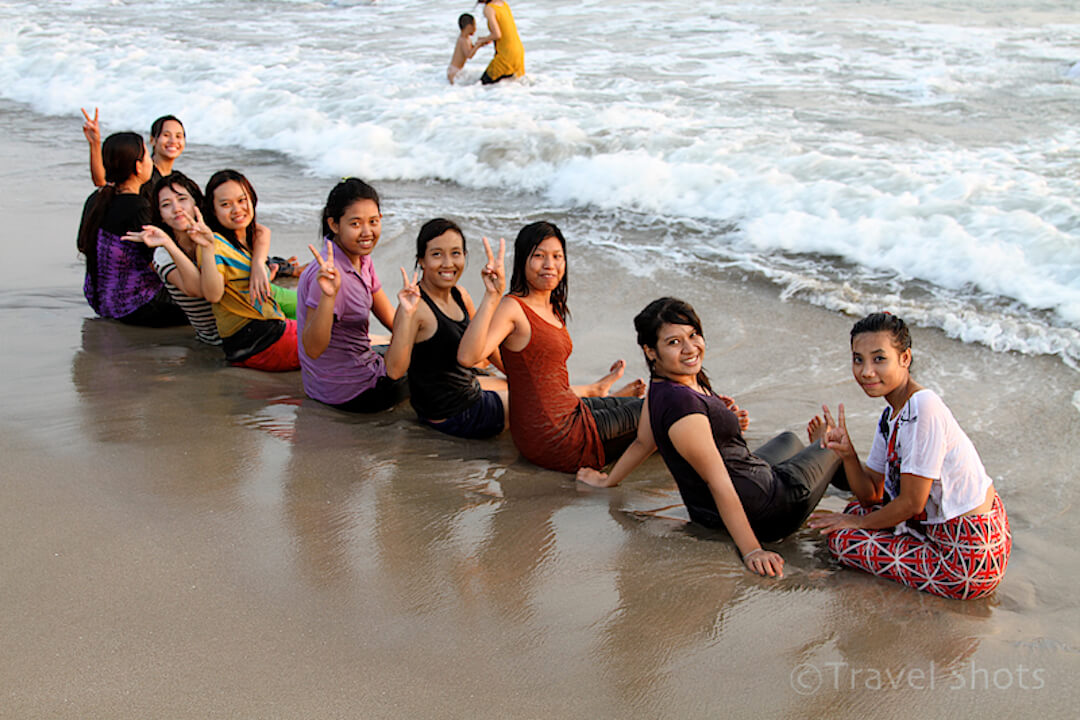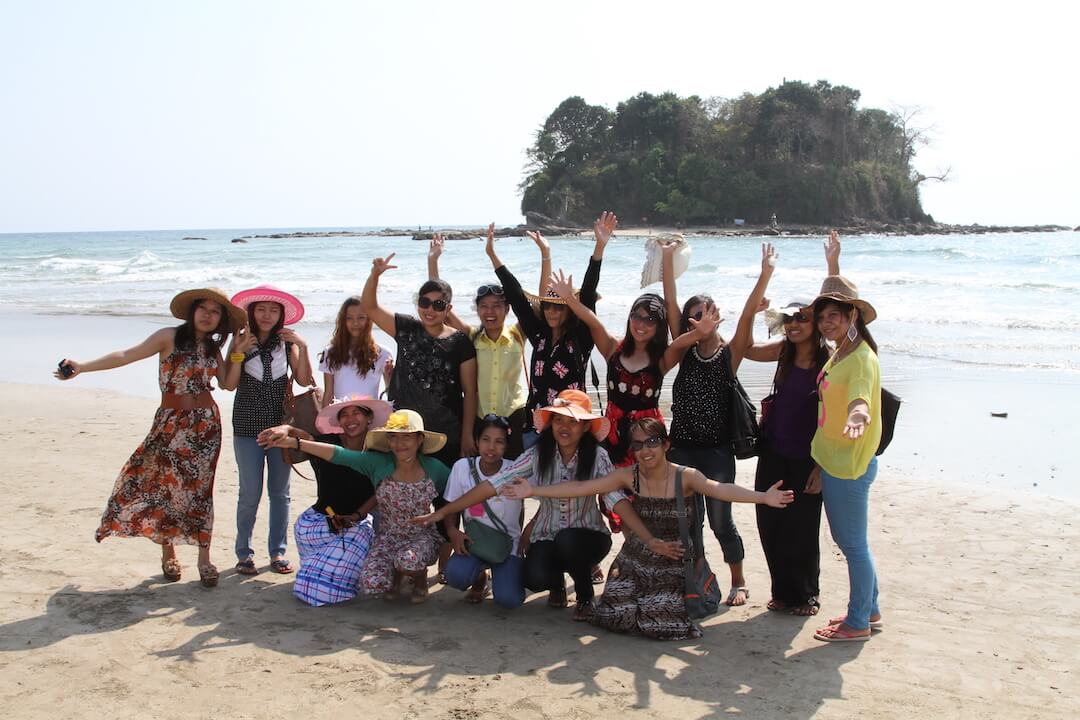 The girls from the office enjoying Ngwe Saung Beach
One of the definite perks of being back at work is the opportunity to experience nice hotels again and our beachfront room with a large balcony overlooking the beach directly below was definitely appreciated, particularly on Monday morning which was my birthday. We never plan our travels around special occasions and I've woken up in some right dumps but this wasn't one of them. Also appreciated was the lobby rendition of Happy Birthday along with gifts and flowers from my new colleagues.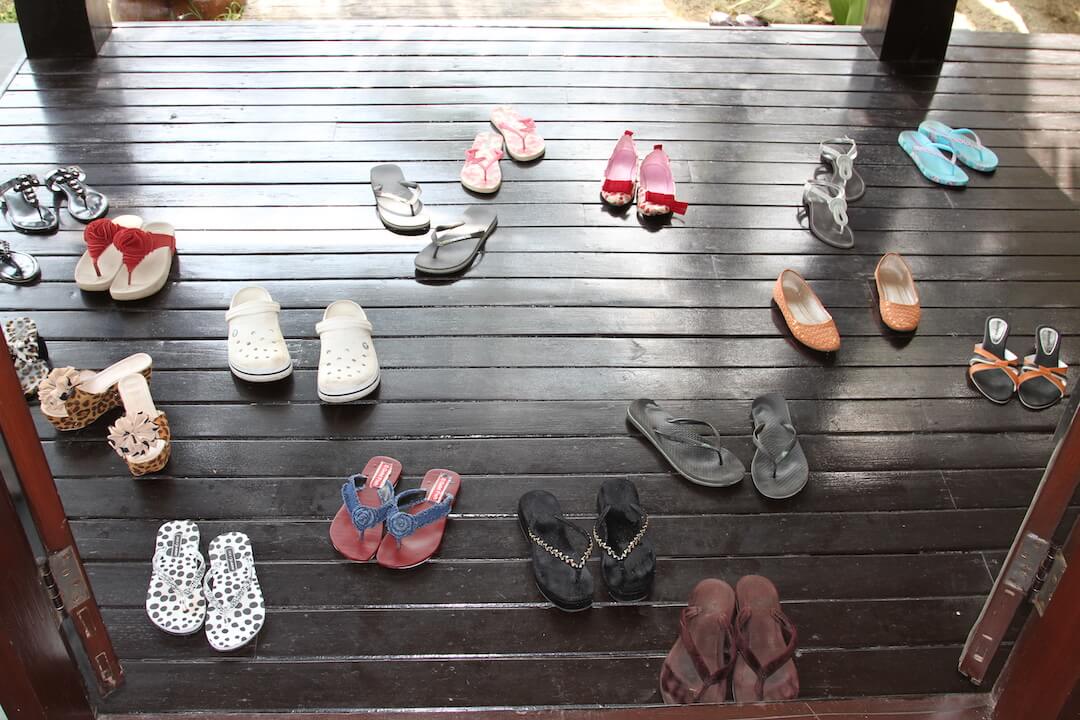 Hotel inspection Burmese style …
As always, the weekend went too quickly and it was time to leave Ngwe Saung and head back to Yangon for the rest of the working week …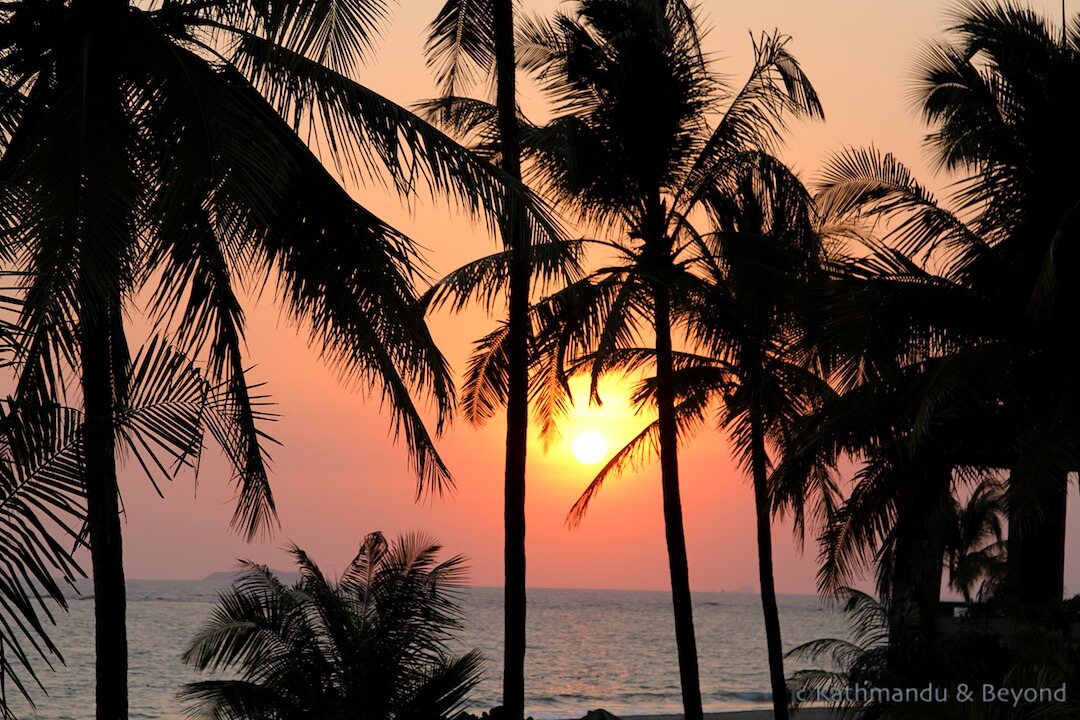 Ngwe Saung Beach at sunset