10 to 12 October 2009
So, after a week in Mumbai and a very last-minute change to our holiday arrangements on Saturday, we flew to Hyderabad. The city was always on our itinerary, but the part preceding it had to be scrapped due to flash floods so instead of spending 5 days getting here by road and train we were here in a relative jiffy. I came to Hyderabad last September (2008) but as it was for a trade show I didn't really get to see much of the city so I was happy to come back and for Mark, it's his first time. Situated slap-bang in the middle of the country, the city now competes strongly with Bangalore for the accolade of India's IT capital. Until a few years ago, Hyderabad and Secunderabad were two adjacent cities separated by the Hussain Sagar lake. Nowadays, the two cities are merged into one municipality but there is a third area within the city populated by IT companies and known colloquially as Cyberabad!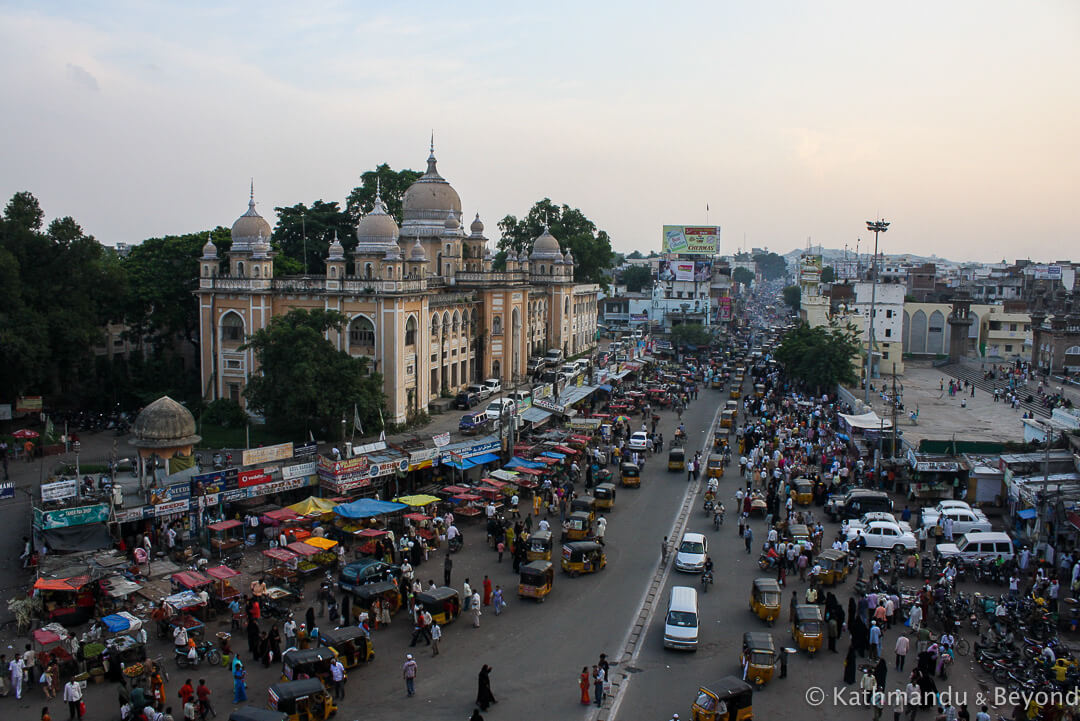 Laad Bazaar, Hyderabad
Hyderabad doesn't get many tourists but I don't know why as it's a really interesting place with contrasting old and new parts. As you would expect, the old parts are more interesting and on our first afternoon we visited the landmark Charminar – a turreted gateway in the centre of the old city – and after a view of the area from the top we headed into the narrow alleyways of the Laad Bazaar. As you'll find in many parts of Asia, there are different streets selling different things. I have never really got this as although it's great for the consumer you would have thought you stood more chance of selling your shoes, silverware, flowers, water pumps (yes, there is a 'water pump street') if you avoid setting up shops next to a whole load of others selling the same items? The first street we went down was definitely the prettiest one: 'Bangle Street' where shop after shop sells brightly coloured sparkling bangles varying in price from around 30 pence for an entire armful of the cheapest ones to hundreds of pounds for one genuine gem-encrusted one. This part of the city is predominantly Muslim and the street was packed with women clad in black burkhas excitedly making their purchases. Seems a bit strange when they aren't allowed to display them in public but walking past the ladies, we heard the many jangles of hidden jewellery.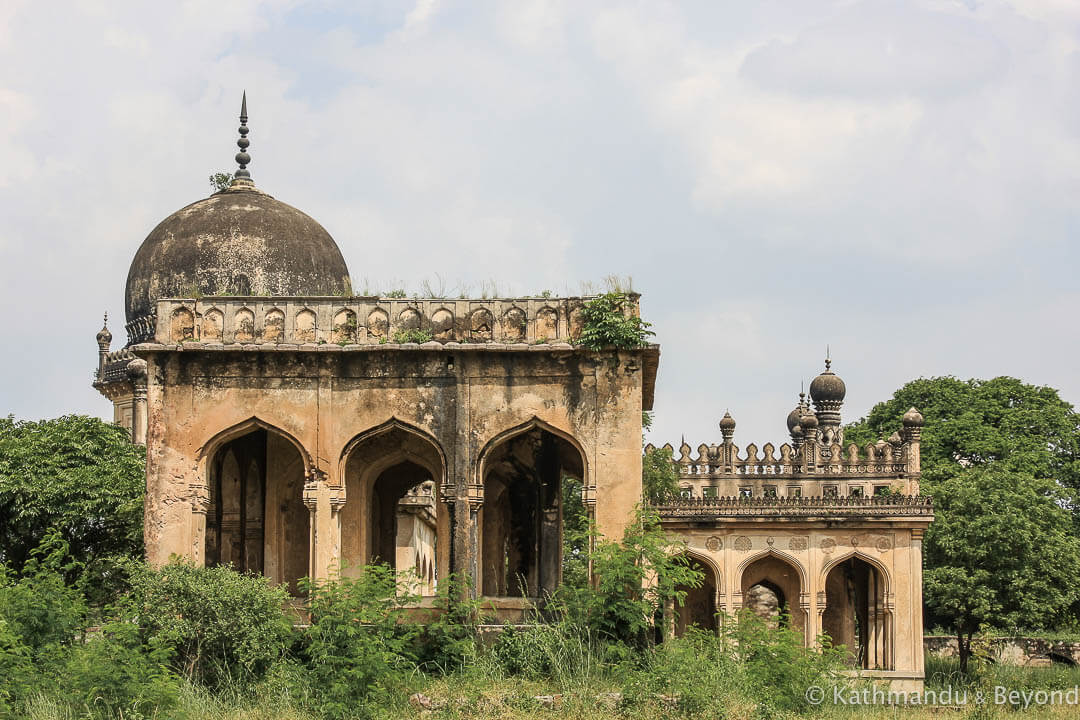 Tombs of Qutb Shahi Kings, Hyderabad
Hyderabad: Charminar (left), Laad Bazaar (centre) and the Tombs of Qutb Shahi Kings (right)
One of the city's other "must-sees" is the Golconda Fort and we set off early in the morning to beat the crowds and the heat. It's an impressive fort spread over a large area and from there we subsequently headed to the tombs of Qutb Shahi kings – amazing structures almost like loads of little Taj Mahals all in the same grounds. OK, not as fancy but a pretty impressive place to be buried.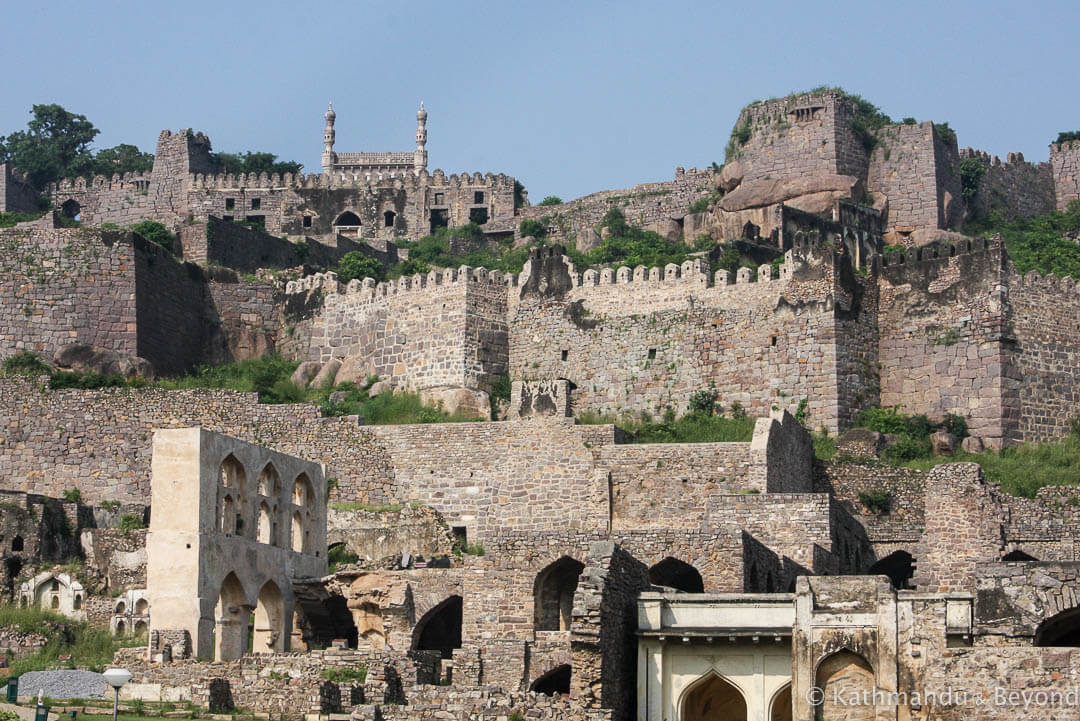 Golconda Fort, Hyderabad
And as for the biriyani … well, Mark did give in to a couple of Imodium in the end and despite saying he wasn't going to touch the delicious mixture of moist rice, tender meat and spicy sauce that Hyderabad is famous for … we stuffed our faces on a huge lunch which saw us through to breakfast the next day.