Who remembers those cheesy photographs of Mark and me in a rice field that we shared a few months ago?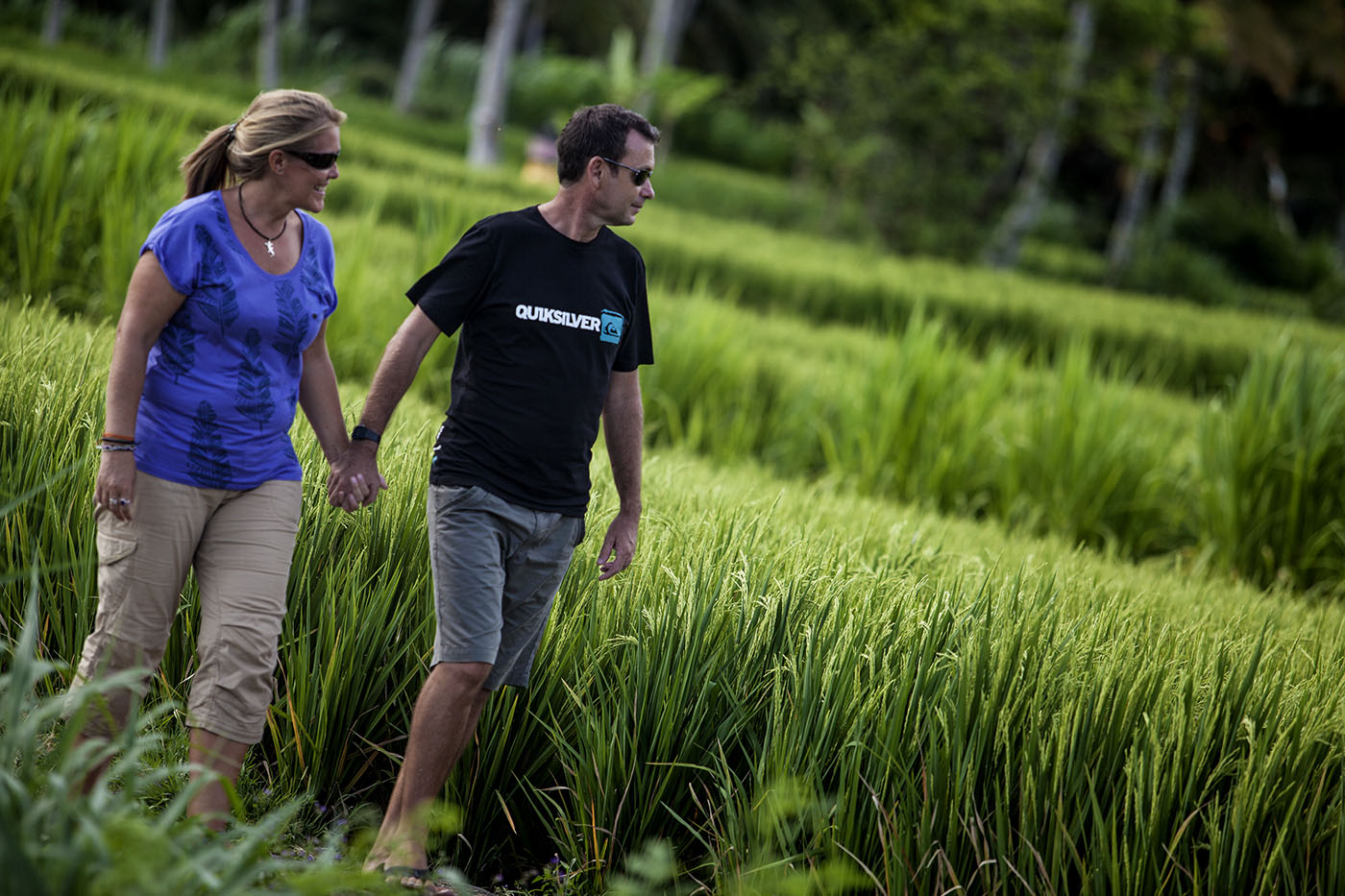 Well, now it's time to reveal the story behind them …
Rewind a few months to our time in Bali where we were asked to help out on a promotional video for Bali Rural Commune, a tourism project set up within a local community to give visitors to Bali the opportunity to learn about what life is like in a typical Balinese family compound (the word used to describe the walled complex of family buildings and temple, laid out in accordance with traditions).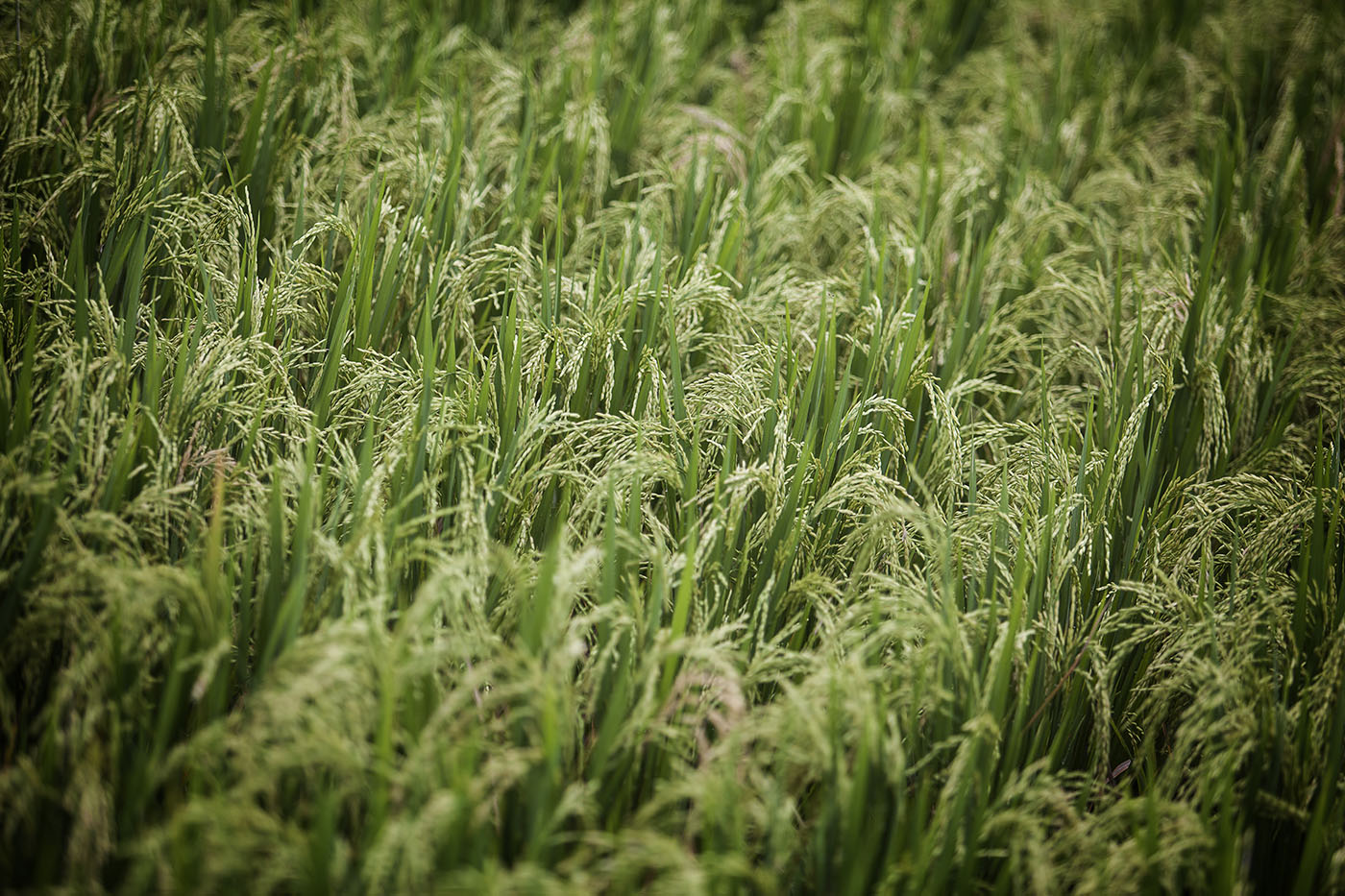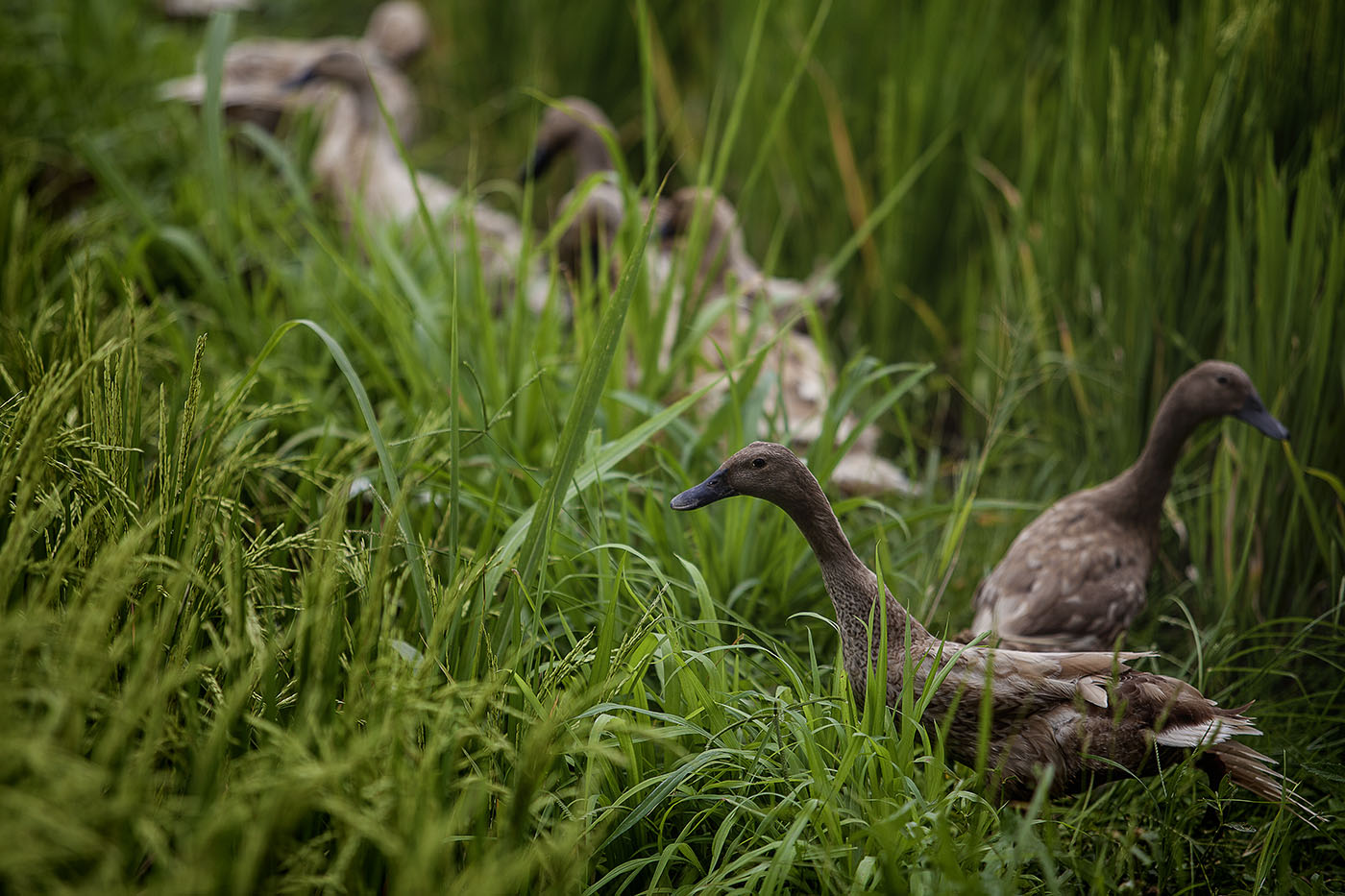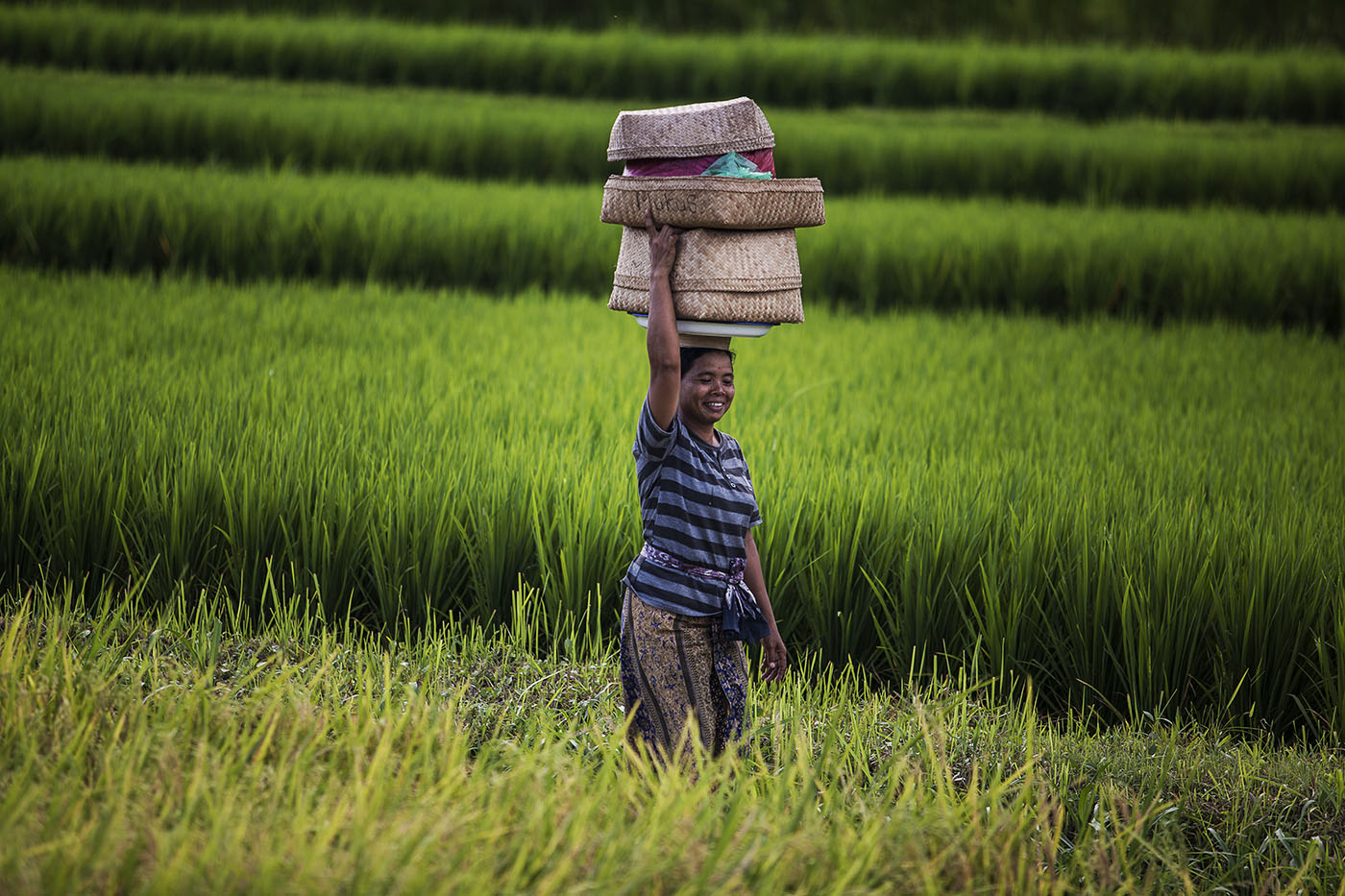 We had already visited Bali Rural Commune and were familiar with what the compound offered and thought the video was a great concept. The video also sounded fun and we were intrigued by what it might involve. We were game!
Visitors to Bali Rural Commune have a choice of tour options. A visit to the compound starts with a traditional welcome and includes a walk through the village to see the craftsmen at work. Visitors may also visit the local market and the community school. On the edge of the village, in a gorgeous setting amidst emerald rice fields, is a restaurant and cooking school. This is also the hub for other activities such as cycling and walking as well as rice harvesting demonstrations.
Mmm, am I starting to sound like the promo video we were making?! I guess what I'm trying to get across is that we were very happy to endorse the product we would be promoting!
Back to the film shoot … It was the first time either of us had done anything like this and we weren't really sure what to expect nor how to conduct ourselves. We were relieved to hear no speaking parts were required as the entire video would carry a musical soundtrack. This helped with our "look natural" approach as we could pretty much say anything we wanted so long as we had a smile on our faces. We could point out things in the distance and say "Look, darling, can you see that purple emu in the rice fields?". Or "Jeez, what's that smell? Have you just trodden in something?" or other much ruder things!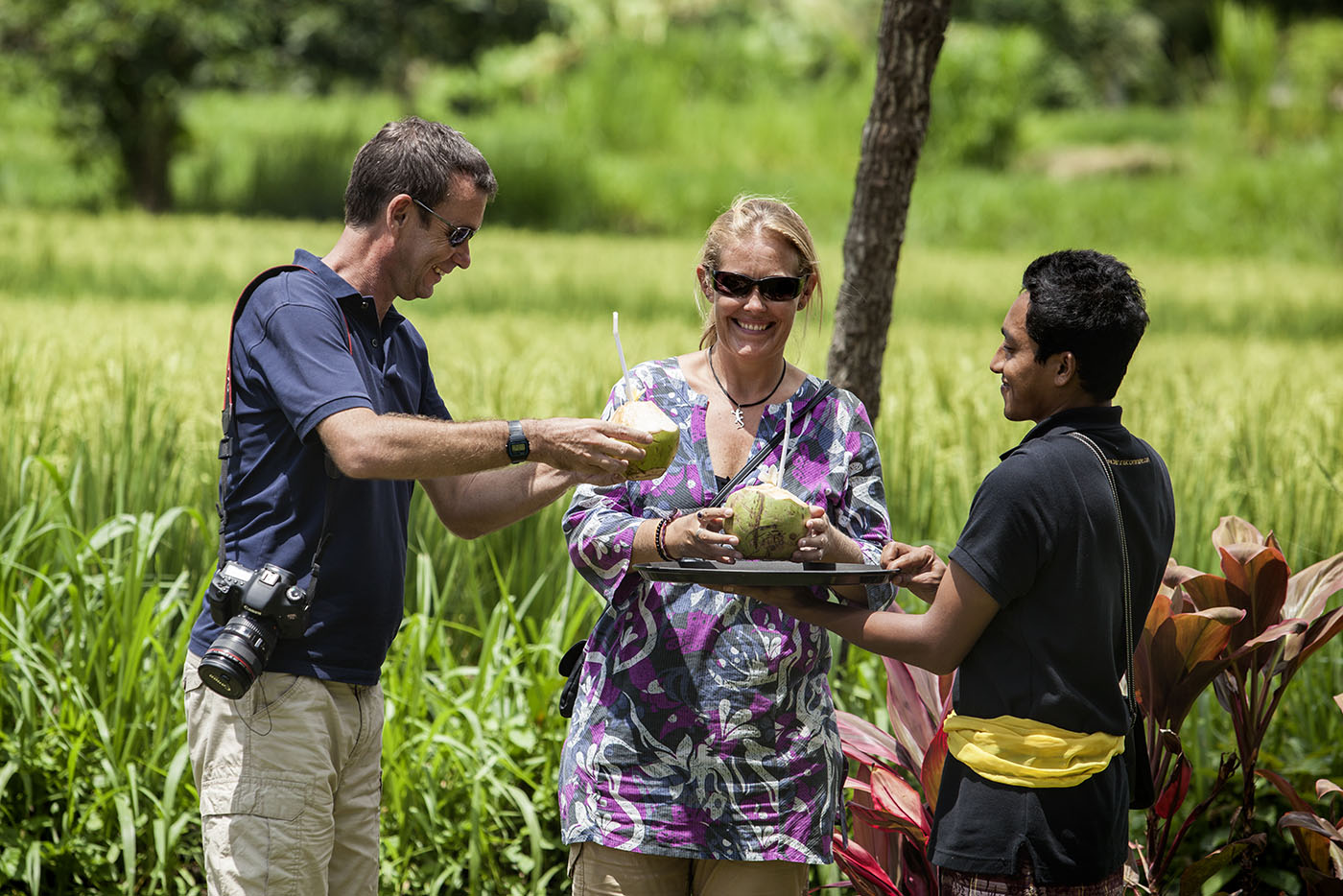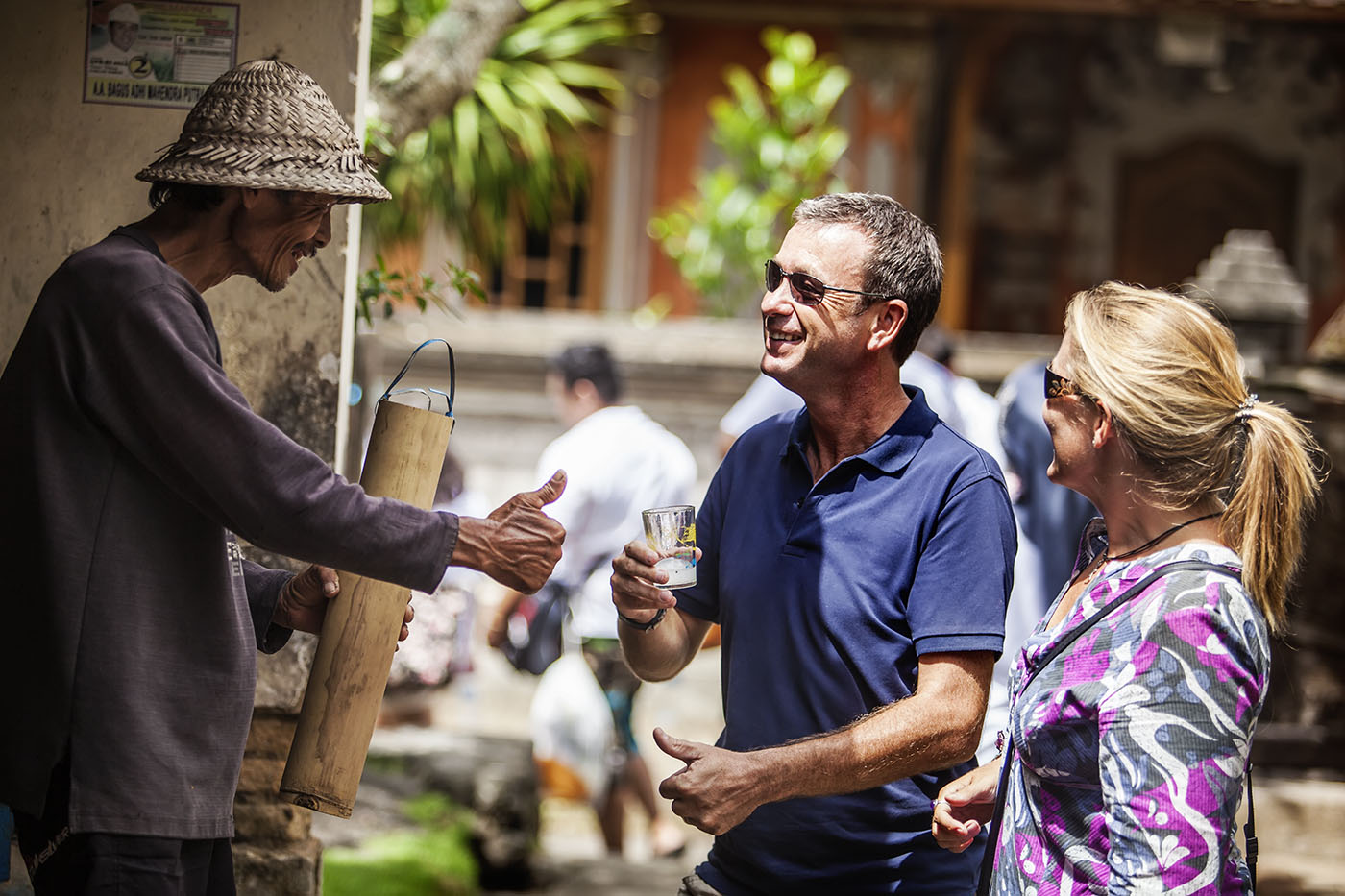 Other than trying to keep a smile on our faces for twelve hours the job was straightforward – we just had to follow the director's instructions. Most things were done in one take, but some scenes such as me riding a bicycle through the rice fields and Mark casually entering the bedroom and peeling an orange took more than one go. You got to wonder who had the trickier task there? Amongst other highlights, the videos show Mark participating in his first-ever cookery class.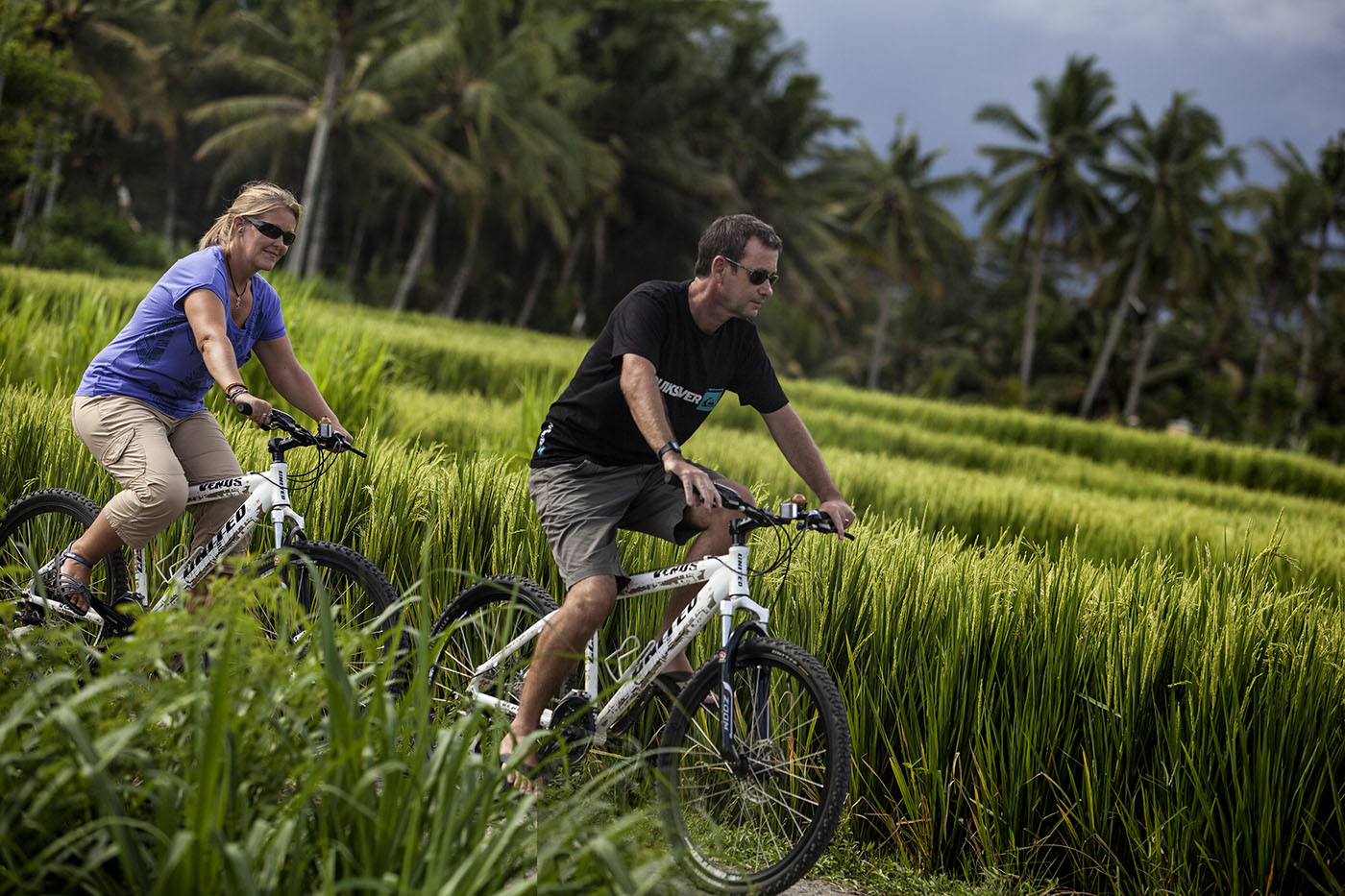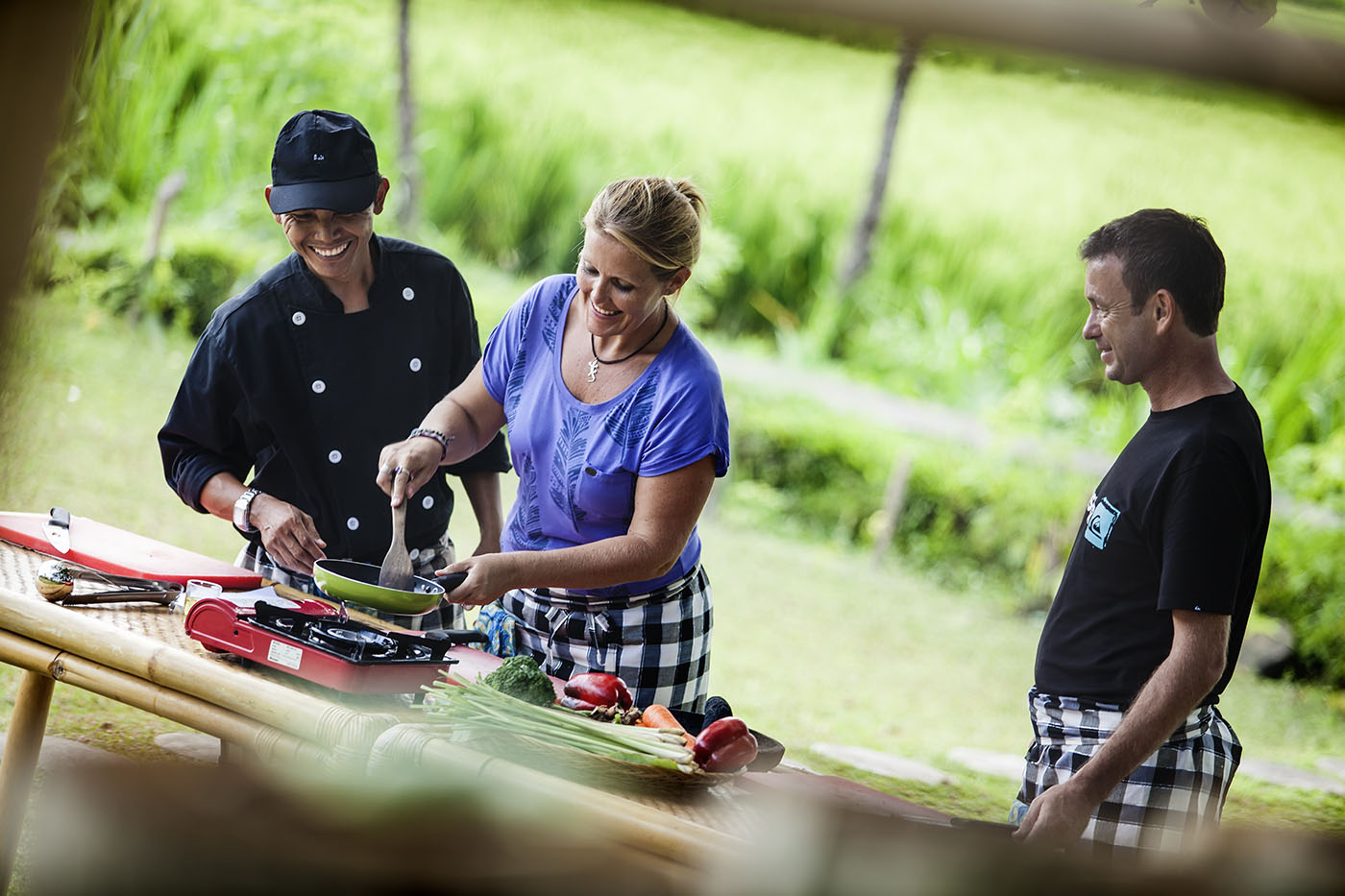 It was great fun but a thoroughly exhausting experience. Our first day of filming lasted twelve hours and by the time we got back to our apartment, we were dead on our feet. It was all we could do to drag ourselves down to the beach for a couple of cold Bintang beers!
The second day was easier as we were filmed as part of a group of tourists visiting Bali Rural Commune. The morning started with a drive through the countryside in a convoy of open-top VW jeeps. That was fun. The rest of the day we mostly had to participate in the same activities the group was doing, except the camera was always on us and we had to ensure we always had those enthusiastic smiles on our faces!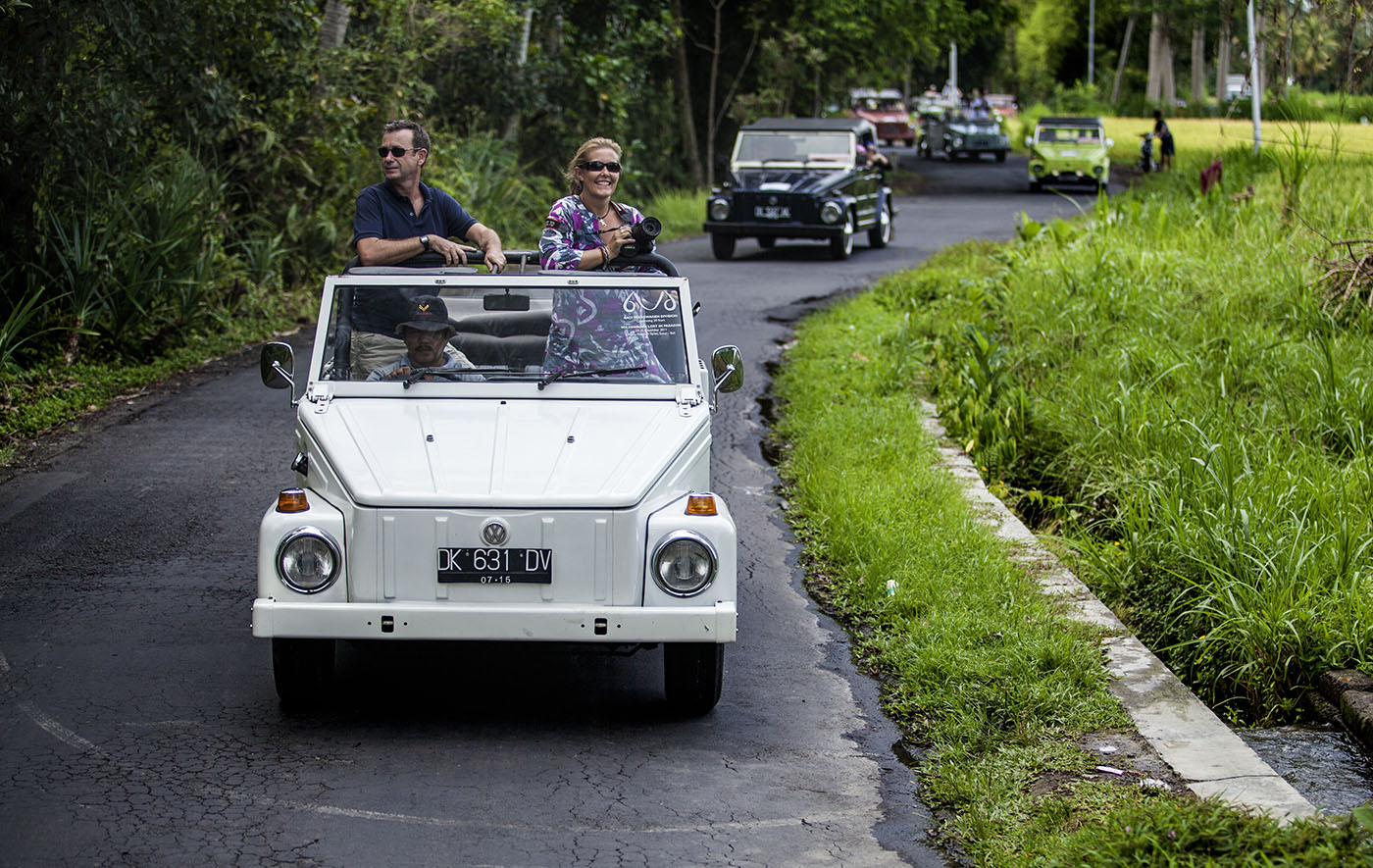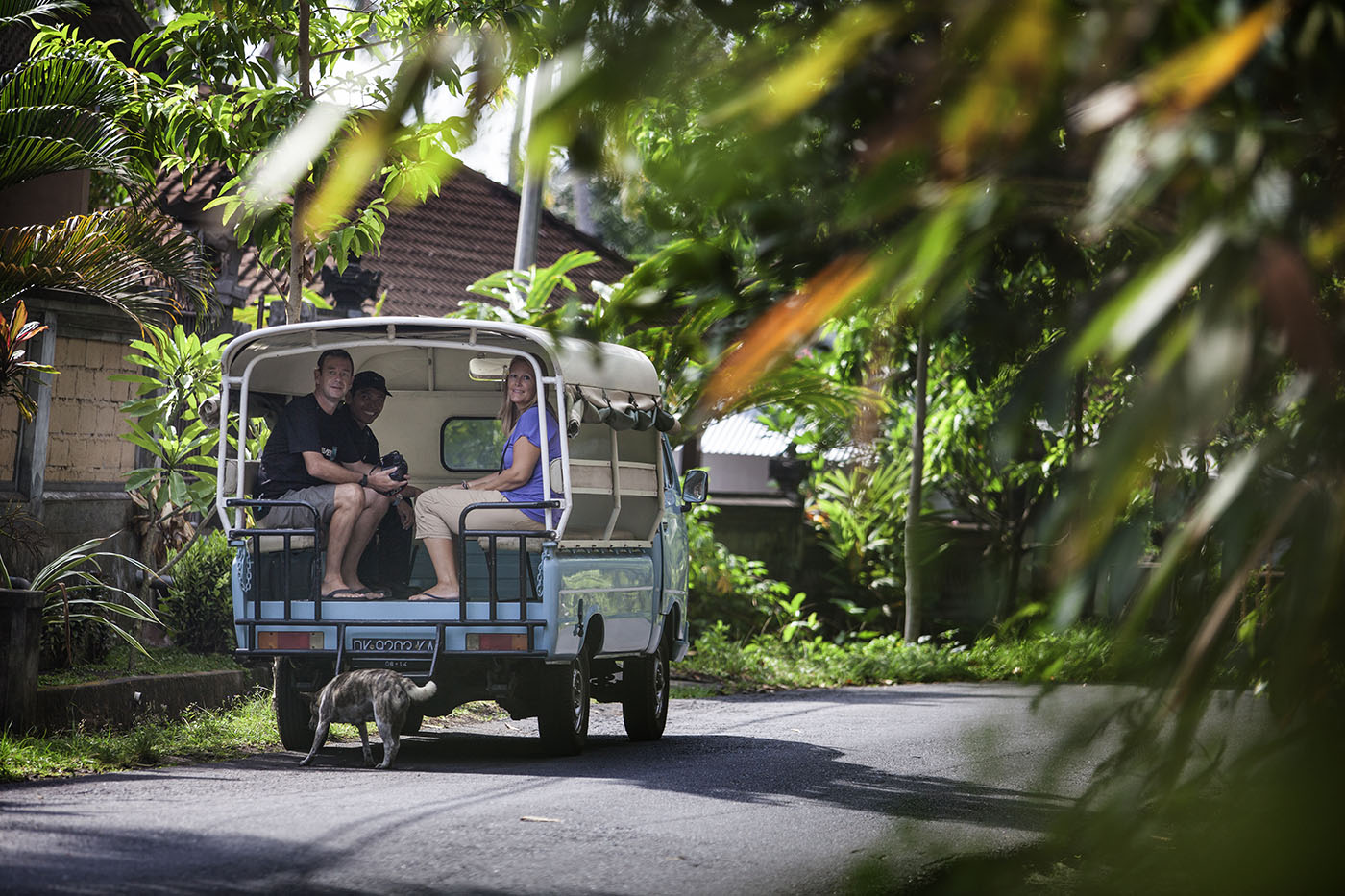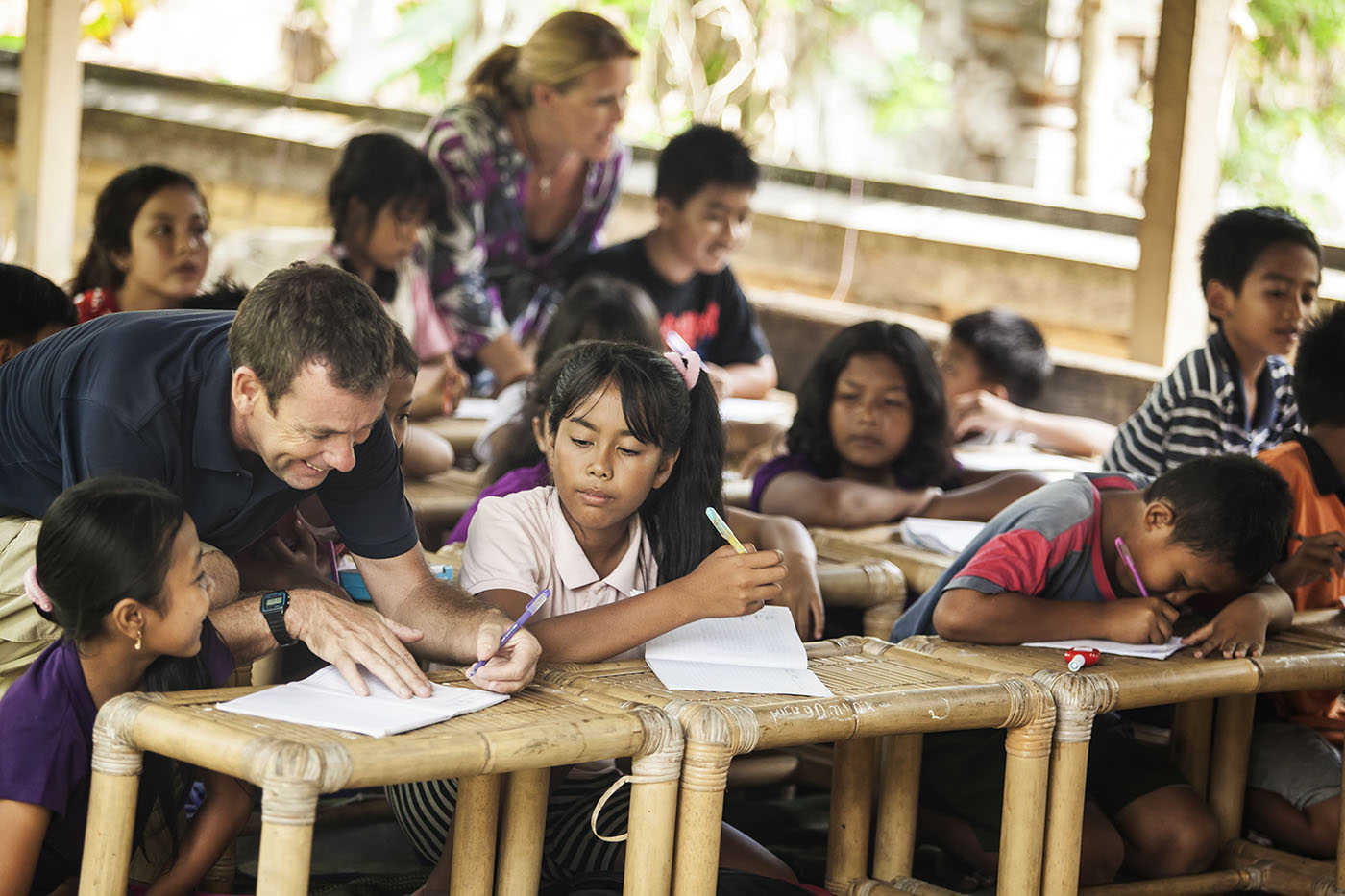 What else did we get up at Bali Rural Commune? Take a look at the final videos and see for yourself.
Being honest, we weren't sure whether or not to share our acting debut with you as we are a bit embarrassed by our ham performances. But we promised we would and so here it is; the big reveal! The videography is great and the venue, Bali Rural Commune, has a stunning location and provides a great experience. It's just our appearances that make us cringe but undoubtedly will make you chuckle!
Normally we ask you to share all our posts but maybe keep this one to yourself, eh? Only kidding – go ahead and try to turn Mark and me into a YouTube sensation!
Here are the three short Bali Rural Commune promotional videos, with a brief summary of each, should you just want to check out the highlights!
This is the longest video – it's just under three minutes and includes a little bit of everything:
This is a two-minute video of our market visit and cooking class:
And if you still want more … This is blending in with a group of Asian tourists! This video is approximately 2½ minutes long:
All photographs and videos courtesy of Bali Rural Commune. Check out their website for more photographs and, if you find yourself in Bali, we highly recommend a visit!