Urban Exploration at Wanli UFO Village
Most visitors head to the coastal district of Wanli in northeast Taiwan because they want to see the otherworldly rock formations that form Yehliu Geopark. It's one of Taiwan's top attractions and looks great in photos but, we were looking for something even more otherworldly than otherworldly rock formations when we headed up there from Taipei on a bleak and windy day in February 2018.
The Futuro Village (or UFO Village as it is often called) at Wanli, which is some 3km south of the Geopark, was the most photogenic quasi-abandoned location we visited in Taiwan. The extreme retro-style of both the oval-shaped Futuro houses and the rectangular Venturo ones that make up this former holiday resort were highly addictive and we couldn't stop taking photo after photo of them even though we knew we had more than enough for our needs.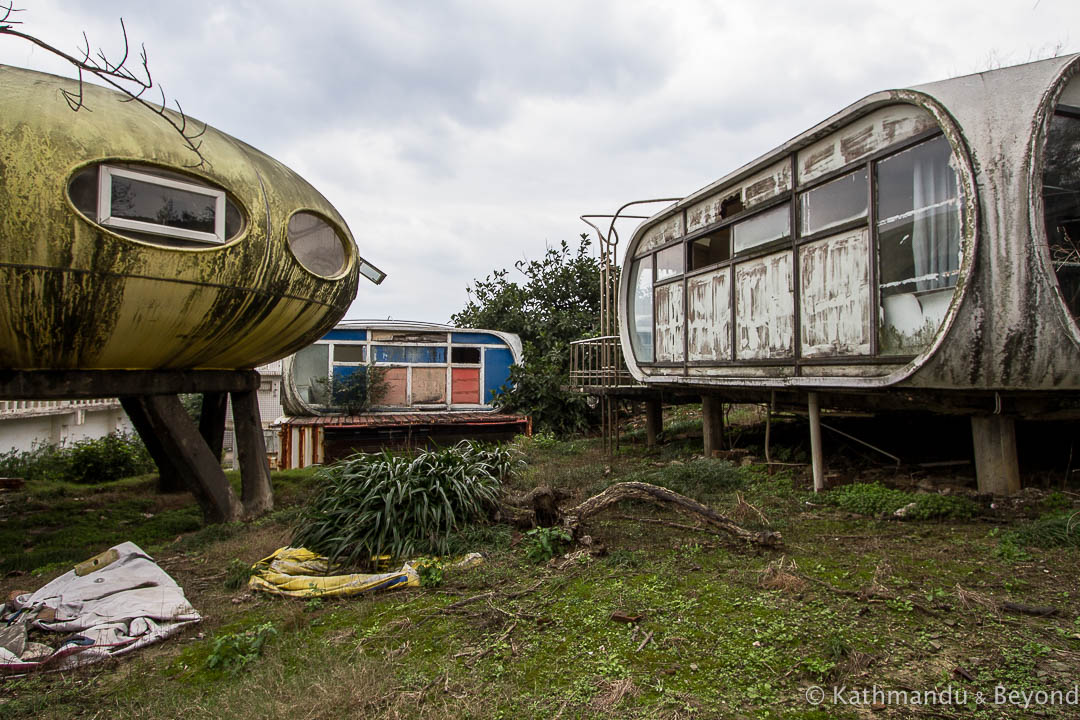 Futuro House (left) and Venturo House (right)
Before going any further, it's probably a good idea to expand a little on what Futuro and Venturo houses are and how they came about. Both styles of homes were created by a Finnish architect called Matti Suuronen in the late 1960s and early 1970s. The Futuro came first and Suuronen's original concept was that he wanted to create a mobile ski cabin that was sustainable, economical, simple to construct, mobile and easy to heat. Fibreglass was the building material of choice and, shortly thereafter, he designed the Venturo as a weekend getaway using the same principles and materials he used for the Futuro. Matti Suuronen died in 2013, aged 79.
Although Suuronen had this vision that eventually these type of homes would become the norm worldwide (*), neither creation proved to be very popular. Indeed, for reasons I personally cannot fathom (I would love to live in either one of them!), the Futuro met with quite a bit of hostility. This, coupled with a rise in oil prices which in turn lead to an increase in the cost of building materials, meant that, by the mid-1970s, manufacturing had ceased altogether on both designs.
(*) Lightweight, mobility and ease of construction were all key to this worldwide success. The theory was that you could spend time in the mountains in the winter, for example, then, when you wanted a change of scene, you could dismantle your home, transport it to another location and put it back together again – a sort of build-it-up knock-it-down Scandinavian style flat-pack caravan or trailer. All that was needed was a load of cement bases the world over, where you could plonk your Futuro or Venturo home and then carry on with your daily life, albeit in a different locality! 
A Taiwanese businessman, Mr. Su Ming, is credited with creating the holiday village at Wanli. I can't find any precise date but I suspect it was around the early to mid-70s that he came up with and implemented the idea. He used his own money and that of investors to establish a high-end resort with the aim of attracting the Taiwanese elite. The harsh environment (extremely hot summers and miserable winters (*)), combined with financial backers losing interest and that dreaded hike in oil prices already mentioned meant that the resort didn't achieve the success that was expected and it soon fell into a state of neglect and abandonment.
(*) When we visited it was indeed extremely windy and cold: not really the weather you want when you're on your holidays, although it has to be said that the British who holiday in the British Isles have become accustomed to such elements and would probably feel well at home at Wanli!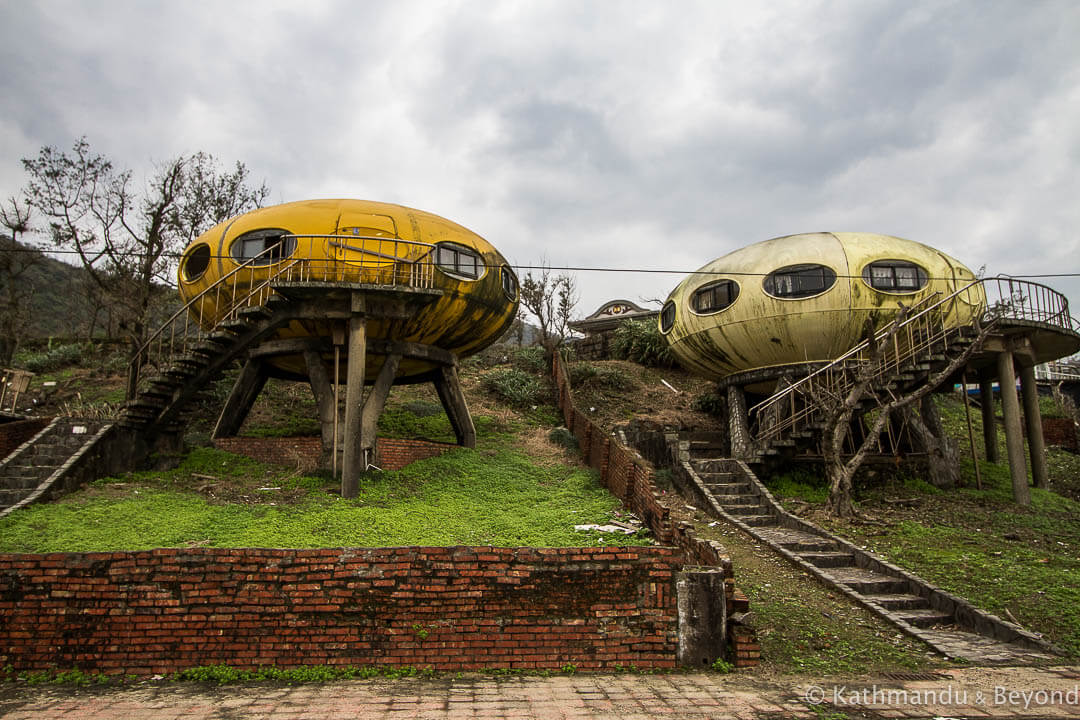 But, why Mr Su Ming wanted these bizarre pod houses for his resort and where he got them from is something of a mystery. I don't know whether he was a fan of the designs or he simply assumed they were cheap to construct (they weren't as it happens). It's not even certain that the Futuros and Venturos at Wanli are original or that they were purchased from Suuronen's company, Casa Finlandia. Given that estimates suggest that no more than 100 original Futuros were ever built, based on the figures below, that means more than 10% of them are at Wanli. That's quite a high percentage given the distance between Finland and Taiwan and the costs involved in transporting the materials, etc. My money is on them not being original but, that said, they could well be genuine and the overall expense involved in transporting them halfway across the world could have been the catalyst for the resort's failure. Who knows – quite a bit has been written on the subject but nobody seems to have a definitive answer.
There are currently thirteen Futuro houses at the resort in Wanli, including one which is bizarrely undercover, and even more Venturos. They are spread out over quite a sizeable area and the majority of them are in a terrible state of abandonment. But, every now and then, as we explored, we would come across one that looked like it was still inhabited, albeit probably only in the summertime or at weekends (we visited midweek). We didn't see any signs of human life but there were other clues, such as padlocked doors, pulled curtains and manicured gardens, so we assumed they were still at least partly in use.
The rough East China Sea, which this former holiday village overlooks, is popular with surfers and, outside one Venturo, we spotted a couple of boards and other surfing paraphernalia. We also passed another Venturo that was clearly being used as an office. Inside we could see a couple of people at desks and there was a car parked nearby. These were the only two people we saw during our time there and they didn't spot us so the question of whether it is officially permitted to enter and explore the area (including going inside former homes that are clearly in a state of abandonment) is not one on which I can give a definitive answer.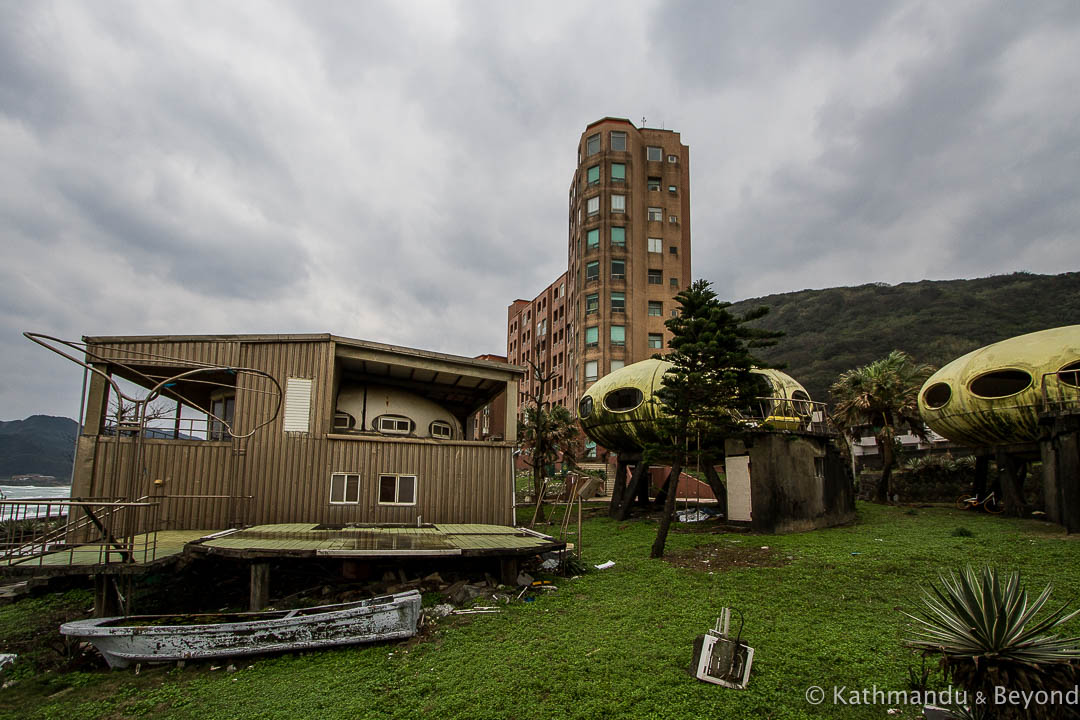 Plenty of tourists, urbexers and photographers visit Wanli and, I suspect that if you are considerate, don't damage or steal anything and keep yourself to yourself, the few residents that still inhabit the Futuro village at Wanli will not have any issues with you being there. There was certainly no KEEP OUT signs or security preventing entry when we visited.
We spent a couple of hours wandering around and entering most of the pods that were easily accessible. Many were completely open to the elements and some were totally destroyed. Inside we saw all sorts of stuff such as washing machines, beds and televisions that had clearly been there for quite some time but, we also noticed more recent items such as a half-empty bottle of washing-up liquid, for example, a box of tissues and a relatively new pack of playing cards, all of which added to the intrigue.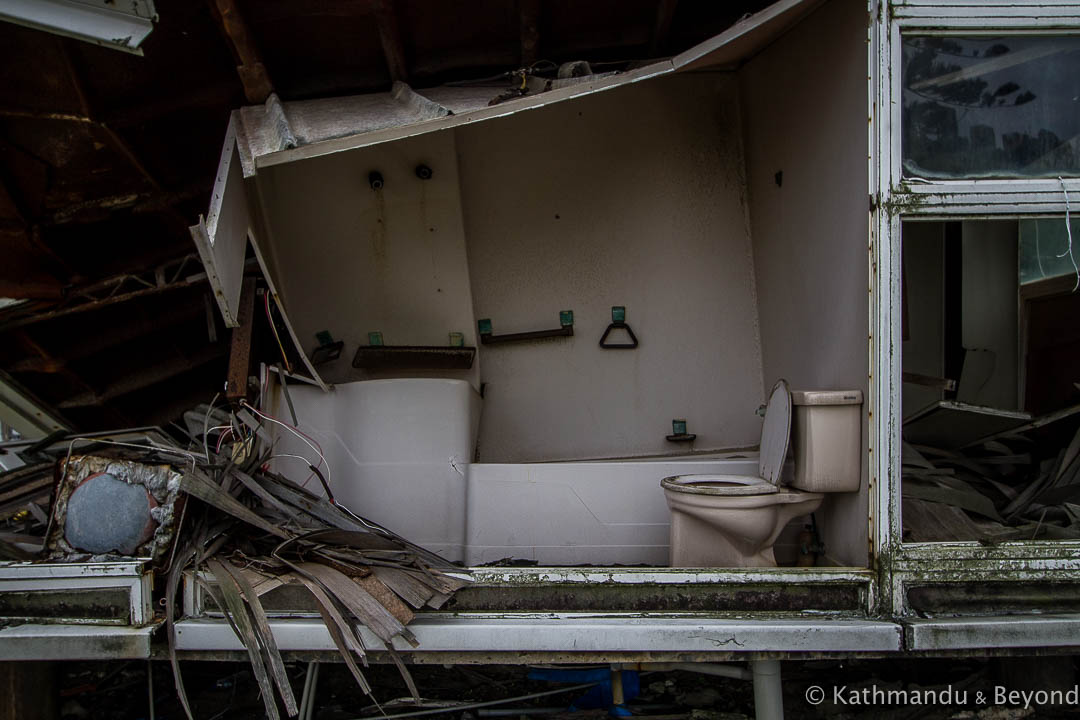 The interior of both designs was quite spacious and consisted of an open-plan kitchen/living area, a bedroom and a small bathroom. Either would have made a great holiday home but, although not as cool-looking as the Futuro, the Venturo got our vote as it felt more spacious and certainly had more natural light.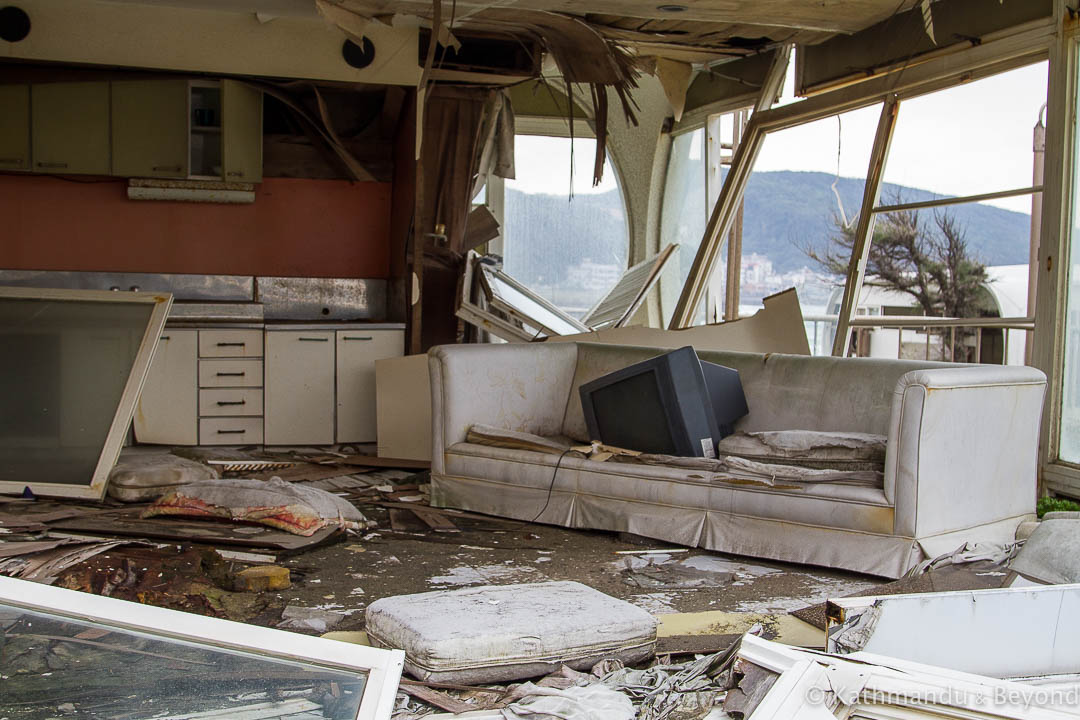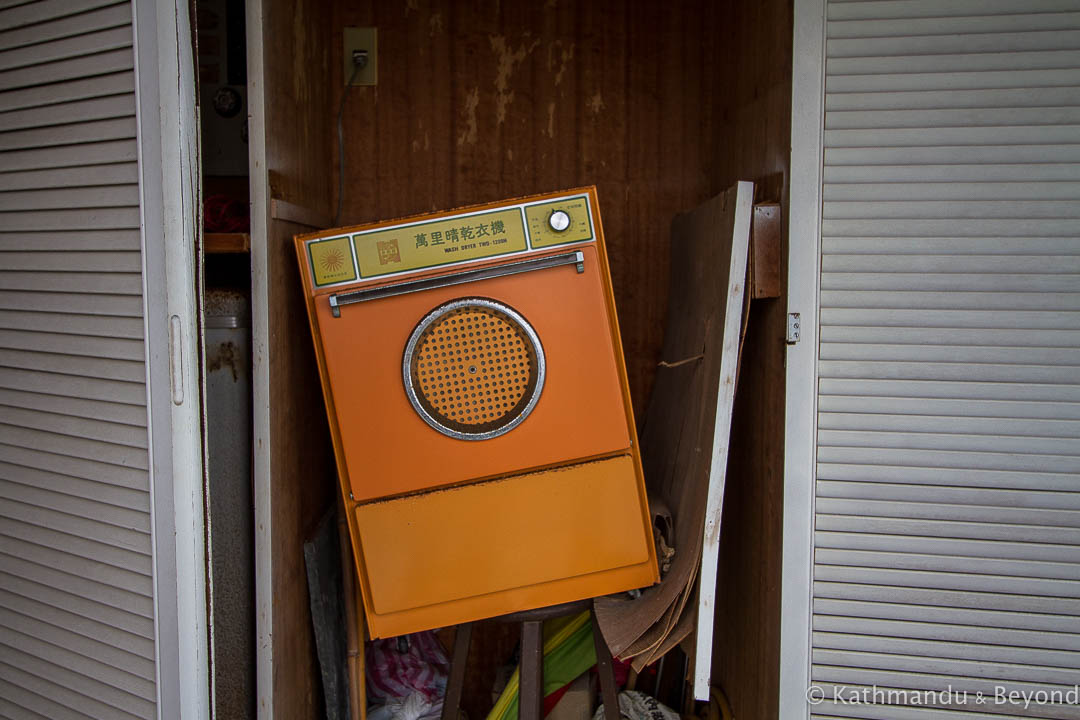 As for the exterior, from what I've read, the archetype for the Futuro included UFO-style legs and an aeroplane hatch entrance that dropped to the ground but the ones at Wanli didn't have either. Instead, they had more sturdy concrete legs and a curved, purpose-built stairway that lead up to the entrance. These facts could give credence to the suggestion that the pods at Wanli are not genuine but, as is becoming a recurring theme in this blog, who knows for certain…
There used to be even more pod houses in Taiwan, in Sanzhi district of New Taipei City but these were demolished in 2008. Whether the same fate awaits those at Wanli is, yep, you've guessed it, a subject for speculation but, for the time being, you are free to explore these unique 'ruins of the future' (*) at your leisure. And just think, you'll be able to say that you've seen the largest collection of Futuro and Venturo houses on the planet – now that's something to add to your list of lifelong achievements!
(*) credit Urban Ghosts.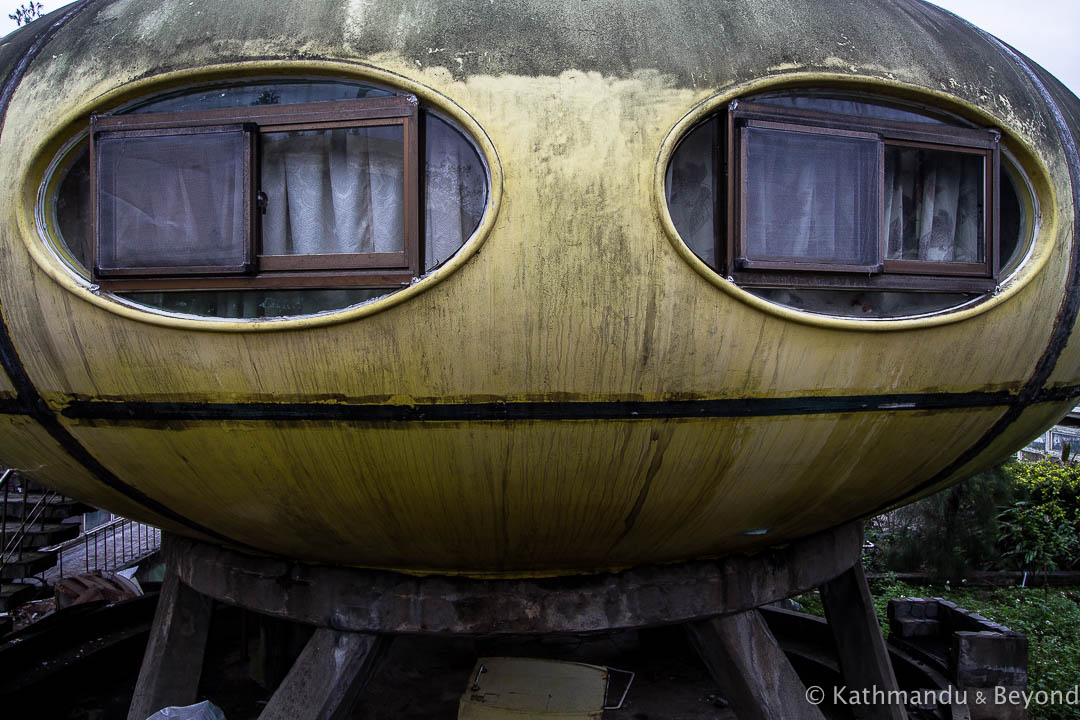 Futuro village, Wanli
How to get to Wanli Futuro village on public transport from Taipei
Getting to Wanli is straightforward. Bus #1815 departs from Taipei Bus Station (which is near the main railway station) about every twenty minutes or so. The one-way price is NT$90 (US$3.00, GBP2.15, €2.50) per ticket and the journey time is approximately 1 hour, 15 minutes depending on traffic. You can also get on or off the bus at Taipei's City Hall station.
As you approach Wanli, don't get down in the town itself but stay on the bus for about another 1.5km until you see the large Howard Green Bay Resort. There is a bus stop just before the resort.
The exact coordinates for Wanli Futuro village are: 25°11'13.90″N 121°41'10.25″E
---
DID YOU ENJOY THIS POST? WOULD YOU LIKE TO EXPLORE WANLI UFO VILLAGE? PIN IT FOR LATER…



---
---