Urban Exploration at an Underwater 
Abandoned 
Jail in Estonia
The bulk of the now-abandoned Rummu prison is best seen from under the water. Funnily enough, we don't carry diving gear with us on a road trip. In fact, neither of us can actually dive so we had to be content with viewing the few remaining buildings that haven't been swallowed up by encroaching waters, from the shoreline.
The prison, which is located 45km southwest of Tallinn, dates back to 1940s Soviet Union. It was a hard labour penal institution with about 400 inmates and the lake that you see today used to be a limestone quarry in which the prisoners were put to work. Both the quarry, which, when in use, required continual pumping of water, and the prison fell into a state of abandonment after the collapse of the USSR and the subsequent formation of a once-more independent Estonia (1991) and, soon, the entire area turned into a big lake which eventually consumed most of the buildings and associated infrastructure.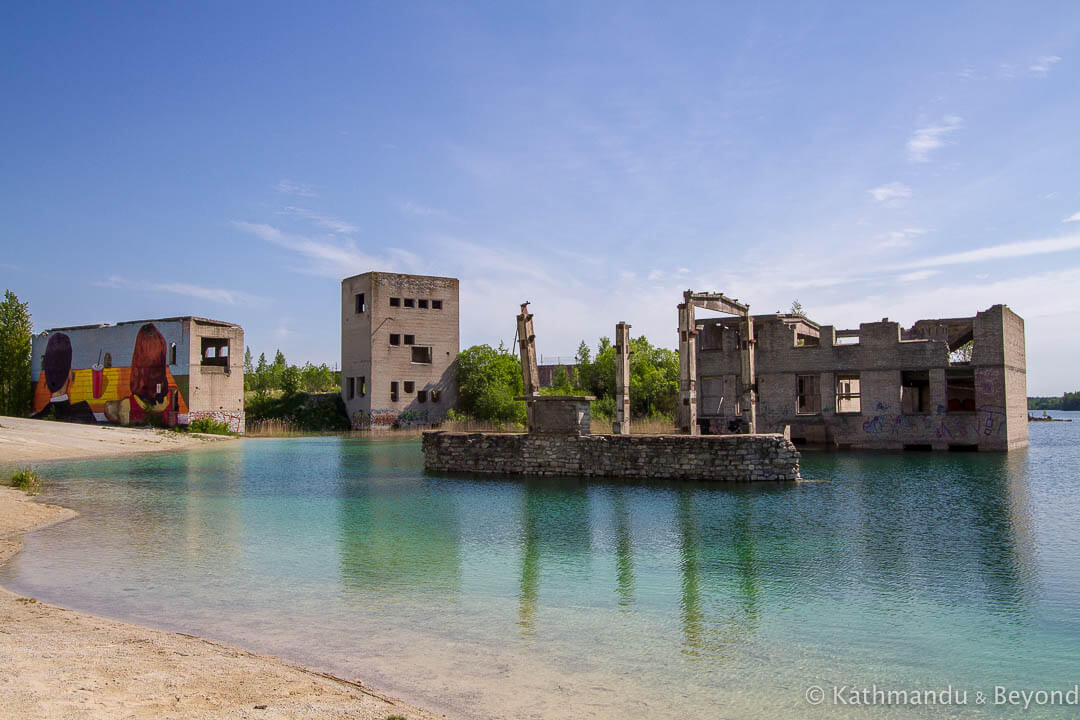 These days, as well as attracting scuba divers, the quarry is a popular spot for a swim and a bit of sunbathing but lately, talk on the Internet of visitors being deliberately set upon by German Shepherd dogs, who apparently belong to overzealous security guards, have put people off somewhat. It nearly deterred us off if truth be told but, when a couple of mothers and their small children entered via a gap in the wall near one of the old gates, shrugging off any claims we made about security guards and their vicious dogs, we assumed that the said security guards and their canine companions were either having a day off or the reports were exaggerated.
Once inside, we weren't that taken with what we saw. There isn't a great deal of the prison left above the surface of the water and the buildings that are visible are just empty shells. There is a decent bit of street art on one of the structures but, overall, you don't need very long at the site unless you are intending to bring a picnic and make a day of it with a spot of swimming and/or lounging around!
We did walk to the other side of the lake/quarry for a panoramic view of what remains, which was worth doing but, really, Rummu prison is just an urban explorer's 'tick' if you don't dive and see it properly.
If you're interested in what the submerged part of the prison looks like, take a look at this short YouTube video.
Some of our Photographs of Rummu Underwater Prison 






Visiting Rummu Prison Independently
If you want to get to Rummu by public transport, it straightforward enough to take a public bus from Tallinn to Rummu.  Regular buses depart from a stop adjacent to Tallinn's main train station (balti jaam), taking around an hour and a half. At the time of this update (September 2021), bus number 146 from bus stand 2 (balti jaam 2) runs between Tallinn and Rummu village. The quarry and abandoned prison is about a 10 minute walk west.
Before arriving in Rummu, the bus makes a detour to the village of Amari. This is the location of Amari Pilots cemetery, a small cemetery containing some rather unusual tail fin gravestones, so you may want to consider combining both sights.
There are a number of travel companies offering tours to Rummu but they all seem to focus on water-based activities such as diving, paddle boarding and kayaking.  for example but, personally, I would say the place isn't worth visiting unless you have your own transport and are en route to or from somewhere else. I doubt if the buses are that
regular and they probably go around the houses before eventually arriving in Rummu and the place isn't worth that amount of time and effort. 
The above is just my assumption but if you are determined to visit Rummu using public transport, probably the best bet is to contact the Estonian Tourist Board for the most up to date schedules, etc.
Keep in mind the area on which the prison is situated is private property. There is no way of entering from the main road as the gate is locked and the wall is high and covered in barbed wire. Most people seem to get in via a gap in the wall on the western side of the quarry but, technically, this is still trespassing. If you want a clear conscience, keep walking along the dirt road for around ten minutes and soon you will notice sections of the wall that have completely fallen away, meaning you can enter without breaking in. At this point, you are on the southern shore of the lake and can either simply admire what's left of the prison from here or follow a well-defined path that will lead you back towards it.
The GPS coordinates for Rummu prison are 59.22639, 24.19021
UPDATE: It seems that the present owners of Rummu Quarry may have had a change of heart when it comes to allowing access to the quarry. Recently, we've been hearing from other travellers that they've paid a three Euro entrance fee and been able to enter the site freely. Rummu Quarry even has its own Facebook page providing weekly opening times (usually midday until 9pm). It may be that this is a temporary arrangement, and only during the summer months so check with them if you are planning a visit (there is even a telephone number!) TripAdvisor is another good source for up to date information.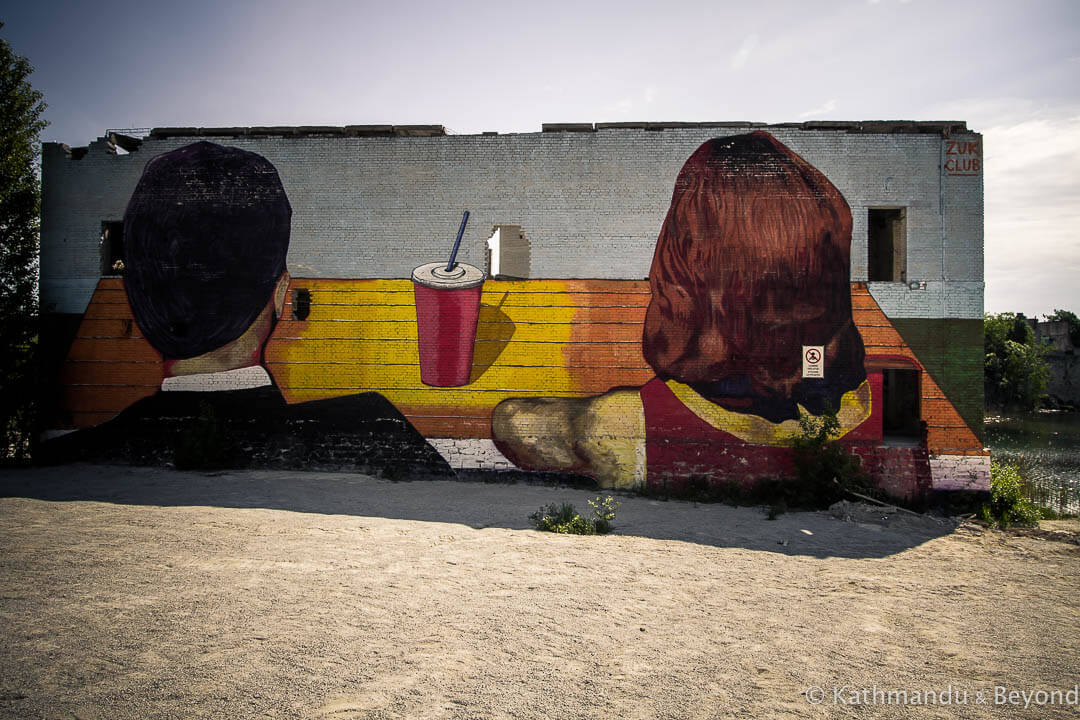 ---
---
ARE YOU A FAN OF ABANDONED PLACES? HAVE YOU VISITED RUMMU UNDERWATER PRISON? PIN THIS POST TO YOUR ABANDONED PLACES OR TRAVEL BOARDS…



---
---