On history and abandoned hotels in Bosnia…
We had been driving south from Sarajevo for a few hours, admiring the stunning colours of a sunny Bosnian autumn day when we came across this abstract piece of architecture on the outskirts of Miljevina, a depressing-looking village in the municipality of Foča.
It wouldn't be true to say that we stumbled across this derelict building by accident. We knew of its existence and were on the lookout for it, but we hadn't anticipated our scenic drive would be interrupted in such an abrupt manner. However, turning a bend suddenly presented us with one of the finest examples of brutalist/modernist architecture that we have seen in a long while.
Long abandoned, and in a wretched state, the Motel Emos, which you also find referred to as the Motel Miljevina, has a dark history. It is well known that Bosnian Serb forces instigated a campaign of ethnic cleansing against Muslim Bosniaks and Bosnian Croats throughout the duration of the Bosnian War (1992-95). One of the most notorious events happened in the eastern town of Srebrenica but similar atrocities, not so widely reported, also took place in other parts of the country under the control of Bosnian Serbs at the time, and this included the unassuming village of Miljevina.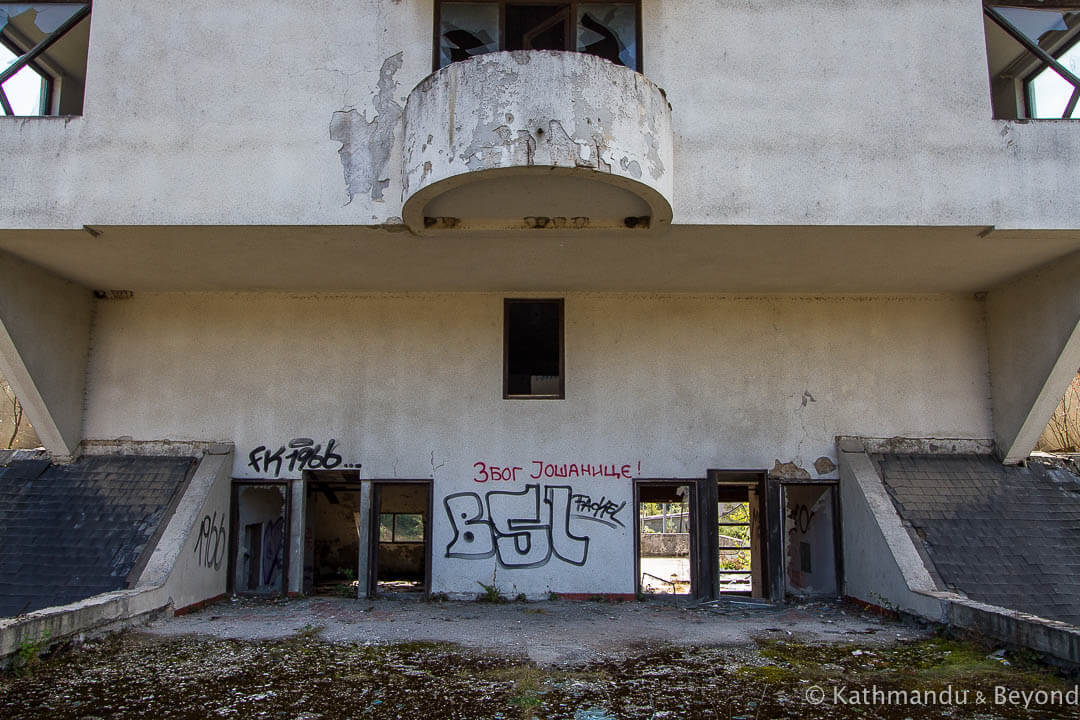 Crisis Committees were regularly set up throughout Serb-controlled towns and villages in Bosnia during the war. The initial job of those who sat on the committees was to ensure the settlement's takeover by either Serbian or Bosnian Serb military, police or paramilitary forces but, once this task was complete, they later focused their attention on the 'cleansing' of the community's non-Serb population. Although technically Miljevina came under the control of the Crisis Committee established in the larger town of Foča, some 14km to the east, the village also established a committee of its own and they used the Motel Emos as their headquarters.
The non-governmental organisation, Human Rights Watch (HRW), interviewed numerous witnesses and survivors from Miljevina after the war and many alleged war crimes and acts of barbarism were brought to light – rape camps, intentional destruction of property, disappearances, murder, harassment and forced labour in the nearby coal mine were all reported and, doubtless, the order to commit many of these horrendous acts came from inside the Motel Emos. 
Whether the motel originally belonged to Bosnian Serbs who were part of/sympathetic to the local Crisis Committee, or it was 'acquired' as a result of unlawful acts against non-Bosnian Serbs is not something I can establish. I'm also not sure at what point the motel was destroyed and by whom. I can only assume that if it was used by the Miljevina Crisis Committee, it remained in reasonably good condition for much of the war and was damaged and abandoned at some point thereafter.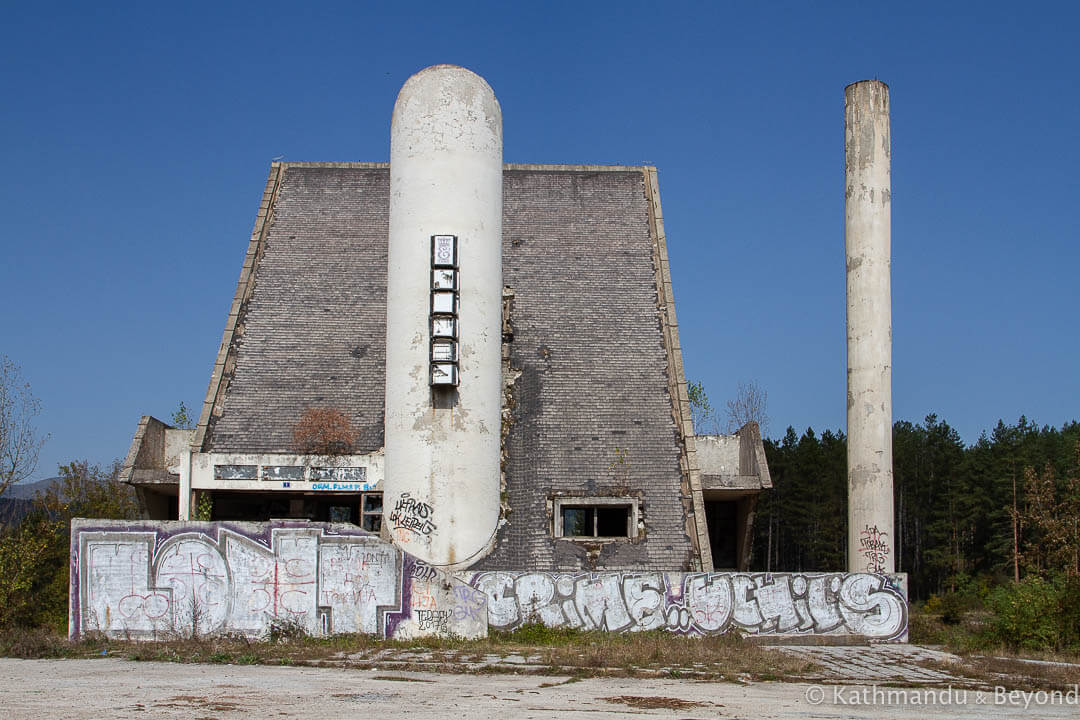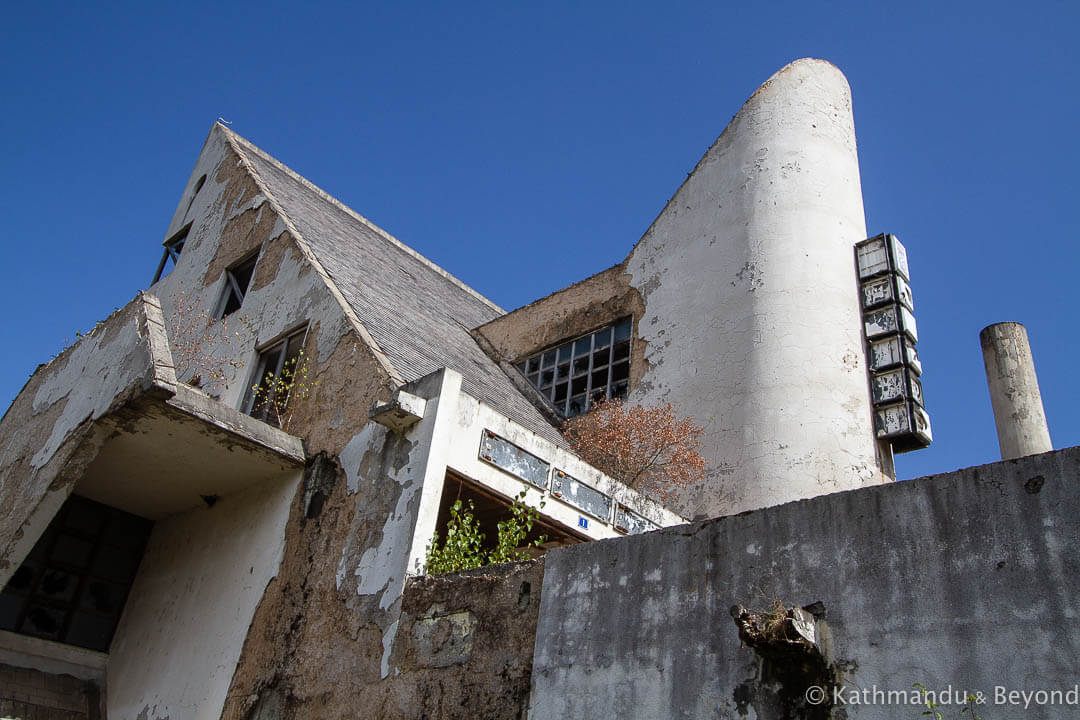 We were aware of most, but not all, of the above information prior to adding the motel to our list of places we wanted to visit during our 2018 road trip around Bosnia & Herzegovina and, as I was getting out of the car and making my way towards the building, it made me wonder how on earth had our tastes in 'sightseeing' become so dark over recent years? (*).
(*) It is the subject of a blog post that I am slowly working on but, it's a tough one to complete as I'm not 100% sure of the answer!
Originally, I thought I would be content with simply taking a photo or two of the exterior which, let's face it, is outstanding if you enjoy this particular style of architecture. But, upon arrival, both Kirsty and I were drawn in and wanted to take a closer a look. So we headed inside.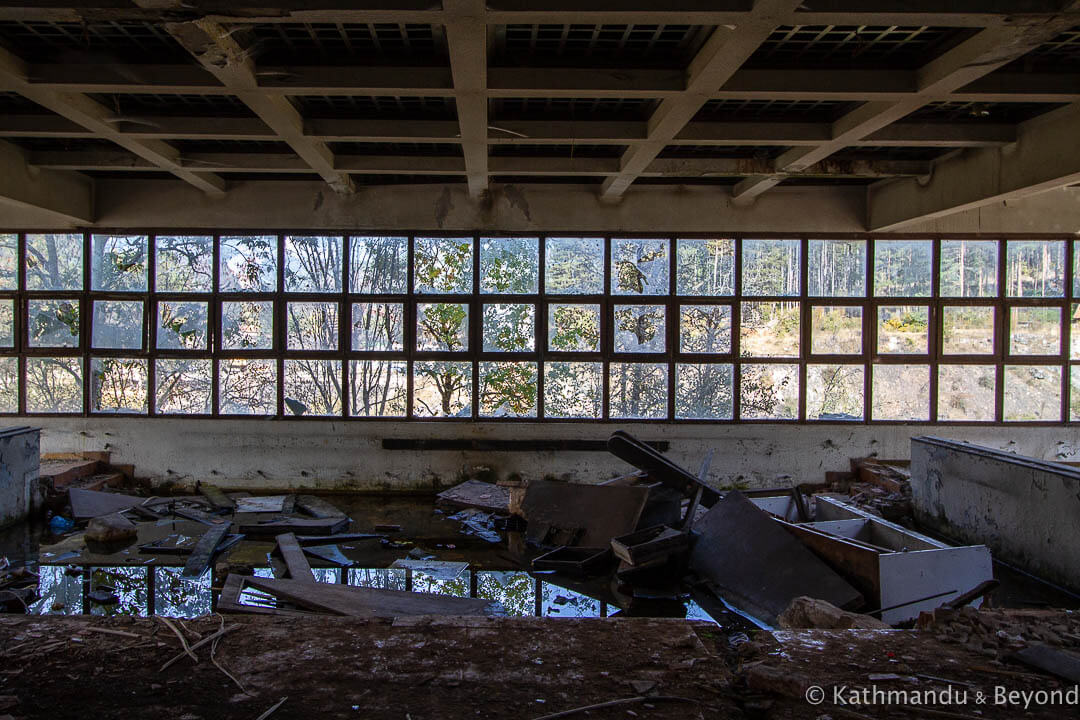 The entire place was gutted and there was a horrible stench coming from the ground floor. We made our way up as far as we could but there really wasn't that much to see so we didn't linger for long. There was no evidence that anyone was, or had been, living there recently and we were alone for all of the time we were there.
We had to drive back past the motel the following day and the sunshine of the previous morning had been replaced by an ominous fog, which certainly seemed more fitting for a place where unspeakable plans were once hatched.
How to get to the Motel Emos in Miljevina
The Motel Emos is situated on the M18, the main road heading south out of Sarajevo towards Foča. It is 60km from Sarajevo airport and 13km from Foča. The exact GPS coordinates are 43.51311, 18.64638 but, if you travelling along this road it's unlikely that you will need them as you can't miss it.
We had our own transport when we visited but any bus travelling between Sarajevo and Foča would be able to drop you off by the building. You may have a wait a while for another bus to pick you up!
---
---
---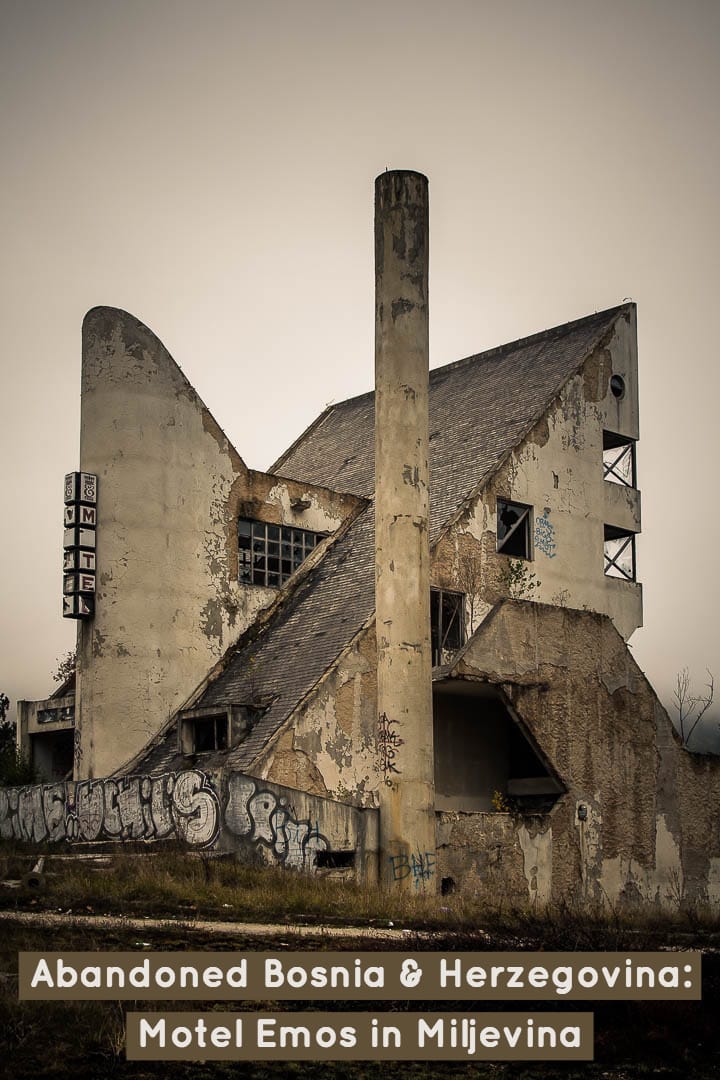 ---