A chance to photograph local life and improve photography skills in Chiang Mai
During one of our many extended stays in Chiang Mai, I participated in 'A Day of Photography', a one-day workshop offered by Alan McArthur. Alan is an award-winning professional photographer who makes Thailand his home for a large part of each year.
We met on our bicycles one morning at one of Chiang Mai's largest wats (temples), Wat Phra Singh. I was feeling put out – it was an unusually overcast and damp day for the time of year and I was a bit grumpy at the thought of taking photographs with less than clear blue skies.
Little did I realise, one of my biggest take-aways from the day would be that it is possible to capture interesting images if the conditions are less than perfect. I also learnt that you can't make a grey sky blue (at least not without Photoshop) and that you just have to get on with it. Plus don't take pictures that feature sky.
Using puddles to make the most of the weather conditions …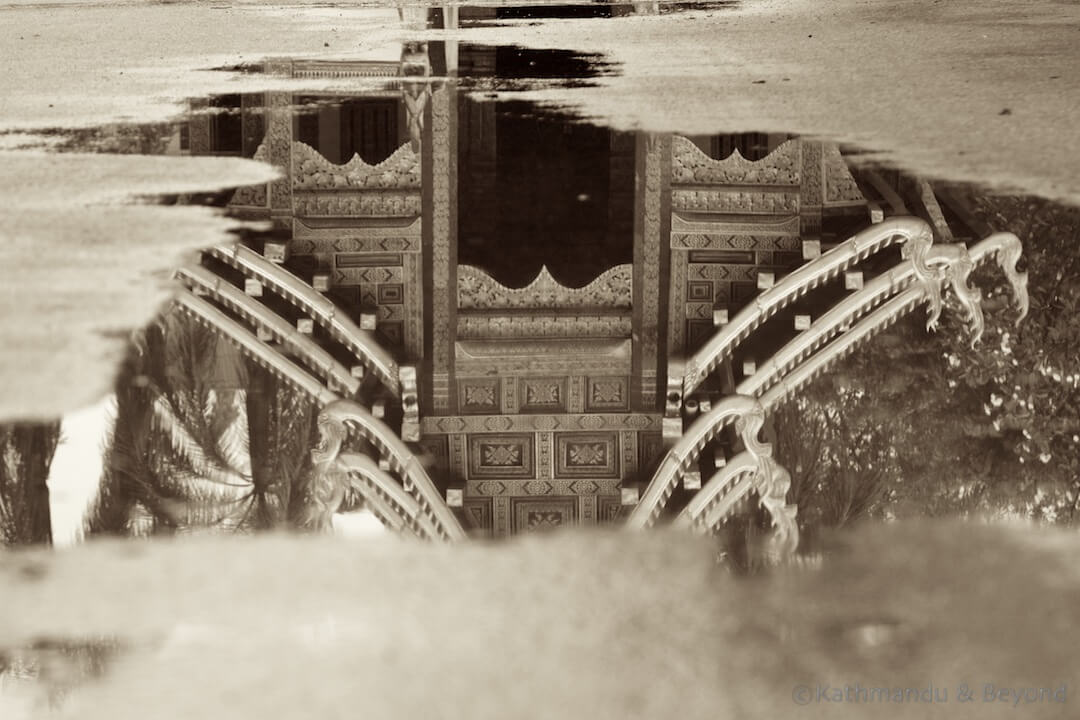 Wat Phra Singh, Chiang Mai
And is this snow in Chiang Mai? Or just an illusion?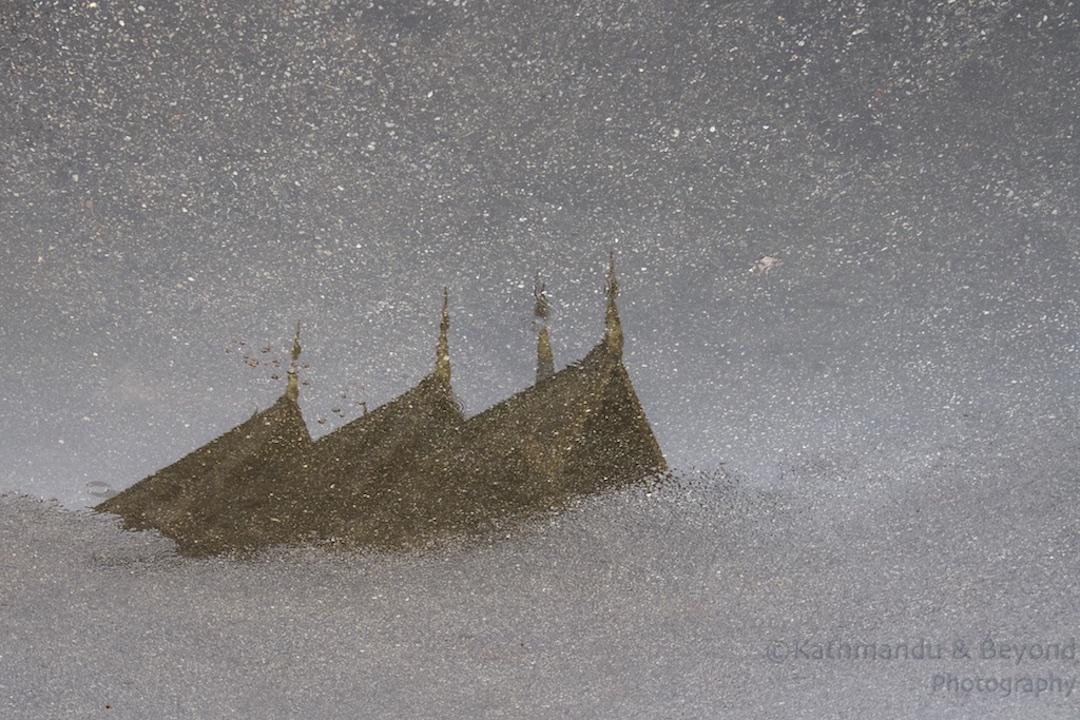 Wat Phra Singh, Chiang Mai
Although our rendezvous point was one of Chiang Mai's biggest tourist attractions, we didn't linger in front of the temple for long. Instead, we headed behind the shiny wat to places many visitors probably don't even know exist.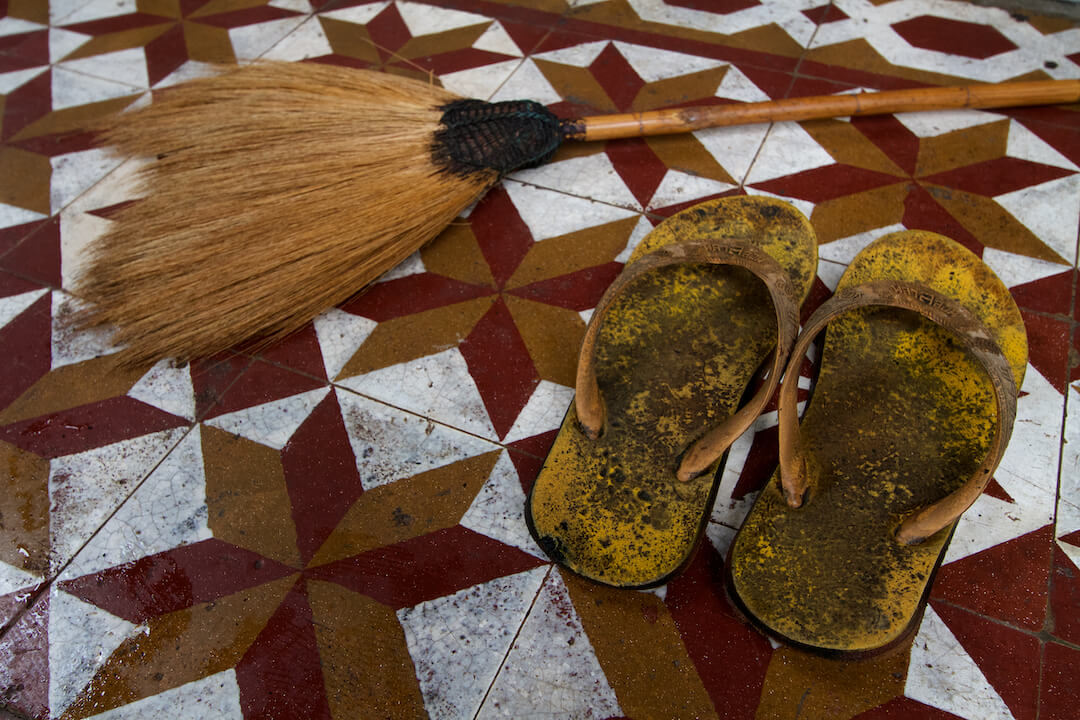 Wat Phra Singh, Chiang Mai
I learnt to look for textures and colour …
Wat Phra Singh, Chiang Mai
After leaving Wat Phra Singh, we continued by bicycle to several other spots around the city.  As Mark and I are repeat offenders when it comes to visiting Chiang Mai, I already had my favourite spots to photograph and was pleased to discover that some of these were Alan's favourites too.
They include Baan Phor Liang Meun Terracotta Arts Centre tucked behind Chiang Mai Gate market.
Baan Phor Liang Meun Terracotta Arts Centre, Chiang Mai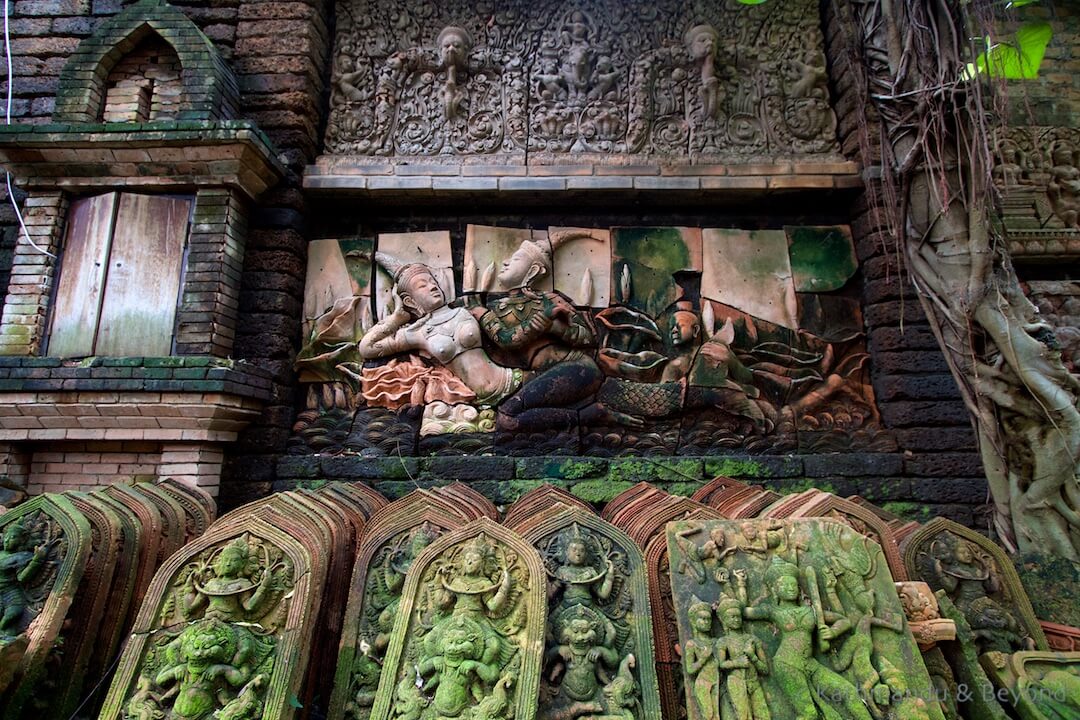 Baan Phor Liang Meun Terracotta Arts Centre, Chiang Mai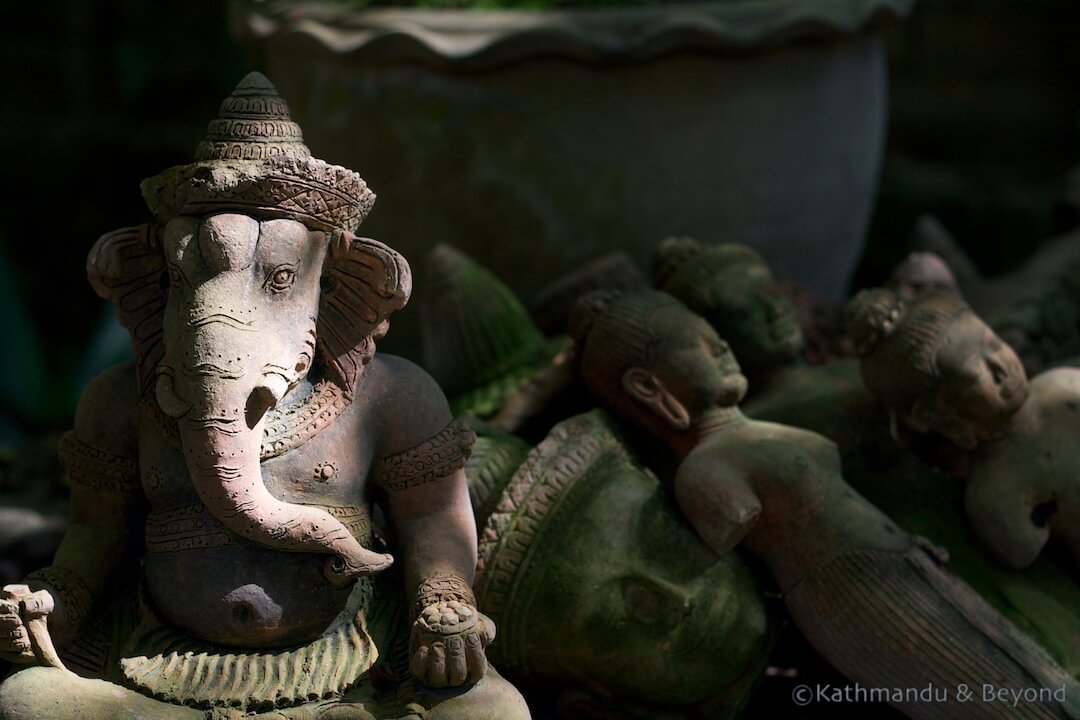 Baan Phor Liang Meun Terracotta Arts Centre, Chiang Mai
We continued to the market at Chiang Mai Gate, but not to take pictures of fruit and vegetables.
Chiang Mai Gate market 
The focus of the day was on photographing street life, real-life and portraits. Alan didn't really cover the technical side of photography (although he could have done if requested), although much of the workshop was about understanding my camera better, and most importantly, what makes a great image.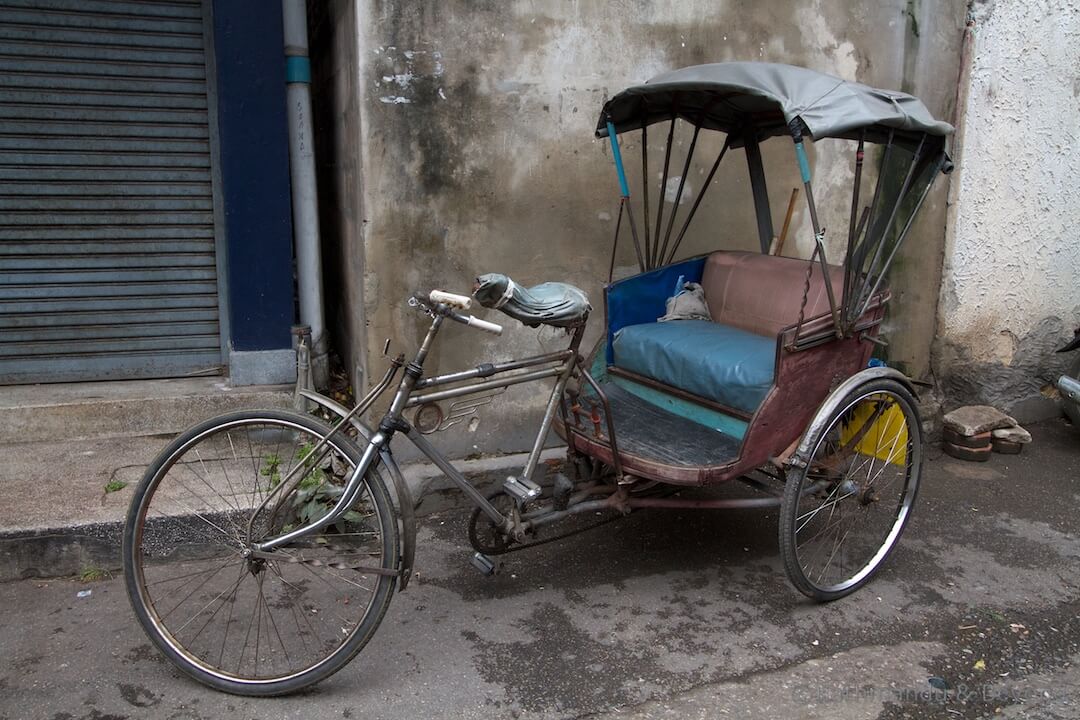 Chiang Mai Gate market 
 A big part of the 'Day of Photography' was about the photographer's relationship with his or her subject. This is something that I have been taught on previous photography courses that I've attended: try to get to know your subject a little before putting a camera in their face.
To be honest, I probably didn't need to attend a course to learn that; it's just good manners!
I do try to build up a rapport with the person I'm photographing before snapping away, but often, because of language difficulties, that means a smile or a friendly gesture or, at best, a handful of probably mispronounced words.
Alan had the distinct advantage of being able to speak Thai and having lived in Chiang Mai for many years had built up his own relationships with many people at the places he visits during the day of photography.
Sometimes though, even if you do build up that rapport, you can't stop your subject from standing to attention!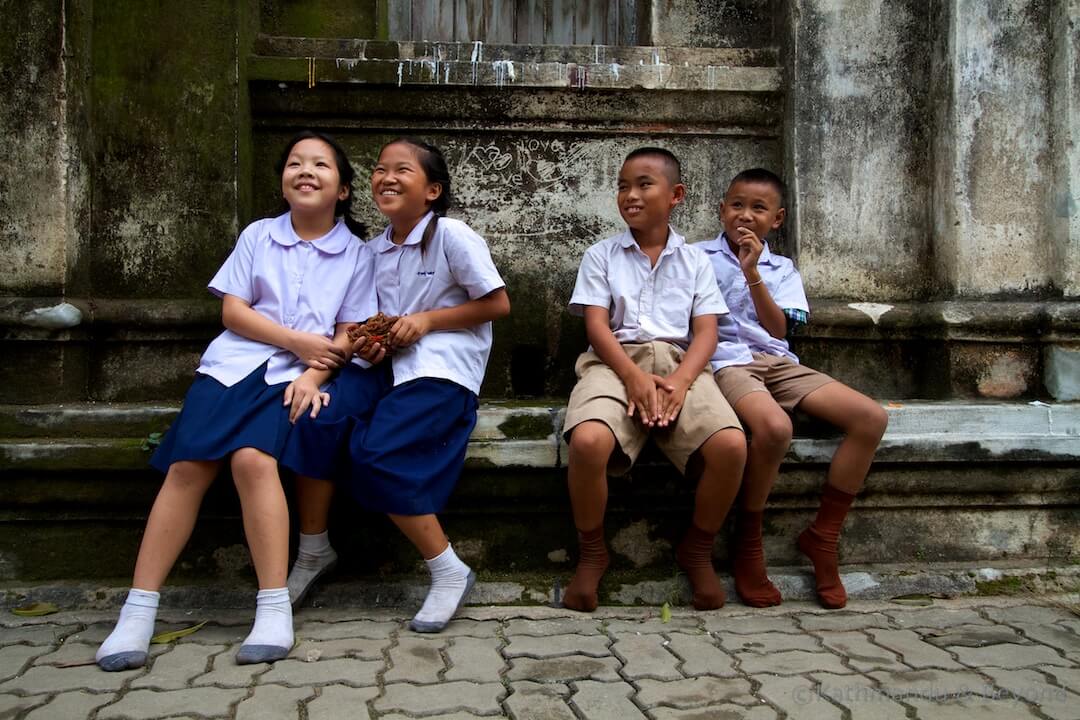 Wat Pa Pao, Chiang Mai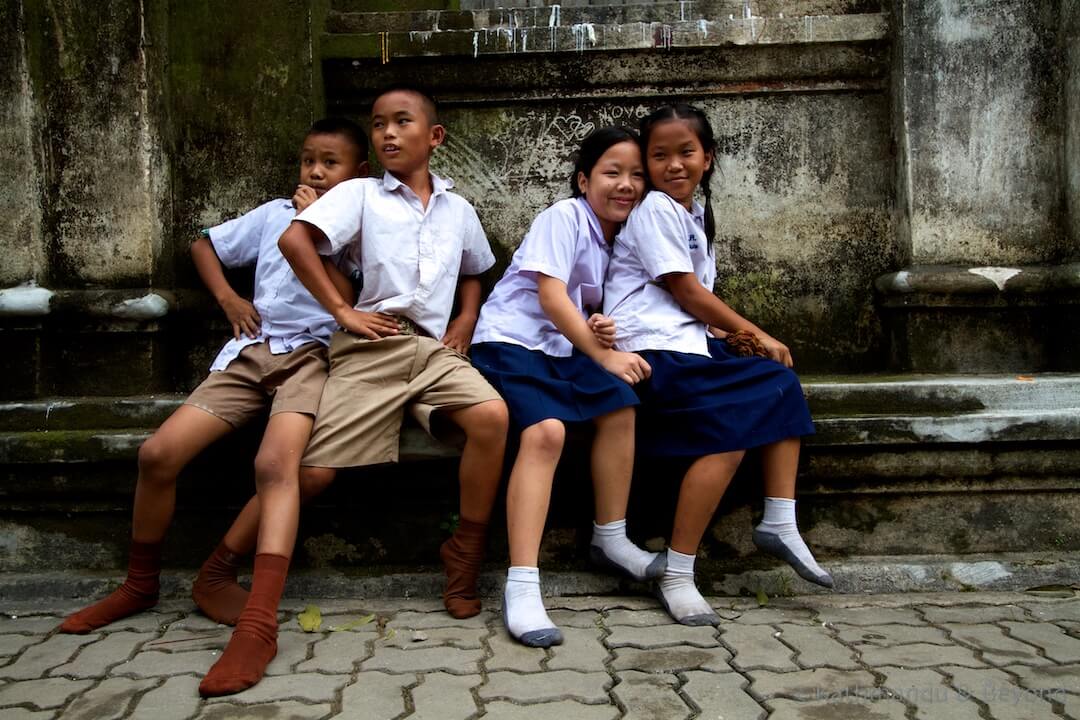 Wat Pa Pao, Chiang Mai
Wat Pa Pao, Chiang Mai
I think these photographs show a different side of Chiang Mai and I am rather pleased with them. I can say that with confidence because actually I believe a lot of the credit goes to my "teacher" for the day, Alan.
Wat Pa Pao, Chiang Mai
I hope you enjoyed reliving my day of photography in Chiang Mai with me.
These photographs, plus many more of Chiang Mai, can be found in our Thailand photo gallery.
To find out more about A Day of Photography in Chiang Mai, you can contact Alan via his Facebook page. Be sure to tell him we sent you! 😉  
---
INSPIRED BY THIS POST? WHY NOT PIN IT TO YOUR THAILAND TRAVEL OR PHOTOGRAPHY PINTEREST BOARDS?
---
---