East of the Dnipro River: Places to visit in Dnipro
Looking for an off-the-beaten-path destination in eastern Ukraine which receives hardly any tourists? If 'alternative traveller' is a label you give yourself, Dnipro may just be the city you're seeking!
The Dnipro (Dnieper) River, which originates in Smolensk in Russia and flows out into the Black Sea beyond the Ukrainian city of Kherson, acts as a natural divide between the west and east of Ukraine and we spent about three weeks visiting a few cities and towns east of the river in August 2017. In this order, we based ourselves in Chernihiv, Dnipro, Zaporizhia, Kharkiv and Poltava. This part of our East of the Dnipro River series focuses on our time in the city of Dnipro.
Introducing Dnipro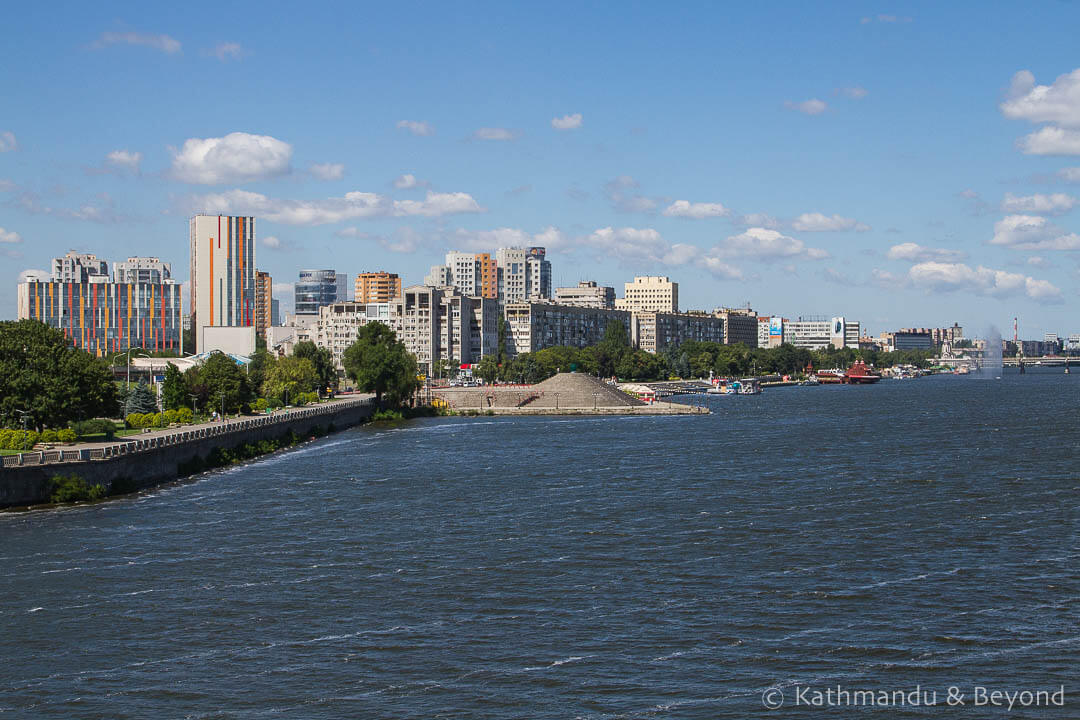 The Dnipro (Dnieper) River
Known as Dnipropetrovsk (or Dnepropetrovsk in Russian) until May 2016, Dnipro, which is thankfully now much easier to pronounce (both the D and the N are pronounced but the N dominates), is Ukraine's fourth-largest city.
From more or less the end of World War II up until the collapse of the Soviet Union in the early 1990s, Dnipro was a closed city. Under the control of Yuzhmash, the Ukrainian state-owned aerospace manufacturer (*), a vast production plant was established on the outskirts of the city in order to produce and develop military missiles, rockets and spaceships that would become pivotal in the Space Race between the USSR and the Americans in the 1950s and '60s.
(*) Yuzhmash – my new favourite word!!
Nowadays you are free to visit the city at will but that's not to say that many people do. Unlike other major cities in Ukraine, namely Kiev, Lviv and Odessa, Dnipro doesn't see a lot of tourists and, upon first impressions, it's easy to see why. We arrived in Dnipro after dark, which is never a good idea in any big city, and the area around the train station was grim. What's more, we were plonked in a crappy apartment, more or less opposite the Paras Hotel (see below), by the company we booked through. This is a particularly rundown area of the city and heading out the next morning in the rain for an initial look around, we wondered if Dnipro was going to be worth the four nights we had booked to stay there.
But, after a short email exchange, we were able to move to a much nicer apartment in a more upbeat part of the city, and the rain stopped and we began to explore with a bit more enthusiasm. As will become apparent from the content below, ultimately, we both warmed to Dnipro and left with a positive feeling about the place.
Putting a finger on exactly why we felt positive is perhaps easier said than done, however. Large areas of the city are depressing and rundown plus we saw more poverty here than anywhere else we've visited in Ukraine but, as the saying goes, 'There's life in the old dog yet'.
For starters, the people we interacted with were very friendly and had plenty of patience with our requests and questions. For example, I noticed on a trolley bus we were on that passengers were giving their unclipped tickets back to the conductor so that he could presumably resell them and make a few extra hryvnia, the Ukrainian currency. I had no problem with this and just before our intended stop, I did the same. Most people handing back their ticket got a curt nod from the conductor but he knew we were tourists and I got a huge eastern European-style hug and a big smile from him when I handed our two tickets back!
We also met Vladimir, a friendly guy who worked at the Palace of Pioneers and he took time out to show us around the interior of the building. For us, this was a real treat and we both warmed to Vladimir even though we couldn't speak any of the three languages in which he wanted to converse (Ukrainian, Russian and German) and he didn't have any words of English.
We were also impressed with what we saw. We came to Dnipro because we wanted to see the city's Soviet-era architecture, explore a couple of its abandoned buildings (we didn't have much luck on that score) and generally experience a side of Ukraine that (hopefully) would be different for us, given that up until that point we had only been to places in the west of the country. Dnipro ticked the boxes on all of these accounts.
Map of places to see in Dnipro
What to do in Dnipro
The Promenade
Walking along Dnipro's riverside promenade is one of the best ways to initially orientate yourself. Starting at Monastyrskiy Island and heading along to the now-abandoned Parus Hotel, here are the places of interest we found along the way:
Monastyrskiy Island is a nice place for a stroll, a beer or a coffee, some good people-watching and even a spot of sunbathing (or a combination of any of the above). From the mainland, the island is reached via a short pedestrian bridge and once there, the best way to get around is to either walk at a leisurely pace or hire bicycles. On the island itself, there is the usual plethora of local eateries, a scruffy funfair and a decent-looking beach that, on a hot summers' day in August, looked very inviting.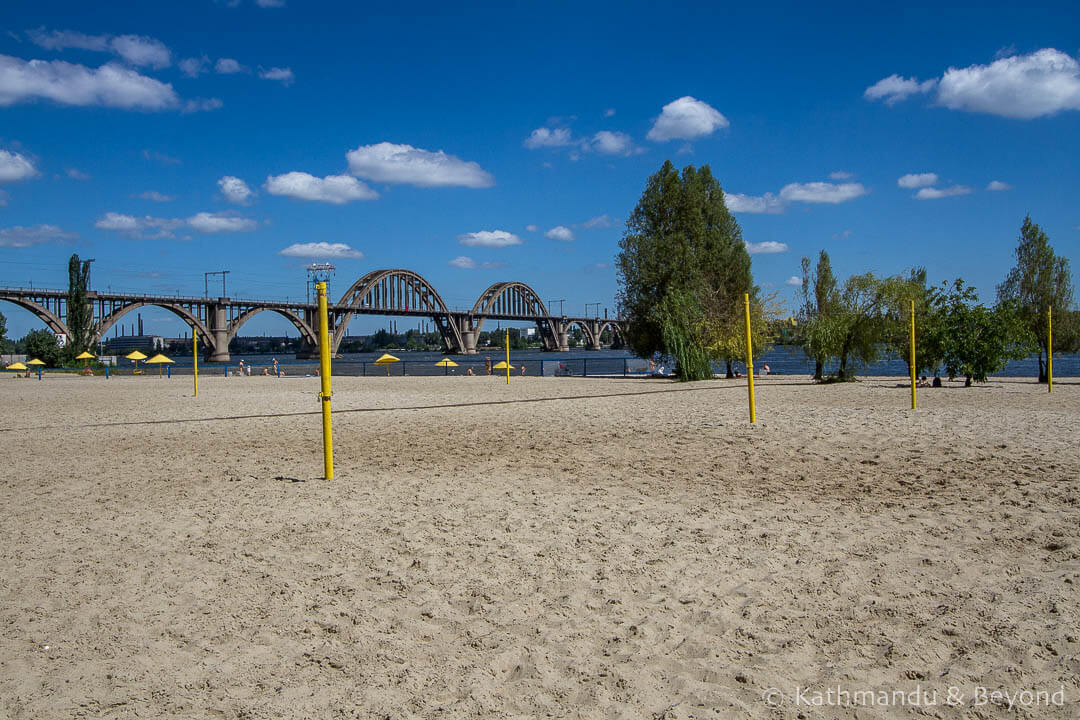 Monastyrskiy Island 
St. John the Baptist Chapel (left) and Ball of Desires (right)
Tsentralnyi Bridge (left) and Monument to soldiers killed in Afghanistan (right)
Continuing along the waterfront, the next thing you will come across is the Ball of Desires (which looks like a big, glass marble) and the mandatory I heart (Dnipro) sign, the likes of which can be seen in so many European cities these days. Both are popular selfie stops. After crossing under Tsentralnyi Bridge (remember to look up to check out the Soviet-era sculptures), you pass the small St. John the Baptist Chapel and the Monument to soldiers killed in Afghanistan. This is the lively/rejuvenated part of the promenade and there are several places along this section where you can get a drink and/or a bite to eat but almost immediately after passing the monument and the nearby UFO-style Poplavok Restaurant, the broad and pleasant walkway becomes almost unrecognisable.
And more interesting in our opinion!
As of August 2017 (when we visited Dnipro) this section of the promenade had not yet received a facelift. Ignoring the horrible smells, manky shoreline water and the abundance of discarded beer bottles and the like, the first thing of interest is a low wall covered in colourful street art. Nearby, the shell of a disused restaurant is worth a poke around but it's the infamous and abandoned Parus Hotel that is the star attraction at this end of the promenade.
Never completed, this beast of a building, now plastered in patriotic Ukrainian colours, is a total eyesore for a large percentage of the local population and an urbexing dream for the limited few, which includes us!  Up until not so long ago, it used to be possible to get inside the hotel and climb to the top. Initially, there was no security and thereafter those tasked with safeguarding the site would take a bribe in return for letting you inside but after a number of fatal accidents, coupled with robberies and the rumour that the place was a hangout for the notorious Ukrainian serial killers, the Dnepropetrovsk maniacs, the hotel is now heavily guarded and extremely difficult to penetrate (although not totally impossible, from what we've heard). Not only do security guards roam the premises but there are also at least six gnarly dogs on extended chains, which we had the pleasure of being introduced to when we were considering our options on whether it was a good idea to try and enter or not. As soon as they saw us, they woke from their slumber and, in unison, hurled themselves in our direction. Luckily, a heavily bolted gate and a high perimeter wall separated us from the said gnarly dogs but their feverish barking brought us to the attention of a couple of security guards, who told us, in no uncertain term, to bugger off. We learnt a new Ukrainian word that day!.
We like entering disused buildings but we're not stupid and neither do we have a death wish so we promptly gave up on the idea of trying to gain access to this one.
The abandoned Parus Hotel
Poplavok Restaurant (left) and an abandoned/unfinished restaurant (right)
As an aside, it was on the exterior of the wall that encircled the Parus Hotel that we saw our first set of Nepalese-style All-Seeing Eyes. Apparently, it is a thing in Dnipro and thereafter we began spotting them all over the city. It was a bit strange at first but it wasn't long before Kirsty realised the PR opportunities in connection to the name of our website and so now we have loads of photos of them backed up on a hard drive (dig, dig! (*)).
(*) My argument was why did we need to take a photo of every pair of eyes that we saw? Wouldn't one suffice given that they all looked the same!
Beyond the Parus Hotel is currently just wasteland and large industrial buildings and it wasn't possible to continue walking along the actual waterfront any further.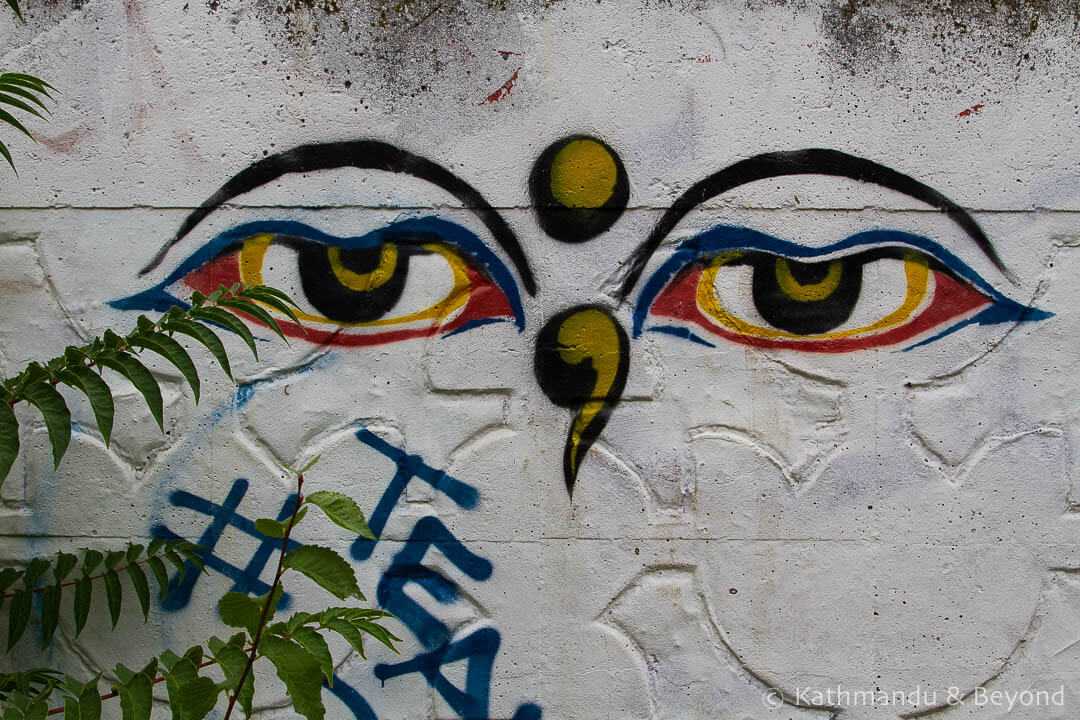 Nepalese-style All-Seeing Eyes street art
Places of interest away from the Dnipro River
Soviet Architecture in Dnipro
Probably our primary interest in coming to the city was to look for Soviet-era architecture and finding it really wasn't that difficult. Along with Zhytomyr, which is located west of Kiev, Dnipro is the most Soviet city we have visited in Ukraine. As well as the defunct Parus Hotel, the solid-looking Dnepropetrovsk Hotel is also worth a look. Around the corner from this hotel, you will find the circus artists accommodation block as well as the circus itself. In fact, the officially named Dnipropetrovsk State Circus is one of two circuses in the city. The other one is on the outskirts of Lazar Globa Park. It's older than the state circus and looks like it is on the verge of being demolished but with a little elevation, it's possible to still peer over the perimeter wall that surrounds it and get a view of its circular exterior.
Dnipropetrovsk State Circus
Dnepropetrovsk Hotel (left) and circus artists accommodation block (right)
Lazar Globa Park itself is also a good hunting ground for architecture and monuments from that era. Inside the park, you can't miss the all-dominating summer theatre, which takes up half the lake in which it is situated and, at the park's northeast entrance, you can see Union House as well as a couple of stirring war memorials. There are also some interesting items of memorabilia inside the station of the Children's Railway, which is also located inside the park.
Summer Theatre inside Lazar Globa Park (left) and Union House (right)
Old circus building (left) and the Memorial in Honour of the Liberation of Dnepropetrovsk from the Nazi Occupiers (right)
The Monument of Eternal Glory, which is south of Monastyrskiy Island is another very Soviet-looking memorial and if you continue walking down the hill from there towards the river you will reach the futuristic Palace of Pioneers (aka Palace of Children and Youth). We are a little biased in our favouritism for this building because, as mentioned above, we were invited inside by one of the employees and able to look around. But, even if it isn't possible to view the interior, it is still worth admiring the building from the outside, particularly if this architectural style interests you.
All the above (and more) have been pinpointed on the enclosed map but, before moving on, it would be remiss not to mention Rocket Park, a manicured place of recreation in the heart of the city that is dominated by three space-race-era rockets and a small museum. The museum was never open whenever we went past it but the rockets are very retro and worth a closer look.
Rocket Park
Monument of Eternal Glory (left) and the Palace of Pioneers (right)
Another place we visited, that was interesting and frustrating in equal measures was the Palace of Culture Ilyic. Close to Metrobudivnykiv metro station, the building was completed in 1932 in Constructivist style and used as a Palace of Culture for the proletariat up until the fall of the Soviet Union in the early 1990s. Privatisation followed and since 2000 the building has been boarded up and left to decay.
Palace of Culture Ilyich
Amid rumours that the palace is full of artefacts from the Soviet times and that the guards, as well as people who work there (some renovation is now going on), aren't averse to the odd bribe in return for entry, we headed there to look around the exterior and try our luck at getting in. Initially avoiding the main entrance, we surveyed the outside of the building for a way in. Twenty minutes or so of this resulted in nothing more than dog shit on the bottom of our shoes and a couple of scratches from protruding branches so we decided to hang around the main entrance and make ourselves visible to the workmen inside. A smile from me resulted in a nod of acknowledgement in return but nothing more. Admiring our camera and pretending to look at photos on the back screen didn't do much either. Even pushing Kirsty (with her nicest smile) forward into view did nothing and so, in the end, and for the second time in so many days, we gave up on trying to get into one of Dnipro's numerous abandoned buildings. 
Plug time …

Museums and Exhibits
We don't go to many mainstream museums but there were a couple in Dnipro that took our fancy. But, as with the abandoned stuff, we didn't have much luck getting into the city's museums either. The Diorama (which depicts the 1943 Battle of the Dnieper, one of the largest operations of the entire war) and adjacent History Museum both had opening hours that were later than advertised on their respective websites and, as we were catching an onward train later that morning, we were unable to visit either of them. The same goes for the Menorah Centre, which is associated with Dnipro's strong Jewish heritage and by all accounts one of the city's must-see exhibitions. They did have the correct timings on their website, but we simply turned up too late and it was closed the following day so we never managed to visit that either.
Memorial to the Fallen Paratroopers (left) and Donbas War Museum (right)
But, assuming you are better organised than we are, we would recommend incorporating them into your agenda if you are visiting the city.
We did find a couple of interesting exhibits, however. Next to the Diorama is the open-air Donbas War Museum, where destroyed vehicles and whatnot have been turned into poignant pieces of art. We also found a display of thought-provoking photos taken in the conflict zone. Known as the Memorial to the Fallen Paratroopers, the large photos were located inside the Public Garden of Heroes, which is fairly central and easy to find.
Also in Shevchenko Park (where the Diorama, the History Museum and Donbas War Museum are located) is the golden-domed Preobrazhensky (Transfiguration) Cathedral. Apart from this one, we didn't really come across any other churches of note in the city, which is unusual in Ukraine.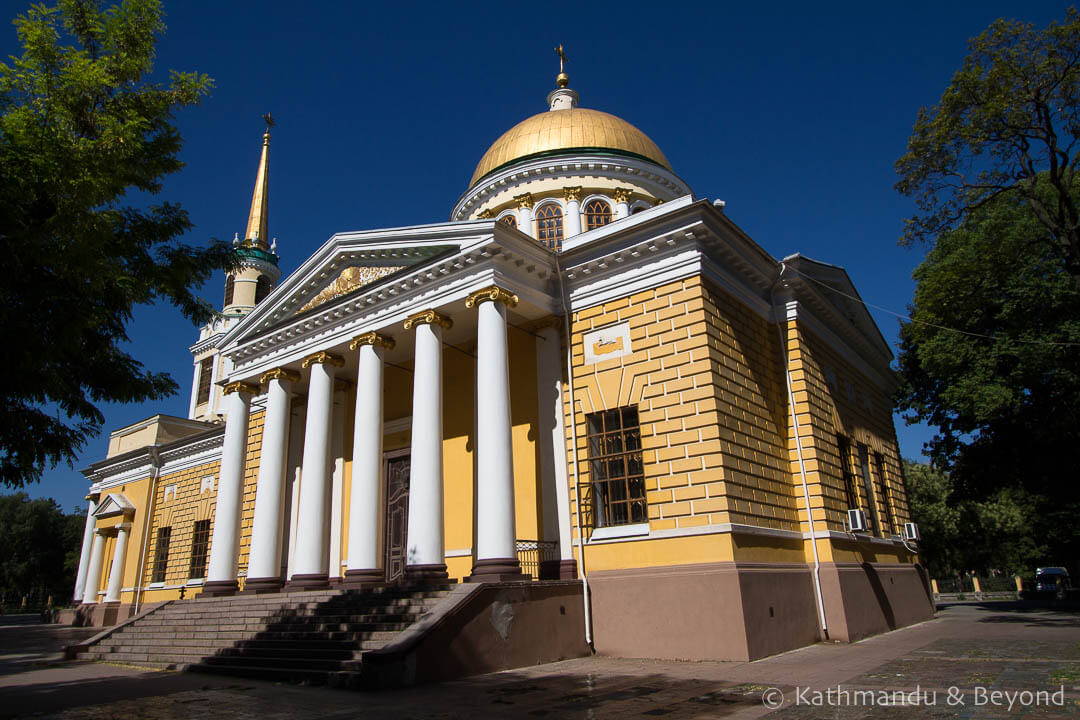 Transfiguration Cathedral 
Street Art in Dnipro
I better mention street art or I'll get it in the neck from Kirsty! Apart from the stuff we found down by the Poplavok Restaurant and the Nepalese-style All-Seeing Eyes, which are all over the place, we also spotted quite a bit of street art in other parts of the city. Kirsty documents all the street art we see and will no doubt write a post about it one day soon but, if this style of art is your bag, then Dnipro is a city worth considering.
Street art in Dnipro
Where to stay in Dnipro
We stayed in two apartments in Dnipro, both via the same rental company. The first, which was down by the (decaying) end of the promenade, was terrible and I wouldn't recommend it to anyone. I think we were put there by mistake as it didn't correspond to the description on booking.com. It's only saving grace was the fact that it was high up and had an excellent view down onto the Paras Hotel. We asked to move and were taken to a far superior apartment close to Rocket Park. This was a great apartment, which was bright and modern but the best thing about it was its proximity to one of the best supermarkets we have come across in Ukraine. It stocked chilli powder, other spices and had an on-sight craft beer shop. I know I shouldn't be waxing lyrical about a supermarket but decent ones are hard to come by in Ukraine and stocking spices is almost unheard of! We were very pleased to have found it. It was called Varus and it's marked on the map.
Search for the best places to stay in Dnipro.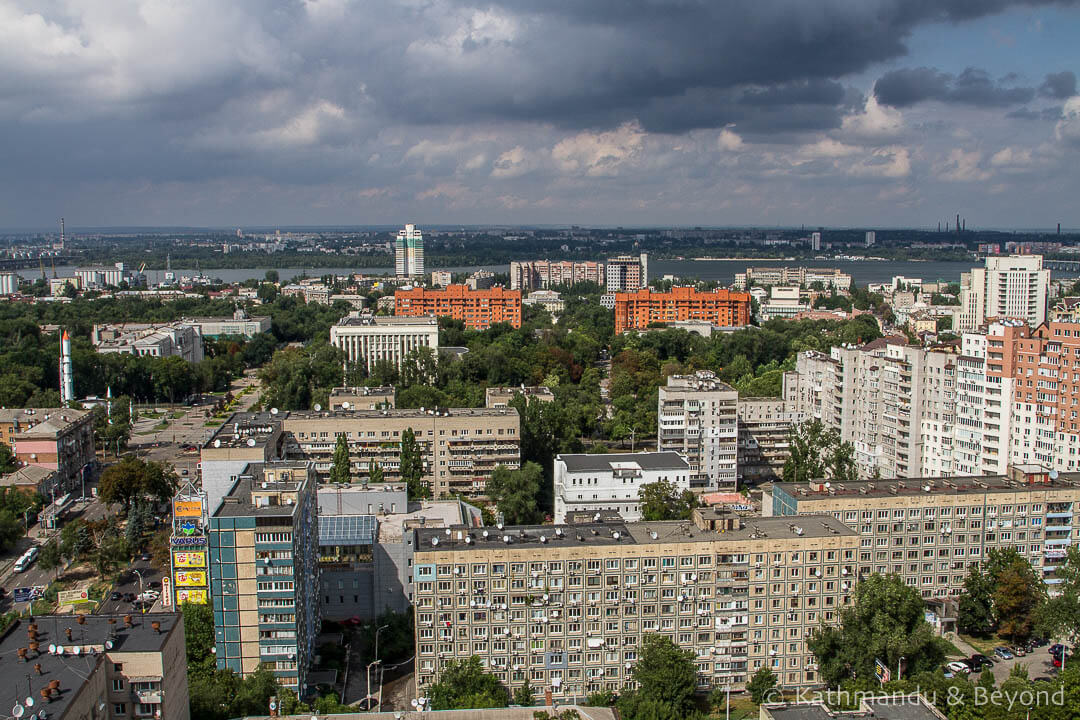 The view from our second apartment 
How to Get to Dnipro
Dnipro is well connected by train with Kiev. Fast and comfortable daytime trains make the journey in about 6 hours plus there are slower as well as overnight trains. Dnipro is also well connected with other parts of Ukraine but if you want to get to nearby Zaporizhia, this is best done by bus or marshrutka as the train is slow in comparison.
We use Ukrainian Railways website to look up (and book) trains and this website for bus schedules, although we always buy the tickets from the bus station itself. For local transport (buses, trams etc.) we refer to a website called Easyway.
Is Dnipro worth visiting?
That depends on how much time you have in Ukraine and what your interests are. If you like Soviet architecture, street art and generally going to places that are away from the norm then yes, Dnipro is a worthwhile city to visit. That said, if you only have time to see either Dnipro or Kharkiv (the other major city in the east of the country) but not both then opt for Kharkiv as, overall, it is a far more attractive and enticing city to spend time in.
---
---
INSPIRED TO VISIT DNIPRO? PIN THIS TO YOUR TRAVEL BOARDS…
---
---