Stumbling on one of Northern Thailand's quirkiest temples – A offbeat attraction on the Green Route
We were driving in a self-drive rental car along a section of road the Thailand tourist board promotes as the 'Green Route'; a busy stretch of Highway 12 that runs from Khon Kaen to Phitsanulok. We were wondering just what exactly was "green" about the journey, which appeared more dust-brown in colour when we spotted a temple on a nearby hill. Working out the route to the temple wasn't easy but eventually with a combination of our road map, the Google maps app on my iPhone and my very poor Thai, we figured it out. Some people are easily templed-out but not us!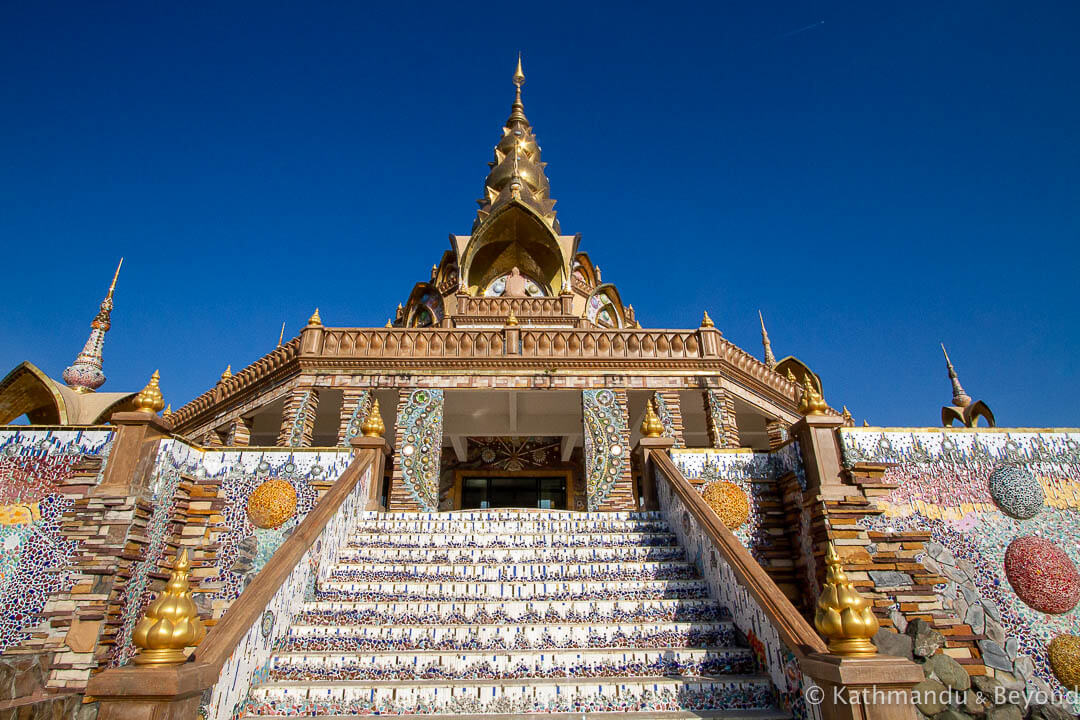 Wat Phra Dhat Phasornkaew near Khao Kho in Phetchabun Province, Thailand 



Wat Phra Dhat Phasornkaew near Khao Kho in Phetchabun Province, Thailand 
What wat?
It turned out the temple in question was called Wat Phra Dhat Phasornkaew. It was quite unlike any other temple we've seen in Thailand. The name apparently translates from Thai as 'temple on a glass cliff' although I'm sure it should be 'glass temple on a cliff'.
The main temple looked almost North African in design and its gold shell was embedded with brightly painted ceramic plates and glass pebbles. It felt like 'Disneyland meets Nirvana' in the most eclectic way possible! It was a large complex with many statues of Buddha in various stages of completion and several small buildings adorned with colourful mosaic tiles.
There was very little information available and Wat Phra Dhat Phasornkaew's website doesn't translate well but from what we could gather, this outlandish temple complex is primarily a meditation centre and monastery. However, the unique structures also seemed to draw quite a few Thai tourists.
Wat Phra Dhat Phasornkaew may have been completed by the time you make it there …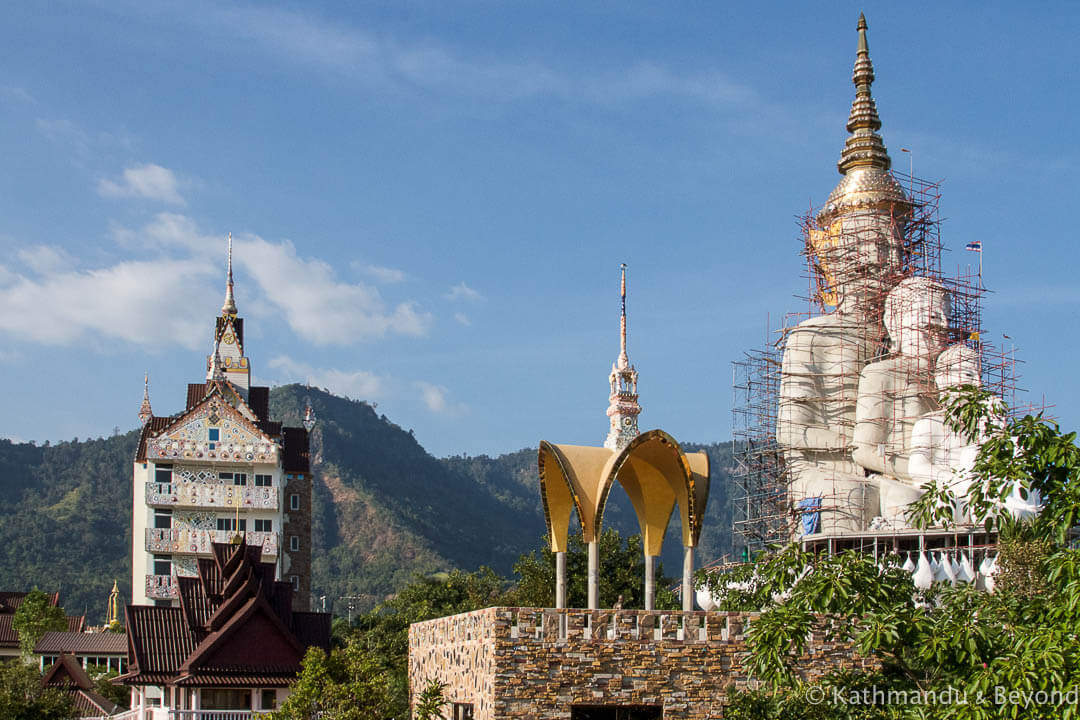 Wat Phra Dhat Phasornkaew near Khao Kho in Phetchabun Province, Thailand 
Location
Wat Phra Dhat Phasornkaew is located in Phetchabun province on Highway 12, near Lom Sak and just beyond the junction with Highway 203, heading towards Phitsanulok. It's about five hours drive north of Bangkok and currently, there's no public transport to the temple complex from any of the nearby towns. We stumbled upon Phra Dhat Phasornkaew, but if you are actually looking for it, this Google map might come in handy.
---
---
---