Information and Advice for travellers visiting the Phuket Vegetarian Festival
Also known as the Nine Emperor Gods Festival, the Phuket Vegetarian Festival is, without a doubt, one of the most bizarre festivals we have ever attended.
Our previous post covered what you will see at the Phuket Vegetarian Festival – blood, gore, firecrackers, extreme body piercing and all – however, this article includes some more practical advice and answers some of the questions you may have if you are thinking of attending the Phuket Vegetarian Festival.
If you're here for the gruesome photos featuring folks with faces and bodies pierced with all manner of knives, sharp objects and household items go here. If you're looking for information to help plan your visit, read on …
What are the Phuket Vegetarian Festival 2022 dates?
The dates of the Phuket Vegetarian Festival are based on the Chinese lunar calendar and therefore are subject to change and confirmation. The Festival lasts for nine days and the dates for 2022 are predicted to be from Sunday, 25 September – Wednesday, 5 October 2022. A full schedule of events is published closer to the time. 
Which days are the best days to attend the Phuket Vegetarian Festival?
Whilst there will be something to see on each day the Festival takes place, the activity is definitely slower (and less gory) during the first couple of days.  The street parades grow in size and fervour as the week goes on, and the parade that travels through the streets of the Old Town on day six is the first big parade that spends a significant amount of time in Phuket Town, with an even bigger parade on day seven. We recommend planning your visit so you are in Phuket at some point during the latter week.  The fire walking ceremonies begin on the evening of day six and the bladed-ladder climbing usually takes place on days seven and eight, so plan accordingly if you want to try and see these activities.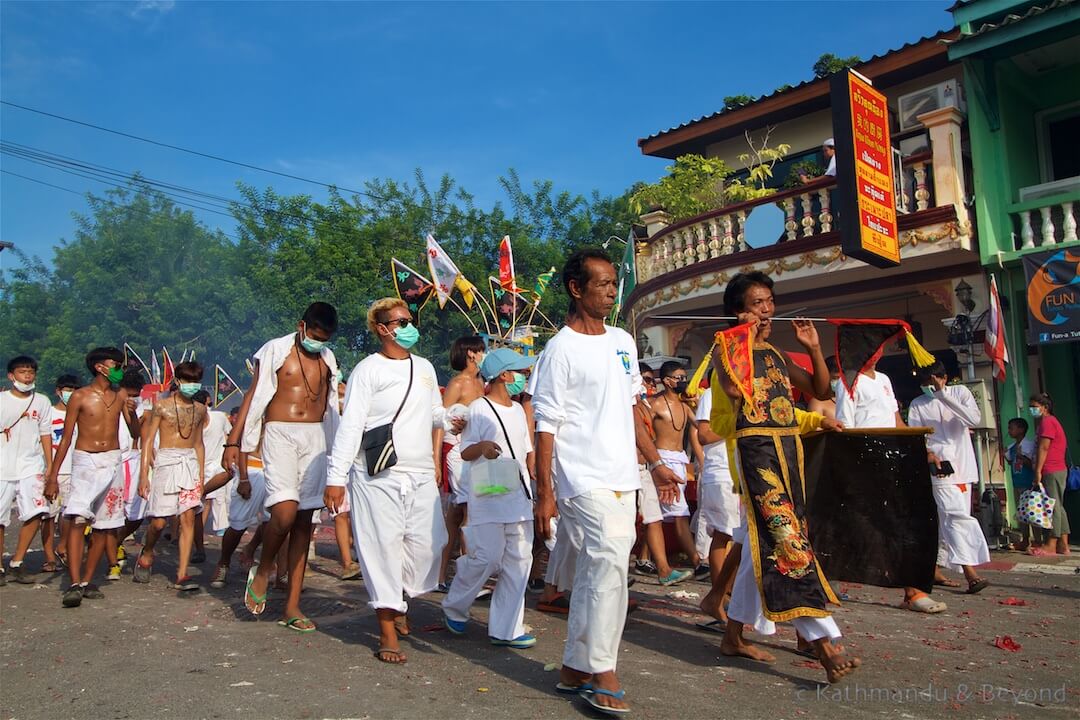 Are the street parades easy to find?
Reasonably so. The bigger parades that take place in the centre of Phuket are easy to locate once you're in the Old Town. Some of the smaller parades and other activities, less so. We picked up an information booklet from the tourist information office and found the included route maps invaluable.
Beware of following the crowds. Whilst following a line of people may seem like a good bet for finding the action, be aware that their final destination may be several kilometres away!
Do I have to get up very early every morning?
Although most of the street parades start early in the morning at around 6am from an appointed temple, the procession usually last four hours or so. We aimed to be out of our guesthouse door by 7-7.30am most mornings and we saw plenty of activity. The main reason to be at the shrine prior to the start of the parade is to try and see the piercings being done. Apparently, this can be quite difficult to witness, partly due to the crowds that attend. One person told us they were closed ceremonies and we wouldn't be allowed to see it but I'm not sure if that's true as I've also heard the contrary. 
Do I have to wear white?
White is the traditional colour for Vegetarian Festival participants, and although not mandatory, Thais and other devotees will respect you for wearing white. It will also help you feel more like a participant than an observer. Another advantage is that you will blend into the crowd when taking photographs. We were told that it is forbidden to enter a shrine unless wearing white.  To be honest, everything is so chaotic that I don't think anyone would say anything or throw you out for not doing so, however, we didn't try as it would have felt a little disrespectful. Don't worry if you don't have a wardrobe full of white clothes in your backpack or suitcase – there are plenty of white t-shirts and trousers (including the Thai style fishermen pants) for sale all around Phuket Town for less than £2 / US$3.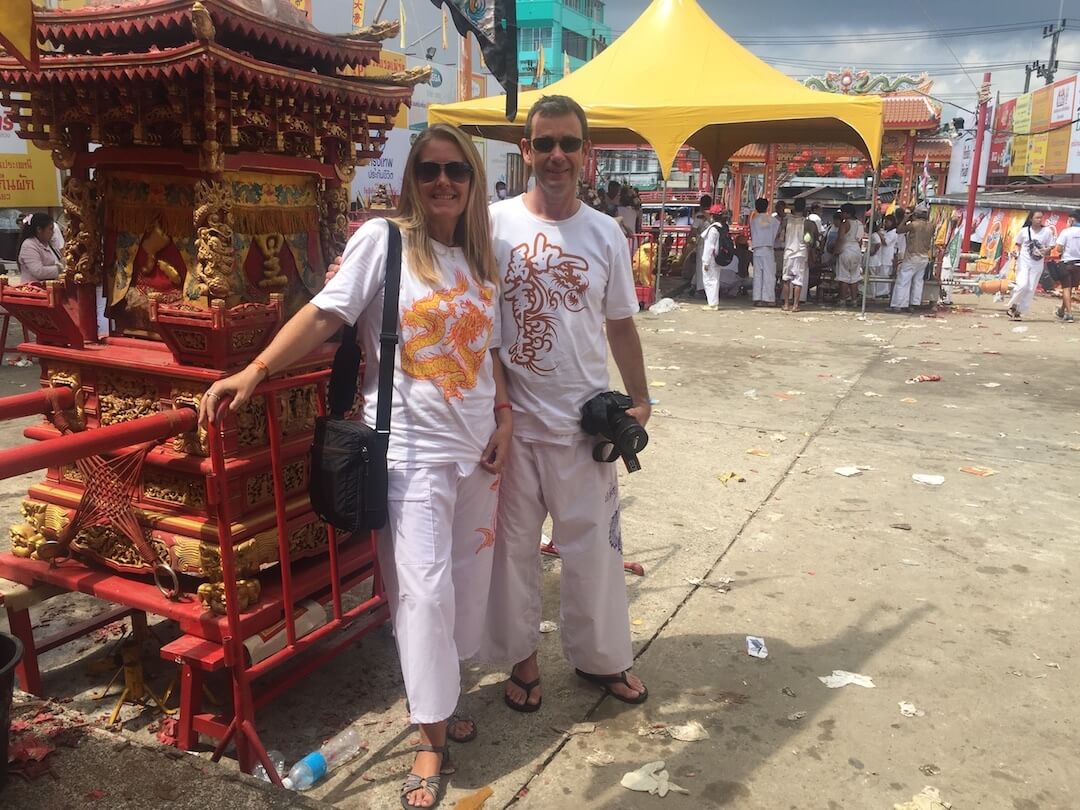 Sporting our white gear at the Festival
Is it OK to take photographs?
Absolutely. We were initially a bit hesitant as we didn't want to appear impolite (typical Brits!) but we soon learnt that photos were not only tolerated, they were welcome in some cases. There are plenty of snap-happy folks at the Vegetarian Festivals, from selfie-stick wielding tourists to professional journalists (we like to think of ourselves as somewhere in the middle!). Many Festival participants will pause briefly in their pierced and tranced state to allow a photo or even pose with spectators! More often than not, the parade won't stop and although it's acceptable to step in front of a heavily-pierced oncoming mah song (the name given to spirit mediums who are possessed by a god during the festival.), you may be expected to get out of the way equally quickly. True professional photographers attend the Festival covered top to toe in white, wearing face masks and ear plugs and heavy shoes. This allows them to get right into the heart of the action, among the relentlessly exploding firecrackers. They begin the day, pristine white and end it black and grey from soot but hopefully not too singed!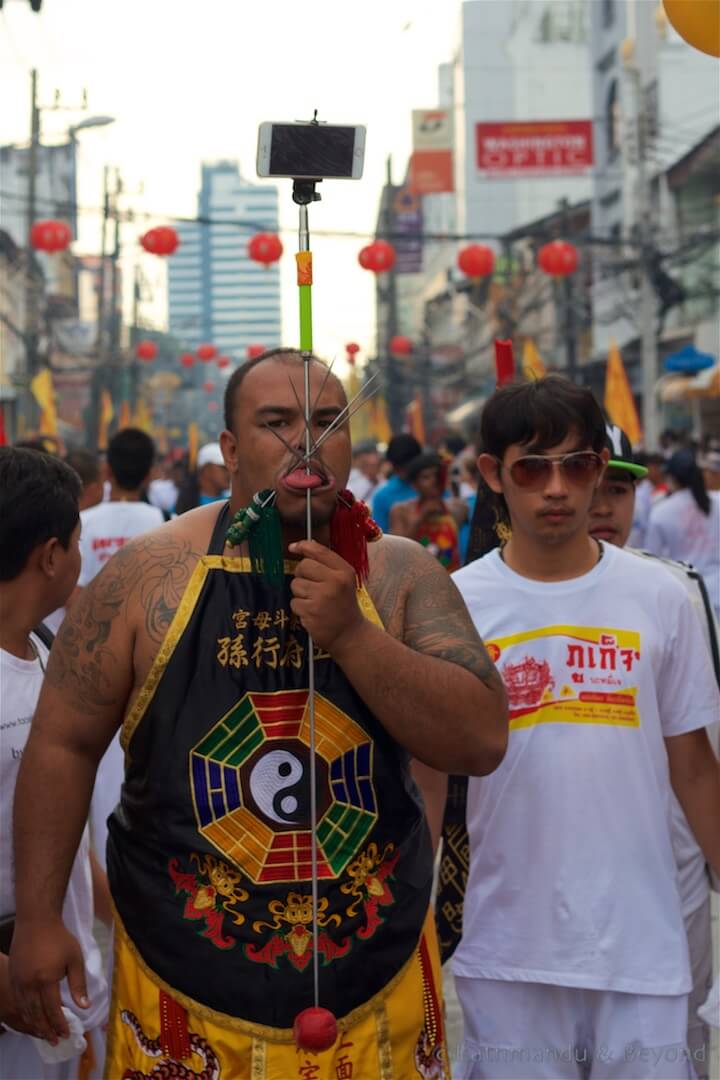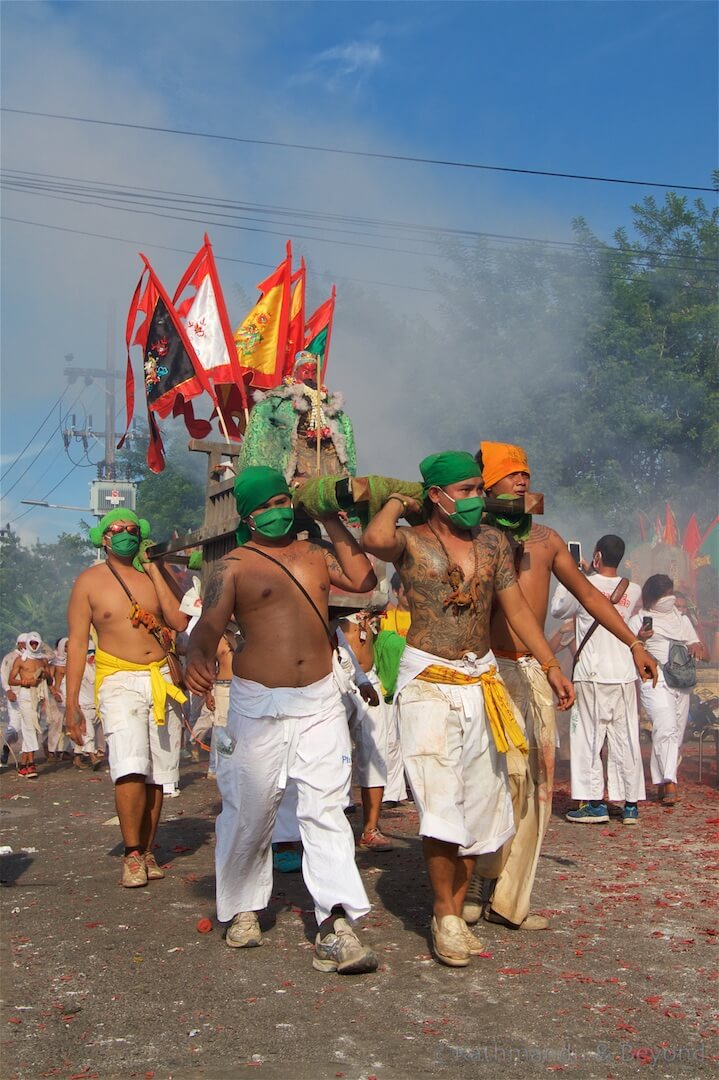 I know it's a vegetarian festival but does that mean there's only veggie food? Can I get meat if I want to?
This is a vegetarian Festival and to fully embrace all it encompasses, strictly speaking you should adhere to a vegetarian diet. BUT … Let's face it, much of the vegetarian food available is heavily deep-fried and furthermore, haven't you come to Thailand to enjoy a tongue-tingling chicken green curry and the deeply aromatic flavours of a prawn tom yum?
Jokes aside, for those who want it, meat is fairly easy to come by. Many local restaurants which usually serve meat, adhere to a vegetarian menu during the Festival. Hotels may produce some special veggie dishes but will probably also offer their usual menu. More likely than not, you will only find vegetarian fare at the street food stalls along the roads where parades take place and also close to temples. Look for the yellow signs with red letters outside restaurants and at food stalls indicating special vegetarian dishes. The specially prepared vegetarian food, which also avoids pungent ingredients such as onion and garlic, is called je.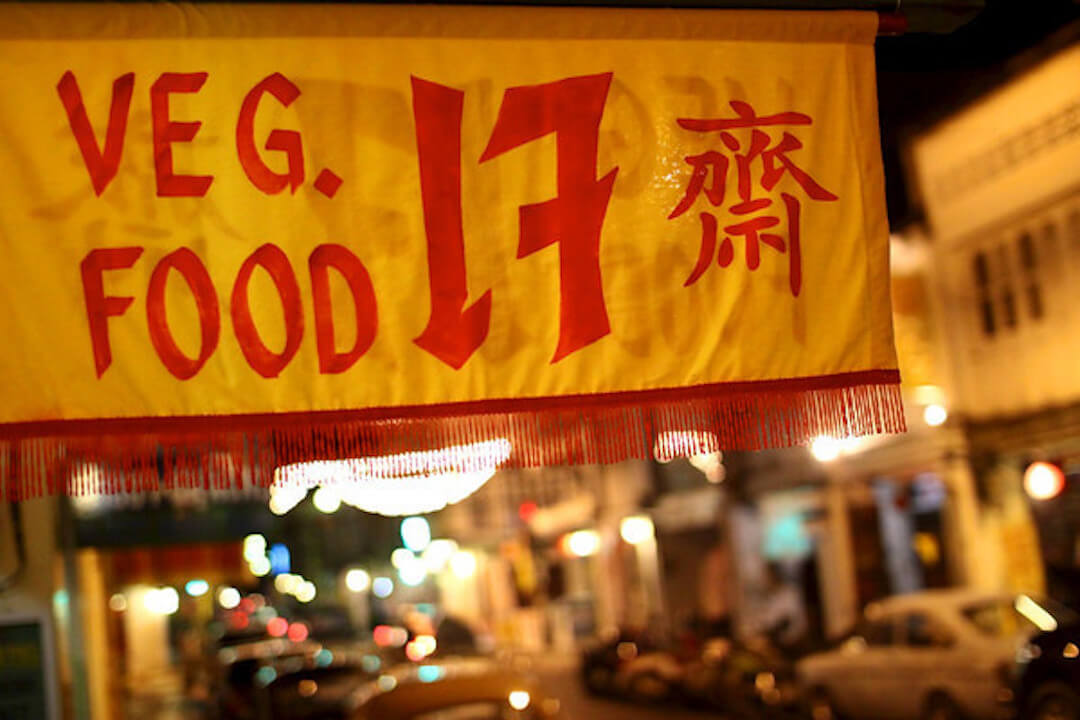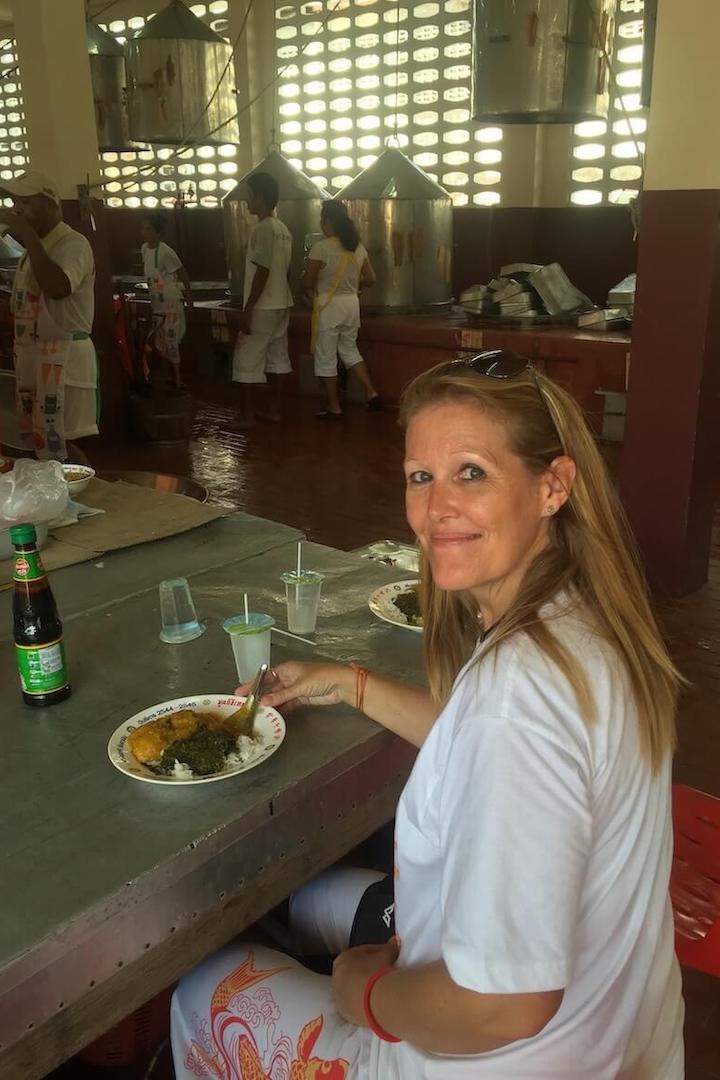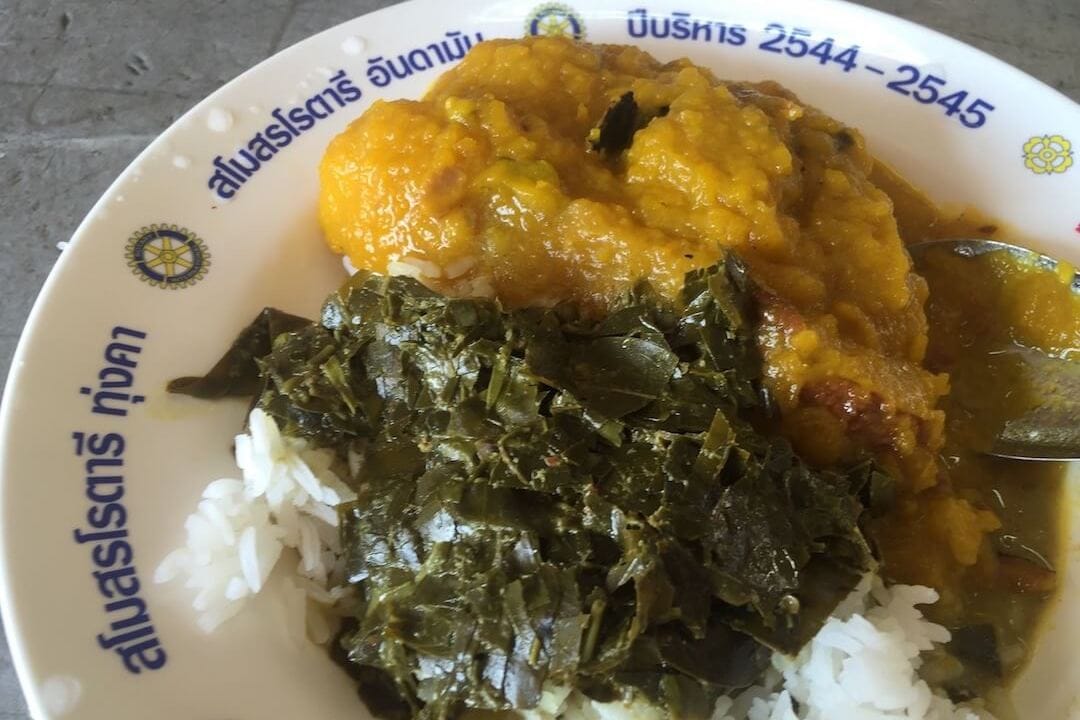 Above: Kirsty enjoying a free meal at one of the temples. The pumpkin was delicious but the green stuff was rather bitter!
Can I get a beer?
Those observing the traditions of the Festival abstain from alcohol for nine days however beer is still available in many restaurants and, of course, at 7-Eleven. However, we noticed that many bars and restaurants orientated towards expats and tourists were closed during the Festival, presumably either as a sign of respect or because the owners were observing the Festival rules themselves.
Where should I stay?
We recommend staying in Phuket Old Town. Festival events aside, the town has UNESCO World Heritage Status and although it is often overlooked by visitors, it is well worth a visit at any time of year. Phuket is a large island and many of the Festival rituals take place in the Chinese temples in and around the Old Town. We stayed at Chino Town Gallery Guesthouse which is a small budget guesthouse with a great location tucked down a quiet side street in the heart of the Old Town. Hotels on the main roads could be noisy, although if you can snag a nice room with a balcony in the Old Town you are likely to have a bird's eye view of any passing parades.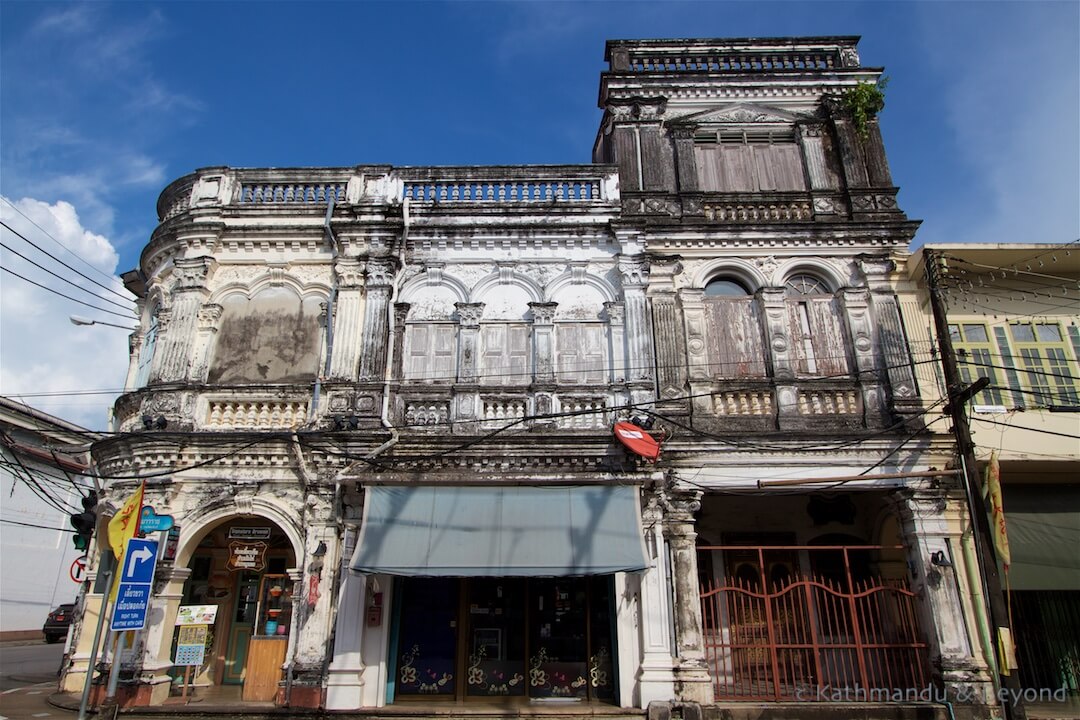 Shophouses in Phuket Town
Another option is to stay at one of the island's beach resorts, but it will mean an earlier than necessary start if you want to see the main parades. Relying on public transport means it could be quite difficult to reach the parades in Phuket Town in time for their early morning start, and even with your own transport, traffic congestion can be a headache. If you really want to be based at the beach and are happy with just a taste of the Festival, focussing on the activities centred around Kathu Shrine, in the middle of the island, could be an option.  Some of the larger parades start or finish at Kathu and this temple is just as close to some of the resorts as it is to Phuket Town so, with a bit of planning, it might work out.
Browse Hotels & Guesthouses in Phuket Old Town     Browse Hotels & Guesthouses in the Kathu Beach area
Is there anything else I should be aware of?
If you're really taking things seriously, in addition to a strict veggie diet, you need to also avoid alcohol (as mentioned) and sexual activity. The full list of commitments that participants of the Vegetarian Festival observe for nine days are as follows:
Total cleanliness of the body during the Festival

Clean kitchen utensils not to be used by others who do not participate in the Festival

Wear white during the Festival

Behave correctly, both physically and mentally

Avoid eating meat

Avoid sex

Avoid alcohol

People in mourning should not participate

Pregnant women and menstruating women should not attend ceremonies
One final tip …
Bring ear plugs
There are lots and lots of firecrackers going off during the Vegetarian Festival, and it's extremely loud. You may be grateful for the ability to dull the sound of this unrelenting irritant.  If you are of a nervous disposition, be prepared to spend a lot of time jumping out of your skin!
If you plan on getting close to the firecracker action, wear trousers, closed shoes and long-sleeved tops. Covering up will reduce the risk of getting burnt – burns from firecrackers are the most common injury at the Festival. Traditional white clothing is cheap and very easy to purchase during the Vegetarian Festival so go for a disposal outfit!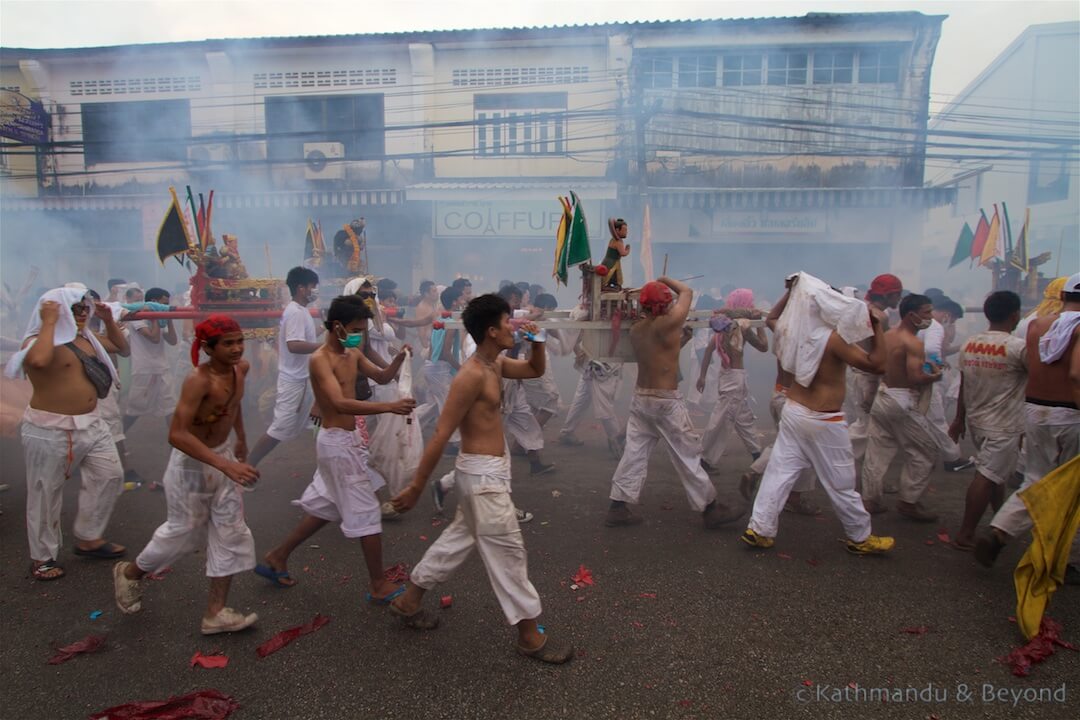 Useful Resources
If you haven't already seen it, check out our post Extreme body piercing at the Phuket Vegetarian Festival for plenty of photographs featuring the gory sights you can expect at the 2020 Phuket Vegetarian Festival.
The blog Jamie's Phuket contains good information about the Festival including a schedule of what happens when (the 2020 schedule will be added in due course) and a useful map of the location of the shrines on the island.
The Tourism Authority of Thailand produces a great guide to the Festival and one of your first stops should be their office on Thalang Road.  As well as background information, it lists the timings and locations of events and rituals and includes useful maps of the routes of the big street parades.
Click here for more photos of Thailand including Phuket
Are you planning on attending the next Phuket Vegetarian Festival? Do you have any other questions? Leave a comment below and we'll add them to the article.
DID YOU ENJOY THIS POST? WHY NOT PIN IT TO YOUR TRAVEL PLANNING OR INSPIRATION BOARD?



---