Transnistria Travel Blog
Travel guides, itineraries, abandoned places, street art and off-the-beaten-path places in Transnistria
Hello and welcome to our Transnistria travel blog. You will find all our Transnistria blog posts in this section of our website.
Maybe you found our Transnistria travel blog because you are considering a visit to the former Soviet Union, or perhaps you are partway through planning a trip to the Balkans. Whatever the reason, we hope we can provide some useful resources and travel tips for Transnistria.
Its full name is the Pridnestrovian Moldavian Republic, but more commonly known as Transnistria, or Transdniestria, is a breakaway self-declared republic. Unrecognised by the UN (officially, it is part of Moldova) and everyone else apart from three other former-Soviet Union non-recognised states: Abkhazia, Artsakh, and South Ossetia, Transnistria is often referred to as the country that doesn't exist.
We have been to Transnistria twice, first in 2016 and more recently in July 2019. If we are honest, the first time we went to Transnistria, we spent the night in Tiraspol, the capital, and left wondering what the fuss was all about. But in the time between our visits, our interests shifted, and, when we returned, we spent rushed around manically between Tiraspol, Bender and a couple of other places completely exhausting ourselves and our 10-hour visa! You guessed it; we still have reasons to return to Transnistria…
Our Transnistria blog posts are generally aimed at independent travellers and backpackers like us and have a strong focus on travelling around using public transport, staying in budget accommodation and exploring off-the-beaten-path and lesser-visited places.
Browse all of our Transnistria blog posts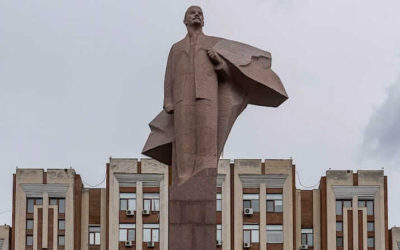 Photographs of Lenin statues in the former Soviet Union. These fifteen monuments to Lenin are still standing in the former USSR.
If you enjoyed our Transnistria Travel Blog…
Subscribe to our newsletter to receive our latest blog posts as well as our latest news from the road less travelled…