Suggested Six to Eight Weeks Central America Itinerary
CENTRAL AMERICA ITINERARY SUMMARY 
(Costa Rica) San Jose – Tortuguero – Manzanillo (Panama) – Bocas del Toro – Boquete (Costa Rica) – Uvita – Dominical – Manuel Antonio National Park – Santa Elena  (Monteverde) (Nicaragua) – Rivas – Moyogalpa (Ometepe Island) – Granada – Leon – Esteli – Somoto (Honduras) – Choluteca (El Salvador) – Suchitoto – Santa Ana – Juayua – La Palma (Honduras) – Gracias – Copan Ruinas (Guatemala) – Rio Dulce – Livingston (Belize) – Puenta Gorda – Placencia – Hopkins – Dangriga – San Ignacio (Guatemala) – Flores – Lanquin (Semuc Champey) – Antigua
Our six to eight week Central America itinerary begins in Costa Rica's capital. San Jose is an uninspiring city and a day is enough to see the sights. Tortuguero, on the other hand, had a distinctly Afro-Caribbean feel and we enjoyed the boat trips and hiking trails inside the national park. We chose Manzanillo as our base for exploring other parks along Costa Rica's Caribbean coastline but nearby Puerto Viejo or Cahuita would have been just as good. A couple of buses and a water taxi got us across the border into Panama and onto the archipelago of Bocas del Toro, a place we really liked despite its obvious popularity. We stayed in Bocas del Toro town on Isla Colon but made frequent trips to nearby Isla Carenero, where the beaches were much nicer.
Dragging ourselves away, the mountain town of Boquete was next before re-crossing the border back into Costa Rica. Heading along the Pacific coast this time, we stopped at laid-back Uvita and the surfing enclave of Dominical before reaching Manuel Antonio National Park. Our final stop in Costa Rica was Santa Elena, where zip-lining above the cloud forests of Monteverde was a definite highlight.
Our first stop in Nicaragua was Rivas, the jumping off point for Ometepe Island. We stayed in Moyogalpa and took inexpensive tours around the island before returning to the mainland and heading north to Granada. A jewel of a city, it was hard to leave Granada, but Leon, our next destination, was equally as stunning in our opinion.
The market town of Esteli caters well to the needs of gringos (there are some nice places to stay and some excellent tour companies) and is the place to go if you want to visit a cigar factory whereas sleepy Somoto is the best base for walking, swimming and wading your way through the nearby incredibly scenic canyon of the same name. It is necessary to pass through Honduras if you want to travel from Nicaragua to El Salvador, so we decided to break the journey in Choluteca.
Our first stop in El Salvador was the pleasant colonial town of Suchitoto. We spent a few days there, not doing very much at all, before moving onto Santa Ana, another colonial town with one of the best hostels we have ever stayed in (Casa Verde). We visited the nearby Mayan ruins of Tazumal before using Juayua as a base for independent exploration of the Ruta de Las Flores.
It is worth being in Juayua on a weekend, when the town hosts its weekly food fair. En route back to Honduras, we stopped in La Palma, a highland village with bags of street art. The Honduran town of Gracias was another colonial gem, as was Copan Ruinas but our main reason for visiting the latter was to see the UNESCO-listed Copan Archaeological Site.
The next few weeks were all about the Caribbean once more. Starting in the lively Guatemalan town of Rio Dulce, the boat journey to Livingston, where the culture is Garífuna, is a beautiful trip through sultry jungle scenery. We fell for Belize's laid-back charm the minute we arrived in Puenta Gorda and it was nice to have a break from using our struggling Spanish.
We headed up the coast to Placencia and then Hopkins and Dangriga, before heading inland to San Ignacio. There are a few Mayan sites in the vicinity of San Ignacio including Xunantunich and Cahal Pech and the town's Saturday market is the largest in Belize. It's easy to get to Flores, the jumping-off point for mighty Tikal, by public transport but it is not so straightforward to continue south to Lanquin and the gorgeous scenery of Semuc Champey so we booked a minivan transfer through one of the travel agents in town.
The onward journey from Lanquin to Antigua was equally a pain in the butt on public transport, so again we did the journey by private minivan. Antigua itself is packed with Spanish colonial-era buildings, restaurants and bars and is the perfect place to end a sojourn in Central America.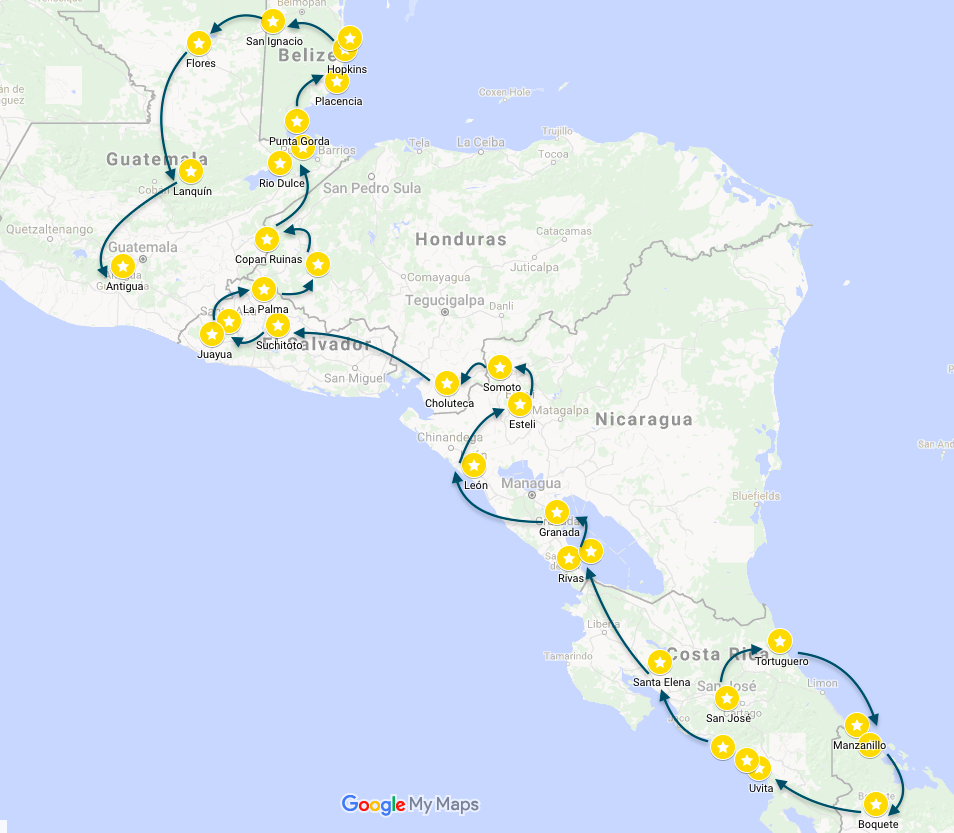 Number of countries: 7
Number of UNESCO sites: 5
Best time to travel: December to April
Recommended duration: 6-8 weeks
Best places to slow the itinerary down: Esteli, Moyogalpa, Suchitoto, Placencia and Dominical
Mode of transport: Mostly by bus,  which are mainly of the chicken variety! A minivan transfer is recommended for the journey to and from Lanquin/Semuc Champey
Central America breakfasts – frijoles (beans), fried plantain, scrambled eggs and tortillas plus a mug of coffee – it sets you up for the day!
The archaeological sites at Tikal and Copan – don't ask us to choose between the two!
Beach life in Placencia
El Salvador in general – we didn't know what to expect and were pleasantly surprised
Travelling by chicken bus (sometimes …)
Semuc Champey – it's isolated and difficult to get to but worth it
The day spent exploring the Somoto Canyon
Getting off the gringo trail in places such as Suchitoto and Gracias
The weekend food fair in Juayua
Granada and Leon – again don't ask us to pick one over the other!
Our zip-wire experience in Monteverde
OPTIONS FOR EXTENDING THE ITINERARY
We actually travelled on from Antigua to Mexico by way of Chichicastenango and Quetzaltenango (Xela). That part of our journey is covered in our Antigua to Cancun itinerary
If you do the itinerary in reverse, there is the option of including more of Panama, including Panama City, and heading on to South America with the obvious starting point being Colombia  
OTHER TRAVEL PLANNING RESOURCES
 Depending on our itinerary and destination, sometimes/often we find our accommodation as we go, particularly in smaller places. In big cities, for slightly longer stays, during peak season or just when we're being a bit more organised, we tend to make a reservation in advance using Booking.com. To allow our travels in Central America to be flexible, we tended to pre-book our accommodation a day or two ahead.
There are a lot of great guidebooks to Central America available but we've always used Lonely Planet and it's hard to change a habit of a lifetime!
Lonely Planet's guides: Central America on a Shoestring | Costa Rica | Panama | Nicaragua | Belize | Guatemala | Latin American Spanish Phrasebook 
And if you need a few more reasons to follow this Central America itinerary…
Isla Carenero, Bocas del Toro, Panama
Xunantunich near San Ignacio, Belize
Did you find this post useful for planning your Central America itinerary? Pin it to your travel planning board…