Suggested Itinerary: Northeast Asia from Taipei to Seoul via Japan
(Taiwan) Taipei – Tianan – Alishan National Park – Sun Moon Lake – Hualien – Taipei (Japan) – Tokyo – Nikko – Matsumoto – Takayama – Nara – Kyoto – Hiroshima – Fukuoka (South Korea) – Busan – Gyeongju – Seoul
Beginning in bustling Taipei, it's an easy train ride south to Taiwan's oldest and most interesting city, Tainan. Alishan National Park, with its easy-to-navigate hiking trails was a highlight of the country for us and we also enjoyed the couple of days we spent mooching around centrally located Sun Moon Lake. Heading to the eastern side of the island, Hualien is the best base for visiting Taiwan's top tourist destination, Taroko Gorge. This is especially the case if you want to go there independently and don't want to join a tour.
It is necessary to return to Taipei in order to get a flight to Japan but if you have a day to kill, Juifen is a worthwhile (albeit rather touristy) excursion out of the capital. Book yourself into an obligatory shoebox-sized room for at least four nights if you want to do Tokyo justice then head north to ancient Nikko. As with several places in Japan, Nikko is an easy day trip from Tokyo, but an overnight stay is far more rewarding and means you can avoid the bulk of the tourists.
The efficiency of Japanese trains (and the stations – all have tourist information and left-luggage facilities), means it is easy to jump off and visit the important pilgrimage-city of Nagano en route to Matsumoto. After visiting the huge castle in Matsumoto, Takayama, is the next logical destination. We thought sleeping in Nara was worthwhile even though it is really close to Kyoto but, on the flip-side, we visited Kobe and the bright lights of Osaka as day trips only. Kyoto itself lived up to expectations and kept us amused for several days.
Heading further east, the Peace Memorial Museum in Hiroshima is essential viewing and the shrines and walking trails on the small island of Miyajima offered a welcome respite from the larger cities. There isn't a great deal if interest in Fukuoka, but it's from here that the regular hydrofoils and ferries depart for Busan in South Korea. The plethora of temples, pagodas, tombs and shrines in the vicinity of Gyeongju make it a great place to break the journey between Busan and the capital. As for Seoul itself, we weren't really taken by the city (we need to revisit) but the excursion to the Demilitarised Zone (DMZ) that divides North and South Korea was fascinating and definitely worth the expense (around the US$60-80 mark).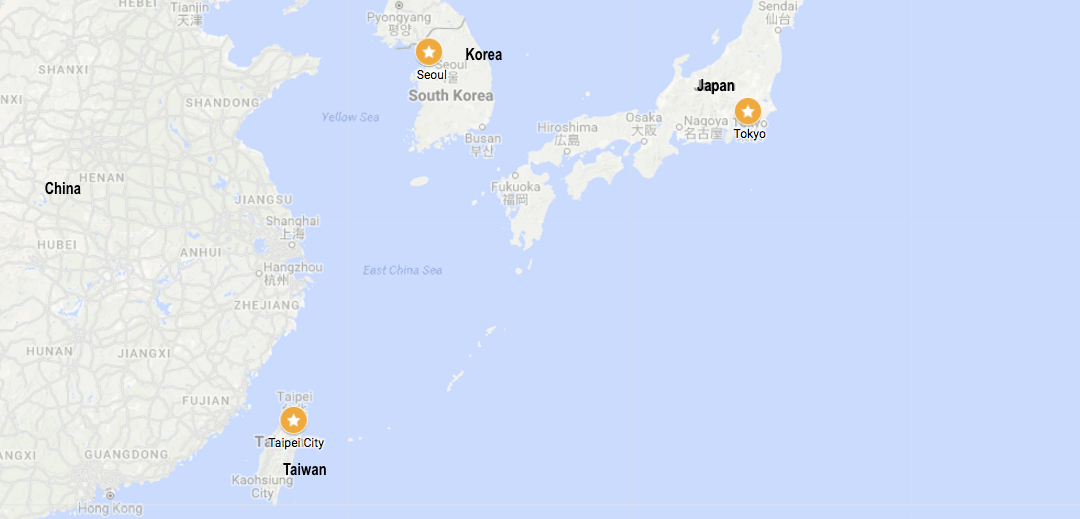 Number of countries: 3
Number of UNESCO sites: 8
Best time to travel: From late March to May and September/October
Recommended duration: 6 weeks
Best places to slow the itinerary down: Sun Moon Lake, Nikko, Nara and Kyoto
Mode of transport: Mostly train, the odd bus, a flight from Taipei to Tokyo and a ferry between Fukuoka and Busan
Visiting the DMZ from Seoul
The bright lights of Osaka's Dotonbori district
Staying in hostels in Japan
Travelling by train – they are efficient and comfortable in all three countries
The hiking trails in Alishan National Park
People-watching, especially in Japan
Taiwan in general – we really didn't know what to expect and the country remains one of our travel highlights
Eating shushi, ramen and Katsu karē in Japan
Temple-bashing in Gyeongju
The inevitable culture-shock that comes with visiting Japan
OPTIONS FOR EXTENDING THE ITINERARY
From Seoul there are plenty of flights to China. There is also a ferry to China (Qingdao), if you want to continue the journey overland
It is also very easy to get to the Philippines and all major hubs in Southeast Asia by air
And if you need a few more reasons to follow this itinerary…
Chiang Kai-shek Memorial Hall Taipei, Taiwan
O-torii Gate Miyajima, Japan 
Fushimi-Inari Taisha Kyoto, Japan
Gyeongbokgung Palace Seoul, South Korea
Pan Mun Jom (DMZ), South Korea
Did you find this post useful? Pin it to your travel planning board for later…