Suggested Guatemala and Mexico Itinerary – Antigua to Isla Mujeres
GUATEMALA AND MEXICO ITINERARY SUMMARY 
(Guatemala) Antigua – Chichicastenango – Quetzaltenango (Mexico) – Comitan – San Cristóbal de las Casas – Ocosingo – Palenque – Campeche – Uxmal – Merida – Pisté (Chichen Itzá) – Valladolid – Tulum – Isla Mujeres
Our Guatemala and Mexico itinerary begins in Guatemala. After a few days in colonial Antigua, head northwest to the highland town of Chichicastenango. Plan a visit around market day (Thursday and Sunday) and we would also recommend a visit to nearby Santa Cruz del Quiché. Direct buses head to Quetzaltenango (Xela), a workaday city with bags of appeal. Getting to traditional market towns in the surrounding countryside is easy using public transport. We visited Zunil, San Francisco El Alto, and San Miguel Totonicapan as well as San Andres Xecul with its technicolored church.
Crossing the border into Mexico involves a couple of changes of bus and a bit of walking but is otherwise straightforward. Comitan is only an hour from the border and a good place to bed down for a night or two before heading to one of Chiapas's star attraction, San Cristóbal de las Casas, or simply San Cris. This is a city in which to linger plus there are some great day trips to indigenous villages such as San Juan Chamula and San Lorenzo Zinacantán. Ocosingo is well placed to break up the journey to Palenque and the Mayan ruins at nearby Toniná were probably the most impressive we saw during this part of our journey. We say probably, because they were up against some stiff competition. The jungle-enveloped temples at Palenque were another hard hitter and we also thought it was worthwhile joining a tour to see the ruined cities at Yaxchilán and Bonampak.
It's a long drive to Campeche in the Yucatan Peninsula but the reward is a picture-perfect colonial town that has been awarded UNESCO status and is a little off the tourist trail. Nearby Edzná is another worthy Mayan ruin (there will be a few coming up from now on in!) and it is relatively easy to visit Uxmal en route to the peninsula's other colonial gem, Merida. Sleeping in Pisté is recommended if you want to get to Chichen Itzá early and avoid the crowds and quiet Valladolid is the best base for exploring the beguiling ruined city of Ek Balam. The town of Tulum is pretty nondescript but the coastline and setting of its pre-Columbian Mayan ruins are both spectacular.
There is no denying that Isla Mujeres is a popular tourist destination (although nowhere near as busy as Cancun and other resorts along that coast) but the long, sandy beach is gorgeous (as is the water) and it is a great place to finish off an itinerary to this region.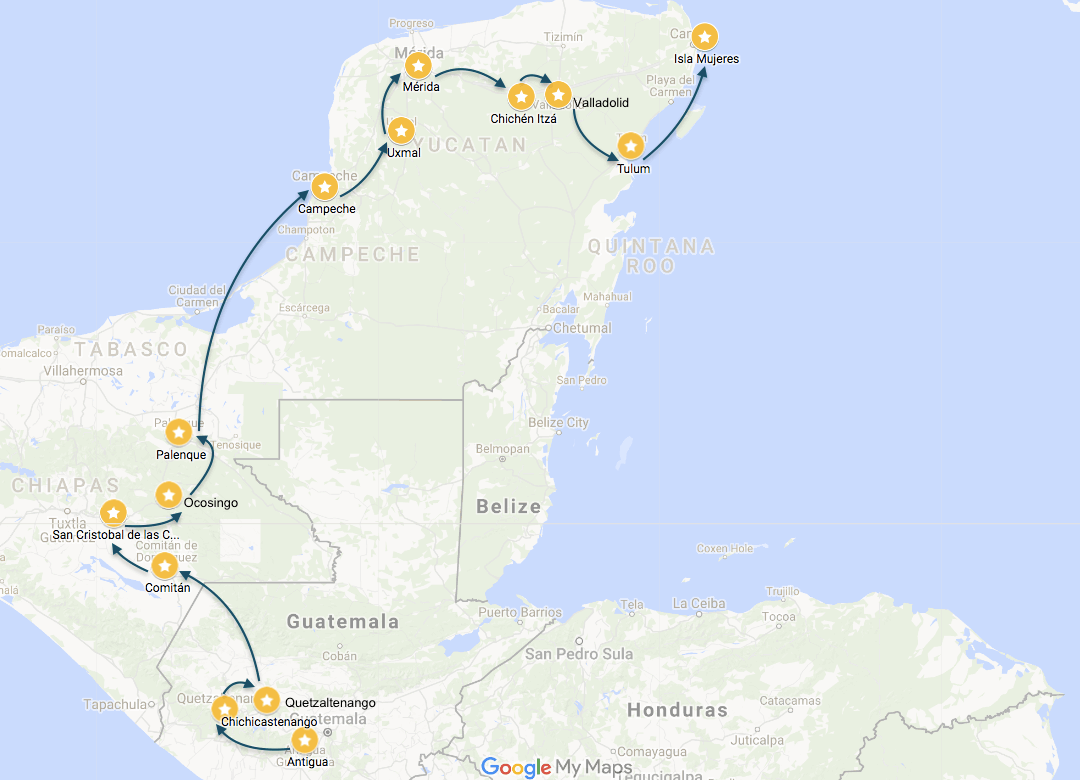 Number of countries: 2
Number of UNESCO sites: 5
Best time to travel: December to April
Recommended duration: 4-5 weeks
Best places to slow the itinerary down: Quetzaltenango, San Cristóbal de las Casas, Campeche and Isla Mujeres
Mode of transport: bus
Mayan ruins – it's the main reason to come to this region in our opinion
Getting out of the bigger cities and visiting small highland towns and villages
Hanging out and people-watching in the main square in San Cristóbal de las Casas
Island life on Isla Mujeres
Photographing Campeche's colourful streets
Quetzaltenango (Xela) and San Cristóbal de las Casas – two very lovable cities
OPTIONS FOR EXTENDING THE ITINERARY
There are regular flights to Cuba and the United States
There are also regular flights and long distance buses to other parts of Mexico
You may also be interested in our Six to Eight Weeks in Central America itinerary which will take you from San Jose in Costa to Antigua in Guatemala
OTHER TRAVEL PLANNING RESOURCES
Depending on our itinerary and destination, sometimes/often we find our accommodation as we go, particularly in smaller places. In big cities, for slightly longer stays, during peak season or just when we're being a bit more organised, we tend to make a reservation in advance using Booking.com. If your travel style is to book in advance, please consider using our link – we earn a small commission which helps us with the running of out site.
There are a lot of great guidebooks to Central America available but we've always used Lonely Planet and it's hard to change a habit of a lifetime!
Lonely Planet's guides: Guatemala | Cancun, Cozumel & the Yucatan | Mexico | Central America on a Shoestring | Latin American Spanish Phrasebook
And if you need a few more reasons to follow this Guatemala and Mexico itinerary…
Zunil near Quetzaltenango, Guatemala
Did you find this post useful for planning your Guatemala and Mexico itinerary? Pin it to your travel boards…