Suggested China Itinerary: Shanghai to Beijing via the slow route
Shanghai – Nanjing – Kaifeng – Luoyang – Pingyao – Datong – Beijing
This China itinerary is designed for travellers and backpackers who want to take a more leisurely journey from Shanghai to Beijing, maybe getting a little off-the-beaten-path in the process. Starting in Shanghai, a city that needs no introduction, this itinerary commences by heading northwest to the former imperial capital of Nanjing, a large but manageable city once you get your head around the public transport system.  Kaifeng is a really small city by Chinese standards and yet another ancient capital. It's rather ramshackle but not without charm and you won't find many tall buildings here – anything that requires deep foundations is forbidden by law. Luoyang is the access point for the incredible Longmen Caves, the first of two UNESCO-listed grottos on this route. The city itself is fairly pleasant but not a patch on the next destination.
Pingyao is well and truly on the tourist-map but there is good reason for this – it is one of the most beguiling cities in all China and the ideal place to relax for a few days, a rare treat in the Middle Kingdom! In sharp contrast, Datong is a city devoid of charm but the Buddhist artwork and rock-cut architecture at nearby  Yungang Caves are unmissable. Last but not least, Beijing has something for everyone and  is a great destination to wrap up an itinerary of Imperial China.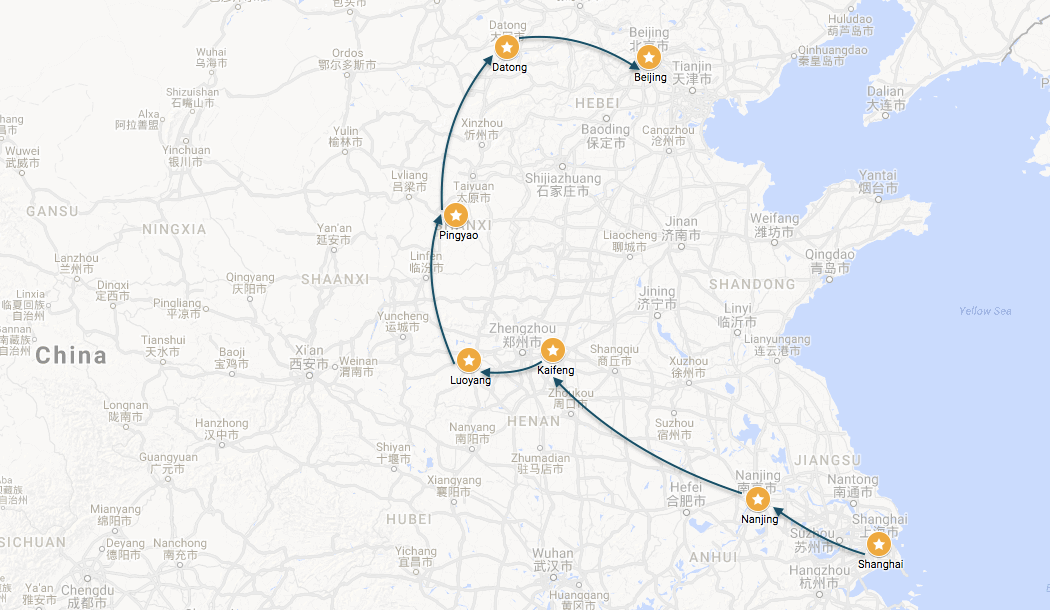 Number of countries: 1
Number of UNESCO sites: 7
Best time to travel: April to June and September/October
Recommended duration: 2-3 weeks including time in Shanghai and Beijing
Best places to slow the itinerary down: Pingyao
Mode of transport: Train
The very-Communist-looking Martyrs' Memorial inside Yuhuatai Park in Nanjing
The UNESCO-listed caves in both Luoyang and Datong
Strolling along the Bund in Shanghai at nighttime
Eating kebabs and drinking semi-cold Tsingtao beer at the night market in Kaifeng
People-watching and enjoying the pedestrianised streets of Pingyao
OPTIONS FOR EXTENDING THE ITINERARY
Hangzhou, Suzhou and Wuxi can all easily be incorporated into this itinerary ex Shanghai
Beijing is the gateway to both Inner and Outer Mongolia as well as North Korea.
Chengde, with its wealth of temples, is only a few hours northeast of Beijing
Don't try and do too much in too short a space of time. Travelling independently in China can be exhausting and trying to see the whole of the country in a month will probably mean you leave, vowing never to return! 
OTHER TRAVEL PLANNING RESOURCES
Depending on our itinerary and destination, sometimes/often we find our accommodation as we go, particularly in smaller places. In big cities, for slightly longer stays, during peak season or just when we're being a bit more organised, we tend to make a reservation in advance using Booking.com.
There are several guidebooks to China available but we've always used Lonely Planet and it's hard to change a habit of a lifetime!
Lonely Planet's guides: China Travel Guide | China Phrasebook 
And if you need a few more reasons to follow this China itinerary…
Martyrs' Memorial Yuhuatai Park, Nanjing
Did you find this post useful for planning your China itinerary? Save it to your travel boards…