Where to find Tbilisi's best street art and graffiti, including a location map
This is an unashamedly photo-based post featuring some of the best street art and graffiti in Tbilisi. After all, street art is visual. This guide includes a Tbilisi street art map and a rundown of Georgia's most prominent artists.
The post was first published on 13 June 2019, but was fully updated following our winter 2022 visit to Georgia. Documenting Tbilisi's street art and graffiti is a mammoth task, so this guide will be an ongoing work in progress!
As with many former Soviet or Communist countries, Georgia's flourishing street art scene is a relatively recent phenomenon. Public art would have been frowned upon in the USSR and perpetrators likely met with punishment. Things are different today and street art is flourishing across Europe-leaning Georgia. Tbilisi's artistic growth spurt sees no sign of slowing down and without question, Tbilisi is the street art capital of Georgia. Street art and graffiti can be spotted all over the city, although not so much in the Old Town, where the local authorities are understandably trying to keep the UNESCO-listed historic district clean of graffiti and often unappreciated street art. We saw more Old Town street art on our recent visit than we have done previously – the hoardings surrounding the ever-growing number of building projects in the old town provide great temporary canvases.
Tbilisi's street art is diverse – some pieces make a strong political statement, others are more lighthearted, while some are fine art painted on huge canvases. There are a lot of large-scale murals, many in the city suburbs, but don't forget to look out for small but poignant bits of graffiti, sticker art, and stencil art which are easily missed.
Previous versions of my Tbilisi street art guide concentrated on three main areas where we found prolific amounts of street art (Fabrika Hostel, Heroes Square Underpass and areas around Vake Park). There's still a lot of art in those locations but I've now separated Tbilisi's street art into different neighbourhoods. Although this breaks it down into more manageable sections, in reality, most casual visitors to Tbilisi will wander from one district to another without being aware of it. I recommend this guide is used in conjunction with the Google map I have created and which can be found towards the end of the post.
TABLE OF CONTENTS

Areas in Tbilisi to look for street art:

Fabrika street art
Chugureti/Marjanishvili street art
Varketili Micro District street art
Vake Park street art
Vera street art
Heroes Square Underpass
Saburtalo District street art
Maglivi Central Library street art
Nutsubidze Plato street art
Gldani Micro District street art

Other information:

Georgian street artists
Tbilisi street art map
Street art festivals in Tbilisi
More resources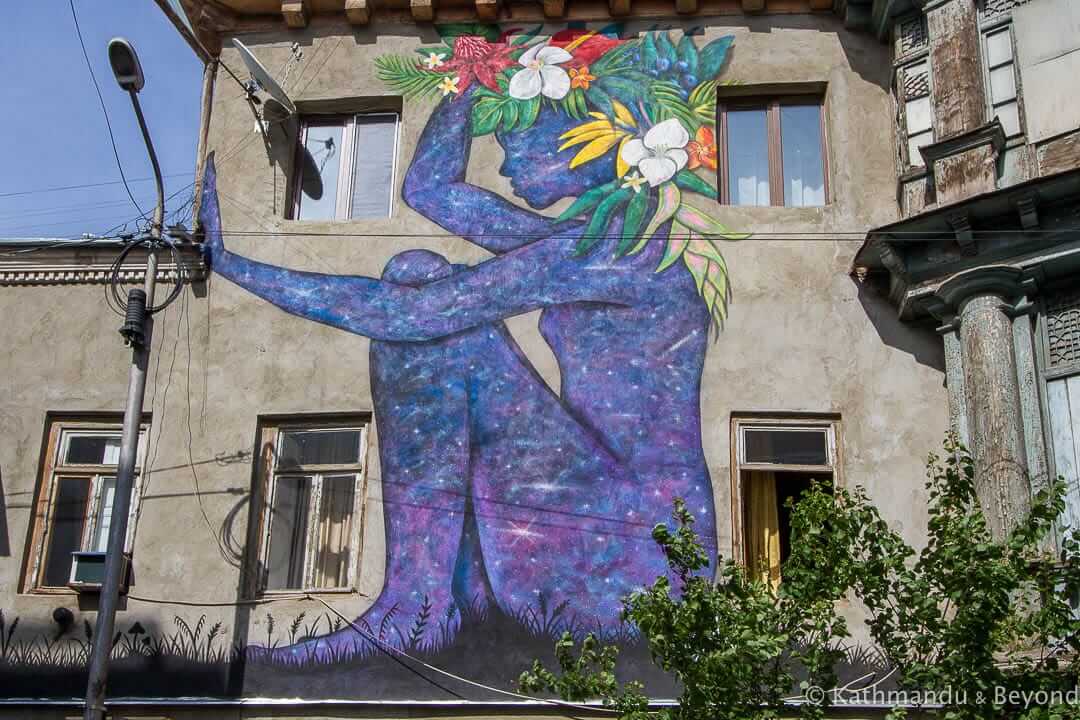 Street Art in Chugureti/Marjanishvili including Fabrika
Street Art at Fabrika
Fabrika is more than just a hostel. It's considered one of Tbilisi's coolest places to stay and hang out, but this beautiful building was once a Soviet sewing factory. There is a lively and popular bar area in the courtyard, and it also has a co-working space and is home to several artists and other creative types studios. As you approach Fabrika, you'll start to notice its colourful walls, not just on the building itself but in the surrounding streets. Make sure you go into the huge courtyard too, as more street art can be found there.
A lot of the art was painted as part of the Fabrikaffiti Urban Paint Festival which took place for the first time in 2017 and again in 2018 and 2019. Hopefully Fabrikaffiti Festival will return soon, although they are running out of walls at Fabrika itself!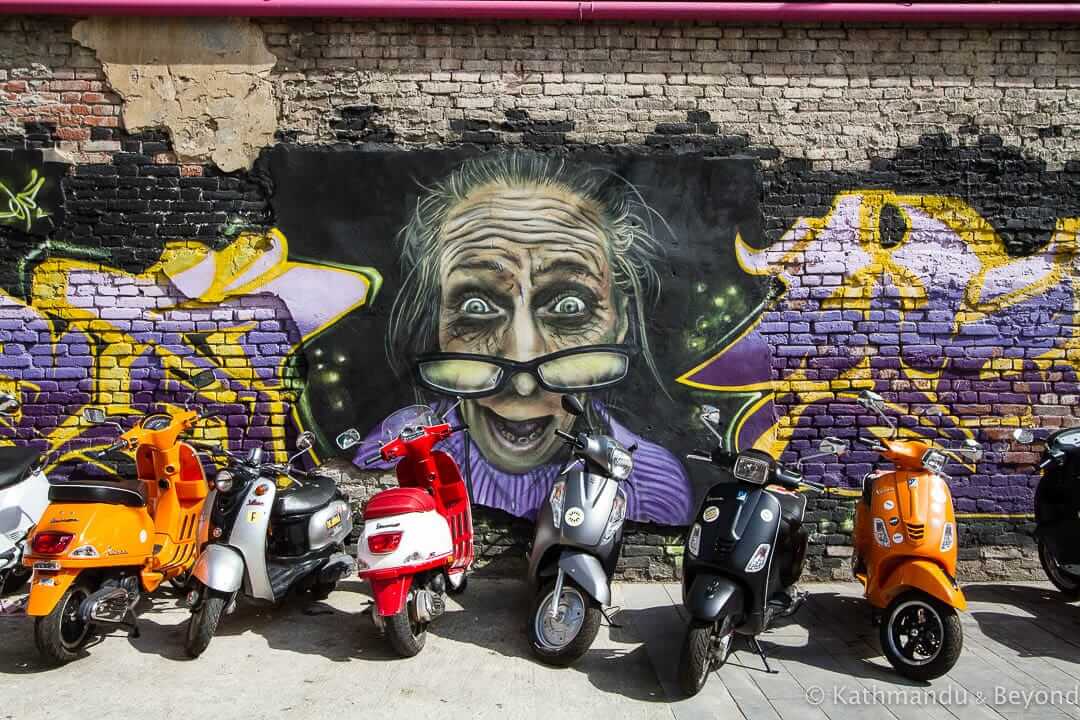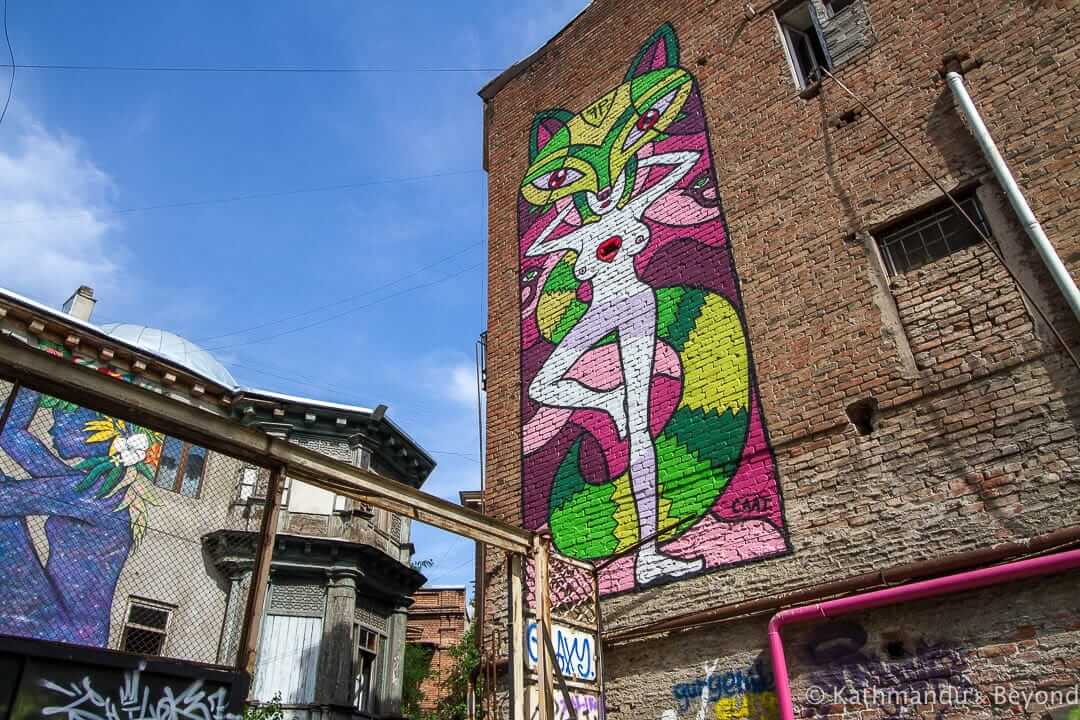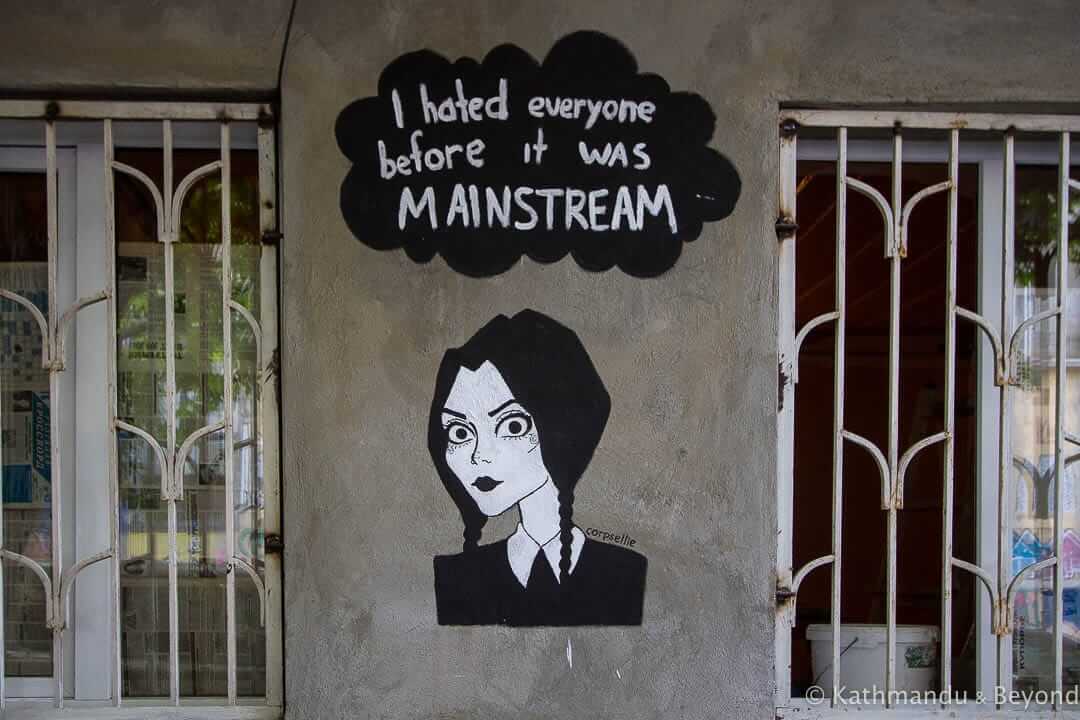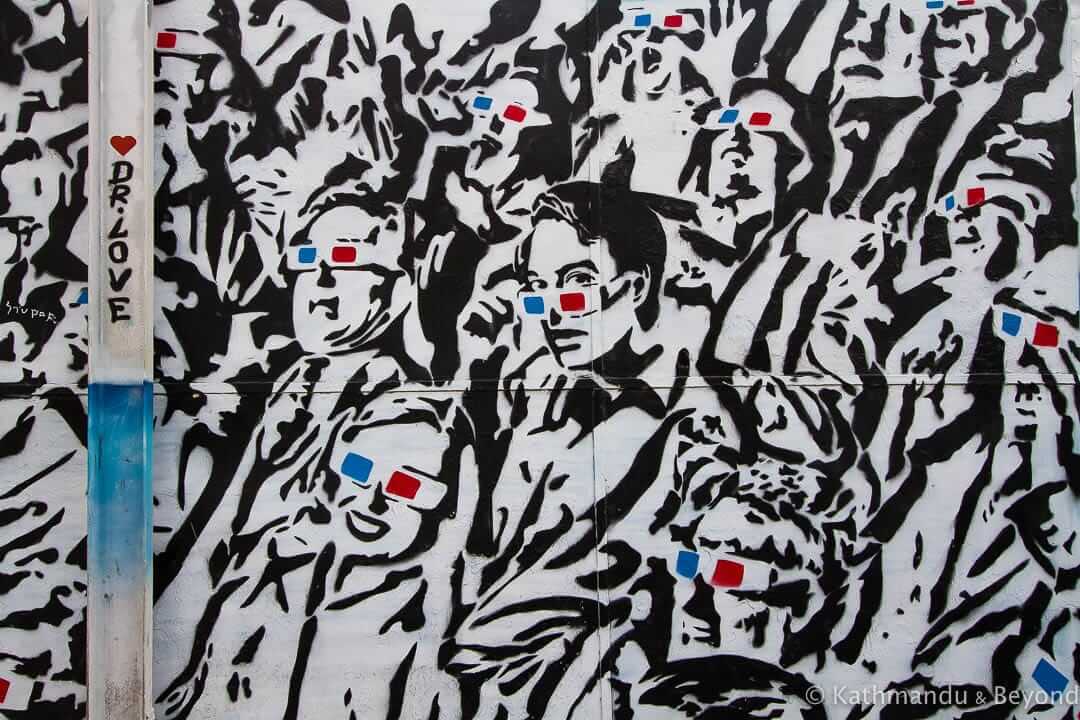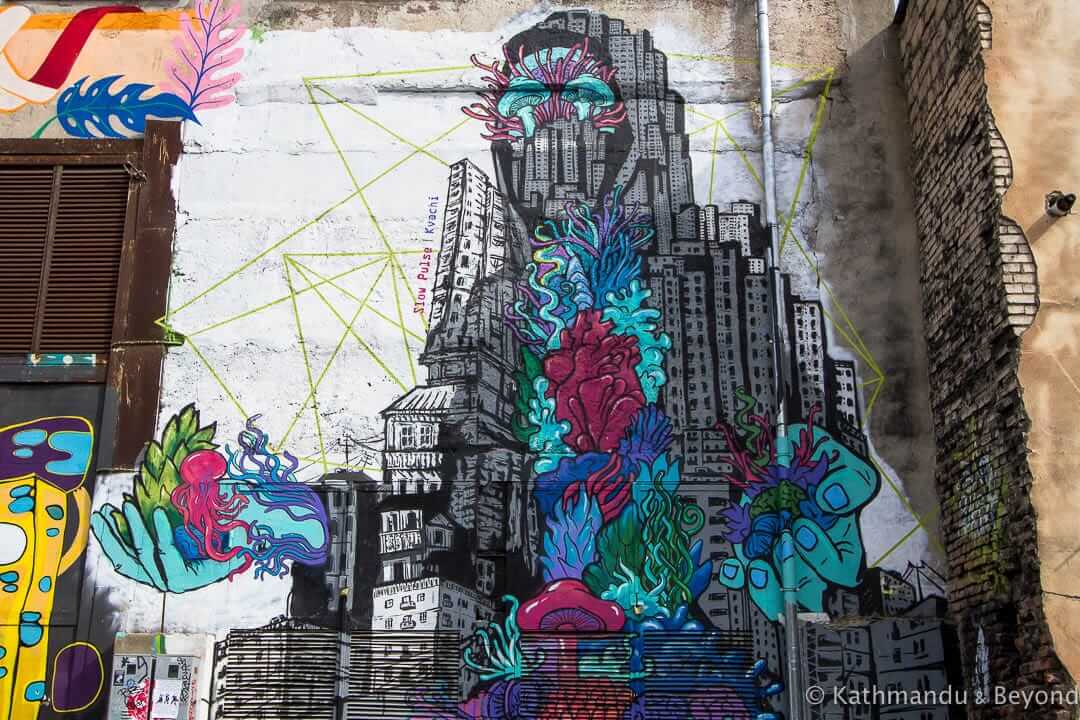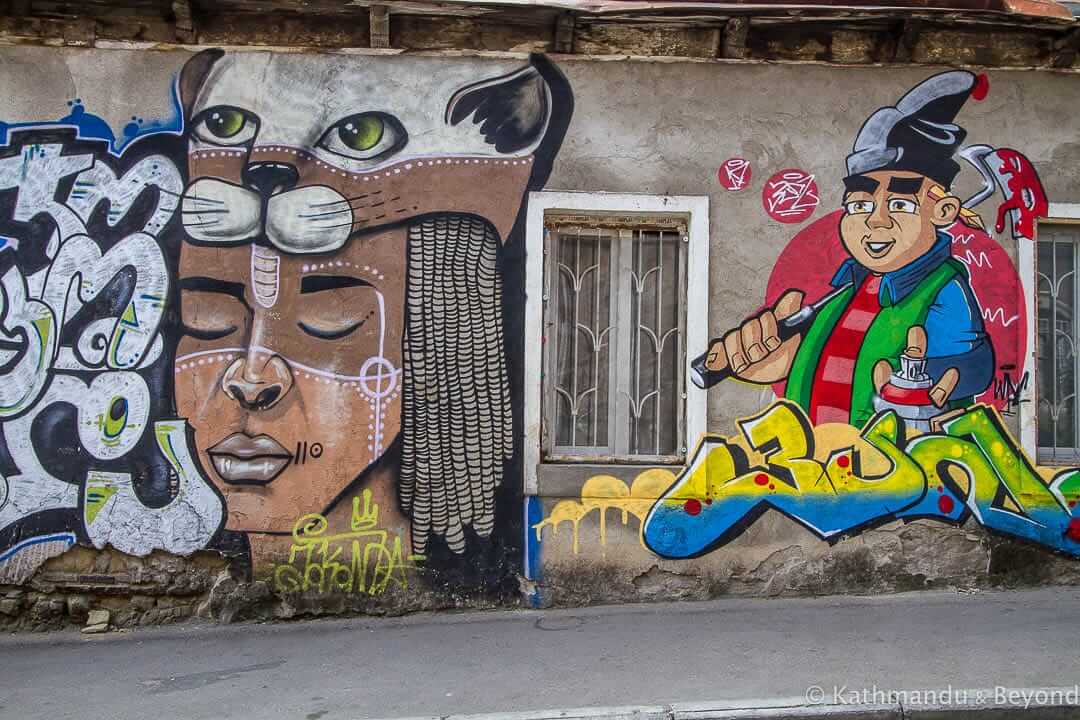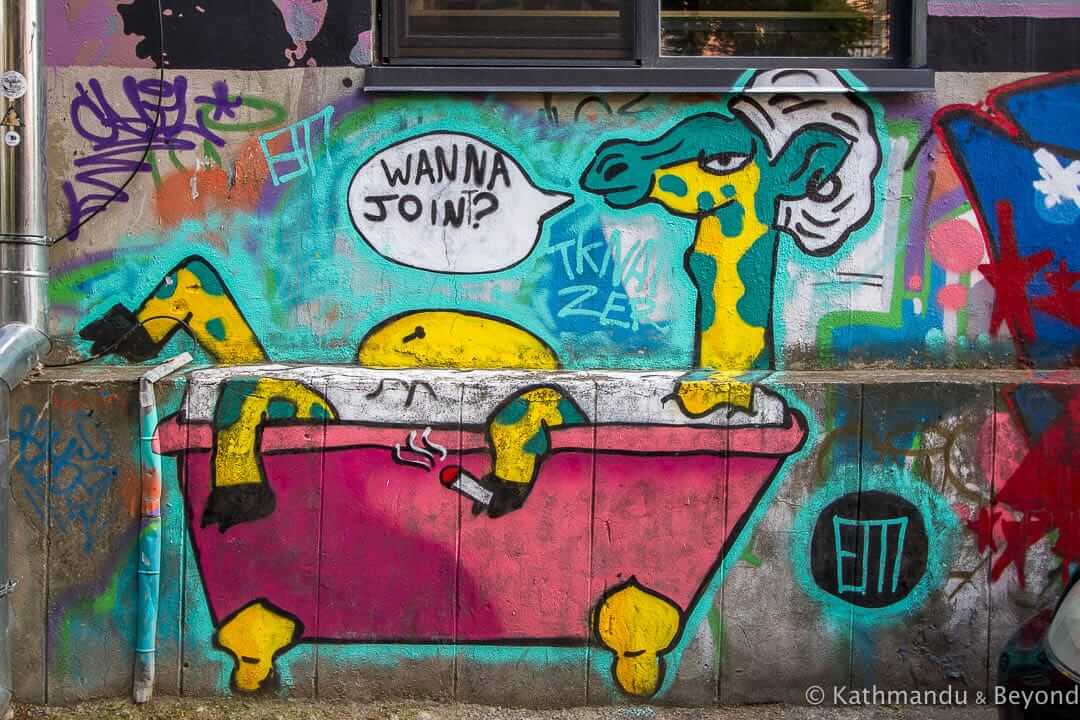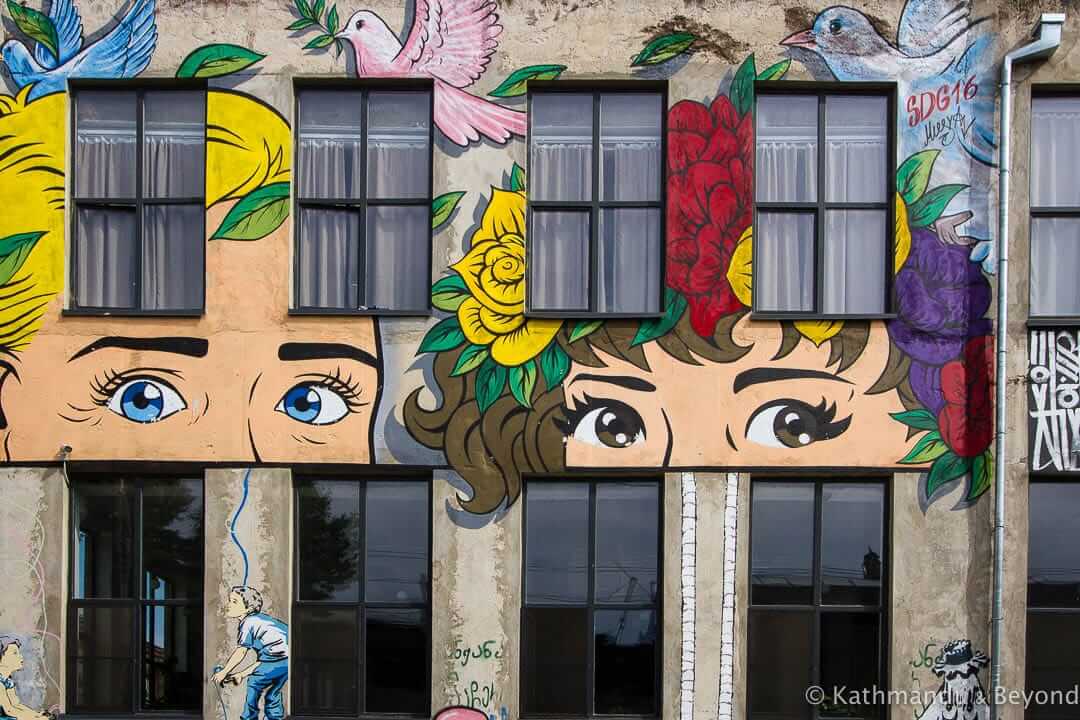 Once you have seen the street art at Fabrika, continue in a loop and you will find a lot more in the surrounding streets.
Street Art in other parts of Chugureti/Marjanishvili
Rhino by Dante
Not far from Fabrika, you'll spot Dante's rhino mural, the first of several pieces of wildlife-inspired street art in Tbilisi by this talented Georgian artist (real name David Mchedlishvili). The art highlights the plight of disappearing rhinos and the words read: "18.03.2018 Sudan, world's last male northern white rhino dies. WHO IS NEXT…" Instagram: @dante.mdante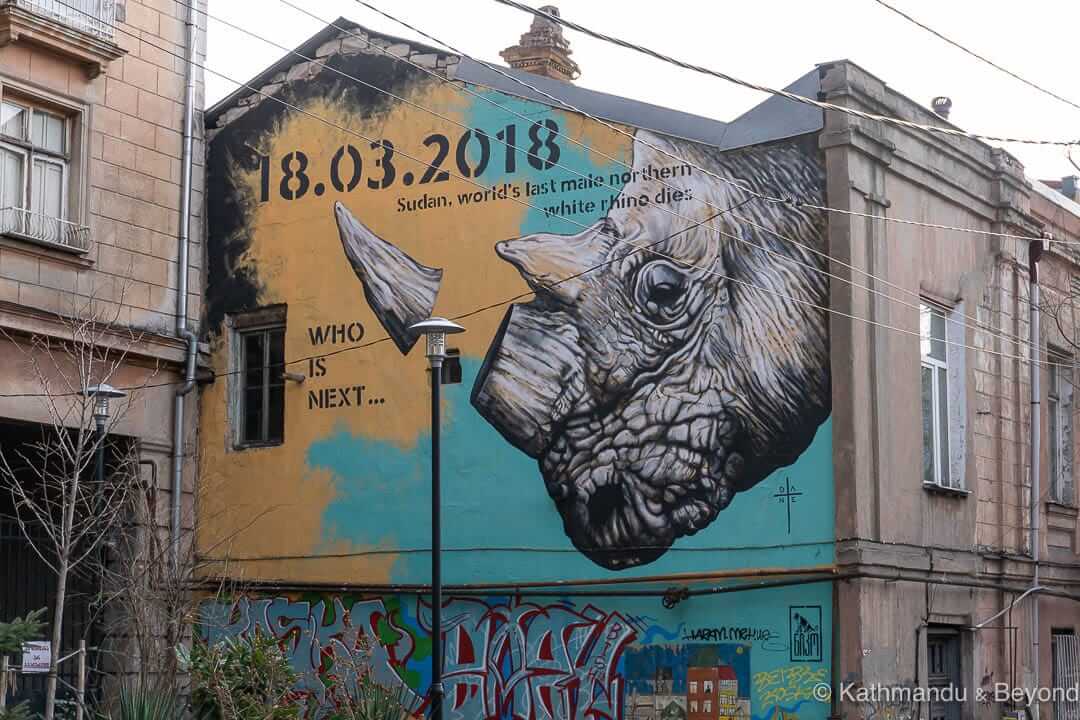 Clown Puppets by Gagosh
Next up are these clown puppets on a string by Gagosh. Titled 'escaping from self' it features a small puppet cutting the strings and thus freeing himself from the larger, identical, puppet controlling him. If you spent any amount of time looking for street art in Tbilisi you will come across work by Gagosh, all of it with a message. Instagram: @gagoshstreetart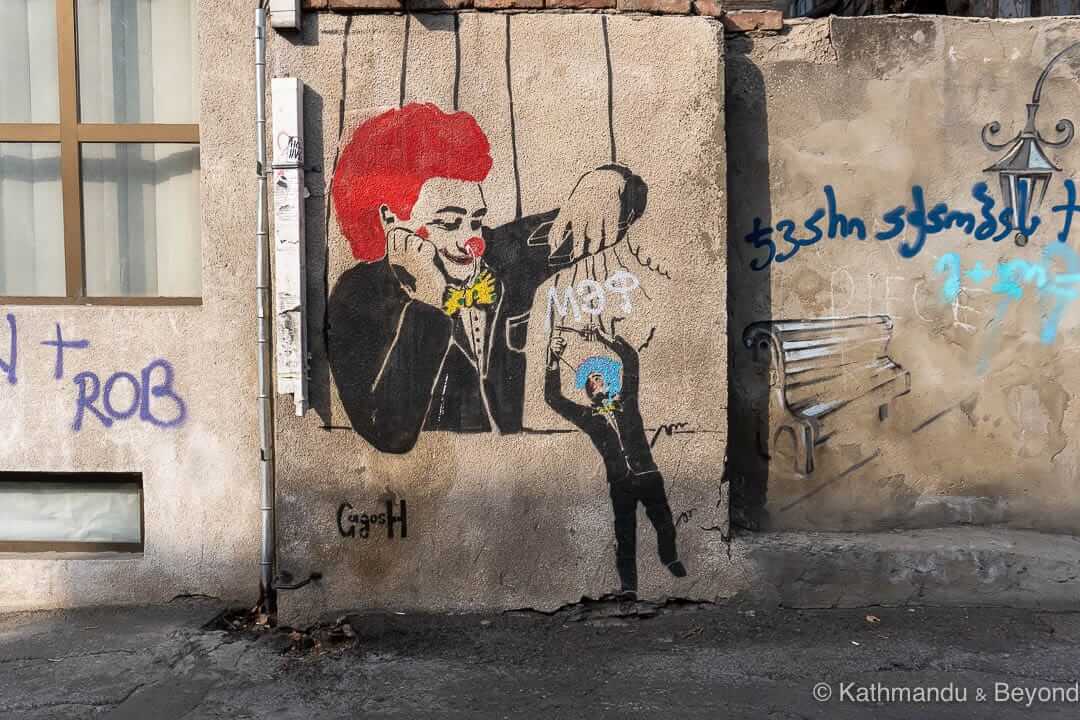 Just south of Galaktioni Bridge on the left bank of the Mtkvari River is another cluster of street art and graffiti.
Polar Bear by Dante
Appearing to depict a polar bear floating in-between melting icebergs, this mural highlights one of the dangers of global warming.
Flying Painter / Aviation by Dilk and Feros
Painted in 2018, this mural of an aviator by Ukrainian artistic duo Dilk and Feros is based on a painting by Petre Otskheli, an artist and theatre set and costume designer. Otskheli was sentenced to death in 1937, at the age of 30, under Stalin's 'Great Purge' and is considered one of the most influential people in the Georgian Modernism movement. Instagram: @Dilk and @Feros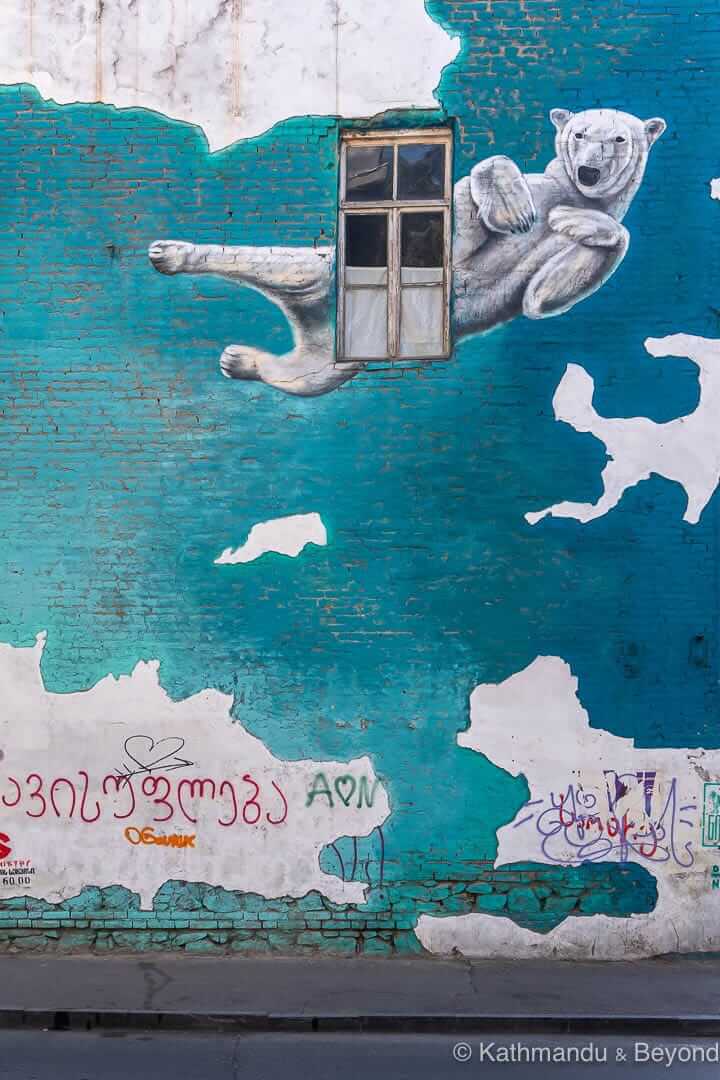 Plastic Jellyfish Girl by Musya
Not far from the polar bear and on an adjacent wall to a mural titled 'Be Chill' is this cool mural of a girl swimming in the sea and playing with jellyfish and plastic bags that look like jellyfish. The artist is female Georgian artist Musya Qeburia and the mural was created for Niko Movement. Instagram: @MUSYA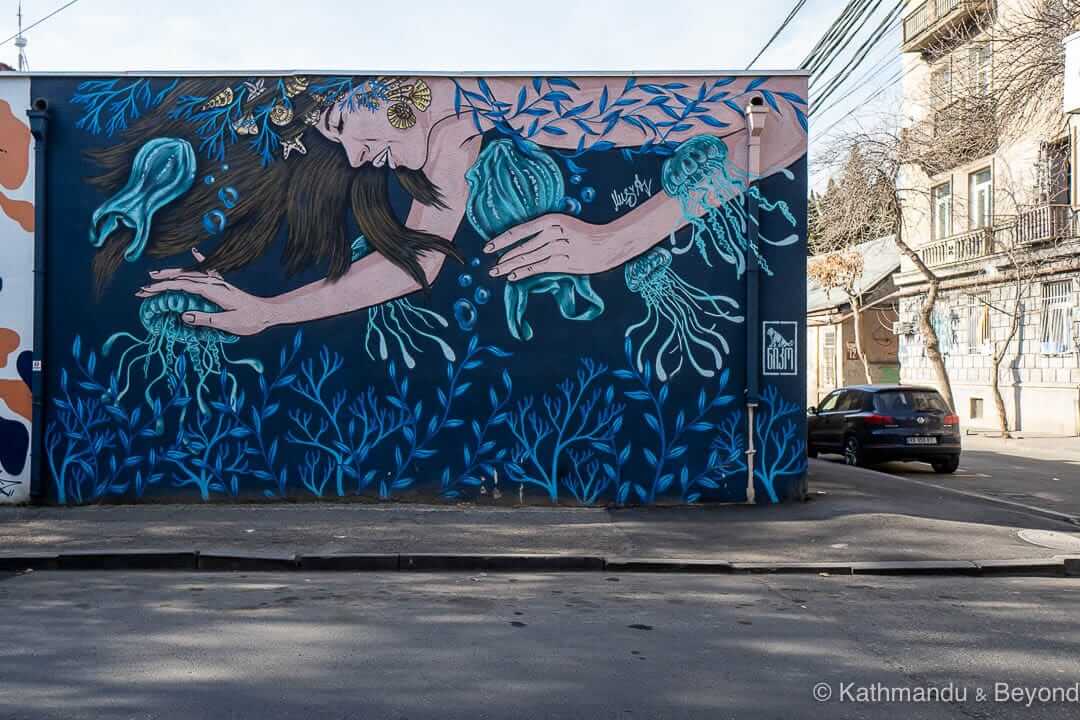 Squid by Kuba
This cool squid mural is one of two pieces of street art in Tbilisi by German artist Kuba. The second features whale skeletons and is marked on the map. Both were created for Niko Movement.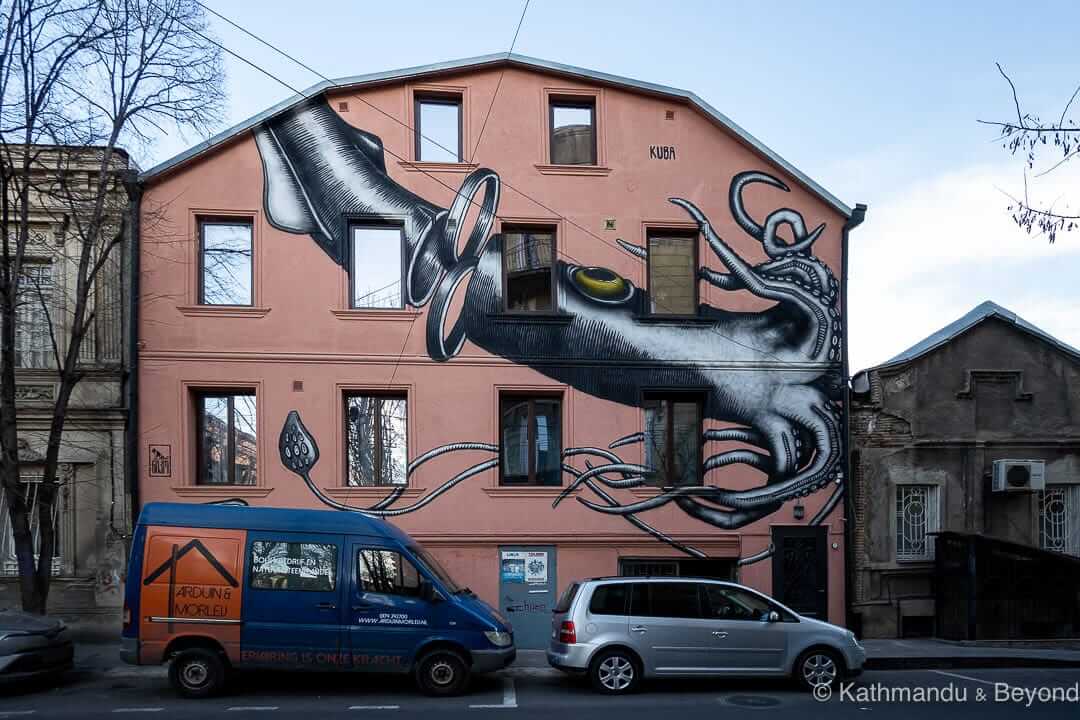 Divergent Thoughts by Monkeybird
Painted for Tbilisi Mural Fest, Monkey Bird Crew (MBC) is a collective of two French stencil artists. Their work features intricate sketch-like murals with the theme of bringing animals to city walls. Here the brick wall on which it is painted somehow adds further depth to an already detailed painting. Instagram: @monkeybirdcrew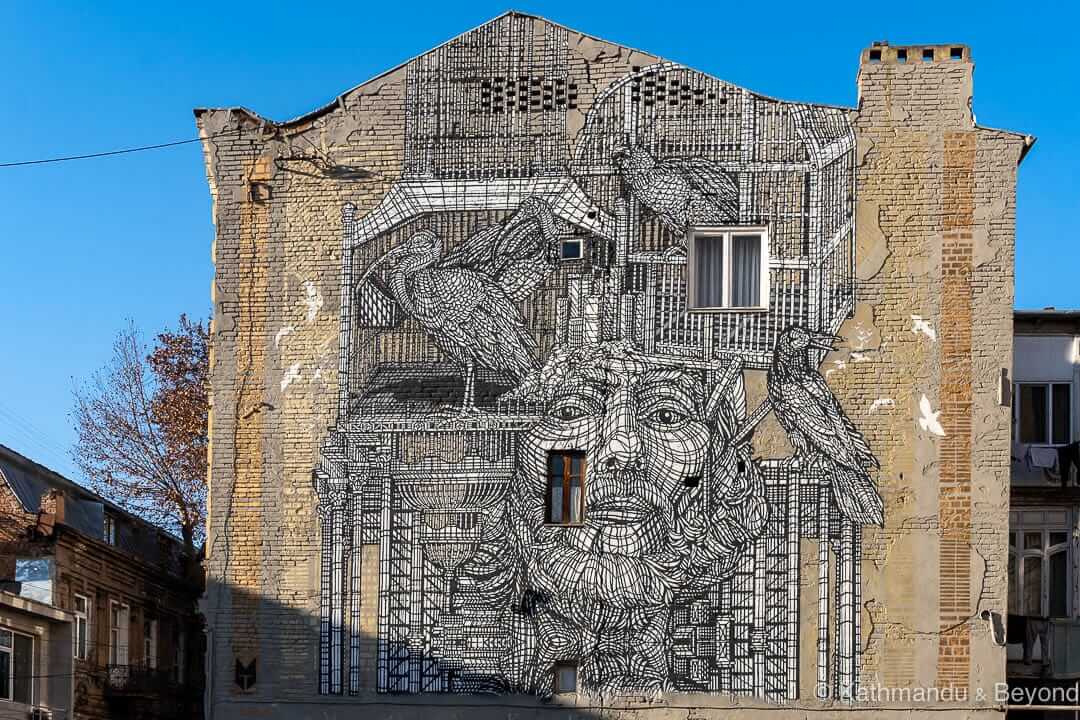 Queen of Everything by Tina Chertova
This mural was painted in 2020 by Tina Chertova for Niko Movement. The title is one that I made up knowing that the artist is a huge advocate for empowering women.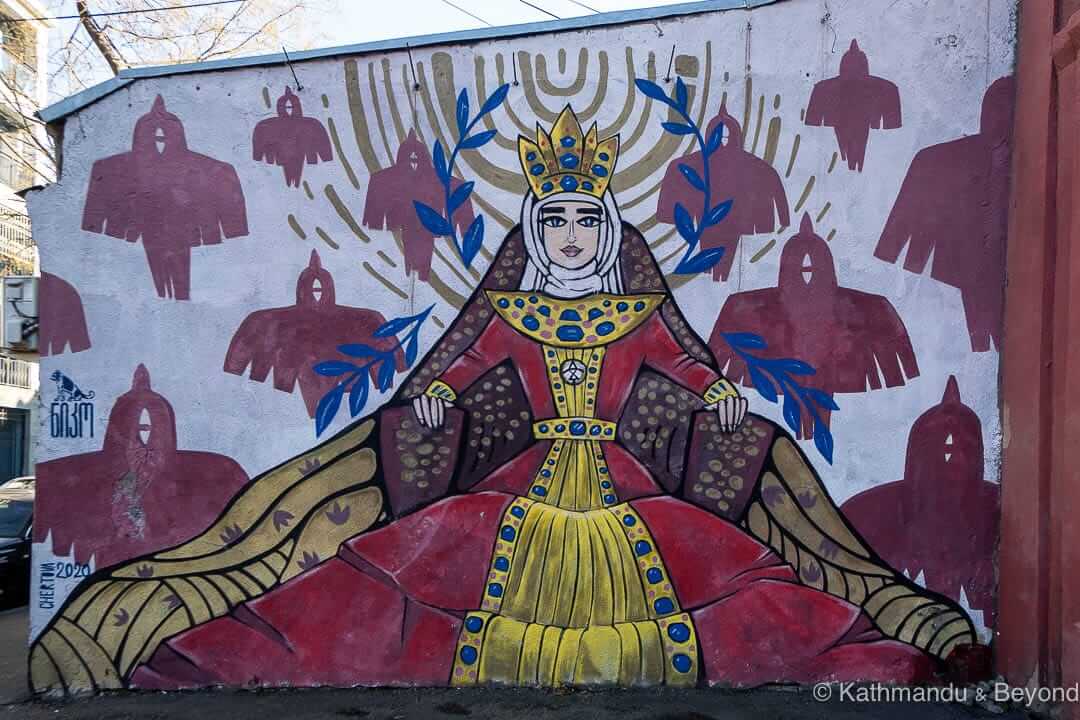 Georgia by Avtandil Gurgenidze
Close by is this colourful mural which was also painted for NIKO.
Girl with a Crystal by Tamoonz
Next up in this cluster of Niko Movement street art is this mural of a girl holding a large crystal by Georgian artist Tamoonz. You can spot her work all over Georgia and also internationally and it's great to see another prominent female street artist doing well.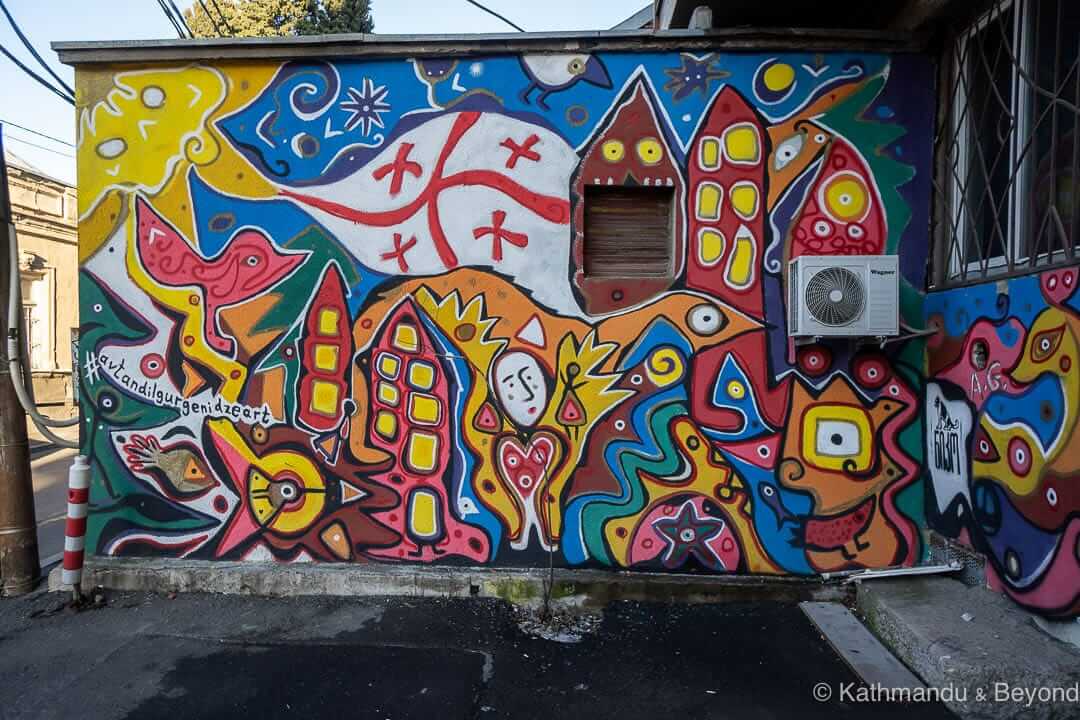 Bird of Flags
I haven't been able to find out any information about this one. It featured in the first version of this post and I still really like it.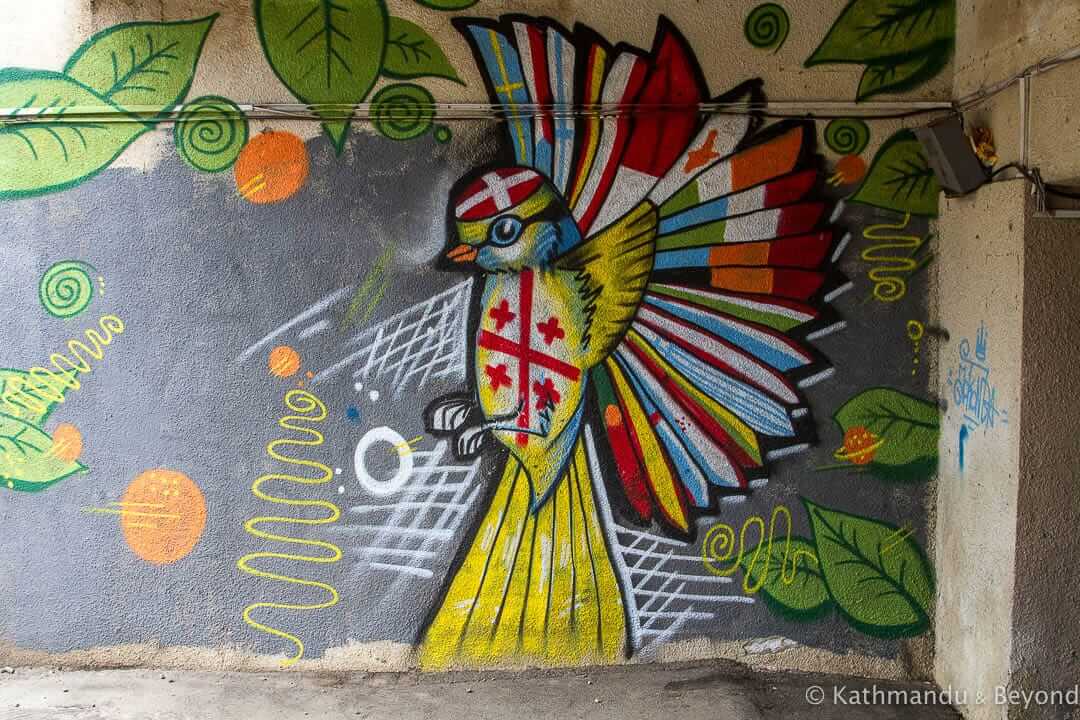 Girl with Bunny by El Bocho
This mural featuring a girl with a bunny rabbit is unmistakable as the work of Berlin-based El Bocho. It was created for the 2019 Tbilisi Mural Fest and is one of my favourite pieces of street art in the city. Instagram: @ElBocho
Weird Guy by Giorgi Maskharashvili
Untitled (so far as I know) I couldn't come up with a name other than weird and colourful pointy-eared-guy! Giorgi Maskharashvili's painting can be found right next to the El Bocho mural on the side of the Theatre of Music and Drama.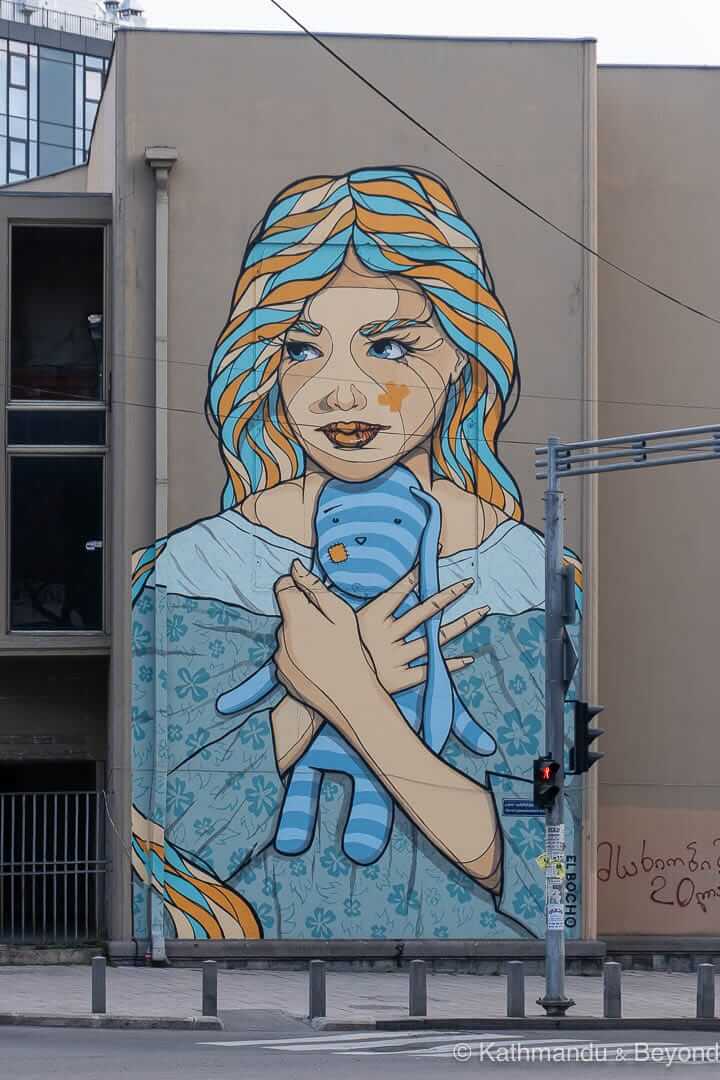 Girl in a Dream by Masholand
Georgian artist and designer Masho Margishvili paints in a parallel universe, Masholand, which is inhabited by various creatures that are depicted in her art. This piece was created for Niko Movement in 2021.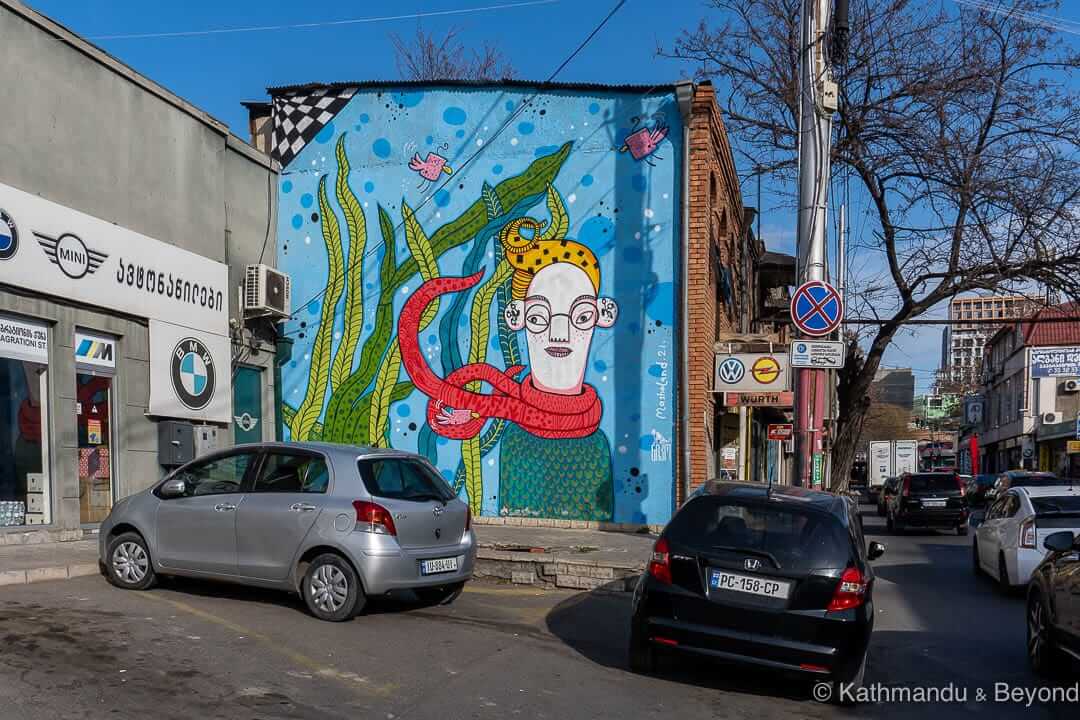 Hold Me Tight by JDL
Dutch artist Judith de Leeuw (JDL) painted this incredibly realistic mural in 2021 for Tbilisi Mural Fest. The artist describes it as "a tribute mural to all the broken and beautiful people I have met in the past year". The full description is on her Instagram post.
Cat Girl by Case Maclaim
Andreas Chrzanowski (a.k.a. CASE or CASE Maclaim) is another of my favourite artists. The German artist painted this mural of a young girl sitting on a chair surrounded by cats for the 2020 Tbilisi Mural Fest.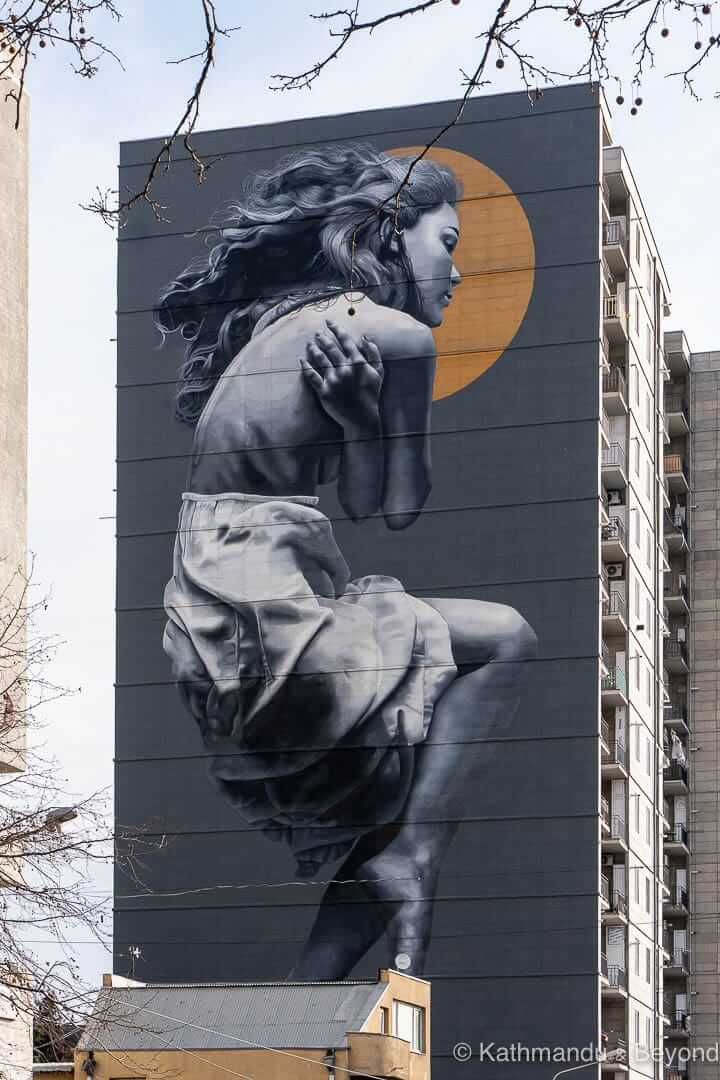 Street Art in Varketili Micro District
Although it requires a bit of effort to get to Varketili, some of the best street art in Tbilisi is here. The high-rise apartment buildings in Varketili Micro District provide ideal canvases for epic grand-scale murals and I was like a kid in a candy shop hopping from one to the other!
Boy Catching Bubbles by Irakli Qadeishvili AKA kade90
This huge mural of a boy trying to catch bubbles with his tongue, on the side of an apartment building on the edge of Varketili Micro District, is one of my favourites in Tbilisi. It was painted for Tbilisi Mural Fest by Georgian artist Irakli Qadeishvili and is dedicated to childhood and freedom. Instagram: @iraklikadeishvili
Chess by David Samkharadze
On the next apartment building along is this equally monumental mural by David Samkharadze. It depicts female chess player Nona Gaprindashvili, a legendary Georgian player who was the first woman to be awarded the title Grandmaster. Instagram: @david_samkharadzee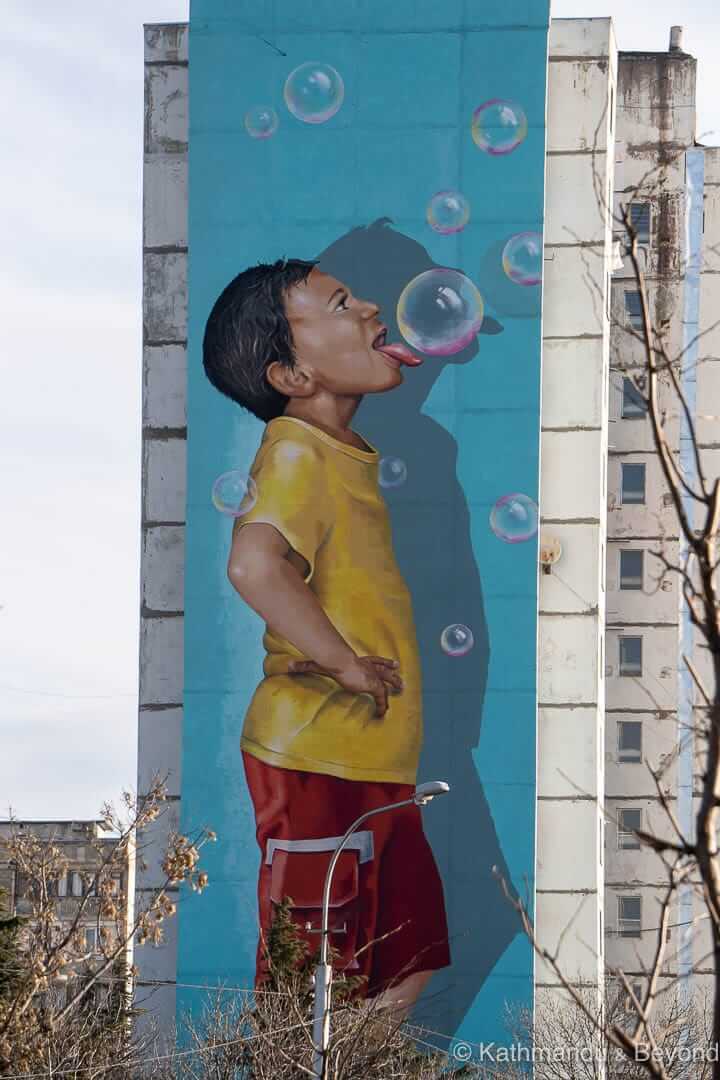 The rest of Varketili's murals loop around the question mark-shaped main avenue. I'll feature them in the order we came across them.
Conductor by Primal
Unfortunately, the sun wasn't in the right place for photographing this mural by French artist Primal. This one was painted for NIKO Mural Festival. Instagram: @primal.graphic
Collage by Mishiko Sulakauri
My name for this mural by Georgian artist Mishiko Sulakauri is collage, although I have also seen it titled 'Wind is Blowing'. It was created in October 2020 for the third annual NIKO festival. Instagram: @streetdefault
Diary of a Young Girl by Giorgi Pablo Kalandarishvili
Inspired by the diary of Anne Frank this mural is a collaboration with the NGO, Israeli House NET. Instagram: @mr.black_geo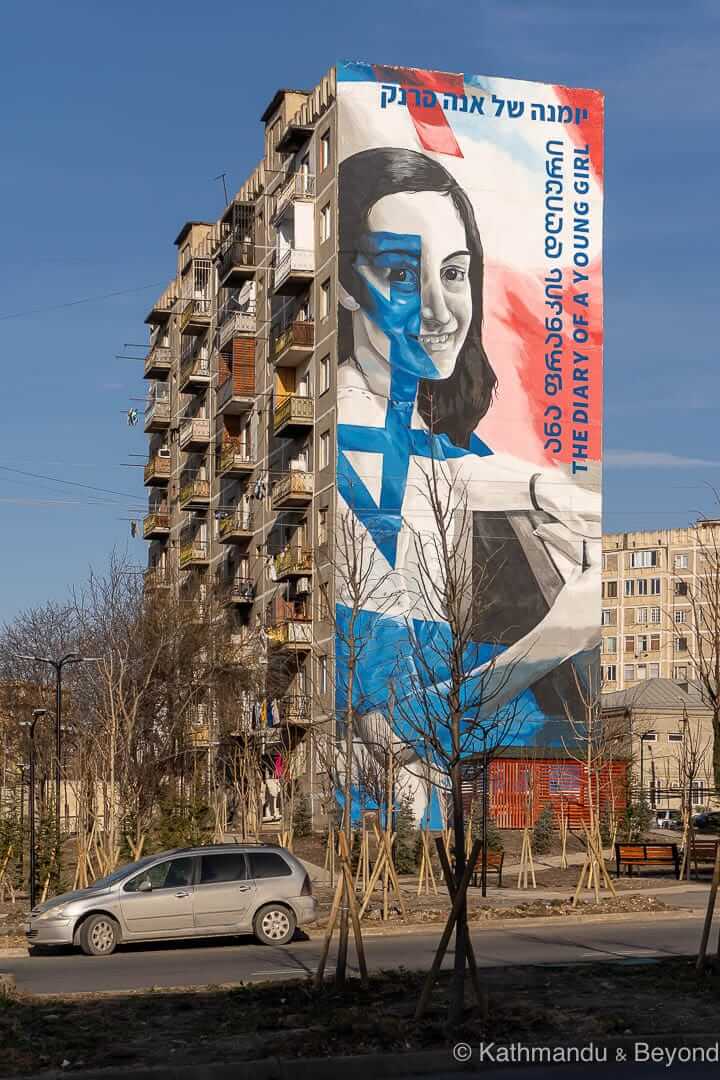 Boy on a horse by Matthias Mazal (aka Mross)
Urban cowboy by Mross, created for Niko Movement. We spotted quite a smattering of his street art across Georgia, much of it with a horsey theme. Instagram: @matthiasmross
Tropical flowers by Thiago Mazza
Brazilian artist Mazza's floral murals are always uplifting and this colourful piece painted for Tbilisi Mural Fest in October 2021 is no exception. Titled flowers to my mother, it is based on plants in the artist's garden, many of which were gifts from his mum. Instagram: @mazzolandia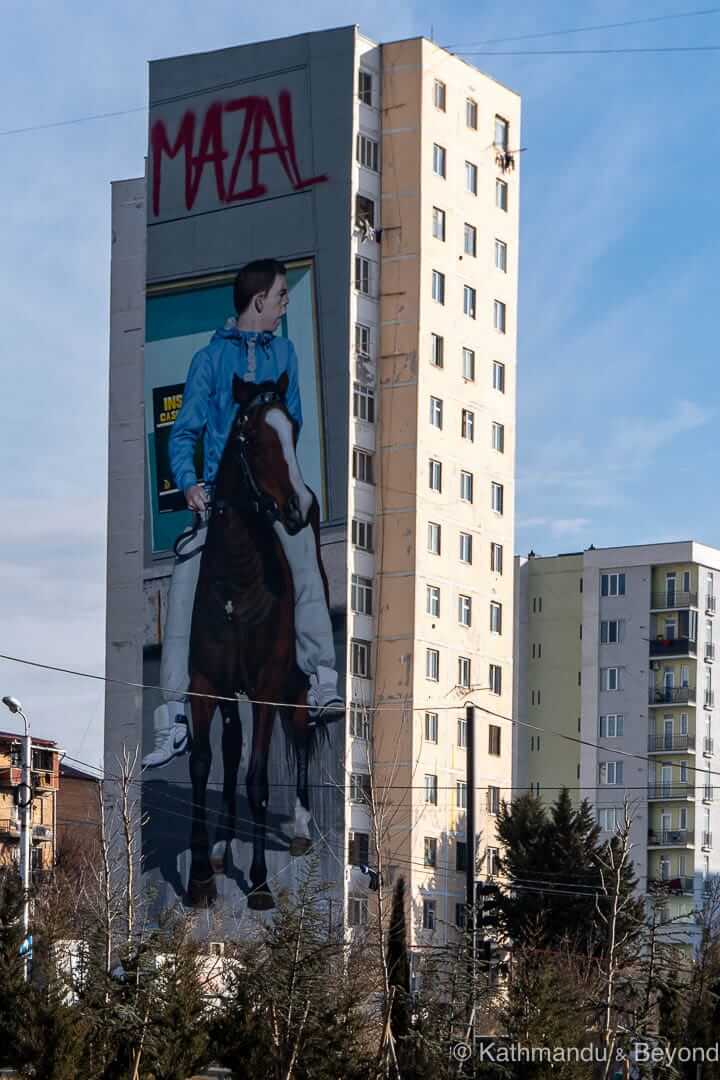 Dragon slayer by Lion Fleischmann
The mural is the artist's interpretation of St. George the dragon slayer and represents empowerment for all children. Also known as Girl vs Dragon, it is a Niko Movement collaboration by German artist Lion Fleischmann. Instagram: @lionfleischmann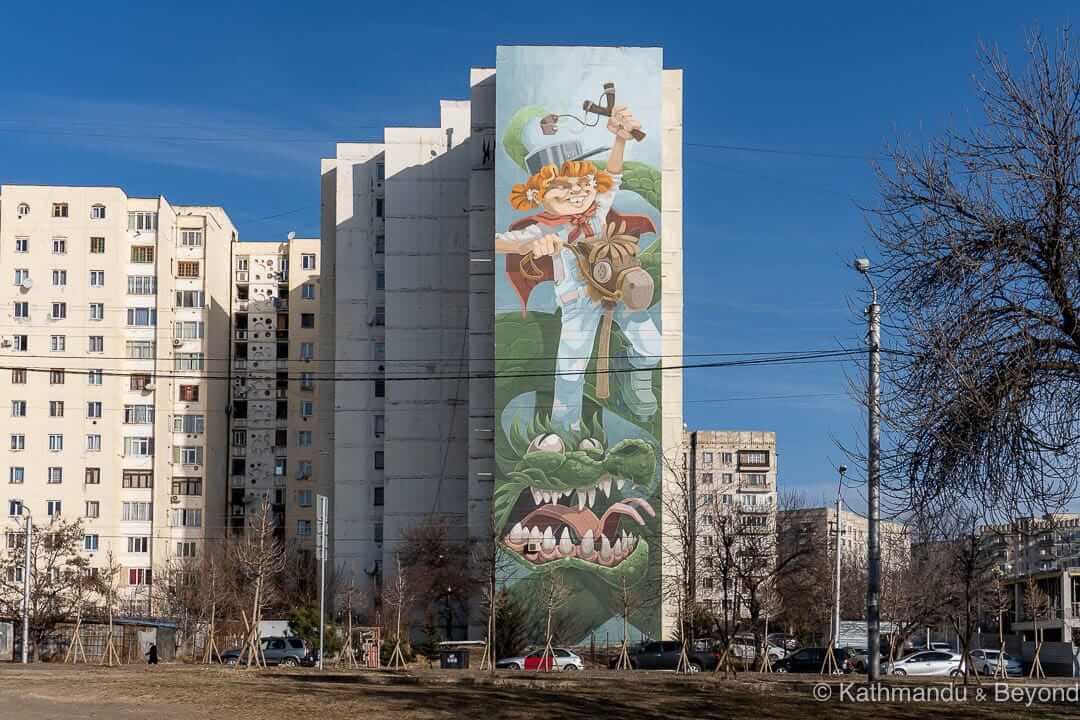 Abstract by Kera
Kera is a German artist who specialises in abstract geometric patterns. This one was also sponsored by Niko Movement. Instagram: @kera.1
Urban garden by Levan Abramishvili
It's easy to miss the detail on this mural by Levan Abramishvili, which was created in October 2020 for Tbilisi's third annual NIKO street art festival. The art imagines trees and plants behind the concrete walls of the skyscraper and features a gorgeous palette of colours. Facebook
Trust by Artez
Artez is a Serbian artist whose work I first got familiar with during our first trip to Belgrade. His Tbilisi mural is entitled Trust and the concept is based on the story of William Tell. Instead of Tell's son, the mural features a girl, and the apple has been replaced with a pear. You can read the full meaning, in the artist's own words, on his Instagram post. Instagram: @artez_online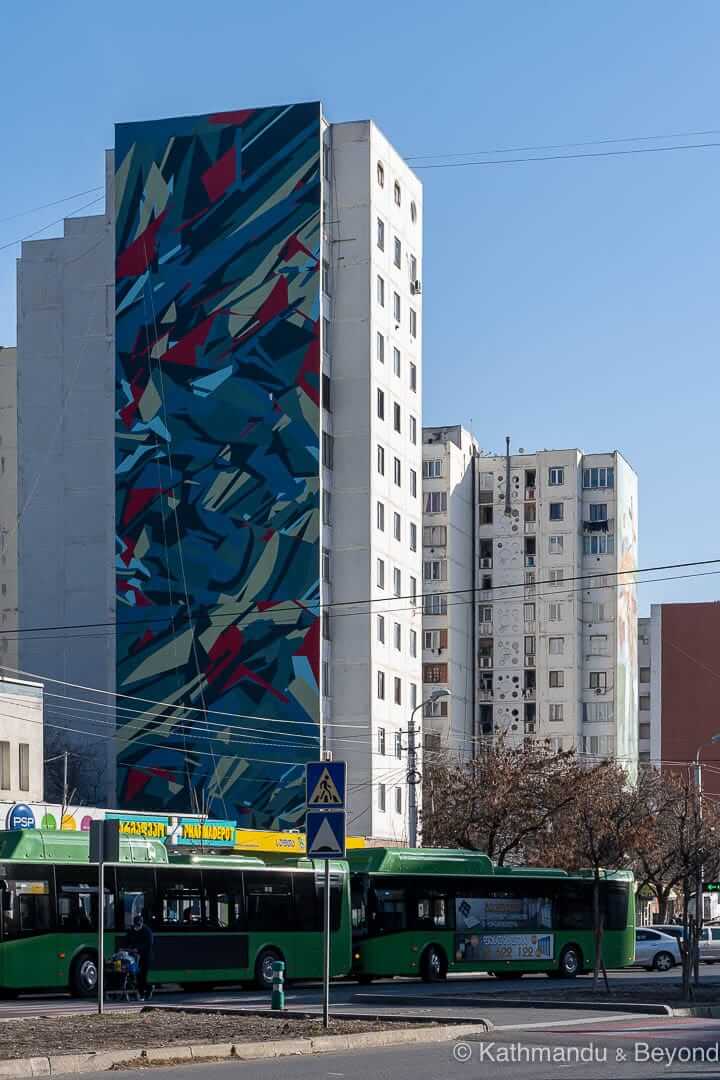 Street Art in Vake
The upmarket neighbourhood of Vake is a good place to look for street art in Tbilisi. On our first visit to Tbilisi, most of the street art was centred around Vake Park but over the past two to three years, a few excellent murals have appeared on the main streets.
Locked Down in a Golden Cage by Innerfields
Featuring a man wearing a face mask, confined in a gilded cage with only his smartphone for company, this pandemic-inspired mural is by German street art collective Innerfields. It was created in November 2020 as part of the Tbilisi Mural Fest. @innerfields
Peeling Vegetables by CASE Maclaim
I'm certain this isn't the official name of this mural by Germany-based CASE Maclaim, but I couldn't find a title anywhere. Andreas von Chrzanowski, as CASE is also known, is considered a master of photorealism in street art. He has painted a couple of great murals in Tbilisi and one in Kutaisi and this one was for the 2019 edition of Tbilisi Mural Fest. Instagram: @case_maclaim
Horse by Dante
Dante is a Tbilisi-born artist who began painting at a young age. He painted the backend of a racehorse for the Tbilisi Mural Fest in 2019. Instagram: @dante.mdante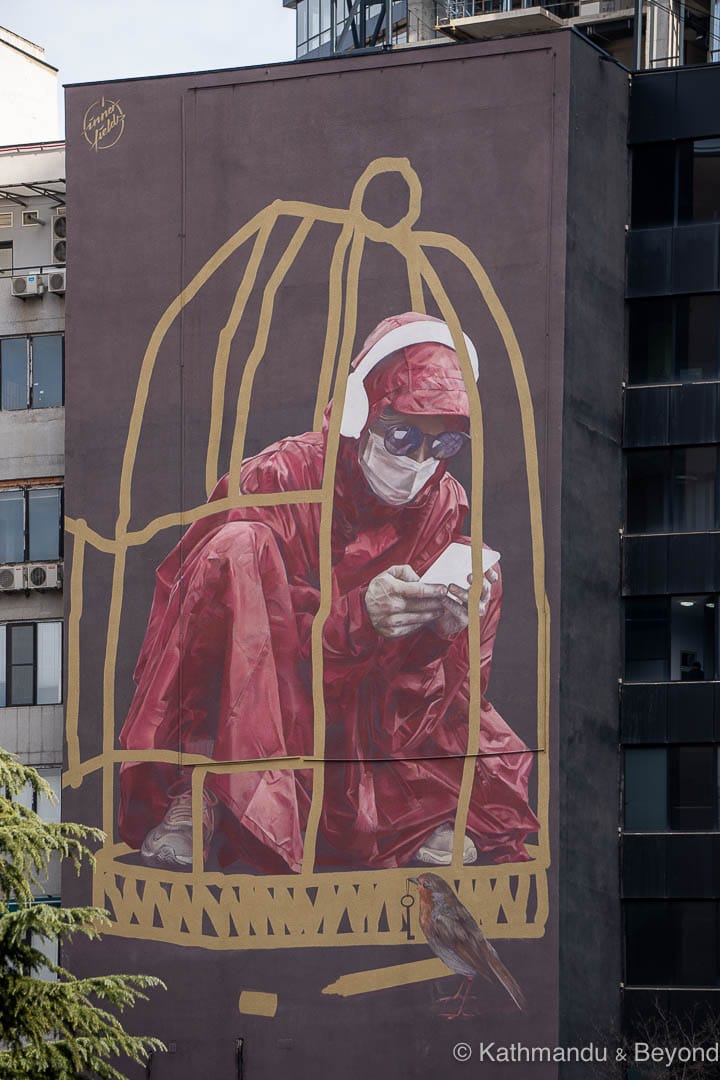 The Underpass and Shopping Area close to Vake Park
As is often the case, it was seeking out a World War II memorial, that first led us to discover this street art. To reach Vake Park, where the Memorial to the Great Patriotic War is located, we had to take a series of passageways beneath the main road from the bus stop. Explore these underground alleys and you will find a lot of art. Most of what we saw there in 2018 was still in good condition when we revisited in early 2022.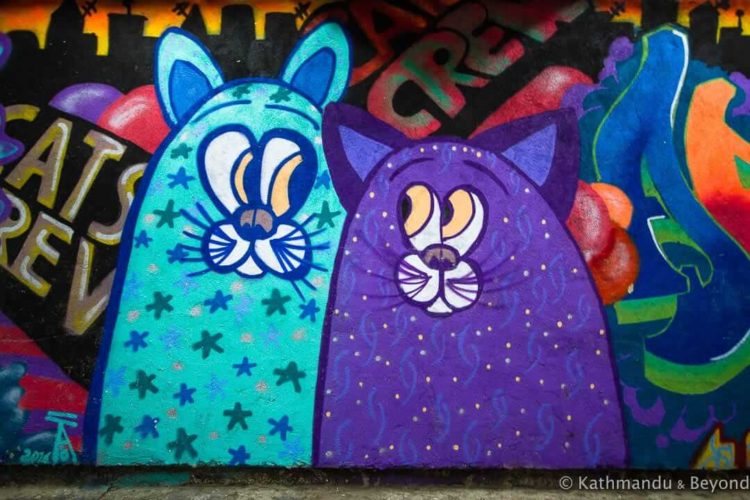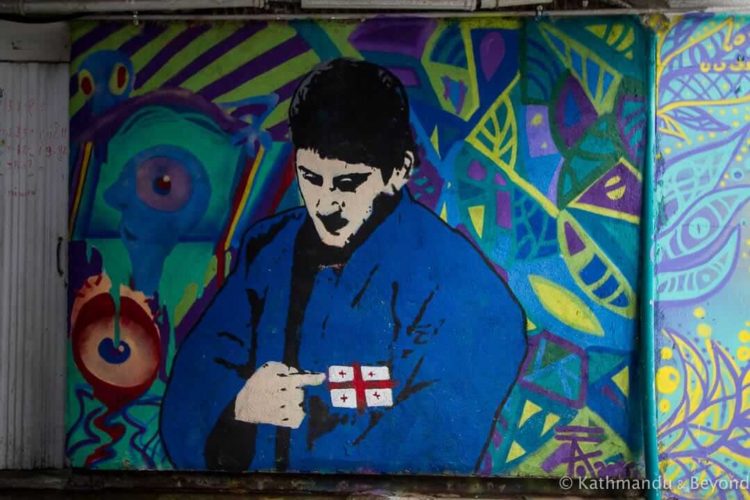 Street Art in Vera
From Vake, you'll pass into the neighbourhood of Vera probably without even realising it, and there is some street art worth seeking out in this part of Tbilisi.
Pumpkin Lady by Aphe & Noah
Another artistic duo from Germany, APHE (Oliver Hollatz) and NOAH (Noah Kauertz) painted their woman with pumpkins mural for Tbilisi Mural Fest in 2021. Instagram
Fairy on Top of the City by Tina Chertova
Tina Chertova is a female Georgian street artist who campaigns for gender equality, in particular highlighting woman's rights and LGBT+ issues. This piece of street art was painted for NIKO and is sometimes called the Supporting Girls mural. It symbolises younger generations of women who are fighting to build a better world based on knowledge and lessons learnt from the women who preceded them. Instagram: @chertovatina
Escape by Masholand
You'll see quite a lot of street art by Masholand around Tbilisi and this one, titled Escape, was painted in 2018. Instagram: @masholand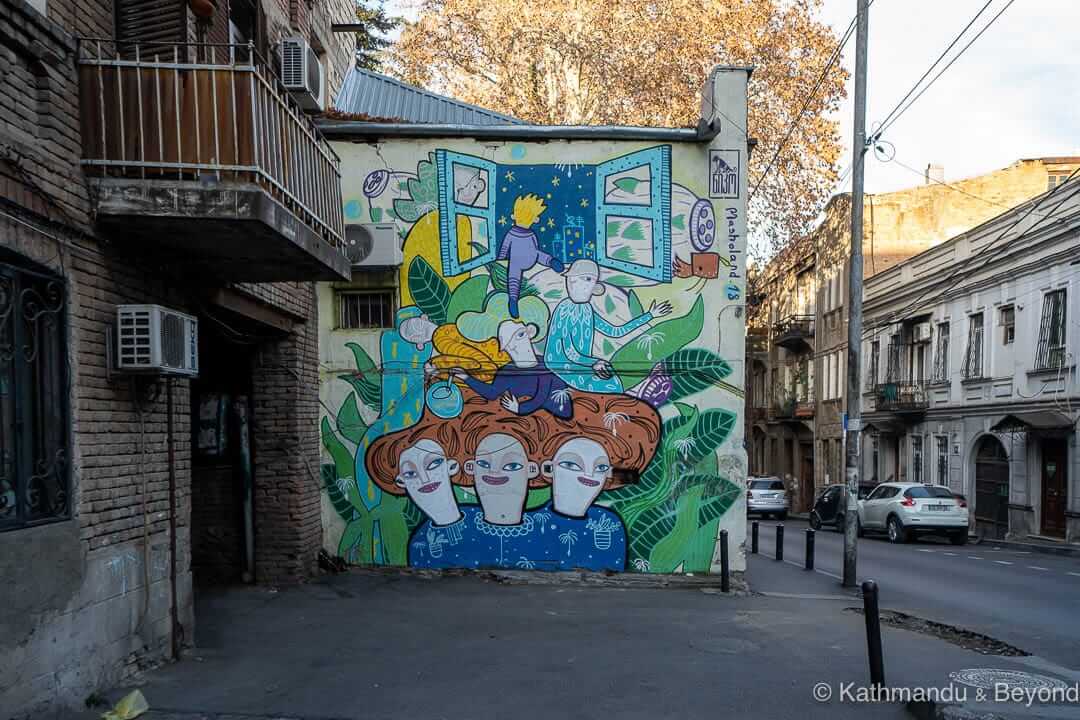 LAMB
Another artist's work that you'll notice a lot of is LAMB. In fact, Mishiko Sulakauri, to credit the artist with his given name, is one of Georgia's most prolific street artists. LAMB always paints lambs – a cute cartoonish lamb that is said to be a nod to his homeland of Tusheti, a remote rural part of Georgia where there is a lot of sheep!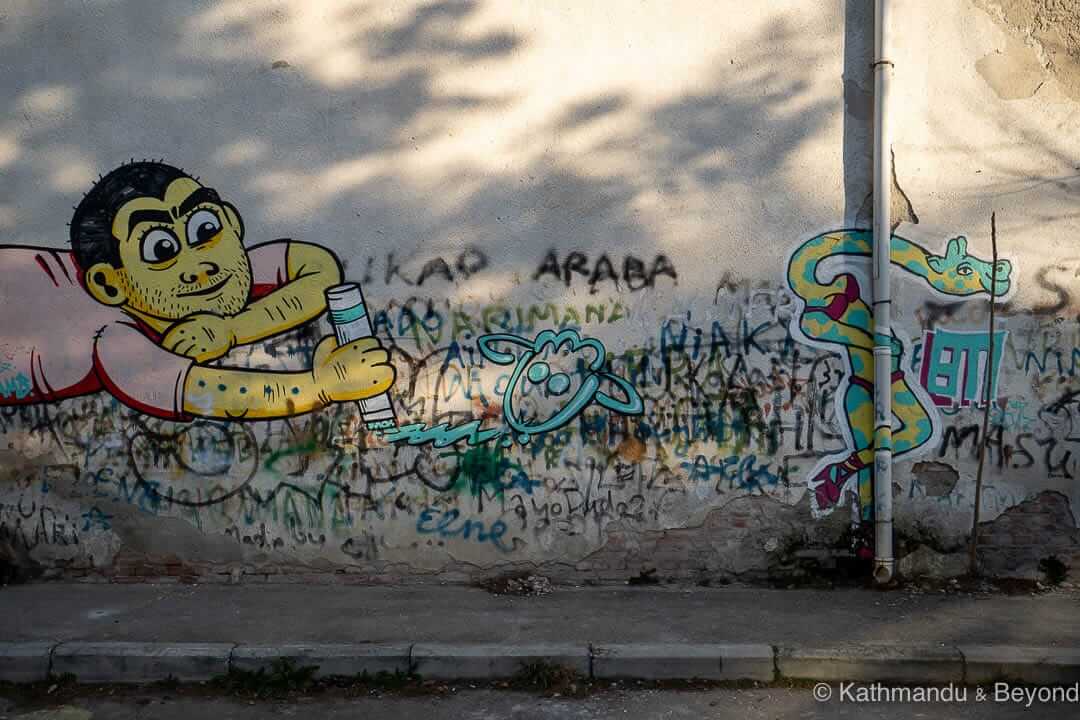 Security Camera Man by Gosha Art
Gosha's art is all over Tbilisi brightening up unassuming places like electrical junction boxes and otherwise dull spaces like the many hoardings surrounding all the building work in the old town. The sheer volume of Gosha's work across the country may lead you to assume they are Georgian, but that's not the case according to an interview I read with the artist (which did not disclose their nationality). It's an interesting article that goes into the artist's ethics and philosophy. Instagram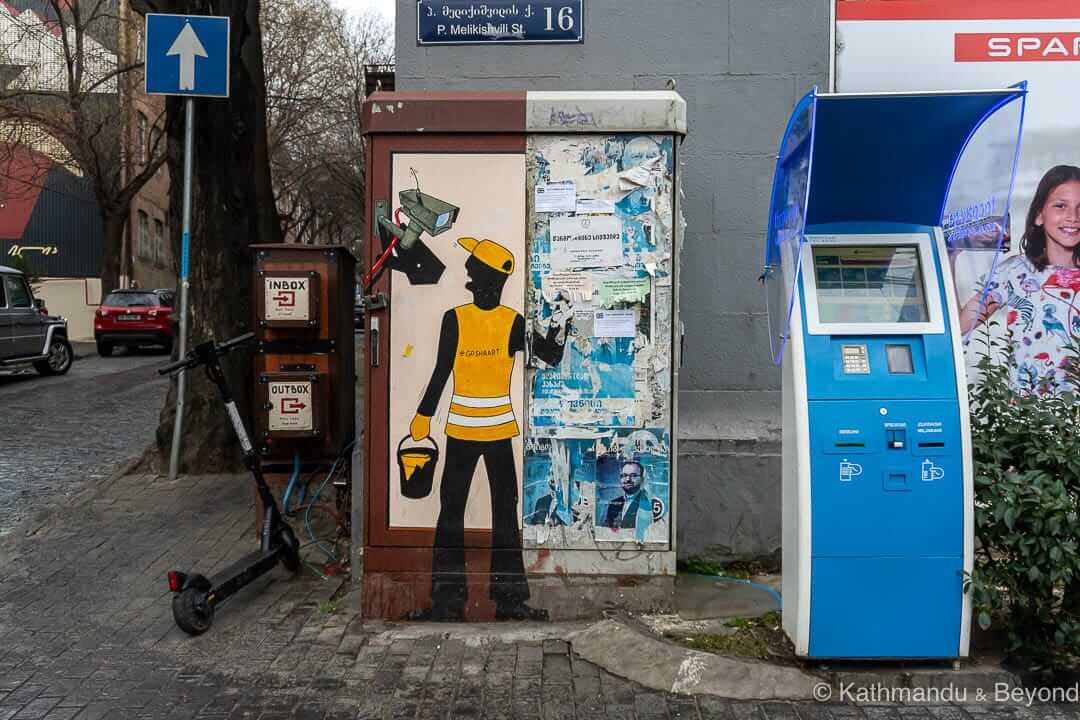 Moustache Man by Jokonda
The most I can say about this man with a moustache by Georgian artist, Jokonda for Niko Movement is that it was not easy to photograph! Instagram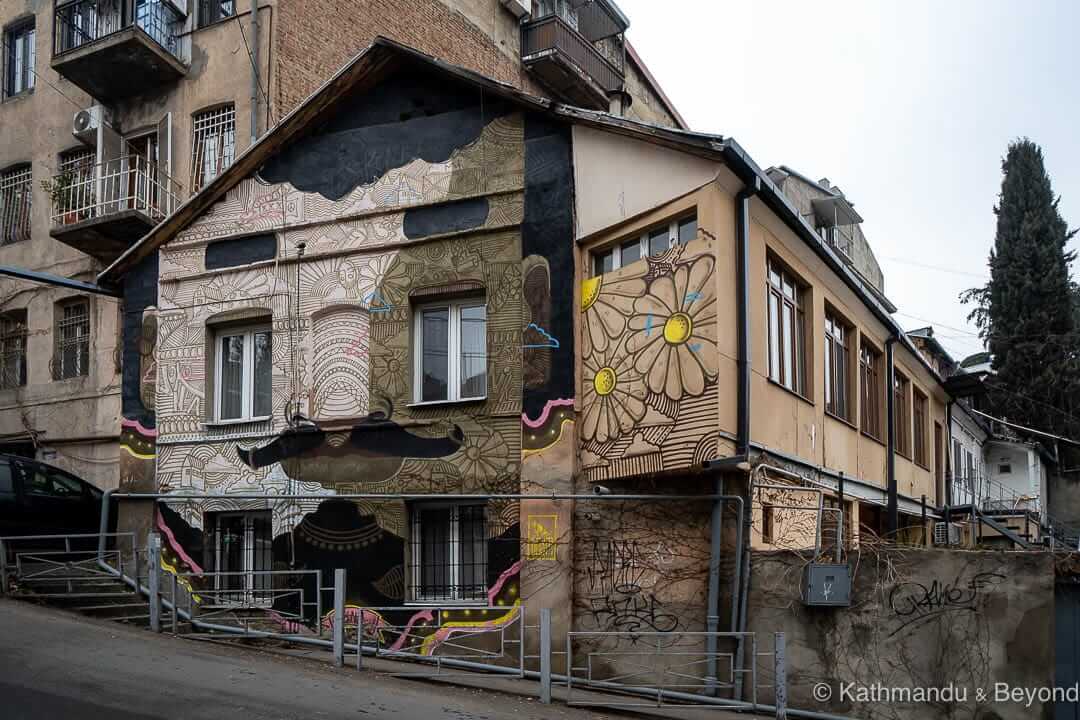 Colourful tweeting bird by CHEY&VAL
Although this cheerful piece of street art appears to have an artist's name on it, I can't find any information at all about CHEY&VAL. If you know anything, please let me know.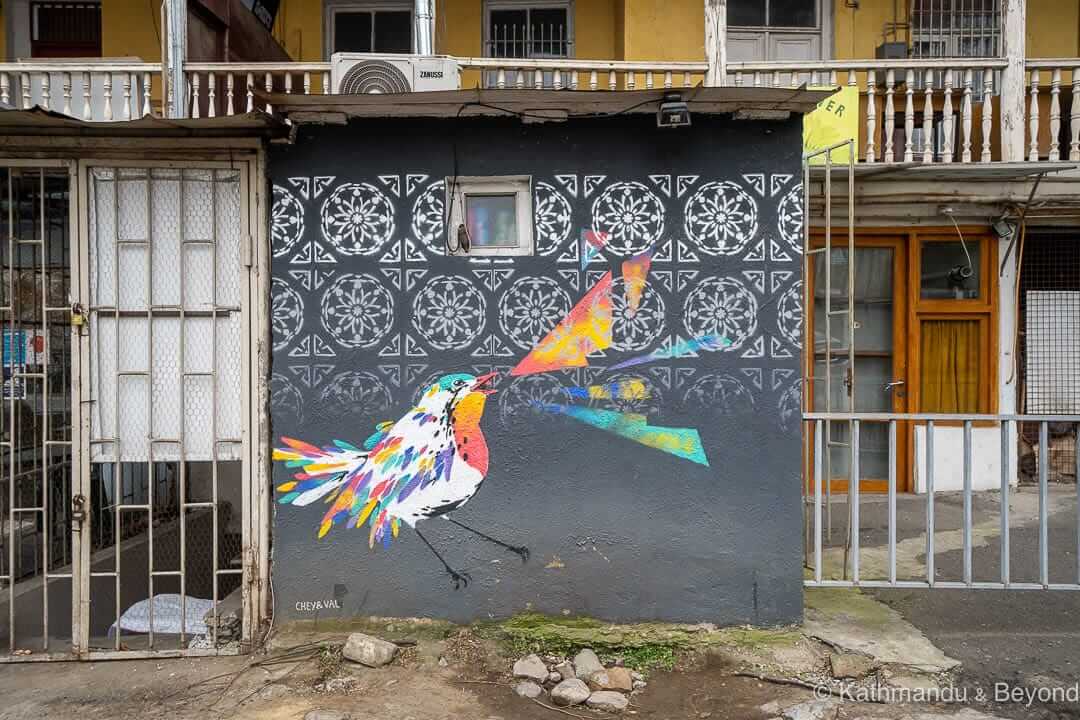 Heroes Square Underpass
We stumbled upon the vast amount of street art and graffiti in this underpass on our way to see the Heroes Square Monument, a memorial to Georgian soldiers killed in the Russian-Georgian War in Abkhazia.
I discovered that most of the art was created in November 2017 as part of a Tbilisi City Hall initiative to clean up the underpass and make it a more welcoming and safe place to cross the busy intersection above it. Apparently, the underpass had become so grotty that pedestrians were risking a dangerous road crossing (and breaking the law) instead of using the underground passageway.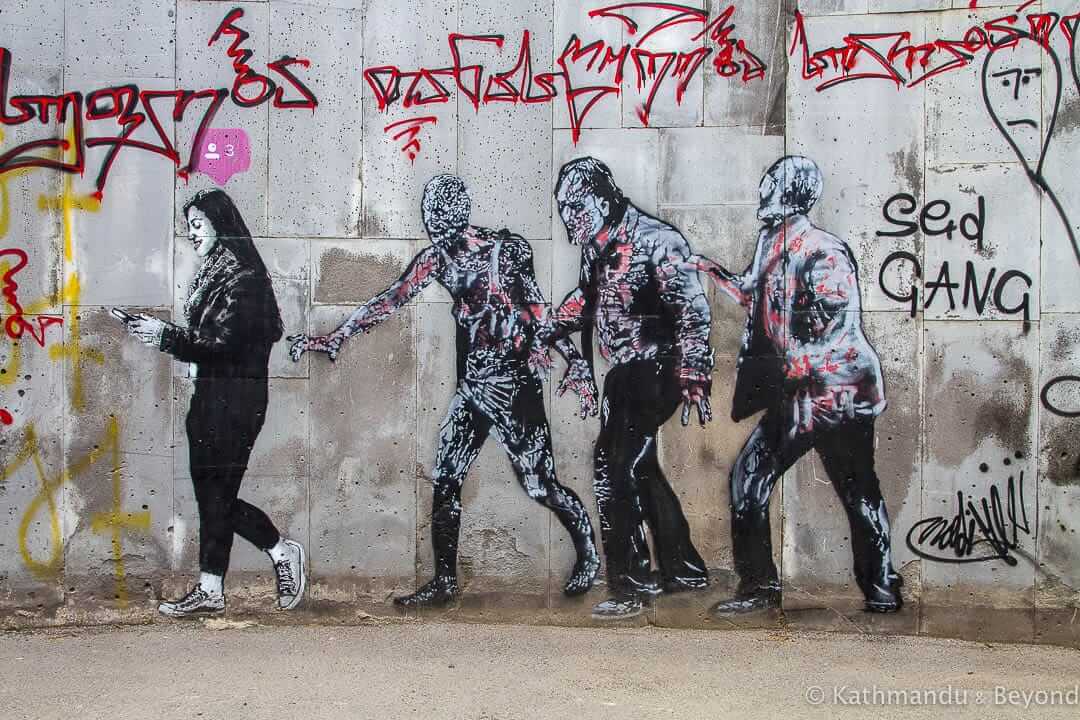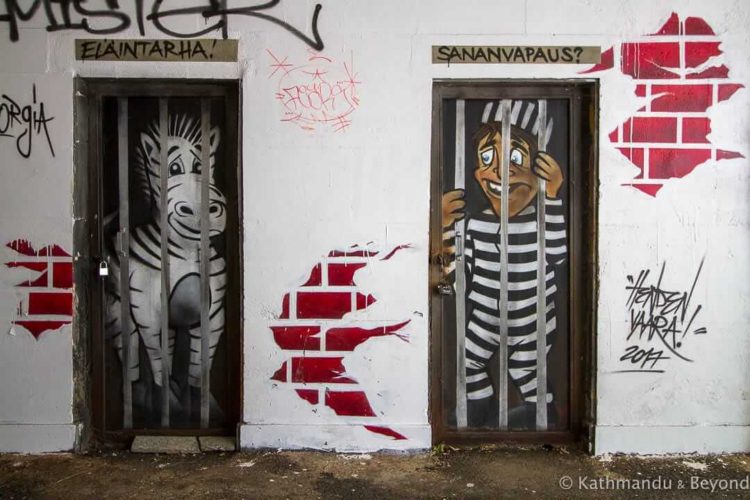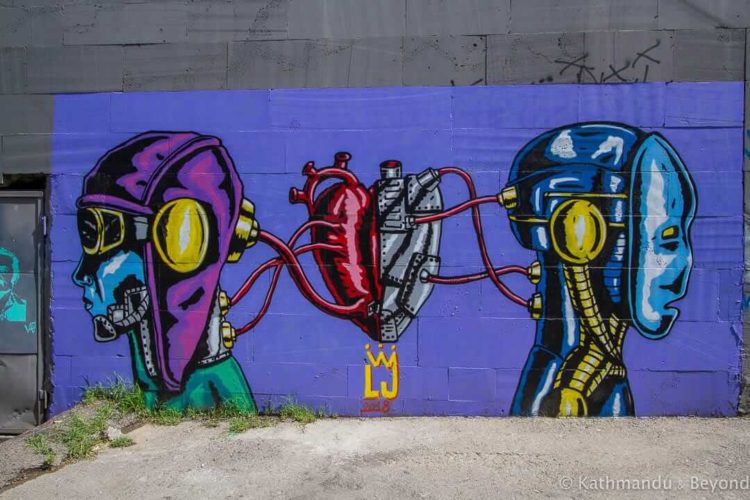 Heroes Square sits on the division of Vera neighbourhood and Saburtalo District, which brings us nicely along to our next place to find street art in Tbilisi.
Nutsubidze Plato / Street Art in Saburtalo District
Saburtalo is an up-and-coming district in Tbilisi's northern suburbs, and also Tbilisi's university district. It's actually quite a large area but is easy to get to by Metro (take the metro to either Technical University or Medical University stop and explore on foot from there).
Zebras by Snyder
This large-scale mural by Berlin-based artist Snyder is impressive albeit tricky to photograph. That didn't stop me from insisting Mark attempt to do so! Instagram: @snyder_berlin
Peacemakers by Innerfields
Not far from the Zebras, and even harder to photograph, there is a beautiful mural featuring two white doves painted by Innerfields for Tbilisi Mural Fest in 2019. We had trouble locating it and when we did spot it, didn't have the energy to climb the hill to reach it.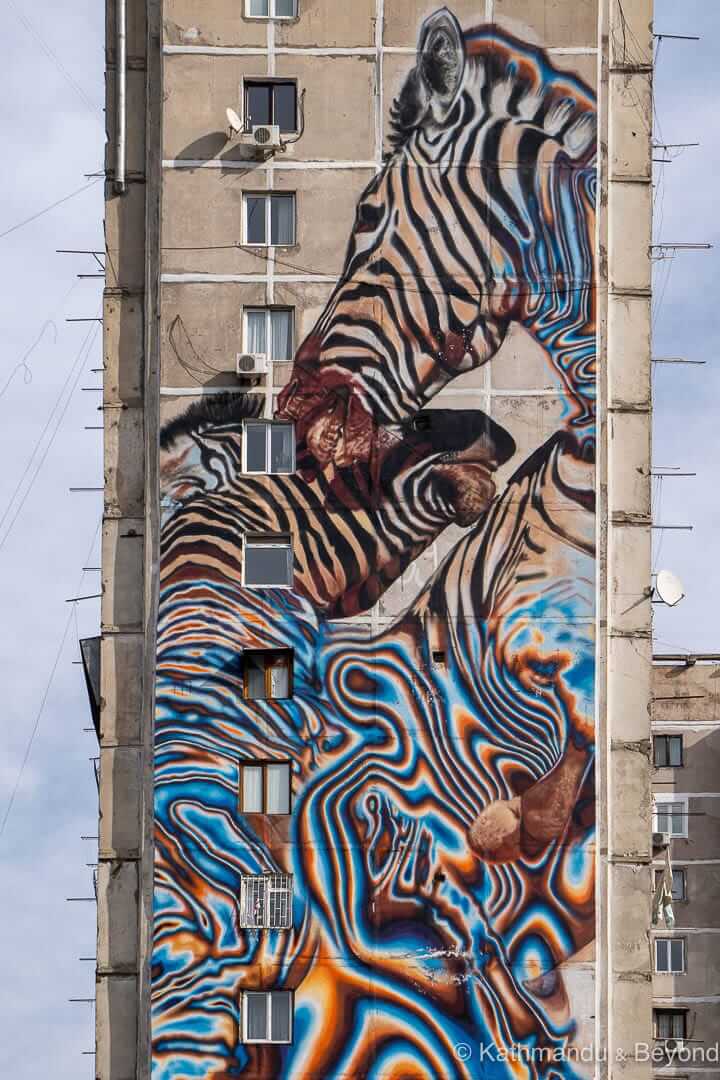 3D Circles by 1010
This is a good example of the type of street art Polish-born, German-based artist 1010 is known for. These illusionary circles were painted in 2021 for Tbilisi Mural Fest. Instagram: @1010zzz
Abstract by Kera
This large mural by German artist Kera is on the side of a large apartment building just east of Central Park in Saburtalo. Instagram: @kera.1
Man under a red canopy by APHE & Noah
I'm pretty sure that's not the actual title of this fabulous mural by APHE (Oliver Hollatz) and NOAH (Noah Kauertz) which was painted for the 2020 Tbilisi Mural Fest.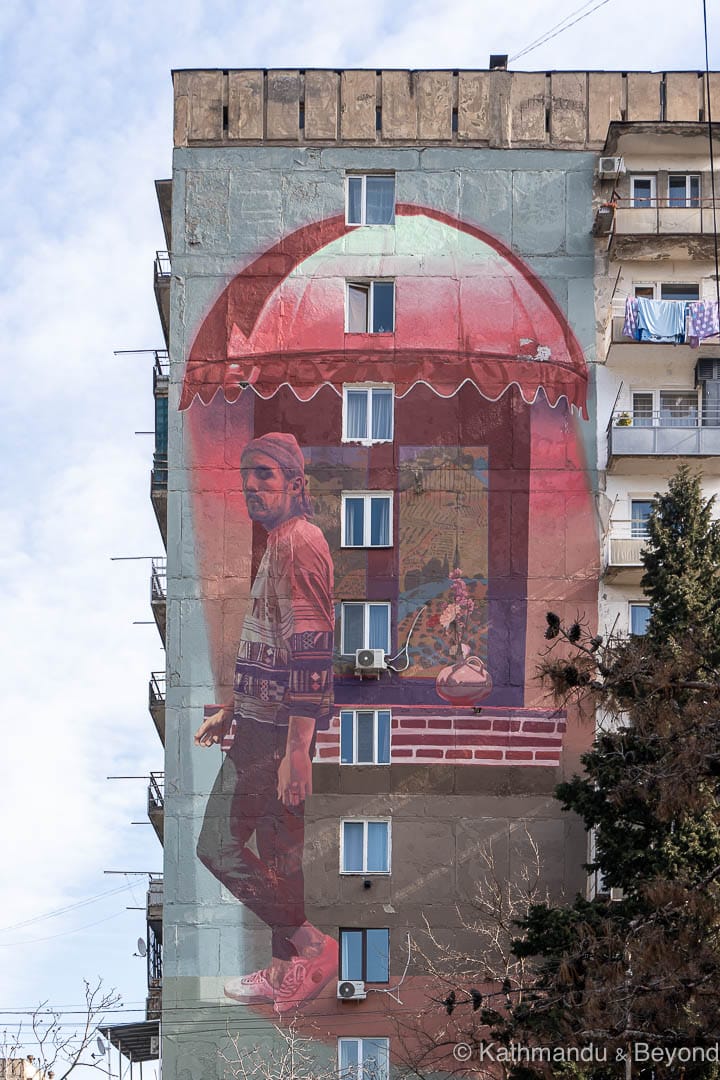 Cosmonaut (artist unknown)
I couldn't find any information about this spaceman art which is on the side of a building on one of Saburtalo's main streets. If you know the artist, please let me know.
Kakutsa Cholokashvili Highway Tunnel
Close to the man in red by APHE & Noah is a vehicle tunnel which is part of the Kakutsa Cholokashvili Highway. At one end of it is a mural by Collin Vander Lujis known as Tbilisi Legend and at the other end, there is a mural by HRVB.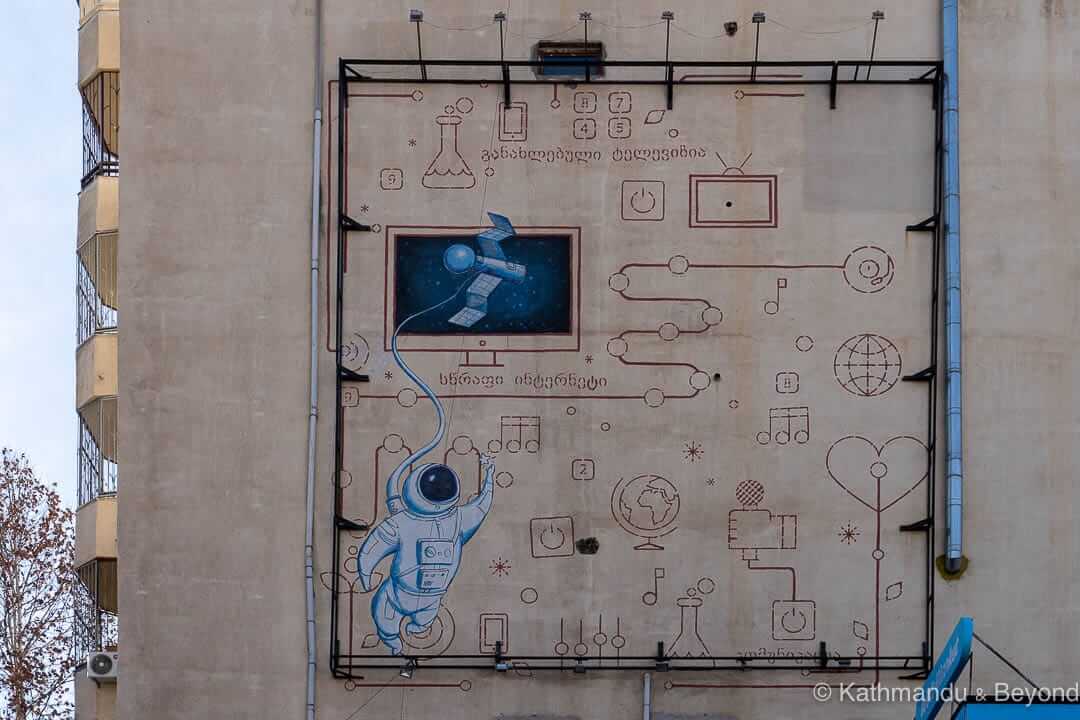 Maglivi Central Library
There is a good selection of street art on the walls of the Maglivi Central Library of Ivane Javakhishvili Tbilisi State University. Around twenty murals by various artists cover the walls of the lower part of the building. Most of it is of a high standard and worth the effort of getting there.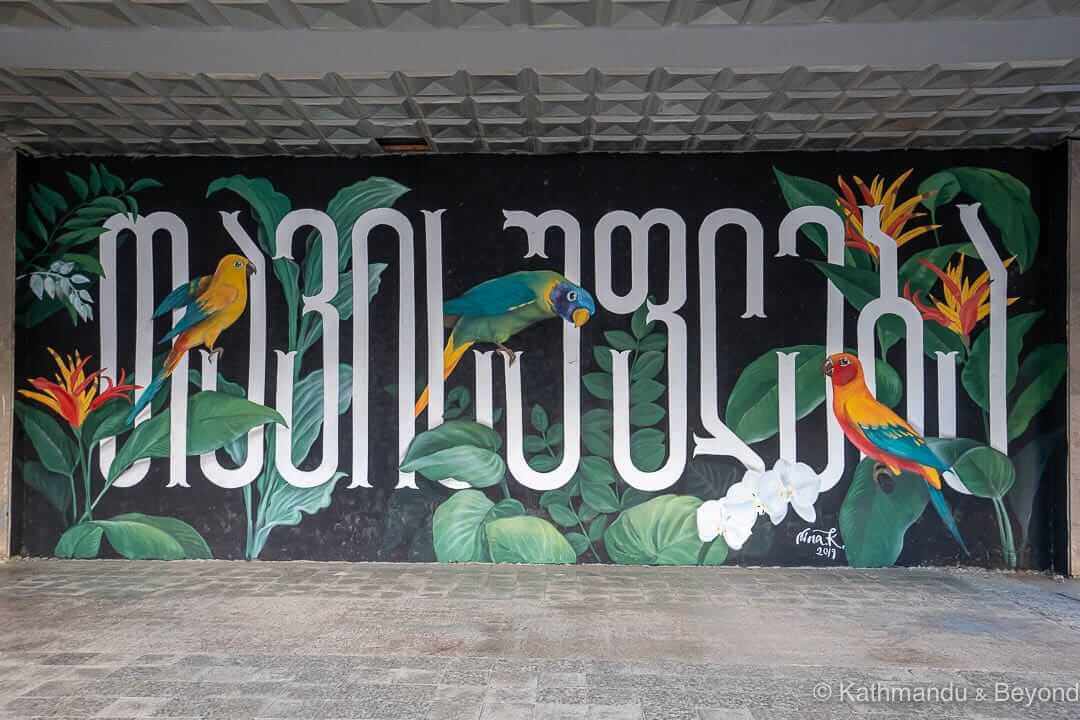 On our way back from the University we spotted this small but topical piece of Squid Game street art.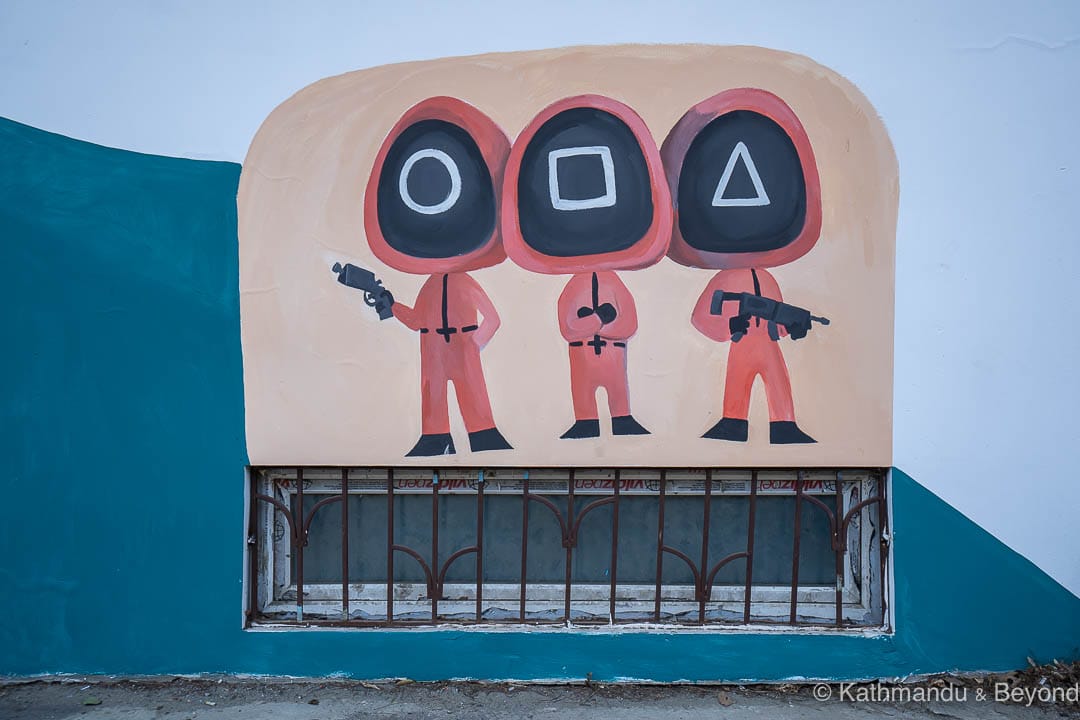 Nutsubidze Plato
A few years ago we came across a small amount of street art in the Shalva Nutsubidze Park area on our way to Nutsubidze Plato to visit the Brutalist towers blocks connected by their well-documented Sky Bridge. The building is definitely worth seeing, but I wouldn't make the effort to go there just for the street art – Tbilisi has way better stuff these days.
There are a few more pieces of Saburtalo street art not featured here but which are included on my map.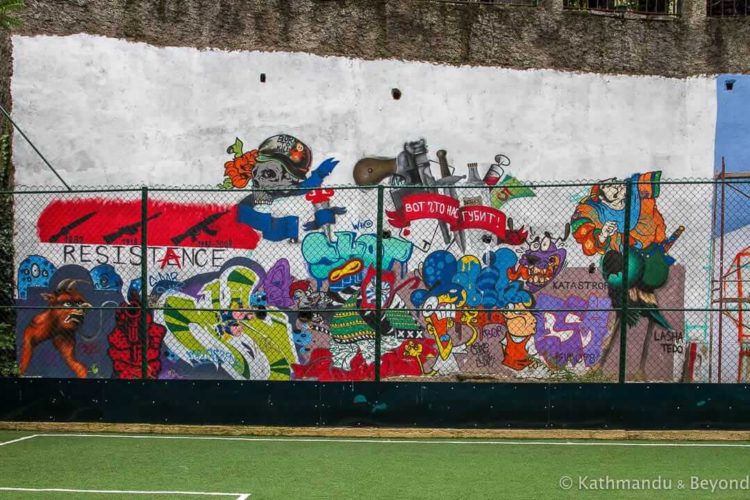 Gldani Micro District
It's a bit out of the way in the far northern suburbs of Tbilisi, even further north than the Chronicle of Georgia, but if you're on a broader hunt for architecture and mosaics and happen to be in the area, you might want to seek out these pieces…
Owl by David Samkharadze
This owl mural sits on the side of the DKD Bridge with the words "Trust me, everything's going to be alright".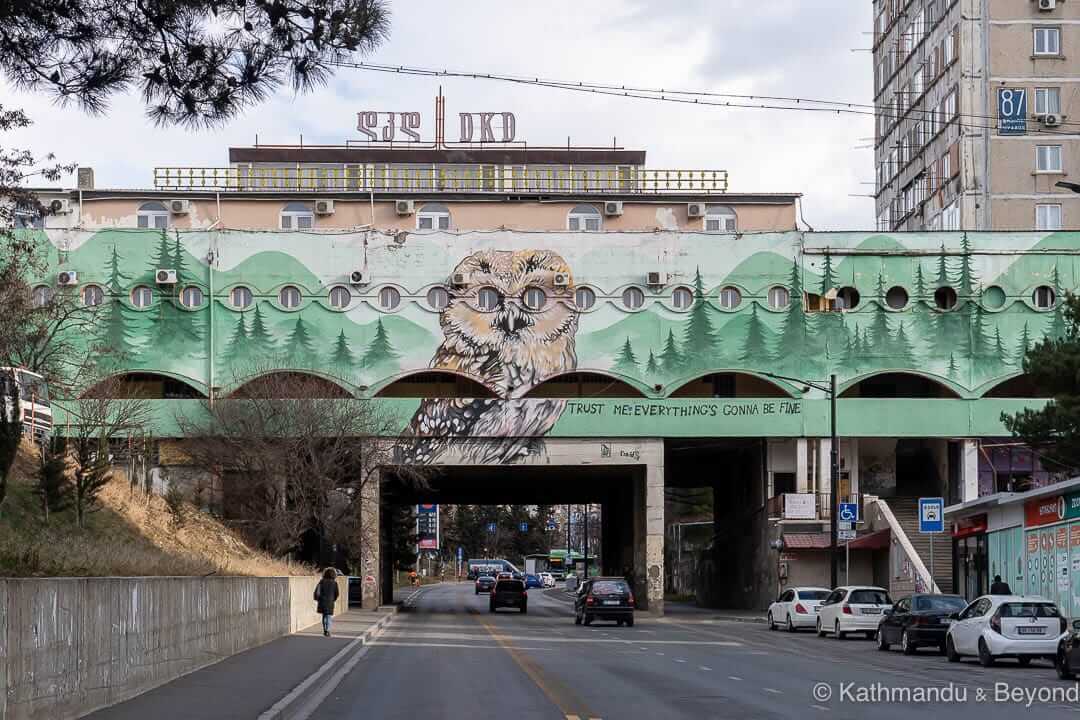 Blue Angel by INO
One of Greece's best-known international artists painted this mural in Gldani Micro District. Most of his work is styled like a black and white sketch always featuring a splash of blue. Instagram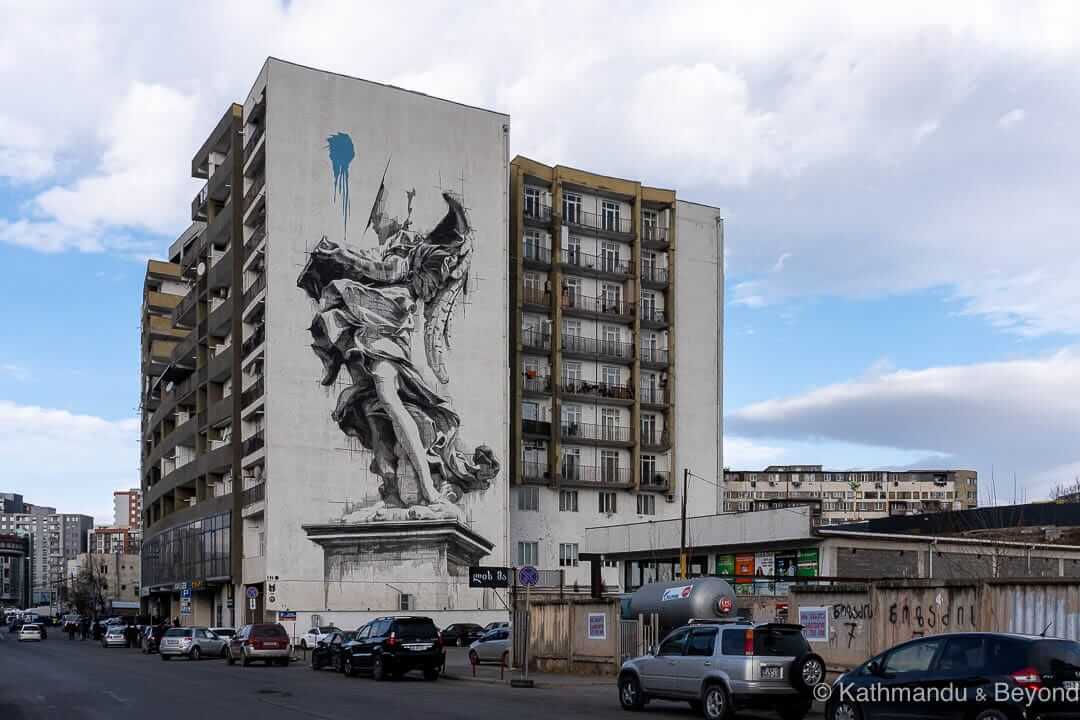 Street Art in other areas of Tbilisi
You'll find street art and graffiti in all corners of the city and this post is by no means inclusive of all the notable graffiti and street art in Tbilisi. Thanks to a vibrant scene, new pieces are being added all the time. Here are a few other pieces we spotted around the city.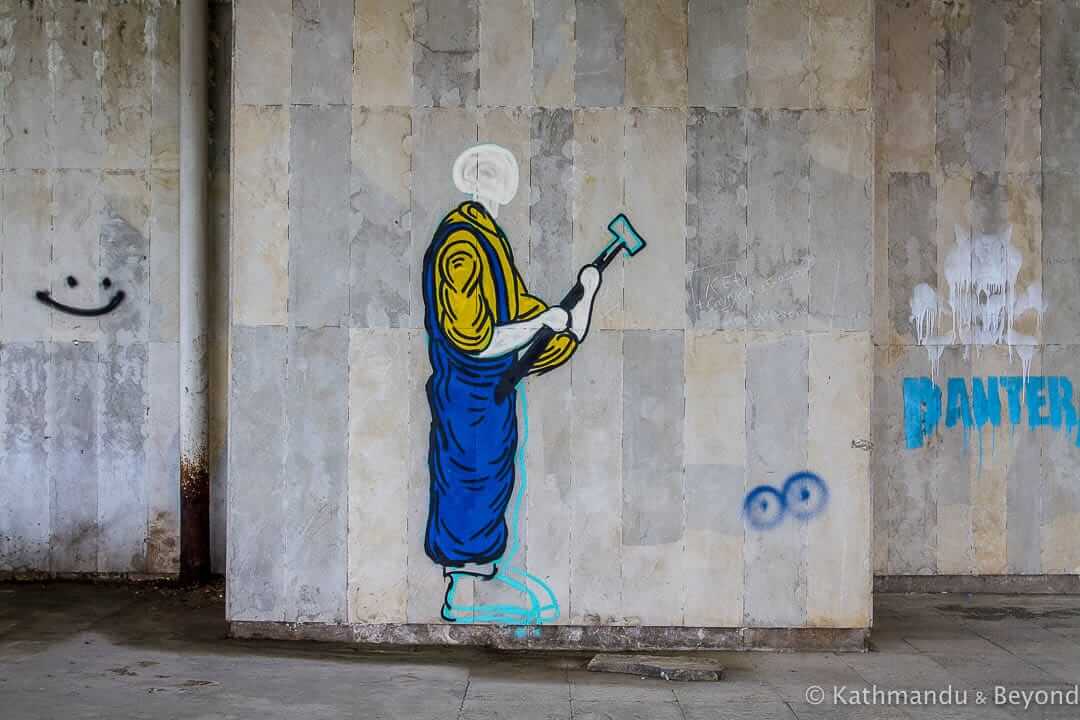 Location map of Graffiti and Street Art in Tbilisi
I have updated my map of Tbilisi street art and it is now a comprehensive companion to your street art hunting. The Google map now has the locations of all of the street art in Tbilisi that we've seen and it also includes some of the pieces there wasn't room to include.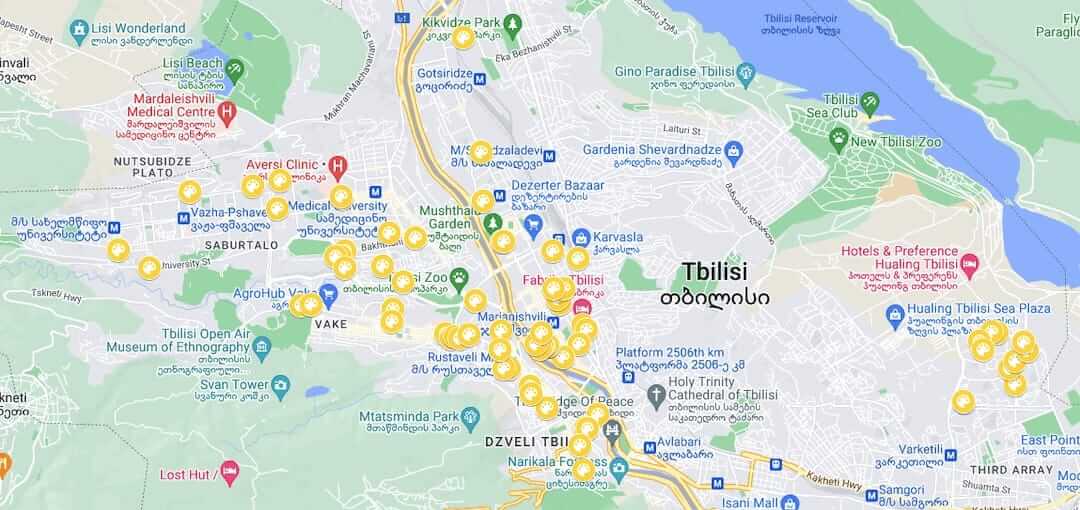 Georgian Street Artists
It's great to see local artists getting more and more exposure through their street art. Works from all of these artists are included in this guide. Here are some to look out for.
Gagosh (Giorgi Gagoshidze)
The work of Tbilisi-based Georgian artist Gagosh (real name Giorgi Gagoshidze) is prominent across the city (and can also be found all around the country). I'm probably not the first to nick-name him the Georgian Banksy as his art typically addresses political, economic and social issues.
David Samkharadze
Georgian artist, David Samkharadze is responsible for one of my favourite murals in Tbilisi; the portrait of chess player Nona Gaprindashvili on an apartment building in Varketili Micro District.
Tamoonz (Tsakhnakia Tamuna)
Tamoonz is one of a growing number of female Georgian street artists that are making a name for themselves. Said to have been interested in graffiti from a young age, she started painting walls soon after graduating from Tbilisi State Academy of Arts. Her work is often represented by sketch-like images of people.
Instagram | Facebook | website
kade90 (Irakli Qadeishvili)
Another Tbilisi-born, graduate of Tbilisi State Academy of Arts, Irakli Qadeishvili is an architect by profession although he has always had a passion for art.
MUSYA (Musya Qeburia)
Tbilisi-born MUSYA has been painting walls since 2017. Refreshingly she paints in quite a range of styles and is responsible for two of the most photographed murals at Fabrika – Cosmic Girl and Fabrika Kids.
Instagram | Facebook | website
Dante (David Mchedlishvili)
Much of Dante's work is inspired by nature and wildlife and a lot of his street art features animals often as part of an environmental message.
Dr. Love (Bacha Khoperia)
Dr. Love's work featured quite prominently in Tbilisi and he is also the artist of what is probably Batumi's most-photographed street art, 'Selfie'.
Luka (Luka Japaridze)
Another graduate of Tbilisi State Academy of Arts, Tbilisi-born Luka's work can be spotted all around the city.
Kelber (David Kelber)
Although his work is quite prominent around the city, I couldn't find much information about this Tbilisi-based artist and graphic designer.
Gamez (Giorgi Gamezardashvili)
You'll see a lot of work by Gamez around the country, often inspired by animals, nature and people.
LAMB (Mishiko Sulakauri)
If, up until this point, the narrative was starting to sound repetitive (Tbilisi-born graduate of Tbilisi State Academy of Arts), LAMB is here to change things up. Self-taught artist LAMB paints a lot of lambs! This is a nod to his homeland of Tusheti, Georgia's remote highland that is known for sheep and mountains.
Masholand (Masho Margishvili)
Masholand creates some of the most colourful and creative street art in Tbilisi.
Instagram | Facebook | website
Tbilisi Street Art Festivals
Fabrikaffiti Festival
The urban arts festival at Fabrika grew nicely for a few years until it was halted by the pandemic. Sadly it doesn't seem to have regained its momentum. Keep an eye on their Facebook page for news of upcoming events.
MuralFest
After successful events in 2018 and 2019, MuralFest was halted for a couple of years but came back with vengeance in September 2022. Check out their Instagram account to see the latest murals.
More resources for finding street art in Tbilisi
NIKO Movement
NIKO's Facebook page and Instagram account are good places to look for new murals and street art in Tbilisi. They helpfully include exact locations. They also have a Google map.
Tbilisi Mural Fest
Founded in 2019 with events taking place that year and in 2020. Hopefully, the festival will bounce back post-Covid. They have a website and also a Google map featuring mural locations.
Street Art Cities
A useful resource for street art hunters all over the world, Street Art Cities has a map for Tbilisi.

---