Where to Find the Best Street Art in Taichung
The main reason Taichung City found its way into our travel plans was that we wanted to seek out Encore Gardens, an abandoned theme park, and the Qianyue Building, a derelict apartment block in the centre of town. But after seeing so much fantastic street art in Kaohsiung, I was eager to see what the street art scene was like in some of Taiwan's other cities.
Kaohsiung had set high standards with its prolific street art scene, and I started to research street art in Taichung. A quick Google image search revealed a few pieces. Most of it appeared very cutesy and lacked either the skill of Kaohsiung's huge murals or the rawness of the street art in Taipei. But still, it was enough to lay down the street art hunting gauntlet!
This is what we found…
Rainbow Village
Taichung's best-known street art location is Rainbow Village. The Chinese name for Rainbow Village is Caihongjuan Village (彩虹眷). A popular tourist attraction, the vibrant art at Rainbow Village can hardly be described as edgy but it's a fun and colourful place to visit and has an interesting story behind it.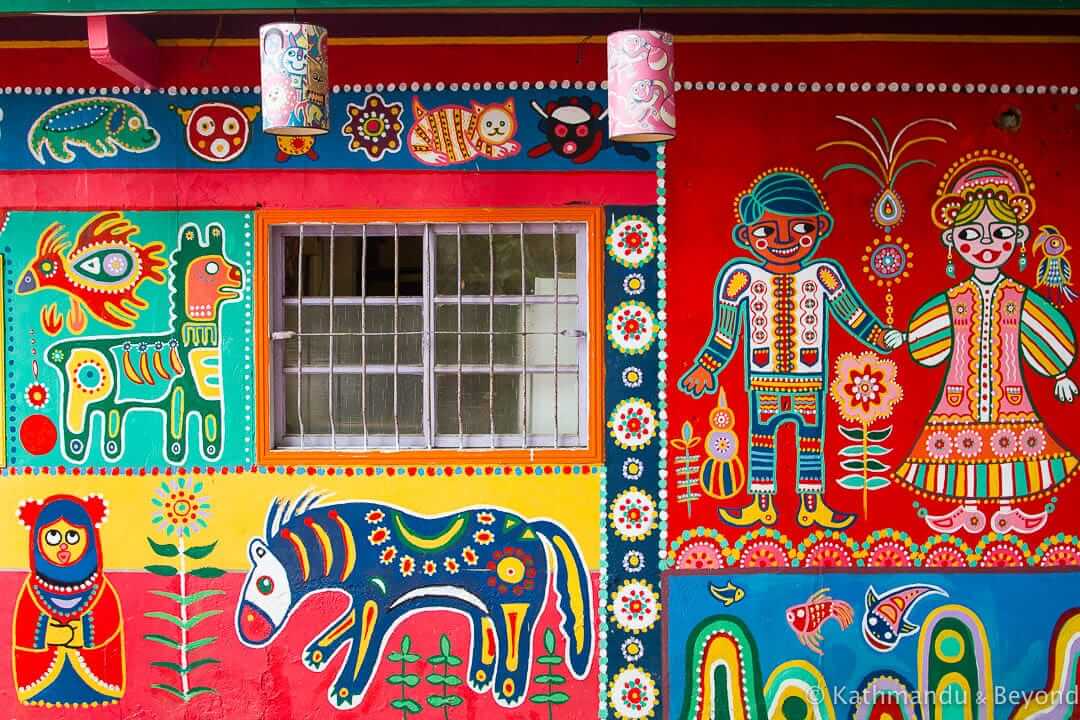 Rainbow Village, Kaohsiung
The History of Rainbow Family Village
The background of Rainbow Village (or Rainbow Family Village as it's also sometimes called) involves a short history lesson and goes something like this…
After World War II the Republic of China (which included Taiwan) was ruled by Chiang Kai-shek's Kuomintang (KMT) party. Then the Chinese Civil War happened and in 1949 the KMT lost control of mainland China to Mao's Communist Party and the People's Republic of China was declared. The KMT retreated to the island province of Taiwan and set up a government in exile. Taiwan's official name is still the Republic of China.
A lot of housing was hastily built to accommodate the thousands of immigrants who sided with the KMT and left mainland China for Taiwan. Rainbow Village (not its original name) was built as a military dependents village to provide housing for the KMT soldiers and their families.
In recent years, the number of surviving veterans and their families has declined and, over time, the occupants of these military villages have been rehoused and the land sold off for new developments.
Back in 2008, Huang Yung-Fu, one of the village residents (the description 'village' is perhaps a little misleading – it's more like a small housing compound in the city suburbs) decided to brighten up his house with a bit of art. This quickly spread to neighbouring homes and, before long, the entire village. Today, every inch of the compound is painted with figures, animals and abstract patterns, predominantly in red and other primary colours.
One version of the story says that Grandpa Rainbow, as Mr Huang has been fondly nicknamed, had an idea that if he created an attraction that people came to see, it would raise the profile of the village and make it difficult for authorities to carry out their threat of flattening his home.
That was the case and today Rainbow Village is one of Taichung's most popular tourist attractions. Grandpa Rainbow and his family are the only remaining residents and with a constant stream of selfie-stick-toting tourists traipsing around and a souvenir shop and cafe on site, who can blame them?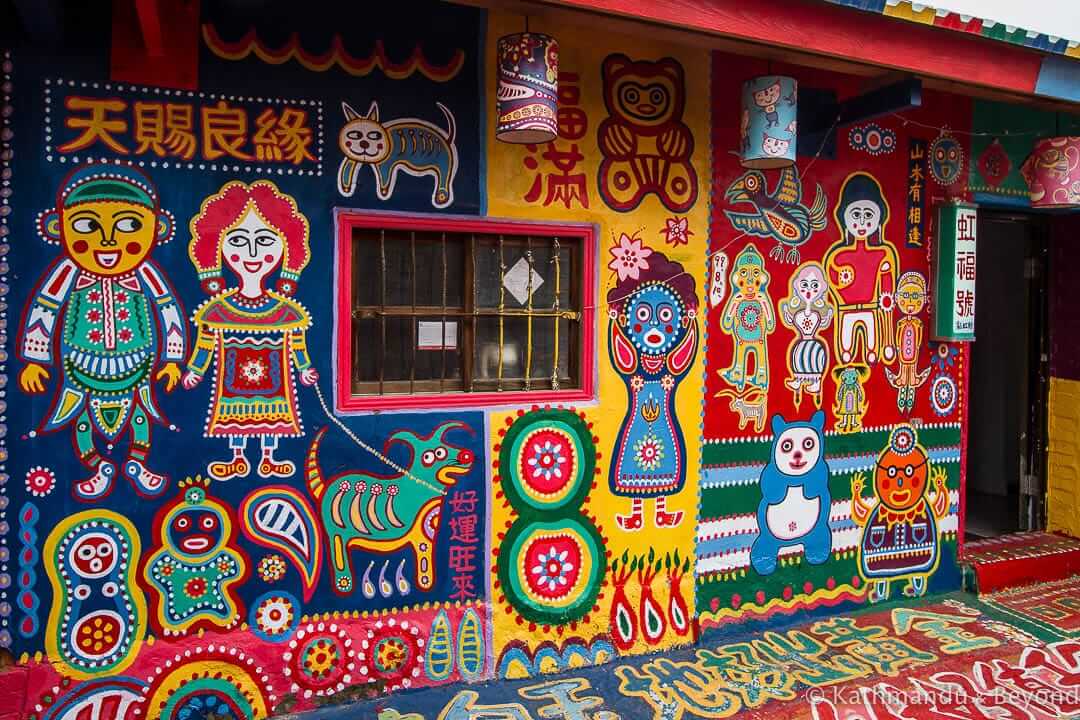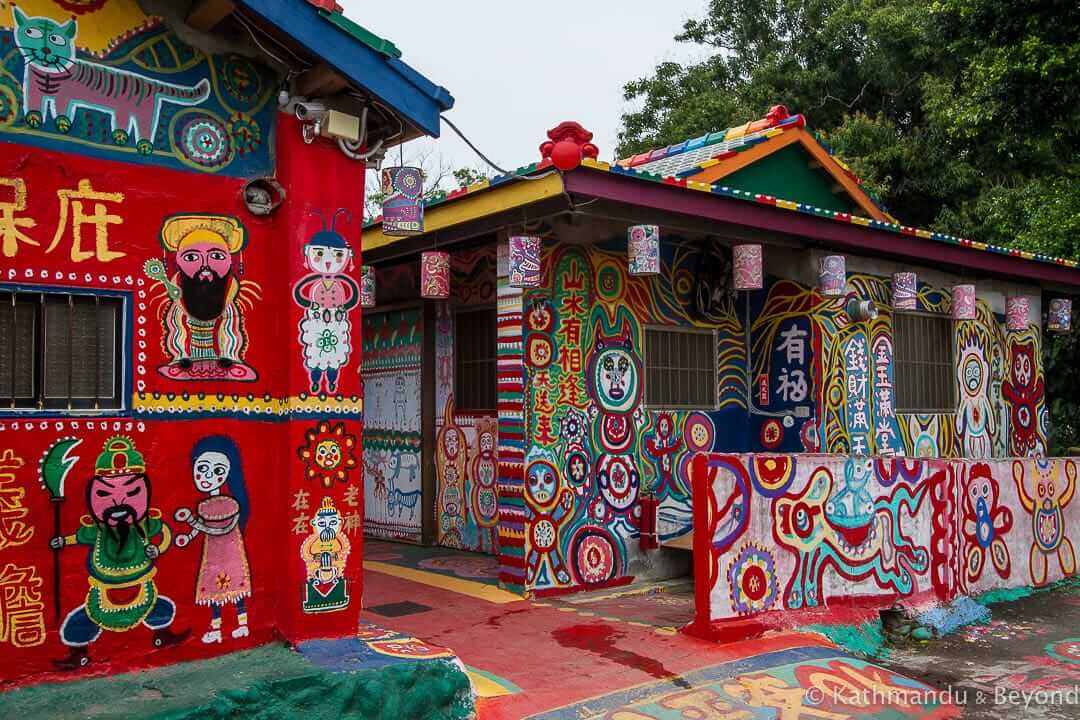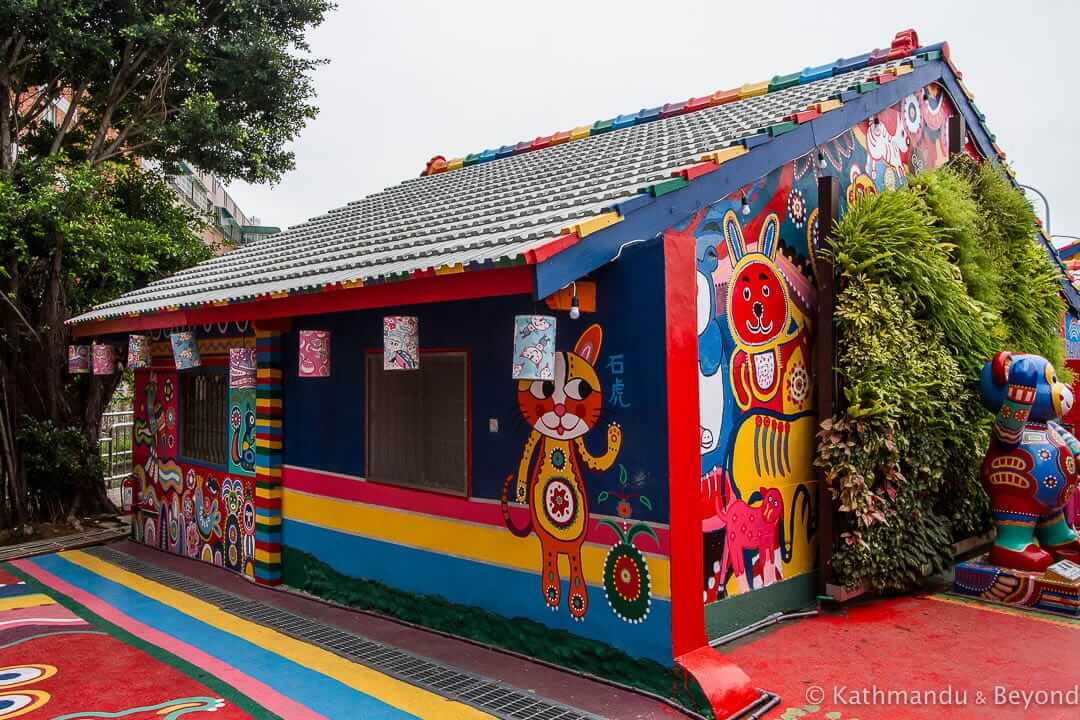 Rainbow Village, Kaohsiung
How to get to Rainbow Village
Rainbow Village is some distance from Taichung city centre and there's not much else in the area. Take bus number 27, 30, 56 or 290 from the bus stops near Taichung Railway Station. It takes about 45 minutes to reach Rainbow Village and costs 39 New Taiwan Dollars (£1/US$1.30) each way.
Depending on which number bus you take, you might have to walk a couple of hundred metres. The GPS for Rainbow Village is 24.133726, 120.609865.
Animation Alley
Just off the main road, it would be easy to miss this narrow street packed with fun street art. The Chinese characters for the street are 動漫彩繪巷 and this sometimes gets translated as Cartoon Lane. Both are accurate descriptions of this tiny space with street art depicting characters including Super Mario, Lilo & Stitch, Popeye, Mr Bean, Bugs Bunny, Daffy Duck, Sylvester and Tweetie Pie, Angry Birds as well as Japanese anime including One Piece and Tororo.
Unfortunately, I couldn't find much information about the artists or the story behind Animation Alley, even after attempting to translate online articles written in Chinese, so if anyone is able to shed any light on it, I'd be delighted to hear from you! The best I could find is that it all started with one man's One Piece painting, which neighbours liked, and they encouraged him to paint more and more, and other artists joined in.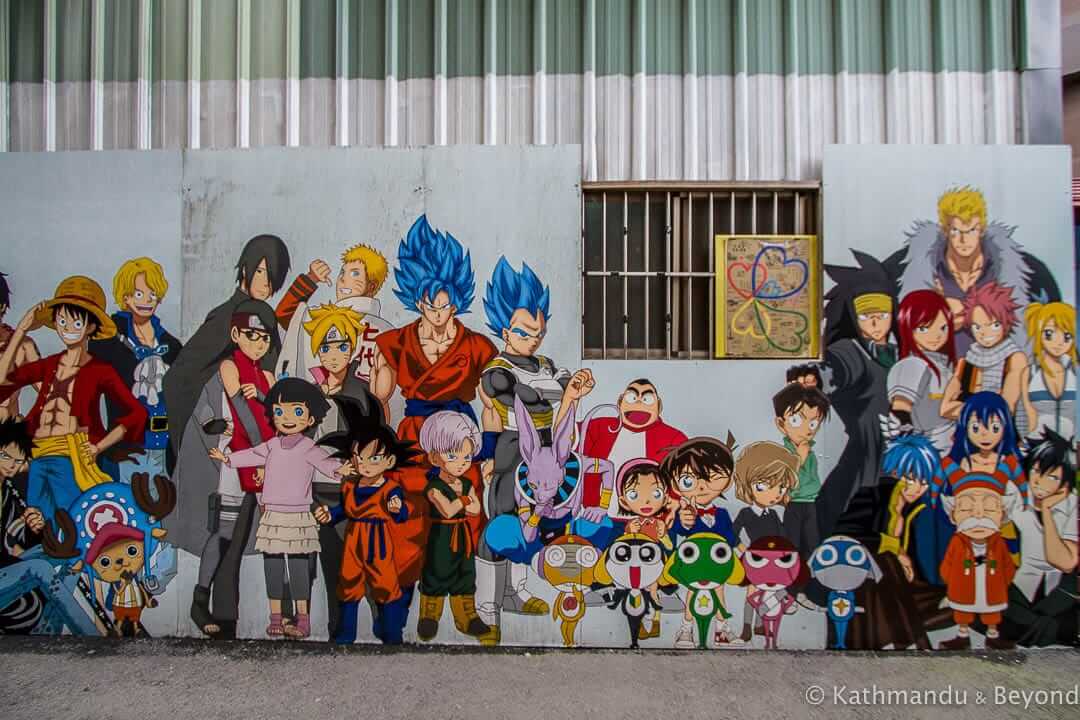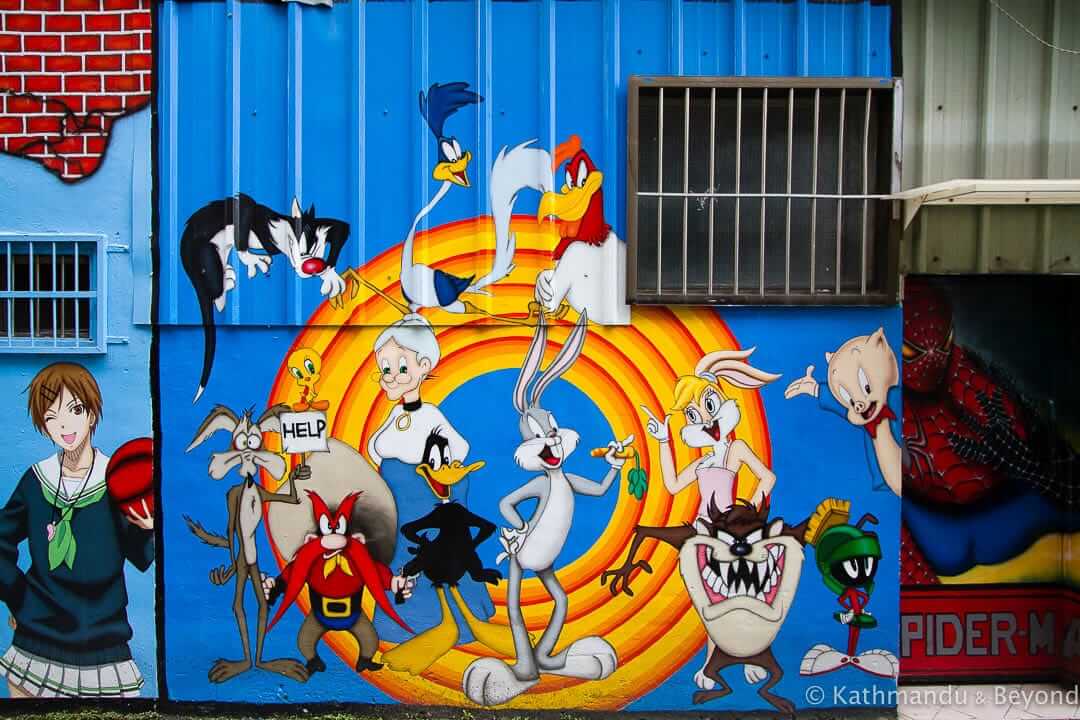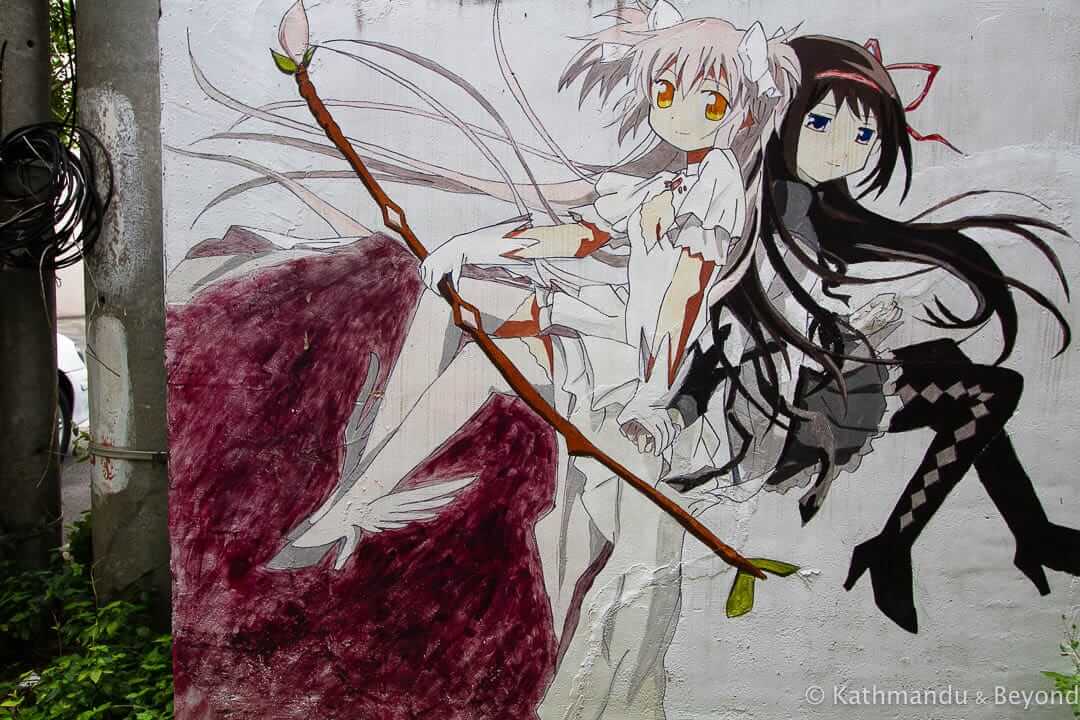 Animation Alley, Kaohsiung
How to get to Animation Alley
Depending on where you're staying in Taichung, it's likely to be walking distance from Animation Alley (for example it's 2kms from the main train station). The address is Lane 100, Linsen Road, West District, Taichung City and it's marked on Google maps as Painted Animation Lane (動漫彩繪巷). The GPS is 24.138419, 120.670499
Qianyue Building
Mark included some of the street art here in his post about the abandoned Qianyue building but it would be remiss not to mention the location in a post dedicated to street art in Taichung. Likely to be considered by most as graffiti rather than street art, most of the work here is by the graffiti collective, Escape Plan X, who have an office/creative space on the fifth floor of the building.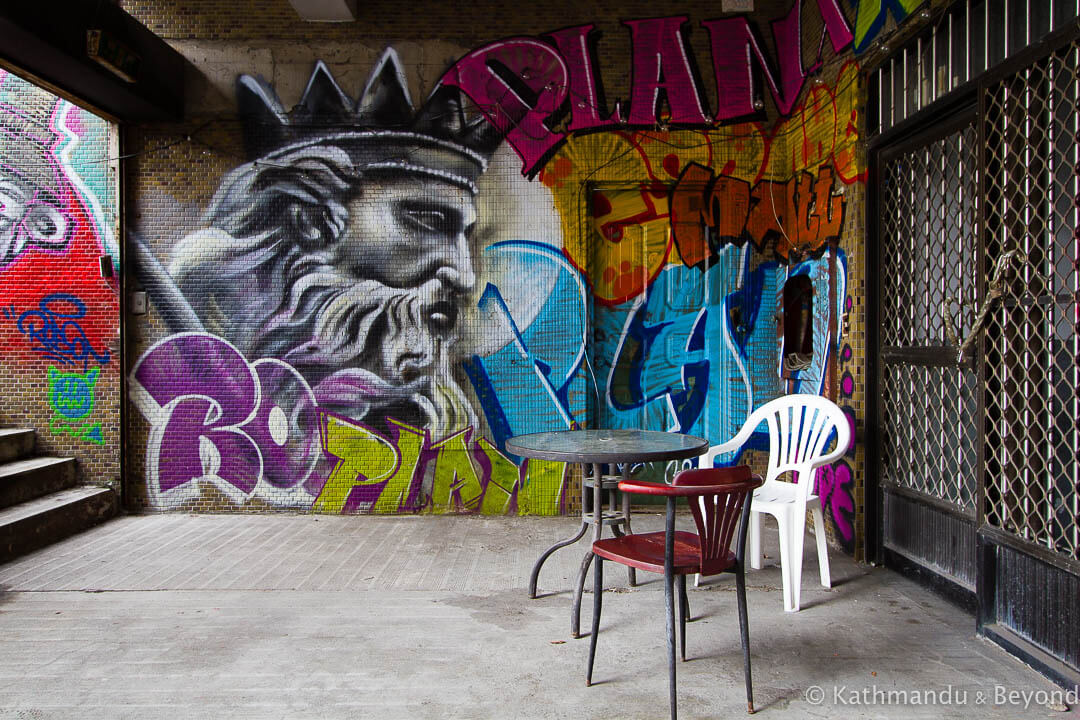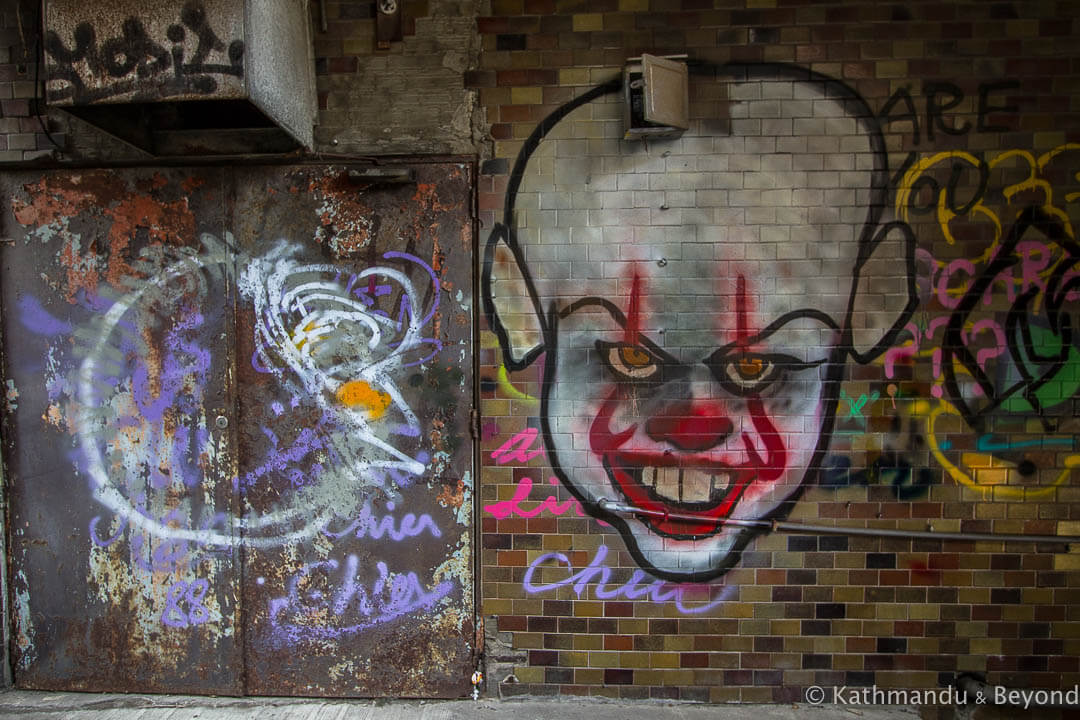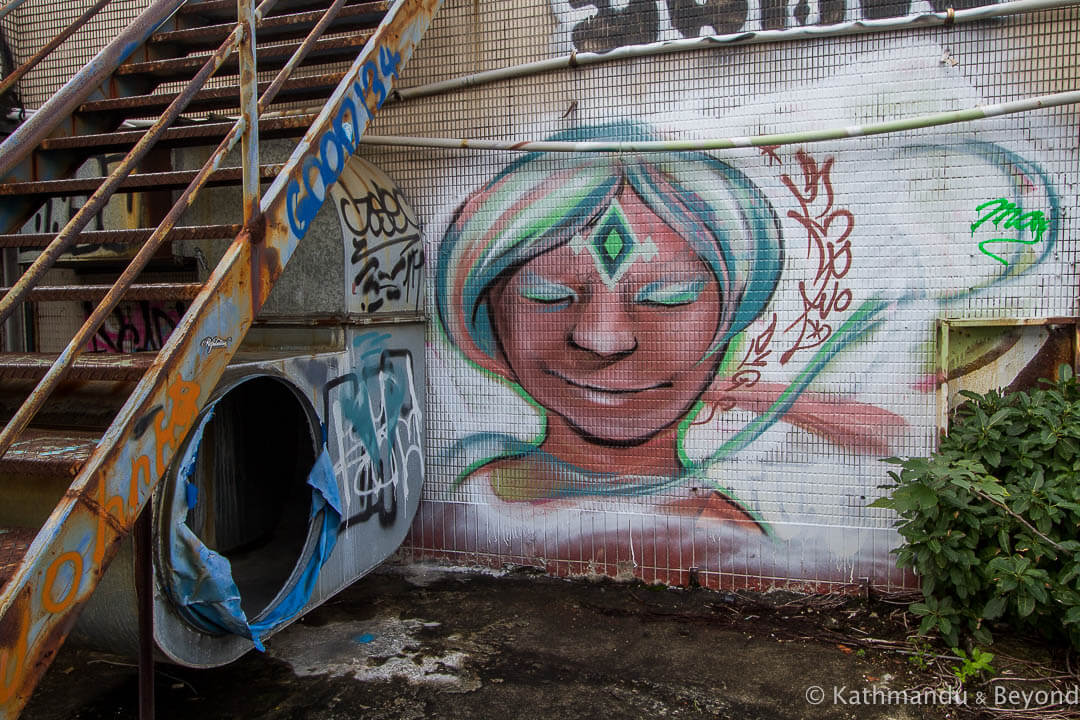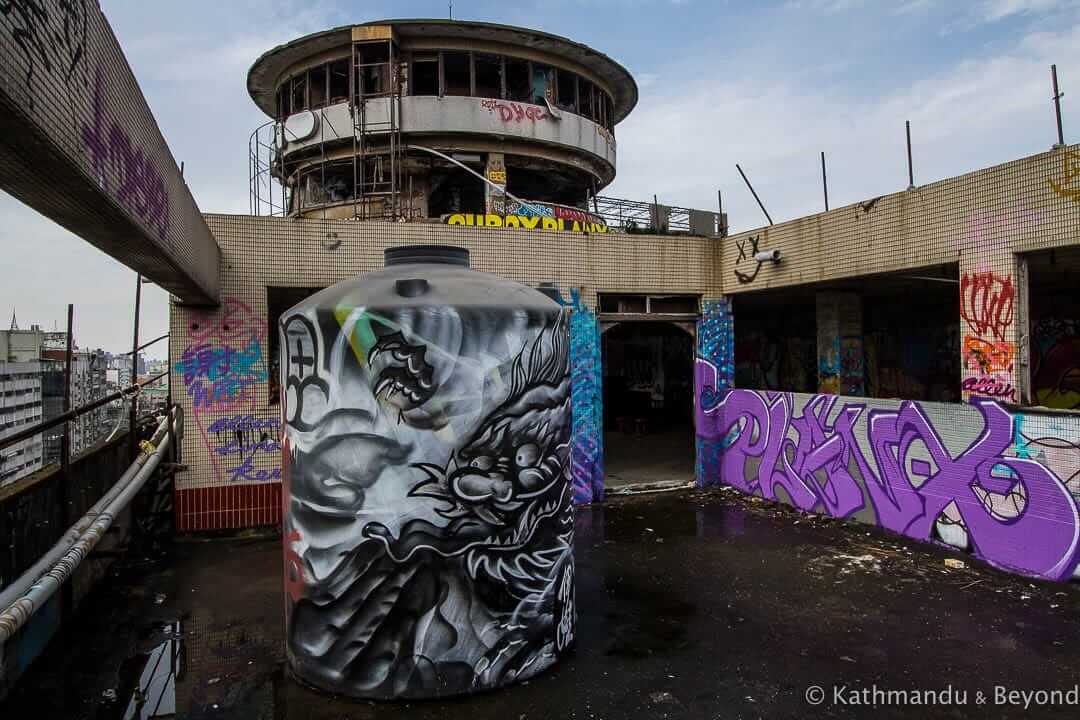 Qianyue Building, Taichung
How to get to the Qianyue Building
Situated in downtown Taichung, a few minutes' walk from the main train station, this abandoned building is hard to miss.
Other Street Art in Taichung City
We spent a few days in Taichung and whilst walking around, I was always on the lookout for street art. We came across a handful of pieces but nothing that matched the quality of Kaohsiung and Taipei. This is the best of the rest…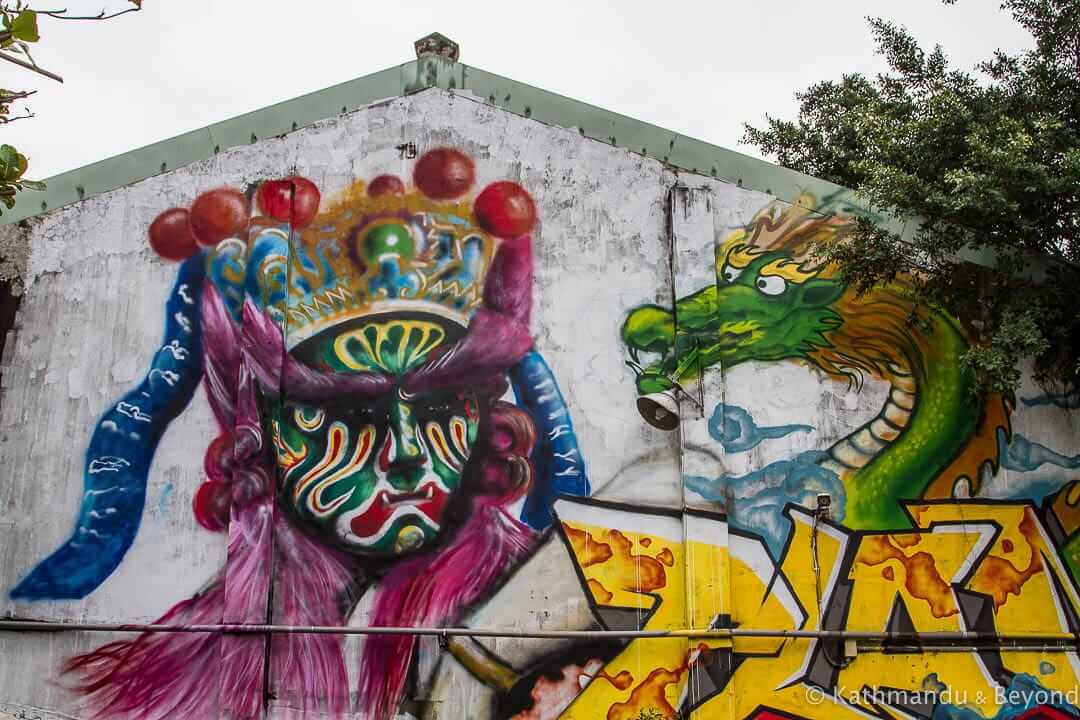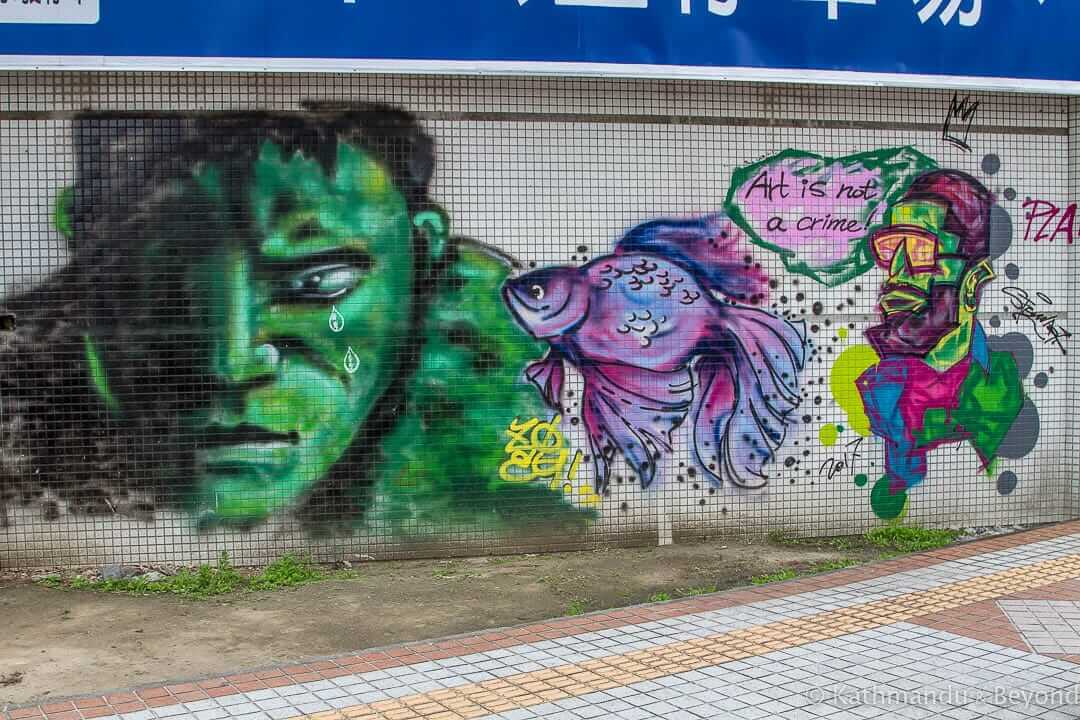 Taichung street art
---
---
IF YOU LOVE STREET ART, WHY NOT PIN THIS POST TO YOUR STREET ART OR TRAVEL BOARDS…



---
---