13 July – 22 July 2012
Often on our travels, we have given ourselves too long a stay in a country and ended up kicking our heels somewhat and so we decided on this trip to Sri Lanka to allow only what we thought was the necessary amount of time to see and do the things we had in mind. But as sod's law would have it, another four to five days would have been perfect and meant that we needn't have had to sit there on our last night in Trincomalee and decide whether to head further down the east coast (which was always the plan) or come back inland and visit the ancient cities (which both of us have seen before but a long time back). In the end, we decided to stick with the plan and head down the east coast. As Kirsty mentioned in her blog, bus travel is very easy and incredibly cheap in Sri Lanka but there aren't many direct buses down the east coast and so after a full day of travelling, couple of changes (three, I think?), a quick Dosa stop and a few toilet breaks we ended up in the surf mecca of Arugam Bay.
Like all surfing beaches, Arugam Bay was awash with tanned, good-looking guys and gals with fit bodies and naturally, we felt right at home! The surf looked pretty good (not too big, not too small), the atmosphere was relaxed and. on our first day, a big surf tournament was being held and was fun to watch.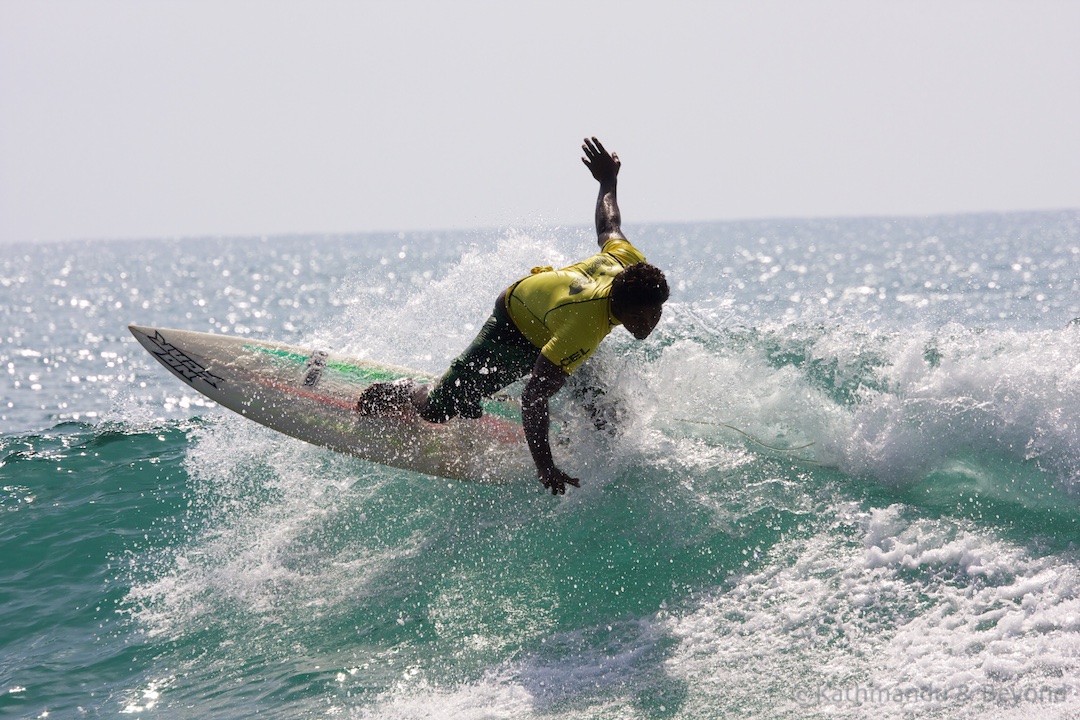 Surf's up at Arugam Bay on Sri Lanka's east coast
After a brief halt in Monaragala (nothing of note to mention), we headed up, away from the heat and into Sri Lanka's magnificent tea growing region. There were plenty of places to stay in the region and we chose Haputale, which was a fine base from which to explore. We rode the 'toy train', climbed up to some impressive viewpoints (albeit with no views due to low-lying cloud) and hiked through acres of lush, green tea estate. The latter activity was mainly undertaken on the largest estate in the region which used to belong to Sir Thomas Lipton, a name that is closely associated with 'all things tea' in the UK.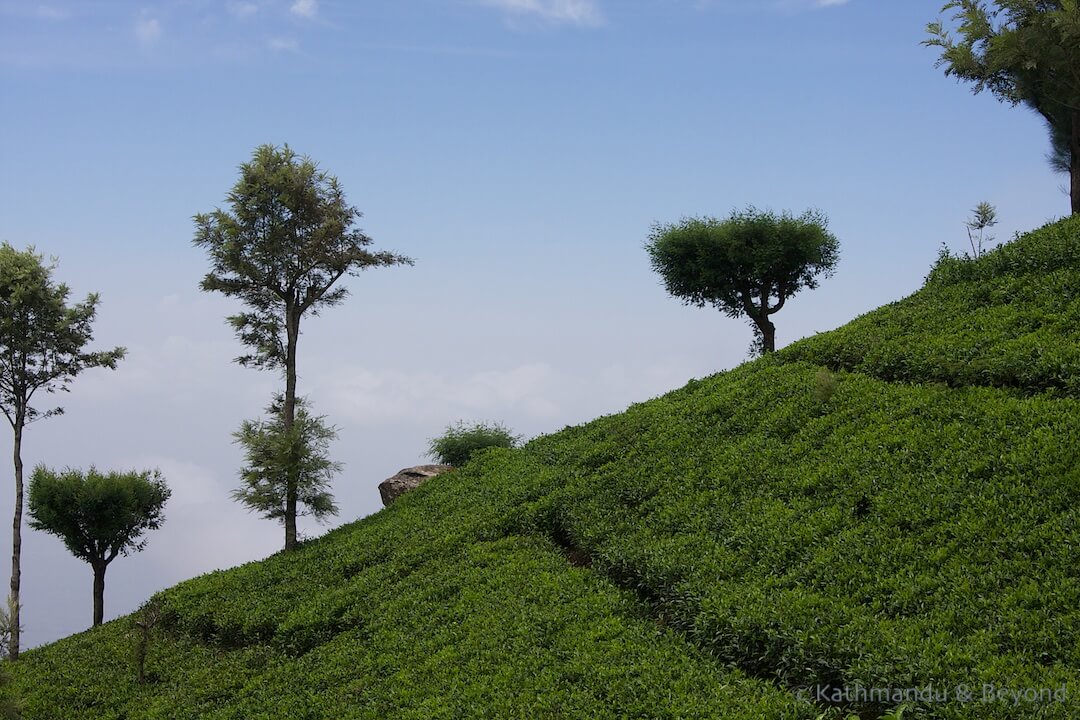 Tea plants at Dambatenne Tea Estate near Haputale
Our last stop (following a drunken night on the beach at Mirissa; the least said the better) was the fort town of Galle. Having not seen the town on previous visits to the country, I was looking forward to spending a few days here.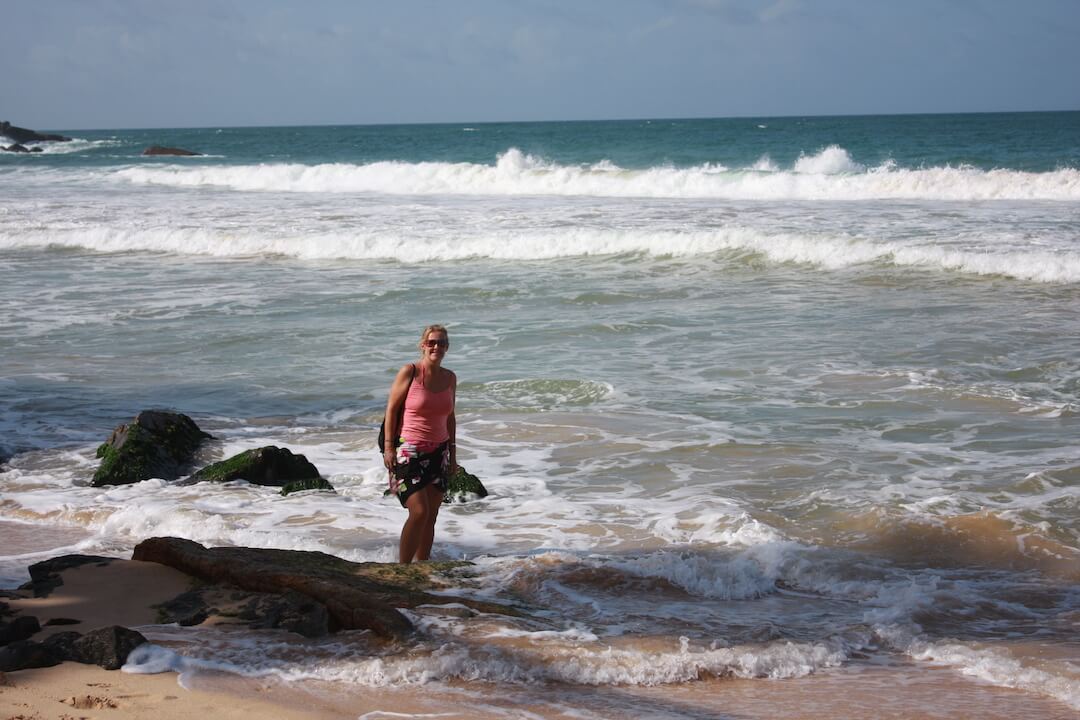 On Mirissa Beach
The old part of town (the fort) is very photogenic as you can see from the pictures but unfortunately, the fort area lacks the same atmosphere you invariably find in other colonial towns such as Hoi An, Cartagena or Melaka  and although it was pleasant enough for a few days, it wasn't quite what I imagined.
We ended our trip as we began it, with a night in Negombo, a couple of beers on the beach and slap-up rice and curry meal for two – happy days!!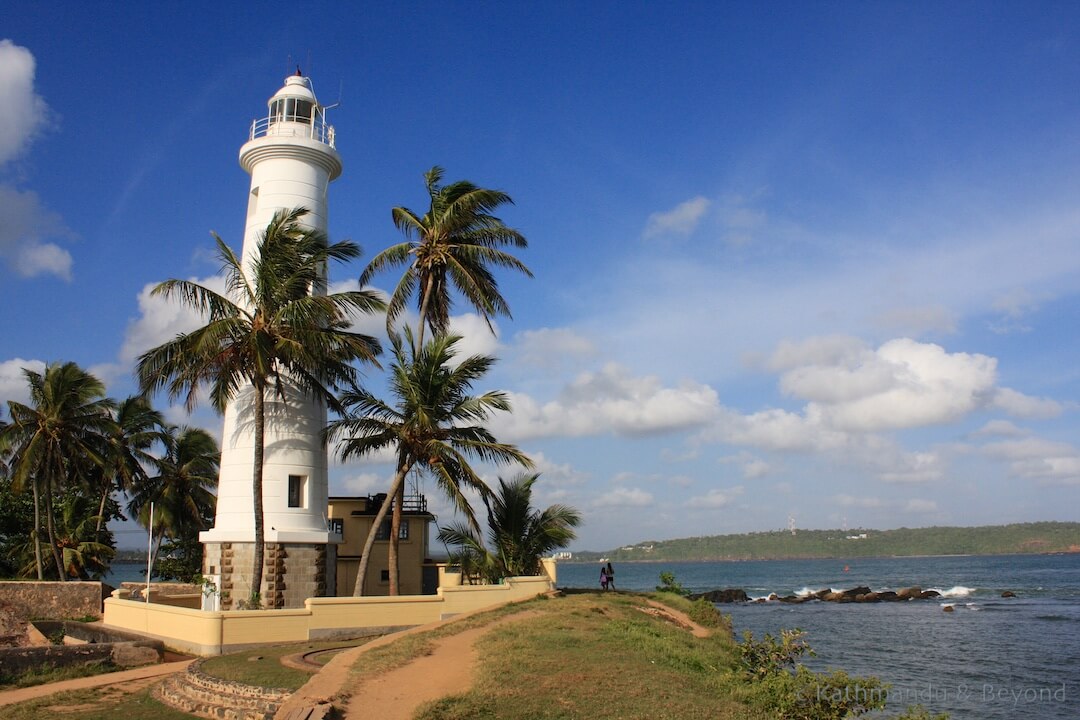 The Lighthouse of Fort Galle
To end this blog, here are a few things we liked and disliked about Sri Lanka. As you can see, the 'Likes' list is longer than the 'Dislikes' list which is always a good sign.
Likes
Hardly any smoking; the Sri Lankan people simply aren't big smokers.
Cleanliness; Sri Lanka is a very clean country and special mention must go to the public loos at bus stations, some of the best I have ever seen in Asia.
Music in buses (if not too loud); Sri Lankan music is great. As well as the usual 'patting the dog and shaking the can' Indian style music they also have Baila which is Afro/Portuguese in influence and wouldn't sound out-of-place in Brazil or Central America. It's great on long bus rides.
Breakfast; the best meal of the day in Sri Lanka. Lots of roti, dhal and sambol plus sweet, milky tea – no need for any lunch.
Rice and curry; the second-best meal of the day. Heaps of rice, two or three vegetable curries plus a meat or fish one and plenty of papads. You have to be careful though as standards vary but for the best part, it's a pretty tasty meal.
Short Eats; a snack by any other name, short eats are anything from chicken pies to samosas or chocolate eclairs to jelly and ice cream. Very tasty (especially the sweet ones) and on standby, if you do have any room for lunch.
Ginger beer; EGB (Elephant Ginger beer) for short and sold everywhere. For fans of the ginger, a refreshing treat at any time of the day.
Marmite; the last reference to food I promise, but for some reason the 'king of spreads' is widely available in Sri Lanka. We never saw anyone eating it mind and neither did we see it on a menu but were assured by many head wobbling shopkeepers that it was indeed very popular.
Bus fares; we are talking cheap, cheap, cheap. Six or seven hours for $1.50 and you even get a seat plus the above-mentioned music and, if you are lucky (or unlucky depending on your point of view), a big mamma almost sitting on your lap if you have an aisle seat.
No spitting/clearing of throats; thankfully this horrible little habit is rarely seen (or heard) in Sri Lanka.
Good command of English and plenty of signs in English; heaven after China.
Clear blue skies; some of the bluest we have seen in ages.
Dislikes
(Loud) music on buses; as with many buses in South Asia (financial) priority is given to the sound system over trivial matters such as tyres and routine maintenance. As a result, head-thumping music for hours on end is not uncommon.
Tuk-Tuk drivers; unpleasant and deceitful. This, of course, is not an observation that is unique to Sri Lankan tuk-tuk drivers. I can only assume that somewhere out there is one main academy where all Asian tuk-tuk drivers go to learn how to become the lowest of the low?
Head wobbling; not exactly a dislike but a frustration. After years of travelling in the subcontinent, I still have no clue which wobble means 'yes' and which one is 'no'.
Sri Lankan beer; if you take Carlsberg Special brew (with a scary strength of 9% abv) and warm cans of Guinness out of the equation, you are left with locally brewed Lion Beer. A pretty ordinary tasting beer not helped by the fact that finding a really cold one is not an easy task. Mind you, beer is beer as they say and although I complained about it, it didn't stop me drinking it.
Discrimination against left-handed people; cutlery is hard to come by in Sri Lanka but I don't have an issue with that. As a left-handed person, however, I do have an issue with the fact that only the right hand is an acceptable eating tool and that the left hand is unclean and should only be used for, well you can work it out for yourselves? If you think I am making a fuss, try using your opposite hand to tear off a bit of roti or pick up a pile of vegetable curry
Very long place names and surnames; let's take the current cricket team for example; you got Denagamage Praboth Mahela de Silva Jayawardeneor (captain) Nishad Tharanga Paranavitana (opening batsmen) and Muthumudalige Pushpakumara (all-rounders). Alternatively try getting your laughing gear around towns such as Anuradhapura, Embilipitiya, Panduwasnuwara, Medawachchiya or the like. Trust me, it's a nightmare!
Rice and curry; after three weeks it does start to get a bit boring.
Galle (left) and outside Brown's Beach Hotel in Negombo, a place frequented by my dad when he lived there with his parents and sister many moons ago (right)
On the Haputale to Ella train (left) and Uppuveli Beach near Trincomalee (right)
Galle (left) and Dambatenne Tea Estate near Haputale (right)
Galle Fort (left) and Arugam Bay (right)
The beach at Mirissa (right) and Monaragala (left)