04 July to 12 July 2012
After 2 months in Thailand, most of it in Chiang Mai, it was time for another little adventure. Much of Asia gets deluged by monsoon rains at this time of the year so dry adventures can be tricky. Indonesia is the obvious choice but neither of us felt the pull there – I think after the great trip this time last year, we were worried it would be hard to beat. And let's face it, Indonesia can be hard work. So, we plumped for Sri Lanka. Neither of us had been for several years and the end of the war there means that previously out of bounds areas in the north and east are now opening up to visitors. In addition, those regions are now at their best climatically and Air Asia was offering some pretty cheap flights. Decision made.
On landing, we decided to avoid Colombo and head straight to Negombo – a small town with an interesting fishing harbour and a lot of churches. So many that it is apparently nicknamed "Little Rome". To the north of the town, there's a beach area with a relaxed atmosphere. Aside from some patches in front of the big resort-style hotels, it's definitely a locals' beach. By this I mean swimming fully clothed is the norm and sunbathing would attract a lot of attention. The beach is at its liveliest from late afternoon onwards and on the weekends when families from out-of-town head to the ocean for snacks, paddling and impromptu drumming and dancing sessions. There were carts selling snacks, known all over the country as "short eats" and the music of Desmond de Silva was pumping from loudspeakers courtesy of a Hyundai promotion crew. Popular music in Sri Lanka is very different from anywhere else in Asia – it has retained its Portuguese influence and is very South American in sound and rhythm. A nice change after the generic "Asia pop" heard in most other countries in South East Asia.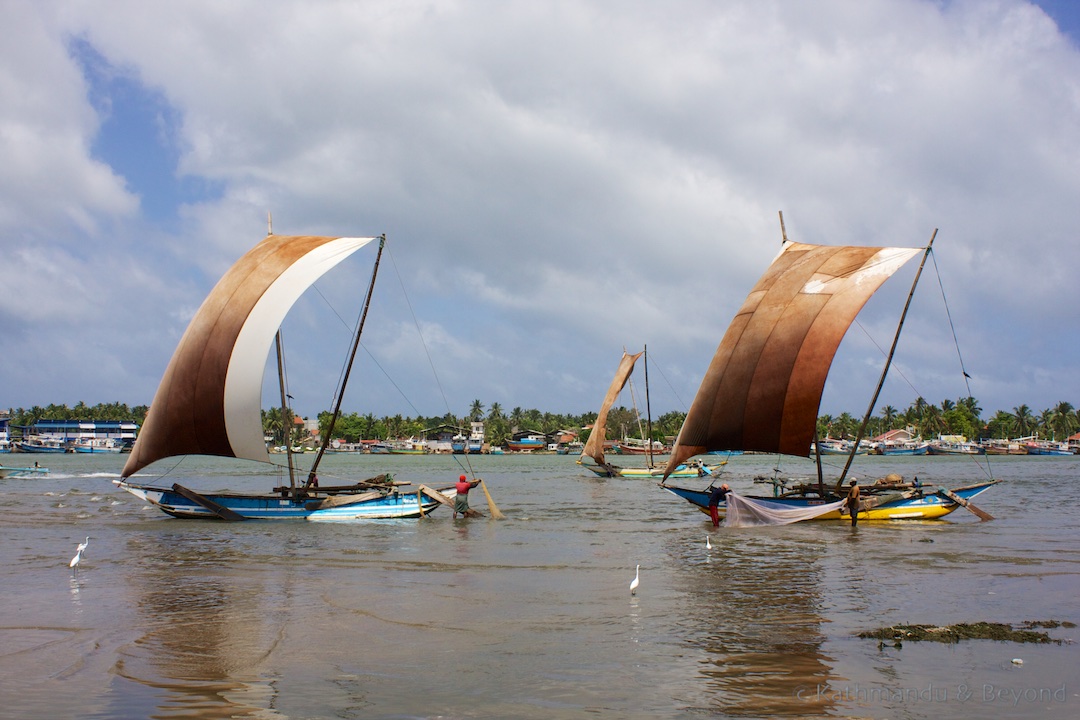 Traditional fishing boat on the beach in Negombo
We decided to head to the far north of the country with a brief cultural interlude at Anuradhapura, one of Sri Lanka's ancient cities. This is when we began to discover the amazing travel bargain that is bus travel in Sri Lanka. Of course, public bus is always the cheapest way to travel but here it seems especially cheap and we calculated that in 3 weeks we travelled almost a full circuit of the country – 800 miles/1300 kilometres for about 20 UK pounds. On the downside, we did many hot, sweaty and extremely crowded journeys.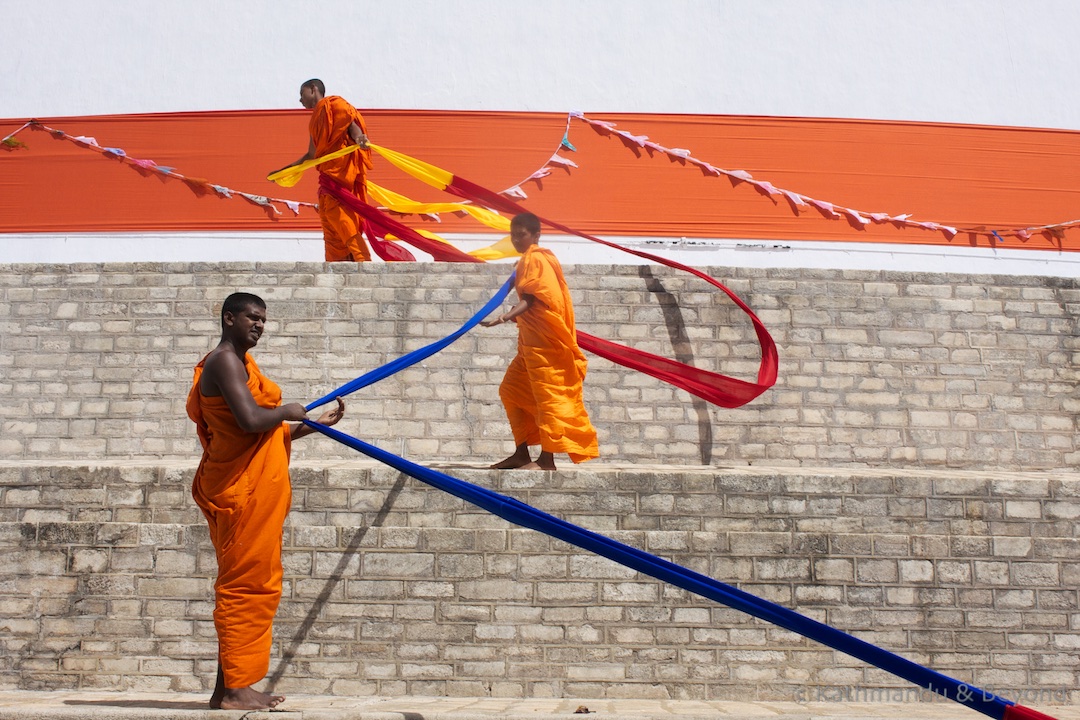 Monks decorating the stupa of Ruvanvelisaya Dagoba in Anuradhapura
As we headed north towards the Jaffna Peninsula, the rice paddies were a lush green and the coconut palms swayed gently in the breeze. But then we noticed the tree trunks were pock-marked with bullet holes and as we headed further along the road, we passed many buildings and homes destroyed by bombs and tanks. The area may be peaceful now but the devastation wrought on it by almost thirty years of war is still very much in evidence. If it wasn't for the visible proof in some areas of the city though, it would be hard to guess. The people are friendly and seem happy; just getting on with their lives. Despite the accusations of atrocities, one thing seems to stand out and that is that people here just want to move on and up. We also met a few Sri Lankans who had moved overseas (many to Canada and the US as well as the UK) who were visiting for the first time in almost thirty years.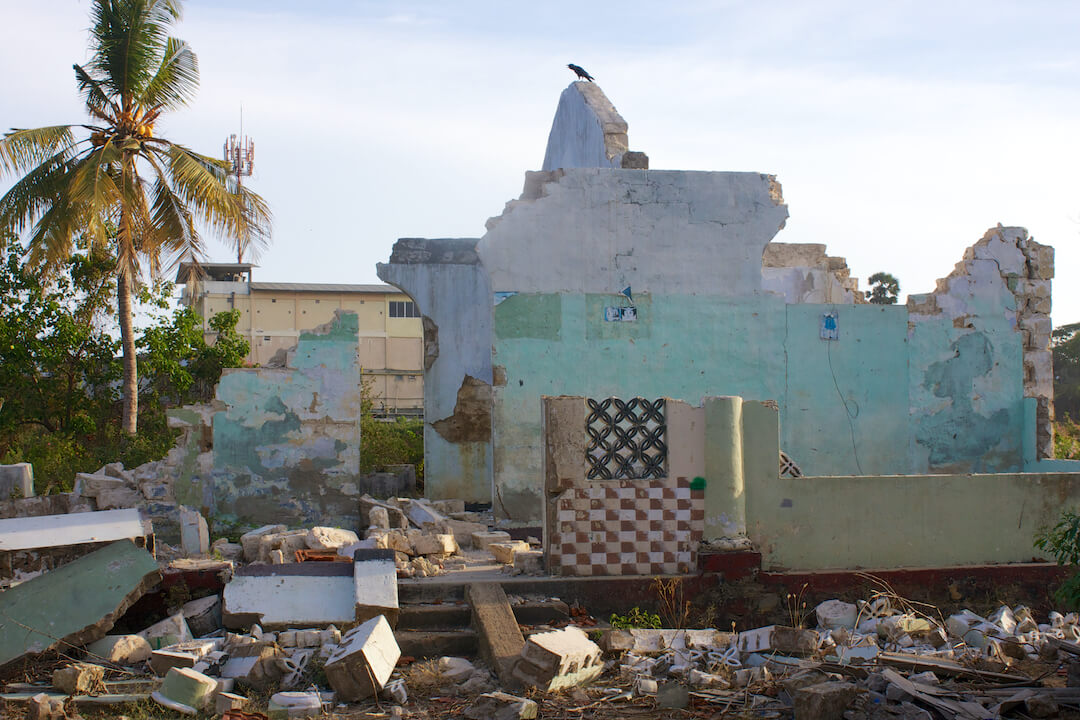 Evidence of the war in Jaffna – many family homes lie in ruins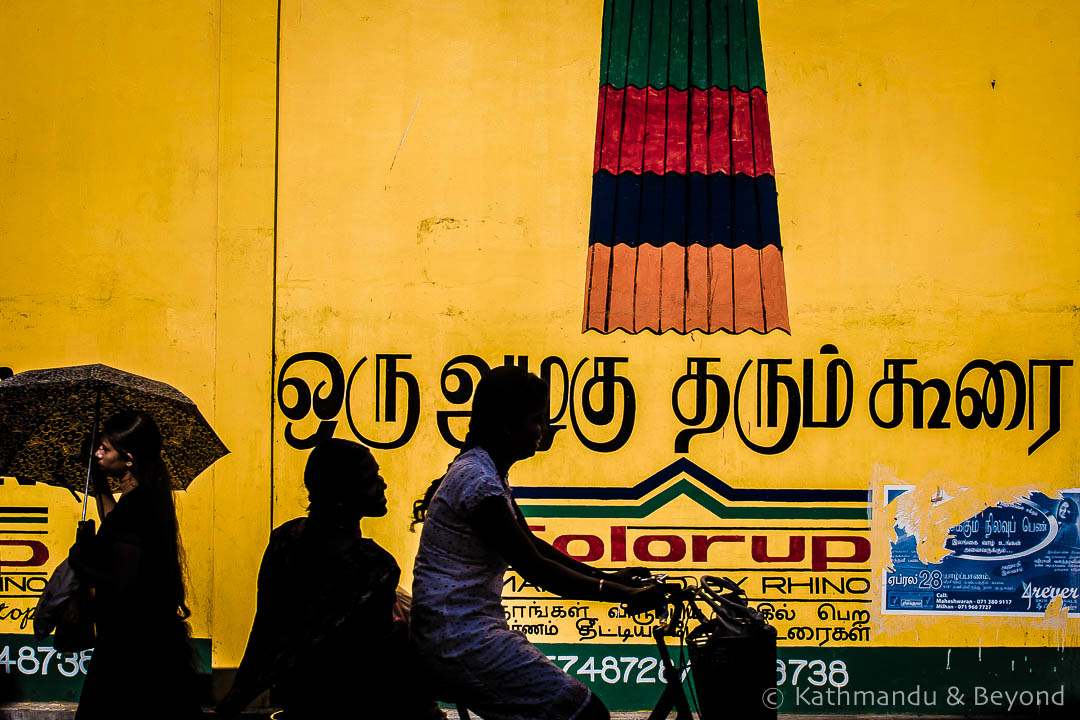 The colourful streets of Jaffna, a city rebuilding itself following the war
Being largely populated by Tamils originating from South India, the region has a different feel to it culturally to much of the rest of the country – there are more Hindu temples than Buddhist ones and the food is a bit more South Indian influenced. Mmmm ….. the food! All over the country, we had great food. Rice and curry are the national staples, consisting of a huge pile of rice, a meat or fish curry with three or four vegetable/dhal side dishes. Sri Lankans are also great snackers and I believe Mark is going to describe "short eats" in his next blog. But breakfast is one of my favourite meals here and is very similar to that in South India – it's very simple and filling and is usually dhal and potato curry poured over either roti (a cross between naan, chapatis and paratha), string hoppers (a kind of thin noodle/pasta and, as far as I know, unique to Sri Lanka) or vada (a spicy lentil fritter typical of south India, donut-shaped but denser and savoury). Locals often also have fish curry but this is a bit much for me first thing in the morning. It's often served on a banana leaf which is great for saving on the washing up; in fact, often a plate is covered by a thin plastic sheet before the food is added so maybe the Sri Lankans just don't like doing the dishes! All washed down with a cup a milky chai.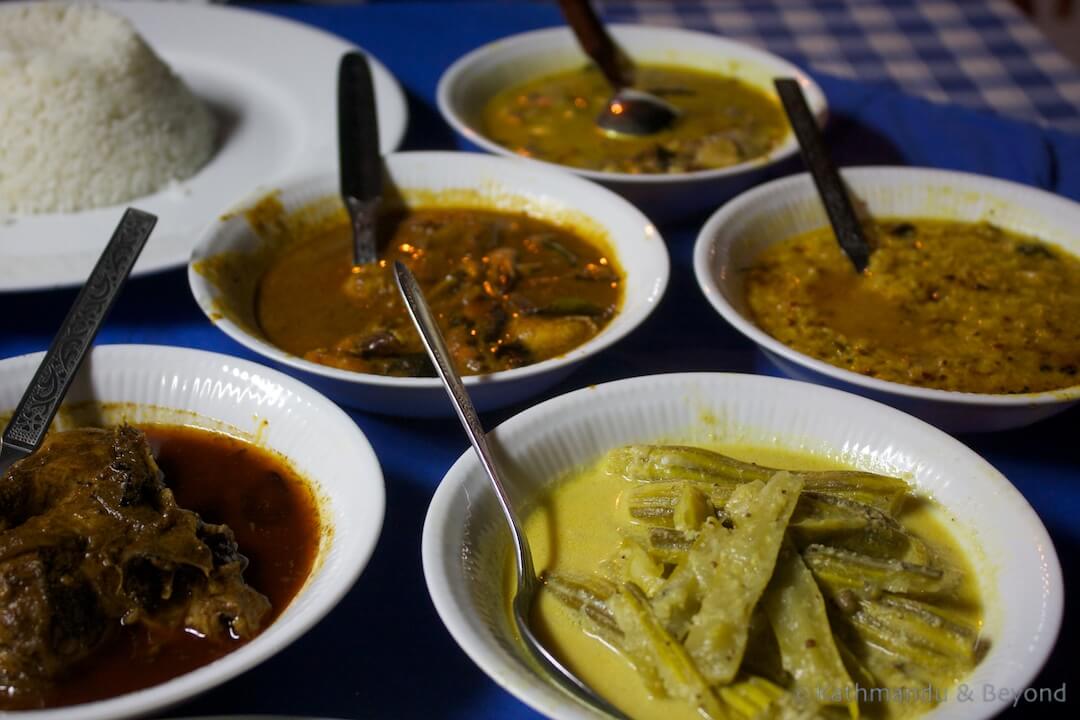 Curry and Rice – a typical meal in Sri Lanka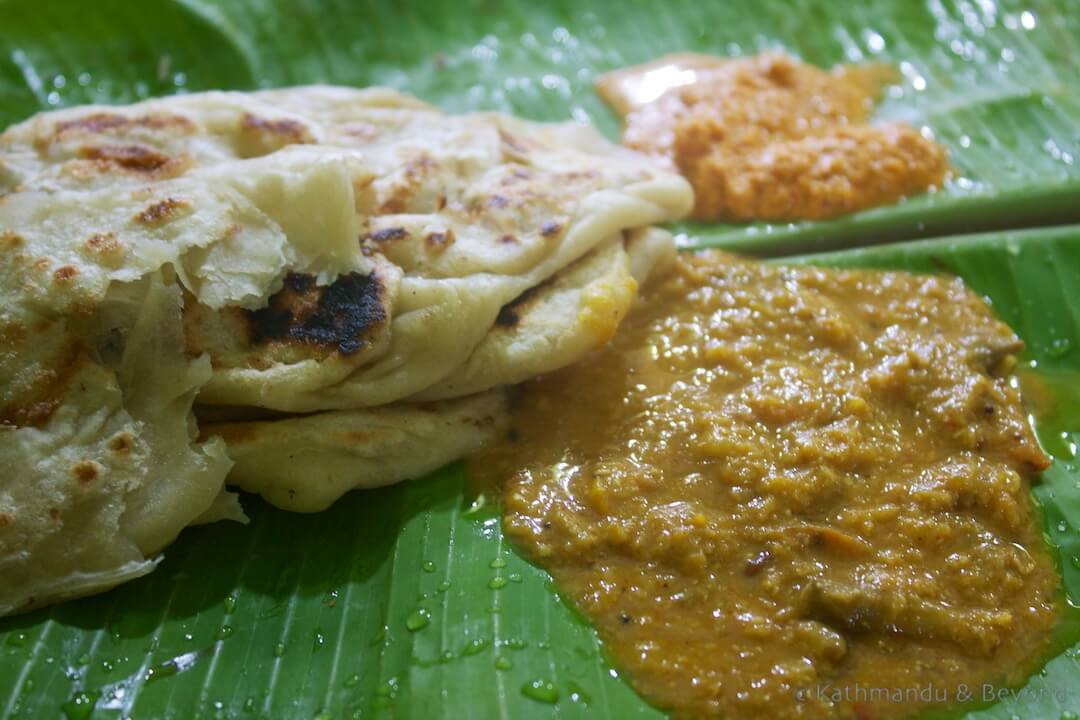 A typical Jaffna meal with more of a South India influence
So enough of the food for now and on with the journey… Jaffna was an interesting place to visit even though there aren't a long list of "must-see" sites to tick off. The centre of the town appears just like any other South Asia city – busy with markets, transport and people going about their business. Most of the centre has been rebuilt with the exception of the fort which had been standing since the Dutch built it in 1680. Allegedly it was the best fort in Asia from an architectural point of view but sadly it was destroyed completely by the Tamil Tigers during the recent war. Currently, there is a massive renovation project underway so it will no doubt be one of the sightseeing highlights of the future.
Away from the downtown area, Jaffna has a very different feel to it – quiet, leafy suburbs which are very pleasant to wander through. Also in this area, there is much more evidence of the war and in many places buildings and homes still lie destroyed. Again, people were very friendly but it's a strange kind of tourism, almost voyeurism of a post-conflict zone.
Infrastructure is still being developed but it is possible to visit some of the outlying islands by bus and boat and one of the most important Hindu temples in the county, Nallur Kandaswamy Kovil, is located on an island around 20 minutes by boat off the mainland. We were both grateful it was only 20 minutes as although everyone was given a life jacket we were packed like sardines into the small wooden ferry-boat. It wasn't a pleasant ride. The temple itself was interesting – very colourful and a good place to observe the religious ritual. In accordance with the protocol of the temple, Mark had to enter the temple topless. Thankfully, the protocol didn't apply to me!
From Jaffna, we hopped on another series of hot and sweaty buses and travelled to Trincomalee on the northern part of the east coast. This area was also heavily affected by the war but has opened up to tourists a bit quicker due to its unspoilt beaches and accessibility from some of the main historical sights. The town itself has a fort and a few temples to explore and plenty of friendly locals and tasty snacks. The beach town of Upaveli also has a Commonwealth War Graves cemetery. Like every war grave cemetery we have visited across the world, it was impeccably and proudly maintained by a man who had inherited the job from his father. He showed us files of records of the gravestones and photographs of a visit from Princess Anne many years ago. He had a lot of respect and enthusiasm for his role and was very proud to be doing it. The sightseeing done, like most tourists here, we were just happy to spend a couple of days on the beach relaxing under a couple of coconut palms.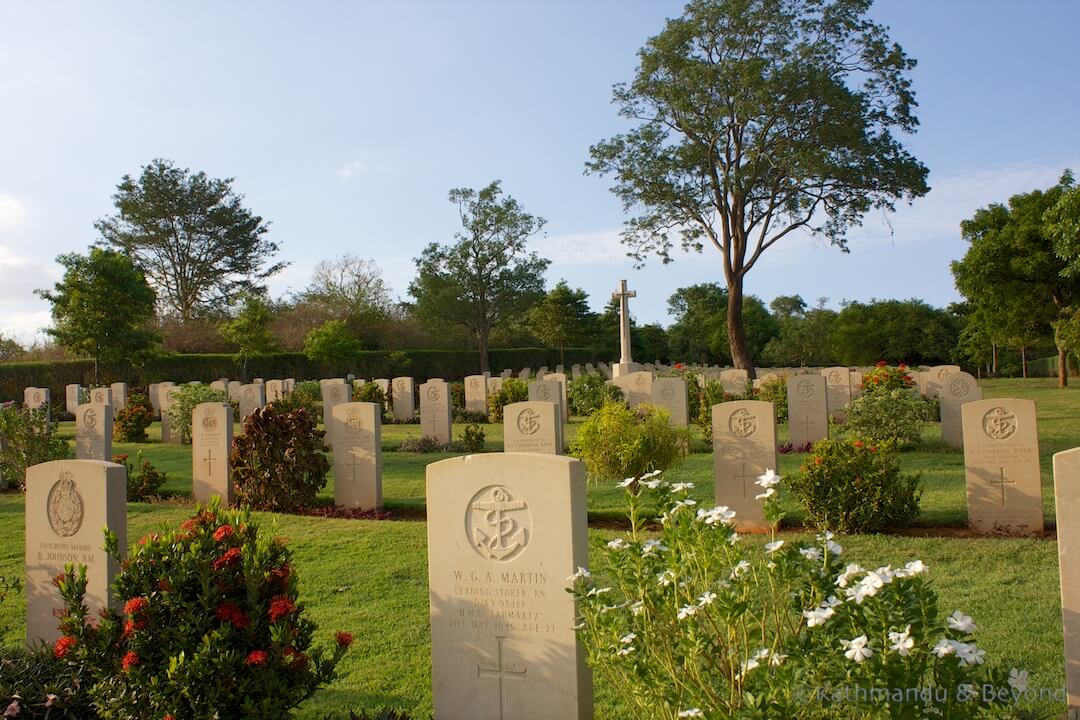 Well-tended graves at the Commonwealth War Cemetery in Uppuveli near Trincomalee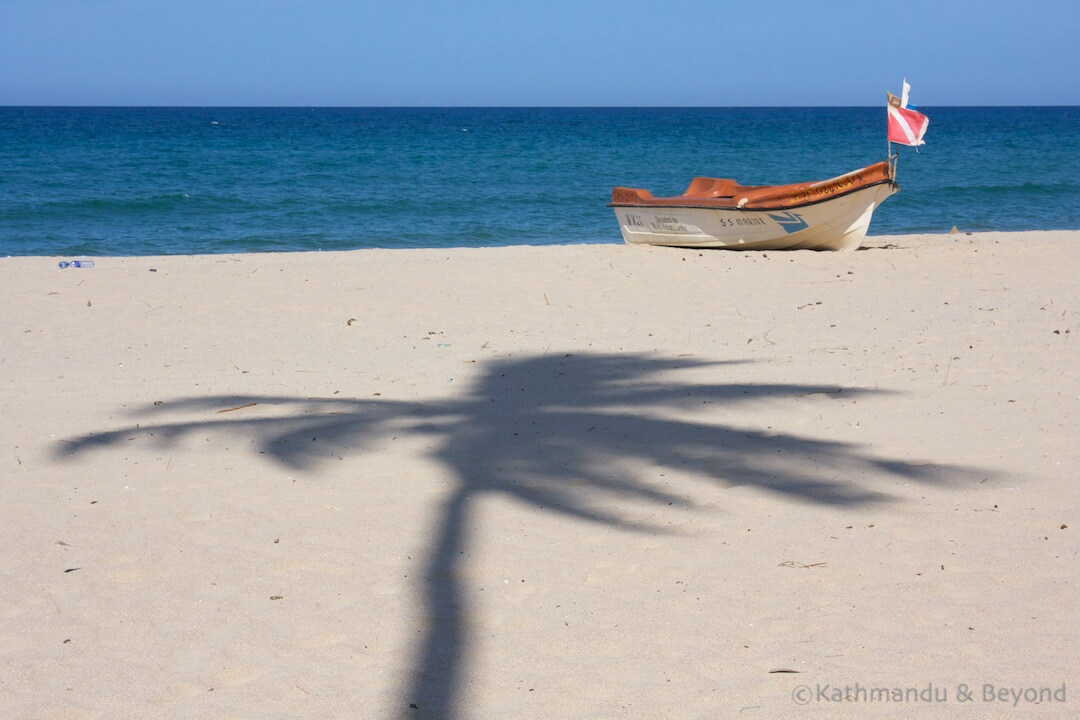 A lazy day on Uppuveli Beach, near Trincomalee on Sri Lanka's east coast
---
---
On a bus near Anuradhapura (left) and Negombo (right)
Sri Lankan Ginger Beer (left) and a typical meal in Jaffna
Crossing to Nainativu island off the coast of the Jaffna Peninsula (right) and Uppuveli Beach, near Trincomalee (right)
Roman Catholic church in Negombo (left) and Naga Pooshani Amman Kovil on the island of Nainativu, Jaffna Peninsula (left)
Sri Maha Bodhi at Anuradhapura (left) and the island of Nainativu, Jaffna Peninsula (left)
---