We came to know it as 'the Prague baby tower' but the Žižkov Television Tower is definitely one of Prague's more unusual tourist attractions. It's located in one of the city's residential areas and many visitors don't know that it even exists. We were staying with friends in Prague 2 who knowing of Mark's interest in Socialist-style architecture, suggested we check it out as it was a short walk from their apartment.
Although the tower appears to be a combination of futuristic space-age design and communist-era architecture, it was actually built between 1985 and 1992, as a television transmitter tower.
When it was first planned there was a lot of criticism from local residents who felt the high-tech architecture was too much of a contrast with the Baroque, Gothic and Romanesque masterpieces for which Prague is most famous.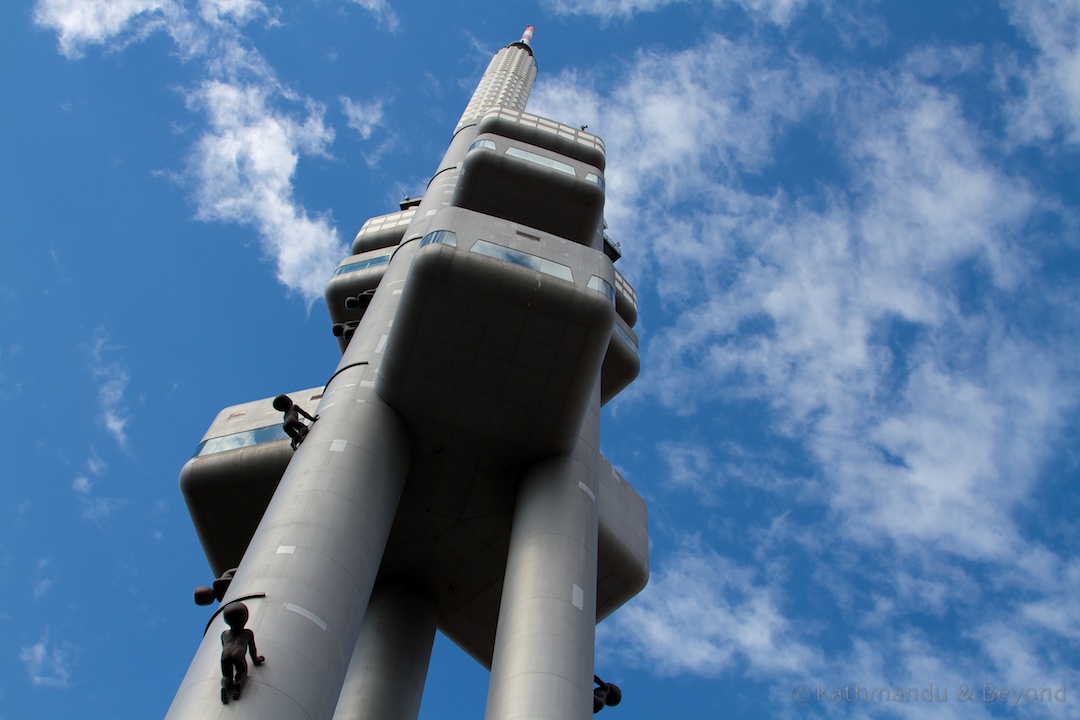 The ten sculptures of babies crawling up and down the tower's pillars were a 2000 addition. They were the creation of Czech artist David Černý and although they were originally a temporary installation, the babies proved so popular they were made a permanent feature the following year. Say some the babies were added in an effort to make the tower look less ugly. I'm not sure about that, but they certainly make it more interesting!
The tower is open daily for visits to the observation deck or restaurant from which there are fantastic panoramic views of Prague. However it was the view looking up at the tower from the streets below that we found most intriguing. 
You can read more about the observatory tower and the crawling babies here.