I wasn't expecting much of a street art scene in Banja Luka but as is my habit on arriving in a new city, I did a quick Instagram hashtag search. A couple of murals stood out and it was enough to make me want to investigate further.
On the search for murals in Borik
Digging a little deeper, I established the area we needed to head towards was Banja Luka's Borik district. A cross-check with Mark's list of monuments and concrete revealed that he already had Borik on the list of places he'd earmarked to visit.
Designed in the modern socialist architectural style, Borik neighbourhood was built to re-house Banja Luka residents who lost their homes in the 6.4 magnitude earthquake that destroyed much of the city in 1969. The area is just northeast of the town centre, within walking distance.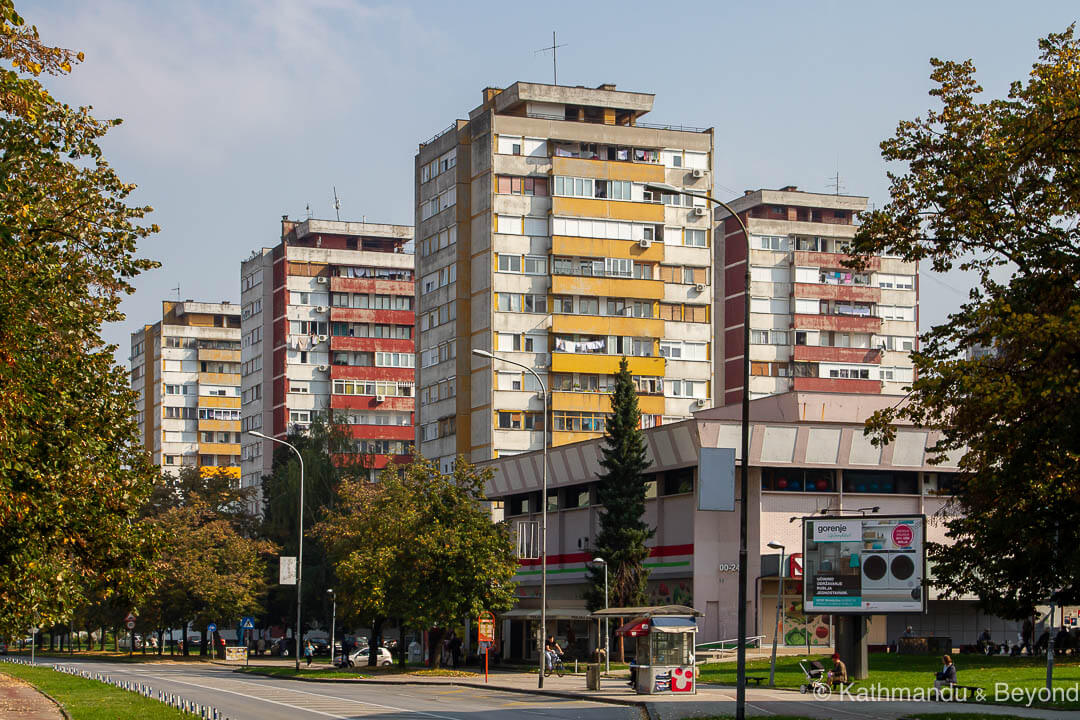 We walked around photographing the area, keeping an eye out for street art. Although we found a lot of graffiti on and around the apartment buildings, much of it with political or sporting connotations, the giant murals I'd seen on Instagram eluded us. How difficult should it be to find a huge mural on the end of a 10-storey building?
Eventually, we came across them. All three murals are fairly close to each other (they would have been impossible to miss had we arrived into Borik on the main road rather than through the housing estates!).
The artists involved in these murals are Lonac, a Croatian artist, Artez from Serbia, Bozko, a Bulgarian street artist and a Polish duo known as Etam Cru.
After all the turmoil in the region, a collaboration between artists from Croatia and Serbia, painted in Bosnia felt very optimistic.
'Find Your Way To Fly' by Artez and Lonac, created in 2014, the first huge-scale mural in Banja Luka (left) and Bozko's mural 'Old Dude' painted in 2015


'Icarus' by Etam Cru, also painted in 2015
These murals were painted as part of the Flaster Street Art Festival. This is an event which doesn't appear to have seen much activity over the past few years and, as far as I could work out, there have only been 2014 and 2015 editions of the festival, although the organisation seems to have been around since 2011.
It's a shame but getting permission for mural painting in Banja Luka is clearly a bit of an uphill battle. From what I understand, there are strict laws regarding unauthorised street art and graffiti so permission to paint relies on the artist or a local organisation seeking agreement from either the local authority or building owner. And in a culture which rarely differentiates between beautifully crafted street art and ugly graffiti tagging, that can take some persuasion.
I had hopes that we'd find more street art scattered around Banja Luka, but the three significant murals we found in Borik were the extent of it.
Campaigners are working hard to submit Banja Luka as a candidate for European Capital of Culture in 2024, and this kind of recognition would be a huge boost for the city's street art scene. Exciting as that may be, I hope I'm wrong but I'm not sure Banja Luka has sufficient cultural enrichment to make the grade.
The best of rest of the street art and graffiti in Borik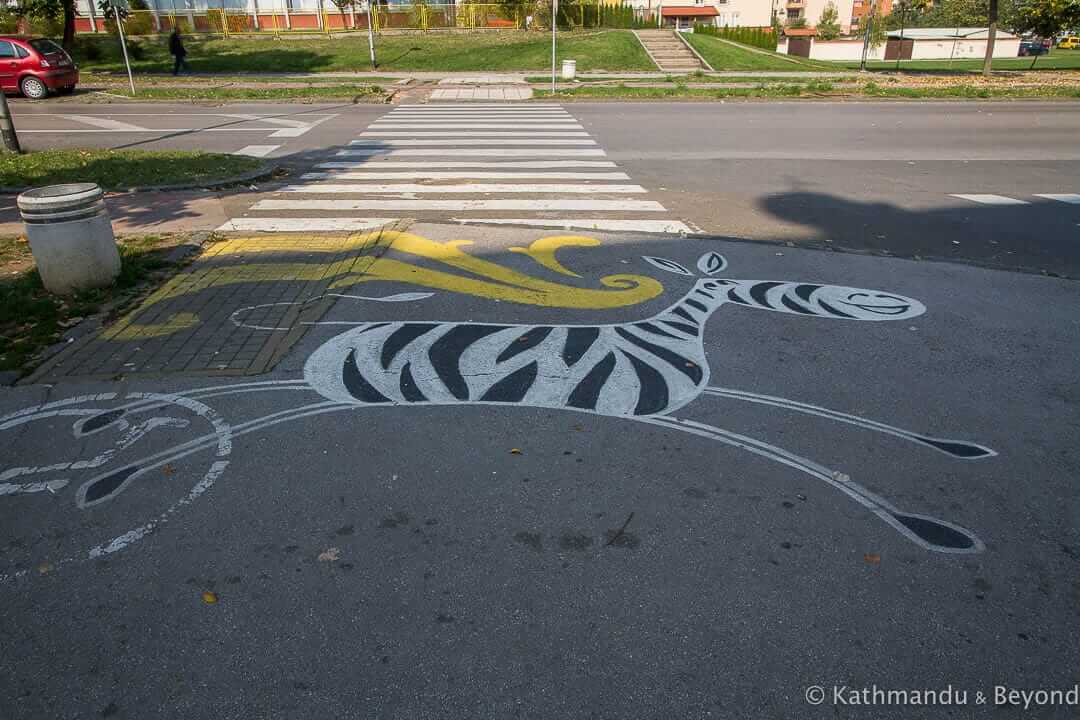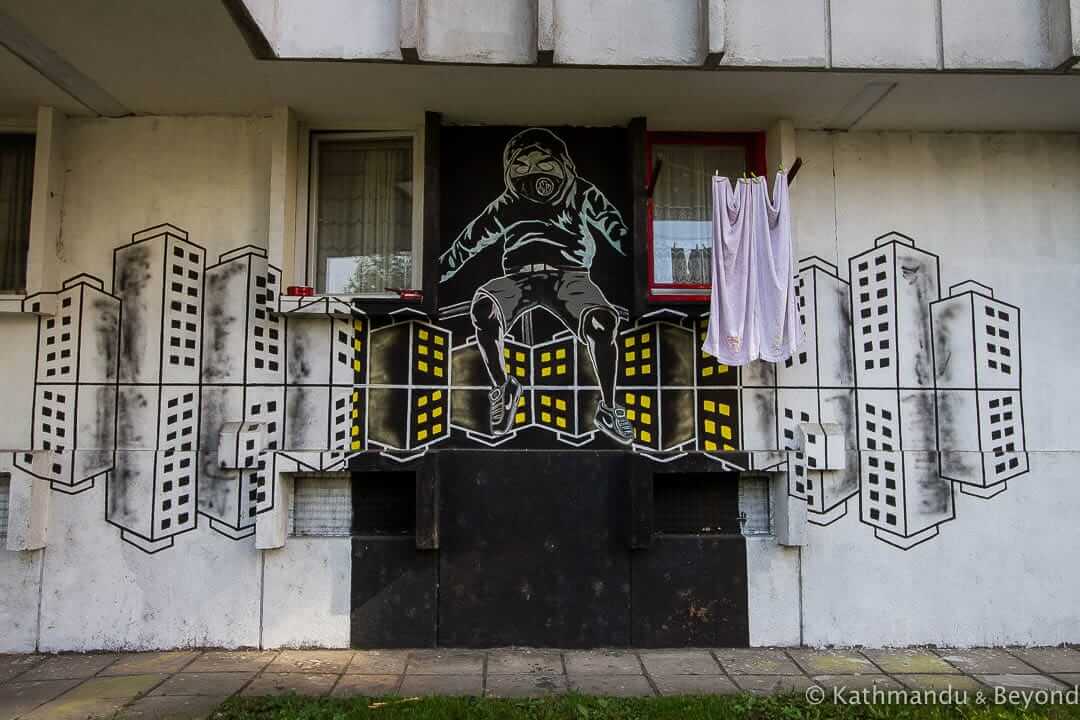 Where to find the Flaster Street Art Festival murals in Borik, Banja Luka
I didn't feel it was worth creating a map for three murals and as I said, they should be easy to spot. However, to ensure that you can track them down, here are the GPS coordinates for each of the murals. For other street art and graffiti in Borik, I suggest you simply wander around the apartment buildings and see what's new.
Artez and Lonac's 'Find Your Way To Fly': 44.770551, 17.202445
Bozko's 'Old Dude': 44.770408, 17.201941
Etam Cru's 'Icarus': 44.771468, 17.20587
---
---
DO YOU LIKE THIS BANJA LUKA STREET ART? WHY NOT PIN IT…



---
---