What to see whilst wandering around Ochamchire
As we wandered around Ochamchire with a large DSLR camera slung over the shoulder, we sensed that something was not quite right, yet we couldn't help but take photo after photo of this desperately poor town situated in the southern part of the breakaway country of Abkhazia.
Located on the Black Sea coast, about 50km southeast of Sukhumi, Ochamchire is far from recovered, following the brutal Abkhazian-Georgian conflict of 1992-93 that happened as a result of the breakup of the Soviet Union.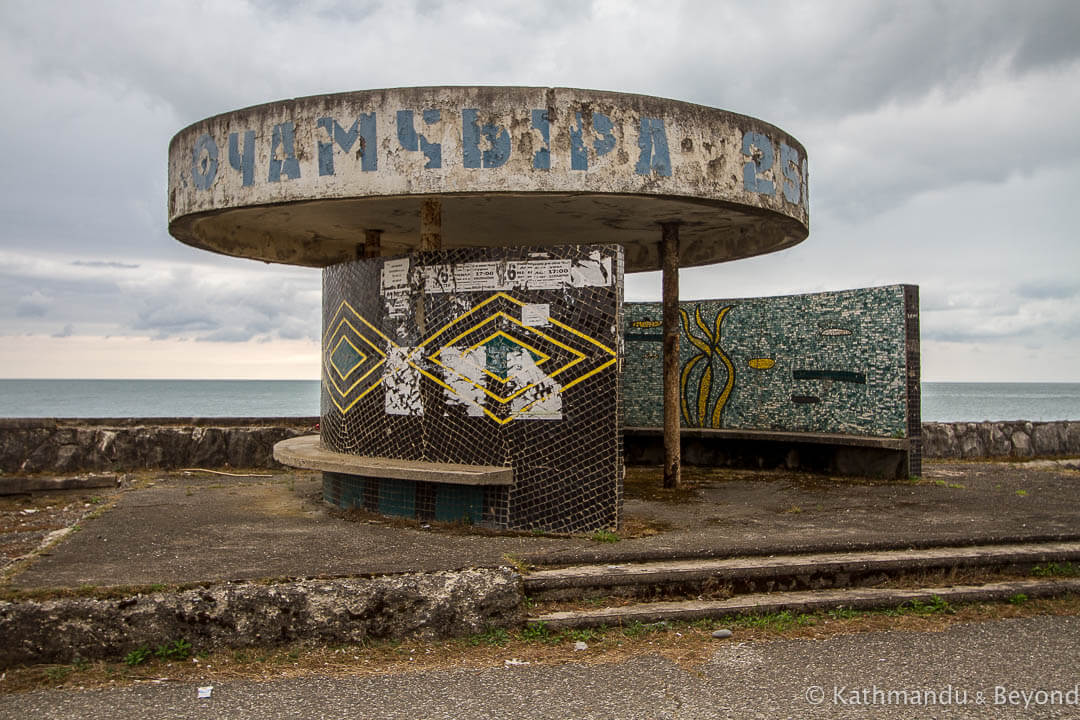 The war in Abkhazia was ethnic-related with ancestral Abkhazians on one side and Georgians on the other. Prior to the hostilities, more than 18,000 inhabitants lived in Ochamchire but a sizeable percentage of this population were ethnic Georgians. These days the figure is closer to 5,000.
Many unspeakable acts took place during this time and both sides proclaimed horrendous human-rights violations and atrocities. It is reported that in the region of four hundred Georgian families were annihilated during the main Abkhaz offensive on Ochamchire and those who did manage to survive the onslaught fled across the border to Georgian. Many ethnic Georgians, who once called Ochamchire home, became IDPs (Internally Displaced Persons) and ended up in towns such as Zugdidi and Tskaltubo. Very few have the option to, or indeed want to, return to Ochamchire.
Source: Ethnic cleansing of Georgians in Abkhazia (Wiki)
We arrived in Ochamchire from Sukhumi in the early afternoon and after a quick chat with Miron, the owner of the guesthouse we were staying in (and our savour the next day, as he really helped us out after we were robbed by three guys in the mining town of Tkvarcheli), we headed out to take a look around.
First, we made a beeline for the railway station. I've mentioned before that, in better times, Abkhazia flourished as a popular spot for holidaymakers from all over the USSR and to accommodate the influx of visitors a number of railway stations were constructed during the 1940s through to the 1960s all along this part of the Black Sea coast. They were all designed in Stalinist Empire style and practically all of them now lie in a state of abandonment. Up until a year or so ago, it was possible to get inside most of them but these days they are predominantly boarded up, and/or have security, and getting a glimpse of the interior can prove challenging. But this wasn't the case with Ochamchire's railway station. We were able to wander around and marvel at what would have been an exceptional piece of architecture back in its day.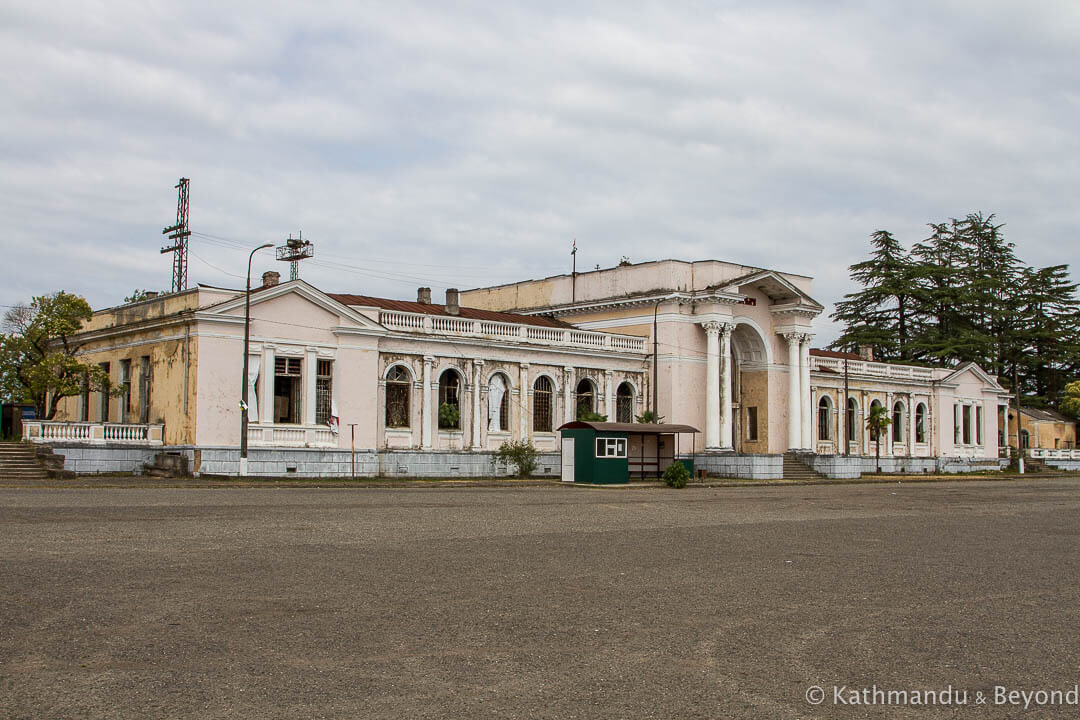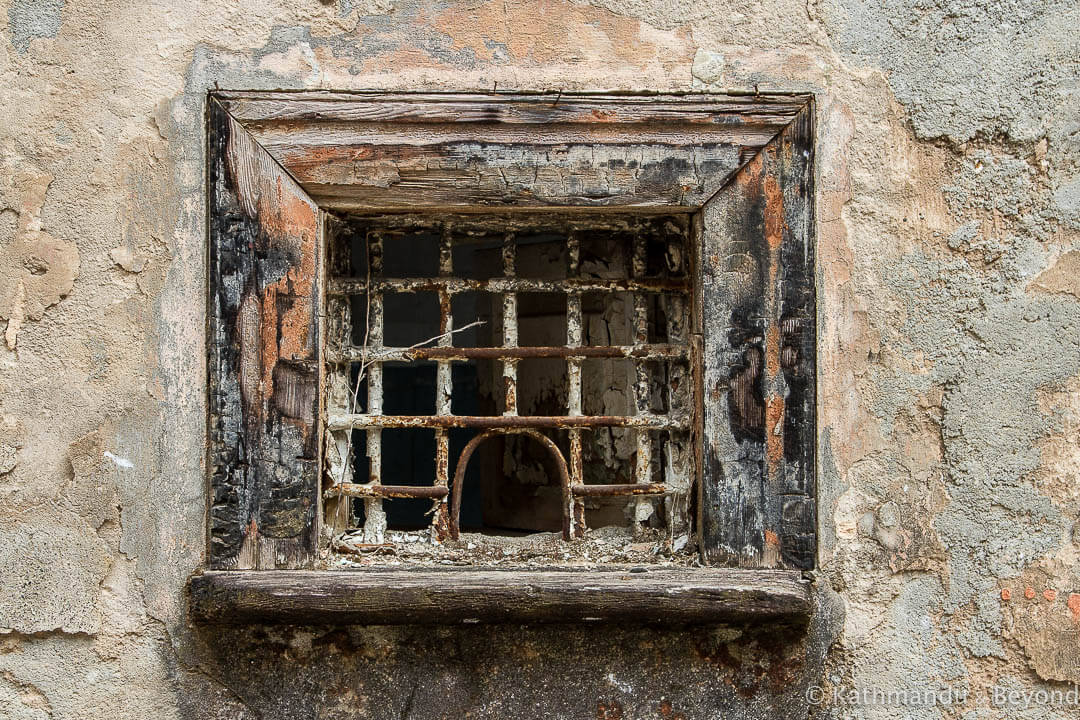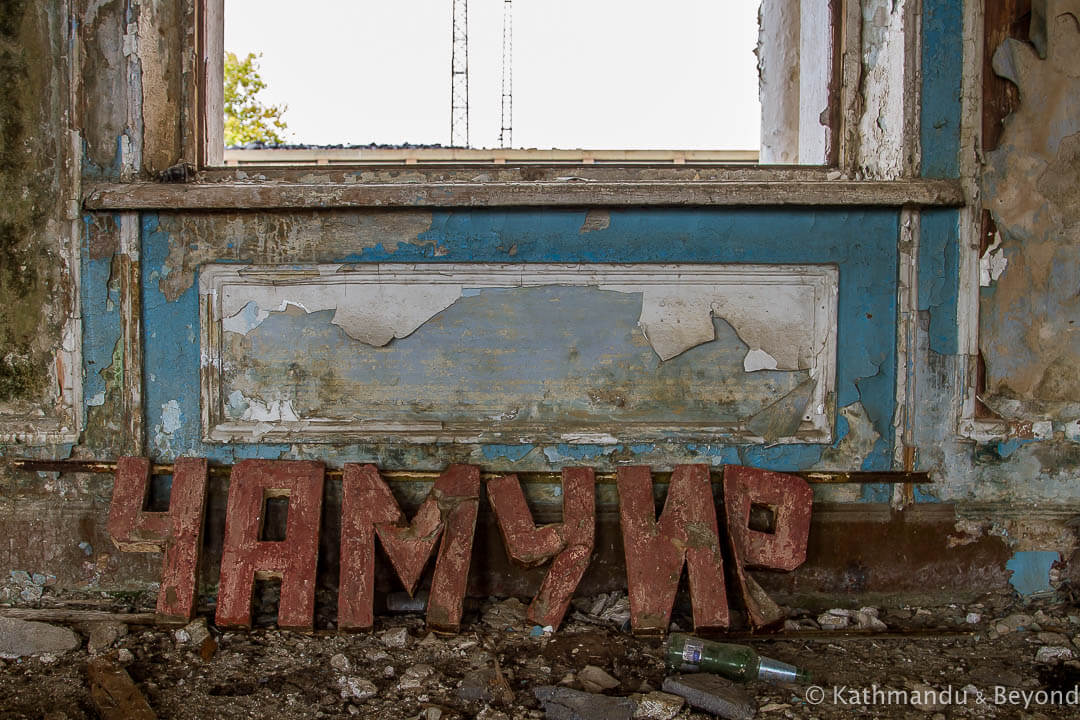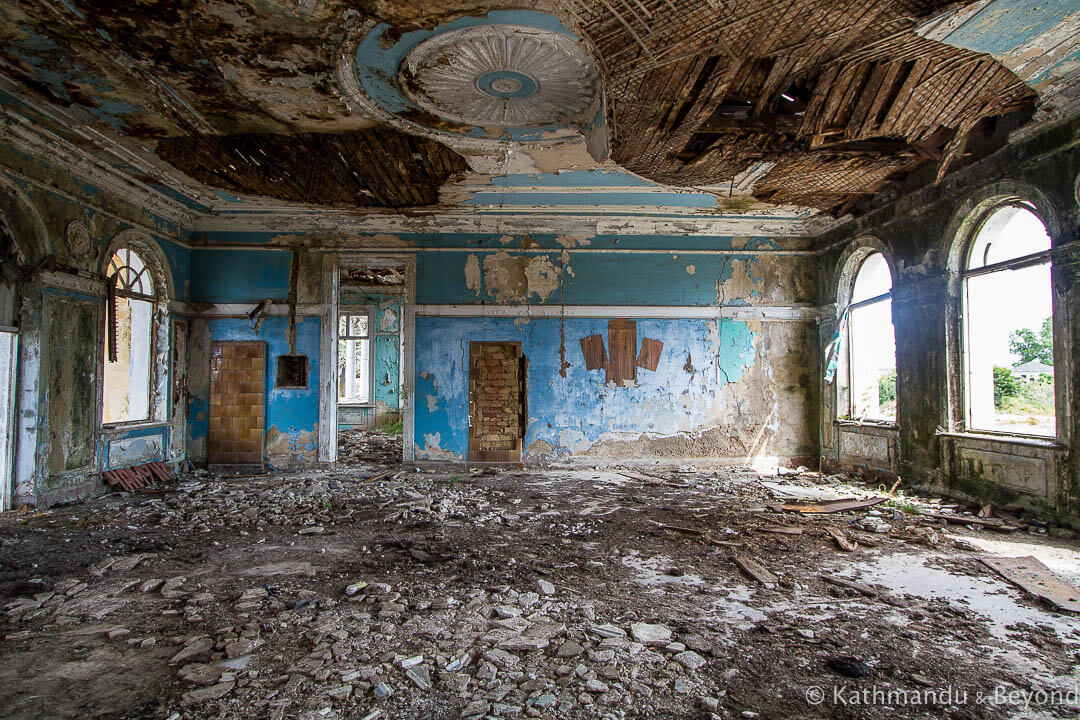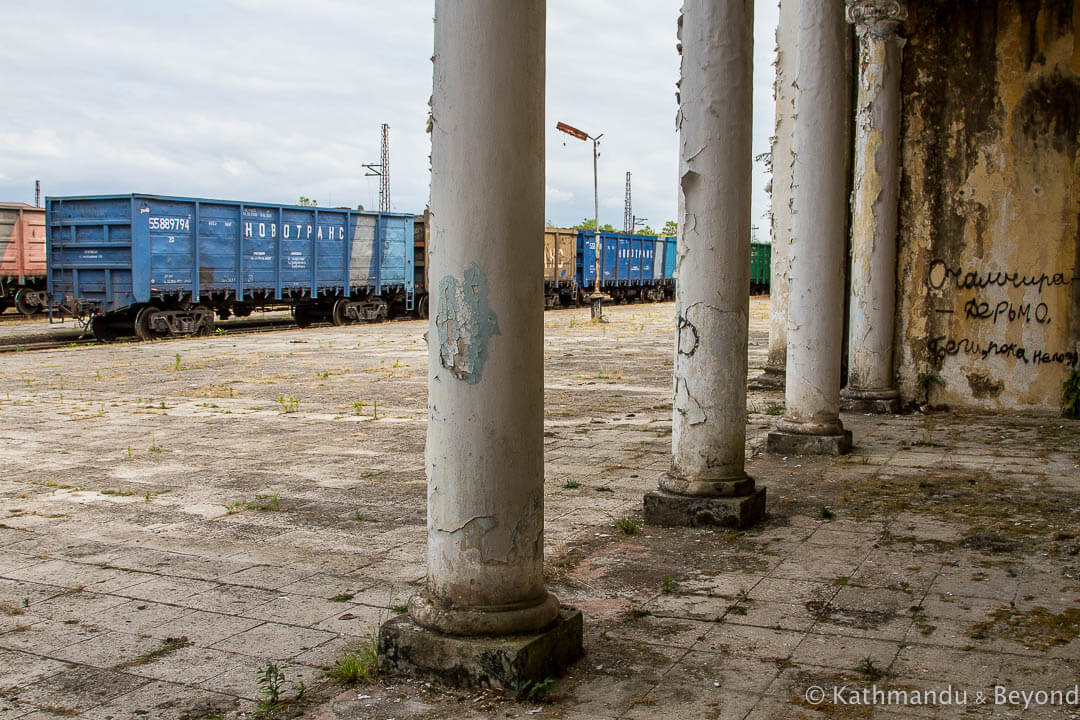 As you can see, there are freight carriages in this photograph. As with other sections of the line, occasional trains still rumble through and in the case of Ochamchire, it's coal from nearby Tkvarcheli that is being transported before eventually being shipped to Turkey.
Not far from the station was an abandoned factory. Ochamchire was once home to a number of production industries and this particular factory used to processed tea. The economic hardship and destroyed infrastructure that followed was another contributing factor for the decline in the town's population as many Abkhazians left to find work elsewhere.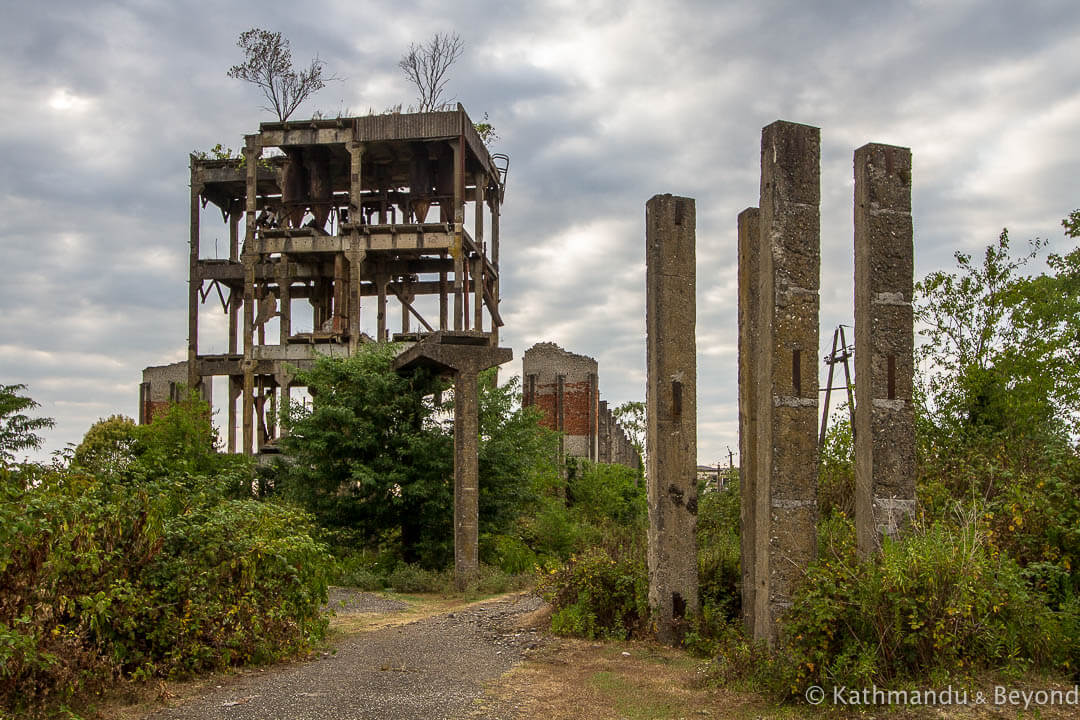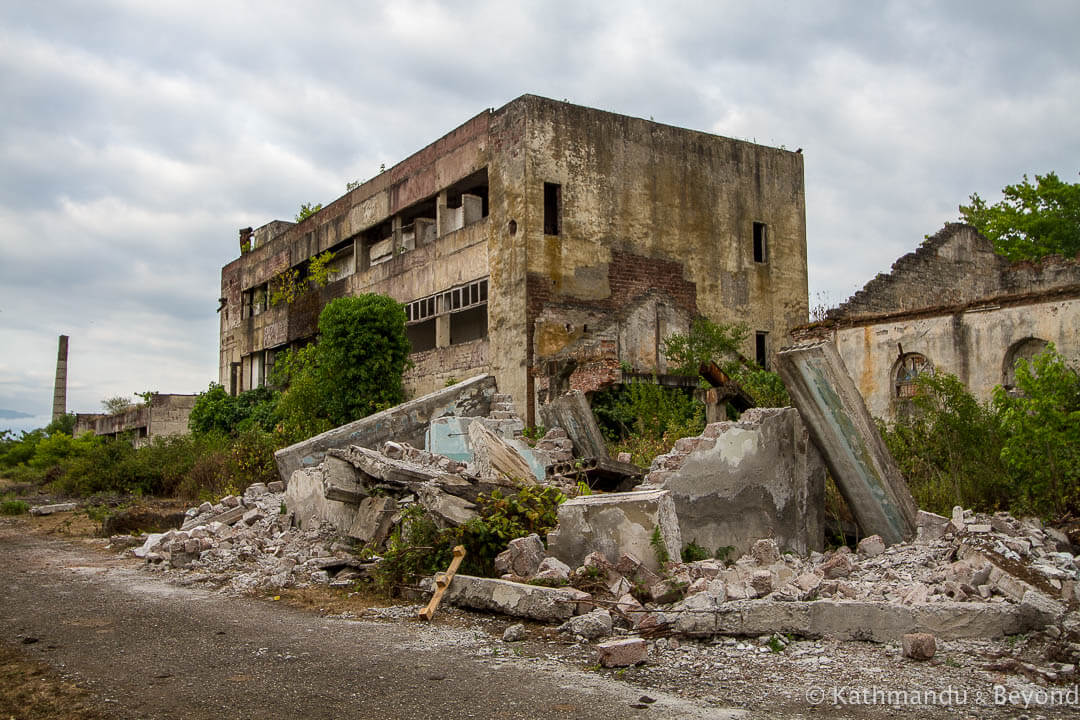 Ochamchire is set out on a grid-like system and as we headed west towards the sea and the centre of town we passed more houses that were abandoned than occupied. We could have easily entered almost all of them: the streets were eerily quiet and there was nobody around, but it didn't feel right and so we kept going. Instead, we made our way to the town's main square, where two newish-looking buildings (i.e. constructed after the war) faced each other. The most striking was the administrative centre for Ochamchire district, while the other was Soviet in style and had a large billboard poster featuring Vladislav Ardzinba (Abkhazia's first president (November 1994 – February 2005)) outside it. These were the only two places in which we saw coming and goings and some resemblance of town life.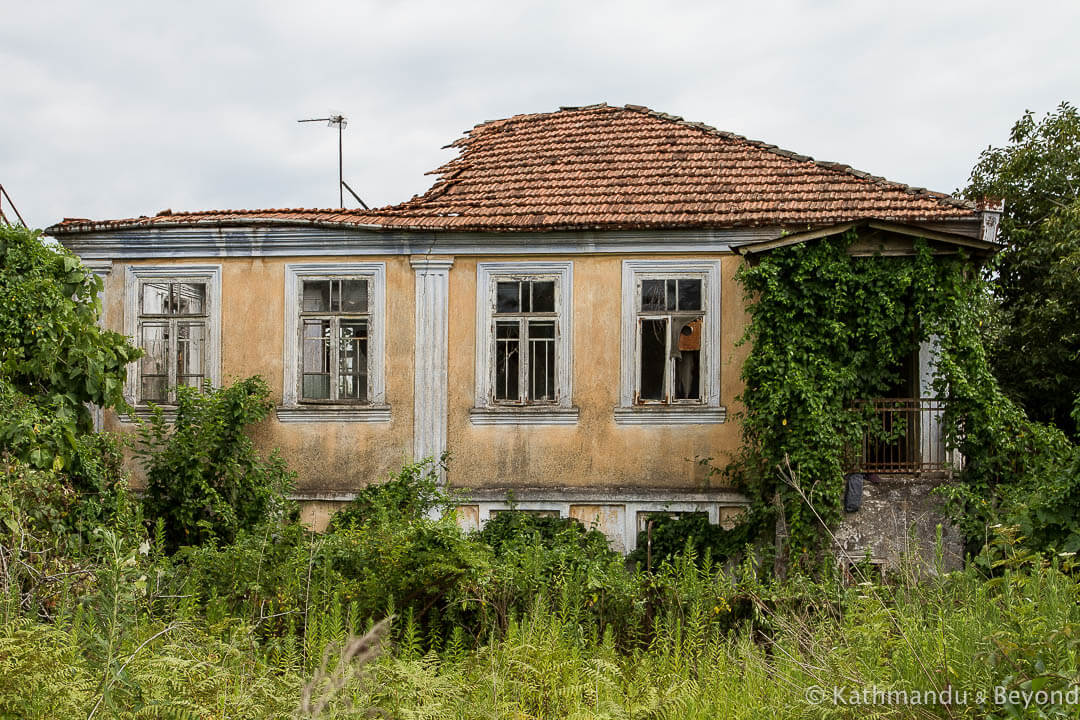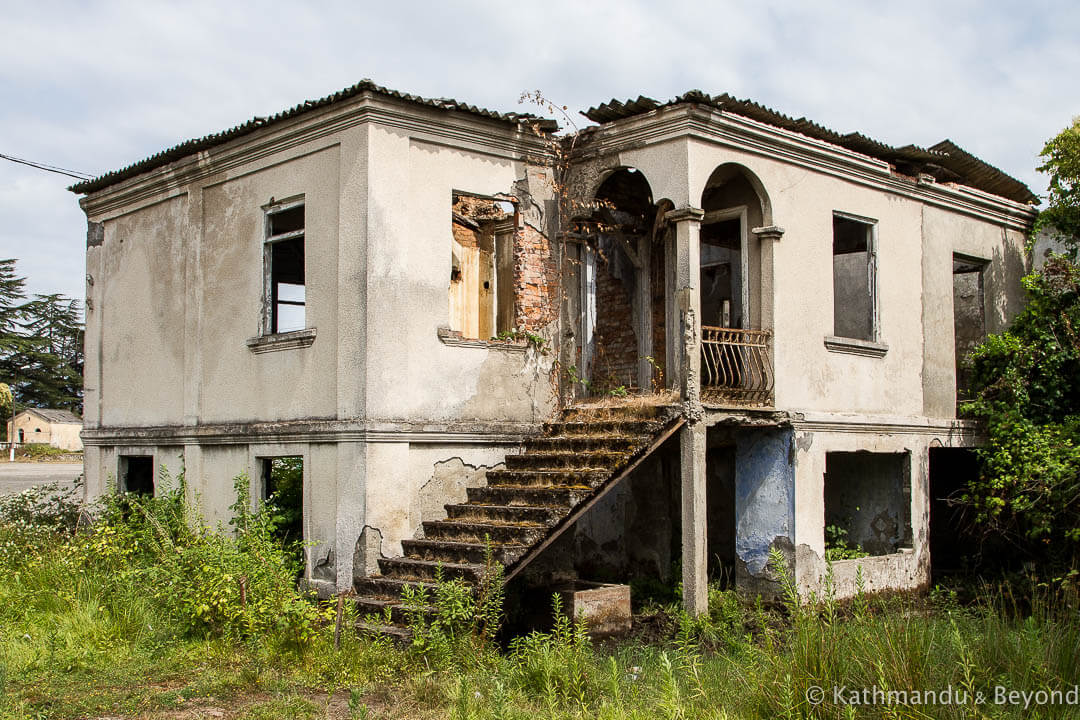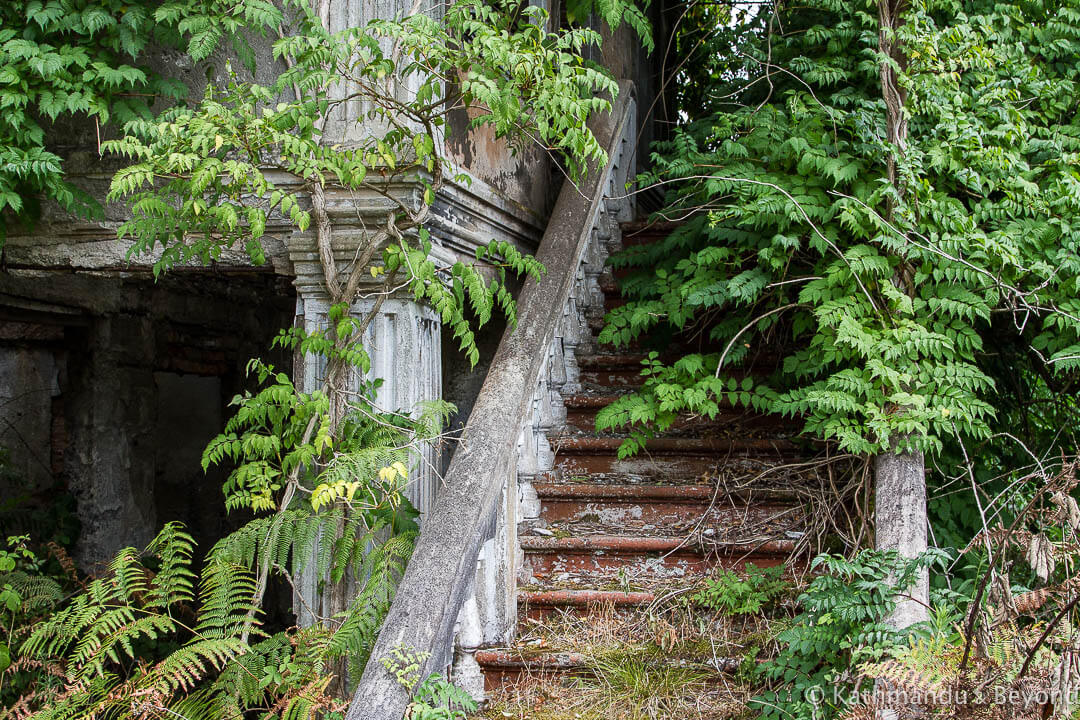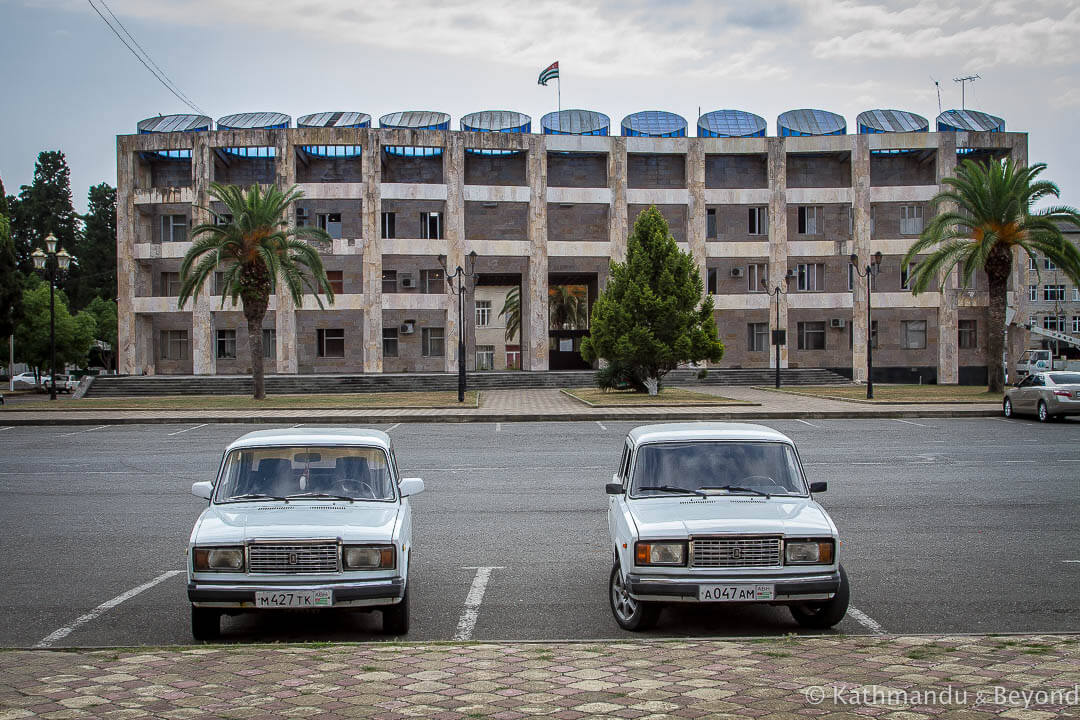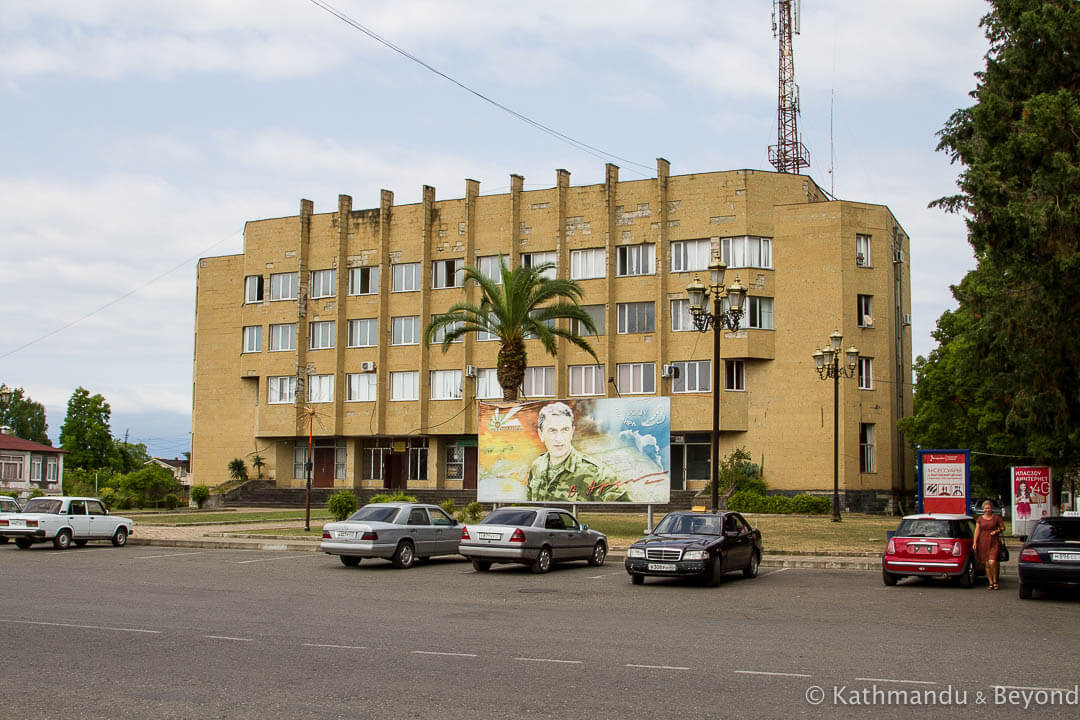 We stumbled upon some old funfair dodgems (bumper cars) while searching for a shop in which to buy a drink – a task easier said than done.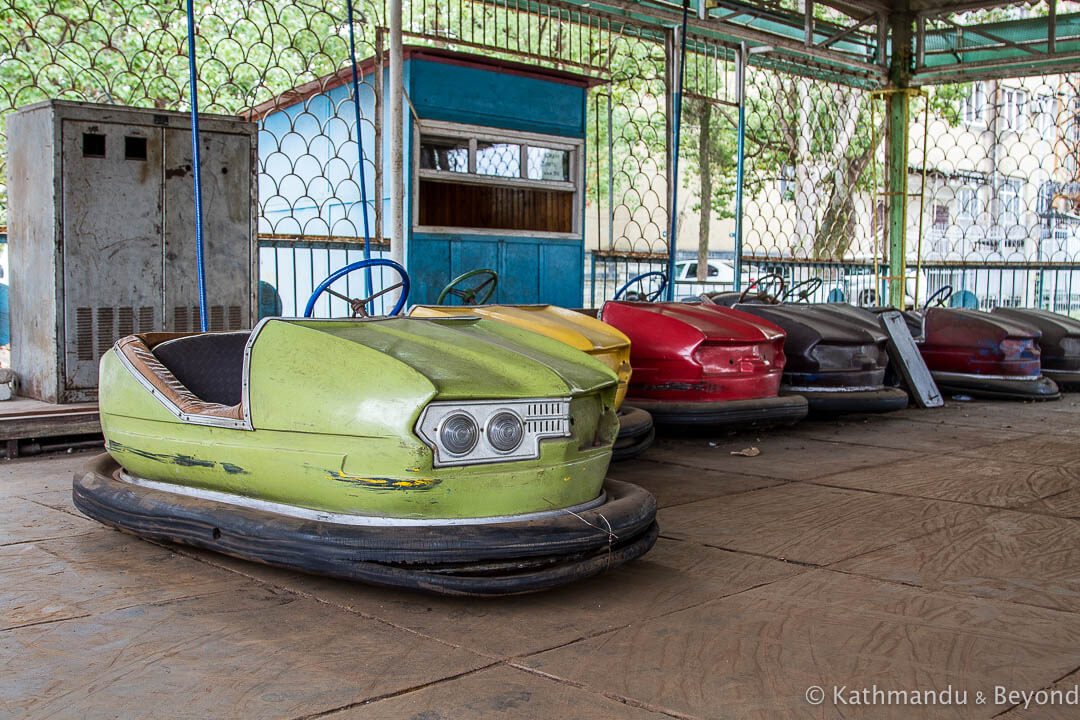 There were signs of restoration work taking place in the park area behind the main square, which was a good thing but, unfortunately, it meant the large Ferris wheel we had earmarked as something we wanted to see had been dismantled a few months before our visit. Nonetheless, the park, which ultimately led to the promenade, was certainly the most interesting part of the town. We found the shell of a theatre, the remnants of the funfair, and various other structures that had all seen better days dotted around and we spent time exploring them all before heading to the promenade. Once there, we decided to turn left but only managed to walk for about ten minutes or so before our way was blocked by a large military base and two soldiers with guns telling us to turn around and head back in the direction we had come from. We promptly did so and passed the town's memorial to the Great Patriotic War (World War II) en route in the other direction. The stony beach was as quiet as the town itself and we only passed a handful of other people as we strolled aimlessly along the front.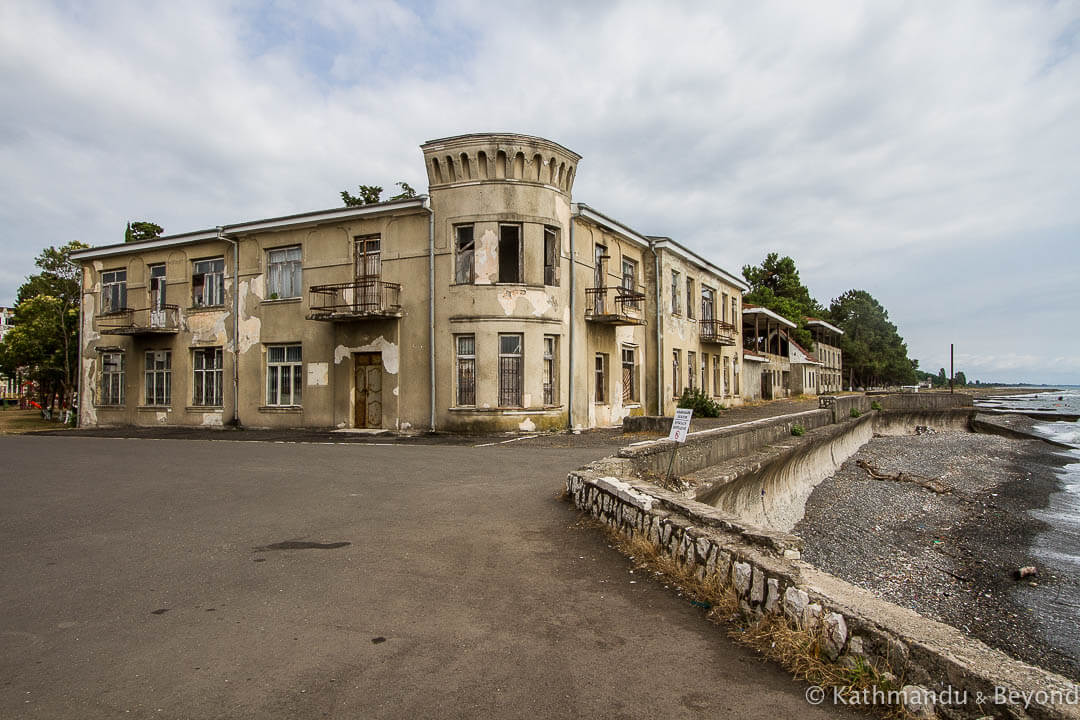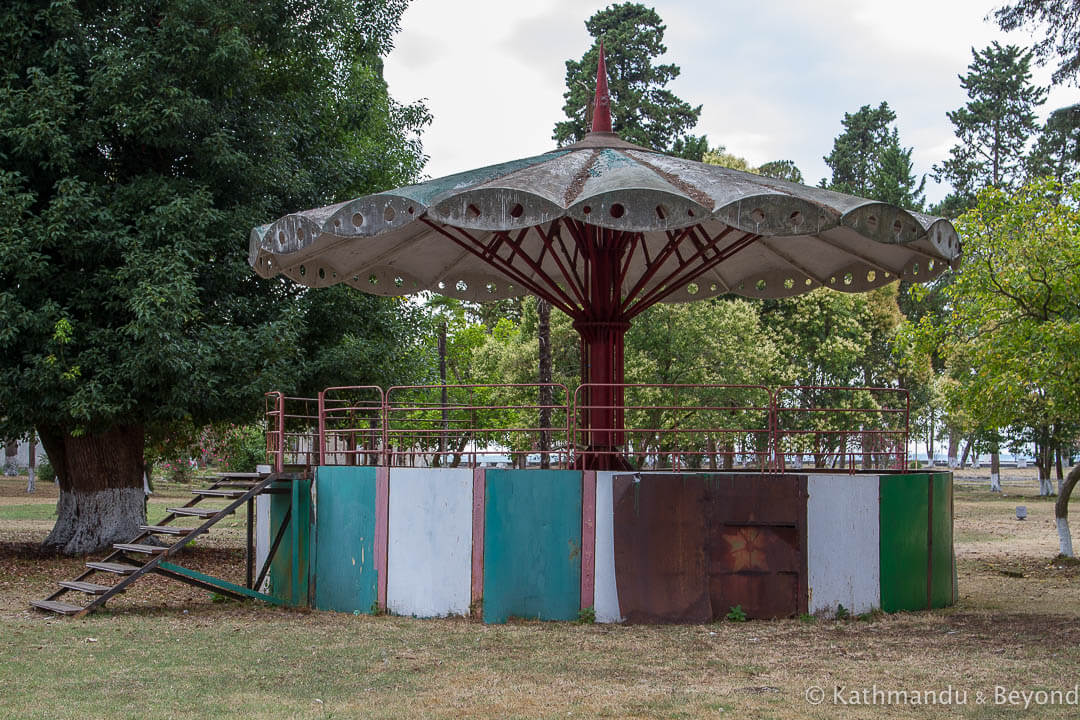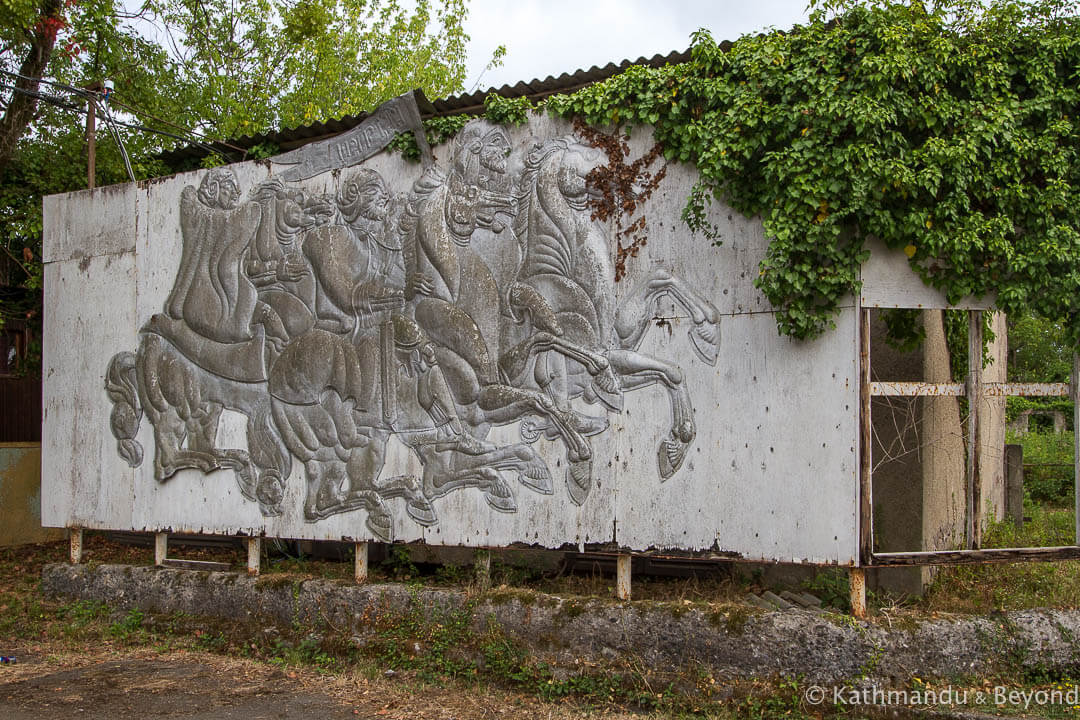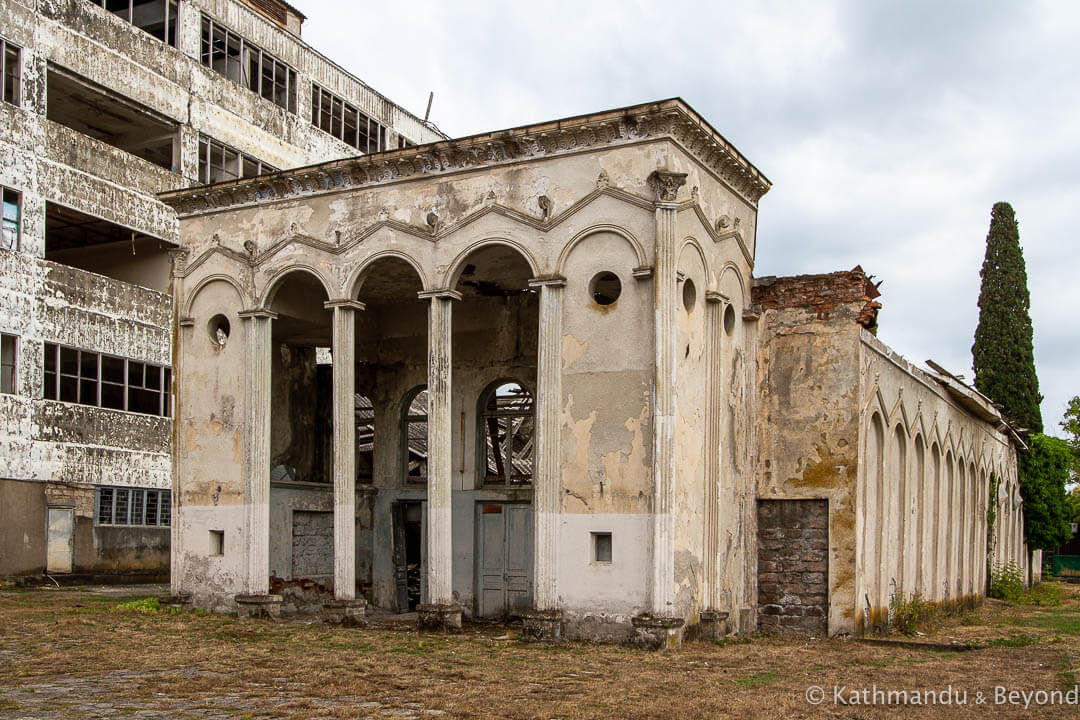 We had a strange encounter with a couple of local lads (more details here), which made a lot more sense the following day than it did at the time and eventually, after a bit more walking, we came across the domineering Pearl Hotel. We had been told that the hotel was due to open its doors literally one or two days before the outbreak of the hostilities but obviously never did so. The ground floor stunk of cow shit and every level on the way up was exactly the same as the next: empty rooms on either side of a long corridor and a precarious balcony that made your toes curl and your stomach churn the closer you got to it (*). Anything of any value was taken a long time back but interestingly, the door leading to the top floor was bolted and an alarm went off after we got a bit too close to it. The only logical explanation was that a phone company was protecting masts that it had installed on the roof.
(*) Well it did me, anyway – Kirsty is a bit better with these things!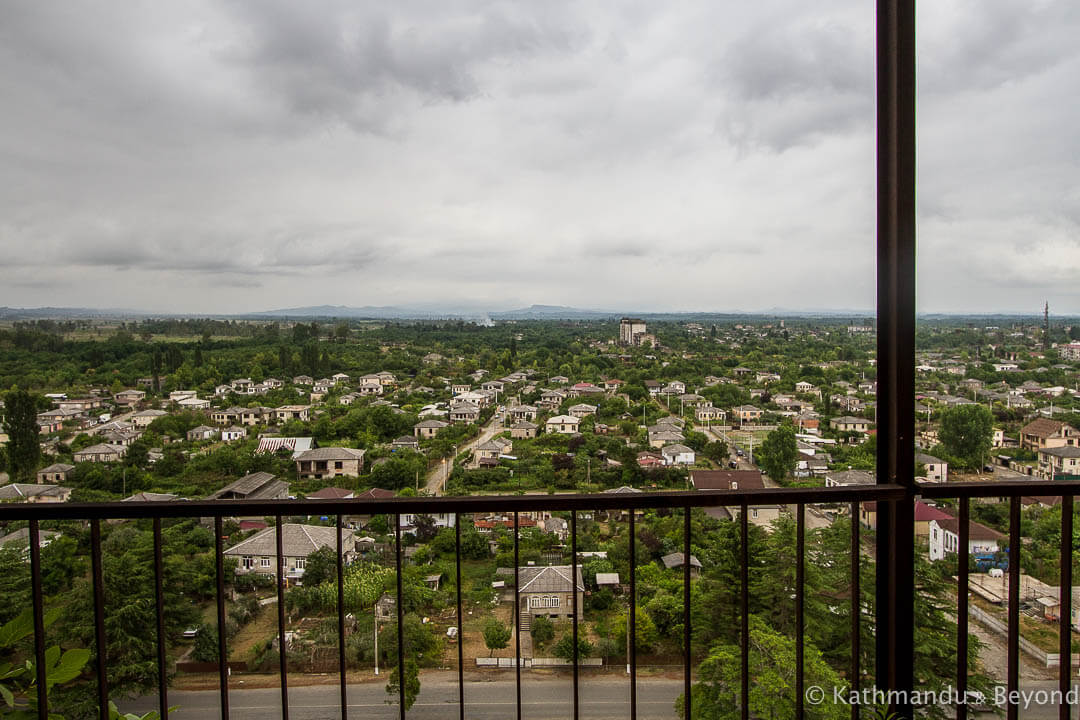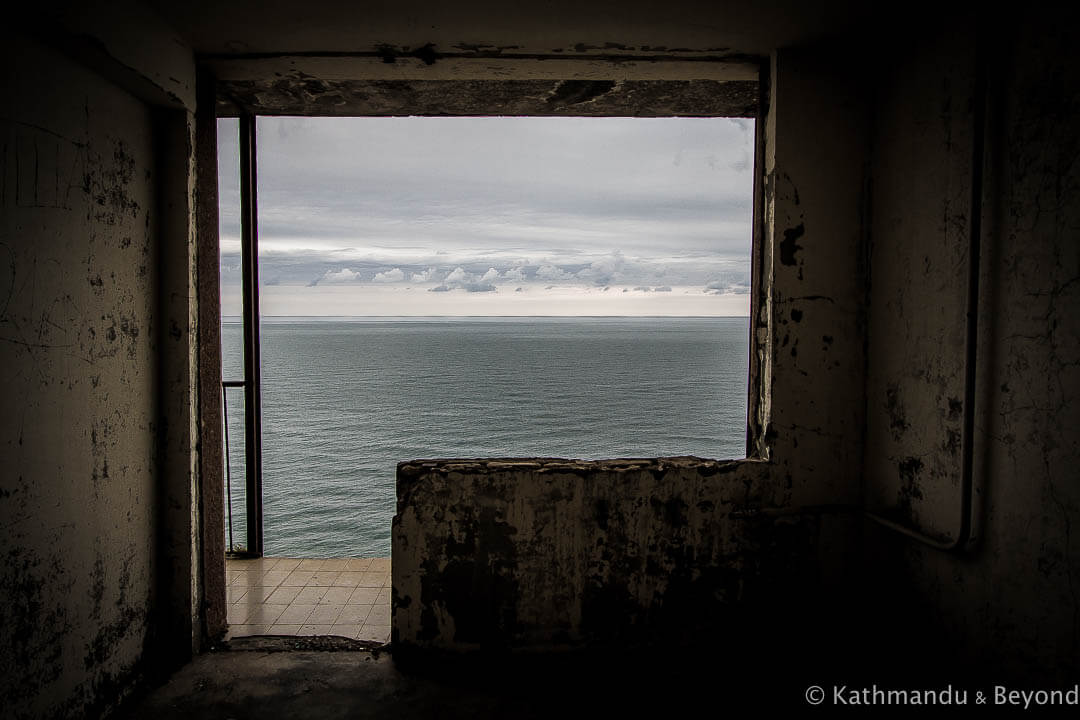 Returning to ground level, we decided to call it a day and return to our guesthouse. It had been a strange afternoon: we'd felt very self-conscious while wandering around this quasi-abandoned town and it didn't escape our attention that the last time we had felt this way was just a couple of weeks earlier when we visited the sanatoriums in Tskaltubo, locations that many of Abkhazia's IDPs ended up calling home.
How to get to Ochamchire
Ochamchire is 4km off the main highway that links Sukhumi with the southern town of Gali. There are some direct marshrutkas (fixed route minivan) from Sukhumi to Ochamchire but they are not that frequent. The other option is to take a Gali-bound marshrutka, get down at the turnoff for Ochamchire (GPS: 42.733541, 41.497466) and walk the final stretch into town. There might also be taxis waiting at the junction. Our plan was to walk into town from the turnoff but our marshrutka driver offered to take us in for an extra couple of roubles, which we accepted.
Transportation leaves from outside the railway station in Sukhumi (GPS: 43.0072, 40.99586).
There are no direct marshrutkas between Ochamchire and Gali. It is necessary to return to the junction and then flag down any marshrutka heading south. Assuming you are heading to the border from Gali, it's an easy switch from one marshrutka to another as they both stop in the same place (GPS: 42.629374, 41.736011).
Where to stay in Ochamchire
There is really only one place to stay in Ochamchire in our opinion and that's Resort on Papaskiri 76. Ensuite rooms are in a prefab unit away from the main house and there is a separate, well-equipped kitchen. There is a washing machine and decent Wi-Fi. Nearby there is a market and a few shops and meals can be pre-ordered at the guesthouse for an additional charge. But, the biggest draw is Miron, the owner. He speaks excellent English and can also help out with advice and transportation if required.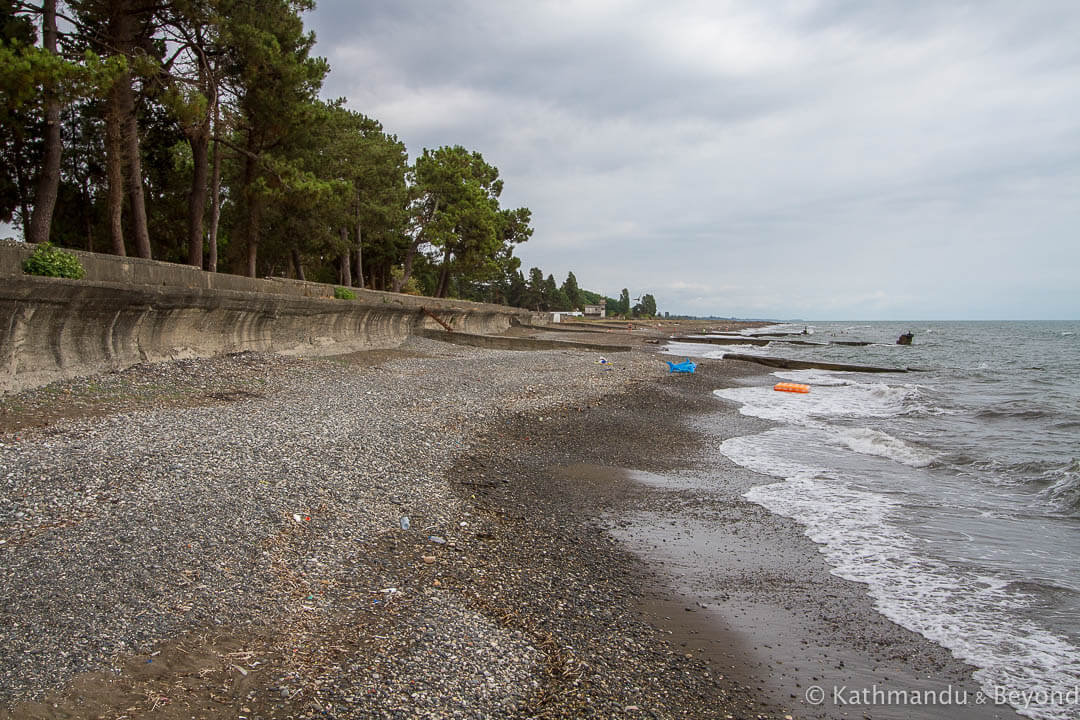 ---
---
ARE YOU INSPIRED TO HEAD OFF THE BEATEN PATH IN ABKHAZIA? PIN THIS POST…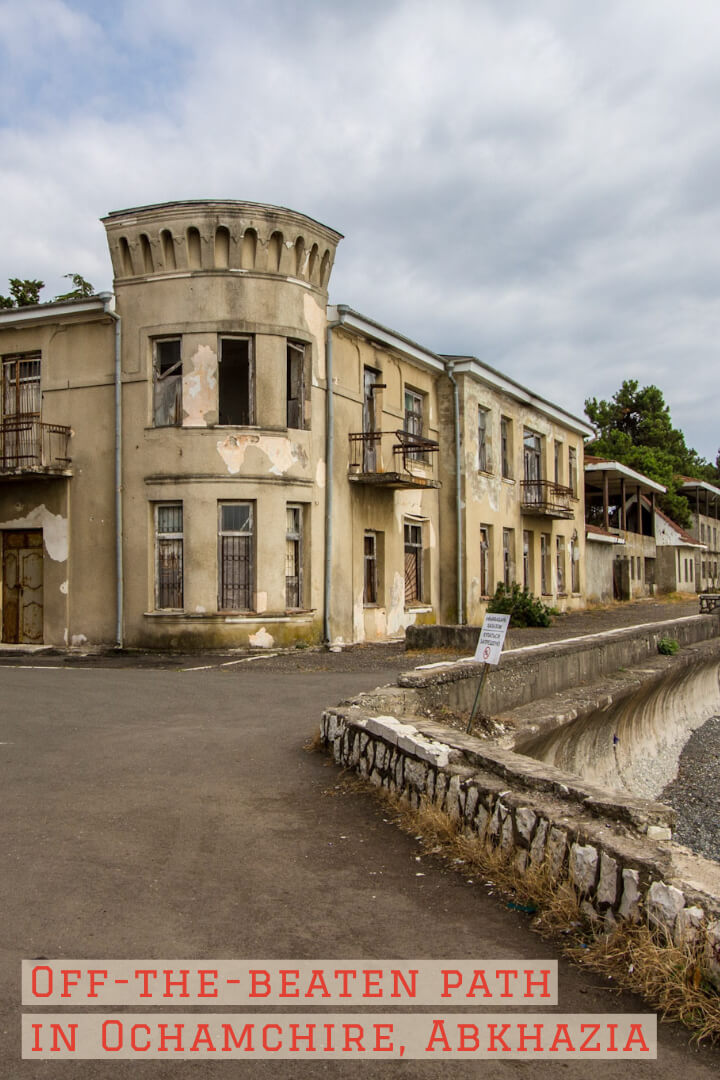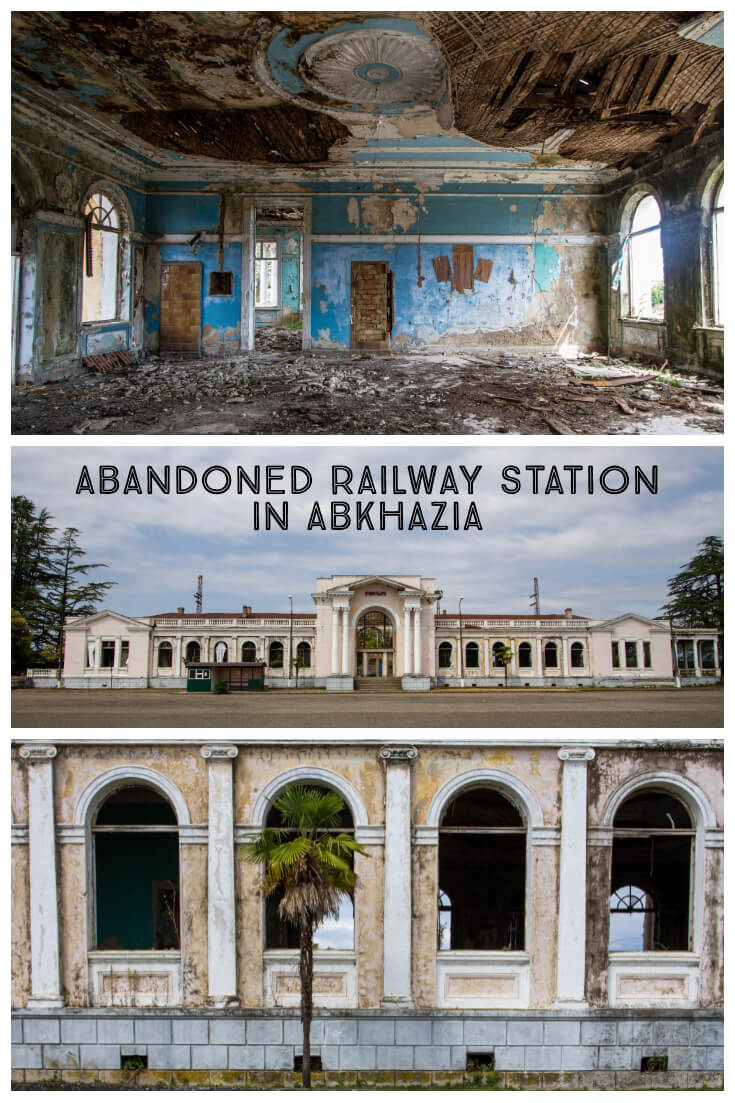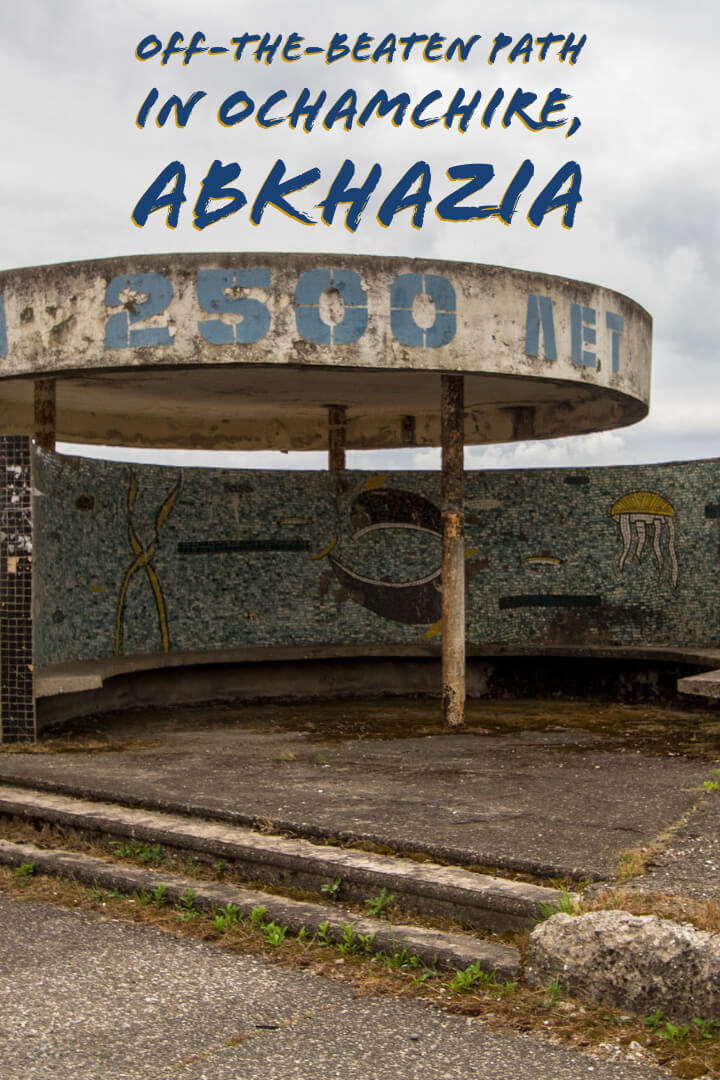 ---
---