Morocco Travel Blog
Travel guides, itineraries, abandoned places, street art and off-the-beaten-path places in Morocco
Hello and welcome to our Morocco travel blog. You will find all our blog posts from the North African Kingdom of Morocco in this section of our website.
Maybe you found our Morocco travel blog because you are considering visiting Morocco, or perhaps you are partway through planning a trip to the Mahgreb region of North Africa. Whatever the reason, we hope we can provide some useful resources and travel tips for Morocco.
Kirsty's first trips to Morocco were work-related and involved staying in luxury hotels, while Mark's first visit as a young and naive backpacker fresh of the boat from Europe resulted in him vowing never to return! As a result, many years passed before Mark was prepared to give Morocco a second chance. But guess what? We had a great trip and are even thinking about returning…
Our Morocco blog posts are generally aimed at independent travellers and backpackers like us and have a strong focus on travelling around using public transport, staying in budget accommodation and exploring off-the-beaten-path and lesser-visited places.
Browse all of our Morocco blog posts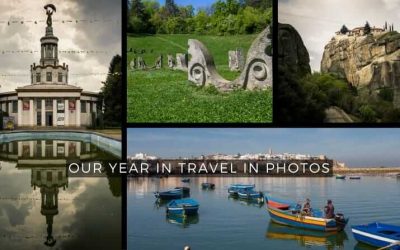 And a preview of what's on our travel agenda for 2018 Oops, we did it again! On not slowing down… 2017 saw us pass our 9-year travelversary but didn't see us slow down very much! We stayed in a handful of places for a week which, to be honest, is quite an achievement...
---
IF YOU ENJOYED OUR MOROCCO TRAVEL BLOG, YOU MAY BE INTERESTED IN SEEING MORE OF OUR PHOTOS OF MOROCCO
If you enjoyed our Morocco Travel Blog…
Subscribe to our newsletter to receive our latest blog posts as well as our latest news from the road less travelled…