3 week Morocco itinerary – Essaouira to Tangier overland
Essaouira – Marrakesh – Casablanca – Rabat – Meknes – Moulay Idriss – Fez – Chefchaouen – Tetouan – Asilah – Tangier
Situated on the Atlantic Coast, Essaouira is a good place to get your Morocco bearings – it's small and relatively hassle-free. We couldn't really see what all the fuss was about with Marrakesh but it does make a good base for exploring the Atlas Mountains, weather-permitting. Casablanca on the other hand, which many people leave out of a Morocco itinerary, was worth visiting for its art-deco architecture, faded grandeur and the mighty Hassan II Mosque. If the accommodation hadn't been so expensive in Rabat, we could easily have spent a couple of days longer there and Meknes is a worthy stop en route to Fez.
A side trip north of Meknes to the holy city of Moulay Idriss and the superb Roman ruins of Volubilis is a must and Fez itself lived up to expectations. Heading up towards the Mediterranean, very-blue Chefchaouen, Spanish-colonial Tetouan and whitewashed Asilah are all worthy stopovers on the way to Tangier, a city with a bad reputation for seediness and hassle that, in our opinion, is not necessarily deserved.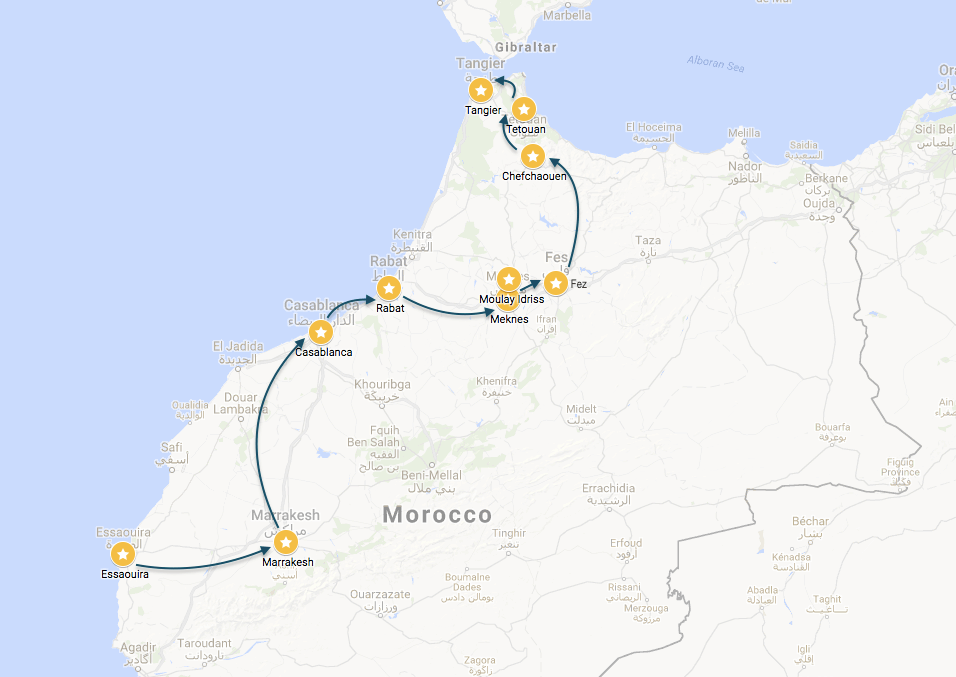 Number of countries: 1
Number of UNESCO sites: 7
Best time to travel: Morocco is an all-year-round destination but if you want to avoid the searing heat as well as the damp and the cold, early March to May or September through to the end of October are probably the best months
Recommended duration: 3 weeks
Best places to slow the itinerary down: Essaouira, Asilah and Chefchaouen
Mode of transport: A combination of buses and trains plus the odd shared-taxi
Rabat was the highlight of the whole trip for us – the kasbah was superb
Art-deco architecture in Casablanca
The Roman ruins at Volubilis
Moroccan cuisine
Rooftop views from our riads
The exterior of the huge Hassan II Mosque in Casablanca (the interior, which you have to pay to see, was a bit underwhelming)
OPTIONS FOR EXTENDING THE ITINERARY
The mountains and the desert within Morocco itself are the obvious extensions to this itinerary. We travelled to Morocco in February and it is too cold to visit the mountains at that time of the year
Spain is very easy to get to from Morocco. There are cheap flights from Tangier to the Catalan city of Girona as well as Malaga, from where Andalusia is readily accessible
OTHER TRAVEL PLANNING RESOURCES
Depending on our itinerary and destination, sometimes/often we find our accommodation as we go, particularly in smaller places. In big cities, for slightly longer stays, during peak season or just when we're being a bit more organised, we tend to make a reservation in advance using Booking.com.
There are several guidebooks to Morocco available but we've always used Lonely Planet and it's hard to change a habit of a lifetime!: Lonely Planet's guide to Morocco 
And if you need a few more reasons to follow this itinerary…
Skala de la Kasbah, Essaouira
Djemaa El-Fna in Marrakesh
Hassan II Mosque in Casablanca
Did you find this post useful? Pin it to your travel planning board for later…