23 January to 21 February 2010
Yes, yes … I know it's been a while since our last entry but the time seems to just fly by so quickly. Not only that, probably more to the point is that for the past few weeks we have both been pretty much into a weekly working routine so there hasn't really been a whole lot of exciting stories to blog about. However, I put these same pictures on Facebook and Mark reminded me that Mums and Dads and those "non-users" may also like to see them. For those who are reading this via FB, you probably won't want to bother will all the pics again! He did also say "can't you find some pictures that don't involve so much alcohol?!" Good point, but no, not at the moment – life here is far too sociable and the beer is far too cheap!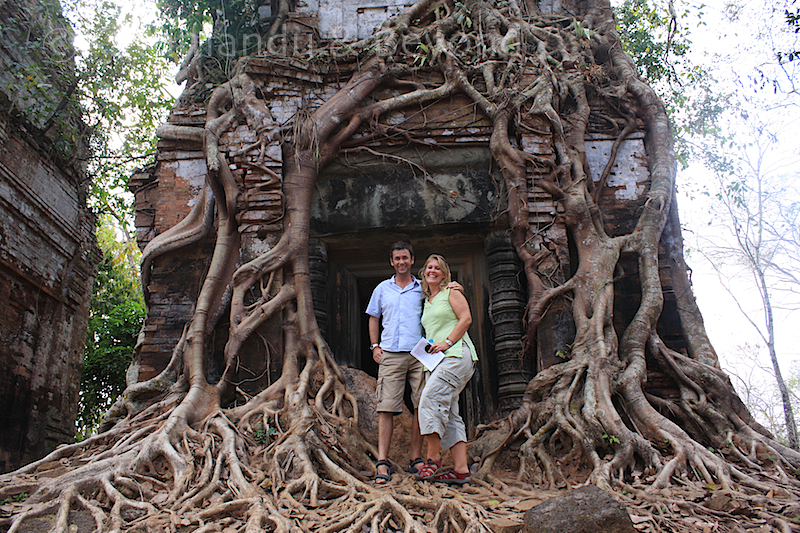 At Koh Ker temple
Mark is still volunteering (aka "saving lives") at New Hope and appears to be practically running the place most of the time. It's not without its frustrations and some of you will be amused to know that he still has the odd "management moment" but it's keeping him occupied, and, as he says, out of the 50 cent bars!
My routine is work in the afternoon but beforehand I have been trying to fit in some yoga classes, although I am now trying Pilates as the new yoga teacher is all a bit too New Age California for my liking. I have also been doing a bit of teaching at one of the orphanages nearby – I find it quite challenging thinking up the lesson plans particularly as they all have such different levels of English but the kids are really lovely and I enjoy visiting them. Last weekend Mark and I took them all swimming – all 36 of them! An Australian guy living re, turned up at the orphanage when Mark and I were visiting on Sunday as he had arranged to take them to a nearby swimming pool for a couple of hours and asked if we wanted to go along too. As it was around 35 degrees we said yes! Once there, he kind of shirked his responsibility rather and stood around either on his phone or at the bar whilst Mark and I were left to supervise – ensuring they didn't drown and avoid getting drowned ourselves. It's quite hard work swimming just out of your depth from one side of the pool to the other with 3 or 4 kids on your back…… by the end of it we were exhausted and as a couple of people have already commented, this wouldn't be allowed back home!
We have also managed to fit in a quick weekend away to the temples at Koh Ker and Beng Mealea so for those who aren't convinced we don't spend every night at the bar; there are also some cultural shots here too.
I have less than 4 weeks to go at work now so we are starting to plan our next moves. There are so many directions we can head in and so are having trouble making up our minds but I don't think we'll get a huge amount of sympathy on that so I won't bang on about it! That's me done for now as I had only really intended to write a couple of line and post the photos …
Click on the photo below to activate a slideshow of the (mostly drunken) photos …