Bali's Jatiluwih rice terraces and ten interesting things about rice!
I do love rice terraces. Mark would put it down as another one of my "obsessions", like street art, but I just happen to think rice terraces are very photogenic. It also means I get a bit carried away with the pretty green photographs.
Of all the countries known for their rice paddy panoramas, Bali must be high on the list, and recently we visited some of the island's best-known rice terraces at Jatiluwih. And they didn't disappoint in the lush greenness stakes.
Even in pre-monsoonal October, following many months without rain, the rice fields were looking very well fed. We learnt that this is because of the water irrigation system used in Bali. It's called Subak and is a traditional method that has been used in Bali for over 1,000 years. It's a complicated water management system that involves the gods as well as irrigation channel engineering. However, it means that rice growing on many parts of the island is not dependent on rain, as the fields are fed via the irrigation system with water from the surrounding hills and rivers. This results in a healthy three crops of rice each year. It also means that visitors and rice terrace aficionados have a pretty good chance of seeing the fields in all their green glory whatever the time of year.
In 2012, UNESCO listed the Jatiluwih rice terraces in an effort to preserve this important aspect of Bali's heritage. The inscription is a bit of a mouthful and not easy to understand as first glance – the "Cultural Landscape of Bali Province: the Subak System as a Manifestation of the Tri Hita Karana Philosophy".
Without getting too deep into something a Google search can tell you more about, Tri Hita Karana is the Balinese philosophy on life. The literal translation is the "three causes of well-being", those three causes being harmony among people, harmony with God, and harmony with nature.
I said it's complicated, didn't I, but if you are really interested in delving further into the Subak system you could read this as well as the information on UNESCO's website, linked above.
Hopefully, UNESCO's input will help preserve the system and the rice fields because sadly the Subak system is now under threat because of the ongoing demand for land on which to build hotels and villas: as farmers sell their land to developers, Bali's rice fields are disappearing at a rate of 1,000 hectares per year.
I read a recent report which summed it up with the comment that with more than two million tourists visiting the island each year, the irrigation system "is in danger of being loved to death."
I do hope these iconic landscapes of Bali don't become a thing of the past.
But without further ado, let's get on with the shades of chartreuse, olive, myrtle, kelly, mint, pea and spring …
That's green to you and me!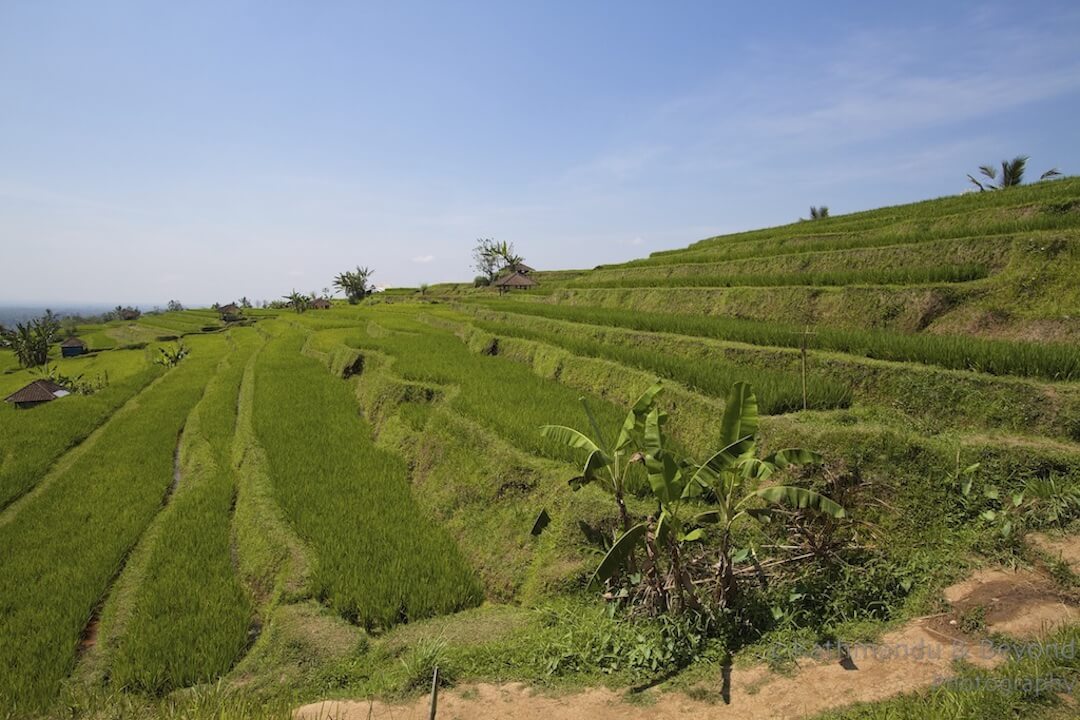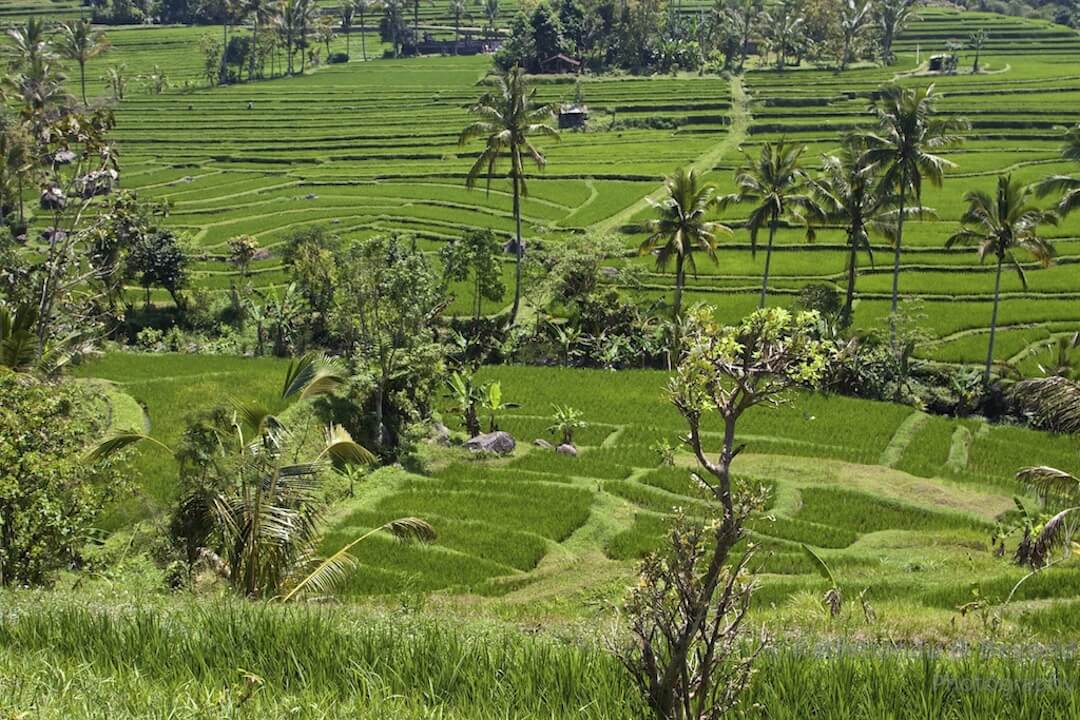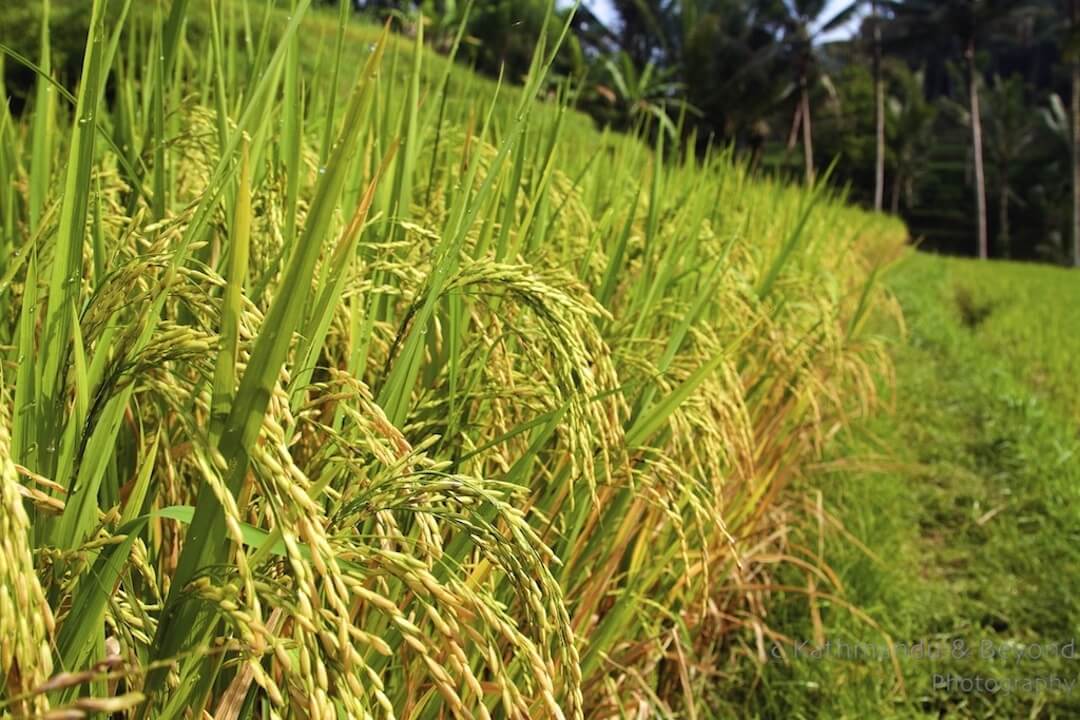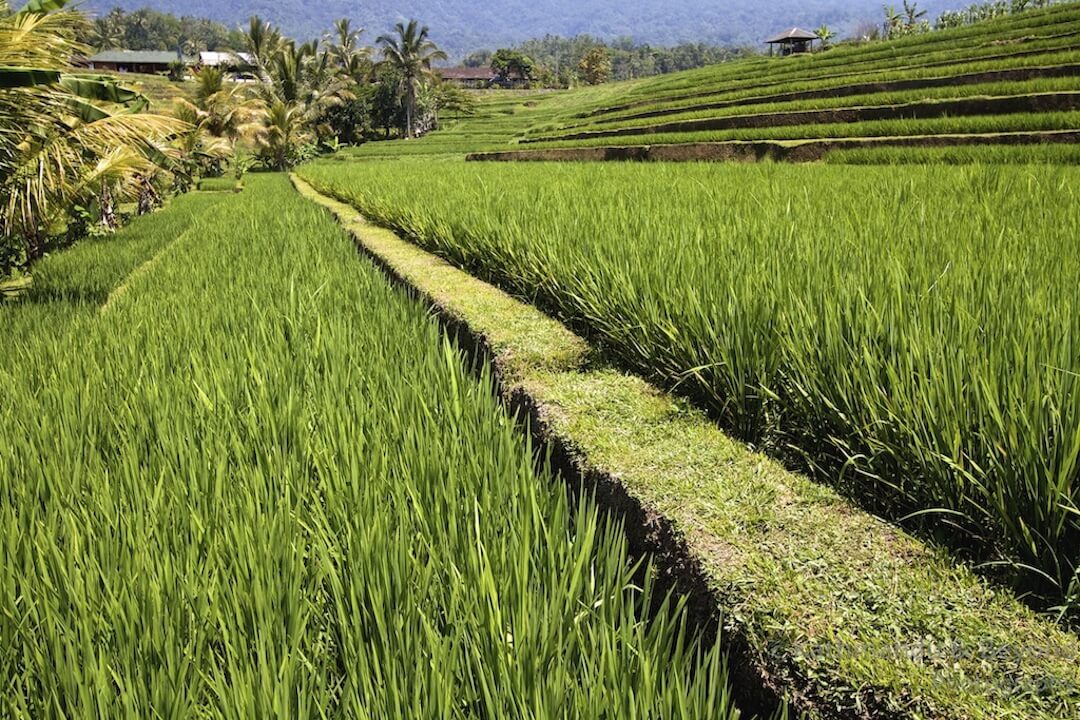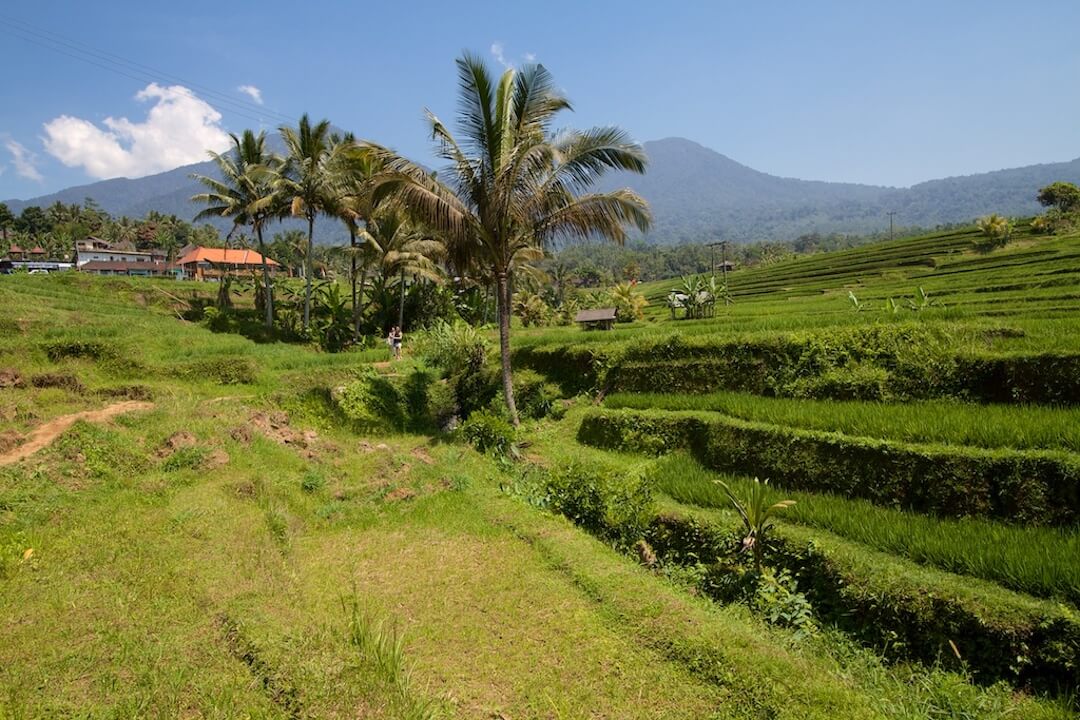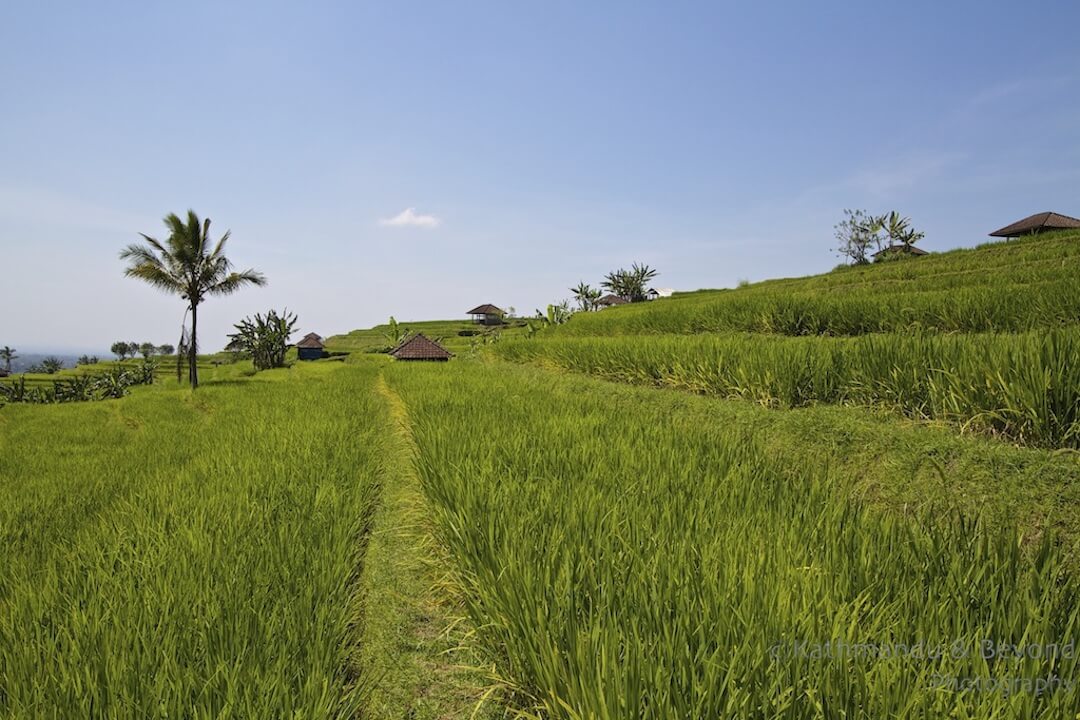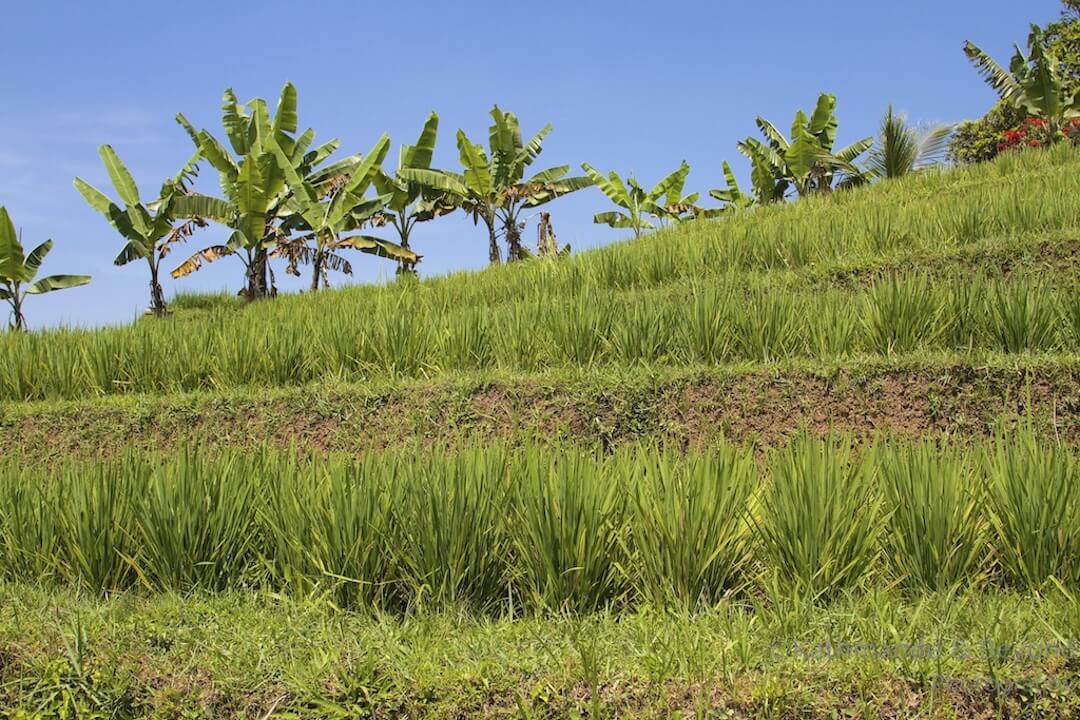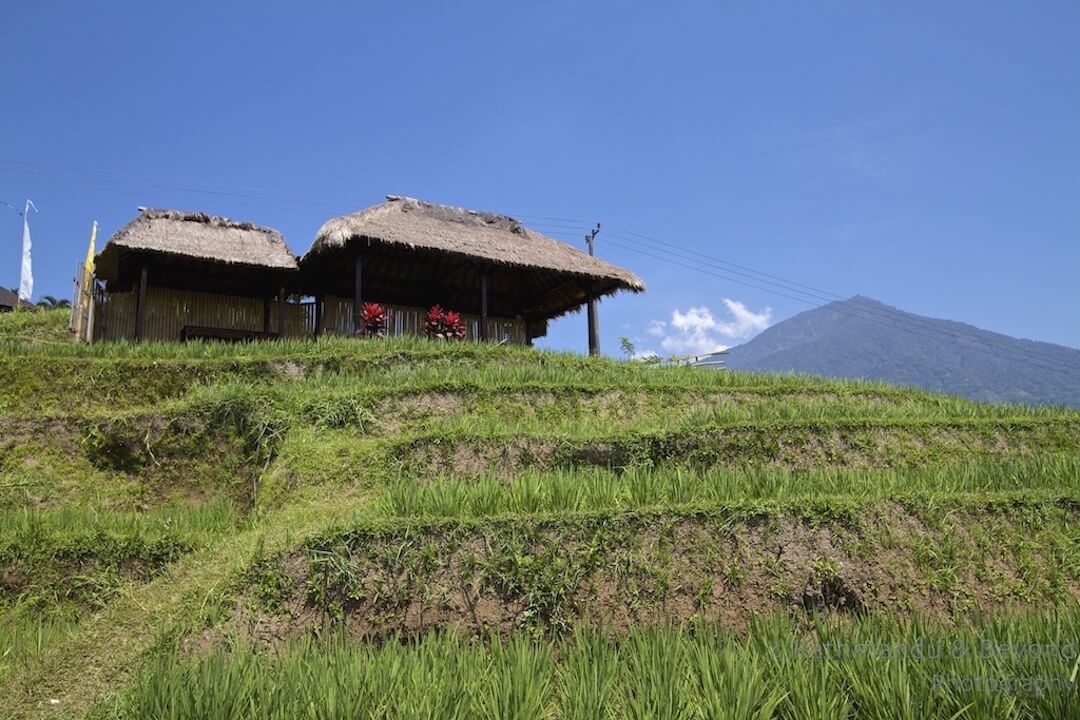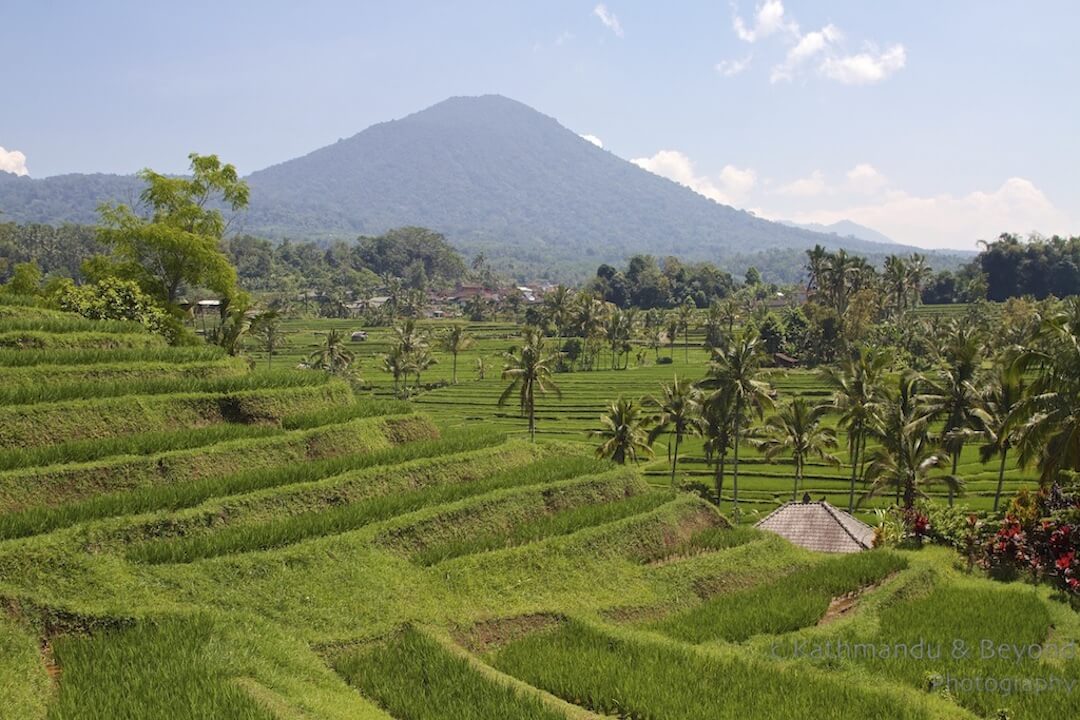 As well as lots of very green photographs of Jatiluwih rice terraces, I thought I'd throw in some interesting facts about rice that you may, or may not, know.
10 Interesting Facts About Rice
There are more than 40,000 varieties of rice grown across every continent except Antarctica.
Rice has been feeding the planet for over 5,000 years. The first known human consumption of rice was in China about 2,800 BC.
Rice is the second-highest worldwide crop produced, after maize/corn.
In terms of per capita rice consumption, Burma (Myanmar) eats the most: 227 kilos (500 lbs) of rice per person each year. Indonesians rank fourth. In comparison, Americans consume just 9 kilos (20 lbs) per person per year. Mark and I are probably closer to Asian levels of rice-eating these days!
Asia alone both produces and consumes 90% of the world's rice.
Indonesia is the world's third-highest rice-producing nation, behind China (which produces one-third of the rice in the world) and India.
For a long time, Thailand was the world's largest rice exporter but has been overtaken by India and Vietnam.
In Bali, Indonesia, Hindus believe that it was Vishnu who first made rice grow out of the ground from nothing. The Hindu god of bad weather, Indra, then taught people how to grow the plant: this explains why rice only grows in waterlogged soil.
Rice is a symbol of life and fertility, which is why rice is traditionally thrown at weddings.
And finally, and most definitely the weirdest rice fact comes from Japan (surprise, surprise!). In 2008 a new craze developed called Dakigokochi. The idea is, that to celebrate the birth of a new child, people get a photo of their baby printed on a bag of rice that matches the birth weight of said baby. If you ask me, they look a bit creepy, but if you want to order one, and can read Japanese, head over to yosimiya.com
Visiting Jatiluwih rice terraces
Is there a season or "right time" to see rice terraces on Bali?
No, not really. Rice growing doesn't have a season. It is a crop grown in rotation and staggered in its planting. Therefore at most times of the year you should see crops at different stages of growth.
When visiting rice terraces, including those at Jatiluwih, you may see some fields just planted, others sprouting, some halfway to harvest and others being harvested.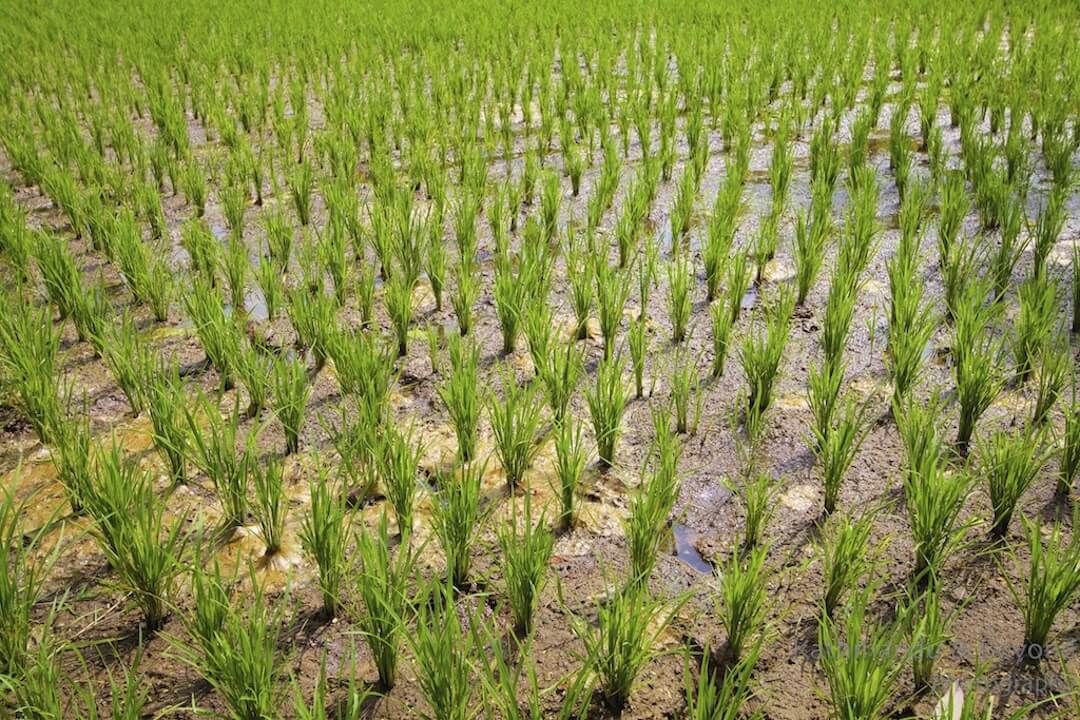 Some of the loveliest views of terraces are when they are just newly planted and small green shoots are coming out in the middle of reflecting pools.
How to Get to Jatiluwih rice terraces
Jatiluwih rice terraces are located in Bali's central hills, some 20 km to the north-west of Ubud. There's no public transport to Jatiluwih and the best option is to get there under your own steam – by bicycle or motorbike or, better still, hire a car and driver – so you have plenty of time not just to admire the views from the road above the fields but to walk through them. To access the rice terrace area, you have to pay an entrance fee at Jatiluwih which is 15,000 Indonesian rupiah per person (75p or $1.20).
Rice field bonus shot: Bet you never thought you'd see a photograph of us like this did you? If you want to know the story behind this photo, which involved us being the stars in a professionally-made promotional video for a tourism project on Bali, then you can do so by clicking here.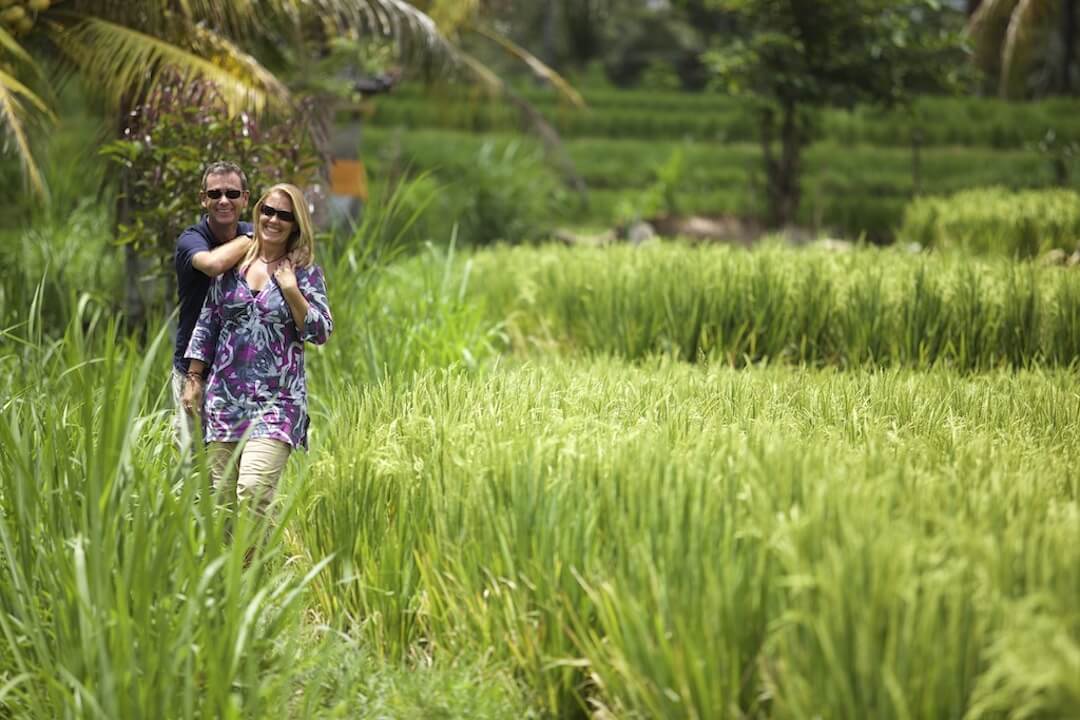 ---
See more photographs of Bali, including some of the island's other equally green rice fields here: Photographs of Indonesia.
---
---