Georgia Travel Blog
Travel guides, itineraries, abandoned places, street art and off-the-beaten-path places in Georgia
Hello and welcome to our Georgia travel blog. You will find all our Georgia blog posts in this section of our website.
Maybe you found our Georgia travel blog because you are considering a visit to Georgia, or perhaps you are partway through planning a trip to the Caucasus. Whatever the reason, we hope we can provide some useful resources and travel tips for Georgia.
We've visited Georgia a few times and still have plenty to go back for. The mountain scenery is spectacular, as is the food, but Georgia also has a thriving street art scene and plenty of abandoned buildings to explore and Soviet mosaics to seek out.
Georgia is currently one of the hottest travel destinations! It's on all of the 'best places to visit now' lists and we know why! Sandwiched between the Caucasus Mountains to the north, the Black Sea to the west and deserts to the south, Georgia is literally at the crossroads between Europe and Asia. Once part of the USSR, Georgia borders Turkey, Armenia, Azerbaijan and Russia, this Caucasus nation is a melting pot of cultures with spectacular landscapes, hospitable people and delicious food. It's also backpacker-budget friendly and has plenty of options for adventurous and off-the-beaten-path travel.
Our Georgia blog posts are generally aimed at independent travellers and backpackers like us and have a strong focus on travelling around using public transport, staying in budget accommodation and exploring off-the-beaten-path and lesser-visited places.
Browse all of our Georgia blog posts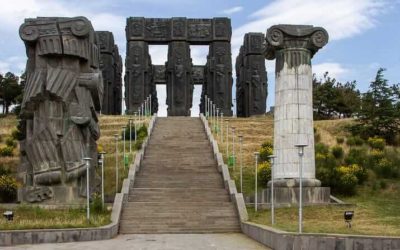 Georgia's 'Stonehenge', the Chronicle of Georgia monument is one of Tbilisi's most less-visited sights. Find out how to get there by public transport.
If you enjoyed our Georgia Travel Blog…
Subscribe to our newsletter to receive our latest blog posts as well as our latest news from the road less travelled…