Five places in north-east and northern Thailand (that aren't Chiang Mai or Pai) that are worth making the effort to visit
Want to get away from Thailand's tourist hotspots? Here are five towns in the north and northeast of Thailand that we have visited and enjoyed. We can't guarantee that you won't see any other tourists but compared to the likes of Bangkok, Chiang Mai and the islands, they are refreshingly relaxed and great places to 'stay another day…'.
Dan Sai (Northeast Thailand)
Dan Sai is a small town located in Loei Province. Laos, to the north, is not that far away and Phitsanulok is a 3-hour drive to the west.
The town is best-known for its annual 'festival of ghosts' (Phi Ta Khon) which normally takes place in July and lasts for 3 to 4 days but if you cannot make the festival (or don't want to be in this part of Thailand in July!), Dan Sai is still a pleasant town to visit. It is also a good place to break the journey if coming from Sukhothai and heading to Nong Khai/Lao border for example.
Masks used in previous 'festival of ghosts' celebrations are on display at the Dan Sai Folk Museum whilst Phra That Si Songrak on the outskirts of town is the most highly revered stupa in Loei Province and warrants a visit.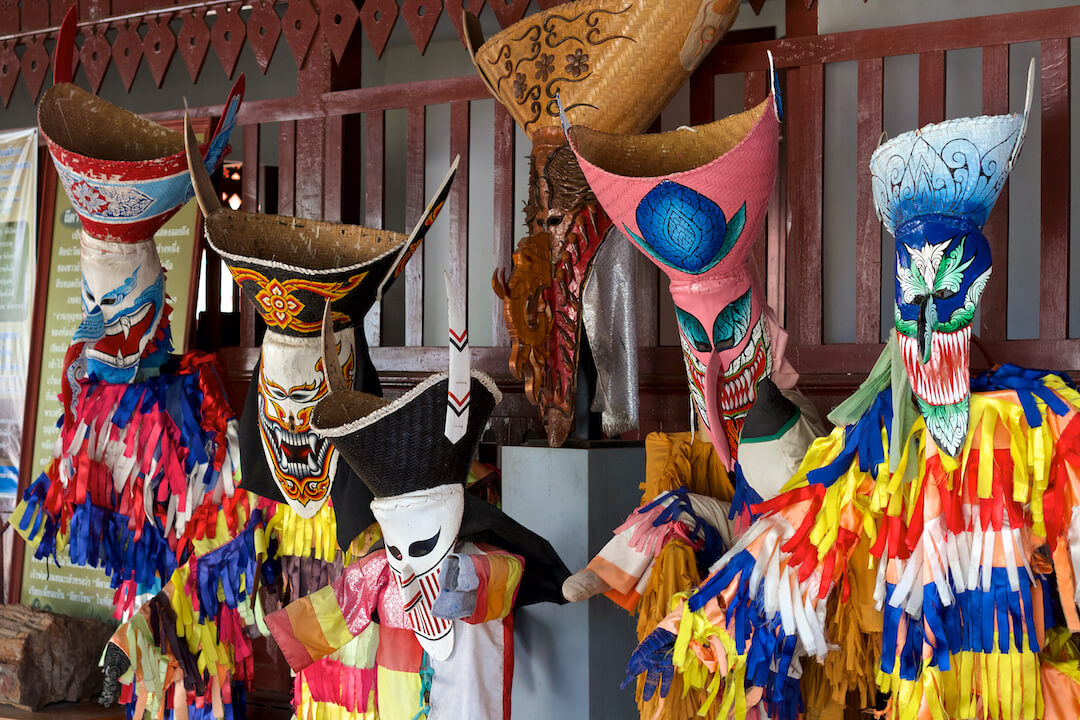 Dan Sai Folk Museum
If you have your own wheels it is possible to drive or ride a pleasant 3-4 hour loop out of Dan Sai that will take you through some wonderful countryside. Head out of town on route 2113 towards Na Haeo and back to Dan Sai on route 2114. There is no goal as such but there are plenty of traditional Thai villages along the route as well as one or two interesting wats that are worth visiting.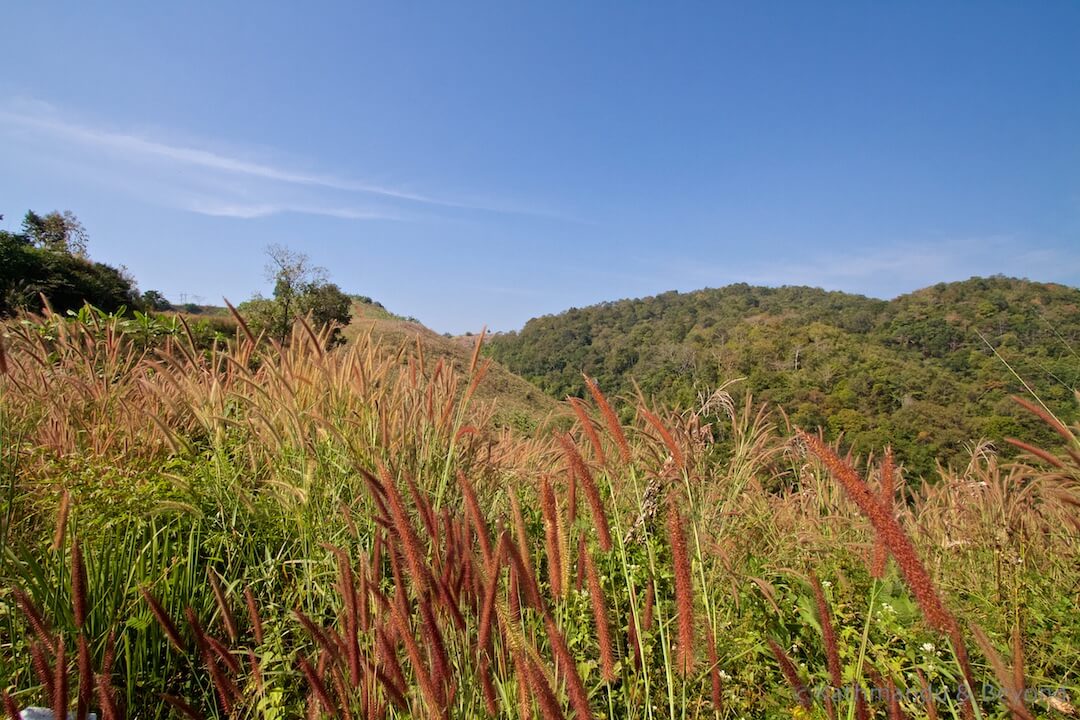 Dan Sai countryside
That Phanom (Northeast Thailand)
Situated in Nakhon Phanom Province, That Phanom is a small town situated on the bank of the Mekong River. It is approximately 50km south of Nakhon Phanom and spitting distance from Laos. Indeed, aside from being a pleasant place to stay for a couple of days, one of the town's highlights is the Lao Market which is held twice weekly on Mondays and Thursdays.
Lao Market in That Phanom
This particular market has to be one of the friendliest ones we have visited in Asia with both Thai and Lao vendors happy to interact and show off their curious products. Everything you can think of was on display when we visited – dried lizards, bearskins, rhino horns (*), deep-fried bugs – the lot! On market days there is a constant flow of boats crossing from one side of the Mekong River to the other and it is also interesting to watch the boats loading and unloading their goods.
(*) Whilst we definitely do not approve of trade in rhino horns and other body parts from endangered species, it is impossible to avoid seeing such objects in some of the off-the-beaten-track markets throughout south-east Asia.
That Phanom is also home to the highly revered Wat Phra That Phanom. The temple is often busy with not only Thai pilgrims but also Lao ones who come across the Mekong to worship. Even if you are templed-out, we would still recommend a visit if you are in the area.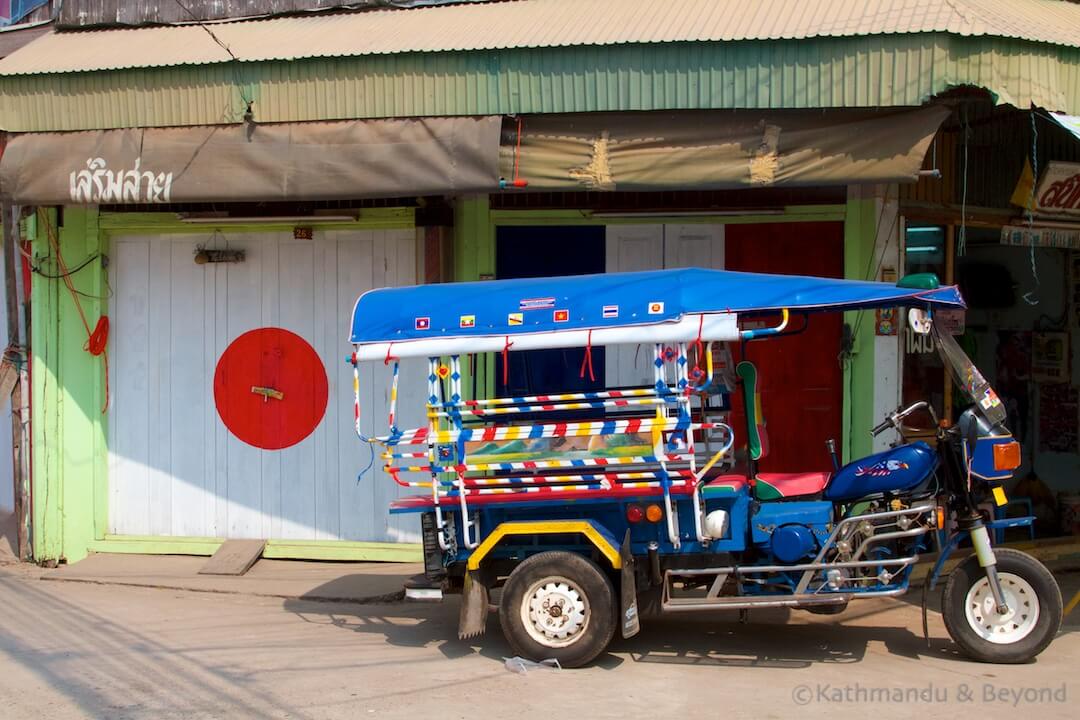 That Phanom
Nan (Northern Thailand)
When we want to slow it down for a month or two we always head back to Chiang Mai. However, we are always on the lookout for a 'new' Chiang Mai and we both agree that Nan may well be it.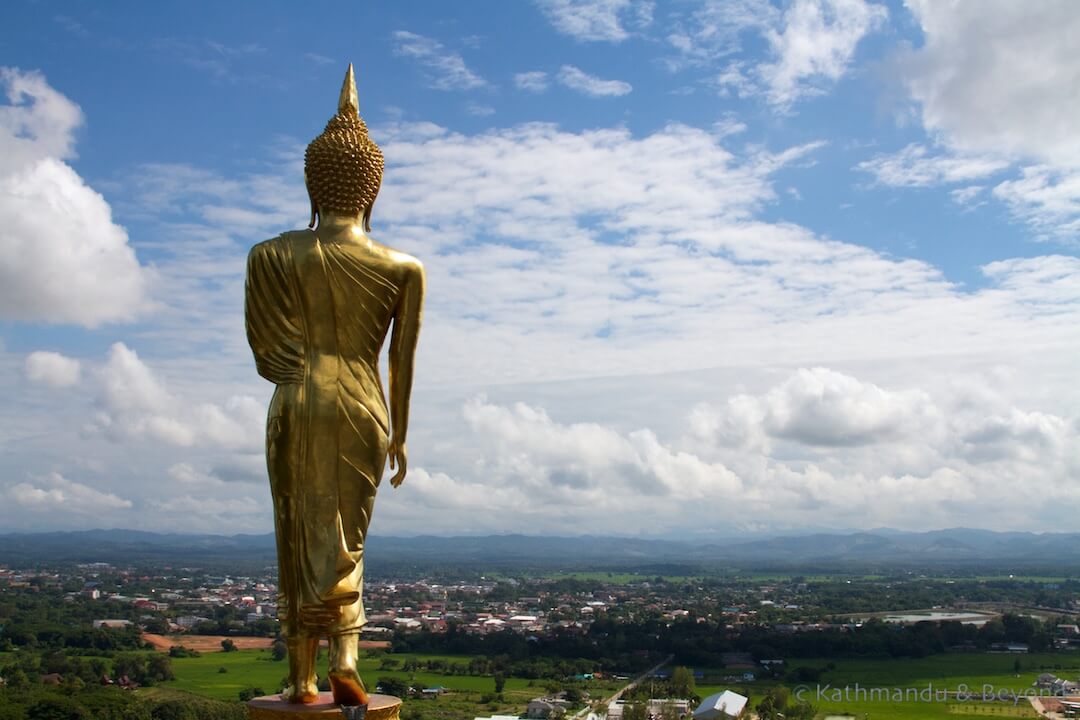 Wat Phrathat Khao Noi in Nan
Situated in the province of the same name, Nan is compact, laid back and has an attractive riverside setting. Like Chiang Mai, there are a number of interesting wats and other attractions within the town itself plus several out-of-town excursions that are well worth the effort. Wat Phumin (famous for its murals), Wat Phra That Chang Kham and Wat Hua Khuang are all close to each other whilst Wat Ming Muang is a short cycle ride away and reminded us of the White Temple (Wat Rong Khun) in Chiang Rai. Like most towns in Thailand these days, Nan has a Saturday and Sunday Walking Street market and further afield, Nan Riverside Art Gallery has some interesting exhibits. There is also good trekking and rafting nearby and Phrae (another attractive northern town) is only 1½ hours to the southwest.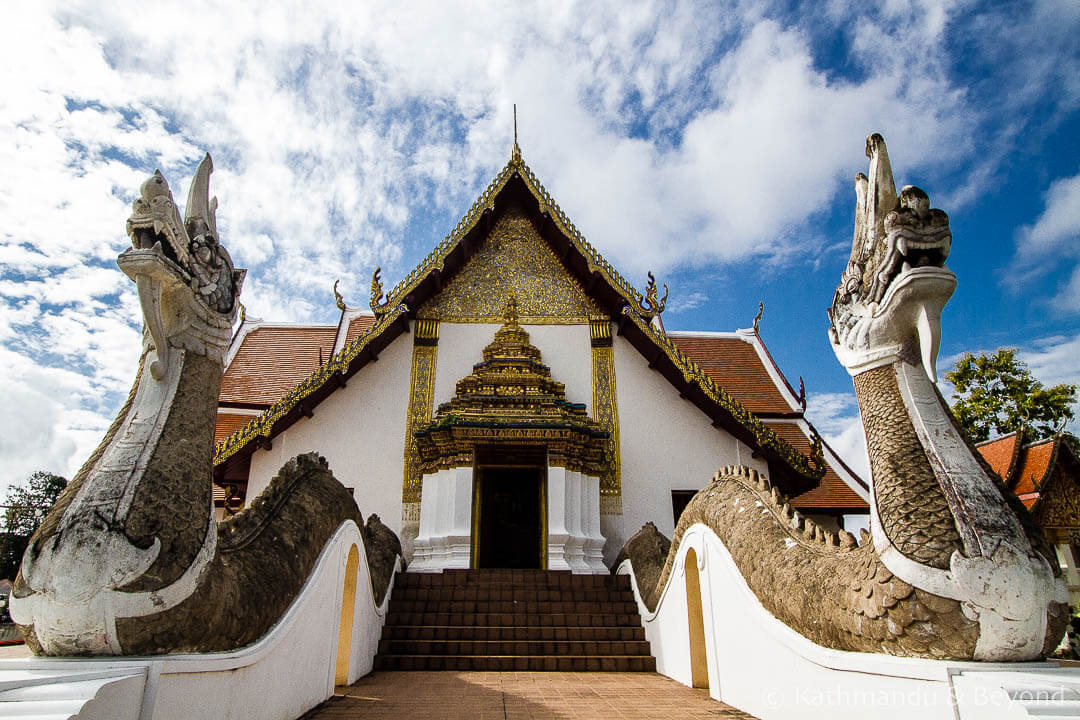 Wat Phumin in Nan
But here's the mystery … Unlike Chiang Mai, Nan is refreshingly free of foreign tourists and we cannot work out why? Plenty of Thais visit but for the time being, Nan is well and truly off the tourist radar. We can easily see ourselves staying put in Nan for a month or two at some point in the future.
Mae Hong Son (Northern Thailand)
There will come an age when the thought of visiting the popular traveller-hangout of Pai (3 hours northwest of Chiang Mai) will fill you with dread. If you are under thirty years old and reading this blog you will probably disagree with this statement but trust me, the day will come and that's when it'll be time to get on the bus, jump on the scooter or start the ignition in your car and head 100km further west to the mountainous town of Mae Hong Son.
To many, Mae Hong Son is perceived as a popular destination and compared to other towns mentioned in this blog it is. However, in reality it sees far fewer visitors than many other places in northern Thailand (Chiang Mai and the Golden Triangle for example) and still exudes an air of remoteness.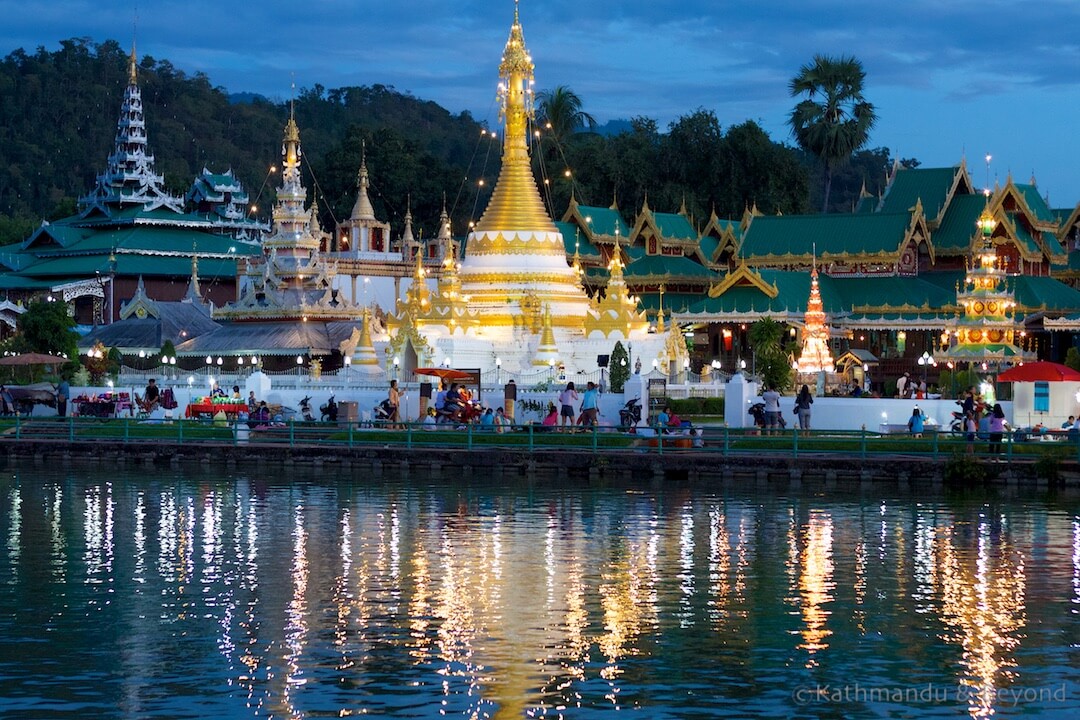 Mae Hong Son
Mae Hong Son:  Wat Phra Non (left) and Wat Prathat Doi Kong Mu (right)
There is much more to Mae Hong Son than visiting a Long-necked Karen village and bamboo-rafting on the Pai River. The Shan temples in and around the town are a constant reminder of how close you are to the Burmese border and there are some great day trips into the surrounding countryside, especially if you have your own transport. We particularly enjoyed the view from the hilltop-located Wat Phrathat Doi Kong Mu, especially in the early morning when a sea of fog descends across the valley below, and the food in Mae Hong Son is delicious. The Morning Market (breakfast) and Walking Street Market (dinner) are great for grazing but Ban Phleng restaurant located just south of the town was the place we kept heading back to. For authentic northern Thai cuisine, it doesn't get any better than this and we still think it is one of the best places to eat in all of northern Thailand.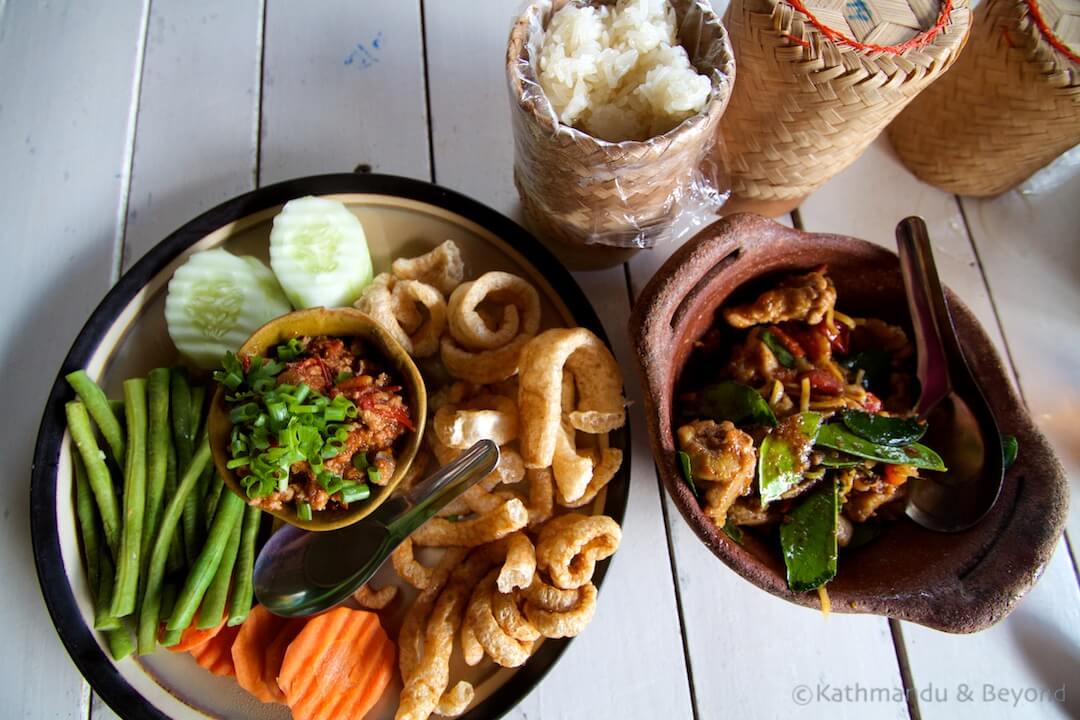 Northern Thai cuisine, Mae Hong Son
Out of town, we can recommend visits to the Mae Sakut Nature Trail and the Chinese outpost of Ban Rak Thai, which is also known as Ma Awe. Both are more about the journey there and back rather than the destination itself but the place we liked the most was Mae La Na. This tiny Shan village is located 74 km (2 hours driving) from Mae Hong Son back in the direction of Pai. Admittedly, visiting from Mae Hong Son would mean rather a long day trip but it's worth it and there is the option to overnight in a local homestay which we would also recommend. It is also easy to visit Mae La Na en route between Pai and Mae Hong Son but having your own transport makes this a much easier option.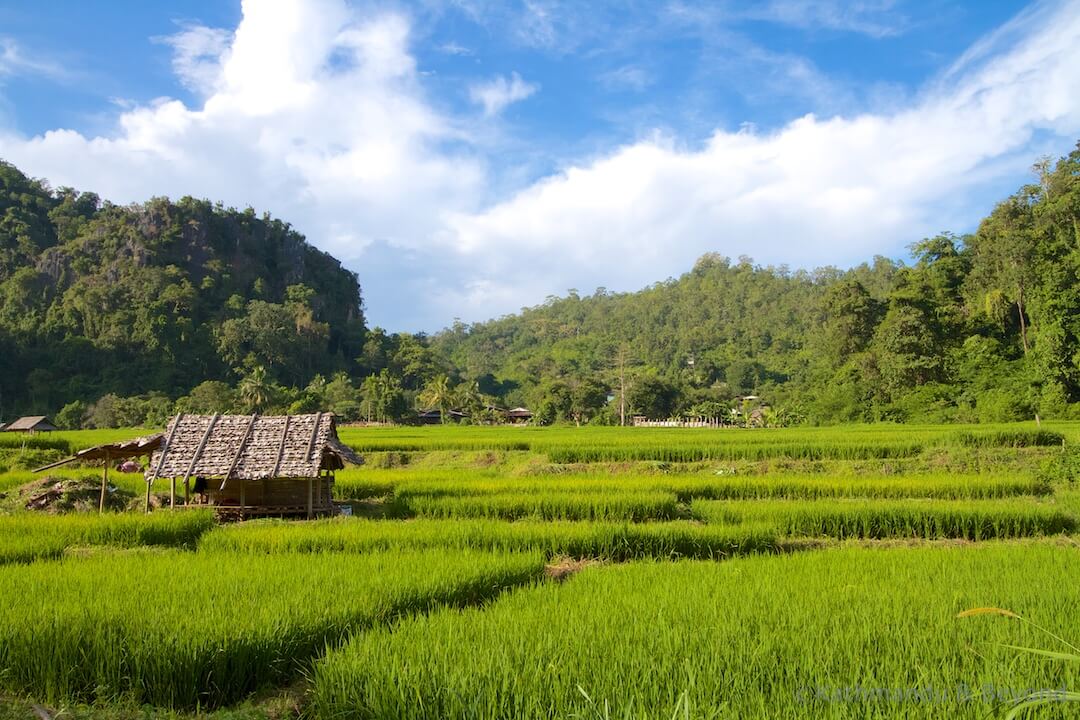 Mae La Na
Nong Khai (Northeast Thailand)
There isn't a great deal going on in Nong Khai and that's the reason we like it. Located only 26km from the Laotian capital of Vientiane, Nong Khai does actually see more than its fair share of tourists (visa-runs, tourists heading over the border after a visit to Laos, etc.) but the majority of them don't hang around and as night falls, Nong Khai becomes a sleepy Mekong River border town. There are good places to stay (Mut Mee Garden Guesthouse for example if you can get one of the better rooms) and nice places to eat.
Cycling is the best way to see the town's attractions, with Sala Kaew Ku Sculpture Park being the highlight. Often referred to as Buddha Park, the park features many Hindu-Buddhist inspired sculptures that are pleasurable to look at for an hour or two. There are several wats worth visiting and the Mekong Promenade is a nice place for a stroll or bike ride.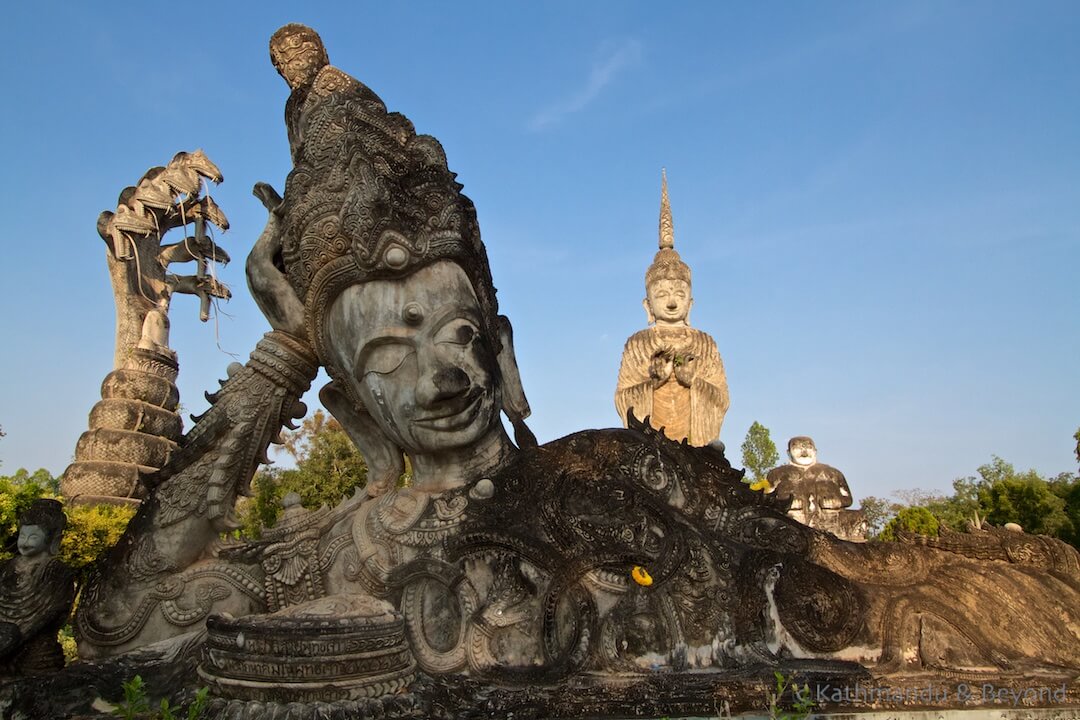 Sala Kaew Ku Sculpture Park (Buddha Park), Nong Khai
Further afield and to the west of Nong Khai, Wat Phra That Bang Phuan, with its Indian-style stupa, and the forested Wat Hin Mak Peng are both worthwhile excursions and we also enjoyed Phu Phrabat Historical Park, 68km southwest of Nong Khai. The park consists of a number of weird rock formations that can be seen via a couple of trails which vary in length and are clearly marked.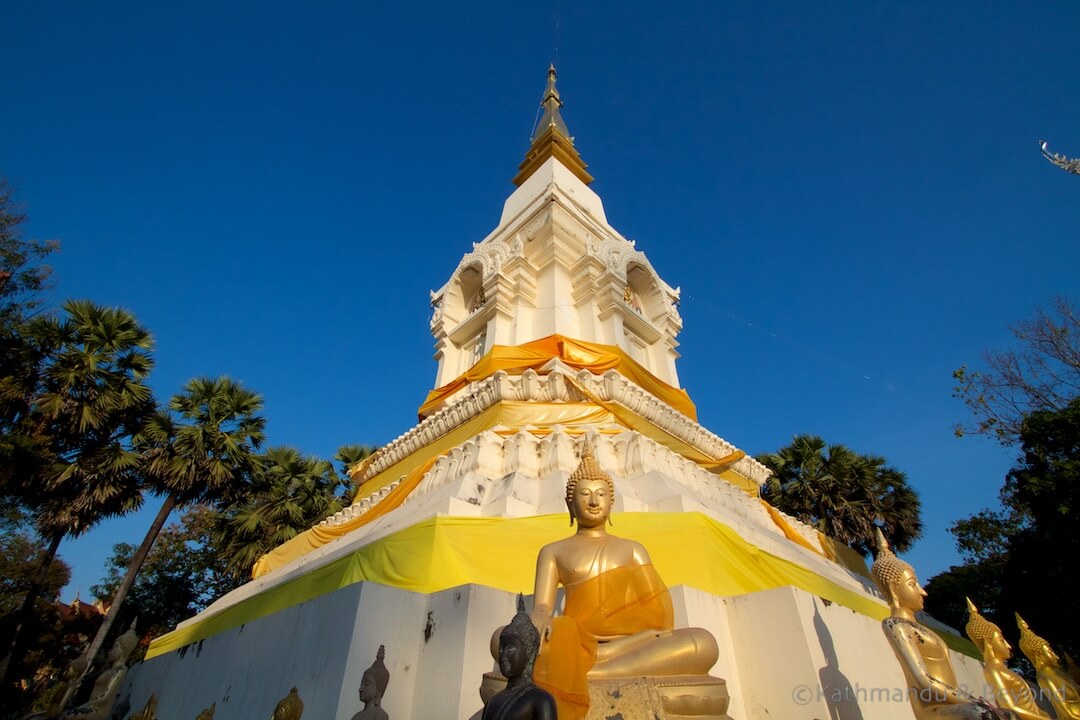 Wat Phra That Bang Phuan near Nong Khai
---
Looking for more Thailand travel inspiration?
---
---