I'm not sure what it is these days, but we seem to spend more and more of our time searching for vintage planes, trains and automobiles (there's got to be a film in there somewhere!). We've seen brightly-coloured Soviet-era locomotives in Belarus, weird and wonderful aeronautical contraptions in Ukraine and Serbia, plus, we have visited quite a few museums dedicated primarily to very cool retro cars harking back to the 1980s and beyond. So, when we read about a still-active fan-shaped train garage in the small centrally located Taiwanese city of Changhua, we promptly added it to our list of things we wanted to see while in the country.
This glorious roundhouse, as they are also known, is the last of its kind in Taiwan and home to various steam, electric and diesel locomotives. It was constructed by the Japanese in 1922 and was one of six fan-shaped garages built during their occupation of the island (*). Although there are still quite a few roundhouses the world over, a high percentage of them have been adapted for another use or converted into museums and, according to one source, there are just three fully operational garages like this one left on the planet, with the other two being in Mexico.
(*) 1895 – 1945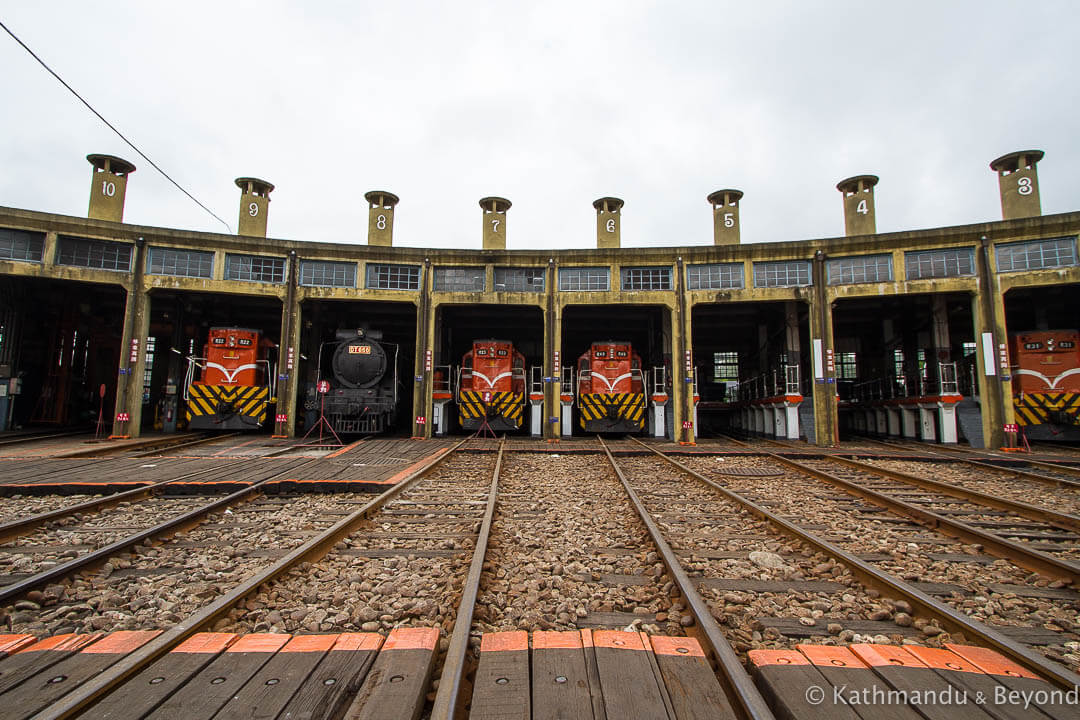 Fan-Shaped Train Garage, Changhua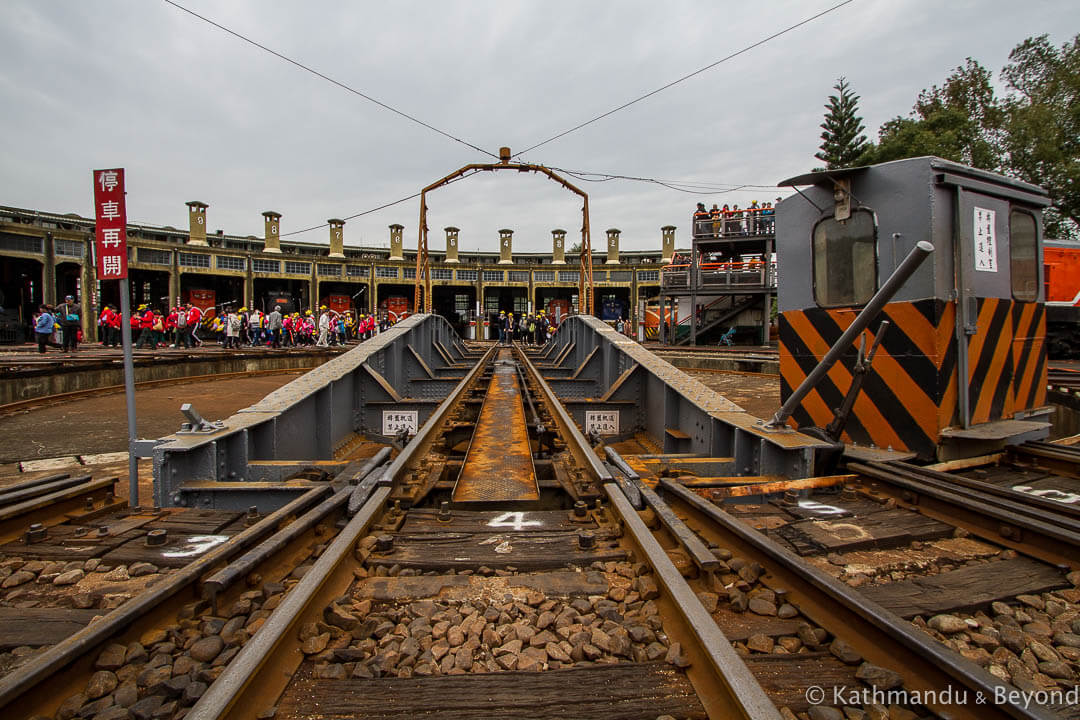 Fan-Shaped Train Garage, Changhua
The depot, which we shared with a small army of Taiwanese school kids for the entire time we were there, reminded us of a scene from Thomas the Tank Engine and although the place is still in use, there is a pretty relaxed attitude to health and safety. You are free to wander all over the yard and tracks plus, it is also permitted to get reasonably close to the engines that are all cosied up inside the roundhouse, either waiting repairs or generally taking it easy (although you aren't allowed to enter the roundhouse or board the engines). It's only when a train needs to be relocated, using the circular, rotatable track, does a worker come out and ensure everyone is well back and out of harm's way.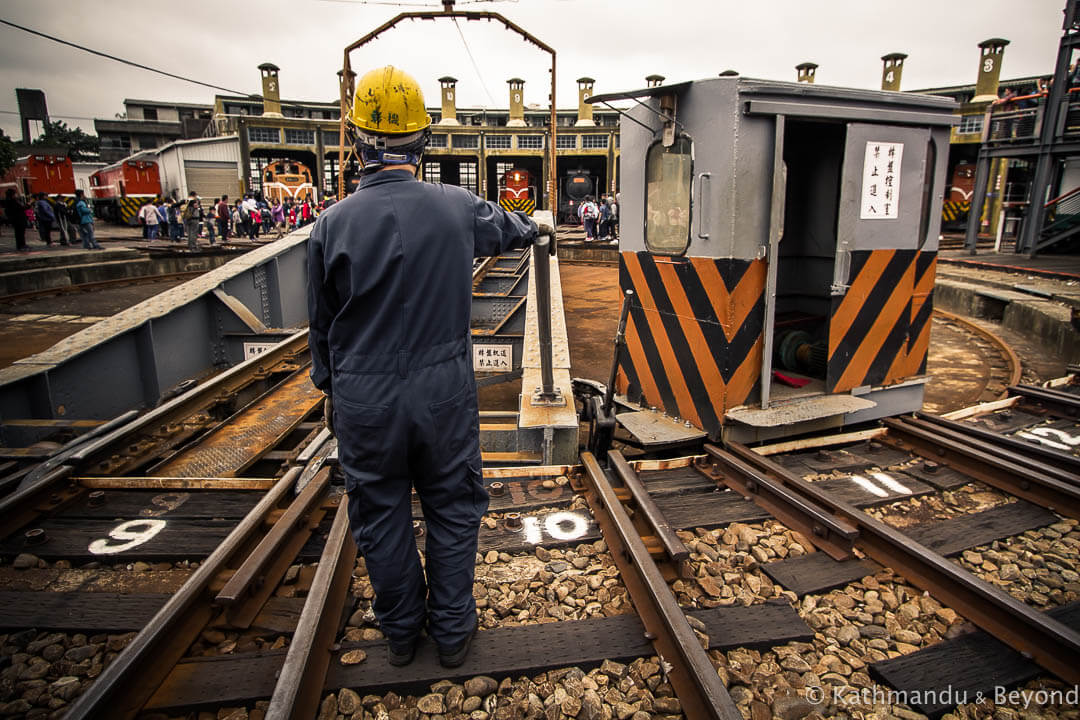 Fan-Shaped Train Garage, Changhua
We were lucky enough to see a train being repositioned using the motorised turntable and I must say, it was pretty darn exciting. We jostled for a decent position (*) on the viewing platform and watched this huge chunk of metal be effortlessly shunted into one of the yard's twelve garages. The operation was nicely rounded off with a couple of honks on the horn. We even took a video but neither of us can locate it. There are, however, plenty of clips on Youtube showing the manoeuvre if you are interested in seeing one.
(*) We didn't have to jostle too much. The Taiwanese are extremely polite people and ensured we had a good spot from which to observe the goings-on.


Fan-Shaped Train Garage, Changhua
Are we turning ever-so-slightly into anoraks (trainspotters)? Not yet, but we did thoroughly enjoy ourselves. After nearly ten years of continuous travelling, conventional tourist sights don't flick our switch quite as much as they used to and, as a result, we are forever on the hunt for the more unusual. The fan-shaped train garage in Changhua is more than unusual, however; it is one of Asia's most unique attractions and, although Changhua isn't the most interesting city in Taiwan, it is worth visiting if only to see this splendid contribution to the locomotive world.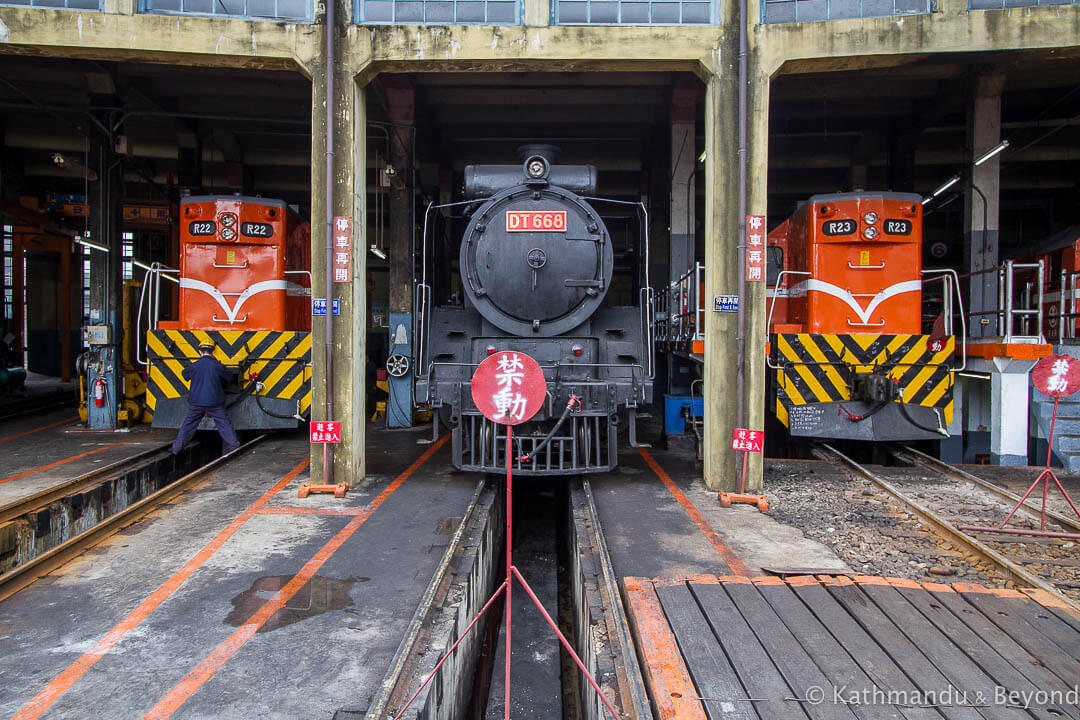 Fan-Shaped Train Garage, Changhua
Visiting the fan-shaped train garage in Changhua
The garage is 700m northeast of Changhua's main railway station and easy to reach on foot (GPS: 24.085556, 120.54). The current opening times are Tuesday through Friday 1300-1600 and Saturday, Sunday and public holidays 1000-1600. The garage is closed to the public on Monday. Assuming an arrival into Changhua by train or bus (they are close to each other), it is worth double checking this information with the Tourist Information Centre, which is situated inside the train station.
You are supposed to show ID upon arrival but, in reality, you may only be asked to sign the registration book, which is what happened with us. There is no entrance fee.
Apparently, because of the proximity of high-voltage equipment, drones and selfie sticks are not allowed. We certainly didn't see any drones but as for selfie sticks (*), I can't remember if we saw anyone using them or not. You are also expected to wear decent footwear (no open sandals, flip-flops etc.). This wasn't checked but, then again, it was wintertime and pretty cold so maybe nobody saw the need to carry out this particular inspection.
(*) Wouldn't it be great if every attraction the world over installed high-voltage equipment! 


Fan-Shaped Train Garage, Changhua
---
---
If you enjoyed our post about Taiwan's fan-shaped train garage in Changhua please pin it to your travel or train spotting boards!



---
---