25 May to 10 June 2010
As we leave Japan on the 'slow boat' to South Korea (well the ferry) we thought it would be a good opportunity to report back on Japan and list some of our likes and dislikes. Thankfully, it has mainly been likes. Overall, Japan has lived up to expectations and we have had a fantastic couple of weeks.
What we like about Japan and some general observations…..
The Japanese Tourist
The fact that the Japanese are stereotypical tourists in their own country in the same way they are overseas amused us both. They buy 'grockle bait' (tacky souvenirs) by the truck load and take photos of anything and everything including plenty of pictures of us with them even though we've not met before.
Toilet Seats
The light goes on and the toilet seat automatically goes up when you open the door – cool! And there is more: the toilet seat is heated and water for washing your hands comes out of the top. There is also a button to press to create a flushing sound or pleasant music so one's modesty is protected and the person in the cubicle next door can't hear you peeing. In fact, all in all Japan has the daddy of all bogs and they make for a great place for a relaxing Jimmy Choo (*)
(*) Credit must go to Kirsty for inventing this new piece of rhyming slang.
Quirky Japanese Fashion
Kirsty, more than Mark, fitted in with the unique Japanese sense of style, although Mark couldn't fail to notice the extremely short skirts worn by most of the girls. The styles were a little 'Bo Peep meets Susie Sioux' but they seem to work although Kirsty didn't think they would enhance her image.
Japan Rail
Travelling around Japan by rail is both easy and cheap. Yes, you heard me right, rail travel in Japan is inexpensive but only if you buy a Japan Rail Pass before your arrival. You have to buy them overseas (to ensure only genuine tourists use them) and they are valid for 7, 14 or 21 days and allow unlimited travel on the Japan Rail network. We purchased a 14-day pass for ¥49,000 (about £400) each and to put it into perspective, we only had to travel from Tokyo to Kyoto and back again for the pass to have paid for itself. For Japan, that is a bargain!
Needless to say, all trains run like clockwork, the toilets are clean and the seats comfortable. What's more, when the guard comes into your carriage to inspect tickets, he stands to attention introduces himself, removes his cap, and takes a bow – civilised or what?
Japanese Taxis
Although we haven't actually been in one (*), the taxis and their drivers are very cool in Japan. The taxis look like something from Soviet Russia and the drivers wear a suit, white gloves and a peaked hat. I bet you get none of the 'I'm going east, mate' and 'Yes, going via Stepney is the quickest route between 'Eathrow and Baaarnet. That'll be £100 please' crap from your friendly Japanese taxi driver?
(*) It is strange but this is the second country in a row (the first was Taiwan) where we have not had to make use of a taxi. I can't think of anywhere else in Asia where you could get away with this. Perhaps Korea will be the same?
Japanese Castles
The castles in Japan are real Samurai stuff and great places to let your imagination run wild. They look very different from the castles we get in Europe and furthermore I wouldn't say no to a nice suit of Samurai armour either – heavy I admit, but useful in Guildford around the Priory Centre on a Saturday night. It goes without saying that the sword would come as standard.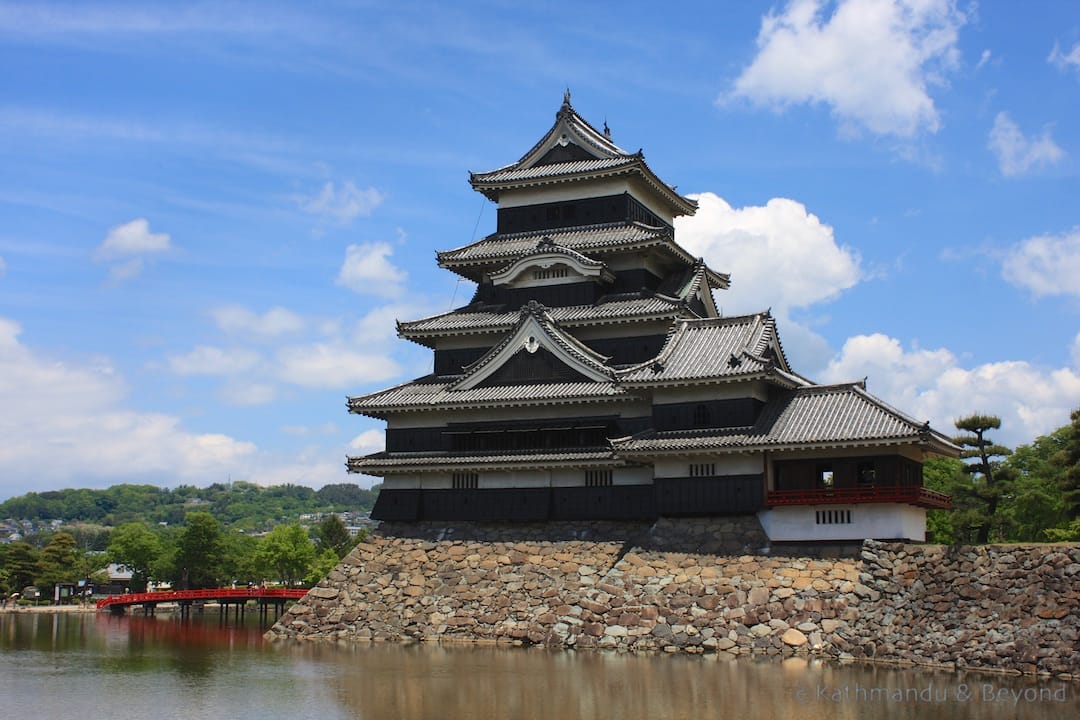 Plastic Food
Most restaurants display plastic versions of what they serve and this is great because it helps us to order and therefore prevents us from starving.
Tourist Information Centres
These are everywhere (train stations, tourist sights and even on street corners) and give you lots of good maps and information. The staff speak English and they will help you with all sorts of things including booking a room and finding the nearest McDonalds. There is a small hotel tax (nothing silly and only on upper end hotels) and all the money collected goes towards funding the free maps and other leaflets that you get given by the tourist boards. This is a great scheme that works well (especially as we don't pay the tax as we only stay in cheap hotels and hostels). You just know that if this scheme was adopted in other Asian countries such as Cambodia or India for example then 1) the amount would be higher (because of course all westerners are millionaires), 2) you wouldn't actually get anything and 3) the money would 'vanish'.
Neon Lights
Japanese cities come alive at night. In particular Tokyo and Osaka are great places to experience this side of Japan. Lord only knows what the electricity bills are like in Japan?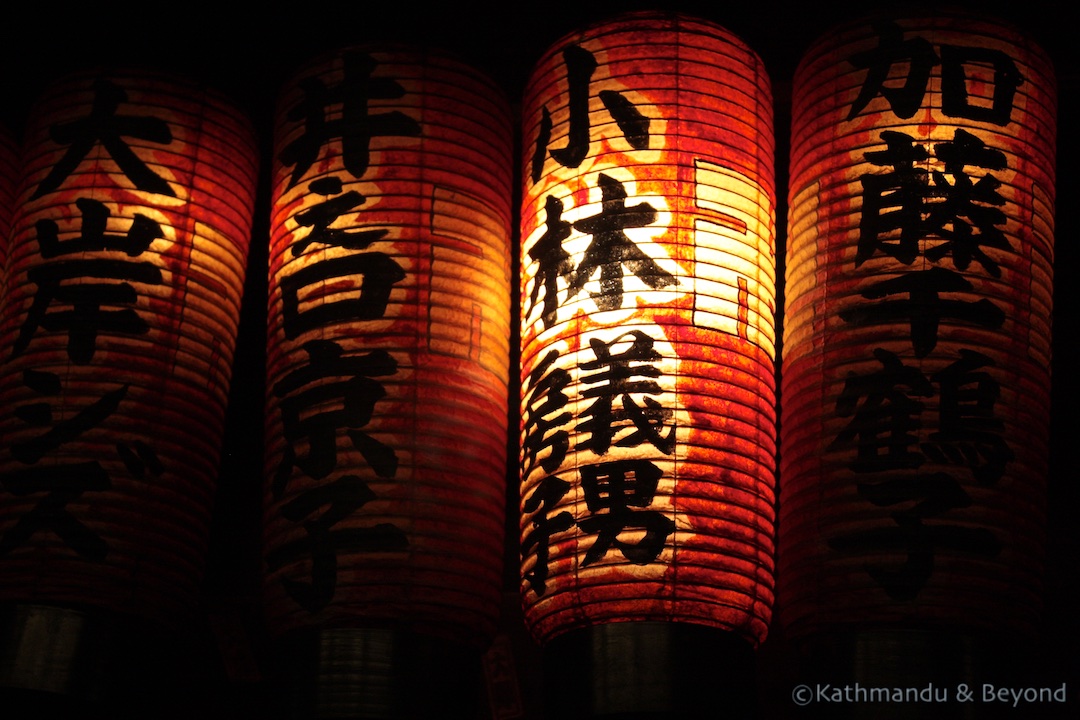 Hostels
It has been a long time since either of us has stayed in a conventional hostel and even longer since we have stayed in a dormitory. Apart from the obvious lack of privacy, the six alarm clocks going off at various intervals between 5am and 9am and the nasty boy smells, hostels, and in particular dorms, have come on leaps and bounds in the past twenty years. Apart from feeling like a 10-year-old again sleeping in bunk beds, the beds are clean, large and comfortable and you now get your own bedside light, power sockets and in some instances, privacy curtains as well. On top of this, the staff are friendly (anyone remember the malicious nut jobs that used to run the hostels in Europe back in the '80s and '90s?) and the common areas (including the bathrooms) are spotless and welcoming. Perhaps it is only like this in Japan?
Here in Japan, we are in dorms most nights because 1) it is the cheapest option (about £20- £25 per person per night) and, 2) everything else in our price range (such as private rooms in the hostels which are usually only about £10 extra a night) are always full so we have little choice but to head to the dorm.
A more suitable grade of traveller
Due to the high prices in Japan, you can guarantee you will not bump into undesirable types such as hippies, lazy gits and 'know it all' travellers, the type that think they know everything but in fact know bugger all if you took them away from their Khao San Road/Indochina circuit/Phi Phi comfort zone. (This is the snobby traveller in Mark coming out!)
Booze
Although the prices (about ¥500 – ¥800 a pint (£4 – £7)) have kept us well and truly away from the bars (which is a shame as they have English style pubs in many places that look very inviting), we have managed to sample the local liquor and I must say the beers are excellent.  Kirsty has developed a taste for sake which she buys in a jam jar from a supermarket for about ¥250 (£2) a pop. Beer from a vending machine or a supermarket is about the same for a 500ml tin.
If we were blind; no, not blind drunk but visually impaired, practically all cities and towns we visited have a system of raised markings down the middle of the pavements to guide the blind along their routes – either dots or dashes depending on whether it's a straight route or a crossing or junction point. Very clever indeed.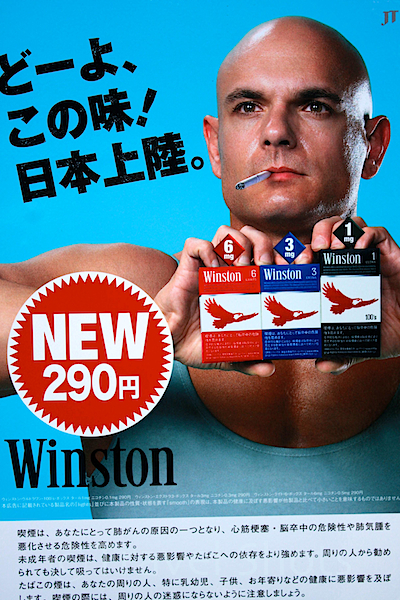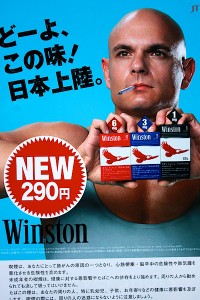 The Smoking Police
As well as in most public places and restaurants it is forbidden to smoke on the streets in Japan unless you are in a designated smoking area. In Tokyo we saw this being put into force and the 'smoking police' were out fining those offenders who were having a quiet puff in the wrong place. Incidentally, cigarettes are one of the few things in Japan I would describe as cheap which didn't really help us but we got some big laughs from the cigarette vending machines which carried ads with a huge muscular Russian-looking guy in skimpy denim shorts – the message? Smoking makes you big and strong and (as one friend pointed out), very gay! (See picture for evidence).
What we don't like about Japan…….
Food, Prices, Food, Prices and Food Prices
To try to quantify the above, a loaf of bread with three slices cost ¥130 (£1) in one supermarket and an apple was a steal at ¥178 (£1.50) but the best one was a packet of six mushrooms for ¥200 (just under £2). Needless to say, eating out was much more. We did enjoy the sushi however, and the head rush when you eat too much wasabi and it attacks the inside of your nose!
Slippers Etiquette
This is a nightmare! There are different slippers for different occasions and different parts of the house. For example, when you come indoors you leave your shoes and replace them with slippers. When you want to go upstairs you change into a different pair again and yet another when you want to go to the toilet. I always forgot to take off the 'toilet slippers' when I leave the can and ended up heading back about five minutes later to  change back into my 'upstairs slippers'.
Umbrella Etiquette
Japanese women dislike the sun as well as the rain and given that it is either raining or sunny in Japan for most of the day you are forever dodging umbrellas.
ATM machines
It is not the machines that we dislike but more the 'all too frequent' visits to them. We seem to go every other day and draw out ¥20,000 (about £175). To add insult to injury, the smallest note that the ATM will dispense is ¥10,000 so you don't even have anything to show for your £175.
¥10,000 a day gets us two dorm beds (¥2500 each), some breakfast stuff from the convenience store, a snack (again from the convenience store) for lunch, a reasonable but cheap dinner, a few entrance fees (which are about ¥500 per person per site) and if we are lucky a beer (for me) and a cup of sake or a fruit-based drink (for the lady) from, yes you have guessed it, the convenience store yet again. It's basic living but then I am not complaining. We knew what it would be like before we arrived and looking on the plus side, anywhere we go now (certainly within Asia anyway) will seem cheap in comparison and we can live like royalty!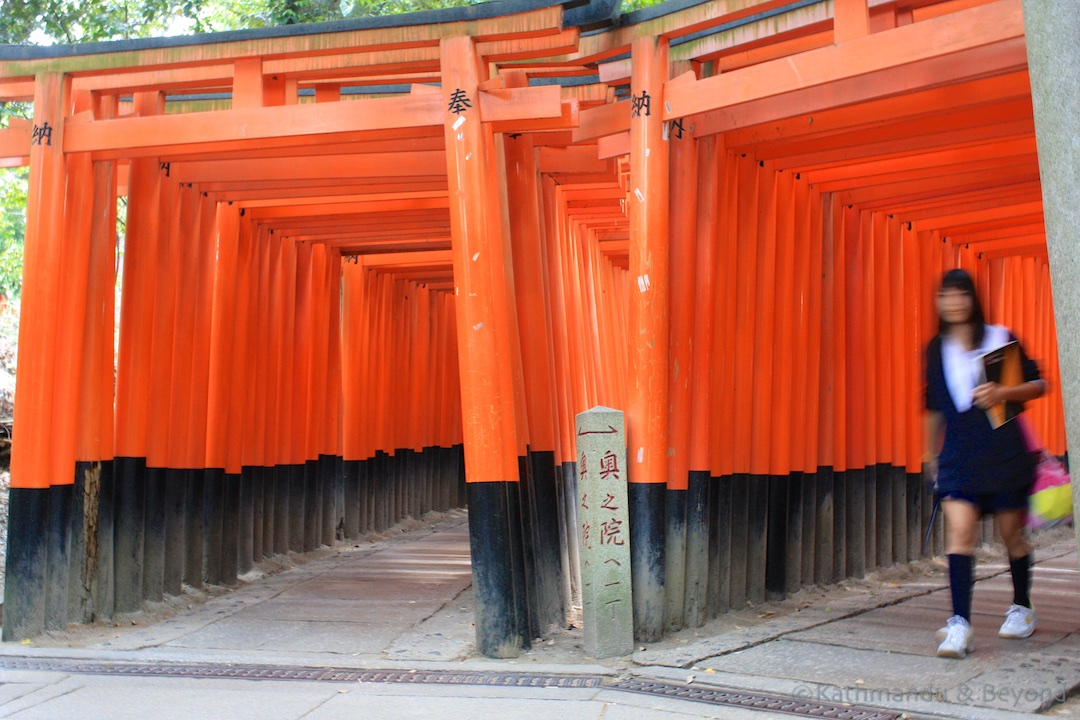 Also, all things considered, Japan is worth the expense and a great place to visit – it's relatively expensive compared to other parts of Asia but is very comparable to much of Europe, for example. The 'sights' are not world-class (Angkor, Taj Mahal level for example) but (and I apologise in advance for the cliché remark) Japanese culture is quite unique and it is a fascinating country to explore. All in all, Japan has been well worth the cost and very enjoyable.