Bulgaria itinerary – What to see in Bulgaria in 2 to 3weeks
BULGARIA ITINERARY SUMMARY
Sofia – Rila – Bansko – Plovdiv – Stara Zagora – Kazanluk – Shipka – Buzludzha – Burgas – Varna – Shumen – Veliko Tarnovo – Sofia
BULGARIA ITINERARY HIGHLIGHTS
Rila Monastery
Veliko Tarnovo
Socialist-era monuments including the Founders of the Bulgarian State Monument and Buzludzha
Black Sea coast
Best time to travel: May/June and September/October
Recommended duration: 2 to 3 weeks 
Best place to slow down: Plovdiv, Veliko Tanarno or Varna 
Mode of transport: Bus and train
BULGARIA ITINERARY INTRODUCTION
If you are short on time or don't want to do too much travelling, a simple Sofia, Plovdiv, Veliko Tarnovo route with a couple of day trips, will take you to all of Bulgaria's main tourist attractions. However, our comprehensive Bulgaria itinerary is designed for those travellers who want to dig a bit deeper and visit some of Bulgaria's lesser-visited towns. This itinerary is also perfect for those with an interest in the country's socialist-era monuments and related history.
Many Bulgaria itineraries assume that you have your own transport and although hiring a car is pretty straightforward (we've done it twice for Bulgaria road trips), this Bulgaria itinerary is based on travelling by public transport.
BULGARIA ITINERARY IN DETAIL
Our suggested Bulgaria itinerary starts in the capital Sofia, although there are also international flights into Varna and Burgas on Bulgaria's Black Sea coast, so you could pick up the itinerary at any point.
Sofia – suggested length of time: 2 or 3 nights
Compact Sofia is easy to explore on foot and, although the main sights are broad-ranging, from Roman ruins to Communist-era monuments, many of them can be seen in a day or so. If you enjoy wandering around, discovering old architecture, visiting historic sights, and relish nice bars, restaurants and cafes, you will be happy in Sofia. Food and wine/beer are good quality and inexpensive for a European capital city, and the locals are friendly.
Start a self-guided walking tour of Sofia's highlights at the impressive Alexander Nevsky Cathedral, before continuing to the Russian Church of St. Nicholas and the Church of St. George, a distinctive red brick rotunda. Nearby is the Largo, one of Sofia's most iconic pieces of socialist-era architecture, and the monument of Saint Sofia, after whom the Bulgarian capital is named.
In the same area is the Serdica archaeological complex, where the restored remains of the excavated Roman city of Serdika are on public display. Next on your walk are the Ottoman-era Banya Bashi Mosque and (demonstrating the cultural diversity of Bulgaria through history) Sofia Synagogue, one of the biggest synagogues in Europe. Between the two is Sofia's central market – perfect for grabbing a snack or souvenir.
One of Sofia's most prominent landmarks, the National Palace of Culture is about a 15-minute walk from the sights listed but chances are you will come across it if you explore any of Sofia's many parks and green spaces. It was opened in 1981 to celebrate 1300 years of the Bulgarian state and is a must for travellers interested in architecture from that era.
If you are interested in seeing more of Sofia's Communist-era architecture and monuments, add another day in Sofia and follow our suggestions. 
Other alternative things to do in Sofia include looking for an unusual form of street art or visiting museums such as the Red Flat, the Museum of Illusions or the Museum of Socialist Art.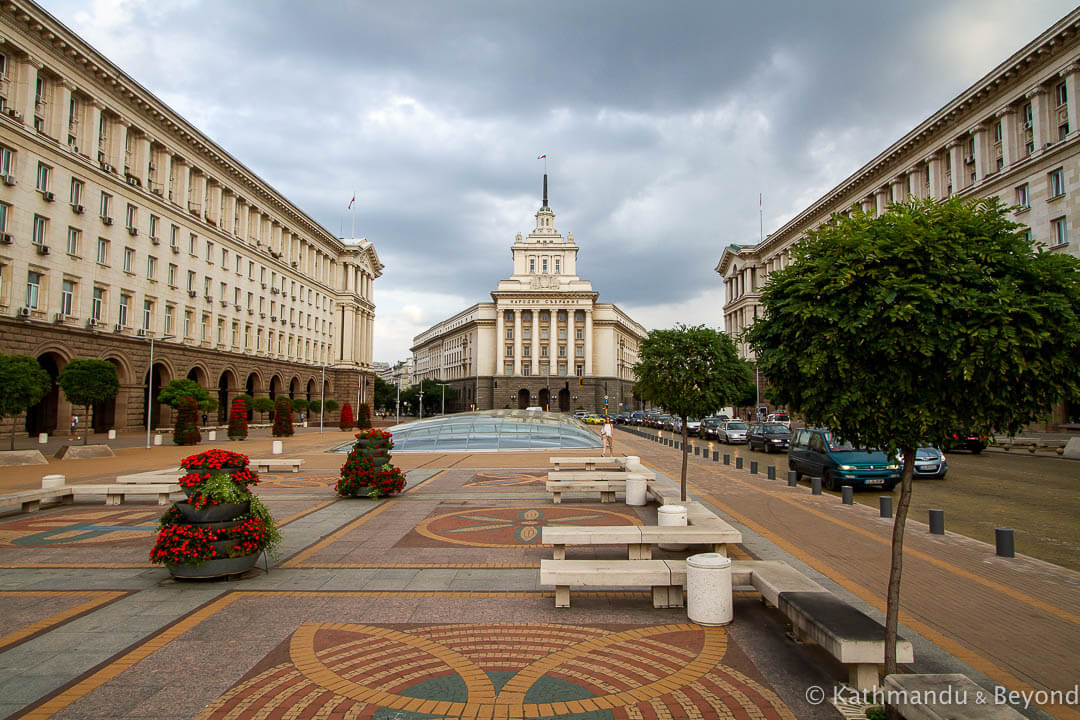 Former Communist Party House (The Largo) in Sofia
Where to stay in Sofia
We have stayed at Hello Sofia Guesthouse near the Central Market. It was good although the prices seem to have increased substantially since our stay. Hostel Mostel gets consistently good reviews but there are plenty of other Sofia hostels to choose between.
These days we favour staying in an apartment and, after a lot of research, we selected Chick Midtown Stylish Apartment for our 2020 trip. Unfortunately, that trip didn't happen! However, there are lots of alternative apartments in Sofia. Of course, Sofia has hotels to suit all budgets and styles.
Sofia to Rila Monastery
Rila Monastery is a popular day trip from Sofia, but we have included it as an overnight stay on our suggested Bulgaria itinerary. There are a couple of ways budget travellers can reach Rila Monastery independently from Sofia.
The most direct route is to take the daily Rila Express bus from Sofia's West (Ovcha Kupel) bus station which will drop you right outside the monastery. It departs Sofia at 10.20 am, arriving at 1 pm. For those doing a day trip to Rila Monastery, the return bus departs for Sofia at either 3 pm or 3.30 pm (depending on the time of year). Two hours is ample time to tour the monastery.
Another option is to take a cheap tour to Rila Monastery but, if you are planning to stay the night in Rila or close by, not return with the transport to Sofia (don't forget to tell your guide/drive!). Alternatively, several companies provide self-guided tours of Rila – effectively they provide you with direct transport from and back to Sofia. One such company is Rila Shuttle. The advantage of this company is the central pick-up and drop-off point next to St. Alexander Nevski cathedral. It's a 10 am departure and the cost is €20 round-trip; so it's not the most economical way to travel if you are not returning to Sofia.
The final, and most flexible option, is to take one of the more frequent public buses from Sofia's Central Bus Station to Blagoevgrad (about 20km south of Rila town). Because our hotel was in Blagoevgrad, this is what we did. The journey takes around 2 hours. 
If you are staying in either Blagoevgrad or Rila town, there are regular buses (every hour or two) to the monastery. You can check the schedule here.  
Rila Monastery – suggested length of time: 2 nights
Rila Monastery, or the Monastery of Saint Ivan of Rila, to give it its full name, is an Eastern Orthodox monastery founded in the 10th century. A fire destroyed the monastery at the beginning of the 19th century, and the complex was rebuilt soon after. The Bulgarian Renaissance style stripes are its most distinctive feature. UNESCO inscribed Rila Monastery as a UNESCO World Heritage Site in 1983.
There is a dress code for visiting Rila monastery, so make sure you are appropriately attired: long trousers and skirts (at least below the knee), no sleeveless tops (bring a scarf or shawl to cover your shoulders).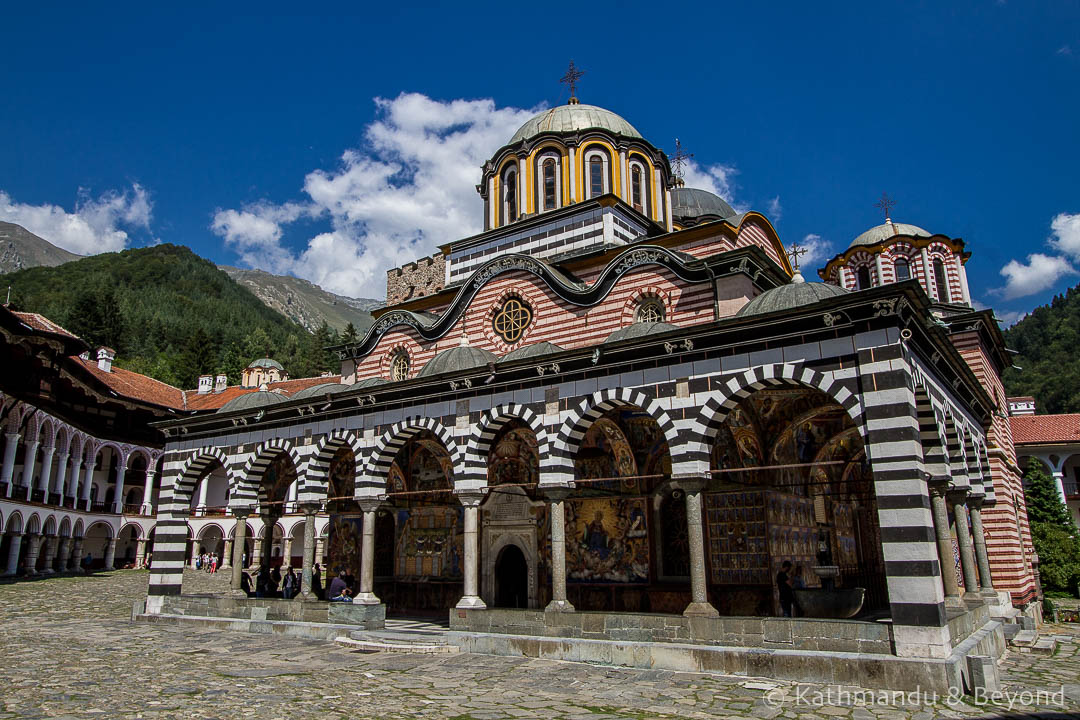 Church of the Nativity, Rila Monastery
Where to stay near Rila Monastery / Blagoevgrad 
We stayed in a cheap hotel in Blagoevgrad although it is possible to stay closer to, or even in, Rila Monastery. The monastery has dormitories and private rooms primarily aimed at pilgrims, but the monks seem open to receiving 'respectable' regular tourists. You can phone ahead, but most people seem to rock up at the reception centre. If monastic living doesn't appeal, Hotel Tsarev Vrah is next door on monastery land. A third option is to stay in somewhere like the Centaur Family Hotel in Rila town halfway between the monastery and Blagoevgrad.
Rila to Bansko
There are around ten daily buses from Blagoevgrad to Bansko, taking an hour and 15 minutes to cover the 56 km.
Bansko – suggested length of time: 1 or 2 nights
Bansko is predominantly a ski resort, and the village has developed to service the winter season. Depending on the time of year, you can either ski or hike in the surrounding Pirin Mountains. We were there in the summer and combined a little walking with exploring the cobbled streets of Bansko's old town, a thriving settlement in the 18th century.
Where to stay in Bansko
Bansko accommodation in the tourist off-season can be a bargain and it's easy to find a deal in one of the half-empty ski apartments. We stayed at Gondola Apartments & Suites.
Bansko to Plovdiv
You could take a direct bus from Bansko to Plovdiv, or you could ride on the Septemvri-Dobrinisht narrow gauge railway, frequently named as one of Europe's most picturesque rail journeys. Be prepared for a slow journey – the crawling train takes over 5 hours to cover 125 kilometres with no opportunity to purchase refreshments!
The narrow-gauge part of the railway runs from Bansko to Septemvri from where you can connect with a regular train to Plovdiv. Check the schedule here.
Should you decide to take the bus from Bansko to Plovdiv, there are three daily departures, all in the morning: at 6.50 am, 7.10 am, and 8.25 am. Note: the travel time can vary from 3 hours to longer (up to 4½ hours) depending on the need to change bus en route.
Plovdiv – suggested length of time: 2 nights
Plovdiv was a European Capital of Culture in 2019 and is one of Bulgaria's prime tourist attractions.
Established by the Thracians and then occupied by the Romans and subsequently the Ottomans, Plovdiv is one of the world's oldest continuously settled cities.
History buffs will enjoy Plovdiv, and the Roman Theatre is one of the most complete there is, although it felt a little over-restored to us. There are a few other significant Roman ruins in Plovdiv including the Stadium of Philippopolis, in the town centre, and the Roman Forum. Plovdiv Old Town has cobbled streets and attractive half-timbered houses known as Revival style architecture. Another city centre sight is the Dzhumaya Mosque, built by the Ottomans in 1364 on the site of a church.
Plovdiv is known as the city of hills – sometimes seven hills after the number of hills in and around the city, and sometimes three hills after the ones Old Plovdiv was founded on. Don't expect towering peaks – Dzhendem tepe is the tallest at just over 300 metres. If you are interested in Bulgaria's communist-era monuments Alyosha, the Unknown Soviet Soldier Memorial sits atop Bunarzhik, known as Liberators Hill and the second-highest hill in Plovdiv (at just 108 metres).
Arguably you could see all of Plovdiv's main sights in a half-day. It is, however, one of Bulgaria's most pleasant cities, and it is worth spending a little longer here, especially if you are looking for places to slow down the itinerary.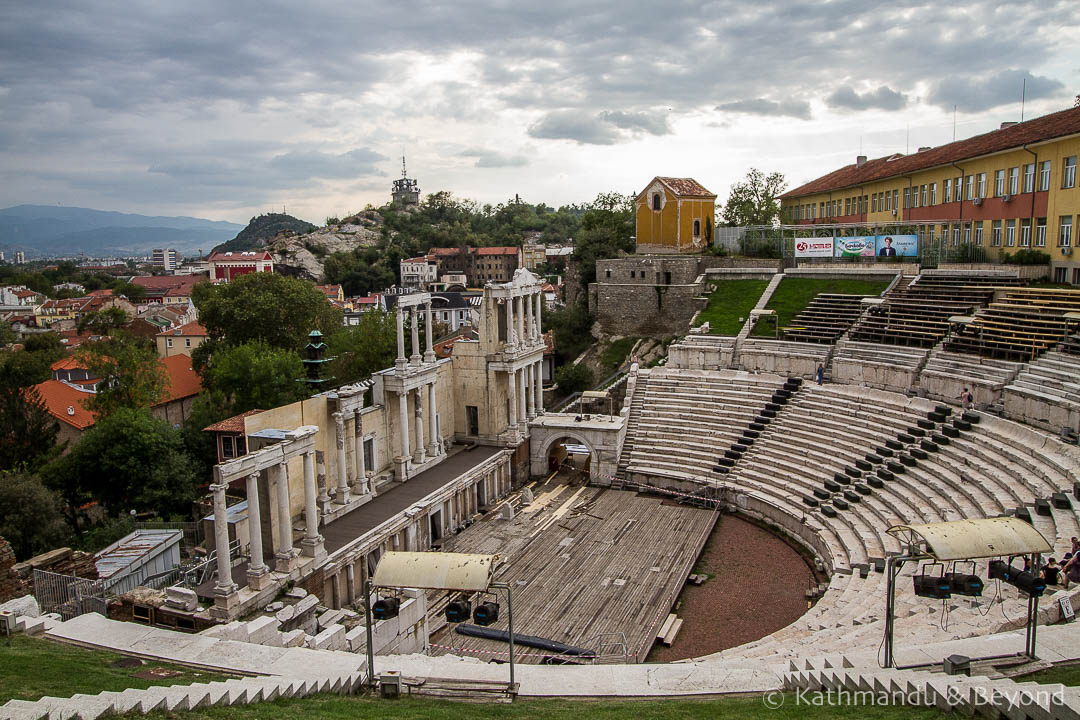 Roman Amphitheatre, Plovdiv
Where to stay in Plovdiv
Plovdiv has a broad range of good accommodation options and, although we have stayed in a couple of okay hostels, they aren't places that we would highly recommend so, we suggest you browse all the options here.
Day trips from Plovdiv
There are a few day trips you can make from Plovdiv: we visited Perushtitsa to see the Three Generations Monument and also took a trip to visit Bachkovo Monastery. Another popular day trip is Asen's Fortress, 19 km southeast of Plovdiv. Many travellers visit Buzludzha on a day out of Plovdiv but read on if you want to stay closer to the memorial or attempt to visit using public transport.
Plovdiv to Stara Zagora
There are good rail connections between Plovdiv and Stara Zagora with several trains a day. The journey time varies depending on whether you take an ordinary or fast train (the quickest is 1 hour 40 minutes). Three daily buses cover the hundred or so kilometres from Plovdiv to Stara Zagora in around an hour and a half. The most sociable time is the 1230 pm departure.
Stara Zagora – suggested length of time: 1 or 2 nights
Stara Zagara doesn't feature on many Bulgaria itineraries and had we not been first drawn there by the imposing Defenders of Stara Zagora Memorial Complex just outside of the city, we may not have visited.
If you are starting to see a pattern to Bulgaria's history, it won't be a surprise to learn there are Roman ruins in Stara Zagora, and the remains of the forum of the antique Roman town Augusta Trayana are in the town centre. If you want to dig deeper into Stara Zagora's past, the nearby Regional History Museum and the Neolithic Dwellings Museum can fill in any knowledge gaps.
Where to stay in Stara Zagora
We stayed at the Hotel Trayana, a good clean budget hotel near the city centre. Hotel La Roka and Fox Rooms Aparthotel are other similar options. As far as we know, there are no hostels in Stara Zagora.
A side trip to Kazanluk / Shipka / Buzludzha Monument – suggested length of time: 1 or 2 nights

Depending on your level of interest in Bulgaria's socialist past, how much time you have for your Bulgaria itinerary and how far off-the-beaten-path you want to stray, you might decide to travel directly from Stara Zagora to Bulgaria's Black Sea coast.
Even travellers without a strong interest in the Monument House of the Bulgarian Communist Party (to give Buzludzha its official name) are keen to visit the mighty flying-saucer-shaped piece of concrete, and those looking for a quick surface visit can take an organised trip from Plovdiv or Veliko Tarnovo. However, if you want to explore the area in-depth, we recommend staying in either Shipka or Kazanluk.
There is no public transport to the Buzludzha Monument. The closest you can get by bus is the small town of Shipka, 20 km away. Alternatively – if you either have your own transport, or don't mind spending a little more on taxi fares – you could base yourself in Kazanluk, a bigger town with more going on and more accommodation and restaurant choices.
There are a couple of places to stay in Shipka. We stayed at the IT Hotel and would recommend it.
Mark has written a comprehensive guide to the sights and Socialist-era memorials in and around Shipka and Kazanlak and we also have a more detailed post about the Buzludzha monument.
Stara Zagora to Burgas
Stara Zagora is on the main cross-country railway line and there is a daily train at around 11 am taking just under two hours to reach Burgas. There are also a handful of buses, although the journey can take over an hour longer.
Burgas – suggested length of time: 2 nights
Burgas is a port city on the Black Sea coast. It doesn't have a long list of attractions, but Burgas is a pleasant city to explore. The Sea Garden, a large park stretching along the seafront is very much a focal point and the pedestrianised town centre is a pleasant place for a drink, a bite to eat and a stroll. For nature lovers, the biggest attraction is Poda Conservation Centre, a bird sanctuary on the outskirts of the city.
Where to stay in Burgas
We stayed in a fairly average hostel that doesn't warrant a recommendation, but you can browse all the options here.
Day trips from Burgas
Day trip ideas from Burgas include the ancient seaside town of Sozopol to the south, or Nessebar about half an hour north of Burgas. Originally a Thracian settlement, the Ancient City of Nessebar is one of Bulgaria's ten UNESCO World Heritage Sites. As a result, be prepared for it to be very busy with tourists during the summer months.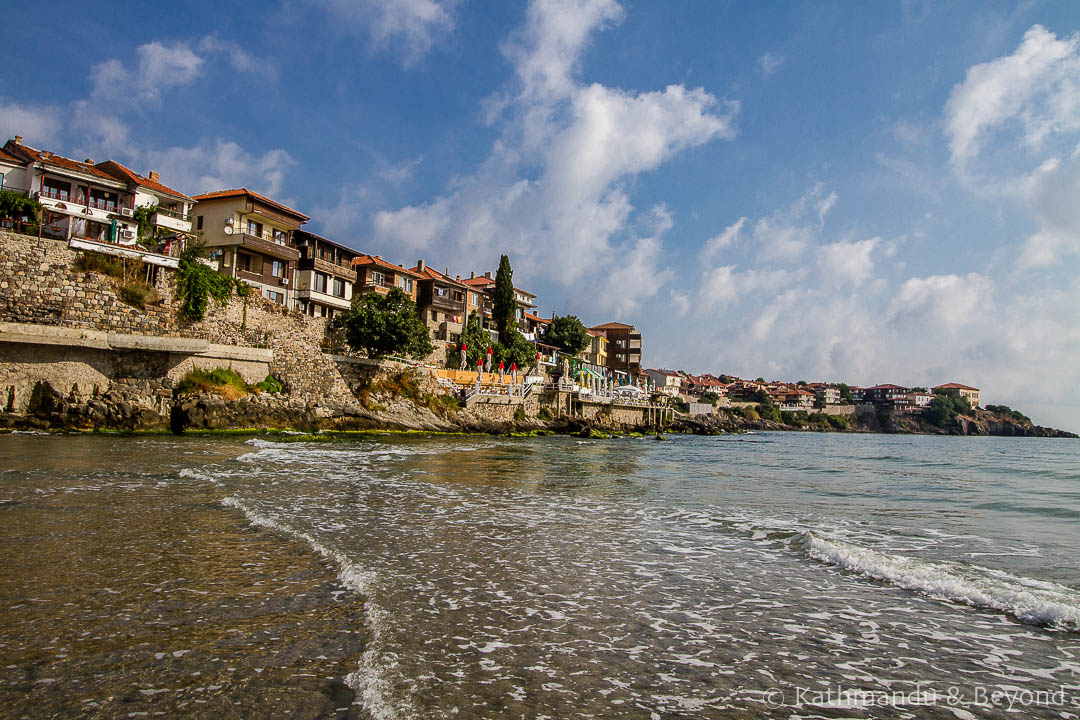 Burgas to Varna
Regular public transport operates between Burgas and Varna (although not as frequent as you might expect, so check the schedule locally). The bus covers the 130 km journey in around two and a half hours.
Varna – suggested length of time: 2 nights
Varna is Bulgaria's 'other' Black Sea seaside resort and port city. Maybe because we have spent more time in Varna, we prefer Varna over Burgas. Varna's conventional sights include Varna Cathedral, the ruins of the Roman city of Odessus and the Sea Garden, a park that stretches along the coast. The Sea Garden is also where you can find the Pantheon of the Fallen in the Fight Against Fascism, an impressive monument close to a statue of Yuri Gagarin in the Alley of Cosmonauts. A little further from the town centre is the Park-Monument of the Bulgarian-Soviet Friendship, another must-see for monument-seekers. Varna is a popular holiday spot and although the city has a wide fine sand beach, we've never spent much time on it.
Varna has a few museums but our favourite is the Retro Museum a real blast from Bulgaria's socialist past. There are all sorts of memorabilia on display including a collection of over fifty cars from the era including Trabant, Moskvich and Volga models. The museum is at the Grand Mall of Varna which is close to the main bus station – it's a good place to visit if you have time to kill before your bus.
Where to stay in Varna
Good quality budget accommodation in Varna can be tricky to find, especially outside of the winter months. We've stayed in Casablanca City guesthouse a couple of times and although it served a purpose (cheap and well-located), it's a bit shabby. We also rented this apartment for a week and had a good stay. If you prefer a hotel, take a look at Hotel Odessos, close to the sea.
Varna to Shumen
Travelling between Varna and Shumen you have the choice of a local commuter train (several options a day taking around 2 hours) or a direct bus (less frequent but with a journey time of just over an hour).
Shumen – suggested length of time: 1 or 2 nights
If was the jaw-dropping Monument to the Founding State of Bulgaria that first took us to Shumen. Built to commemorate the 1300th anniversary of the founding of the Bulgarian State the impressive monument sits on a hill overlooking the town centre and is reached by 1300 stairs. If you are unable to tackle the stairs, it is possible to reach the Monument to 1300 Years of Bulgaria by road.
Other than the Monument to the Founding State of Bulgaria, Shumen doesn't have a lot of tourist attractions. However, it's a relaxed and pleasant town dominated by a central largely pedestrianised boulevard, where several tree-shaded cafes are situated. Among Shumen's historical sights are the mid-eighteenth century Tombul Mosque and the remains of Shumen Fortress which is believed to date back to the Iron Age.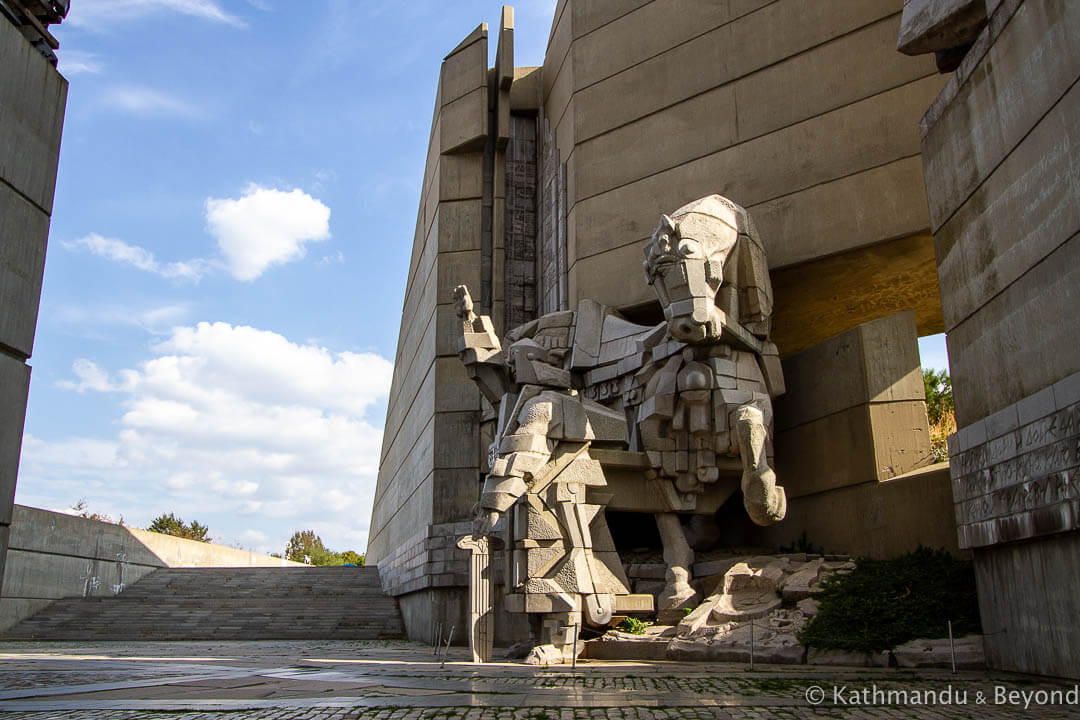 Monument to 1300 Years of Bulgaria in Shumen
Where to stay in Shumen
On both of our stays in Shumen, we've stayed at Hotel Solo, a small family-run hotel in a side street just off the main thoroughfare. We highly recommend this one and would stay there again.
Day trips from Shumen
Travelling between Varna and Shumen you have the choice of a local commuter train (several options a day taking around 2 hours) or a direct bus (less frequent but with a journey time of just over an hour).
Shumen to Veliko Tarnovo
The easiest way to travel between Shumen and Veliko Tarnovo using public transport is by bus and there are a handful of departures a day taking around 2½ hours to cover the 140 km journey. You can take the train, but it isn't direct and a change is required in Gorna Oryahovitsa, a town 10 km north of Veliko Tarnovo.
Veliko Tarnovo – suggested length of time: 2 or 3 nights
Arguably the country's prettiest town, Veliko Tarnovo is a must-see on any first-time Bulgaria itinerary. Looking out across a ridge overlooking the twisting Yantra River, the town stretches from the new town through the cobbled streets of the old town and on to the fortress.
The dominating feature and number one highlight of Veliko Tarnovo is the medieval Tsarevets Fortress. On some nights (usually weekends and public holidays) there is a colourful sound and light show. Veliko Tarnovo's Old Town is great for wandering around, perhaps looking for street art, and enjoying a drink in one of the terraced cafes. Monument fans will want to check out Assens Monument, known as the horsemen statue and visible from many parts of the city. 
Where to stay in Veliko Tarnovo
We've stayed in two hotels in Veliko Tarnovo and would recommend both. They are Family Hotel Varusha and The Hill. If you prefer a hostel environment, Hostel Mostel gets good reviews.
Veliko Tarnovo to Sofia
The final leg of your Bulgaria is straightforward and there are around ten buses a day heading to Sofia from Veliko Tarnovo. The fastest ones take a little over three hours.
By Air
Sofia, Varna and Burgas have international airports served by several carriers including low-cost airlines such as Wizz Air, Ryanair and easyJet so getting to Bulgaria is usually affordable.
By Train
From neighbouring Romania, there is a daily train from Bucharest to Sofia which goes via Ruse, close to the Bulgarian border, and another from Craiova to Sofia which stops in Vidn, also on the Bulgarian border. 
If you are headed to/from Greece, there is a daily train to Thessaloniki, and if you are coming from or going to Turkey there is an overnight train, the Sofia-Istanbul Express that links Sofia with Istanbul. In the summer there is a train from Belgrade to Sofia although the schedule has been rather messed up lately, so check before you plan to take this journey.
Overland Routes
Bulgaria is well-connected by road to the rest of Europe and you can take a bus to Sofia from most capital cities. Other interesting border crossings are from Erdine in Turkey to Plovdiv, from Ruse to Bucharest or from Varna to Constanța, both in Romania, Sofia to Nis in southern Serbia and Sofia to Skopje, the North Macedonian capital.
OTHER TRAVEL PLANNING RESOURCES
A few websites that should be helpful when planning your Bulgaria itinerary:
Sofia Ovcha Kupel (West) Bus Station schedule
BioMet for long distance buses
Google Maps works well in Bulgaria, but for offline maps we always use maps.me 
Depending on our itinerary and destination, we find our accommodation as we go, particularly in smaller places. Increasingly we book in advance, even if it on the bus or train en route to that city. In big cities, for slightly longer stays, during peak season or just when we're being a bit more organised, we tend to make a reservation in advance using Booking.com.
If you like to travel with a conventional guidebook, Lonely Planet's Romania and Bulgaria travel guide and Bradt's Bulgaria guide are good options to consider.
And if you need a few more reasons to follow our Bulgaria itinerary…
Alexander Nevsky Cathedral, Sofia
Cathedral of the Assumption of the Virgin, Varna
Street Art in Veliko Tarnovo
Tsarevets Fortress, Veliko Tarnovo
If you found our two to three week Bulgaria itinerary helpful, please share it or pin it to your travel planning boards…