A photo essay and quick guide to a historical graveyard in London
A couple of months ago during one of our London wanderings, we visited Brompton Cemetery in Kensington. As self-described tombstone tourists, we seek out historical graveyards when we travel and are slowly working our way through London's Magnificent Seven cemeteries.
Brompton is the smallest of the Magnificent Seven, the collective name given to the group of 19th-century Victorian graveyards built, in what were at the time, leafy London suburbs. Brompton was the fifth of London's Magnificent Seven graveyards and opened in June 1840.
The first person to be buried at Brompton Cemetery was 24-year-old Emma Shaw who died during childbirth. Her plain gravestone tells us that although the family were well off enough to be able to afford a plot, its simplicity indicates they were comfortable rather than rich.
Brompton Cemetery was one out of three Magnificent Seven that opened in 1840; shortly after Abney Park Cemetery which opened its gates in May 1840, and ahead of Nunhead Cemetery where the first grave was dug in October 1840. Incidentally, the first, and incidentally the largest, to open was Kensal Green Cemetery (in 1833), and the most famous of seven, Highgate Cemetery, was inaugurated in 1839.
These new cemeteries were built due to increasing demand for burial plots in the fast-growing capital, as small parish churchyards became overcrowded. Although they all have chapels, none of the Magnificent Seven (as they came to be known later), were affiliated with specific churches – they were intended to be non-denominational and open to all.
Due to its city centre location, Brompton's historic burial ground has a city park vibe. We visited Brompton Cemetery in November 2020 during London's second lockdown and its use as a community space was evident – plenty of Kensington residents were cycling, jogging or strolling through, while others enjoyed socially-distanced chats on the benches. Its function as a local park struck me before I learnt that Brompton Cemetery was always intended to be a public recreation space. London's grand cemeteries were popular places for Victorians to go for family outings and they came to be a place to see and be seen in. Hence, the design was extremely important and a central, Great Circle surrounded by colonnades and well laid out gardens were a common feature.
Brompton Cemetery design
Brompton is a symmetrical, rectangular-shaped park with a main chapel surrounded by grand columns. It is laid out in a grid, with a central avenue with smaller paths leading off. The cemetery was devised by Benjamin Baud whose grand design won the public vote in a competition. Baud's blueprint envisaged three chapels surrounded by circular colonnades but funding ran out, and the graveyard was never completed according to his extravagant ideas.
As with all of the Magnificent Seven graveyards, Brompton Cemetery was a commercial enterprise and its design needed to be grand enough to make it an attractive place for wealthy socialites and members of the aristocracy to be buried. One reason Brompton Cemetery ran into financial difficulties was due to the slow uptake of burial plots and for whatever reason, Brompton was not initially considered to be the place to be seen in, either dead or alive!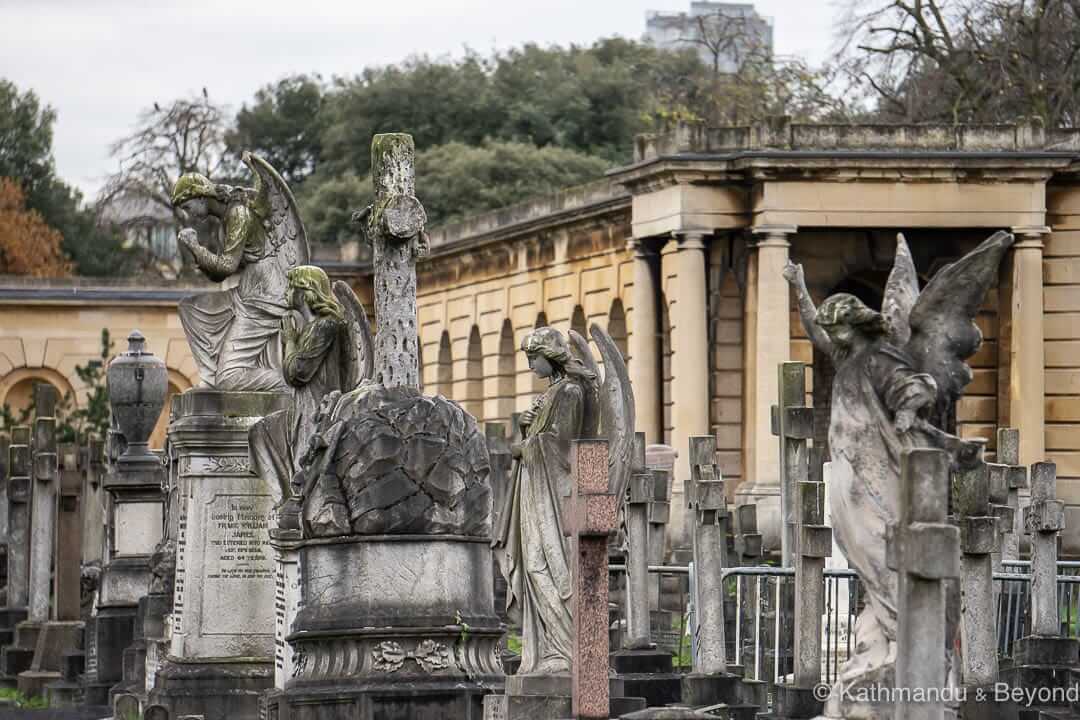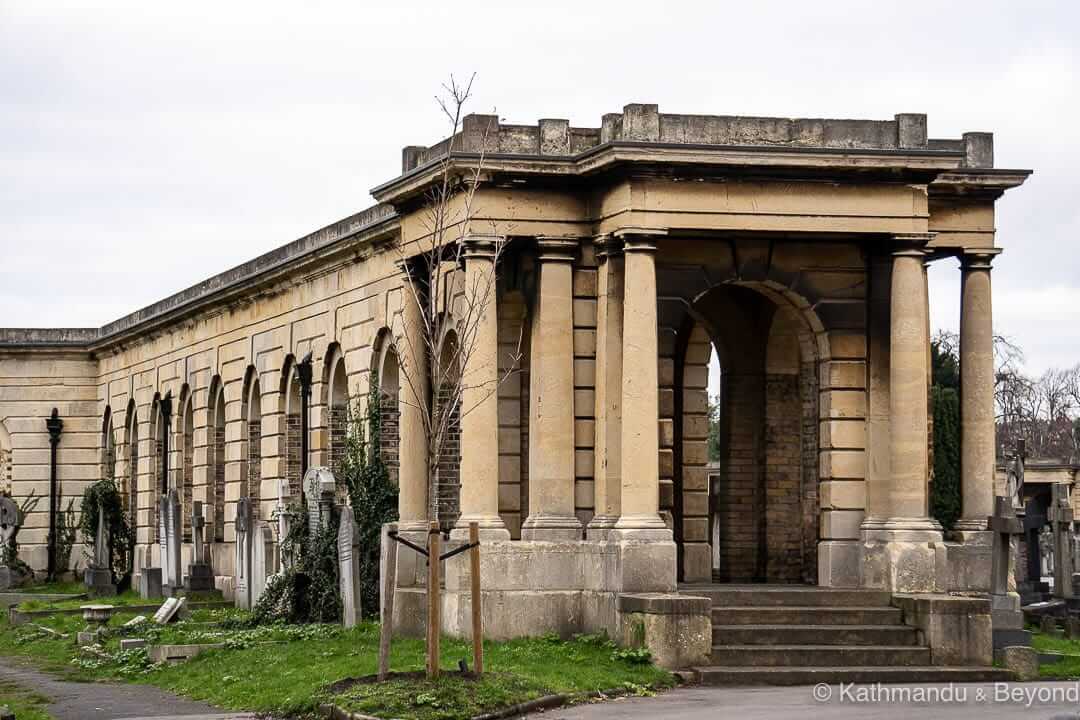 Visiting Brompton Cemetery
Although it contains around 35,000* graves and monuments, Brompton Cemetery is small and one of the easiest Magnificent Seven cemeteries to explore. At just 1,000 metres long and less than 200 metres wide, you can walk from one end to the other in around ten minutes. How long you need for a visit will depend on how deeply you want to delve into history, but an hour should be plenty of time for most tombstone tourists. Our visit was part of a longer walk so we entered the cemetery through the South Gate on Fulham Road and left through the North Gate (the main entrance) on Old Brompton Road. Entering that way, you will quickly arrive at the chapel and then find yourself on Central Avenue. This path continues in a straight line to the main entrance, but remember to make a few diversions along the side paths.
*When researching the facts for this post, I was puzzled as to why there are 200,000 people are buried at the cemetery, yet there are only 35,000 graves. The figures didn't add up. I then remembered Brompton Cemetery has two catacombs which were designed to hold hundreds, if not thousands, of coffins. However, catacombs were popular only for a brief period and, according to the cemetery website, only 500 spaces in Brompton's catacomb were sold. Apparently, people preferred Kensal Green Cemetery, a larger and grander Magnificent Seven cemetery, which was what would have been a short horse and carriage ride to the north. It then occurred to me that it was common for entire families to be buried in the same grave or tomb. Taking that into account, you get closer to the figure of 200,000, and therefore solving the mystery.
Brompton Cemetery residents
People from all walks of life, from the suffragette Emmeline Pankhurst to the founders of Chelsea Football Club, are buried in Brompton Cemetery. Other illustrious residents include public health pioneer Dr John Snow and Sir Henry Cole, who was both the founder of London's Victoria and Albert Museum and the man often credited as the inventor of the Christmas card.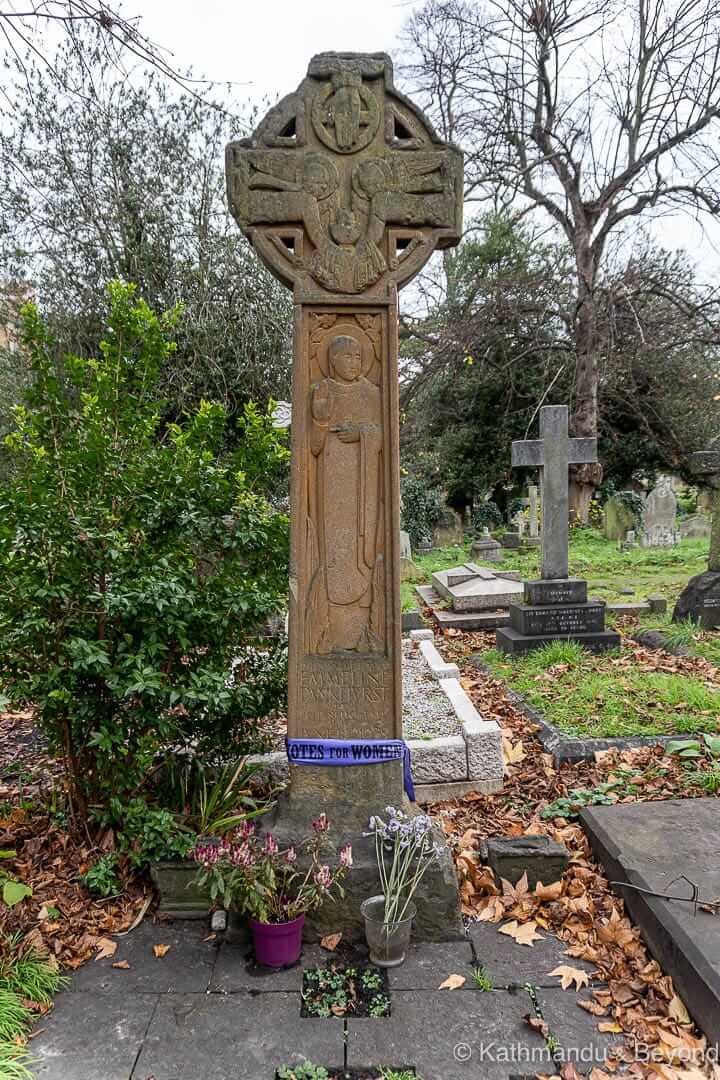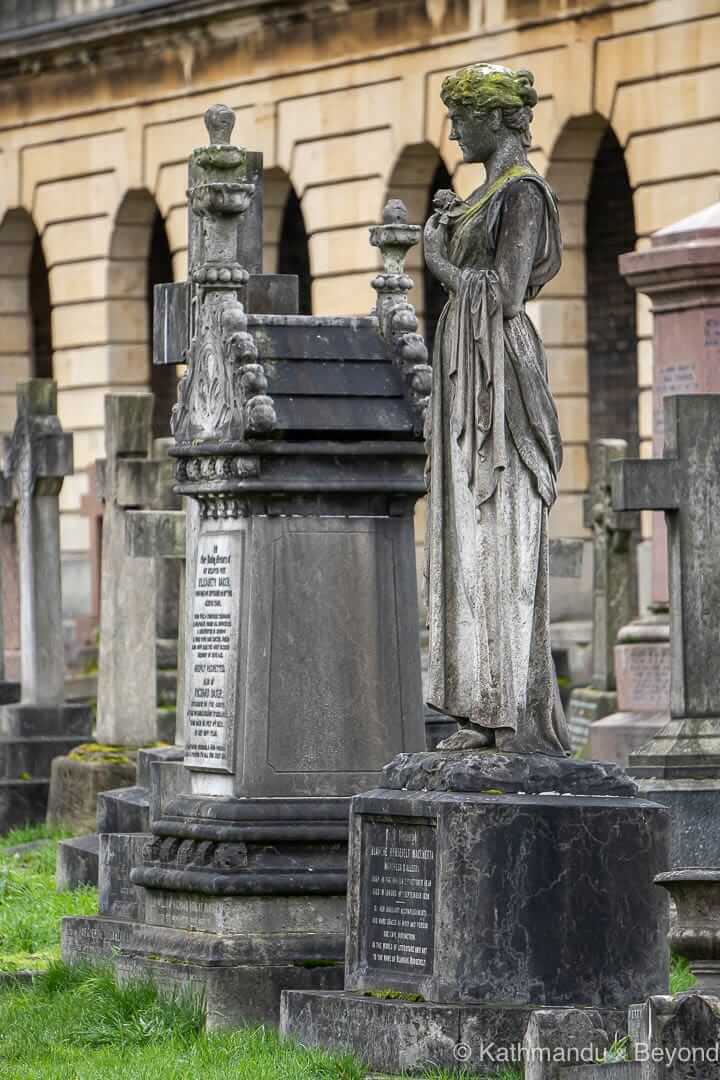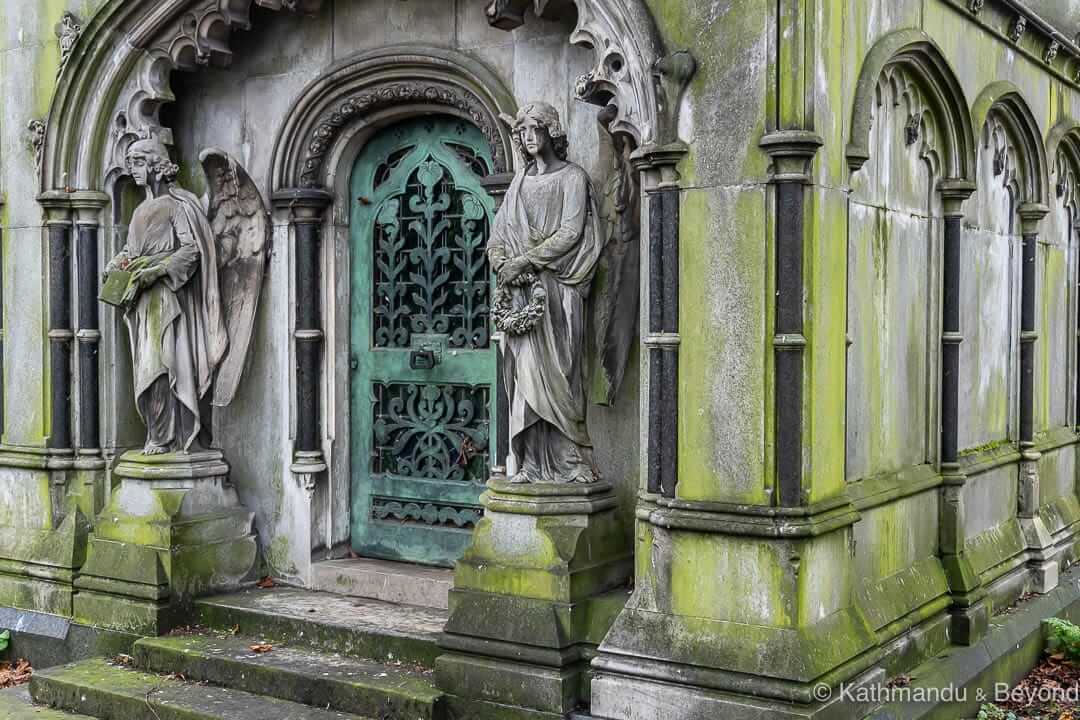 There are also lots of significant although not-so-well-known people with interesting stories buried in Brompton Cemetery. For example, Robert Fortune, the plant hunter who successfully smuggled tea plants out of China; Joseph Julius Kanné, one of Queen Victoria's most devoted servants; or Princess Victoria Gouramma, an exiled Indian princess adopted by Queen Victoria. John 'Gentleman' Jackson, the prize fighter who became a bodyguard at King George IV's coronation; and Percy Lambert, the first person to drive a car at one hundred miles per hour, are also Brompton Cemetery residents.
On the park website, there is a well-designed interactive map. It's worth exploring the map and reading the stories of these and some of the others listed. If you are trying to locate a specific grave, Brompton Cemetery historical burial records might help.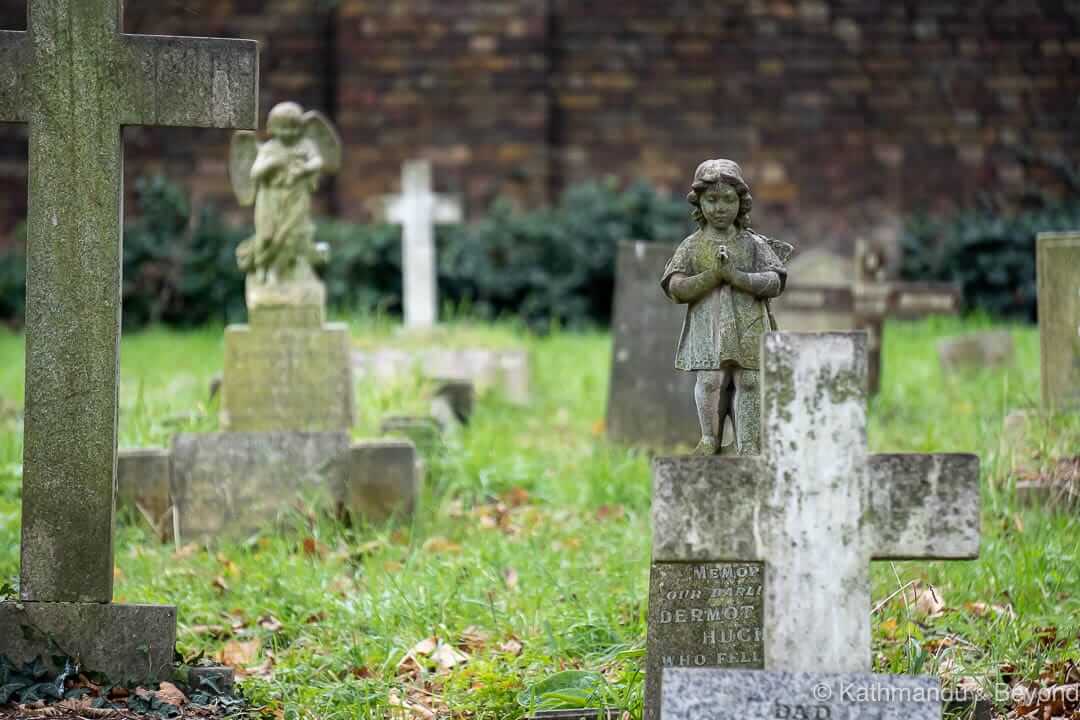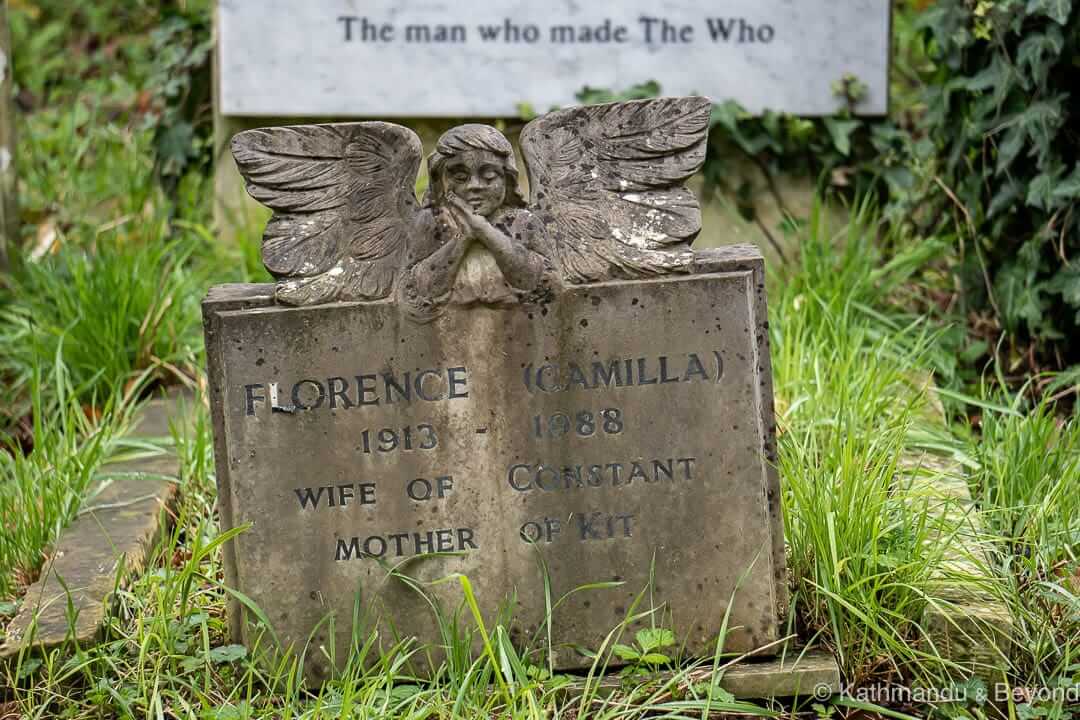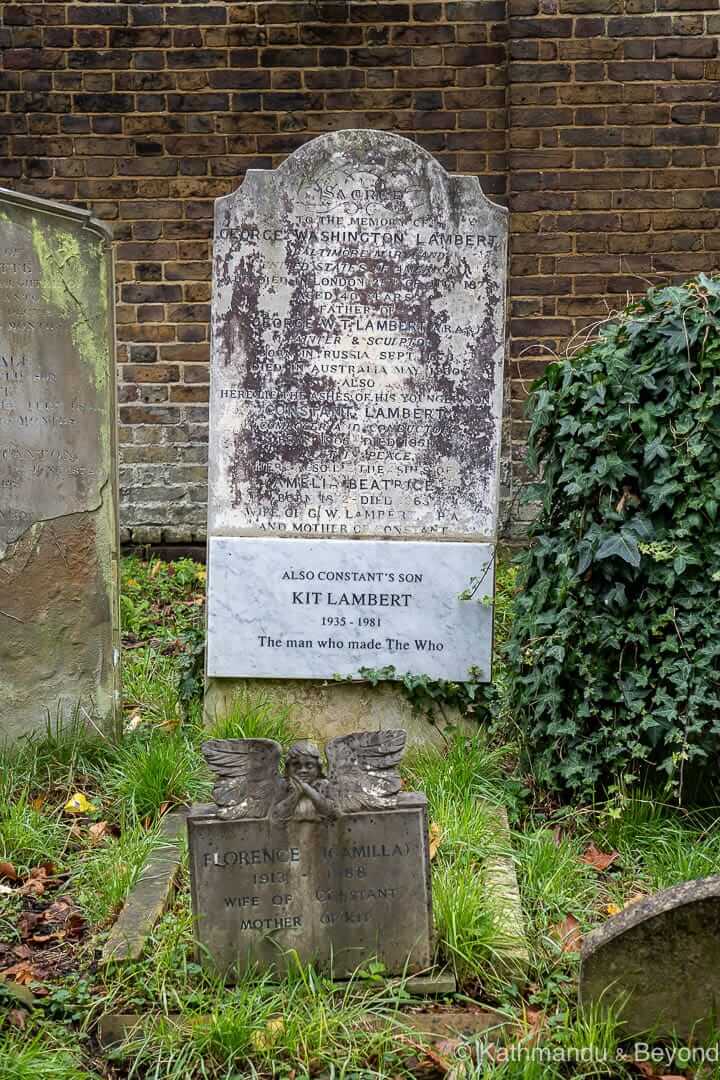 Where is Brompton Cemetery
Brompton Cemetery is in Kensington in central south-west London, close to Earl's Court and within the Royal Borough of Kensington and Chelsea. The Google Maps location is here.
How to get to Brompton Cemetery
Brompton Cemetery has two entrances. The main entrance, also known as the North Gate or North Lodge, is on Old Brompton Road and is a couple of minutes' walk from West Brompton station which is on the District (green) Line, London Overground and national rail network.
There is a second entrance (South Gate / South Lodge) on the Fulham Road. The nearest tube station to the Fulham Road entrance is Fulham Broadway, also on the District Line and around a 10-minute walk from the entrance.
There are also bus stops close to both entrances – check Google maps for specific routes and bus numbers.
Brompton Cemetery opening hours
The cemetery is open from 7am every day, and closes at dusk. Because sunset varies greatly throughout the year in the UK, so does the closing time. For example, in winter Brompton Cemetery shuts its gates at 4pm, whilst in summer it is around 8pm. Exact hours are on the Royal Parks website.
Brompton Cemetery entrance fee
Brompton Cemetery is designated as a Royal Park and, therefore, open to the public and free to visit.
Brompton Cemetery guided tours
The Friends of Brompton Cemetery organise tours throughout most of the year, although they are currently suspended. Far less frequent are the special tours which visit the catacombs. Check the website for news of when tours restart.
Brompton Cemetery facilities
There is a cafe just inside the main entrance which closes one hour before the cemetery, serving drinks and light meals like cakes, soup and sandwiches plus breakfast options.
There are also public toilets (which may be closed due to COVID restrictions) and an information centre which, in normal times, is open Fridays, Saturdays and Sundays between 10am and 4pm.
More photos of Brompton Cemetery in Kensington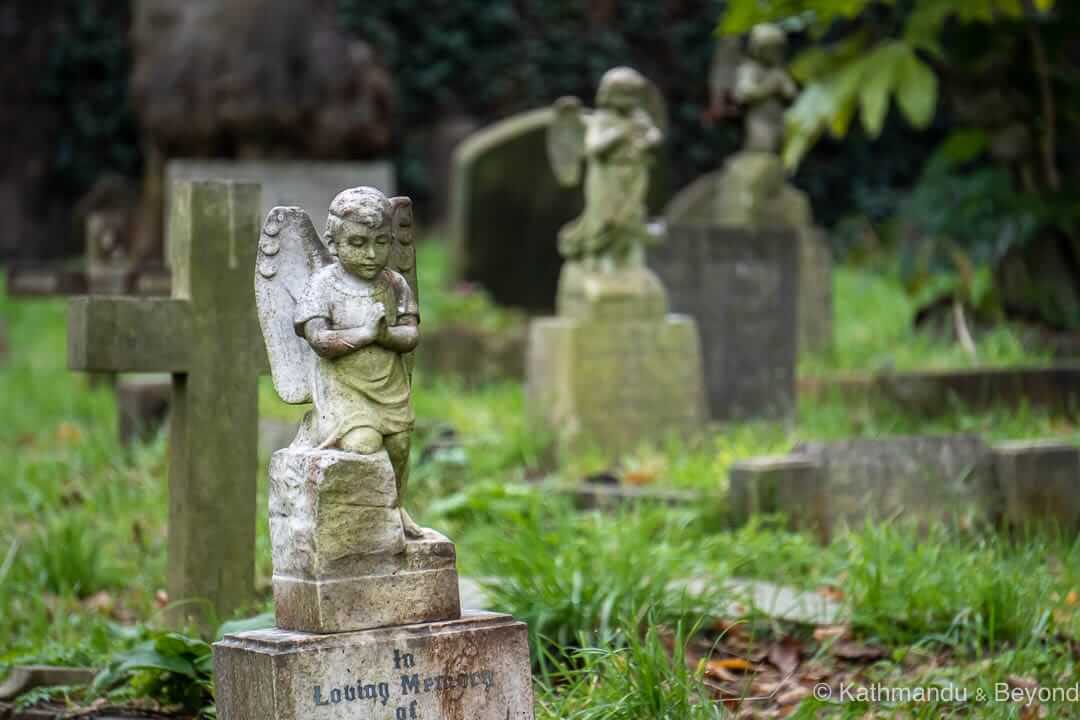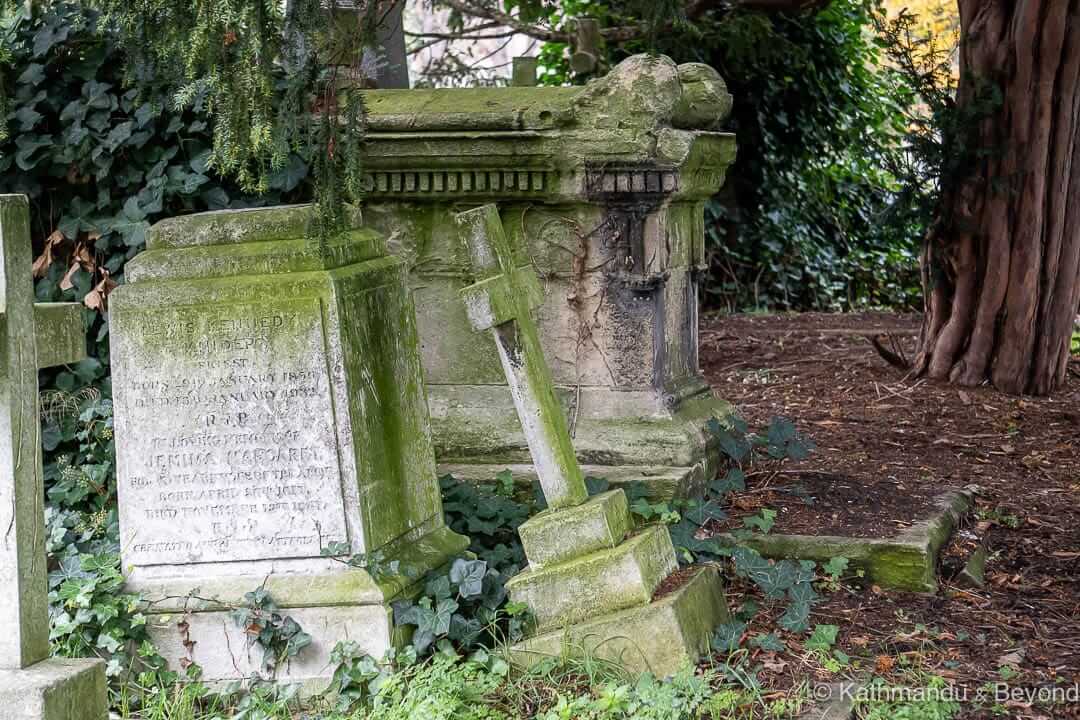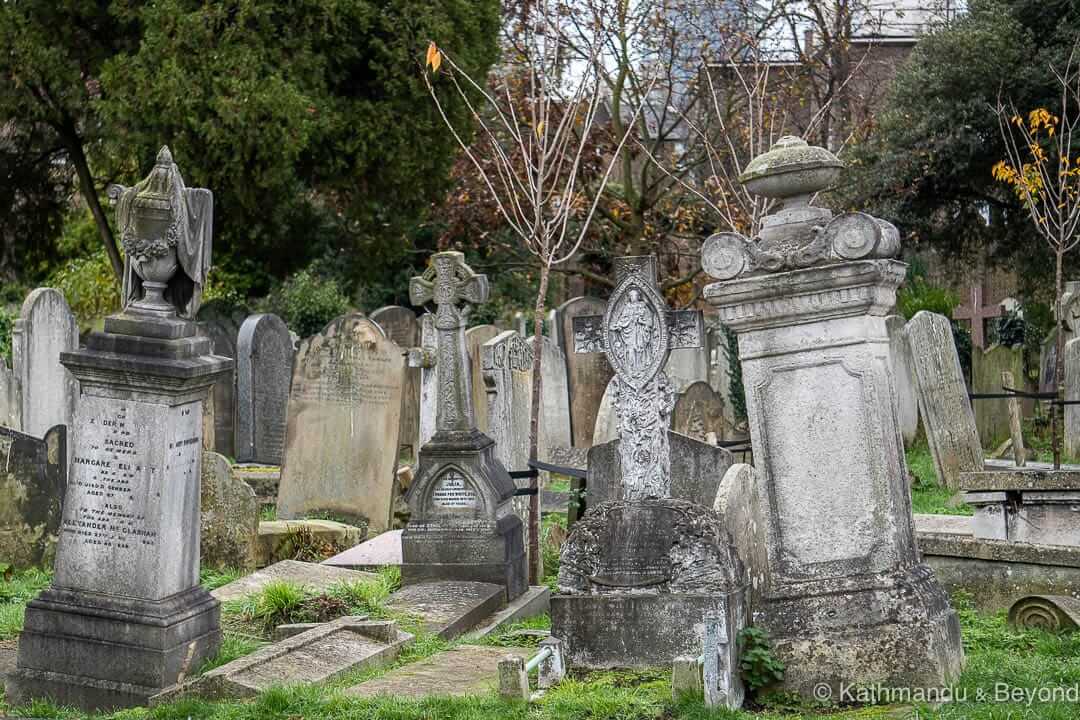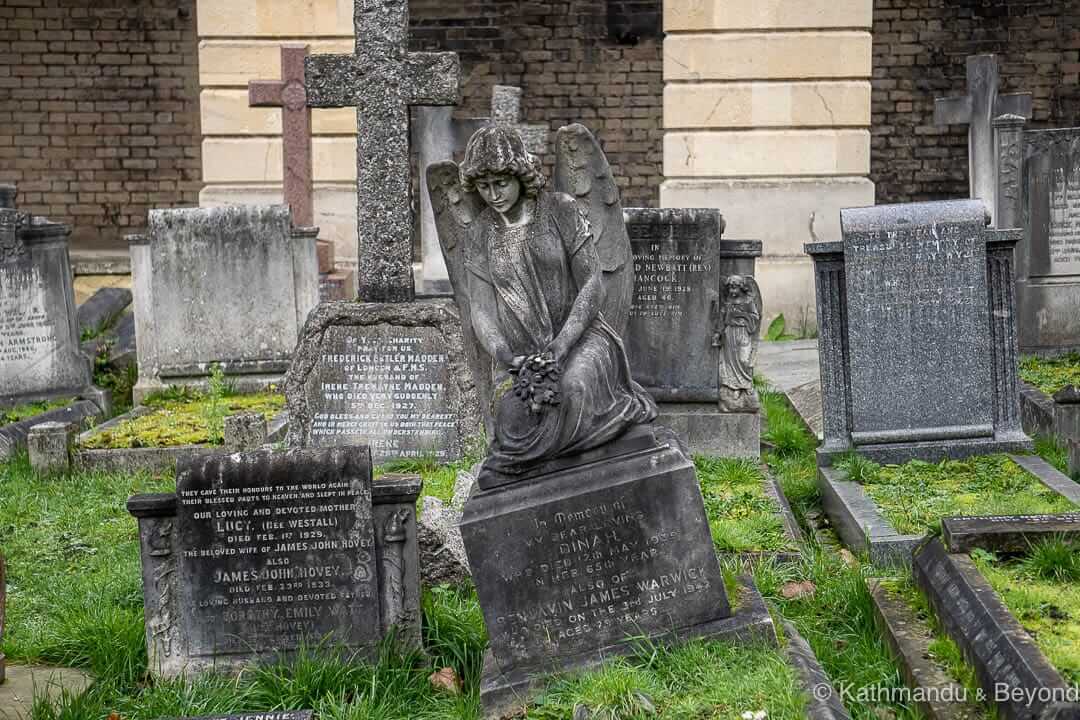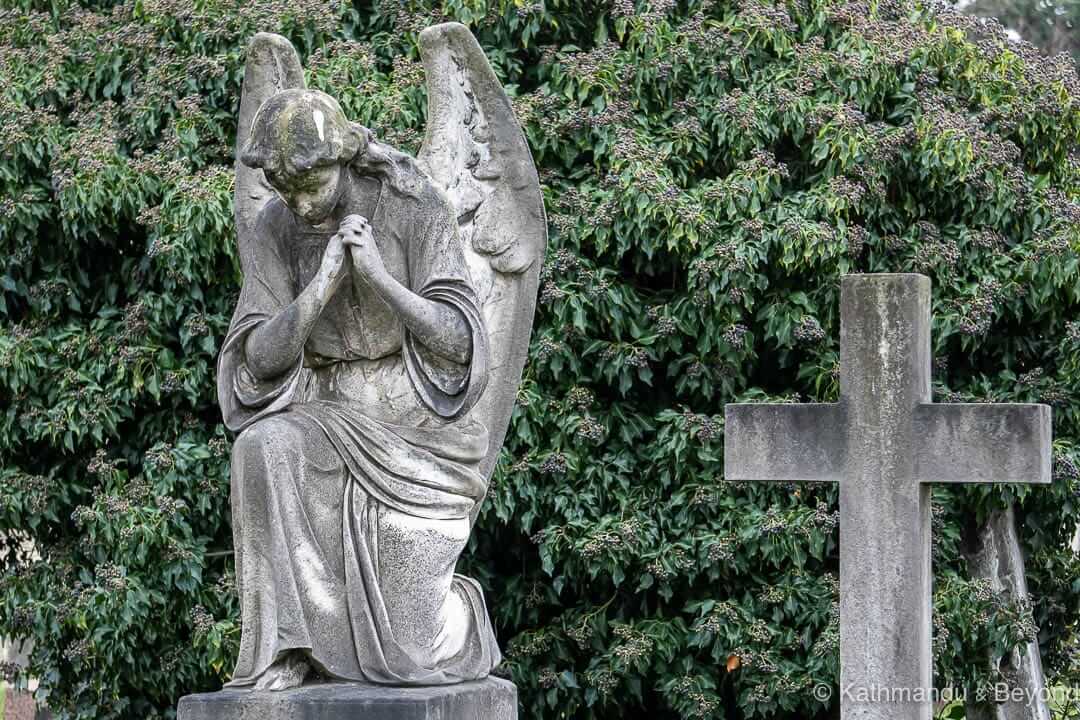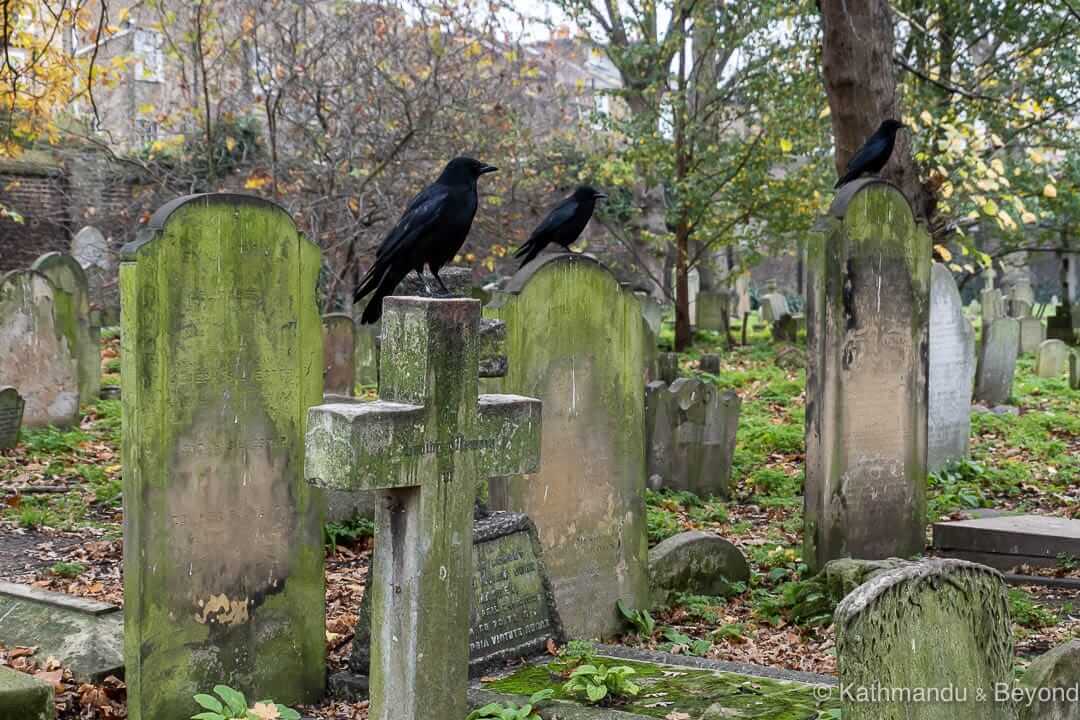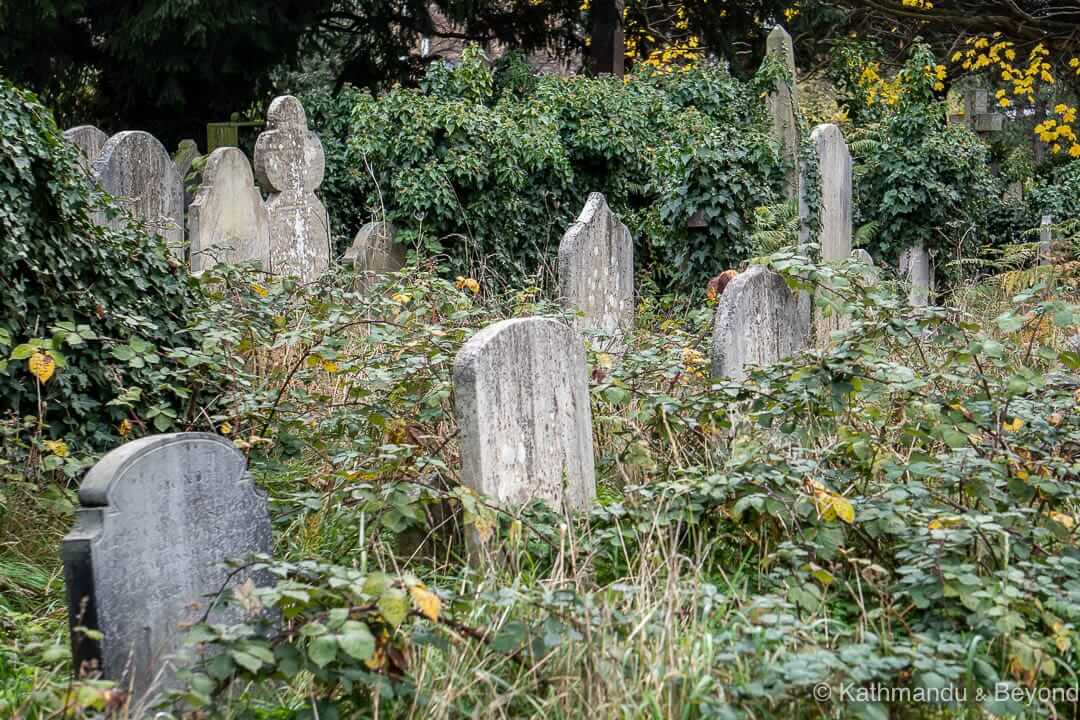 ---
If you enjoyed our guide to Brompton Cemetery in Kensington, please share it