Balkans Travel Blog
Travel tips and resources for travellers: Travel guides, itineraries, abandoned places, street art and off-the-beaten-path places in the Balkans
Hello and welcome to our Balkans travel blog. You will find all our blog posts from the European countries collectively known as the Balkans in this section of our website.
Maybe you found our Balkans travel blog because you are considering a visiting the Balkan Peninsula in Europe, or perhaps you are partway through planning a trip to the Balkans. Whatever the reason, we hope we can provide some useful resources and travel tips for the Balkan countries.
Which countries are included in the Balkan region is often cause for debate. The Balkan Peninsula lies in southeastern Europe and typically includes the seven countries that make up the former Yugoslavia plus three more bringing the total number Balkan states to ten. The countries are  Albania, Bosnia & Herzegovina, Bulgaria, Croatia, Kosovo, Montenegro, North Macedonia, Romania, Serbia, and Slovenia. Some sources include Moldova as a Balkans country, but for the purpose of organising our posts, we've categorised Moldova as the former USSR. Some people exclude Slovenia from the list, but include Hungary. Arguably part of Turkey (the European part west of Istanbul) and northern mainland Greece have one foot on the Balkan Peninsula.
Geography and politics both come into play when defining the Balkan countries and settling on which countries make the list could turn into a much longer post than we have room for on our Balkans travel blog page.
As you would expect from a region that stretches from Central Europe to the Black Sea, the Balkans comprises a myriad of landscapes, experiences, cultures, cuisines and history. It's impossible to pick a favourite, and the Balkans cannot be summed up in a singular cliched strap-line, other than "something for everyone"!
Our Balkans blog posts are generally aimed at independent travellers and backpackers like us and have a strong focus on travelling around using public transport, staying in budget accommodation and exploring off-the-beaten-path and lesser-visited places.
Browse all of our Balkans blog posts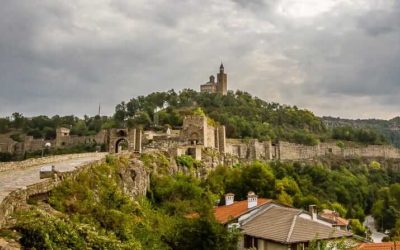 Comprehensive Bulgaria itinerary for backpackers and independent travellers to Bulgaria. What to see in Bulgaria in a 2 to 3 week itinerary.
If you enjoyed our Balkans Travel Blog…
Subscribe to our newsletter to receive our latest blog posts as well as our latest news from the road less travelled…
Looking for a unique face mask inspired by travel, architecture, and photography? Check out our Redbubble store. Redbubble is a marketplace which allows us to create products using our photography and digital designs. In addition to face coverings, you can buy prints, posters, mugs, t-shirts, tote bags and even shower curtains and bath mats featuring our photography.