How to spend 18 hours in Oslo (with a little help from the midnight sun)

without spending too much money…

Last June, Kirsty and I headed up to Kirkenes (*), a remote town 400km north of the Arctic Circle in the far northeastern part of Norway. Here we were to rendezvous with my parents and help them celebrate their 50th wedding anniversary by joining them on a once-in-a-lifetime journey aboard Hurtigruten's MS Midnatsol to Bergen in the far south of the country.

(*) Want to make Scandinavian Airlines (SAS) check-in staff almost pee their pants? Walk up to the counter and say you want to check-in for the flight to Kirkenes (our pronunciation; Kirk-en-es). Firstly they will look at you blankly and then the penny will drop and they will roll around with laughter (their pronunciation; Cher-ken-nesh)! In all honestly, I felt a little let down by Kirsty, she should have known that. She's got Viking blood; her maiden name is Grimwade and the family name can be traced to Colchester in Essex (UK) which used to be 'Viking Central'. She has also got blonde hair!

We were looking forward to the trip immensely and en route to Kirkenes we decided to spend the night in Oslo. One of Scandinavia's most vibrant cities, Oslo is also known for being notoriously expensive. Here is how we utilised a very short period of time in Oslo and managed to keep our overall costs to a minimum.
Our 18 hours in Oslo itinerary:

NOK = Norwegian krone. Approximate exchange rates correct at April 2015 (US$1 = 8.10 NOK, UK£1 = 11.85 NOK, €1 = 8.58 NOK).
1.30pm
Arrived Oslo Gardermoen airport from Helsinki.
2.03pm
Caught NSB (Norwegian State Railways) (**) train to Oslo Central Station (Olso S).
Cost of train ticket 90 NOK per person (approximately US$11).
(**) Don't bother taking the slightly faster Flytoget Airport Express Train. The journey time is only 4 minutes faster than the NSB service but the price is almost double at 170 NOK (US21).
2.30pm
Arrived Olso S.
Purchased our return NSB ticket to the airport for the next day to save doing so in the morning.
Walked to our hostel in the central Grünerløkka district of the city.
Cost of train ticket 90 NOK per person (approximately US$11).
3.00pm
Arrived at the Anker Hostal, a 20 minute walk from the train station through not such a savoury part of the city.
Checked in and paid for our room. Our large room had four beds, a private bathroom and a small kitchen and dining area. If you don't have towels or sleep sheets, you have to hire them. It's not the best hostel we've stayed in, but it was more than adequate for a night or two.
Cost of room 500 NOK total (US$62 / €58).
3.30pm – 9.00pm
During this period we explored Oslo on foot. We started by walking back past the railway station to Oslo Cathedral to see its famous organ (no sniggering at the back!). From here we strolled down Oslo's main street, Karl Johans Gate as far the Parliament of Norway Building. At this point we made a slight detour and went to look at St.Olavs plass and some of the grand buildings nearby.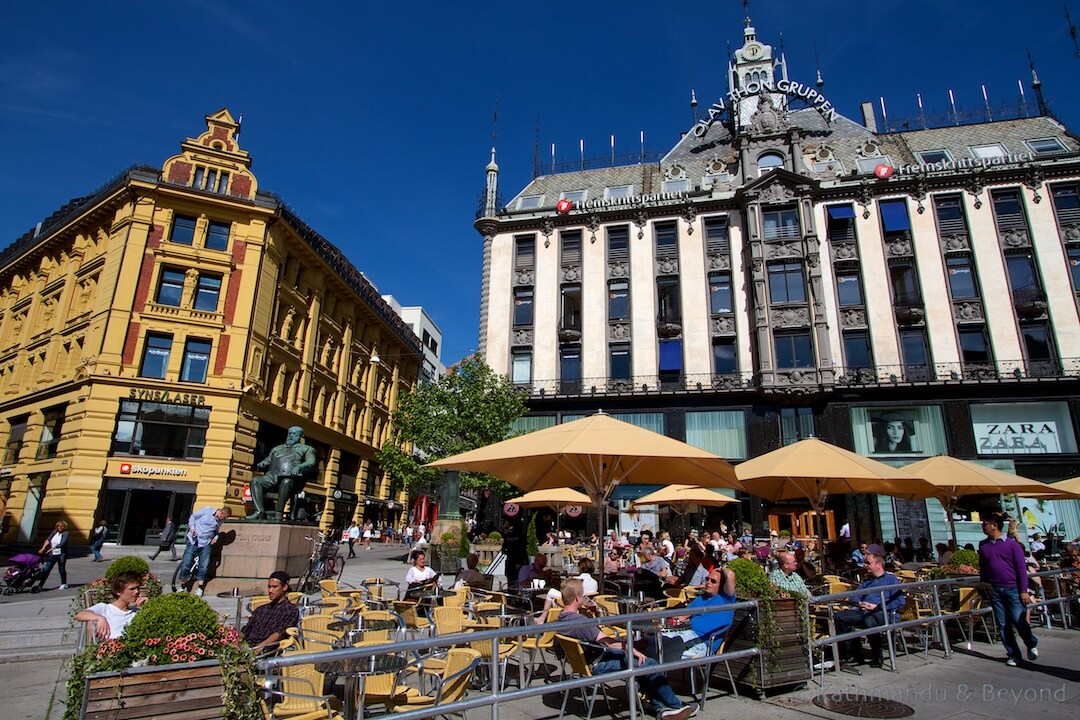 Karl Johans Gate, Oslo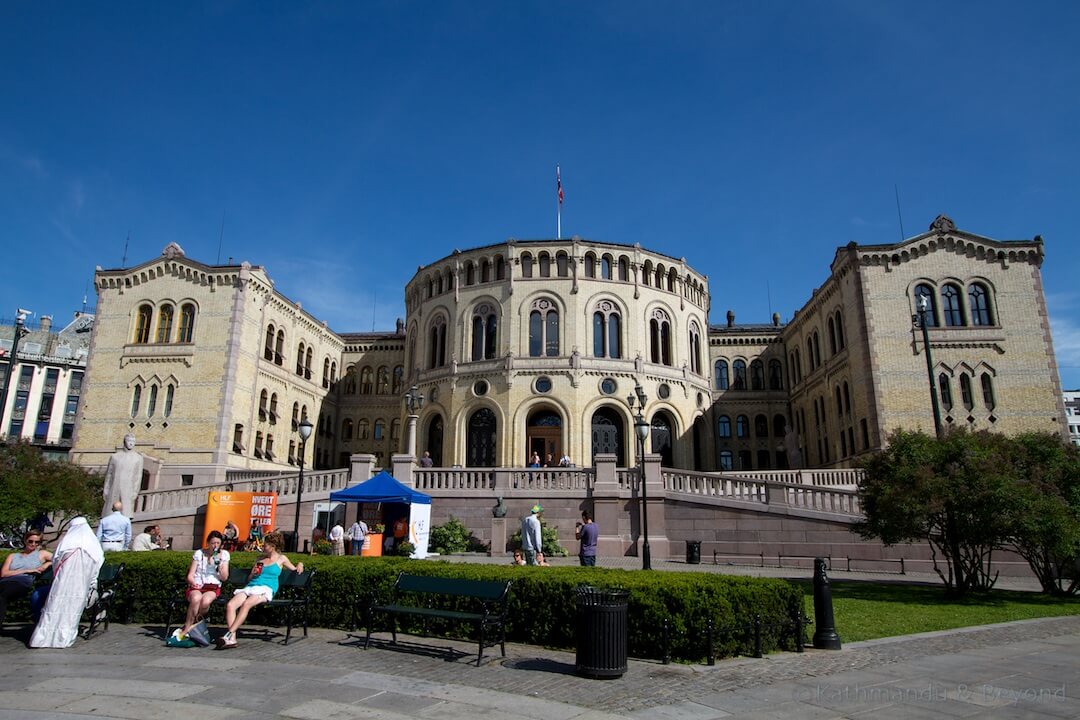 Parliament of Norway Building, Oslo
Back on track, we walked to the Royal Palace and then looped back on ourselves and headed toward the seafront. On the way we visited City Hall Oslo, one of the city's most famous buildings before feeling very poor as we strolled along Aker Brygge, a hip and trendy part of the city where all the beautiful people meet and drink expensive glasses of wine.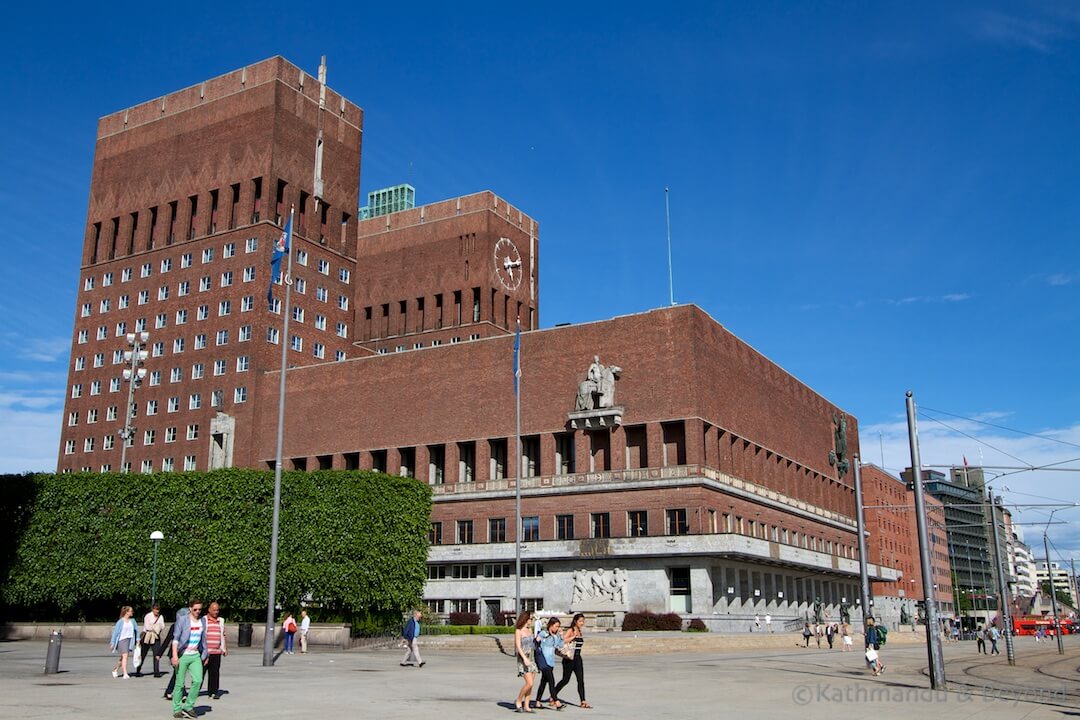 Oslo City Hall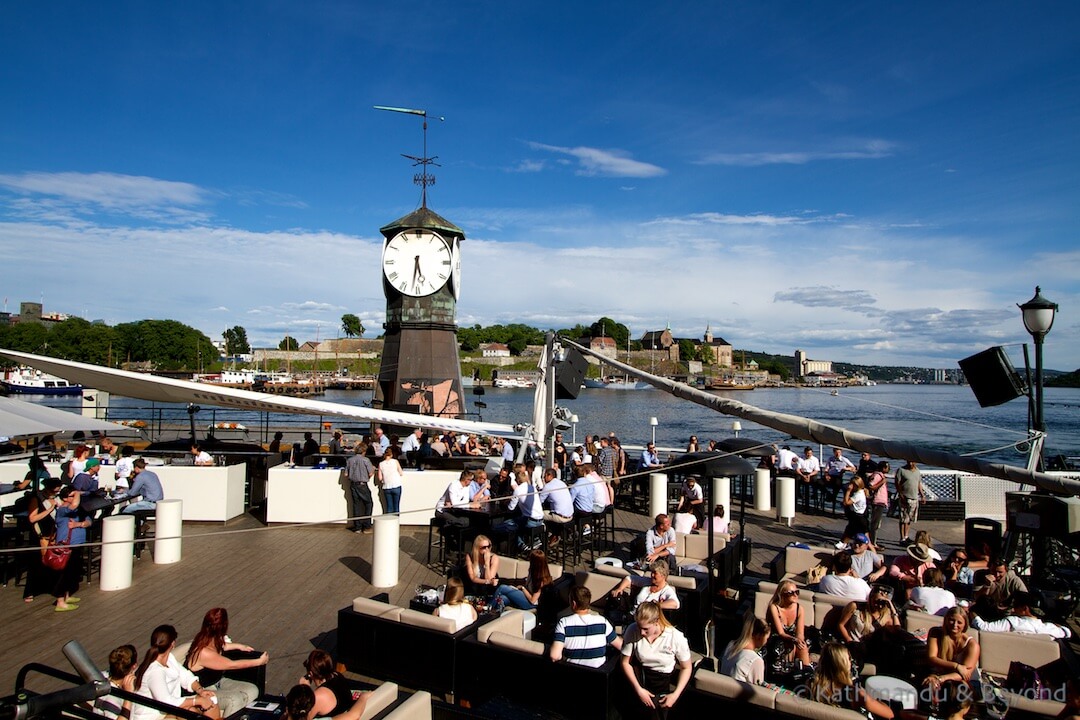 Aker Brygge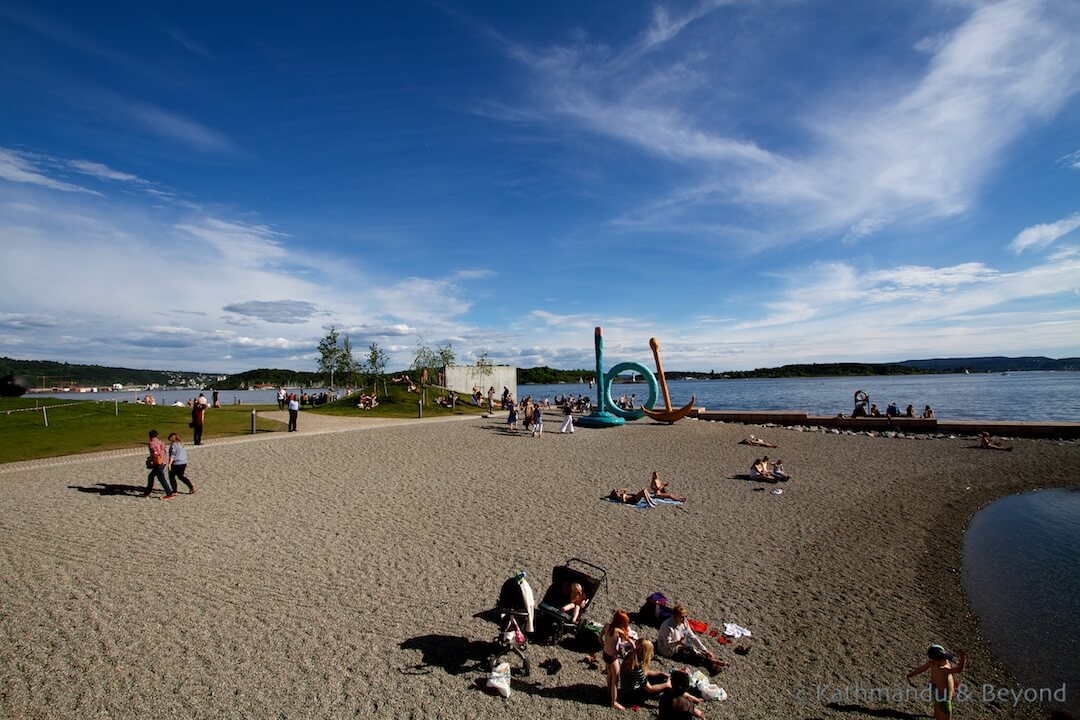 Oslo Harbour
At the end of Aker Brygge is the Astrup Fearnley Museum of Modern Art which is worth visiting for its interesting architectural design.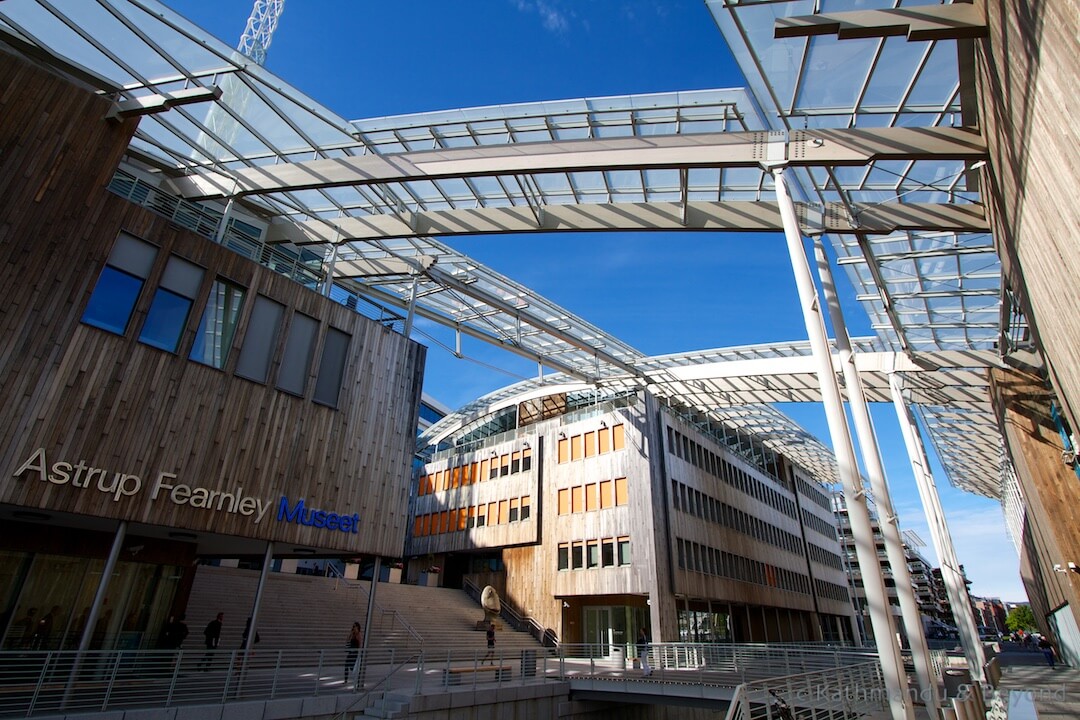 Astrup Fearnley Museum of Modern Art, Oslo
We then used Oslo Harbour to reach the medieval Akershus Fortress and Castle. We didn't have the time (or energy) to go inside the castle but we explored the grounds before walking back to our hotel. There were no entrance fees to take into account during our walking tour.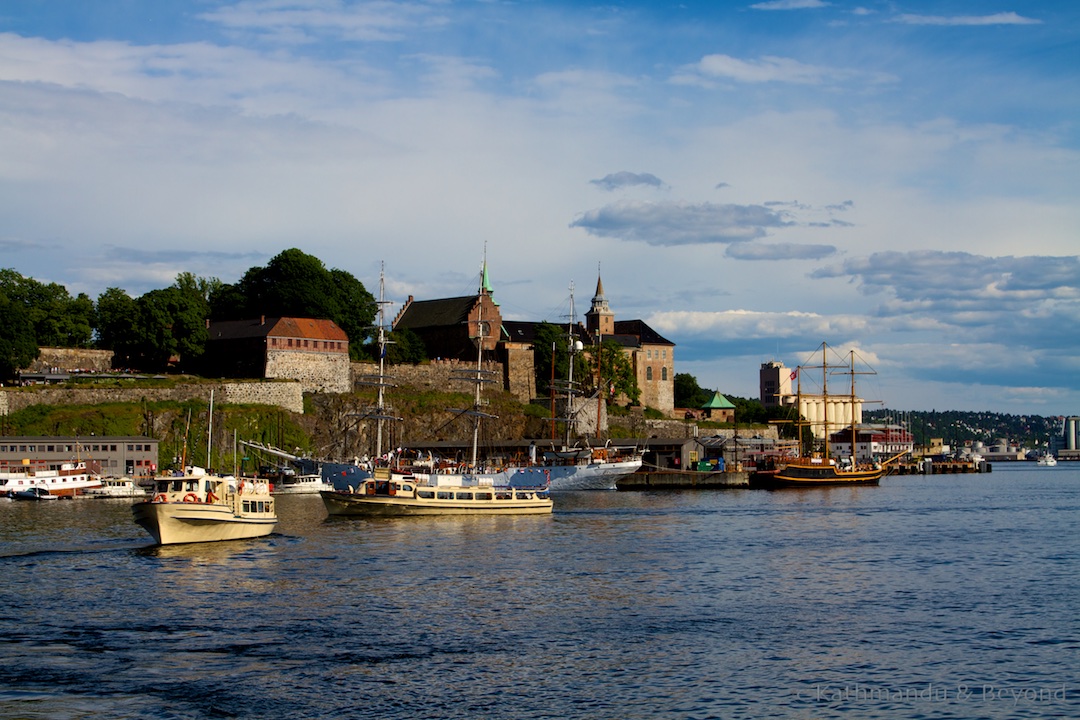 Akershus Fortress and Castle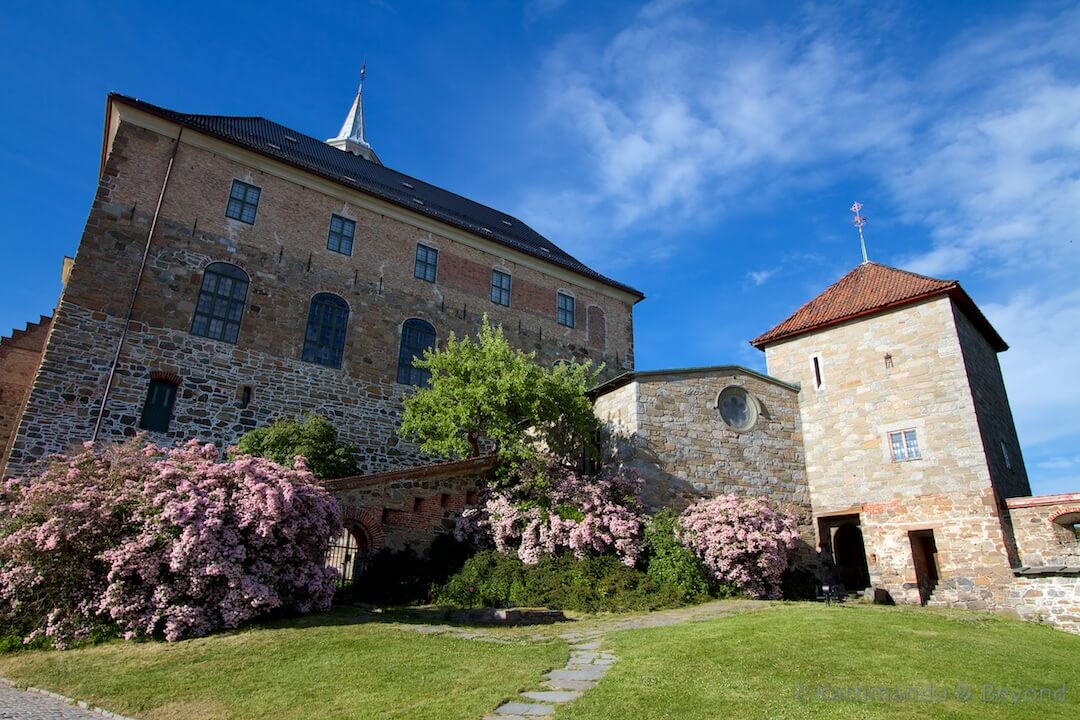 Akershus Fortress and Castle
En route back to the hotel we stopped at the supermarket and bought pasta, sun-dried tomatoes and a tub of fresh prawns for dinner plus four cans of lager to wash it down with.
Total cost of the meal/supermarket visit 230 NOK (US$29).
9.30pm
Dinner and beers. We got back to the room completely knackered and Kirsty cooked the meal (we had a small kitchen) whilst I drank the beers (only kidding, I gave her one can!).
I must add that the food portion of the supermarket bill was about 90 NOK (US$11) and the rest went on the beers but it was a special treat as we had hardly spent any money all day and we'd been in Helsinki for the previous three days and not had any beer there either.
10.30pm
Sunset and bed.
07.24am the next day
Train from Oslo Central Station to Oslo Gardermoen airport in order to catch the SAS flight to Kirkenes at 08.55am.
We were quite satisfied with our whirlwind sightseeing tour of Oslo and only spent a total, for the two of us, of 1090 NOK (US$135 / £92 / €127) in 18 hours – not bad for one of the most expensive cities in the world!
So, if you find yourself with 24 hours in Oslo, you can fit in all of this … And more!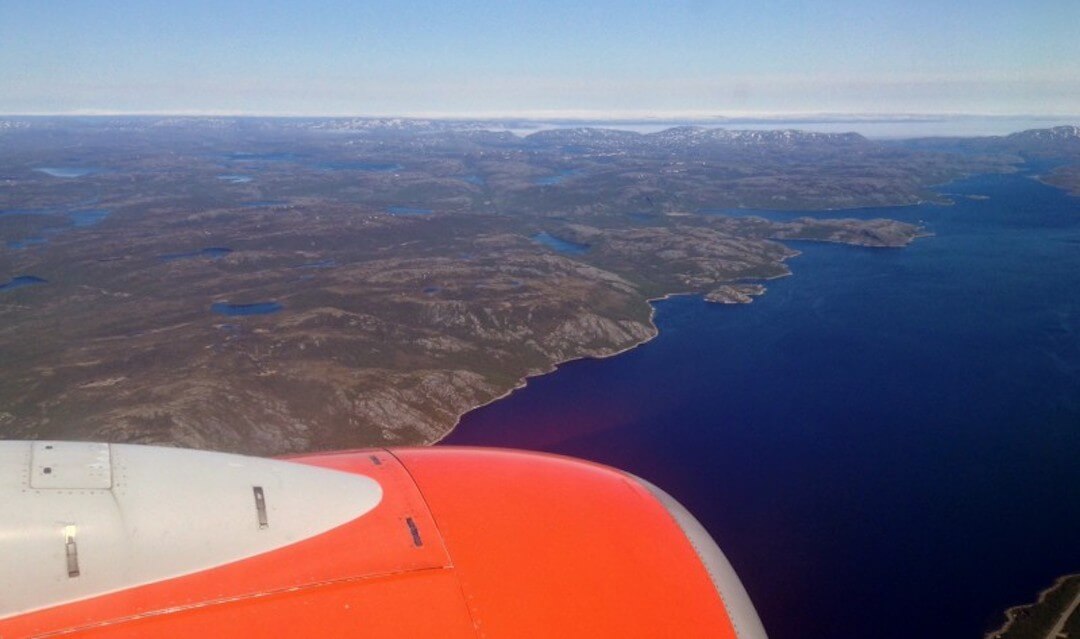 iPhone view from the window seat on the flight from Oslo to Kirkenes
---